Empire Diner resurrects in Chelsea
Amanda Freitag (the Harrison) breathes new life into the iconic diner on Tenth Avenue and 22nd Street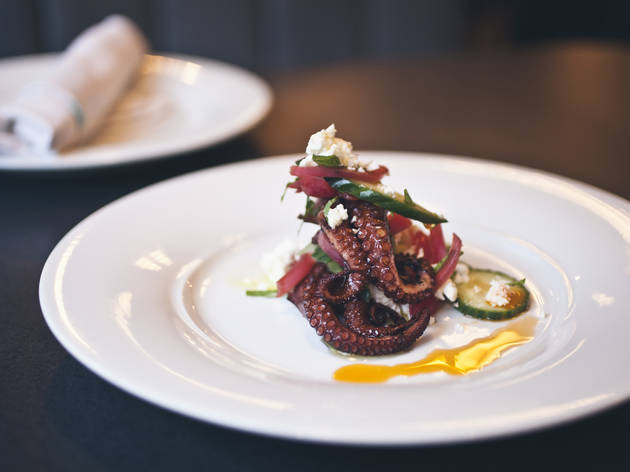 1/4
Photograph: Virginia Rollison
Charred-octopus salad at Empire Diner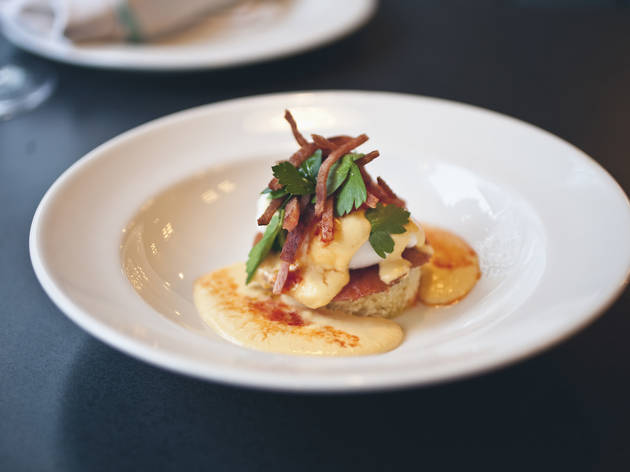 2/4
Photograph: Virginia Rollison
Peached eggs with chili jam at Empire Diner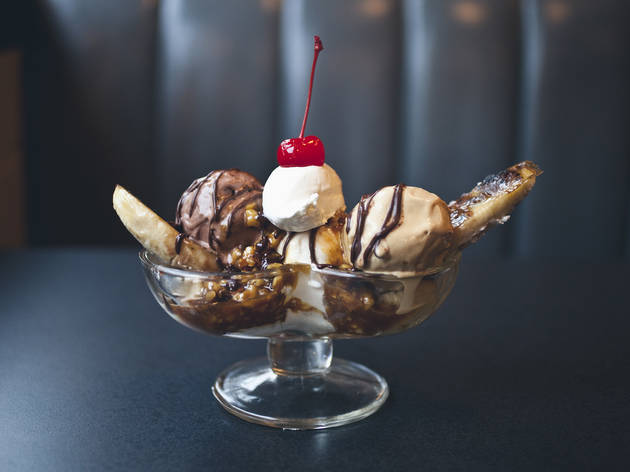 3/4
Photograph: Virginia Rollison
Banana split at Empire Diner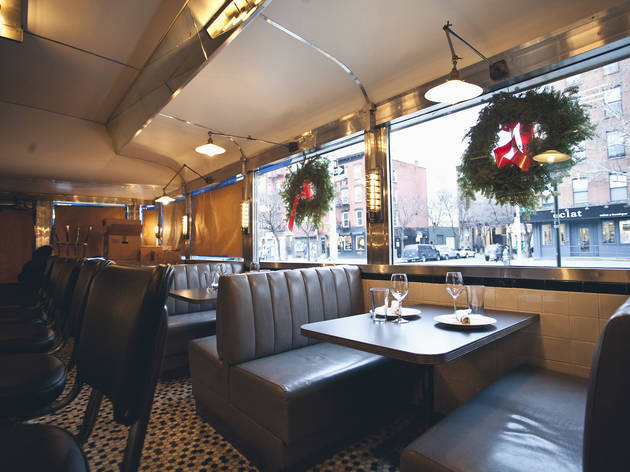 4/4
Photograph: Virginia Rollison
When the steel-edged greasy spoon closed in 2010, it wasn't merely the end of the Empire—it was the end of an era. A Chelsea fixture since the 1970s, the iconic dining car came into its own in the '90s, when then–A-listers like Minnie Driver and Ethan Hawke squeezed in at the metal counter for Jack's chili sundaes and Bayou burgers. Food Network star Amanda Freitag—a free agent since leaving the Harrison in 2010—taps into the space's history, opening a round-the-clock canteen of her own that pays dues to both the original and the hash houses of her native New Jersey. Retrofitted with tiled floors, a soda fountain and a healthy dose of chrome, Freitag maintains the diner look for her 75-seat restaurant, but gives the menu a modern overhaul. Her takes on retooled diner fare include matzo-ball-and-marrow soup, charred-octopus Greek salad and pork chops topped with pancetta and cranberry beans. See the menu below. 210 Tenth Ave at 22nd St (212-596-7523, empire-diner.com)
MENU
SOUPS, SALADS & STARTERS:
ANTIPASTO SALAD brussels, salami, soppressata, provolone, olives - 10
HAPPY WAITRESS poached egg, taylor ham, cheddar cheese, chili jam - 9
LOX & BURRATA house cured salmon, everything bagel spice, salmon roe - 12
CHARRED OCTOPUS 'GREEK SALAD' cucumber, feta, mint - 11
BUFFALO SKATE WINGS crispy skate, hot sauce, crème fraiche, carrot & celery - 11
LOADED POTATOES fingerlings, foie gras, bacon bits, jalapeno, sour cream - 9
CREAMY ORZO 'MAC N CHEESE' broccoli, parmesan, black truffle butter - 10
CHILI CHEESE FRIES sweet potato, salsa verde, cheddar cheese, lime crema - 11
SMOKED WHITEFISH WRAP crepe, dill cucumbers, radish, paprika vinaigrette - 8
'P.L.T' glazed pork belly, frisée lettuce, avocado toast - 9
MATZOH BALL MARROW SOUP root vegetables, poached chicken, marrow bone - 8
FRENCH ONION SOUP bagel bread pudding croutons, gruyere cheese - 9
ALL DAY MENU:
EMPIRE BURGER brioche, special sauce, cheddar cheese, pickle, onion, lettuce - 16
HERB OMELETTE fine herbs, crème fraiche, brioche toast - 12
BUTTERMILK PANCAKES fluffy pancakes, maple syrup, winter fruit compote - 11
GRILLED CHEESE cheddar & fontina cheese, roasted tomato - 13
MAIN PLATES:
LEMON CHICKEN roasted breast & thigh, ricotta, carrots, charred lemons - 20
PORK ON PORK CHOP crispy pancetta, cranberry beans, kale - 21
TROUT ALMONDINE pan roasted trout, toasted almonds, brown butter - 19
STEAK & POTATOES butcher's cut, parsley butter, fork mashed potatoes - p/a
OYSTER PAN ROAST pork belly, poached oyster, potatoes, pumpernickel - 16
GREEN PLATE SPECIAL daily market dinner special - p/a
FISH & CHIPS hake, tartar sauce, fries - 17
SIDES ($6):
CHARRED BROCCOLI & PECORINO ROMANO
BRUSSELS SPROUTS & CHILI JAM
GARLIC SALT FRIES
HOUSE SALAD
SWEET POTATO MASHED
DESSERTS:
RICE PUDDING PARFAIT rice & cinnamon pudding layered whipped cream -7
BLACK -N- WHITE CHEESECAKE new york style -9
BROOKLYN BLACKOUT CAKE Devil's food cake, chocolate pudding - 10
HOT DONUT HOLES salted caramel dip -7
BANANA SPLIT wet walnuts, chocolate sauce, caramelized banana, cherry on top -8
EMPIRE DINER PIE ask about our daily selections -8
SAMMY'S ALMOND CAKE vanilla ice cream, candied tangerines - 9
HOMEMADE COOKIES to stay or to go -6
SWEET ICE CREAM SCOOPS choice of 3 -8
Sponsored listing
Petaluma
There seems to be a slicery on nearly every street corner in the city, but sometimes, you need a pizza with a bit more finesse. Petaluma has been dishing out Italian-American cuisine for more than 30 years on the Upper East Side. The restaurant's popularity is thanks in part to its wood-fired thin-crust pizzas with toppings like spinach artichoke ($21) and fried eggplant, ricotta and tomato ($18). The pasta menu offers classics such as orecchiette with broccoli rabe and sausage ($20), shrimp scampi ($24) and spaghetti carbonara ($22). The carb-conscious might want to skip the heavy stuff and go straight for a protein-centric entree, like the veal marsala ($29) or the pan-seared Atlantic salmon ($28). Select a drink from a long wine list with vintages available both by the glass and the bottle, or order that non-alcoholic Italian classic, San Pellegrino Limonata ($5).
Venue says: "We have opened our large outdoor cafe! Join us on Wine Down Wednesday for half price bottles of wine to sip on outside."