Heads up! We're working hard to be accurate – but these are unusual times, so please always check before heading out.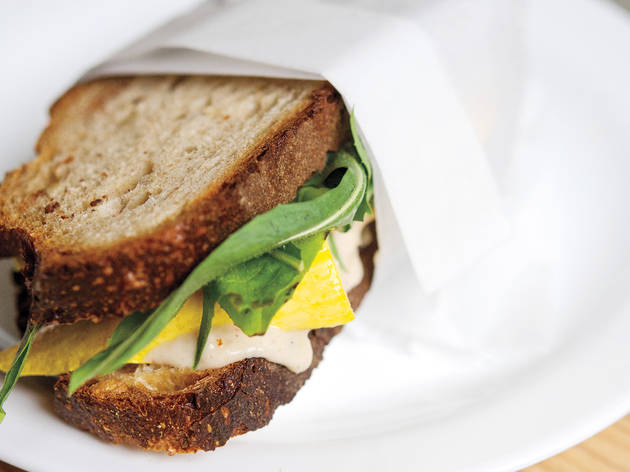 1/5
Photograph: Daniel Krieger
Try the summer-squash sandwich at Bien Cuit before the end of summer Roasted coins of yellow squash, a cool white bean puree and a few bitter fronds of dandelion greens for herbaceous notes form the filling of this sammie. The outside? Two rounds of the bakery's tangy, chewy, slow-fermented rye. Chef Zachary Golper's black-and-white bread has a pillowy middle, surprising sourness, a just-there scattering of sunflower seeds and a crispy rim of crust. It's a rustic sandwich that you can easily envision eating in a sunny meadow in Southern France, or at a picnic table in nearby Brooklyn Bridge Park. 120 Smith St between Dean and Pacific Sts, Cobble Hill, Brooklyn (718-852-0200) • 35 Christopher St between Waverly Pl and W 4th St (646-590-3341) • biencuit.com. $8.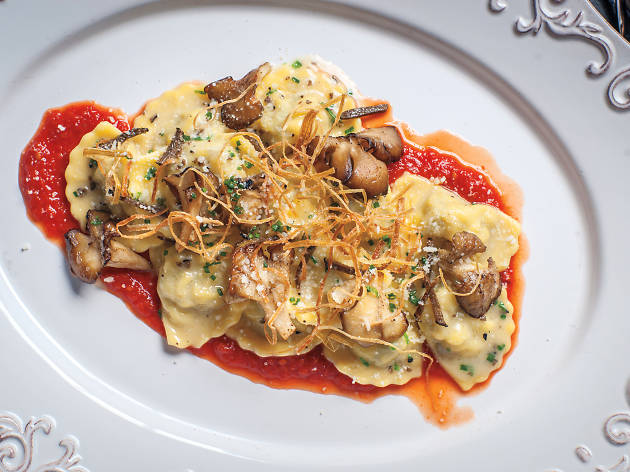 2/5
Photograph: Paul Wagtouicz
Try the corn ravioli at Locanda Verde before the end of summer Jersey-grown corn adds a sweet pop to this truffle-dusted dish at Andrew Carmellini's Italian joint. The kernels are hidden inside the half-moon ravioli, alongside corn jus, cream, and a mixture of maitake and button mushrooms. Hen-of-the-woods top the dish, adding a nutty musk, sharpened by the smoke of the tomato compote on which the pasta rests. Shaved Parmesan provides some salty zip, crispy leeks some crunch. The earthy but delicate dish feels like late-summer luxury camping. 377 Greenwich St between Franklin and North Moore Sts (212-925-3797, locandaverdenyc.com). $21.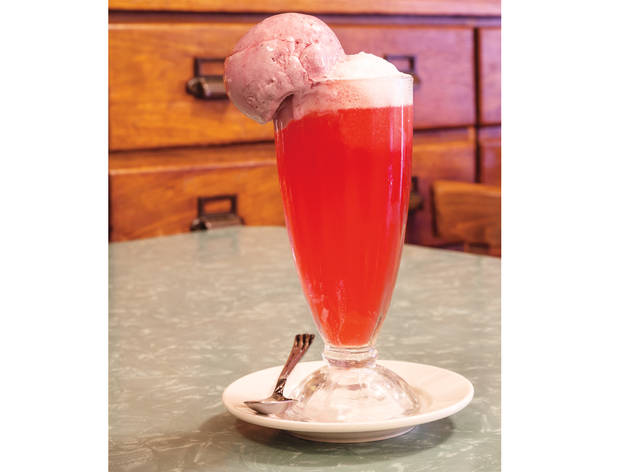 3/5
Photograph: Michael Rudin
Try the cherry-soda float with black-raspberry ice cream at Brooklyn Farmacy & Soda Fountain before the end of summer The great thing about nostalgia is forgetting all the negatives. Banish the sugar-bomb versions of your youth and indulge in wistful memories of summers past with this throwback eatery's fresh, fruity floats. Staff fizz up the soda to order with homemade syrup powered by maraschino and sour Montmorency cherries. It's neither tart nor sugary, but relaxed and rich—like soda on Xanax. The icing on the cake is a scoop of milky black raspberry glace from Adirondack Creamery, wedged on the sundae glass's lip. 513 Henry St at Sackett St, Carroll Gardens, Brooklyn (718-522-6260, brooklynfarmacy.blogspot.com). $6.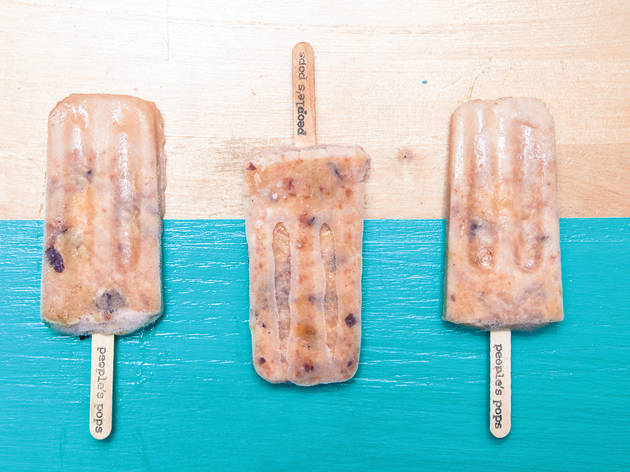 4/5
Photograph: Michael Rudin
Try the Double-Plum Chai Pop at People's Pops before the end of summer This speckled snack-on-a-stick leads with a hugely sour tang that fades into sweetness and a spice-cabinet aftertaste. Cofounder Joel Horowitz starts by roasting the plums—usually the yellow and purple varieties (depending on what local farmers have got). These are pitted and pureed, sugared and spiced, stuck with a stick and frozen. Each batch will be a little different, but count on yours to have huge chunks of sticky, caramelized plum—Horowitz loves what these do for the pop's visual aesthetic, texture and taste, and so will you. Chelsea Market, 75 Ninth Ave at 16th St (850-322-6071) • 118 First Ave at 7th St (347-850-2388) • 808 Union St between Sixth and Seventh Aves, Park Slope, Brooklyn (347-850-2388)  • The High Line, Chelsea Market Passage, W 16th St at Tenth Ave • peoplespops.com. $3.50.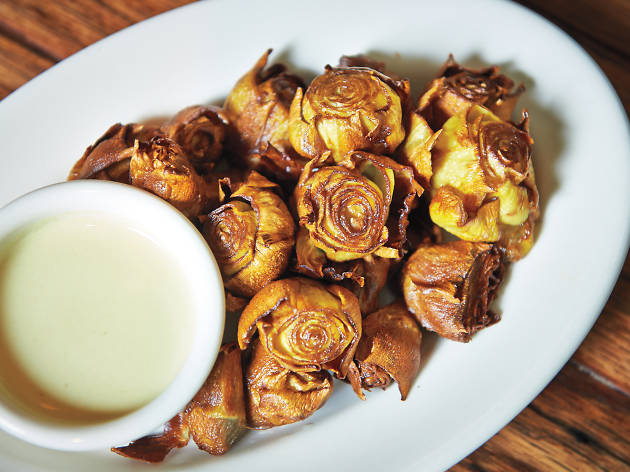 5/5
Photograph: Filip Wolak
Try the fried artichokes at Maialino before the end of summer Even if you don't have (or know) an Italian grandmother, the word artichoke should fire you up, especially when it's close to fried. When kissed by the oil just right, there might not be a better food around. At Maialino, chef Nick Anderer starts this classic Roman dish by steaming fat slices of the heart. They're then flash-fried, sprinkled with parsley and delivered to your table golden brown and oil-slick. Crisp on the outside and meaty underneath, dip them in the vibrant sauce—made from olive oil, artichoke leaves, lemon and white anchovy—which takes them to another level by bringing in flavors as bold and bright as the end of summer. Gramercy Park Hotel, 2 Lexington Ave at 21st St (212-777-2410, maialinonyc.com). $14.
End-of-summer dishes and drinks: Five in-season eats
Discover the tastiest end-of-summer treats, featuring corn, summer squash, plums, cherries, raspberries and more.