Heads up! We're working hard to be accurate – but these are unusual times, so please always check before heading out.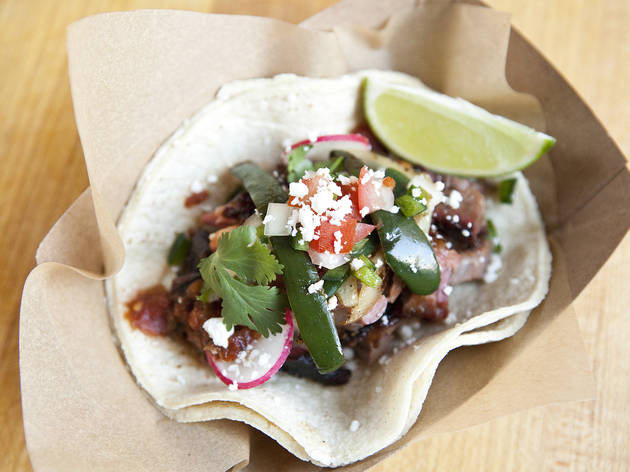 1/5
Photograph: Jessica Lin
Best new tacos: Smoked-brisket taco at Tres Carnes Mike Rodriguez—an alum of much-lauded Austin smokehouse Salt Lick—gives the iconic Mexican bite a barbecue makeover at this Flatiron takeout spot. Don't let the assembly-line-style service fool you—the grass-fed Angus brisket, coated in an 11-spice rub, is smoked over hardwood for 16 hours. A pair of white corn tortillas from Maizteca in Queens enfold the tender chopped meat—the musky, smoky flavor of the brisket just peeking through dollops of grassy guacamole and tangy cotija cheese. 688 Sixth Ave at 22nd St (212-989-8737, trescarnes.com). Two for $8.73.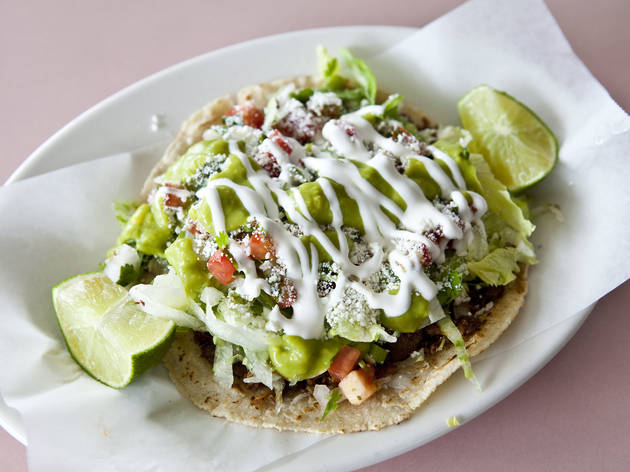 2/5
Photograph: Jessica Lin
Best new tacos: Chicharrón taco at Country Boys Restaurant Puebla, Mexico transplants Fernando and Yolanda Martinez—of the Vendy Award–winning truck Country Boys Food—serve their hometown's rustic fare at their first restaurant. The menu of expanded offerings at the diner-style eatery—outfitted with a mauve counter, swivel stools and a neon palm tree in the window—offers breakfast (chilaquiles with eggs) and dinner entrées (pernil). But fans of their outdoor eats can still tuck into tacos, here offered with ten fillings in fluffy, house-made corn tortillas. Our favorite was the chicharrón—the fried pieces of chopped pork skin are airy and salty, boosted by a zigzag of crema, showering of cilantro and piquant salsa verde.568 Fourth Ave between 15th and 16th Sts, South Slope, Brooklyn (718-452-6079, countryboysfood.weebly.com). Two for $7.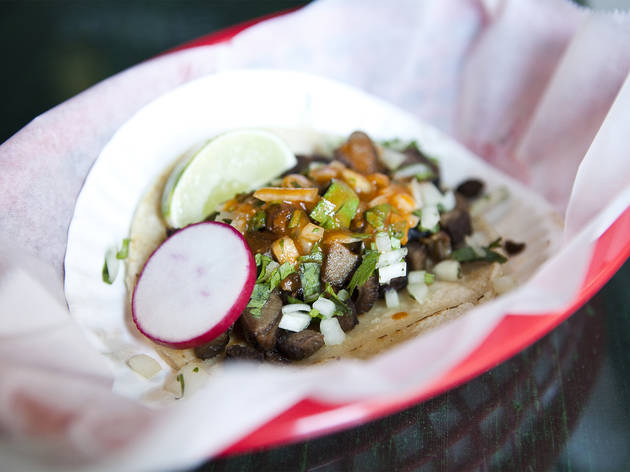 3/5
Photograph: Jessica Lin
Best new tacos: Lengua taco at Taqueria Lower East Side Lower East Side boozers can pop into this hole-in-the-wall, a Jersey City import from husband-and-wife team Phillip and Andrea Barraza. The joint fuels the downtown drinking circuit with micheladas, margaritas and South of the Border snacks, including 12 Mexico City–style tacos in thick, robust corn tortillas from La Mixteca in Queens. Among the newer options, the beef tongue is a standout: Steamed with herbs (such as oregano and bay leaf) and then seared, the cubes of meat are crisp on the outside, meltingly soft in the middle. Chopped onion, cilantro and a high-velocity tomatillo salsa balance out the package. 198B Orchard St between E Houston and Stanton Sts (212-677-3910). $3.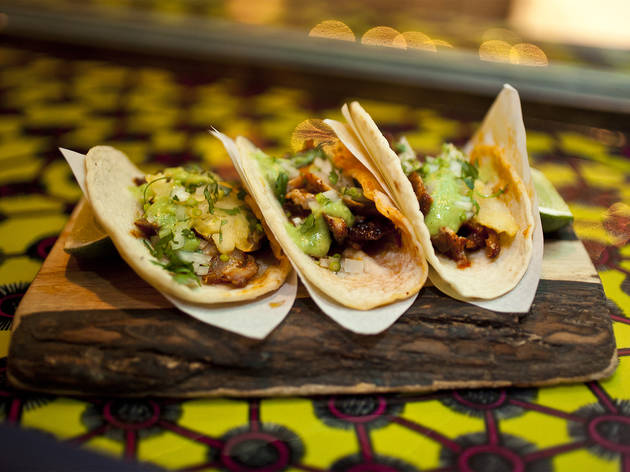 4/5
Photograph: Virginia Rollison
Best new tacos: Al Pastor taco at Salvation Taco Behind the bar at Ken Friedman and April Bloomfield's Murray Hill spot, tortilla makers press masa onto irons to forge freshly made wrappers. The spot leans heavy on offbeat offerings (lamb on naan, Korean BBQ), but we recommend the traditional al pastor: A heritage pig arrives every Tuesday, and the shoulder, butt and belly are marinated in annatto seeds, garlic, vinegar, cumin and other spices before slowly roasting on a vertical spit above a pineapple, which catches the juices. A crown of guajillo pepper, chopped pineapple and herbaceous avocado salsa reinforces the filling's sweet and spicy flavors. 145 E 39th St between Lexington and Third Aves (212-865-5800, salvationtaco.com). $3.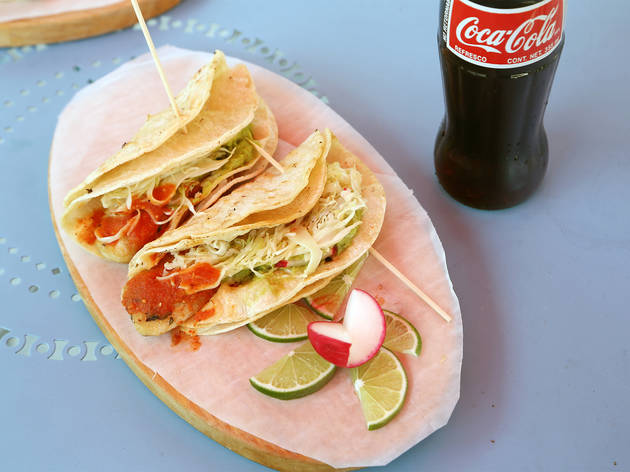 5/5
Photograph: Whitney Lawson
Best new tacos: Fish Taco at Don Nico's This tiny, electric-blue stand serves Mexican street food standbys, including flautas and burritos. Fish tacos are made Veracruz-style, with flavors as bright as the stall's multicolor signage. Tender tilapia is grilled and then tucked into two corn tortillas, kicked up with a cilantro-flecked green cabbage slaw, chopped onion, chile de árbol and a squeeze of lime juice. 9-43 Dekalb Ave, Albee Square, Downtown Brooklyn (718-288-0107). Two for $6.
Five best new tacos: Mexican food in New York
The iconic Mexican street food has long been a solid option for budget-minded diners. Here are our favorites of the city's best new tacos.
It's been a banner year for Mexican food in NYC, with hot spots like Salvation Taco and El Toro Blanco rolling out. But affordable South of the Border eats are still easy to find. Whether you're looking for tortillas packed with grilled tilapia or spicy al pastor, here are New York's best new tacos.
RECOMMENDED: Best cheap eats in NYC 2013