Food and drink benefits for Hurricane Sandy in NYC
Dine out, drink up and donate to help those affected by Hurricane Sandy in NYC. TONY has the latest on benefits, fund-raisers and donation events.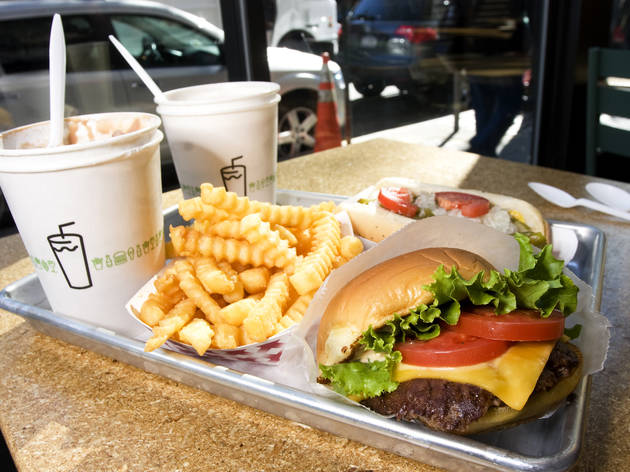 Restaurants, bars and culinary shops around town are rallying with food and drink benefits for Hurricane Sandy in NYC. From a pizza party at Fort Defiance in Red Hook to an elegant dinner at Telepan on the Upper West Side, diners around town can pop into these events to help out the relief effort for those affected by the storm. Get involved today!

MON 5 PIZZA NIGHT IN RED HOOK
Show your solidarity with the good people of Red Hook—who are still reeling from the damages of the storm—by eating pizza and donating to a local charity. PizzaMoto will slings gratis wood-fired pies at Fort Defiance (which is still without electricity). Donate to the collection for the Red Hook Initiative. For more information, visit facebook.com/events/121276194696470.Fort Defiance, 365 Van Brunt St at Dikeman St, Red Hook, Brooklyn (347-453-6672). 6pm.

MON 5 HURRICANE SANDY RELIEF DINNER
Locavore booster Bill Telepan will holds a luxe dinner benefit in his Upper West Side restaurant's private room. The four-course prix fixe includes house-smoked brook trout on celery-root blini, lobster bolognese, dry-aged rib eye with garlic potato hash and a peanut-butter-and-chocolate gianduja, all paired with wines. All proceeds will be donated to the Mayor's Fund for Hurricane Sandy relief. Reservations required. 72 W 69th St at Columbus Ave (212-580-4300, telepan-ny.com). 7pm, $200.

MON 5 BLACK & ROCKAWAYS FUND-RAISER
Raise a pint of Brooklyn Brewery's just-released There Will Be Black (a hoppy, full-bodied brew) and donate to the Brooklyn Kitchen's Rockaway relief efforts. High-priority items include cash, canned tuna, peanut butter and new blankets. For more information on needed donations, visit http://brooklynbrewery.com/blog/community/the-rockaways-need-your-help. Brooklyn Brewery, 79 North 11th St between Berry and Wythe Sts, Williamsburg, Brooklyn (718-486-7422). 7:30–10:00pm, suggested donation $10.

MON 5 EAT PORK, HELP NEW YORK
Meatheads can chow down on Southern-style sammies for a good cause. Ten dollars gets you four mini roast pork sandwiches with green-tomato barbecue sauce to eat in or take out. All proceeds and donations will benefit the Red Hook Initiative. Seersucker, 329 Smith St between Carroll and President Sts, Carroll Gardens, Brooklyn (718-422-0444). 6pm, $10.

TUE 6 ELECTION NIGHT FUND-RAISER
Sip margaritas while watching the presidential election returns at this Mexico City-style cantina. Mexican street snacks include the TONY-approved tortita (carne asada, pulled pork, carnitas) and bacon-wrapped hot dog, and drinks will be offered at happy hour prices ($7 margaritas, $5 micheladas and tap beers). All profits will be donated to the Brooklyn Recovery Fund. For more information, visit salonhecho.com. Salon Hecho, 356 Bowery between Great Jones and E 4th Sts (212-937-4245). 5pm.

WED 7 HELP DUMBO REBUILD
Party down in Dumbo to help local businesses get back on their feet. The fund-raiser helps the Dumbo Improvement District clean up and rebuild eateries (like Almondine, One Girl Cookies and 66 Water Street) and arts spaces (such as powerHouse Arena, Smack Mellon and Rabbit Hole Studios). For more information and to purchase tickets, visit rebuild-dumbo.eventbrite.com. Galapagos Art Space, 16 Main St at Water St, Dumbo, Brooklyn (718-222-8500). 6–10pm, $25–$100.
WED 7 NYC FOODFLOOD DINNER
George Mendes teams up with other all-star chefs—including Marco Canora (Hearth), Andrew Carmellini (Locanda Verde) and Seamus Mullen (Tertulia)—for a five-course prix fixe paired with wines. All proceeds go to local communities hit hardest by the hurricane, and the chefs will prepare and deliver hot meals to storm victims the following day. Aldea, 31 W 17th St between Fifth and Sixth Aves (212-675-7223), 7pm, $300.
WED 7 BUTCHERY FUND-RAISER AT THE BROOKLYN KITCHEN
Get schooled on butchery at this educational benefit. Drink Brooklyn Brewery beers and snack on treats provided by the Brooklyn Kitchen and watch Sara Bigelow butcher half a steer. The Meat Hook, 100 Frost St at Meeker Ave (718-389-2982, thebrooklynkitchen.com), 6:30pm; suggested donation $20.

THU 8 DINE OUT WILLIAMSBURG
Cool-kid spots in Williamsburg rally for the Hurricane Sandy relief effort. Gather your crew and swing by top-notch restaurants and bars like Gwynnett St. (which will be donating 15% of gross sales), Forcella (15% of gross sales) and Reynards (20% of gross sales). Proceeds will be donated to the Red Cross. Multiple locations. For participating venues, visit dineoutwilliamsburg.com.

THU 8 SANDY SUPPORT: AN AMERICAN RED CROSS FUND-RAISER
Sip bubbles and nibble treats from Russ & Daughters at this Astor Center benefit. The swank soiree features three pairings, including smoked-trout mousse and roe on blini with brut champagne; Gaspe Nove smoked salmon and cream cheese on corn rye with Scotch; and smoked salmon tartare with a St–Germain cocktail. The American Red Cross will receive 100% of ticket sales. 399 Lafayette St at 4th St (212-674-7501). 6pm or 7:30pm, $45.
THROUGH SUN 11 RALLY SHACK
Danny Meyer's überpopular patty chainlet created a "Rally Shake" ($5.50) inspired by Gotham's iconic black-and-white cookies. For one week, Shake Shack will donate $2 for each milkshake to the American Red Cross. Multiple locations; please visit shakeshack.com.

THROUGH SUN 11 MEAT WEEK NYC TO BENEFIT THE ROCKAWAYS
The second annual carnivore-baiting festival—formed last year for Hurricane Irene—will donate 100% of proceeds to relief efforts for the Rockaways. Choose from tastings, butchering demos, market tours and events like an all-beef dinner at Jimmy's No. 43 or a Modern Beefsteak & Spirits Benefit at Hudson Terrace. Multiple locations; please visit meatweeknyc.com.
Sponsored listing
Ato
This Soho restaurant serves modern Japanese fare with a touch of French influence. The minimalist menu offers diners a few different options: They could either go for the omakase ($125), the prix-fixe menu ($55) or order a la carte. On a recent visit, the prix-fixe meal included seasonal sashimi, mackerel with truffle oil and Dijon mayonnaise, miso egg drop soup and several other dishes. If you'd prefer to pick out each dish yourself, you might be tempted by the wagyu beef with bell pepper jam ($39), uni with soy reduction and wasabi ($18) or the fluke with mountain yam ($13). To drink, order a bottle of sake ($31–58)—what else? The drink menu includes both beer and wine, as well.
Venue says: "Modern Asian eatery reside in downtown Soho. Prix Fix $55 per person for 7 courses"