Heads up! We're working hard to be accurate – but these are unusual times, so please always check before heading out.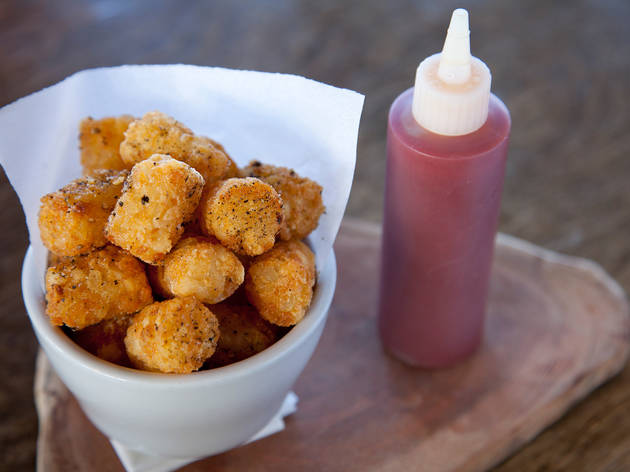 1/100
Photograph: Dominic Perri
Duck-fat fried Tater-Tots at Northeast KingdomNortheast Kingdom chef Kevin Adey gives Tater-Tots the semihomemade treatment, frying store-bought starchy balls of potato mash in rendered D'Artagnan duck fat until they are crisp and shimmery. Ketchup cuts the richness nicely; Kingdom connoisseurs use the tip of the squeeze bottle to insert a dollop of the sweet-acidic condiment directly inside the tot. 18 Wyckoff Ave at Troutman St, Bushwick, Brooklyn (718-386-3864, northeastkingdom.com). $10.—Christopher Ross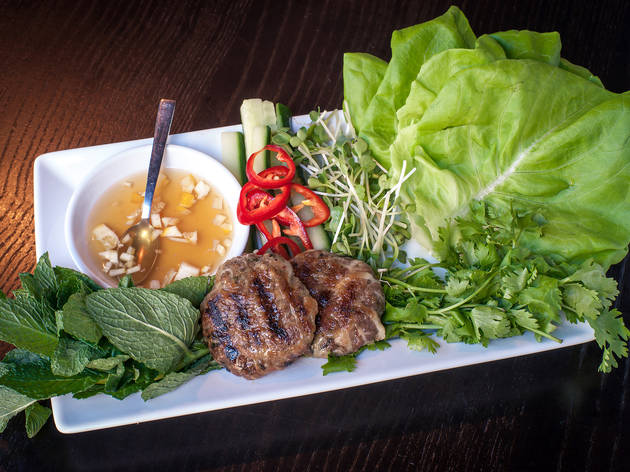 2/100
Photograph: Paul Wagtouicz
Pork crépinettes at Foragers City TableYou'll find these squat meatballs at the butcher's station of Foragers Market, where they're crafted from coarse-ground pork sausage and wrapped in delicate folds of caul fat. You can buy them to cook at home, but we think it's tough to beat chef Jason Greenberg's handiwork at the in-house restaurant. He sautés the meaty spheres until the fat renders into a gorgeous crust, then presents them Vietnamese-style with Bibb lettuce, mint, chilies and funky-sweet nuoc cham for dipping. 233 Eighth Ave at 22nd St (212-243-8888, foragerscitygrocer.com). $13.—Chris Schonberger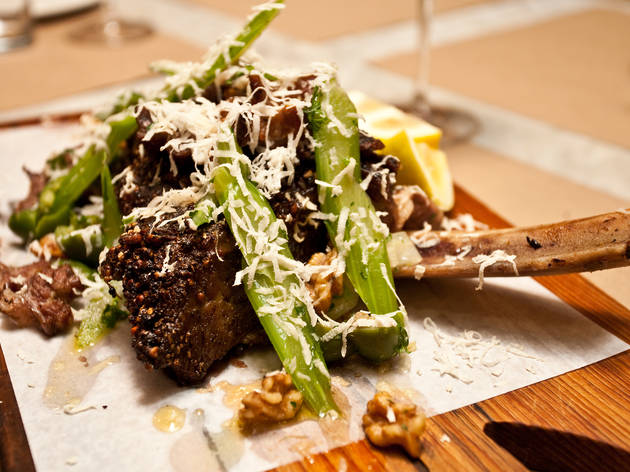 3/100
Photograph: Virginia Rollison
Spit-roasted short ribs at Il Buco Alimentari & VineriaIf chicharrones and duck confit have taught us anything, it's that meat tastes better with a little crunch. Chef Justin Smillie offers Italy's testament to that universal truth, brining peppercorn-encrusted beef overnight before slow-roasting it to a blackened crisp. The imposing hunk of meat is presented on a big wooden board, piled high with grated horseradish, celery, green olives and walnuts. Though fully detached, it's presented with its bone, as if to remind you of where it came from. 53 Great Jones St between Bowery and Lafayette St (212-837-2622, ilbucovineria.com). $38.—Marley Lynch
4/100
Photograph: Lizz Kuehl
Baked ziti with meat gravy at ParmRich Torrisi and Mario Carbone add a few steps to elevate this Italian-American staple from a humdrum suburban casserole to a restaurant dish well worth its attendant buzz. Their baked ziti—made with a mix of mild mozzarella and aged SarVecchio (a domestic Parmesan cheese)—is seared on the flattop in individual portions so that there is an abundance of crispy edges, then topped with fresh-whipped ricotta and a slow-simmered gravy of veal, pork and beef. 248 Mulberry St between Prince and Spring Sts (212-993-7189, parmnyc.com). $15.—Jay Cheshes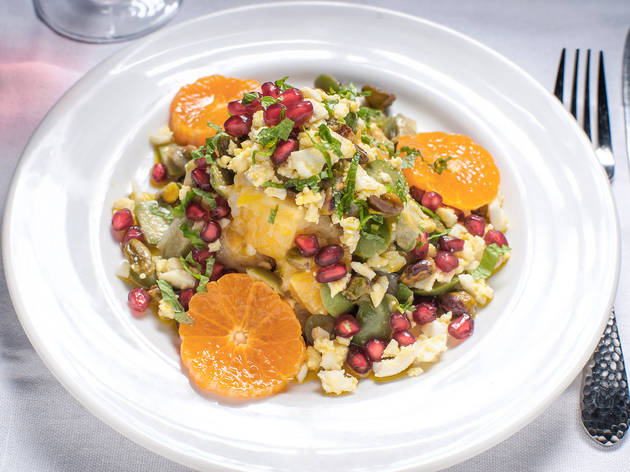 5/100
Photograph: Paul Wagtouicz
Remojón at La VaraThis traditional Andalusian salad is a veritable explosion of colors, flavors and textures. Supple, hand-torn salt cod, quick-cured in-house from day-boat filets, is layered with bright citrus fruit (usually oranges, sometimes grapefruit), finely chopped hard-boiled egg and pistachios. The salad, stunning to look at and disarmingly cohesive despite its long list of ingredients, is topped with a scattering of mint and pomegranate seeds and a splash of rich, nutty pistachio oil. 268 Clinton St between Warren St and Verandah Pl, Cobble Hill, Brooklyn (718-422-0065). $14.—Jamie Feldmar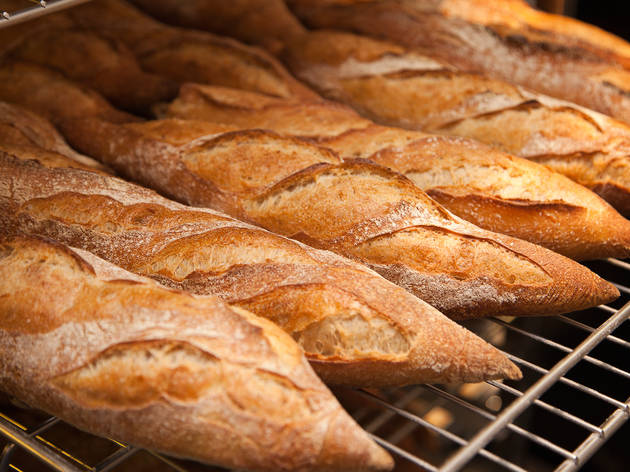 6/100
Photograph: Dominic Perri
Baguette at Maison KayserProductive New Yorkers may love the idea of whipping up jam or pickles at home, but they know that some things are best left to the pros—baguettes, for example. For his standard-bearing specimen, master baker Yann Ledoux, of imported Parisian bakery Maison Kayser on the UES, begins with a mineral-rich natural liquid leaven that rises slowly overnight. Shaped by hand and baked for exactly 20 minutes, the resulting loaf is sturdy, with a dark blond crust that conceals a chewy interior. 1294 Third Ave between 74th and 75th Sts (212-744-3100, maison-kayser.com). $2.75.—Christopher Ross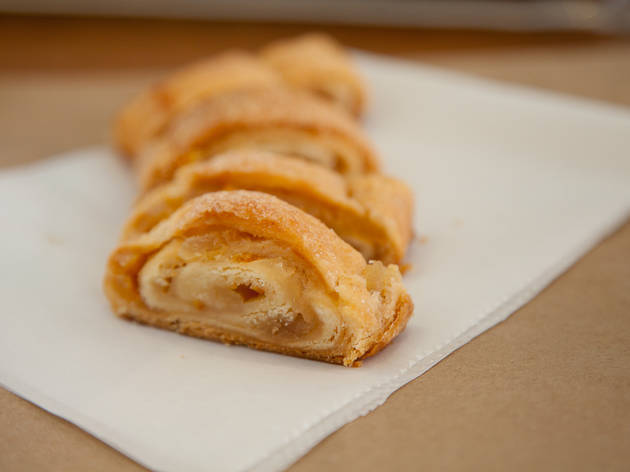 7/100
Photograph: Dominic Perri
Clementine & Ginger Rugelach at Shelsky's Smoked FishInspired by his two young daughters, named Clementine and Ginger, Old World appetizing purveyor Peter Shelsky set about creating an updated version of a traditional Jewish cookie. The result: a flaky butter and cream-cheese dough rolled with a tangy confit made with orange zest, reduced clementine juice and crystallized ginger. A dusting of powdered sugar before baking adds an extra hint of caramelized sweetness to these sticky treats. 251 Smith St between DeGraw and Douglass Sts, Cobble Hill, Brooklyn (718-855-8817). $14.50/lb or approximately $1/per piece.—Leah Koenig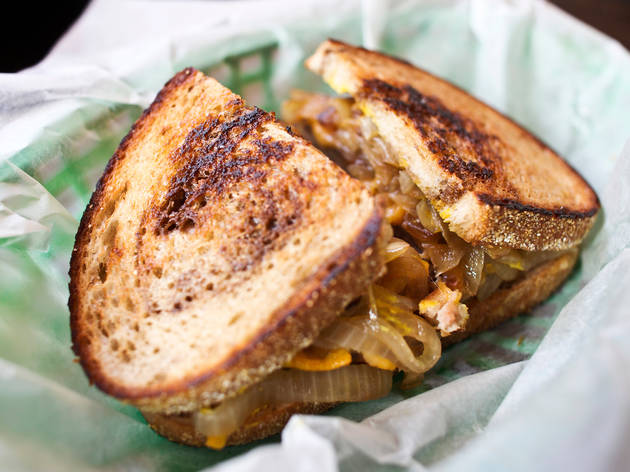 8/100
Photograph: Caroline Voagen Nelson
Porky Melt at Pork SlopeA nod to chef Dale Talde's Midwestern roots, this gut-buster of a bar snack features a juicy homemade beef and pork bratwurst patty, laced with ginger and nutmeg, then smothered with griddled onions and ballpark yellow mustard. The whole meaty mess is squashed between two thin slices of Rockland Bakery rye, and is utterly delicious paired with one of the bar's many American whiskies. 247 Fifth Ave between Carroll St and Garfield Pl, Park Slope, Brooklyn (718-768-7675, porkslopebrooklyn.com). $6.50.—Jamie Feldmar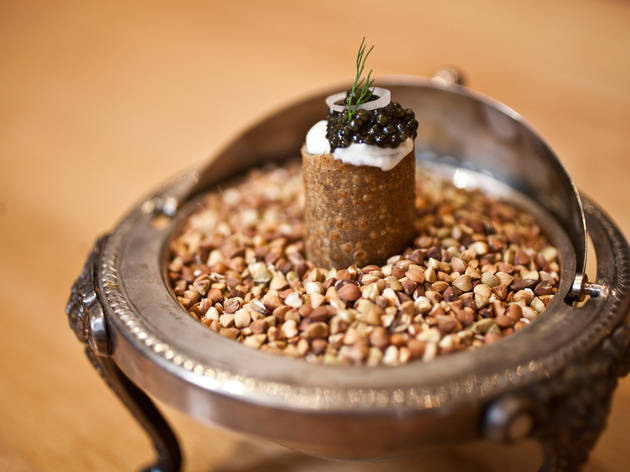 9/100
Photograph: Virginia Rollison
Caviar knish at Torrisi Italian SpecialtiesThis impressionistic take on the knish—part of Torrisi's 20-course tasting menu—more closely resembles a delicate sushi roll than it does a dense Eastern European potato pocket. Chefs Mario Carbone and Rich Torrisi roll silky mashed potatoes—made tangy and ethereal by the addition of cream cheese and sour cream—into a buckwheat wrapper. The tubes are deep-fried until they're flaky and crisp, topped with crème fraîche, American Hackleback caviar, wisps of shallot and a sprig of dill. 250 Mulberry St between Prince and Spring Sts (212-965-0955, torrisinyc.com). Part of $160 tasting menu.—Jasmine Moy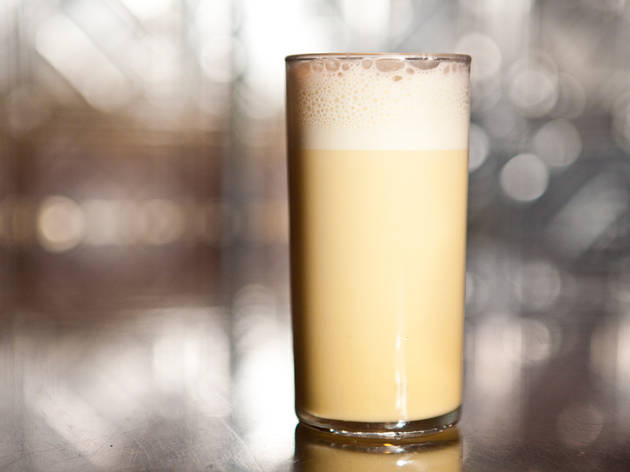 10/100
Photograph: Jakob N. Layman
Rebel Champagne Flip at Milk and HoneyFor this regal effervescent tipple, ace barkeep Samuel Ross spikes a lush base of heavy cream and egg yolks with slugs of Elijah Craig 12 Year bourbon and sweet, vanilla-y Licor 43. A touch of honey and vigorous shake lend body, while a pour of fizzy champagne sets off the ethereal drink with a lacy head and dry finish. 134 Eldridge St between Broome and Delancey Sts (718-308-6881, mlkhny.com/newyork). $16.—Mari Uyehara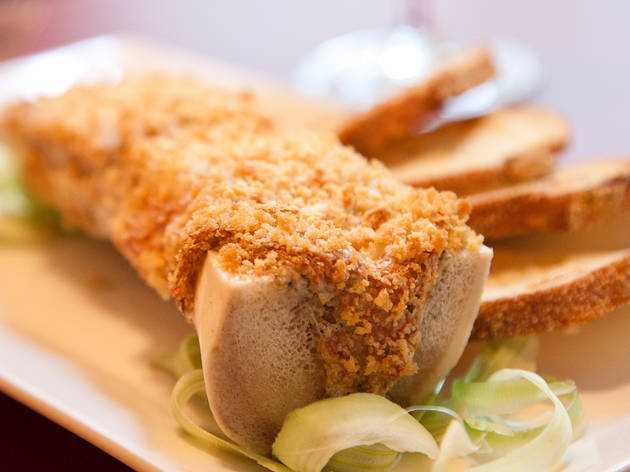 11/100
Photograph: Dominic Perri
Bone marrow with Bayley Hazen cheese and marmalade at Corkbuzz Wine StudioRoasted marrow, so perfect on its own, is typically served with just an austere sprinkle of salt and a side of plain toast. But at Corkbuzz, the split bones are taken a step further. Here, the marrow is excised and poached, pressed back into the bone with funky Bayley Hazen blue cheese and bread crumbs, then placed under the broiler to bubble and crisp. Scoop out the pungent mixture and smear it on toasted semolina studded with golden raisins and fennel. 13 E 13th St between Fifth Ave and University Pl (646-873-6071, corkbuzz.com). $17.—Laren Spirer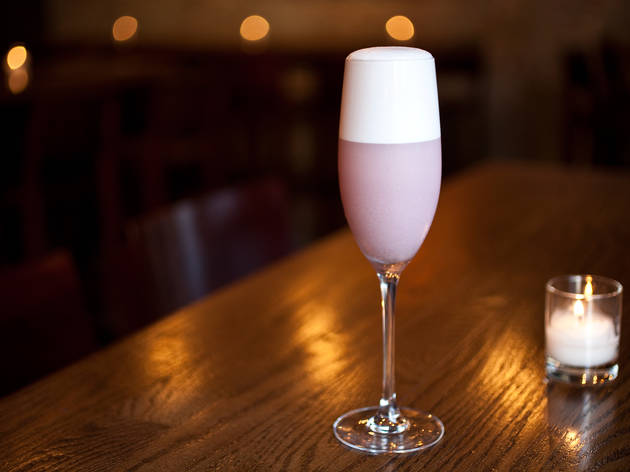 12/100
Photograph: Virginia Rollison
Sure Bet at Booker & DaxThe secret ingredient in this silky sherbet imitation is a house-made orgeat prepared by bartenders Tristan Willey and Karen Jarman (in typically techy Booker & Dax fashion) with a centrifuge that extracts oil from toasted almonds. Soft, floral tones from a pinch of crushed lavender leaves and an infusion of tartness from lemon and blackberry liquor crème du mure are leavened with egg white, and rich Banks rum. Shaken and topped with fizzing soda water, the drink hits the tongue frothy and cold, leaving behind a bright, clean wallop of citrus flavors. 207 Second Ave at 13th St (212-254-3500, momofuku.com). $14.—Christopher Ross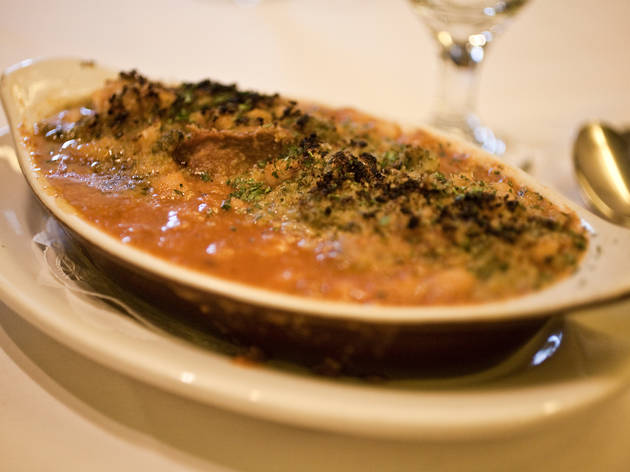 13/100
Photograph: Michael Skigen
Cassoulet at Chez NapoléonThis classic French peasant dish is a house specialty at the stalwart Gallic eatery in Midtown West. Chef Marguerite "Grand-Mère" Bruno was born in Brittany, but picked up the preparation of the dish she serves at Chez Napoleon in Paris. She combines a slow-cooked white bean stew with chunks of soft duck confit, thick rounds of pork sausage and morsels of lamb; an infusion of house-made tomato sauce provides a spicy undertow. Poured into a porcelain dish, it's finished in the oven and served piping hot. 365 W 50th St between Eighth and Ninth Aves (212-265-6980, cheznapoleon.com). $26.—Christopher Ross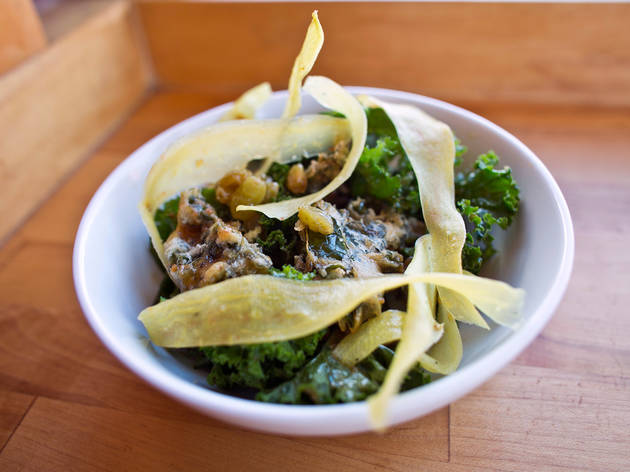 14/100
Photograph: Caroline Voagen Nelson
Kale salad at ChukoMorimoto vets Jamison Blankenship, David Koon and James Sato elevate the humble kale salad to rock-star status with this snappy rendition. They toss two types of kale—raw and tempura-fried—with crunchy curls of Japanese sweet-potato chips and golden raisins pickled in rice-wine vinegar. The dressing for the frilly green-and-gold mix is a hat tip to Masaharu Morimoto: a craveworthy variation on the old master's calamari dressing that the trio ate compulsively before service each night. The combination of white miso, soy sauce and white balsamic, along with a puree of carrot, garlic and ginger, ties the whole dish together with a funky savoriness and a piquant kick. 552 Vanderbilt Ave between Bergen and Dean Sts, Prospect Heights, Brooklyn (718-576-6701, barchuko.com). $7.—Mari Uyehara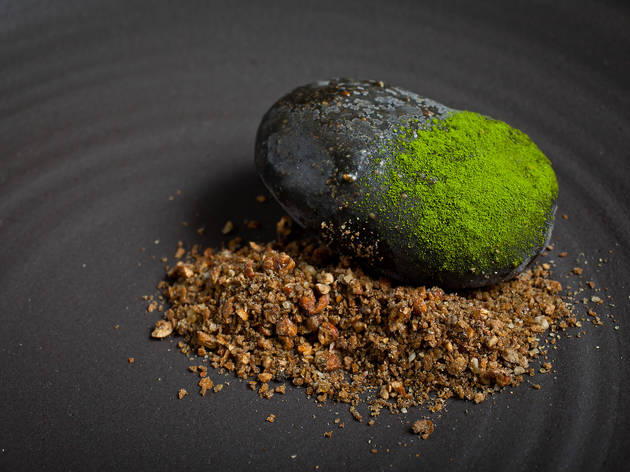 15/100
Photograph: Courtesy Atera
Rock sorbet at AteraFood-world trend-spotters may be mooning over foraged plants and flowers these days, but chef Matthew Lightner is pushing the fixation a step further: At his Tribeca restaurant Atera, Lightner is serving up rocks. Using molds made with actual stones, he creates a cookie-dough shell with pureed butter. It's dusted a convincing gray with edible ash, and then filled with bergamot sorbet that oozes magmalike out of the rock when cracked. Dried parsley sprinkled on top approximates moss, and caramelized chopped rye berries resemble gravel beneath, completing the delicious, gone-too-soon illusion. 77 Worth St between Broadway and Church St (212-226-1444). Available as part of tasting menu $165.—Christopher Ross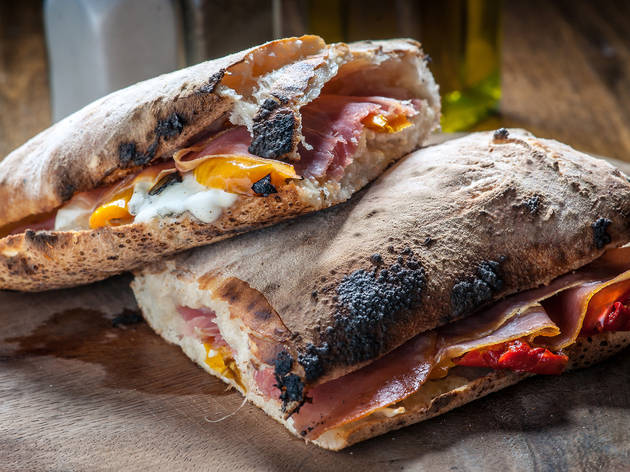 16/100
Photograph: Paul Wagtouicz
Panuozzo prosciutto bufalina e peperoni at San Matteo Pizza Espresso BarTwo oblong slabs of pizza dough, blistered in a 1,000-degree wood oven, form the vessel of choice for the Neapolitan sandwich known as a panuozzo. Our favorite at San Matteo is as simple as it is satisfying: a combination of stretchy buffalo mozzarella, salty Parma San Pietro prosciutto (sliced to order) and oil-kissed house-roasted red peppers. 1739 Second Ave at 90th St (212-426-6943, sanmatteopanuozzo.com). $15.—Jamie Feldmar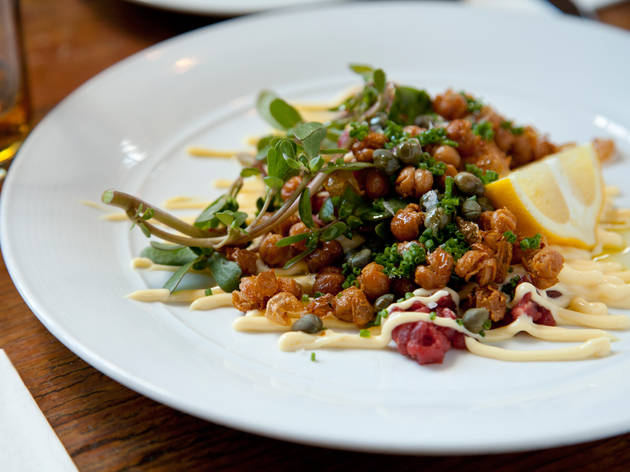 17/100
Photograph: Dominic Perri
Steak tartare at Roebling Tea RoomBeloved by its loyalist regulars, the steak tartare is the only perpetual appetizer on the daily changing menu at Roebling Tea Room. Chef Dennis Spina hand-chops top round, deposits it on a plate with a drizzle of slightly sweet Kewpie mayonnaise and a spray of fried chickpeas. A chive and caper, a little lemon and the pleasant crunch of Maldon salt cuts the richness. Double your pleasure with an entrée-size portion. 143 Roebling St at Metropolitan Ave, enter on Metropolian Ave, Williamsburg, Brooklyn (718-963-0760, roeblingtearoom.com). Appetizer $12, entrée $19.—Scarlett Lindeman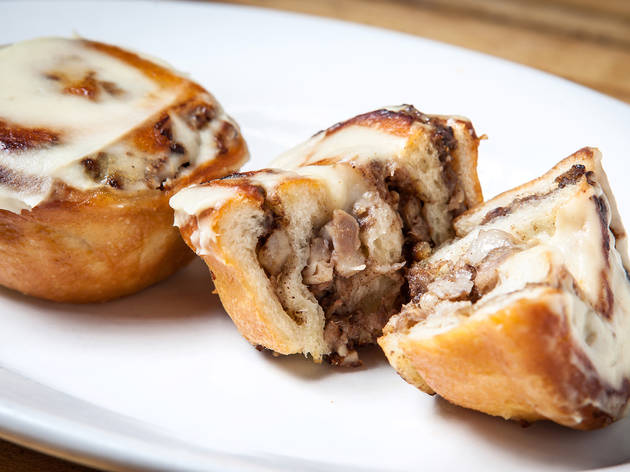 18/100
Photograph: Paul Wagtouicz
Pork Sticky Rolls at Northern Spy Food Co.A savory play on the cinnamon bun, these pork pastries are among the few constants on Northern Spy's ever-changing menu. A spiral of sweet yeast dough is lined with luscious shards of braised Flying Pigs pork shoulder, then painted with a maple-Dijon glaze. Once the buns have proofed and baked, they're finished with a savory parsnip glaze, which melts into the pastry below. 511 E 12th St between Aves A and B (212-228-5100, northernspyfoodco.com). Two rolls $7.—Jamie Feldmar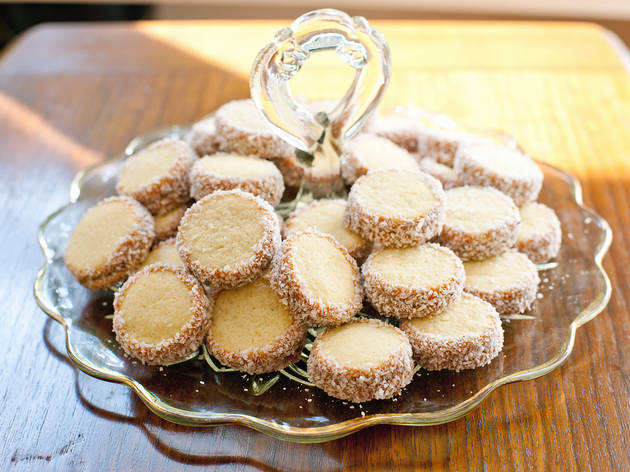 19/100
Photograph: Paul Wagtouicz
Dulce de leche cookie at Zucker BakeryAt Zohar Zohar's dreamy East Village bakery, these queenly sandwich cookies—a take on the Latin treat alfajores—stole our hearts. She caramelizes condensed milk to make dulce de leche and swipes the rich, creamy paste between two shortbread rounds. Left to sit overnight, the flavors mingle, and the butter-rich cookies become tender as they absorb the sauce. A gentle roll in shredded coconut gives the soft pale-yellow cookie a pretty white fringe. 433 E 9th St between First Ave and Ave A (646-559-8425, zuckerbakery.com). $1.—Mari Uyehara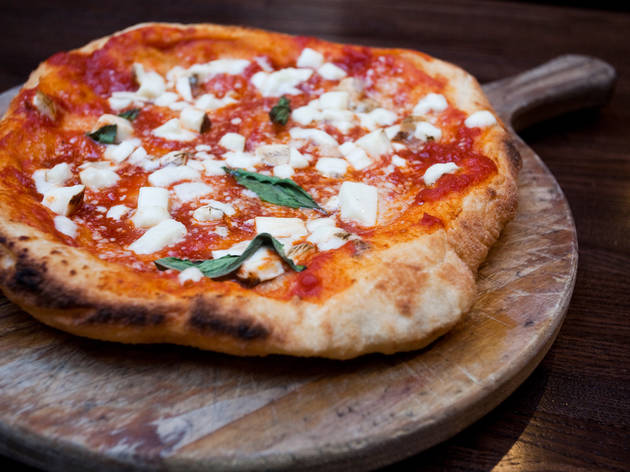 20/100
Photograph: Beth Levendis
Montanara Starita at Don Antonio by StaritaWhile fried-pizza mania shows no signs of cooling down, it may have hit its apex with this hot-oil-bronzed wonder. Inspired by versions of the dish made in Naples, pizzaiolo champ Roberto Caporuscio (Kesté) and his mentor, Antonio Starita, plunge a stretched round of dough in roiling oil to achieve a sweet, moist crumb. They crown it with fragrant basil leaves, tangy San Marzano tomato sauce and one bold twist: smoked imported buffalo mozzarella. A quick turn in the blazing wood-fired Acunto and a sprinkling of robust Parmigiano-Reggiano add an extra layer of smoky, salty depth to the smoldering pie. 309 W 50th St between Eighth and Ninth Aves (646-719-1043, donantoniopizza.com). $12.—Mari Uyehara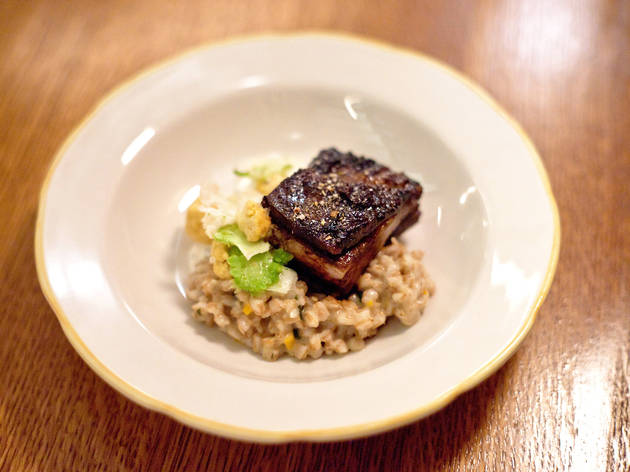 21/100
Photograph: Paul Wagtouicz
Cordero at TertuliaSeamus Mullen breaks out every chefly trick in the book to make this decadent lamb dish: He cures an Elysian Fields breast with salt, sugar and pimentón; smokes it over pungent oak; and confits it in rendered lamb fat. Each piece is glazed with a Pedro Ximenez sherry vinegar reduction and grilled to order. The lush, smoke-kissed slab—its crackling golden skin glistening like Peking duck—is paired with creamy farro, zippy pickled cauliflower, and tangy labna yogurt mixed with garlic, lemon zest, olive oil and herbs. 359 Sixth Ave at W 4th St (646-559-9909, tertulianyc.com). $16.—Mari Uyehara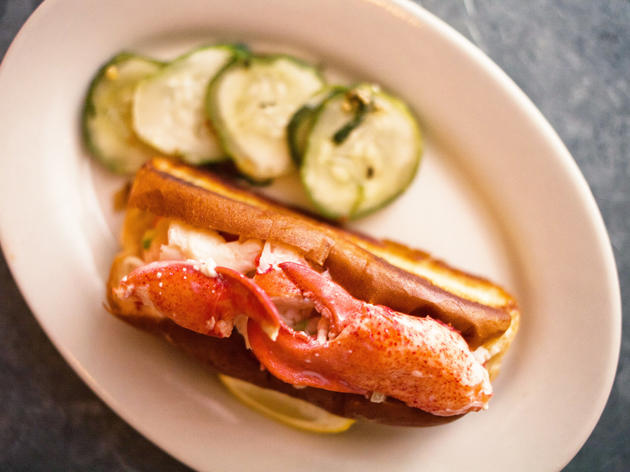 22/100
Photograph: Noah Devereaux
Maine lobster roll at LittleneckThe Gowanus Canal may not conjure up New England's sandy shoreline, but the superlative lobster roll at this hipster clam shack will transport you there anyway. The sweet, gently poached lobster is barely dressed with a transparent slick of Hellmann's mayo and lemon juice, plus diced celery. An airy toasted split-top bun from Maine's Lepage Bakeries cradles the tender meat. 288 Third Ave between Carroll and President Sts, Gowanus, Brooklyn (718-522-1921, littleneckbrooklyn.com). $18.—Mari Uyehara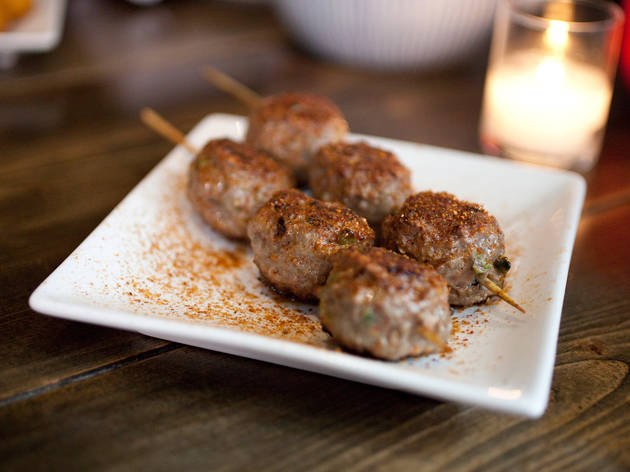 23/100
Photograph: Virginia Rollison
Lamb meatballs at Yunnan KitchenThis year, under-the-radar Yunnan cuisine went prime time with the opening of this buzzy downtown eatery, thanks to choice dishes like these ultra juicy lamb meatballs. Chef Travis Post adds a poetic counterpoint—pickled chive blossoms—to the ground lamb, boosting the dark meat with a vinegary kick. He finishes the chubby skewered-and-grilled orbs with a sprinkling of red chili powder. 79 Clinton St between Delancey and Rivington Sts (212-253-2527, yunnankitchen.com). $8.—Mari Uyehara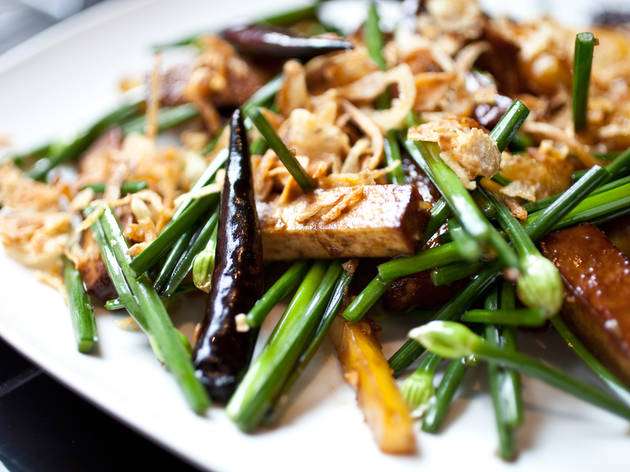 24/100
Photograph: Virginia Rollison
Stir-fried smoked pressed tofu at Lotus BlueFor fatigued New York palates, the ascent of hyperregional Asian food is one of the year's most thrilling restaurant trends. Lotus Blue, for one, has helped the cuisine of China's Yunnan province catch fire in Gotham. Chef Kian Lam Kho's provocative vegetarian dish exemplifies the region's pantry of uncommonly light, fruity and lively flavors: Batons of pressed tofu, stir-fried with wispy garlic-chive blossoms, red chilies and sliced pineapple form a complex riot of smoky, sour and sweet elements. 110 Reade St between Church St and West Broadway (212-267-3777, lotusbluebar.com). $16.—Jordana Rothman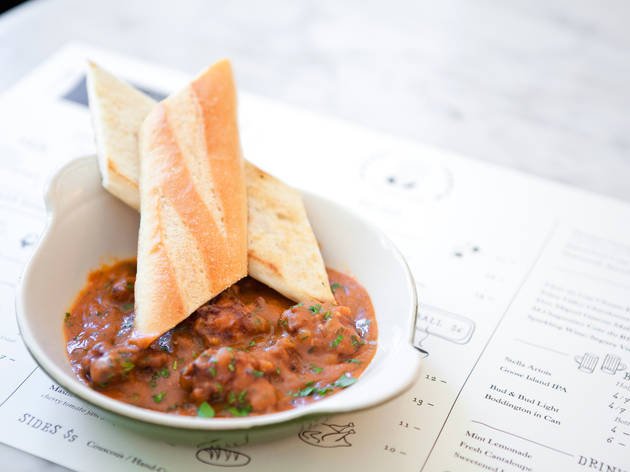 25/100
Photograph: Jakob N. Layman
Chicken giblets at Jack's Wife FredaOwner Dean Jankelowitz pays homage to his South African childhood with this soul-warming snack. Chicken gizzards and sweetbreads are braised for three hours until soft; fried until the exteriors are crisp; and plunked in a thick roasted-tomato stew spiked with piri piri chilies. Sop up the lush pool—reminiscent of spicy-creamy vodka sauce—with crusty hunks of baguette. 224 Lafayette St between Kenmare and Spring Sts (212-510-8550, jackswifefreda.com). $11.—Mari Uyehara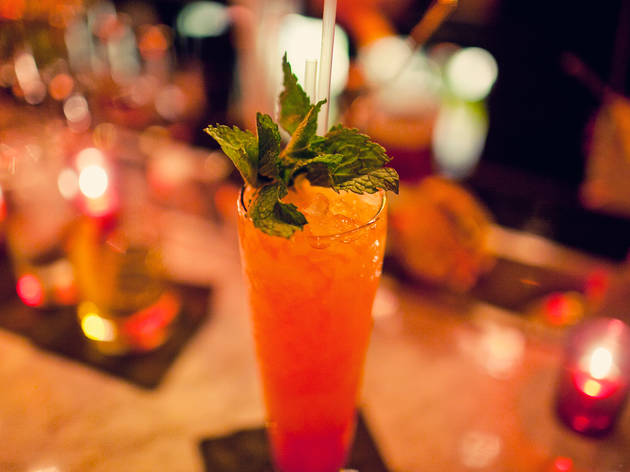 26/100
Photograph: Lizz Kuehl
Zombie Amaro at Bourgeois Pig BrooklynBartender Frank Cisneros enlists Fernet Branca and Amaro Montenegro for this zombie riff, a funky experiment that spans the gap between tiki and Mediterranean tippling. Served over crushed ice with a tuft of mint, the drink is remarkable for its complex layering of flavors: Lush tropical fruits dominate at first, slowly giving way to pleasing bitterness, spicy notes of overproof rum and a sneaky hit of absinthe. 387 Court St between 1st and 2nd Pls, Carroll Gardens, Brooklyn (718-858-5483). $12.—Chris Schonberger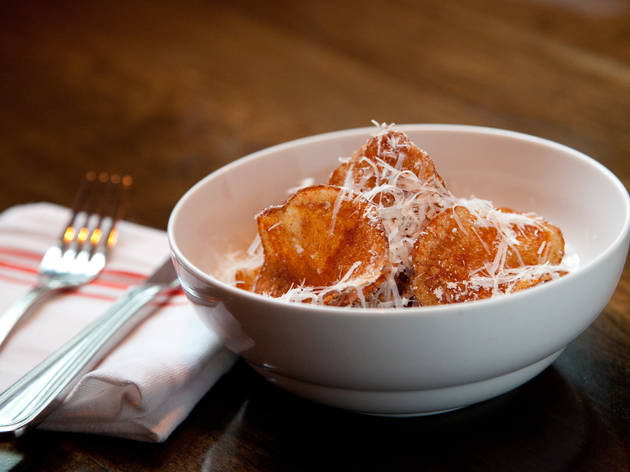 27/100
Photograph: Dominic Perri
All'amatriciana potato chips at PerlaChef Michael Toscano remixes the components of the classic Roman pasta dish all'amatriciana into the city's cheekiest bar snack at electric West Village ristorante Perla. Powdered guanciale pork fat, combined with dehydrated tomato, garlic, onion and finely crushed chili flakes, becomes a topping for freshly fried potato chips. A final shower of salty, grated pecorino romano completes the dish, available at Perla as a regular special. 24 Minetta Ln between Sixth Ave and MacDougal St (212-933-1824, perlanyc.com). $5.—Laren Spirer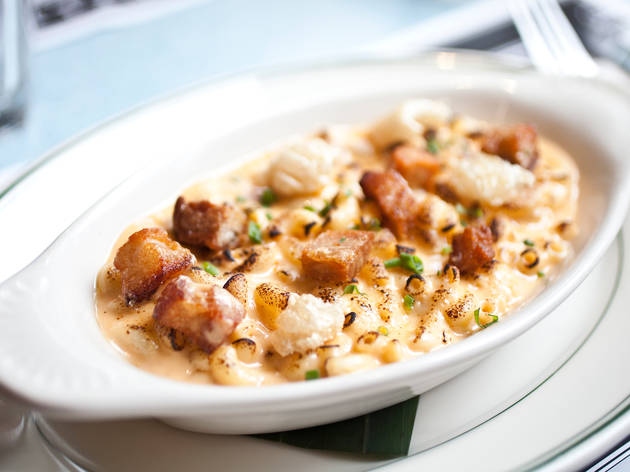 28/100
Photograph: Virginia Rollison
Mac and chicharrón at CoppeliaAt his round-the-clock Latin diner, chef Julian Medina's high-low riff on comfort-food classic mac and cheese raises the bar for 24-hour eats. The toque blankets elbow macaroni with a velvety sauce made from American and cheddar cheeses, bound together by smooth béchamel. A double dose of pork—crispy skin and chewy belly—studs the creamy crock. 207 W 14th St between Seventh and Eighth Aves (212-858-5001, coppelianyc.com). $9.95.—Mari Uyehara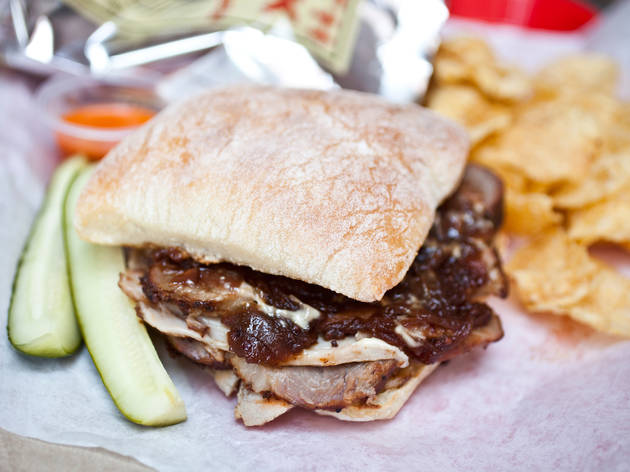 29/100
Photograph: Virginia Rollison
Rocket Pig Sandwich at Rocket PigThe sign often posted to Rocket Pig's door—out of pig!—attests to the popularity of this sandwich, which chef Ralf Kuettel envisioned as a complete meal, hitting all the tongue's flavor receptors. He uses pork shoulder and neck, sourced from local farms, rubbed in spices, and brined for three days in salt and molasses. The succulent pork is then smoked, roasted and fanned across a spread of gooey, chutneylike onion jam and spicy mustard aioli, and wedged between two flour-dusted hunks of ciabatta. 463 W 24th St at Tenth Ave (212-645-5660). $14.—Christopher Ross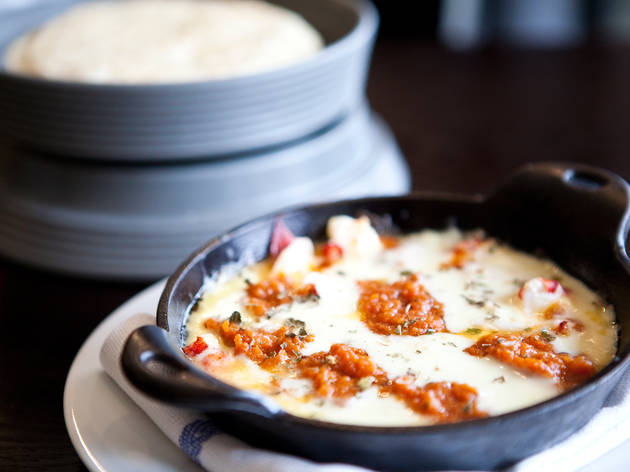 30/100
Photograph: Jakob N. Layman
Queso fundido with lobster at Empellón CocinaChef Alex Stupak may be a world-class technician and haute-Mexican booster, but his upmarket queso fundido still speaks to the lowbrow bliss of a damned good cheese dip. Melted tetilla cheese with kol, a Yucatan-style white sauce, forms the base of the dish. It's punctuated by hunks of lobster and zipped up with a spicy tomato-and-habanero sauce. Warm homemade flour tortillas, flaky and supremely tender, accompany the gooey, bubbling dish. 105 First Ave between 6th and 7th Sts (212-367-0999, empellon.com/cocina). $24.—Mari Uyehara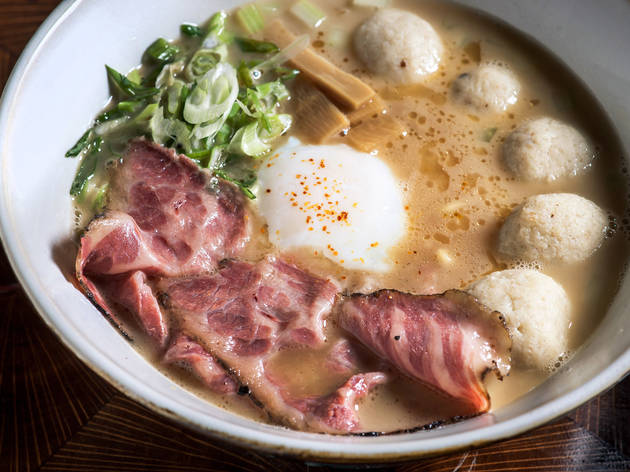 31/100
Photograph: Paul Wagtouicz
Deli Ramen at DassaraAs ramen increasingly becomes a staple of the modern New York diet, Josh Kaplan, Justin DeSpirito and Lana Yang of Carroll Gardens' Dassara set out to put a uniquely local stamp on the dish, filling the Japanese noodle bowl with elements inspired by a Gotham deli. They begin with chicken broth suffused with a rich chicken tare, then toss in plump matzo balls and ribbons of Montreal-style smoked meat chashu. A few classic elements—poached egg, bamboo—keep it grounded in tradition. 271 Smith St between Degraw and Sackett Sts, Carroll Gardens, Brooklyn (718-643-0781, dassara.com). $15.—Christopher Ross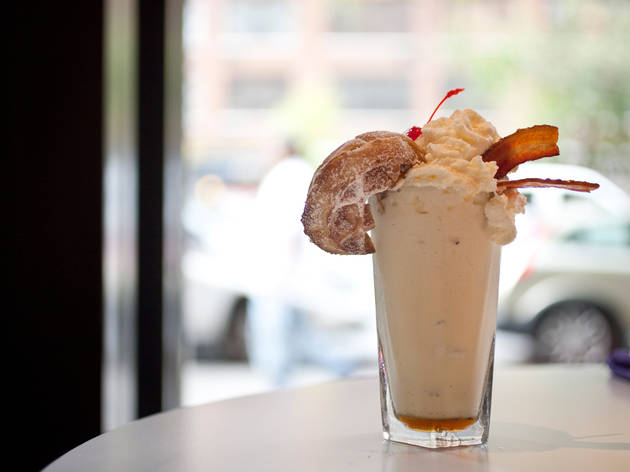 32/100
Photograph: Michael Skigen
Waffle and bacon milk shake at Sugar and PlummDry-cured and smoked bacon makes three appearances in this preposterously tasty milk shake. Pulverized bits of the maple-brushed pork stipple Hudson Valley vanilla ice cream, which is also washed in rendered fat. The candied bacon garnishes the savory shake, too, along with a doughy, sugar-dusted round waffle. It all adds up to a hairpin balance of sugar, smoke and salt, blended into one habit-forming dessert. 377 Amsterdam Ave at 78th St (212-787-8778). $8.—Christopher Ross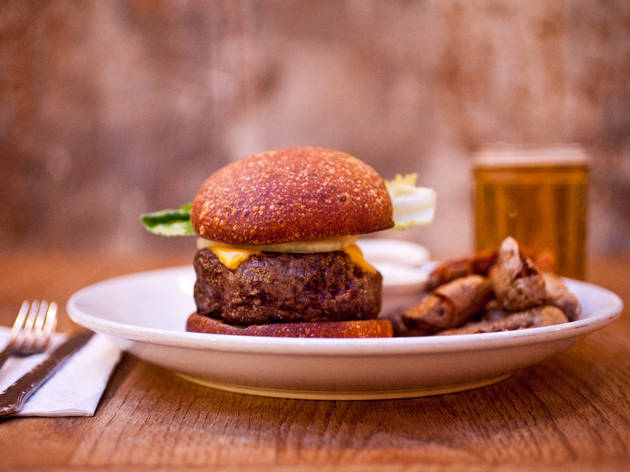 33/100
Photograph: Jolie Ruben
Burger at Roberta'sRococo embellishments abound in New York's burger wars, but this year's top patty was a minimalist coup de grâce. Chef Carlo Mirarchi pares his sandwich down to the barest of ingredients: The hefty pan-seared round—a custom Pat LaFrieda blend—bursts with deep, dry-aged flavor. The mineral-rich patty is topped simply, almost stoically, with American cheese, white onion and a crisp romaine leaf. But the buttery house-made bun puts it over the top, bolstering the meat's fatty juiciness with its own über-richness. 261 Moore St between Bogart and White Sts, Bushwick, Brooklyn (718-417-1118, robertaspizza.com). $12. Lunch only.—Mari Uyehara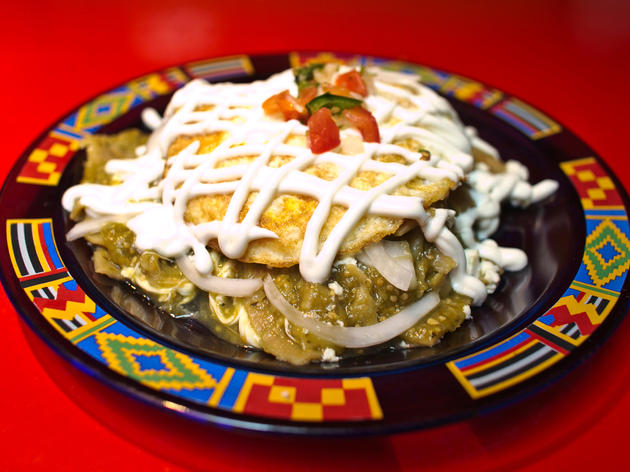 34/100
Photograph: Caroline Voagen Nelson
Chilaquiles Rojos at Tortilleria NixtamalThe tiny kitchen at Tortilleria Nixtamal—the city's only manufacturer of fresh masa—makes a mean rendition of this Mexican comfort-food favorite, using fried chips from their coarse-ground fresh corn tortillas. Simmered in a mouth-tingling jalapeño-tomato sauce and topped with sharp raw onions, crumbly queso fresco and a crisp-edged fried egg, it's a traditional breakfast dish worth enjoying well into the afternoon. 104-05 47th Ave at 104th St, Corona, Queens (718-699-2434, tortillerianixtamal.com). $8.—Jamie Feldmar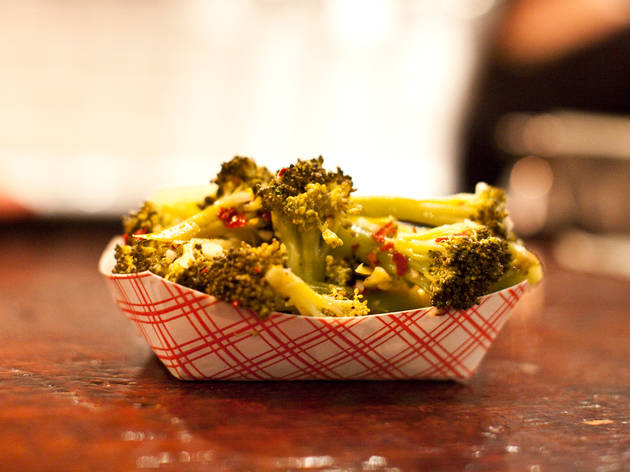 35/100
Photograph: Jolie Ruben
Cora's Broccoli Salad at Fette SauSteamed but firm broccoli stalks, marinated in an uncomplicated blend of olive oil, lemon juice, garlic and red-pepper flakes, are a bracing, welcome counterpoint to the rich 'cue patrons consume by the pound at this Williamsburg meat temple. The chilled salad packs a deceptively simple punch; it's a zesty surprise from a place that's known for its barbecue and not much else. 354 Metropolitan Ave between Havemeyer and Roebling Sts, Williamsburg, Brooklyn (718-963-3404, fettesaubbq.com). Small $3.75, large $7.50.—Marley Lynch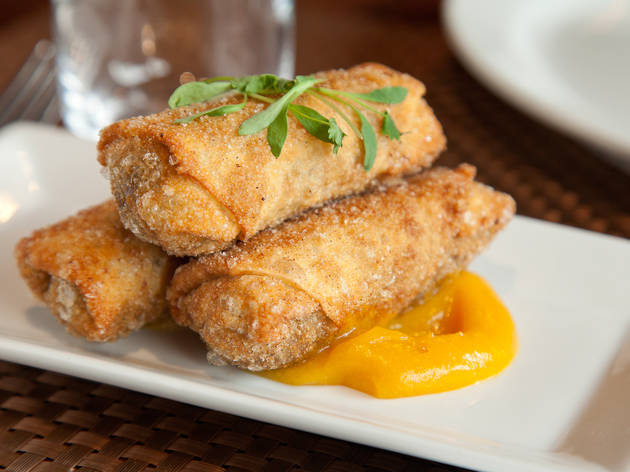 36/100
Photograph: Dominic Perri
Everything duck roll at Silk Rd TavernThese dense parcels may look like your garden-variety egg rolls, but the umami-rich, beak-to-tail filling puts those flimsy takeout tubes to shame. Chinese five-spice powder and white pepper tease out the subtle gaminess of shredded duck-leg meat, which is combined with crispy bits of skin and velvety hunks of Hudson Valley foie gras. Scallions brighten the mixture, while a dash of Hennessy adds a hint of oaky sweetness. 46 W 22nd St between Fifth and Sixth Aves (212-989-7889, silkrdtavern.com). $12.—Sarah Bruning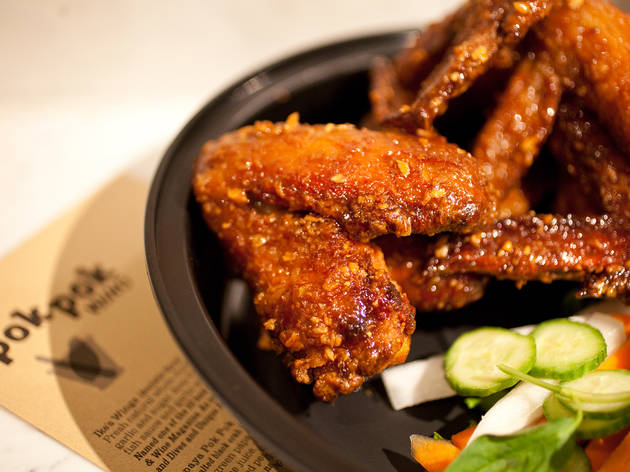 37/100
Photograph: Virginia Rollison
Ike's Wings at Pok Pok NyPortland phenom Andy Ricker's signature snack graced glossies and won West Coast devotees before he imported the dish to New York. Based on a Vietnamese street eat, plump chicken wings—marinated with fish sauce, garlic-water and sugar—are deep-fried until crispy, then coated with a caramelized version of a similar salty-sweet marinade. Crazy demand for the nationally renowned dish led to the closing of NYC's Pok Pok Wing; Ricker converted it into a more manageable operation, a pad thai shop. But you can still find the lip-smacking sticky fowl at his Red Hook outpost. 127 Columbia St between DeGraw and Kane Sts, Red Hook, Brooklyn (718-923-9322, pokpokny.com). $12.50.—Mari Uyehara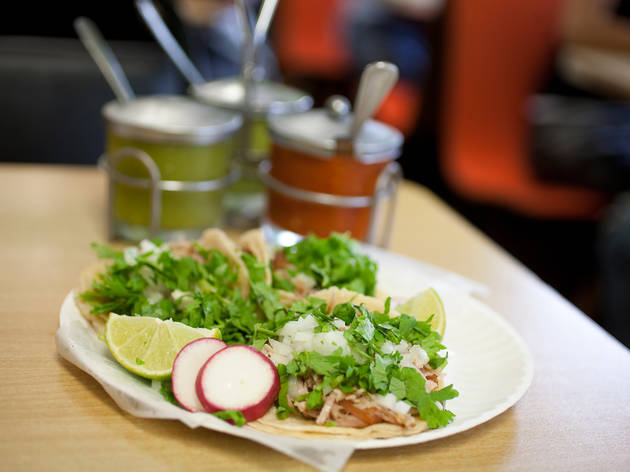 38/100
Photograph: Jael Marschner
Carnitas tacos at Ricos TacosCarnitas are a kind of simple Mexican confit: pork shoulder cooked in its own fat, yielding luscious chunks and caramelized strands of tender meat. And yet, so many places can't nail this fundamental dish. Ricos Tacos, a taqueria in Sunset Park, gets it right. Their carnitas, tucked into a taco and given a mercifully light shower of just cilantro and onion, are a pure expression of concentrated porky flavor that speaks for itself. 505 51st St at Fifth Ave, Sunset Park, Brooklyn (718-633-4816). $1.50/taco.—Scarlett Lindeman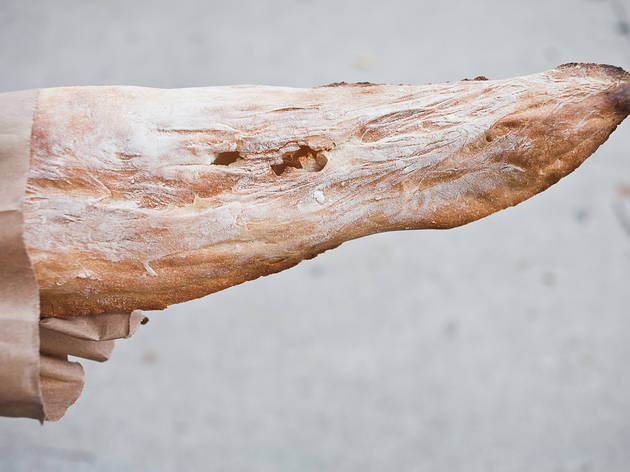 39/100
Photograph: Noah Devereaux
Shoti at Georgian BreadThis hole-in-the-wall bakery specializes in the breads of Eurasia, including shoti—the Georgian equivalent to ciabatta—baked six days a week in a dome-shaped clay oven. In the hands of a hardworking baker  flour, water, yeast and salt yield a warm, crescent-moon-shaped loaf with a crackly crust and a fragrant, chewy interior. It's delicious alone, but particularly addictive when it's slathered in the shop's proprietary spicy eggplant spread. 265 Neptune Ave between Brighton 5th and Brighton 6th Sts, Brighton Beach, Brooklyn (718-332-8082). $2.—Leah Koenig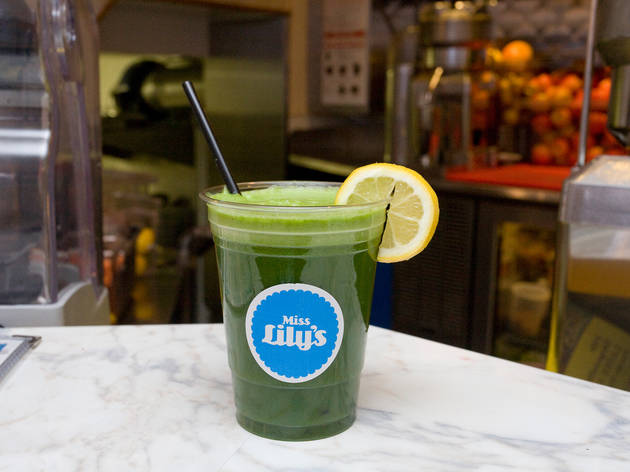 40/100
Photograph: Alex Strada
Jamaican Green juice at Miss Lily's VarietyThe title "celebrity juicer" may seem like a character from some Hollywood farce, but Melvin Major Jr.—the fresh-squeezed whisperer headlining at Miss Lily's—is no joke. This zippy blend deftly balances green kale and celery with bright lemon juice, bracing ginger and sweet apple. One slurp of the enlivening concoction would make even the most ardent carnivore a cold-pressed proselyte. 130 W Houston St at Sullivan St (646-588-5375, misslilysnyc.com). $9.—Mari Uyehara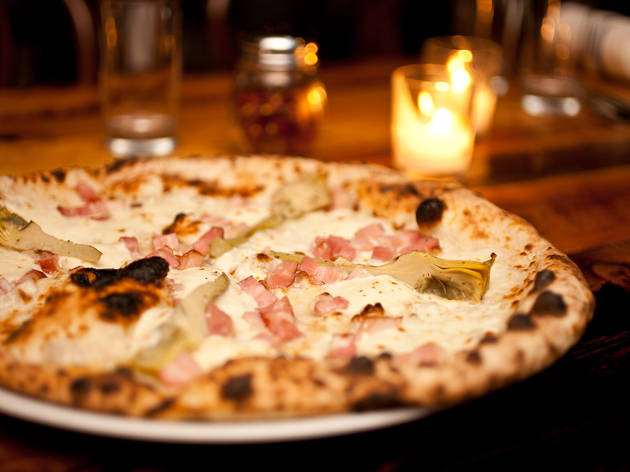 41/100
Photograph: Virginia Rollison
Artichoke-and-smoked-pancetta pizza at BarboncinoThe spread of authentic Neapolitan pizza across New York has reached Crown Heights, where Barboncino serves up this intensely savory pie. Made with dough that slowly rises over the course of three days, it's covered with milky, locally made fior di latte mozzarella and garnished with diced cubes of smoky Italian Leoncini pancetta and artichoks soaked in oil, vinegar and a secret blend of spices. Owner Ron Brown chars the crust in a wood-fired oven till it reaches the ideal consistency: crispy on the outside and spongy within. 781 Franklin Ave between Lincoln and St. John Pls, Crown Heights, Brooklyn (718-483-8834, barboncinopizza.com). $17.—Christopher Ross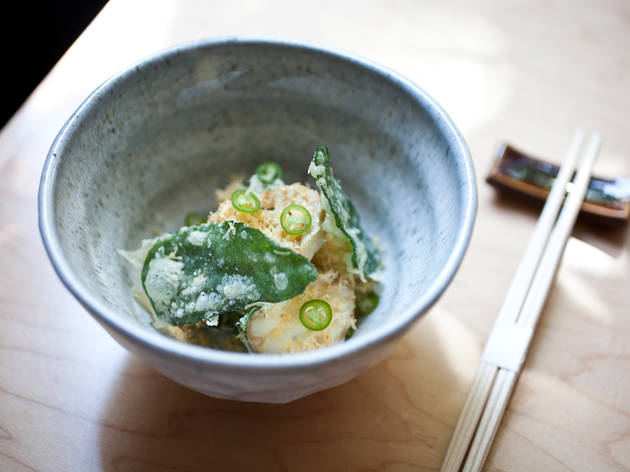 42/100
Photograph: Virginia Rollison
Grilled king mushrooms at NetaHead chef Nick Kim showcases the umami-rich potential of gorgeous king mushrooms in this meatless dish. The fungi, grown upstate, are grilled and layered with sweet and white potatoes that Kim clips into slivers and fries in nutty white sesame oil. The whole extravagant package is showered with raw microplaned serrano peppers for a memorable shot of spark-plug heat. 61 W 8th St between Fifth and Sixth Aves (212-505-2610, netanyc.com). $9.—Christopher Ross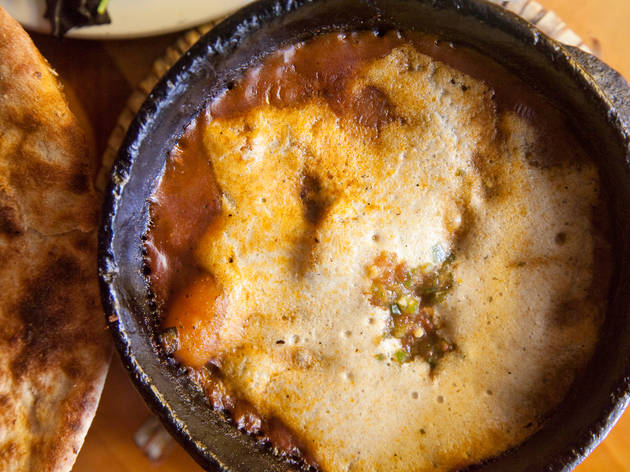 43/100
Photograph: Melissa Sinclair
Saltah at Bab al YemenThe national dish of Yemen, saltah, is a thick lamb-and-vegetable stew, served tableside in a heavy stone pot with a dollop of garlicky tomato-jalapeño chutney and a cloud of halba—a pleasantly bitter foam made from soaked and whipped fenugreek seeds. The cauldron arrives with a gigantic round of house-baked flatbread, intended to be ripped and dunked into the tangy stew in lieu of using a spoon. 413 Bay Ridge Ave between Fourth and Fifth Aves, Bay Ridge, Brooklyn (718-943-6961). $12.—Jamie Feldmar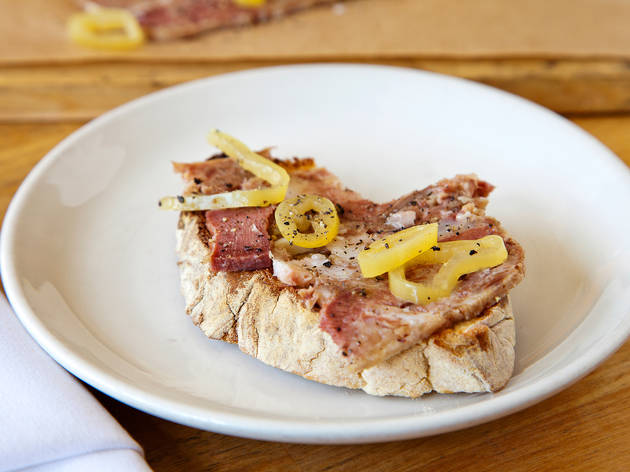 44/100
Photograph: Dominic Perri
Pork cheek and beef tongue terrine at Franny'sStudded with translucent beads of fat begging to be spread on the accompanying olive-oil–brushed toast, Franny's terrine of silken pork cheek and brawny beef tongue achieves the perfect balance of rustic and refined. The seasonal Italian haven changes its menu frequently, but luckily for offal lovers, this house-made appetizer is holding steady—even if its locally grown garnish varies (pickled fennel, crunchy Kirbys, salsa verde et al.). 295 Flatbush Ave between Prospect Pl and St. Marks Ave, Prospect Heights, Brooklyn (718-230-0221, frannysbrooklyn.com). $11.—Marley Lynch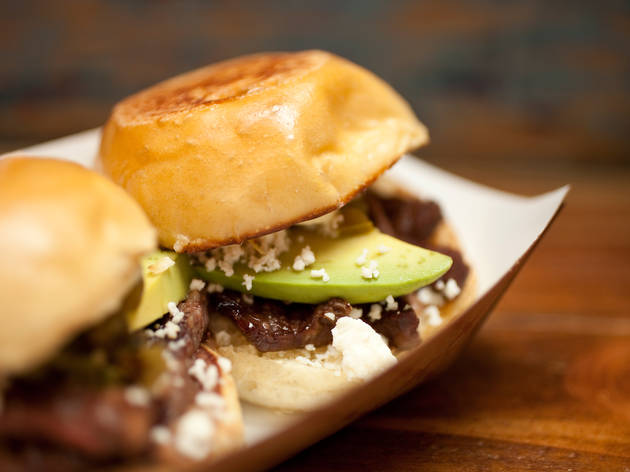 45/100
Photograph: Virginia Rollison
Carne asada tortitas at Salon HechoAmong the superior Mexican drunk snacks at this mescal-soaked spot, the mini tortas keep us coming back. Rich toasted brioche buns sandwich tender grilled strips of boneless short rib. A shower of creamy avocado, pickled jalapeño and salty queso fresco top it off. 356 Bowery between Great Jones and E 4th Sts (212-937-4245, salonhecho.com). Two for $8.—Mari Uyehara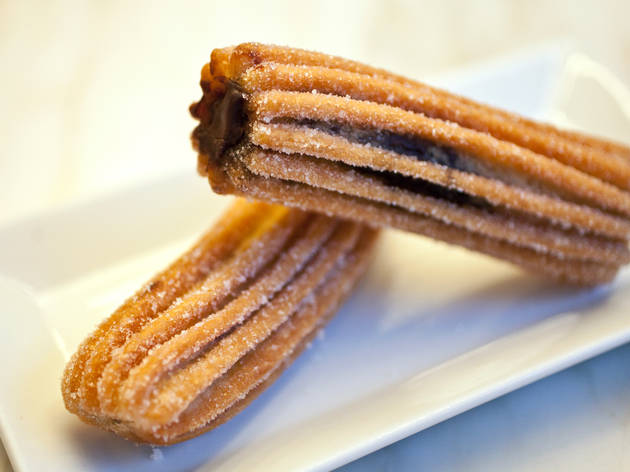 46/100
Photograph: Virginia Rollison
Churros and chocolate at La ChurreriaMost Americans are familiar with the Mexican iteration of this treat (long, cinnamon-sugar-dusted wands), but Spanish expat Lolo Manso crafts his version sans cinnamon, according to the recipe common in his native country. Fried to order, the ethereally light batons come adorned with a simple dusting of sugar and a cup of dense, liquid dark chocolate for dipping. 284 Mulberry St between E Houston and Prince Sts (212-219-0400, lachurrerianyc.com). Six $6, a dozen $10.—Sarah Bruning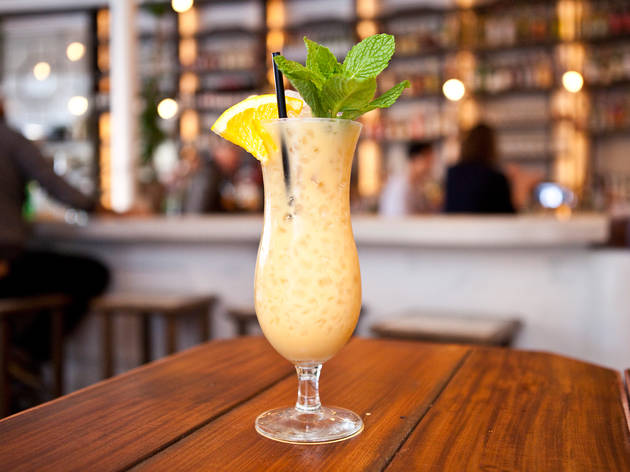 47/100
Photograph: Jolie Ruben
Brancolada at DonnaNew York bartenders have a firm handle on pre-Prohibition cocktails these days, but with so many spots offering pitch-perfect Sazeracs and standard-bearing old-fashioneds, the race to innovate is on. Credit barkeep Jeremy Oertel with moving the liquid feast forward this year, nipping at the classic constituents of a piña colada to yield the year's most exciting new drink. The ingenious Brancolada reimagines the emblematic tiki quaff, adding a glug of minty Branca Menta to a velvety combination of aged rum, coconut cream, and pineapple and orange juices—plus a tuft of mint and a drift of crushed ice. The Creamsicle-colored Brancolada sips brisk and refreshing, with a boozy and menacing riptide you'll feel after just a few swallows. 27 Broadway at Dunham Pl, Williamsburg, Brooklyn (646-568-6622, donnabklyn.com). $10.—Jordana Rothman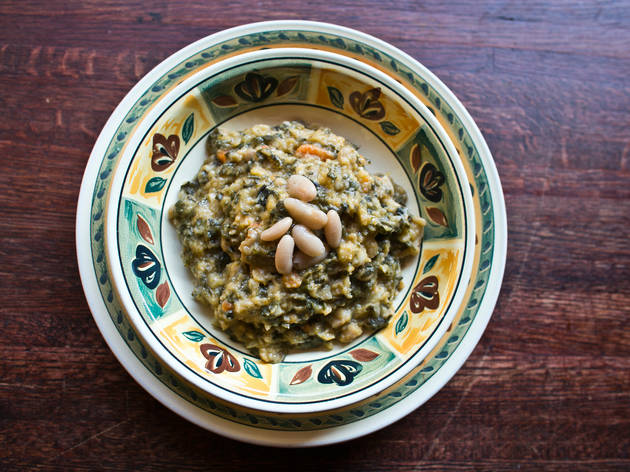 48/100
Photograph: Caroline Voagen Nelson
Ribollita at Locanda Vini & OliiA time-honored Tuscan comfort food, this rustic vegetarian soup combines tender slivers of Tuscan kale, cannellini beans and winter root veggies with hunks of day-old Tuscan bread, baked in-house. The soup sits overnight so that the flavors meld together, and is served the next day (ribollita means "reboiled" in Italian). It's finished with a glug of extra-virgin olive oil and a whip of fresh black pepper. 129 Gates Ave at Cambridge Pl, Clinton Hill, Brooklyn (718- 622-9202, locandavinieolii.com). $8.50.—Jamie Feldmar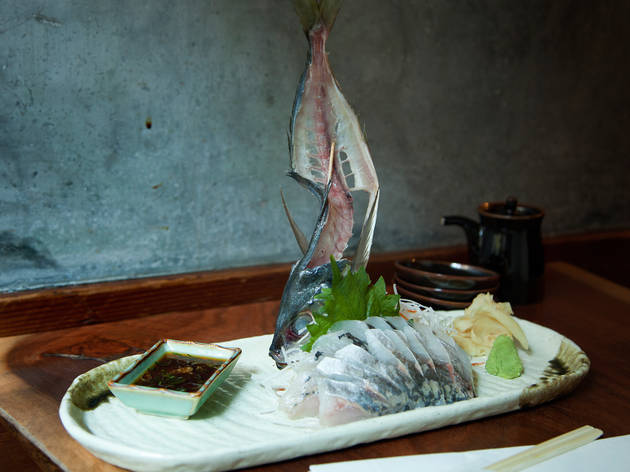 49/100
Photograph:Dominic Perri
Aji at Blue Ribbon SushiHorse-mackerel sashimi is a dish that keeps on giving at this downtown sushi institution. Devour the plump, melt-on-your-tongue aji, leaving only its skeleton; after your plate has been cleared, your waiter will return with its picked-over bones, deep-fried in a light batter. Eat them like chips, dipped in ponzu sauce, for an exquisite maritime take on head-to-tail dining. 119 Sullivan St between Prince and Spring Sts (212-343-0404, blueribbonrestaurants.com). $25.50–$31.50, depending on availability.—Marley Lynch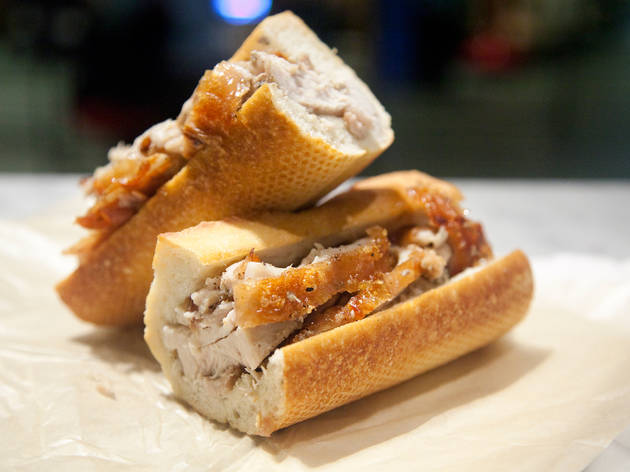 50/100
Photograph: Melissa Sinclair
Porchetta sandwich at EatalyThis Thursdays-only special, served out of the rosticceria in the back of Mario Batali's Italian superstore, manages to hit all of the high points of a sandwich with just a few well-chosen ingredients. Crackly shards of caramelized skin contribute crunch; juicy, garlic-rubbed chunks of pork provide meaty heft; and ridges of satiny fat seep into the bread, along with seasonings like oregano, fennel and massive flakes of sea salt. 200 Fifth Ave between 23rd and 24th Sts (212-229-2560, eataly.com).Small $11.80, large $14.80.—Chris Schonberger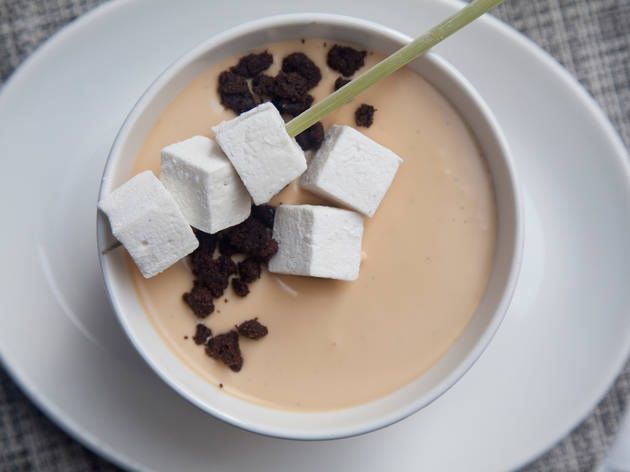 51/100
Photograph: Melissa Sinclair
Butterscotch Pot de Crème at North End GrillThe plating may call to mind a late-autumn campfire: Skewers of snow-white marshmallows resting over a glass filled with burnt-orange cream and charcoal-colored crumbs. But pastry chef Alexandra Ray's silky butterscotch custard is instead a cool study in texture. Fluffy marshmallows infused with single-malt scotch, too pretty for any fire pit, are the tender, chewy foil to the pudding's richness and the gritty crunch of the chocolate cookie crumble. 104 North End Ave at Vesey St (646-747-1600). Available intermittently with the $85 tasting menu and à la carte beginning in December, $9.—Jasmine Moy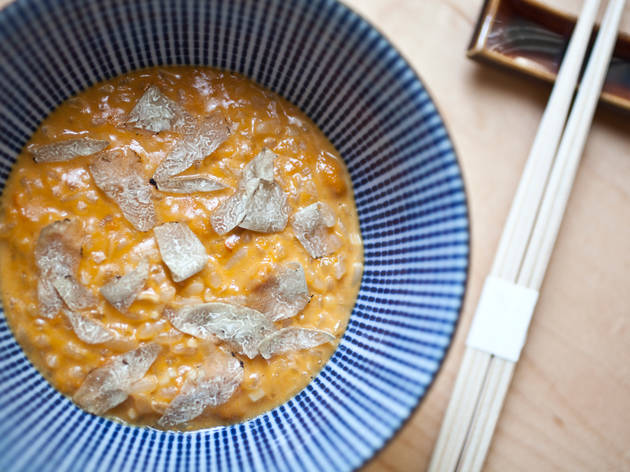 52/100
Photograph: Virginia Rollison
Uni risotto at NetaChefs Nick Kim and Jimmy Lau's reimagined risotto takes the dish to new heights. They soak glutinous mochi rice in sake, cook it in kombu dashi (Japanese kelp stock) and add sautéed mushrooms (maitake or chanterelles in the summer; matsutake in the fall) for a double hit of umami. Cool, creamy lobes of sea urchin are folded in to give the dish body and a luxuriously smooth texture. When it's available, Kim and Lau also amp up the creaminess with shirako (cod sperm sacs) or Dungeness crab. 61 W 8th St between Fifth and Sixth Aves (212-505-2610, netanyc.com). $18.—Winnie Yang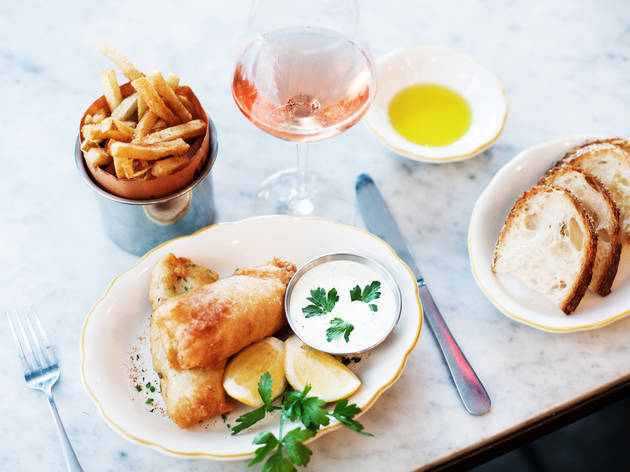 53/100
Photograph: Noah Devereaux
Tempura hake at PrimaFrench chef David Malbequi updates fish and chips, that staid British classic, with this sprightly rendition. He dunks two hake fillets in a light tempura batter, invigorated with the bitter bite of Sam Adams lager, and then deep-fries them in a vat of oil. Gorgeous golden-brown shells—improbably light and puffy—encase the tender, flaky fish. Pair the dish with slim, crispy french fries and an outstanding buttermilk-tarragon tartar sauce. 58 E 1st St between First and Second Aves (646-559-4823, primanyc.net). $16.—Mari Uyehara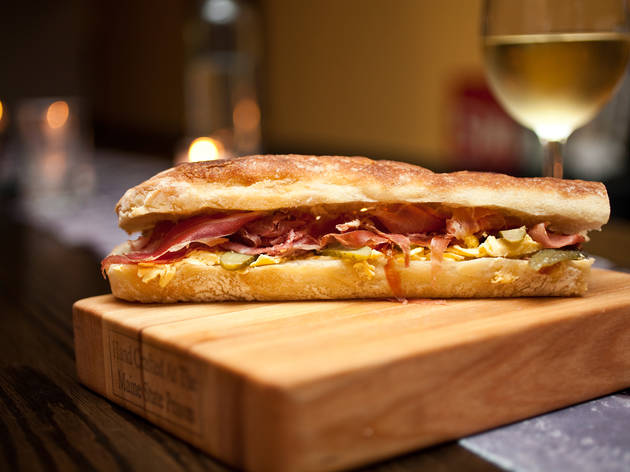 54/100
Photograph: Virginia Rollison
Surryano ham sandwich at Porsena Extra BarMelons and prosciutto have been familiar bedfellows on charcuterie plates for ages, inspiring chef Sara Jenkins to combine the winning duo between two slices of bread. Jenkins, who rose to sandwich stardom at her pork-boosting shop Porchetta, has devised another hit with this ingenious handful, which starts with a luscious homemade cantaloupe butter smeared on halves of soft stecca bread from Sullivan Street Bakery. Ribbons of rich, lightly smoked Surryano ham from Virginia and briny cornichons are the cardinal details that send this slender sandwich sky-high. 21 E 7th St between Second and Third Aves (212-228-4923). $10.—Christopher Ross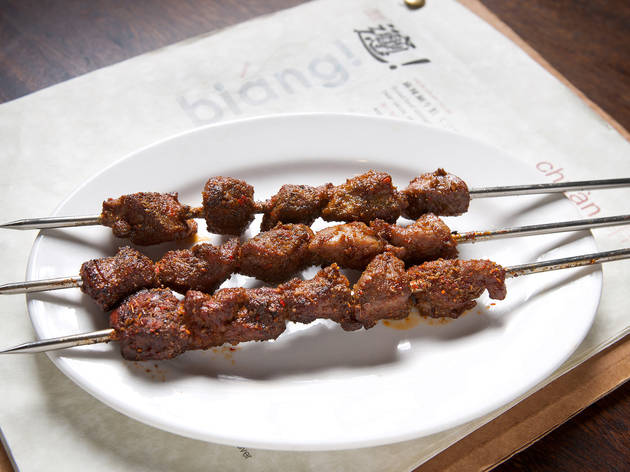 55/100
Photograph: Paul Wagtouicz
Zi rán yáng ròu chuàn at Biang!At this modernist spin-off of cheap eats fave Xi'an Famous Foods, the delectable chuan—skewered foods—could vie for top billing with the joint's signature dish, superlative hand-pulled noodles. As at Xi'an, the team here works delicious wonders with lamb—our favorite of the chuan. The dish takes on deep, complex flavors through a dead-simple preparation: Slices of meat are dusted with chili, ground cumin and spices, threaded on skewers and grilled over flames, resulting in fragrant, chewy nuggets. 41-10 Main St between 41st Ave and 41st Rd, Flushing, Queens (718-888-7713, biang-nyc.com). Three skewers $3.—Mari Uyehara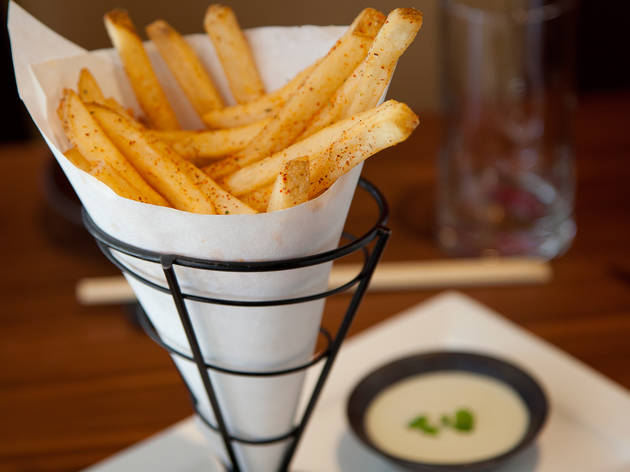 56/100
Photograph: Dominic Perri
Spicy french fries with wasabi cream cheese at Mr. RobataIt would be easy to tack on an order of these gangly beauties as an afterthought—an extra something to share among friends. But you'll quickly realize it's best to order your own. Yukon Golds are sliced long and thin, then fried in soybean oil to achieve a craggy golden-brown exterior. The finished fries, dusted with salt and shichimi pepper, really shine when dipped into the accompanying sauce, a hot union of thick cream cheese, fresh wasabi and sushi-rice vinegar. 1674 Broadway at 52nd St (212-757-1030, mrrobata.com). $7.—Sarah Bruning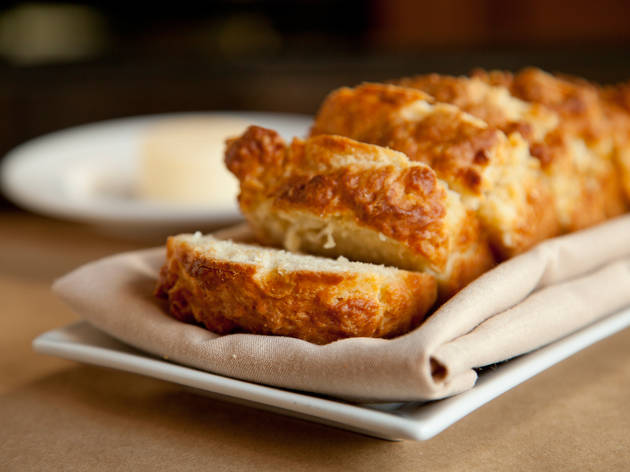 57/100
Photograph: Dominic Perri
Whiskey bread at Gwynnett St.Though baskets of carbs arrive free and unbidden on many a New York table, it's not often that you encounter bread service worth paying for. This whiskey loaf is a boozier, more decadent cousin to Irish soda bread: warm and steaming, with a butter-laden batter that makes for a crumbly yet tender crust. The interior is dense, with a hint of aged-spirit sweetness; smear it with the salted and cultured Vermont butter that's served alongside. 312 Graham Ave between Ainslie and Devoe Sts, Williamsburg, Brooklyn (347-889-7002, gwynnettst.com). $5.—Jasmine Moy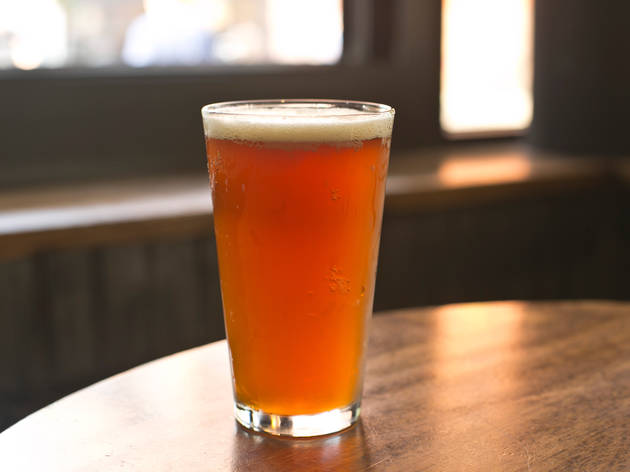 58/100
Photograph: Caroline Voagen Nelson
Bronx Pale AleBrooklyn Lager blazed the trail, followed by Sixpoint Sweet Action and Kelso Nut Brown—iconic NYC brews that have become defining fixtures of local tap lists. With its tightrope balance of biscuity malts and piney, grapefruit-forward hops, Bronx Brewery's debut pale ale is that rare newcomer that feels destined to join those ranks. It's an instant craft-beer classic, and one we look forward to sipping for years to come. Available at Bronx Ale House, 216 W 238th St at Review Pl, Bronx (718-601-0204). Pint $6.—Chris Schonberger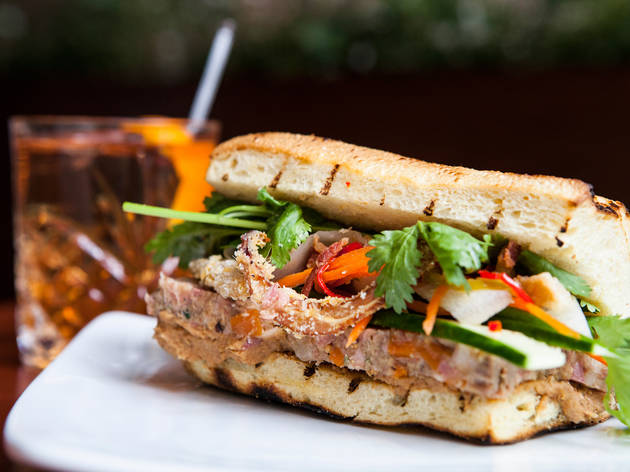 59/100
Photograph: Jakob N. Layman
Pig's head banh mi at the DailyVietnamese sandwiches may not be the best pairing for cocktails, but no matter—this doorstopper from chef Brad Farmerie is worth seeking out, even if the Daily's classic quaffs aren't on your agenda. The stacked creation might as well be called pork four ways: Each bite is a study in porcine decadence, with layers of meaty flavor coming from rich Asian-spiced rillettes, a thick slab of pig's-head terrine, crispy pork belly, and a crunchy pig's ear coated with panko and spicy mustard. 210 Elizabeth St between Prince and Spring Sts (212-343-7011, thedaily-nyc.com). $13.—Chris Schonberger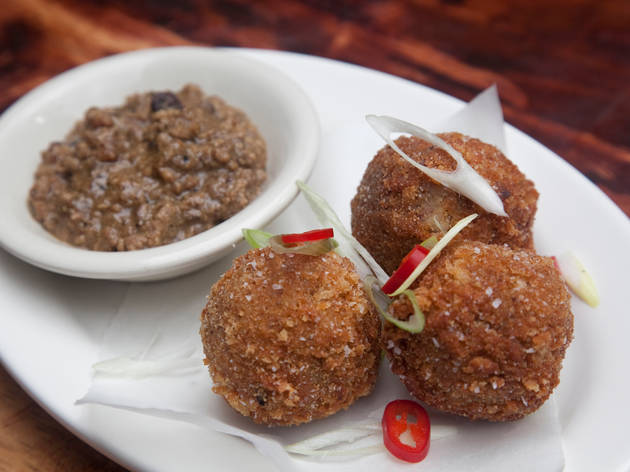 60/100
Photograph: Melissa Sinclair
Jambalaya balls in dirty gravy at Exchange AlleyExchange Alley chef and owner Paul Gerard polished his kitchen chops in New Orleans, but he was raised on second-generation Italian fare in Brooklyn. He created this bar snack—a mash-up of old-school New York arancini rice balls with a classic Creole stew—as a nod to both towns. He begins with sticky Spanish rice, rock shrimp and chicken stock. Cooked down and shaped by hand, the balls are then breaded, fried and garnished with chilies and green onion, making for a moist, spicy bite that grows tantalizingly hotter on the tongue. A gravy composed of chicken liver, ground pork, beef and a dark brown roux provides a rich contrast. 424 E 9th St between First Ave and Ave A (212-228-8525). $9.—Christopher Ross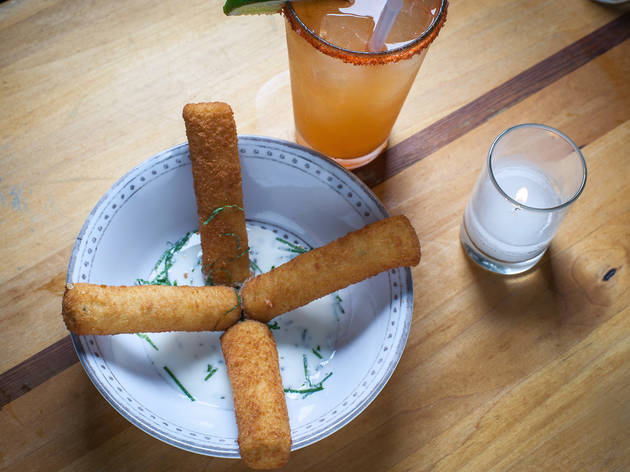 61/100
Photograph: Paul Wagtouicz
Shacked Cheese at RéunionWitness the ascent of the mozzarella stick at this Hell's Kitchen surf shack. Actually based on a dish often eaten at beach concessions along the shores of the Black Sea in Georgia, these golden wands contain a flawless combination of soft and firm cheeses: A mixture of mascarpone and ricotta with crème fraîche, mint and cilantro is enveloped in a thin layer of cow's-milk mozzarella, breaded with panko crumbs and dunked in the bubbling oil. The result is delicate, crispy batons that are a tangy match for the cool mint and yogurt sauce served alongside. 357 W 44th St at Ninth Ave (212-582-3200, reunionbar.com). $7.95.—Jasmine Moy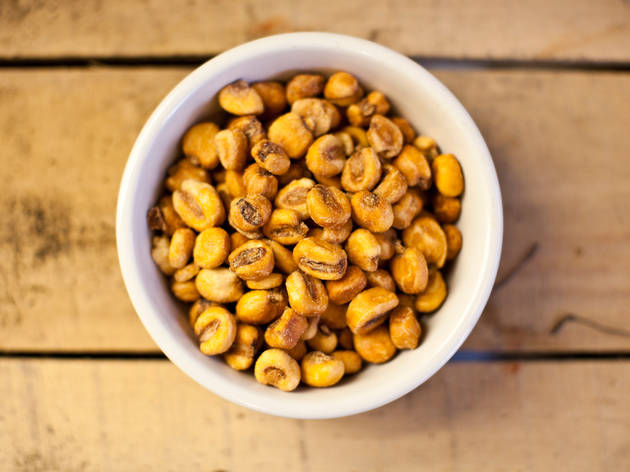 62/100
Photograph: Jolie Ruben
Corn nuts at Marlow & DaughtersUnlike most products at Andrew Tarlow's hyperlocal grocery and butcher shop, these corn nuts, sold in pint or half-pint containers, hail from Spain. The fried kernels, known in their homeland as quicos, are a highbrow take on the junky snack varietal commonly sold in flavors like ranch and nacho cheese. Here, the crunchy bites are simply flavored with salt—and are compulsively snackable. 95 Broadway between Bedford Ave and Berry St, Williamsburg, Brooklyn (718-388-5700, marlowanddaughters.com). $7/lb.—Marley Lynch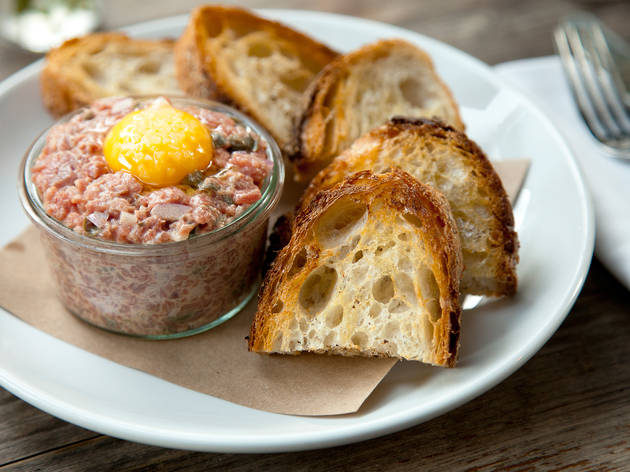 63/100
Photograph: Dominic Perri
Lamb tartare at the CannibalThe in-house butchers steer the menu at Christian Pappanicholas's meat-and-beer joint, where you'll find this North African riff on a bistro classic. Hand-cut hunks of lamb leg glisten with a spicy, creamy harissa aioli that receives an extra flavor boost from freshly chopped mint, briny capers, red onions and fresh herbs. Mix in the duck-egg yolk on top, and slather the impeccably fresh meat onto crunchy pieces of toast. 113 E 29th St between Park and Lexington Aves (212-686-5480, thecannibalnyc.com). $16.—Chris Schonberger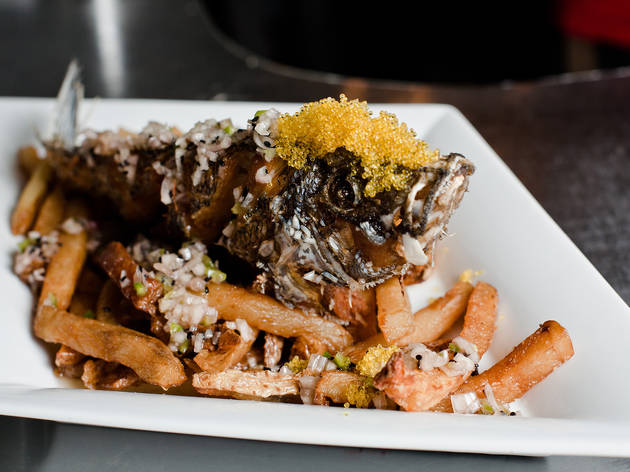 64/100
Photograph: Noah Devereaux
A Fish and Some Chips at Do or DineHeads turn as this yellowtail snapper, sporting a "roehawk" of yuzu-steeped flying fish eggs and propped upright as if swimming through a sea of fries, passes through the dining room. The lightly sweet and delicate meat is topped with a citrusy yuzu-shallot relish, and sprinkled with black sesame seeds, fish sauce and diced jalapeño for heat. The flaky fish and tangy sauce are ace companions for the bed of twice-fried, skin-on russets that lie beneath. 1108 Bedford Ave between Lexington Ave and Quincy St, Bedford-Stuyvesant, Brooklyn (718-684-2290). $20.—Jasmine Moy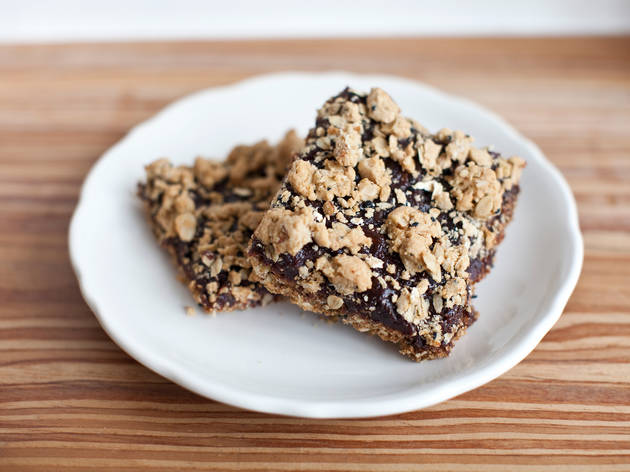 65/100
Photograph: Jolie Ruben
Montego Bay Bars at OvenlyThis gnarly cookie bar may lack photo-shoot-ready refinement, but it's still best in show at Greenpoint bakery Ovenly. A fudgy jam made of Callebaut dark chocolate and chopped dates is sandwiched between a spelt-flour cookie crust enriched with butter and olive oil, and flavored with brown sugar, peppery black caraway seeds and pecans. The resulting confection may be homely, but its mix of nutty, crunchy, gooey and sweet is sublime. 31 Greenpoint Ave at West St, Greenpoint, Brooklyn (347-689-3608). $3.75.—Leah Koenig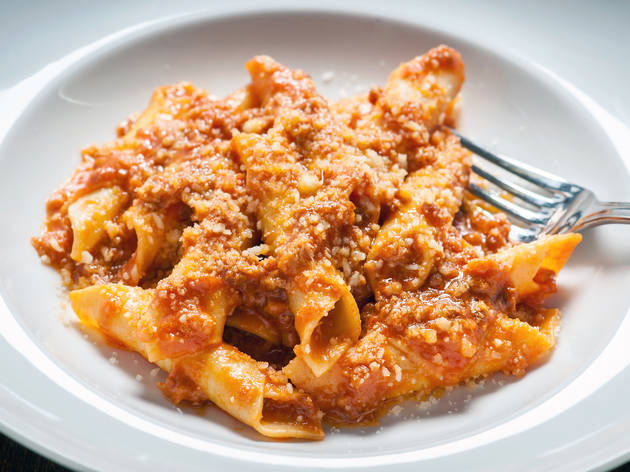 66/100
Photograph: Paul Wagtouicz
Garganelli with tripe, prosciutto and chili at PerlaFor this lusty pasta dish, meat maestro Michael Toscano tames pungent tripe with a long blanching. He then grinds and stews it for more than three hours in a riff on spicy amatriciana sauce: San Marzano tomatoes, onion, garlic and prosciutto instead of guanciale. Finished in a pan with a handful of chilies and red onion, the robust, meaty sauce clings to homemade garganelli, cloaking the hollow of each ethereal quill. 24 Minetta Ln between Sixth Ave and MacDougal St (212-933-1824, perlanyc.com). $19.—Mari Uyehara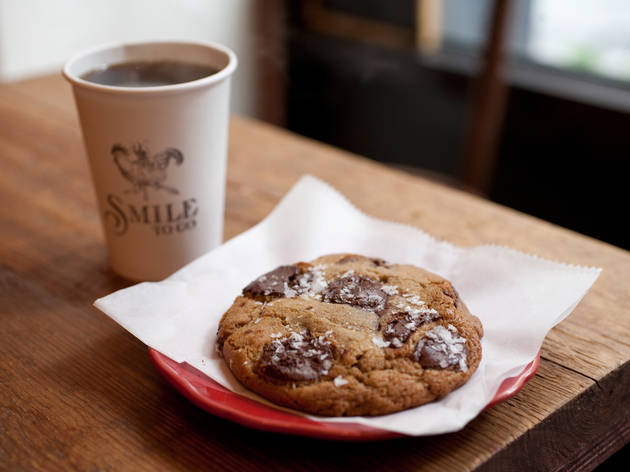 67/100
Photograph: Jael Marschner
Chocolate-chip cookies at Smile to GoWith the inflated market share of artisanal doughnuts and fancy macarons lately, it's easy to overlook the humble chocolate-chip cookie. Smile to Go pastry chef Brenna White offers a stunning reminder via her exceptional rounds, which are packed with dark (72 percent cocoa), single-origin Guittard chocolate, malty brown sugar and a generous dose of vanilla extract. A generous sprinkling of salt before and after baking gives the palm-sized wafers a full, savory finish. 22 Howard St between Crosby and Lafayette Sts (646-329-5836). $2.50 per cookie.—Christopher Ross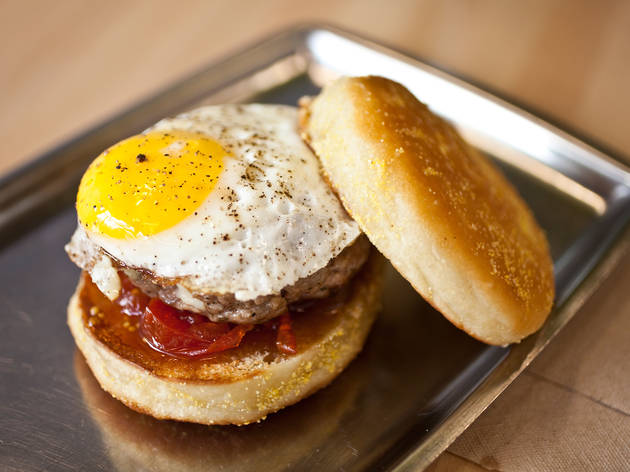 68/100
Photograph: Virginia Rollison
Breakfast burger at Mile End SandwichThis super-deluxe McMuffin puts the fast-food original to shame. The buttery, flaky house-made English muffin is stuffed with Mile End's own zingy veal-sausage patty (threaded with crushed red pepper and sage), sweet apple butter, maple syrup, sharp Canadian cheddar and a fried runny egg. It's messier than any drive-through breakfast—expect yolk and syrup everywhere—and much tastier, too. 53 Bond St between Bowery and Lafayette St (212-529-2990). $12.—Jay Cheshes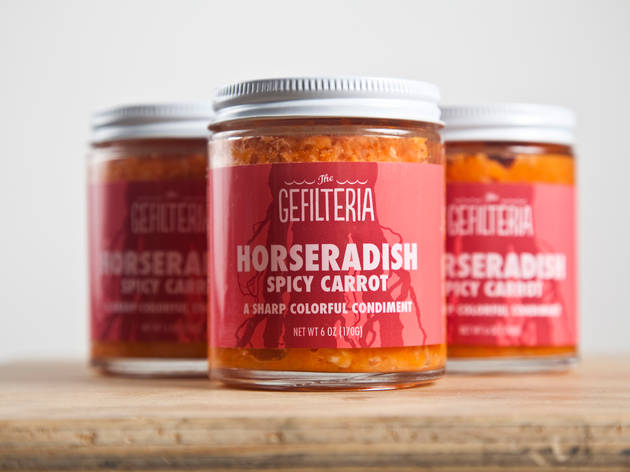 69/100
Photograph: Jolie Ruben
Spicy Carrot Horseradish at GefilteriaGefilte fish is a divisive Jewish foodstuff, but this sunset-colored condiment has broad appeal. The blend of barely boiled chopped carrots, raw horseradish, cane sugar and spices, cut with vinegar, lemon zest and juice, pays homage to the sliced carrot moons that traditionally top gefilte-fish balls. You can try the fiery, flavor-packed chutney as it was intended to be served—smeared on the pungent fish quenelles—but it tastes equally great dolloped on sandwiches, in scrambled eggs or stirred into a Bloody Mary. Available at gefilteria.com (347-688-8561). $6.—Leah Koenig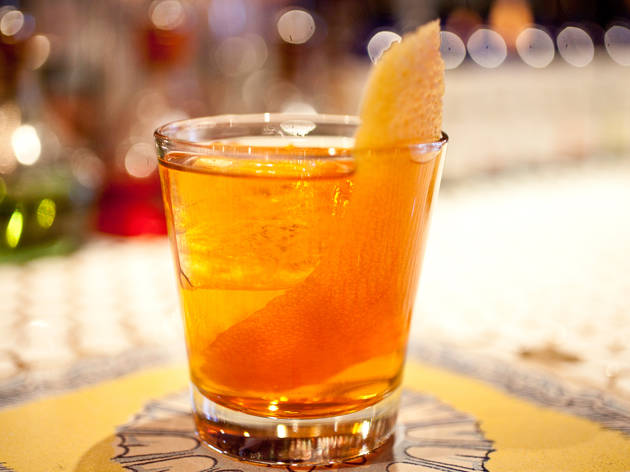 70/100
Photograph: Krista Schlueter
Di Pompelmo at Amor y AmargoFruit-forward drinks tend to court scowls among macho cocktail nerds who favor brown, bitter and stirred concoctions above all others. But for this gorgeous sip, Amor y Amargo barman Sother Teague has unearthed a sliver of the Venn diagram where fruit and brawn overlap. Blending the tart grapefruit cordial Bittermens Citron Sauvage with vegetal Siembra Azul blanco tequila and a hit of orangey Aperol, Teague produces a juicy and quaffable drink with a gently bitter smack. 443 E 6th St between First Ave and Ave A (212-614-6817, amoryamargony.com). $12.—Laren Spirer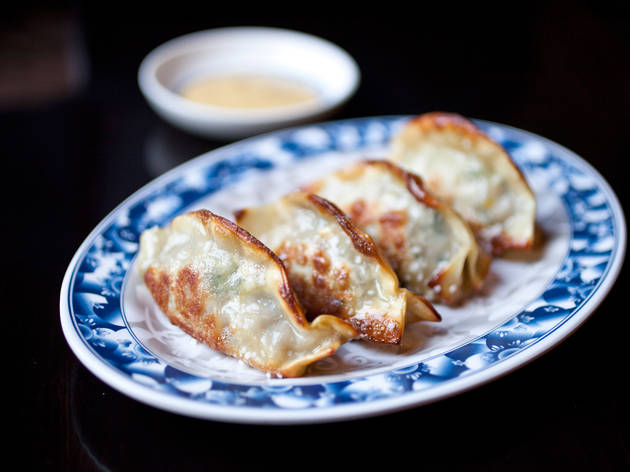 71/100
Photograph: Virginia Rollison
Pretzel pork dumplings at TaldeDale Talde's pot-sticker–pretzel mash-up may be the ultimate East-West bar food, a perfect storm of salt and fat. Classic pork and chive dumplings are brushed in egg wash and butter before they're panfried. The crisp, dark-amber bundles, finished with a shower of coarse salt, are served with sharp Chinese mustard—an excellent bridge connecting the dim sum parlor to the New York street cart. 369 Seventh Ave at 11th St, Park Slope, Brooklyn (347-916-0031, taldebrooklyn.com). $8.—Jay Cheshes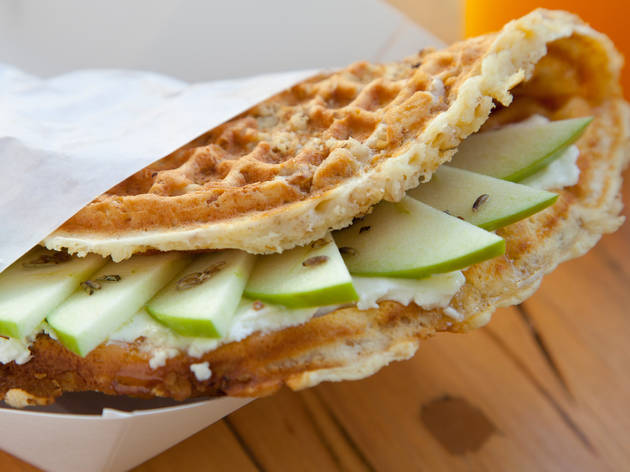 72/100
Photograph: Dominic Perri
The No. 25 waffle at Waffle and WolfExecutive chef and co-owner Daniel Richardson turns what could be a simple breakfast staple into a made-to-order anytime treat. He crisps plain or buckwheat batter, studded with crushed raw walnuts, in the waffle iron before slathering it in fluffy whipped Quebecois goat cheese. Seasonal fruit—berries in the summer, apples or pears in the fall—plus house-infused lavender-clover honey add the final sweet flourishes. 413 Graham Ave at Withers St, Williamsburg, Brooklyn (347-889-6240, waffleandwolf.com). $10.—Sarah Bruning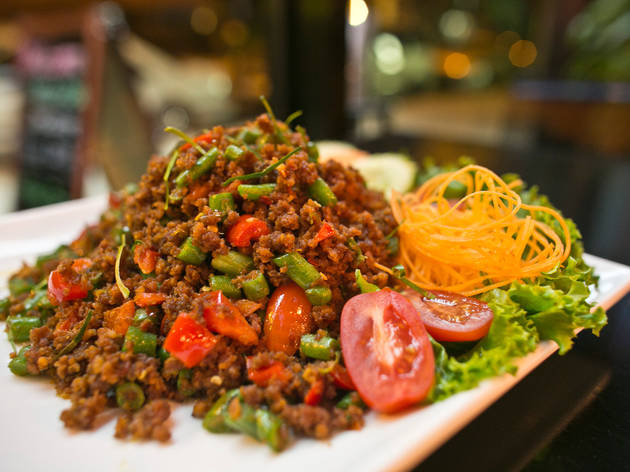 73/100
Photograph: Caroline Voagen Nelson
Pad prik king pla duk foo at Chao Thai TooCatfish is ground to bits and fried into tiny, crispy nuggets at this beloved, ramshackle Elmhurst Thai spot's larger outpost. The finished dish—piled high with slivers of string beans and dyed a luxuriant deep red from mild prik king curry paste—is heady and slightly sweet, with a gentle heat that lingers long after the last bite. 83-47 Dongan Ave at Broadway, Elmhurst, Queens (718-424-9888). $12.95.—Jamie Feldmar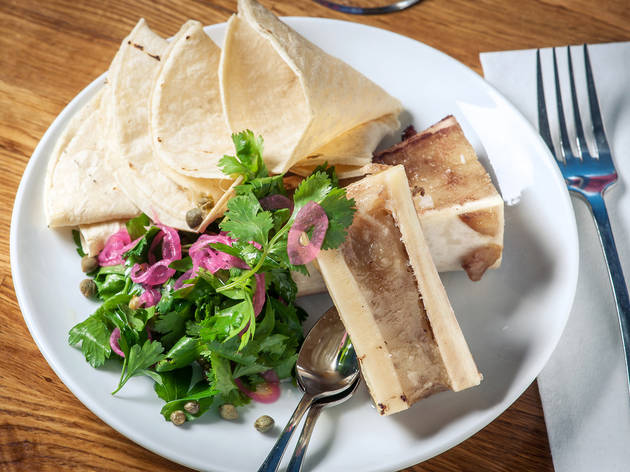 74/100
Photograph: Paul Wagtouicz
Bone marrow tacos at Lulu & PoMatt Hamilton, owner and chef of Fort Greene's Lulu & Po, employs flavorful bone marrow as it's traditionally used in Tabasco, Mexico: as a taco filling. To assemble this DIY dish, scrape the savory marrow out of a thick cracked veal bone and smear it on a charred corn tortilla. A few sprigs of fresh cilantro, a tumble of capers, rings of pickled red onions, parsley and dashes of house-made vinegar and hot sauce add heat to the creamy, meaty marrow. 154 Carlton Ave at Myrtle Ave, Fort Greene, Brooklyn (917-435-3745, luluandpo.com). $13.—Christopher Ross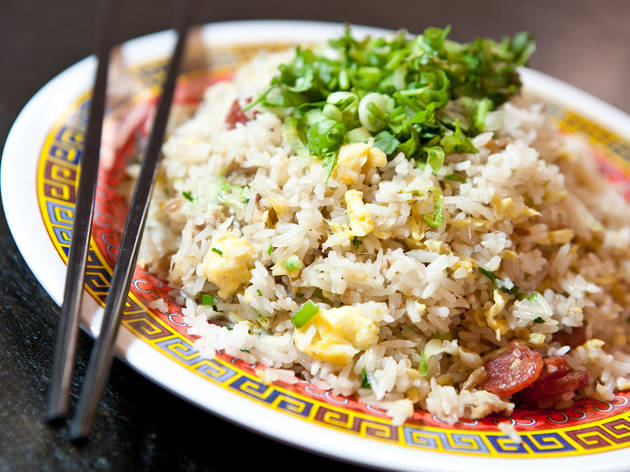 75/100
Photograph: Jakob N. Layman
Salt-cod–fried rice at Mission Chinese FoodAt food-world darling Danny Bowien's Lower East Side hot spot, the fast-and-furious meals are typically a Szechuan-peppercorn throwdown, with plates so gloriously scorching that they can bring the most seasoned eaters to their knees. But every time we visited, the unassuming salt-cod rice proved to be the sleeper hit of the table, a serene knockout holding its own beside ballsy signature dishes like the kung pao pastrami and thrice-cooked bacon. In a flame-licked wok, Bowien tosses tender long grains with a quadruple hit of richness: salt-cod bits, confited mackerel, sweet coins of Chinese sausage and creamy egg. The lush mound, studded with nubs of soft egg and toothsome pork, is finished with julienned lettuce. 154 Orchard St between Rivington and Stanton Sts (212-529-8800, missionchinesefood.com). $11.50.—Mari Uyehara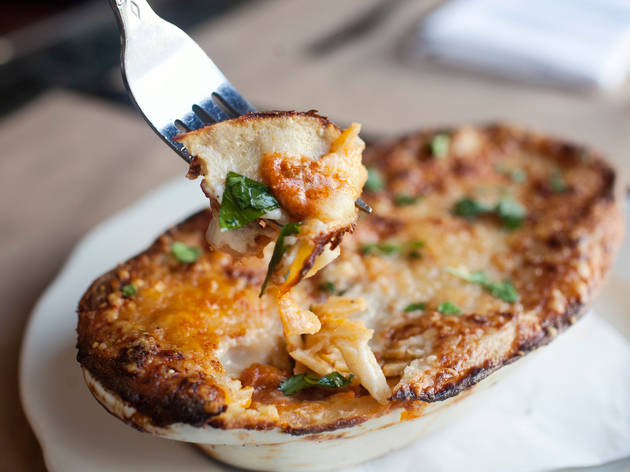 76/100
Photograph: Lizz Kuehl
Lasagna al forno at Bar CorvoA smart chef knows when to embroider a classic and when to leave it alone. Anna Klinger's take on the ultimate Italian comfort food sticks to the basics—and gets all of them right. Fresh sheets of pasta layered with just enough béchamel, Parmigiano and ragù bolognese are baked fresh to order in personal crocks. The result is rich, gooey and restorative—just as New York's best lasagna should be. 791 Washington Ave between Lincoln and St. Johns Pls, Crown Heights, Brooklyn (718-230-0940, barcorvo.com). $17.—Jay Cheshes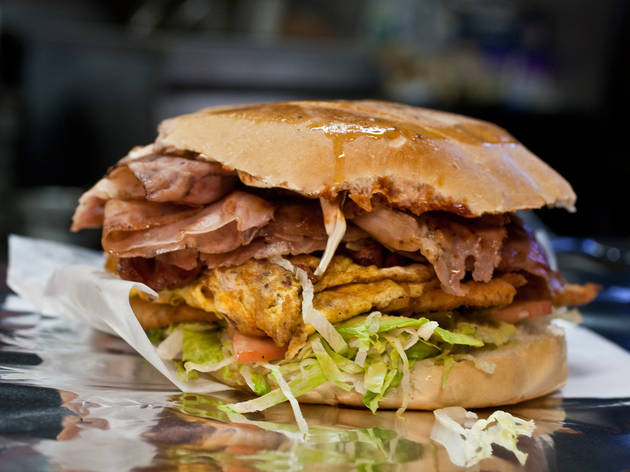 77/100
Photograph: Michael Skigen
La Torta Puma at Tortas Neza truckThe 18 varieties of torta at this Vendy Award finalist's taco truck, parked in Corona, Queens, are each named after a Mexican soccer team. La Torta Puma is the largest of the bunch, and it takes two fully engaged biceps to lift it toward your mouth. Deciphering all of the layers—the breaded and deep-fried chicken cutlet, fried hot dogs, a chorizo omelet, several slices of headcheese, ham, refried beans, lettice, tomato, avocado, pickled jalapeños and a pile of shredded Oaxacan-style cheese—is a delicious (if nigh impossible) challenge. Corner of Roosevelt Ave and 111th St, Corona, Queens (347-666-1517). $14.—Scarlett Lindeman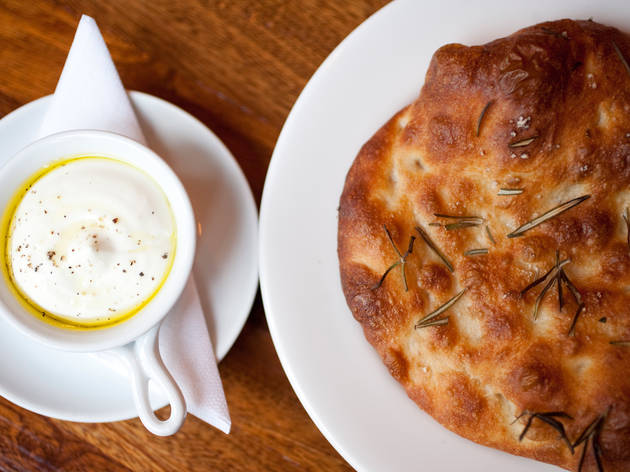 78/100
Photograph: Jael Marschner
Ricotta and bread at BattersbyModest little Battersby has been topping the hit lists of food-world cognoscenti since its October 2011 opening. But perhaps the most scene-stealing dish arrives before you've even placed your order: The bread service here is among the city's best, featuring a hot-from-the-oven focaccia speckled with rosemary and sea salt, plus a crock of whipped house-made ricotta drizzled with a healthy pour of olive oil. Swipe bits of the bread through the smooth, tangy cheese to gear up for dinner. 255 Smith St between DeGraw and Douglass Sts, Carroll Gardens, Brooklyn (718-852-8321, battersbybrooklyn.com).—Laren Spirer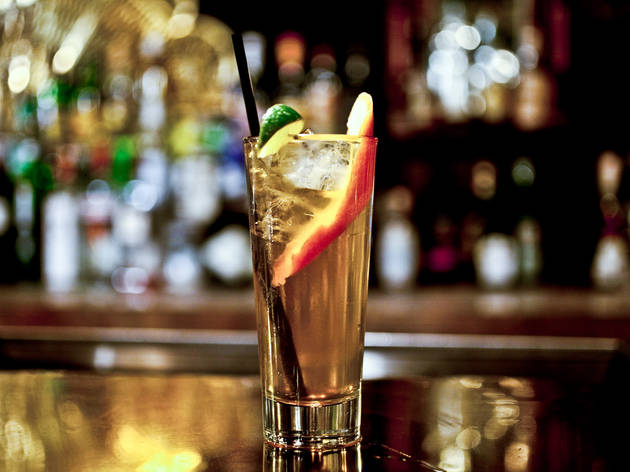 79/100
Photograph: Krista Schlueter
G&T on tap at Gin PalaceA gin and tonic is an effortless drink, a garden party refresher nonpareil. So when two figureheads of the craft cocktail movement—Gin Palace beverage directors Tom Chadwick and Frank Cisneros—signed their names to a version of the two-ingredient tipple, we took notice. In building the platonic ideal of a G&T, the pair carefully considered each element. The base is Gordon's, a classic London Dry; the bubbly is a house-tinkered blend of Bittermens Commonwealth Tonic Liqueur and soda water; a dash of grapefruit bitters and a twist of the fruit's peel punch up the citrus notes. The result is a thinking man's G&T, funneled through a tap system to allow for quicker service and a lower cost. Take advantage of the $7 price tag and let them flow. 95 Ave A at 6th St (212-614-6818, ginpalaceny.com). $7.—Laren Spirer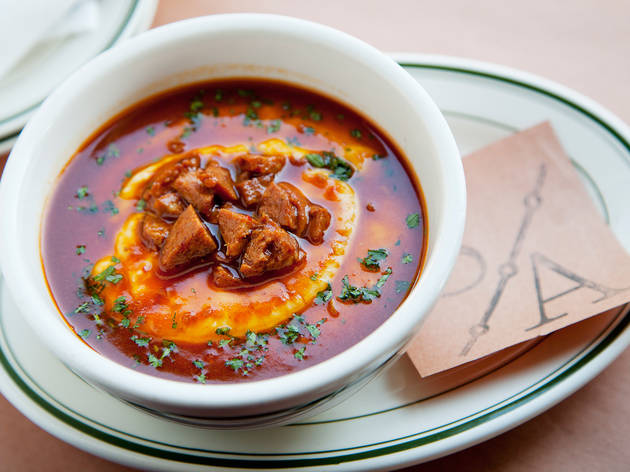 80/100
Photograph: Dominic Perri
Creamy polenta at the Saint AustereOwners and siblings Jacqueline and Fabrizio Pirolo draw on their Italian heritage for this addictive bowl, a recipe developed by their chef brother, Michael. Coarsely ground cornmeal cooks with milk, cream, butter and Parmigiano Reggiano for five hours until it reaches a luscious consistency, then it's topped with a layer of chicken jus flecked with bits of caramelized cipollini onion and grilled hunks of spicy Italian sausage. It's the kind of boldly flavored, satisfying comfort food that's best eaten in the fall, but keeps you coming back all year round. 613 Grand St between Leonard and Lorimer Sts, Williamsburg, Brooklyn (718-388-0012, thesaintaustere.com). $10.—Sarah Bruning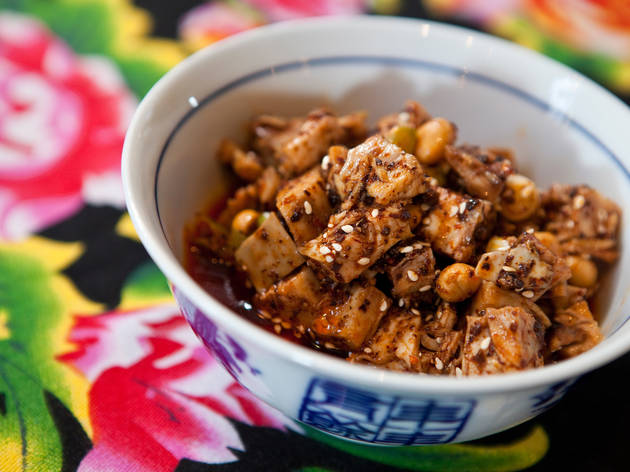 81/100
Photograph: Jakob N. Layman
Spicy diced rabbit at Café ChinaRabbit, an unsung pleasure, gets its due in this invigorating cold appetizer. A lively sauce spiked with chilies and Szechuan peppercorns balances the bone-in nuggets of rich, gamey flesh. Crunchy peanuts and sesame seeds lend nutty sweetness to the piquant bowl. 13 E 37th St between Fifth and Madison Aves (212-213-2810, cafechinanyc.com). $9.—Mari Uyehara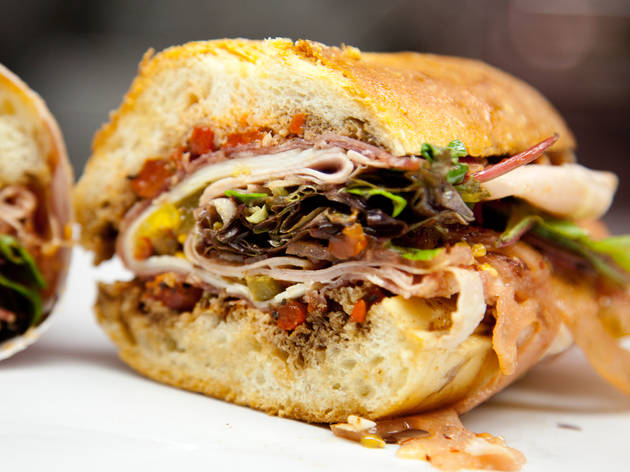 82/100
Photograph: Dominic Perri
Spicy Godfather Sandwich at Graham Avenue Meats & DeliCannoli may have been the Corleone clan's preferred foodstuff, but we're pretty sure they'd leave the desserts behind in favor of this behemoth sub. Atop a sliced Italian hero from Napoli Bakery, staffers layer paper-thin rounds of imported meats (usually some combination of mortadella, capocollo and sopressata), along with BelGioioso provolone, tomatoes, mixed greens and the secret weapon: a flurry of pickled cherry, banana and jalapeño peppers. Each jaw-stretching mouthful leaves our lips tingling. 445 Graham Ave at Richardson St, Williamsburg, Brooklyn (718-389-9777). $7.75.—Sarah Bruning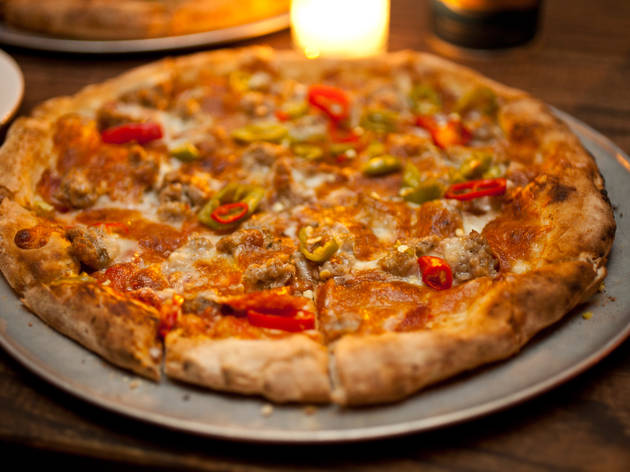 83/100
Photograph: Virginia Rollison
The Saint Louie at Speedy RomeoSt. Louis–style pizza has its own diehard fans and haters, but Justin Bazdarich's version could convert anyone. The star of the square slice is Provel, an improbably delicious processed cheese made of Swiss, cheddar and provolone. A ride in the 800-degree wood-burning oven brûlées the top; underneath, the cheese melts into a tangy béchamel-like layer, binding the spicy soppressata, fennelly house-made Italian sausage and San Marzano tomato sauce to the chewy crust. 376 Classon Ave at Greene Ave, Clinton Hill, Brooklyn (718-230-0061, speedyromeo.com). $16.—Winnie Yang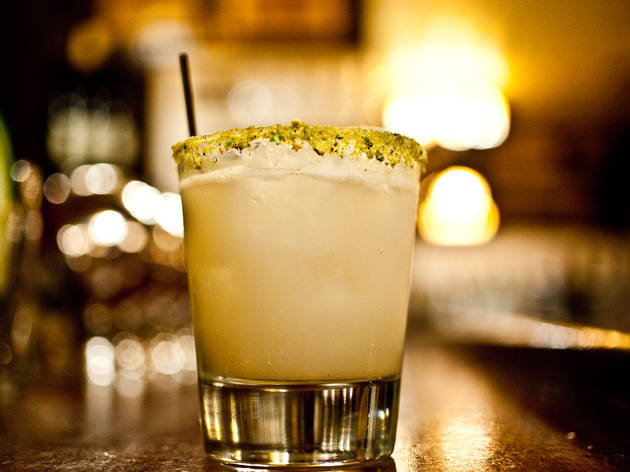 84/100
Photograph: Krista Schlueter
Pistachio de la Rosa at Minetta TavernNuts have played a rather mixed role in the history of cocktails, with most amarettos tending toward the sickly sweet. But with this margarita-fashioned tipple, Minetta Tavern bar manager Adam Doss makes a case for further experimentation. Doss's house-infused pistachio syrup finds a worthy companion in aged Don Julio tequila, Grand Marnier, and fresh lime juice. The nut brings the combination of tangy citrus and dry, herbaceous tequila to a full, rounded finish, aided by a fine dusting of crushed pistachio around the rim. 113 MacDougal St at Minetta Ln (212-475-3850, minettatavernny.com). $15.—Christopher Ross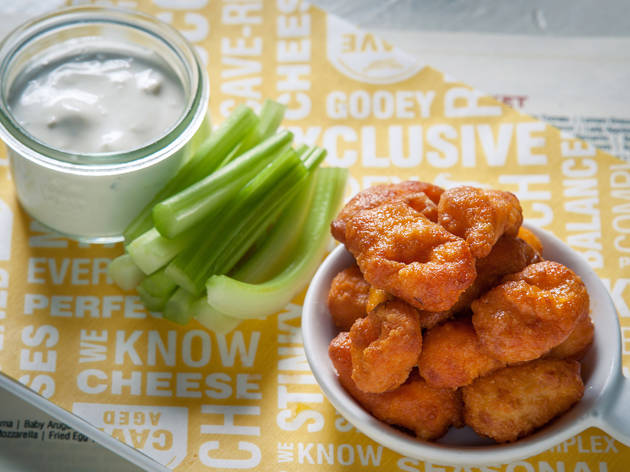 85/100
Photograph: Paul Wagtouicz
Buffalo cheese curds at Murray's Cheese BarChef-fromager Tia Keenan playfully prepares knotty cheese curds in the manner of Buffalo wings at Murray's Cheese Bar. The curds, from Wisconsin's Ellsworth Cooperative Creamery, are fried to a golden-brown crisp, washed in a zippy half-and-half mixture of butter and Frank's Hot Sauce, and served alongside a tangy blue-cheese sauce—made with Badger State Black River blue cheese, crème fraîche, mayo and sour cream—for dipping. Celery sticks break up the cheese-on-cheese action. 264 Bleecker St between Leroy and Morton Sts (646-476-8882, murrayscheesebar.com). $10.—Christopher Ross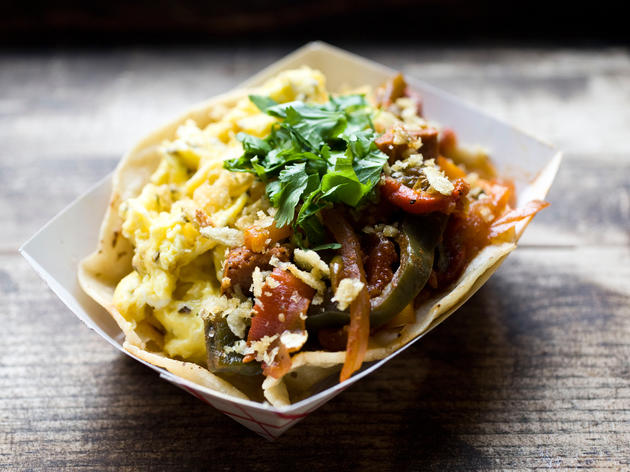 86/100
Photograph: Jolie Ruben
Breakfast taco with chorizo at WhirlybirdCredit bass player Jeffrey Bailey with adding this boss breakfast taco to the New York breakfast canon. After falling for the morning snack while touring in Austin, he opened an indie coffeeshop dedicated to the Tex-Mex brekkie. Tender corn tortillas can barely contain the rich contents: soft scrambled eggs, shredded Oaxacan cheese and three-chili salsa made with a bracing mix of peppers, stewed tomatoes and crumbles of chorizo. A sprinkling of fresh cilantro and crushed jalapeño potato chips punch up the whole messy package. 254 South 2nd St between Havemeyer and Roebling Sts, Williamsburg, Brooklyn (718-384-1928, whirlybirdbrooklyn.com). $4.50.—Mari Uyehara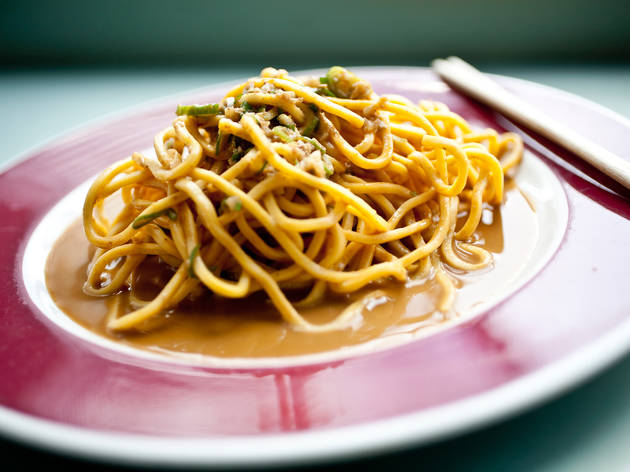 87/100
Photograph: Krista Schlueter
Sesame noodles at Shorty Tang & SonsShorty Tang amassed a cultish following for the version of sesame noodles he served at Hwa Yuan—a New York City Chinese restaurant that closed in the early '90s. Following a 2007 plea from The New York Times' Sam Sifton, the remaining members of the Tang clan worked to resurrect Shorty's recipe, eventually opening a Smorgasburg stand to bring the beloved noodles back to the masses. Each scallion-speckled portion is scooped from a large wooden bowl, where eggy strands soak up the legendary sauce—a sublime combination of sesame paste, peanut butter and chili oil. Saturdays through Nov 17 at the Williamsburg Waterfront, 110 Kent Ave at North 8th St, Williamsburg, Brooklyn (@shortytangsons). $6.—Laren Spirer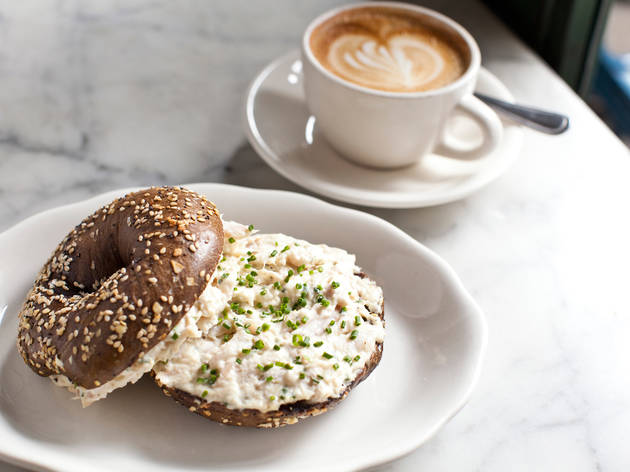 88/100
Photograph: Jolie Ruben
Smoked whitefish on a bagel at Marlow & SonsWhether you opt to wait for a table during Marlow's perpetually packed brunch hours or grab a bite to go at the coffee counter, make sure to try this elegant riff on the Jewish deli standard. To make the spread, Acme smoked whitefish is mixed with house-made mayo, a generous helping of thinly sliced chives and a squirt of lemon to brighten it up; it's then smeared on a crispy toasted bagel. 81 Broadway at Berry St, Williamsburg, Brooklyn (718-384-1441, marlowandsons.com). $7.—Marley Lynch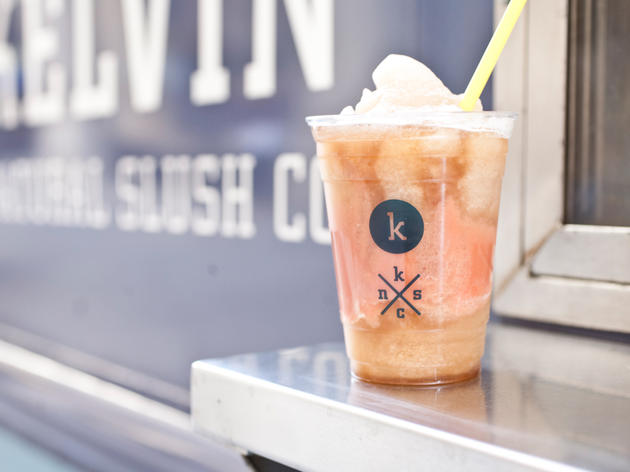 89/100
Photograph: Jael Marschner
Tea Slush at Kelvin's Natural Slush Co.This roving food truck serves a sophisticated take on a childhood favorite: the slushie. Filtered water steeped with black and green tea leaves, then lightly sweetened with cane sugar replaces the corn syrup and artificial food dyes typical of the convenience-store–style treat. Threaded with a layer of pureed white peaches, it's a fine way to quiet cravings for a summery sweet any day of the year. kelvinslush.com (646-200-5083). $3.50/$4/$4.50.—Leah Koenig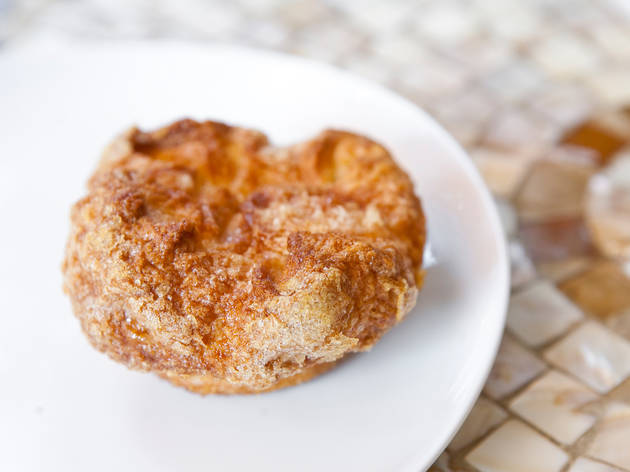 90/100
Photograph: Jakob N. Layman
DKA at Dominique Ansel BakeryPastry wunderkind Dominique Ansel propelled an obscure French regional specialty—the kouign-amann from Brittany—into New York's dessert pantheon with this light remake. For the sweet stunner, Ansel combines butter-rich dough and superfine sugar in a tartlet ring; a hot oven transforms it into a croissantlike knot laced with a sweet, gooey paste. Baking the round on a sugar-lined sheet lends the elegant bun a golden-brown crunch and a glinting caramelized finish. 189 Spring St between Sullivan and Thompson Sts (212-219-2773, dominiqueansel.com). $5.25.—Mari Uyehara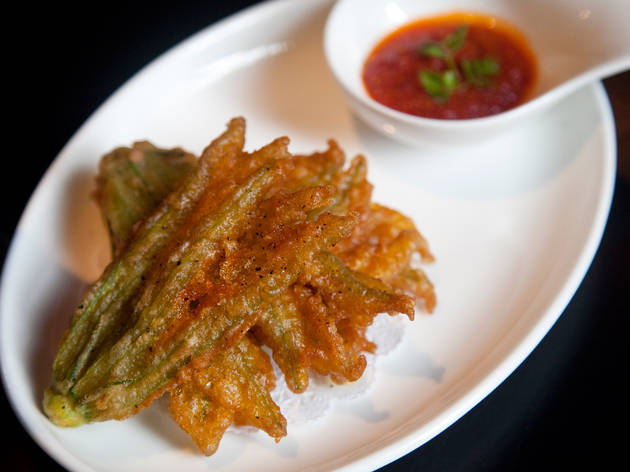 91/100
Photograph: Melissa Sinclair
Zucchini-flower beignets at Bistro la PromenadeIt's a little ironic that squash blossoms have become the most sought-after dish at Bistro la Promenade—chef Alain Allegretti says he can recall seeing them tossed to pigs as a child in Nice, France. The blooms have certainly come a long way since then, appearing on plenty of farm-to-table menus around NYC. But Allegretti's simple, restrained preparation is our favorite. He coats the flowers in a light tempura batter (buoyed by a hit of bubbly soda), then fries them for less than a minute and serves them with a rich heirloom-tomato sauce. You'd be hard pressed to find an airier, crispier, more addictive bite in all of New York. 461 W 23rd St between Ninth and Tenth Aves (212-255-7400, lapromenadenyc.com). $11.—Christopher Ross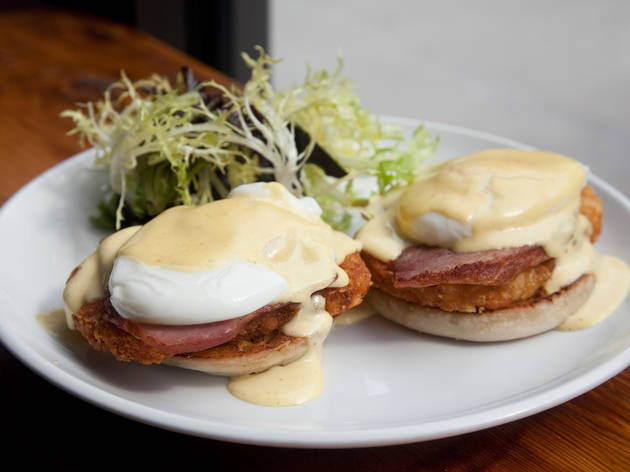 92/100
Photograph: Melissa Sinclair
Eggs Benedict with Paradise Locker ham at ABVSome archetypal dishes beg to be improved upon. Others, such as the timeless eggs Benedict, demand a ritualistic devotion to their classic forms. At ABV, the dutiful rendering of the brunch staple features a gently poached egg, oozing golden yolk at the prick of a fork, seated atop a toasted Thomas' English muffin and a slab of juicy Paradise Locker cured maple ham. Blanketed in thick hollandaise sauce glimmering with bacon fat, the Benedict makes a delicious and unimpeachable argument for leaving well enough alone. 1504 Lexington Ave at 97th St (212-722-8959, abvny.com). $13.—Christopher Ross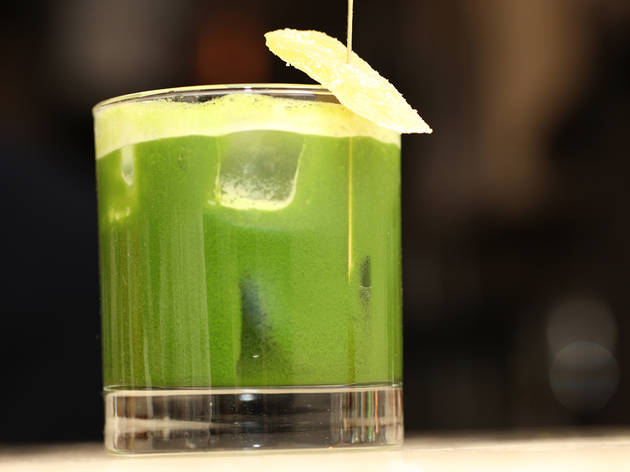 93/100
Photograph: Courtesy The Wayland
The Garden Variety margarita at The WaylandIt didn't take long for New York's latest health craze—juicing—to find its way into a cocktail glass. At the Wayland, this drink (originally conceived to help the bar manager beat a cold) is dosed with fresh-pressed kale and ginger, a dynamic mash-up of spicy kick and vegetal cool, punched up with tequila and sweetened with honeyed agave nectar. The smoked sea salt rim, in the manner of a margarita, provides a savory finish. 700 E 9th St at Ave C (212-777-7022, thewaylandnyc.com). $11.—Christopher Ross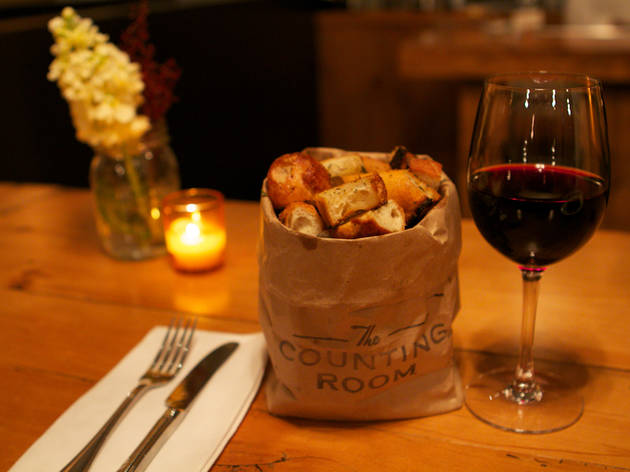 94/100
Photograph: Marc Evan
Warm bag of croutons at the Counting RoomBits of Balthazar French baguettes, left over from making sandwiches, inspired chef Robert Crosson to offer this unusual bar snack in place of popcorn. Cubed bread is tossed with garlic, Parmesan, basil, Italian parsley, sea salt and black pepper, then toasted in a hot skillet. The serving vessel—a small brown-paper bag—may tempt you to squirrel these compulsively edible squares away for tomorrow's salad, but they're also an elegant way to carbo-load for a night of drinking. 44 Berry St at North 11th St, Williamsburg, Brooklyn (718-599-1860, thecountingroombk.com). $6.—Sarah Bruning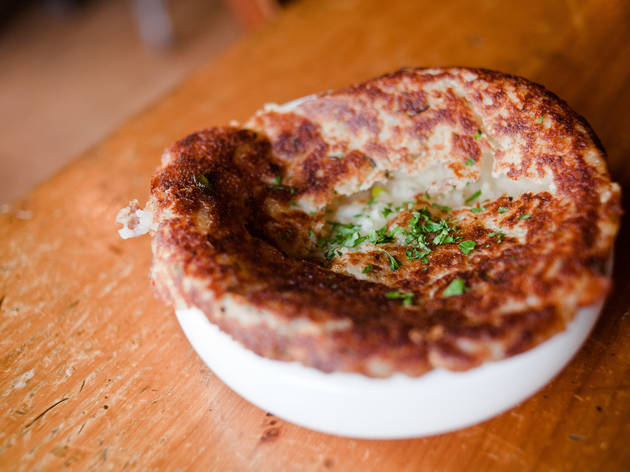 95/100
Photograph: Noah Devereaux
Pan-fried mashed potatoes at St. AnselmThis Williamsburg eatery is known as a grilling temple, but we'd pay a visit for this side dish alone. Chef Yvon de Tassigny revolutionizes mashed potatoes by pan-frying smooth spuds in lard. Break through the crusty golden top to find the creamy potato inside, fragrant with white truffle oil and parsley. It's a game-changing combination that pushes the classic steakhouse side into a new stratosphere of flavor. 355 Metropolitan Ave between Havemeyer and Roebling Sts, Williamsburg, Brooklyn (718-384-5054). $5.—Marley Lynch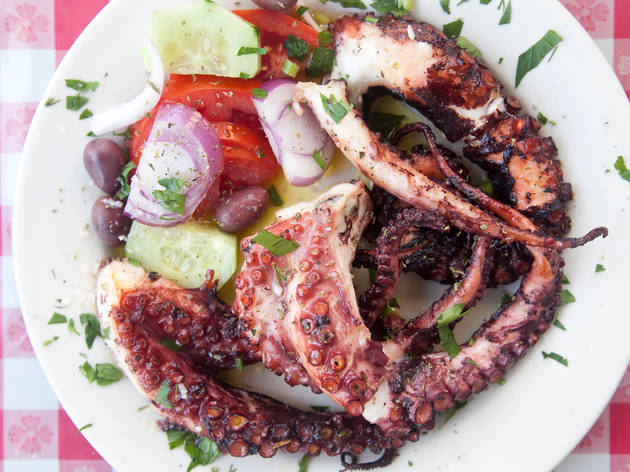 96/100
Photograph: Melissa Sinclair
Grilled octopus at Gregory's 26 Corner TavernaThe cephalopod at this Greek hideaway is a study in contrasts: The tentacles are singed to a gentle crunch on the outside, but are lush, white and miraculously moist within. The kitchen first boils the octopus until tender, then bastes it in olive oil and throws it on the grill for a blast of smoldering heat. Dusted with salt and oregano and splashed with fresh lemon juice, each crisp-tender tentacle is a marvel of simple, well-executed technique. 26-02 23rd Ave at 26th St, Astoria, Queens (718-777-5511). $15.—Jamie Feldmar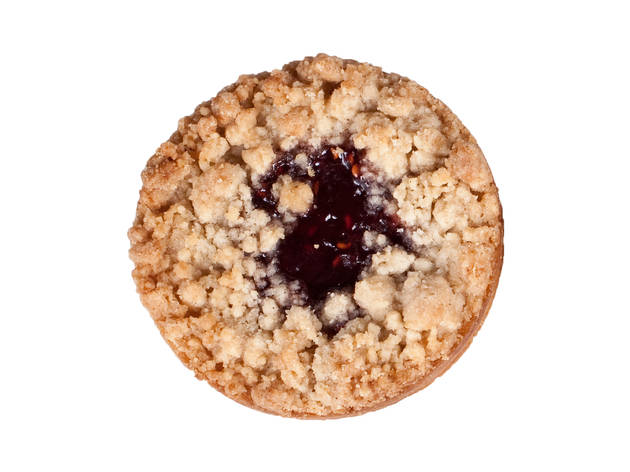 97/100
Photograph: Krista Schlueter
Jammers at Beurre & SelWhile baking and cookbook queen Dorie Greenspan's World Peace chocolate cookies are legendary and her French vanilla sablés unimpeachable classics, we're completely smitten with her Jammers. The four-time James Beard Award winner shapes these rounds, made with local butter and French sea salt, into distinctive thick pucks, sporting a hint of Madagascar and Tahitian vanillas, a tangy slick of sticky Bonne Maman Wild Blueberry Preserves and a crown of tender, salt-speckled streusel. 1590 Park Ave between 112th and 115th Sts (no phone yet) • 120 Essex St between Delancey and Rivington Sts (917-623-3239) • beurreandsel.com. $3 each, seven for $14.—Mari Uyehara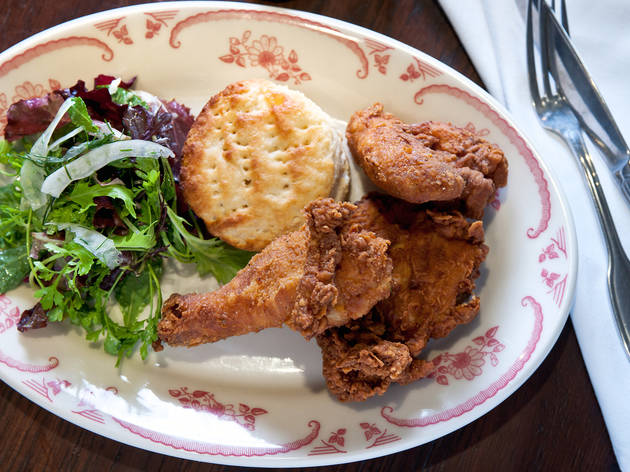 98/100
Photograph: Paul Wagtouicz
Fried chicken at Bobwhite Lunch and Supper CounterThose who regularly trek to Charles' Country Pan Fried Chicken in Harlem and Peaches HotHouse in Bed-Stuy would do well to add Avenue C to their poultry-inspired peregrinations. There, ex-Virginian Keedick Coulter is cooking up one helluva fried bird, brined in sweet tea to seal in the juices, then dragged through a top-secret dredge and given a ride in the pressure fryer. Each piece emerges a golden-brown, nook-and-cranny–riddled masterpiece, with a satisfying, savory crunch that gives way to the moist and faintly sweet flesh within. 94 Ave C between 6th and 7th Sts (212-228-2972, bobwhitecounter.com). $11.50.—Chris Schonberger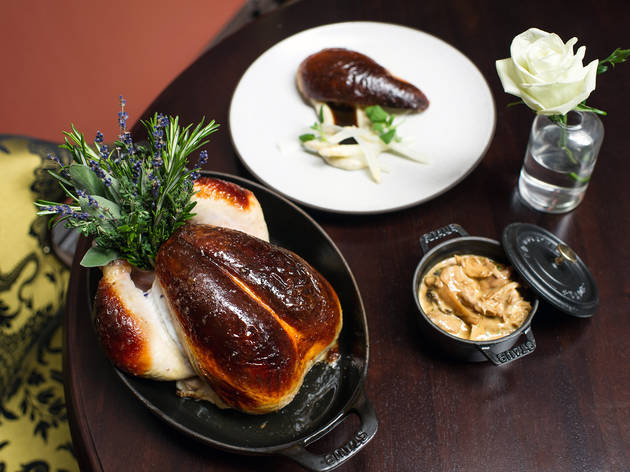 99/100
Photograph: Daniel Krieger
Roasted chicken at the NoMadNo big-ticket bird in the city rivals this opulent hen, which has foie gras, black truffles and brioche tucked beneath its skin. Roasted in a wood-fired hearth, with skin as dark as a Coppertone tan and crispy as cracklings, it's presented whole in the dining room—turning more heads than a celebrity sighting—before being whisked back to the kitchen and plated. The beautifully brined, supernaturally succulent breast returns over potato puree studded with truffles; the dark meat arrives tossed with more truffles, plump, earthy morels and sherry–brown-butter sauce. 1170 Broadway at 28th St (347-472-5660, thenomadhotel.com). $79 (serves two).—Jay Cheshes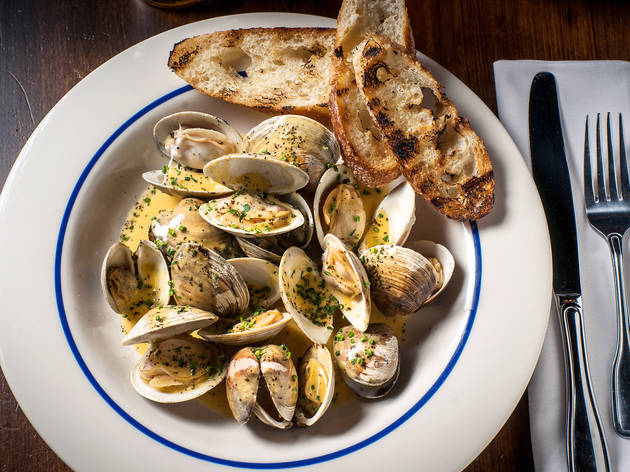 100/100
Photograph: Paul Wagtouicz
Grilled cherrystone clams at Extra FancyExtra Fancy chef Josh Blakely grills a pound of cherrystone clams and tosses them with glazed cippolini onions, chopped chives and parsley to create this deceptively simple dish. Melted compound butter, made with garlic confit, smoked paprika and salt, mingles with the bivalves' brackish juices; use a hunk of grilled bread to mop up the ambrosial liquid. 302 Metropolitan Ave between Driggs Ave and Roebling St (347-422-0939). $15.—Christopher Ross
Food photos: All 100 best dishes and drinks 2012 (slide show)
Drool your way through food photos of every single one of this year's 100 best dishes and drinks in New York City.
RECOMMENDED: All 100 best dishes and drinks

Our 100 best dishes and drinks slide show of food photos is a one-stop preview of everything that's a must-try in NYC right now. With choices ranging from revolutionary sandwiches to genre-busting bar food, you'll probably want to try sampling them every one, and why not? You have a whole year to do it.