Heads up! We're working hard to be accurate – but these are unusual times, so please always check before heading out.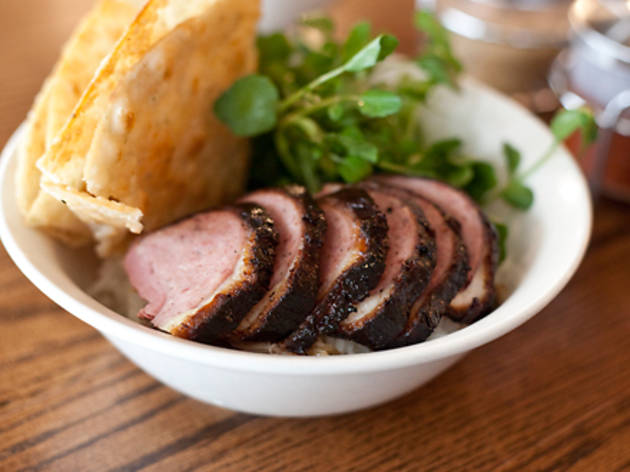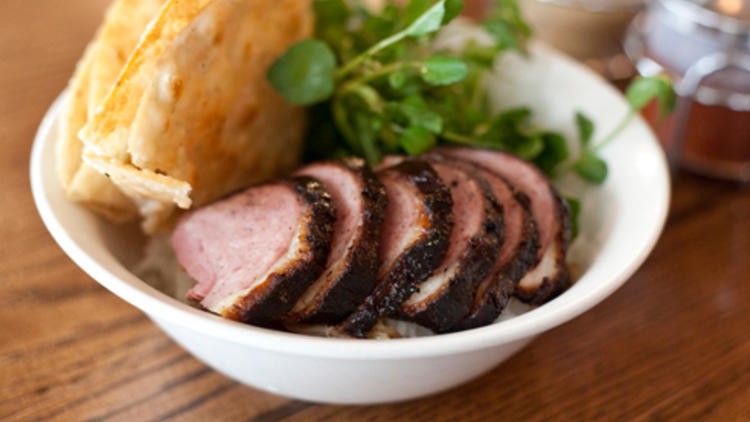 1/100
Photograph: Virginia Rollison
Duck lunch at Momofuku Ssäm BarDavid Chang is well-known for putting pork on a pedestal. With his new fancy rotisserie, he's thrusting duck up there too, roasting boutique-farm birds to a gorgeous caramel sheen. A whole duck is the centerpiece of the blowout large-format dinner ($140), but the best part of the beast—its tender pink breast meat with a candy-crisp skin—is available daily at lunch, served with flaky scallion pancakes and fragrant white rice. 207 Second Ave at 13th St (212-254-3500, momofuku.com/restaurants/ssam-bar). $14.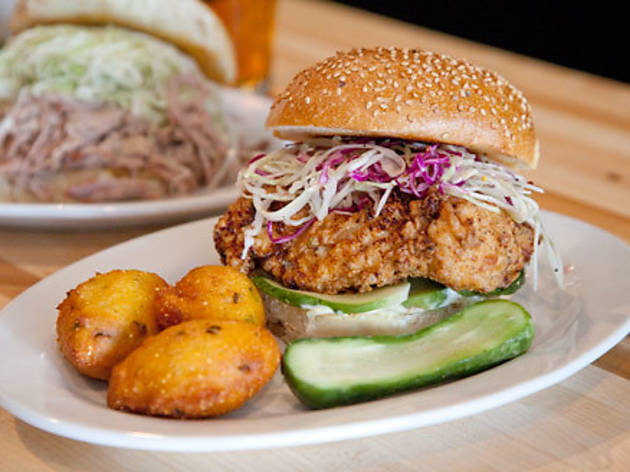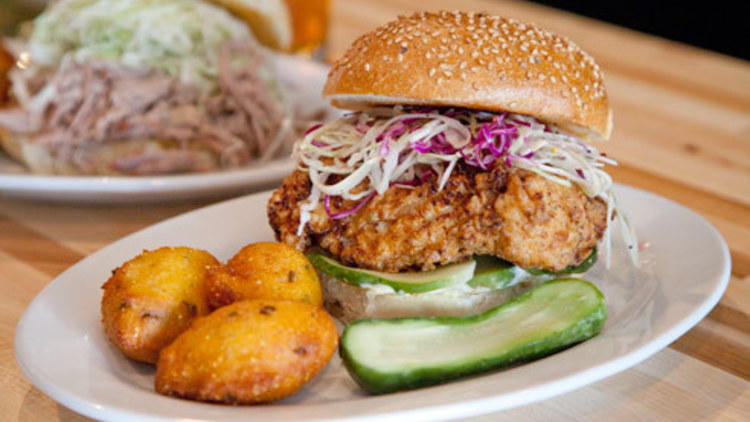 2/100
Photograph: Marianne Rafter
Fried chicken sandwich at Van Horn Sandwich ShopSouthern comfort arrived on Court Street this year via this laid-back spot, offering multiple riffs on low-country sandwiches. Our favorite of the bunch is the fried fowl: Chef Rick Hauchman salts chicken breasts from nearby butcher Los Paisanos before soaking them in jalapeño-spiked buttermilk. He then dredges the fillets in flour and fries them to order, nestling the crispy, craggy result in a Caputo's bun with crunchy red cabbage–cilantro slaw. The final touch: a smear of the house's thick and fiery carrot habanero hot sauce. 231 Court St between Baltic and Warren Sts, Cobble Hill, Brooklyn (718-596-9707, vanhornbrooklyn.com). $12.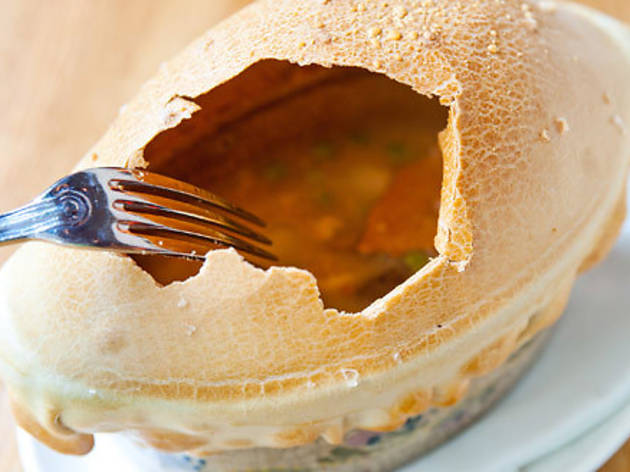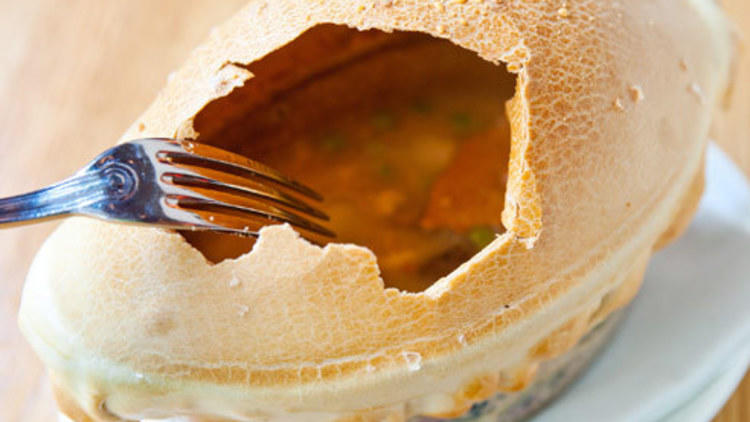 3/100
Photograph: Paul Wagtouicz
Rabbit potpie at The DutchWhen a gracious server tried to break the towering, crackerlike crust that caps Andrew Carmellini's delirious potpie, we scolded him: "It's like you just opened our Christmas present!" There is serious satisfaction in busting through the puffy dome—which is speckled with sea salt and looks like some sort of Land of Oz mushroom—to pillage the hearty stew within. Shreds of D'Artagnan bunny, braised in stock, riesling and hard cider, mingle with a selection of vegetables such as Tokyo turnips and baby potatoes. Crack the shell (the staff-administered service point has been retired) to release its intense aroma. 131 Sullivan St at Prince St (212-677-6200, thedutchnyc.com). Returns to the menu in mid-October; $27.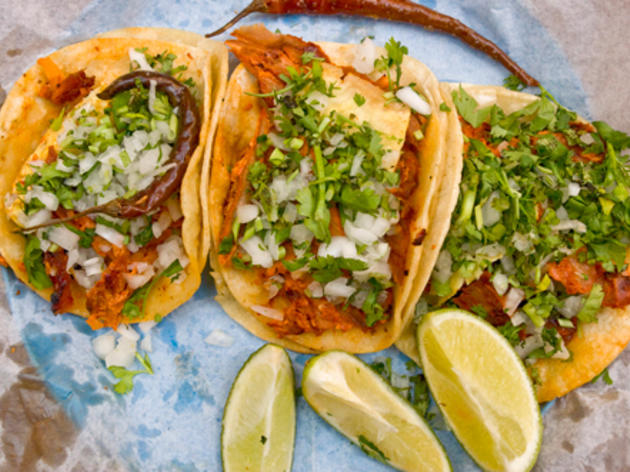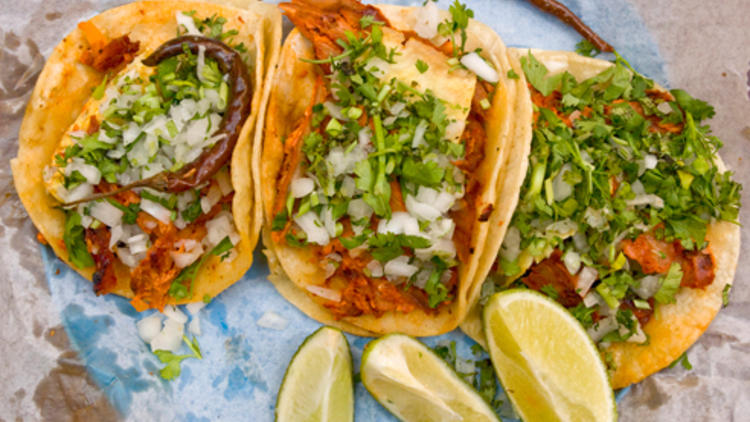 4/100
Photograph: Alex Strada
Al pastor tacos at Taco MixThe signature al pastor pork is sliced directly from the spit at this Spanish Harlem hole-in-the-wall, which is so tiny that you have to eat standing up. You'll forget about the cramped quarters as soon as you taste that juicy meat, redolent with lime juice, earthy chilies, sweet pineapple and cumin. A warm, pliant tortilla, a few hunks of grilled pineapple and a shower of cilantro is all the backup it needs to sing. 234 E 116th St between Second and Third Aves (no phone). $2.50.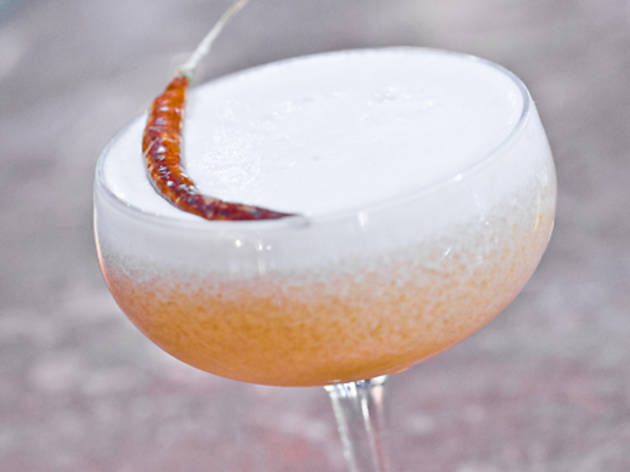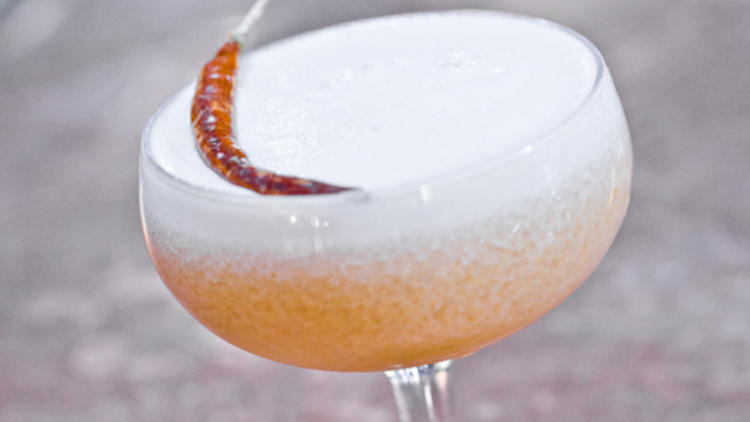 5/100
Photograph: Jakob N. Layman
Sixth Street at PDT Playing off the complex spicing used in abundance at the Indian restaurants lining East 6th Street, this garnet-hued sipper kicks up gin with piquant house-made ginger beer, a kafir-lime cordial and a pungent curry powder. Guava puree lends a tart tropical fruit flavor, while a shake with egg whites and a pour of soda water set off the balanced drink with creamy foam. 113 St. Marks Pl between First Ave and Ave A (212-614-0386). $15.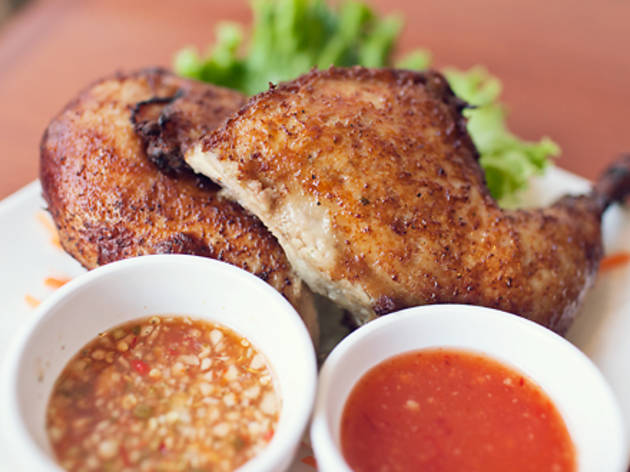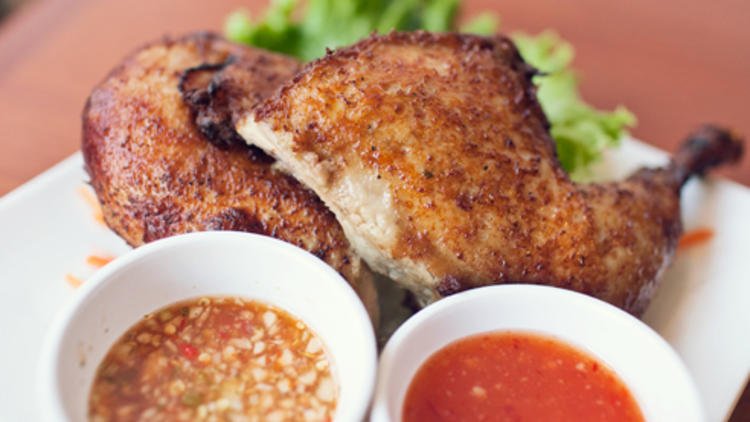 6/100
Photograph: Lizz Kuehl
Kai tod at Zabb Elee The Koreans don't have a lock on Asian fried chicken. The crisp and spicy bird at Manhattan's most fiery Thai spot ought to ignite a new craze—for its garlicky marinade, sweet chili dipping sauce and succulent flesh. 75 Second Ave between 4th and 5th Sts (212-505-9533, zabbelee.com). $9.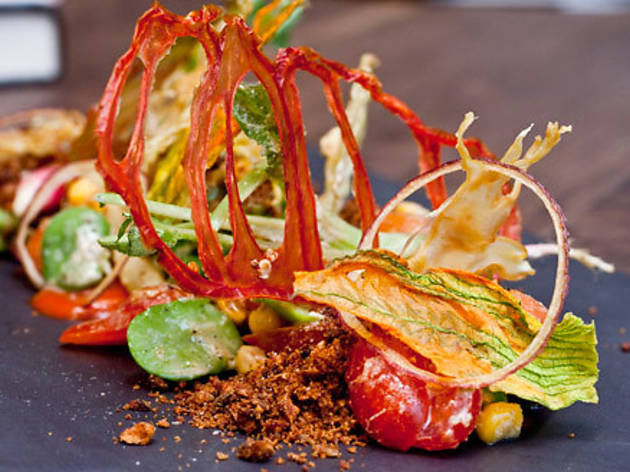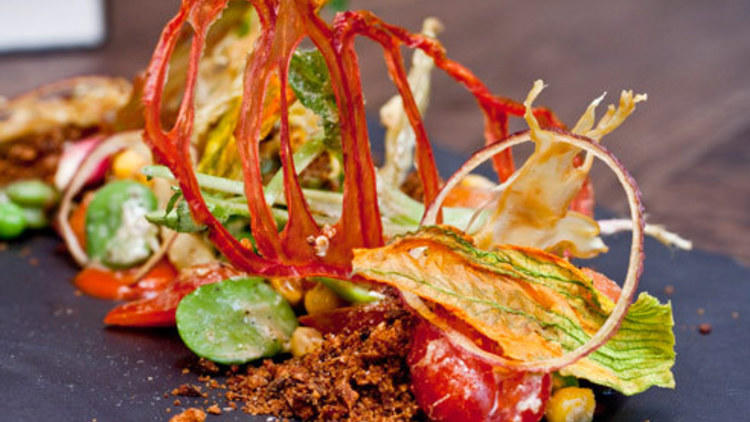 7/100
Roasted vegetables at Tenpenny Chef Chris Cipollone's seasonal-vegetable plate looks like an edible diorama: Its various components are prepared in different ways and arranged in a gorgeous tableau. A summery iteration featured toothsome roasted carrots, pickled ramps, poached fava beans and dehydrated fennel—a delicious and textural collage, almost too pretty to eat, dusted with freeze-dried ranch powder. An autumnal incarnation with root vegetables debuts soon. The Gotham Hotel, 16 E 46th St between Fifth and Madison Aves (212-490-8300, tenpennynyc.com). $16.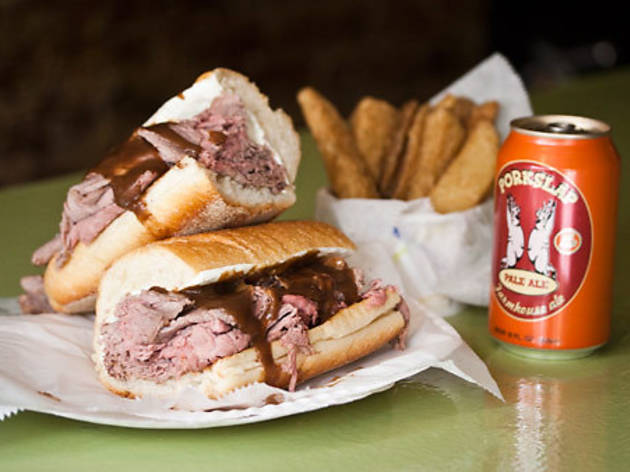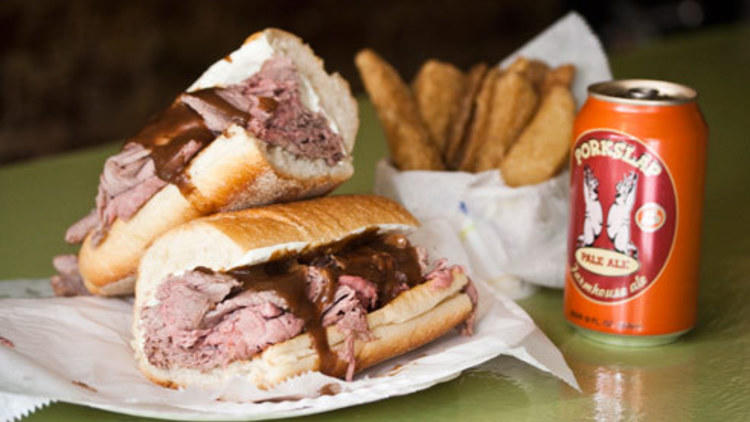 8/100
Photograph: Marielle Solan
That Way at This Little Piggy Had Roast BeefSlices of supple, seasoned top round are piled on a chewy Italian loaf in this gloriously sloppy behemoth. Creamy Lioni Latticini mozzarella and a dousing of juicy gravy made from thickened pan drippings crown this stellar roast beef sandwich—a blue-chip drunk food that's available for your booze-softening pleasure well into the wee hours. 149 First Ave between 9th and 10th Sts (212-253-1500). Hero $9.50, roll $5.50.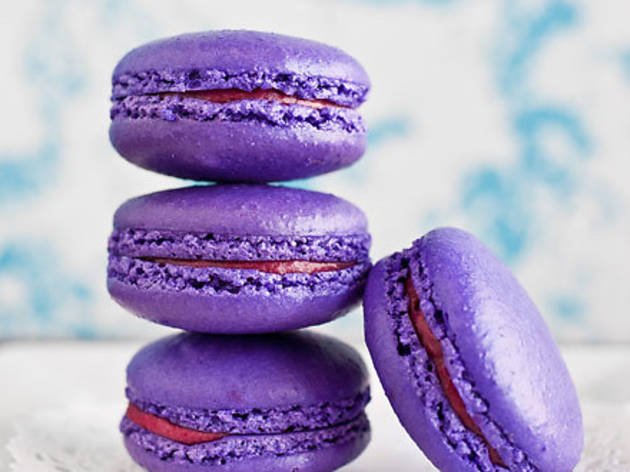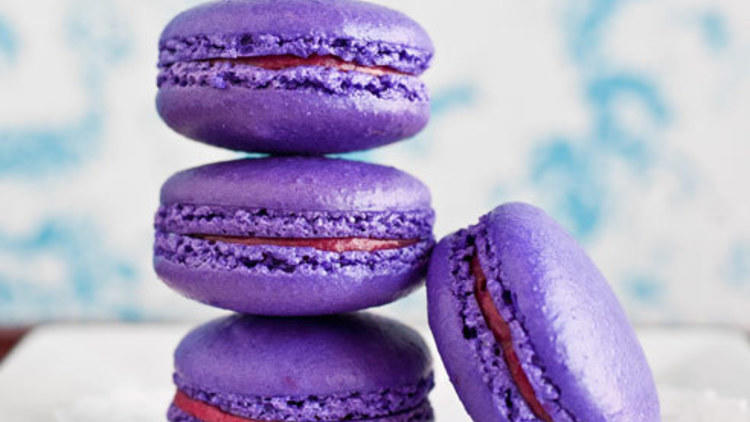 9/100
Photograph: Jakob N. Layman
Cassis macaronat La Maison du MacaronThis West Side confectionary nails the magic of a well-made macaron. The airy French cookie is composed of two almond-based meringues encasing a luscious cream filling that's brightened with tart cassis (black currant in Yankee parlance). The delicate, jewel-toned domes shatter with the first bite, giving way to a soft, slightly chewy interior. 132 W 23rd St between Sixth and Seventh Aves (212-243-2757, maisondumacaron.net). $2.50 each.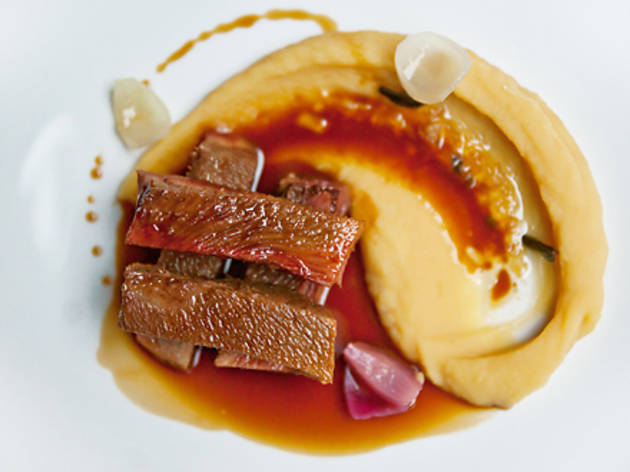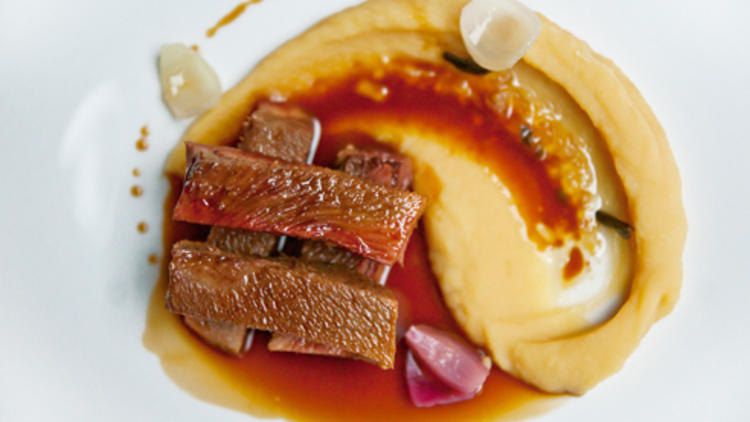 10/100
Photograph: Paul Wagtouicz
Beef tongue at Hospoda The Czechs give good tongue—or at least at Hospoda they do. Here the muscle is poached until meltingly tender, then gently smoked. The meat is sliced into supple batons and stacked over a demi-glace and pickled red onion. If your only experience with tongue is at the deli counter, consider the difference between chopped liver and foie gras—it's that good. 321 E 73rd St between First and Second Aves (212-861-1038, hospodanyc.com). Available on the $32 prix fixe.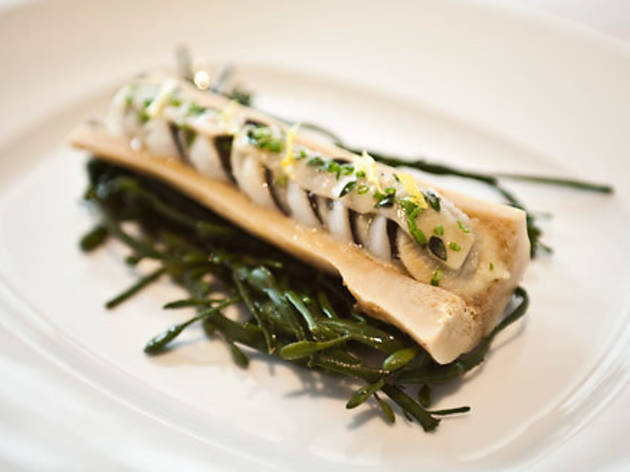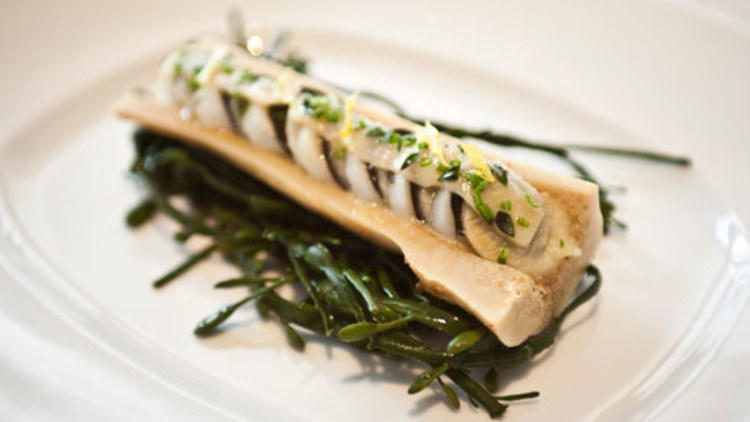 11/100
Photograph: Jolie Ruben
Scallop and bone marrow at Ai FioriMichael White makes a case for the preservation of haute cuisine with this luxurious starter. In a long, hollow marrowbone, split lengthwise, White arranges alternating shingles of raw scallops and thick discs of black truffle, atop potato puree. Warm melted marrow, rich and thick, drenches the cheeky creation. Setai Fifth Avenue, 400 Fifth Ave between 36th and 37th Sts (212-613-8660, aifiorinyc.com). $24.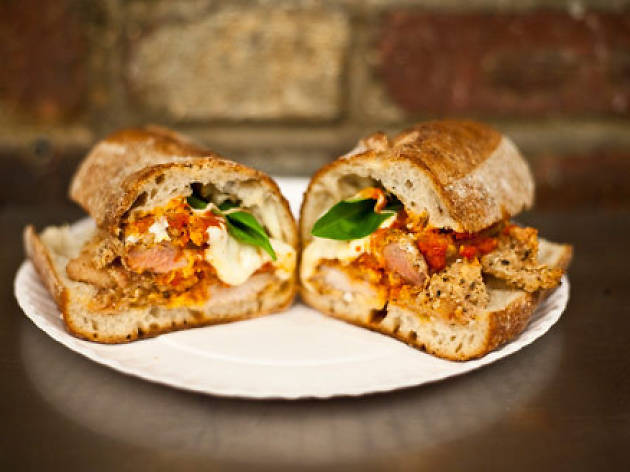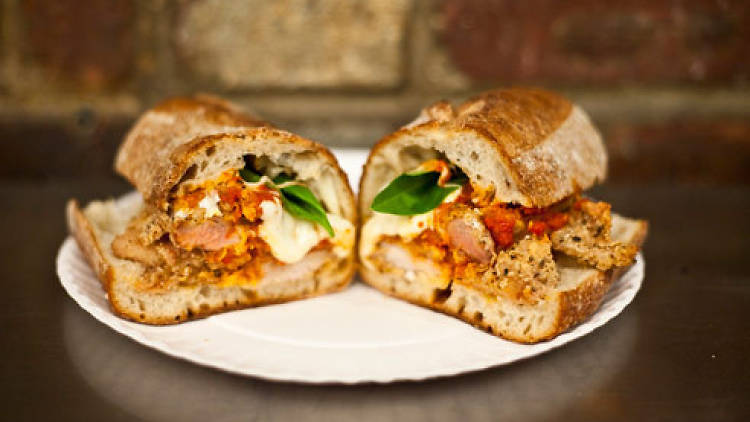 12/100
Photograph: Jay Muhlin
Chicken Parmesan at Best PizzaTo elevate the tired Italian standby, chef Frank Pinello brines deboned chicken thighs, showers them in flour and dunks them in the deep fryer. The crunchy, juicy fowl is crowned with marinara, creamy house-made mozzarella and basil leaves, and presented inside a squat, oven-charred Roberta's baguette that's tasty to the last crumb. 33 Havemeyer St between North 7th and 8th Sts, Williamsburg, Brooklyn (718-599-2210, best.piz.za.com). $9.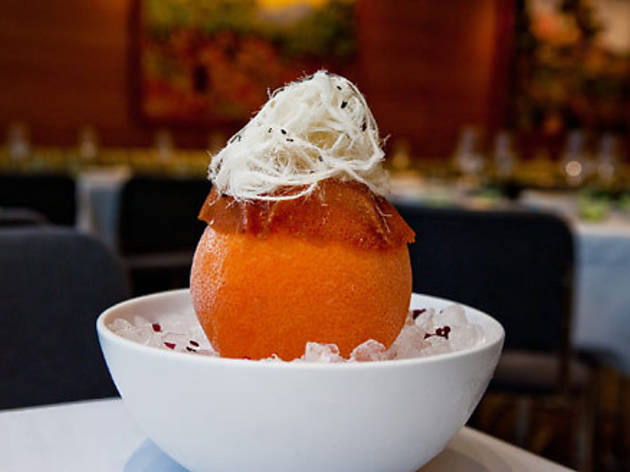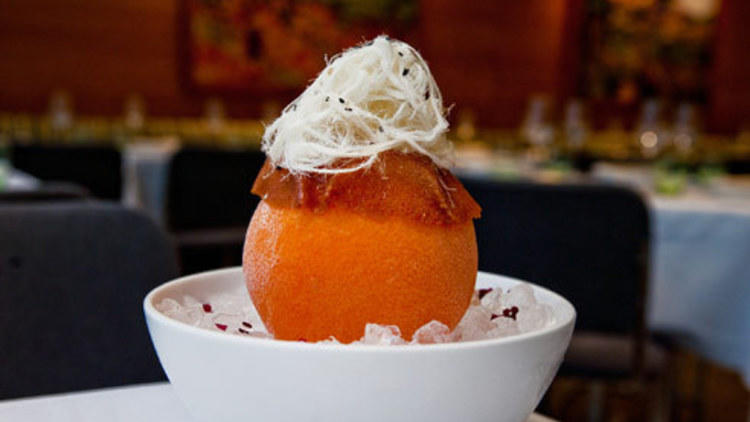 13/100
Photograph: Paul Wagtouicz
Grapefruit Givré at Boulud SudCould a frozen grapefruit filled with sorbet really be a contender for most exciting new dessert of the year? Pastry chef Ghaya Oliveira makes it so with this whimsical sweet, which is stuffed with halvah crumbles and house-made rose-scented loukoum, topped with flossy halvah cotton candy and black-and-white sesame tuile. 20 W 64th St between Broadway and Central Park West (212-595-1313, danielnyc.com). $13.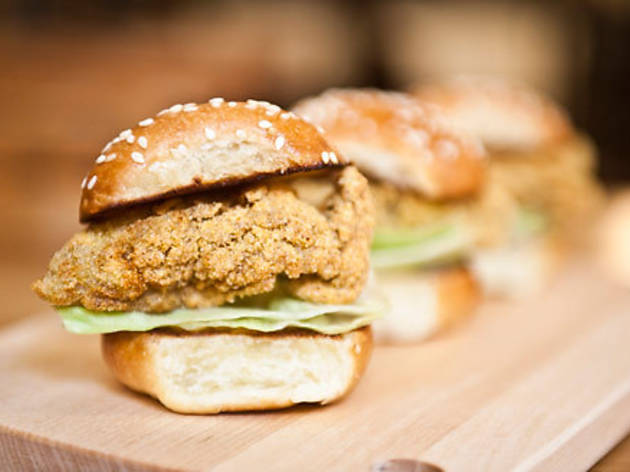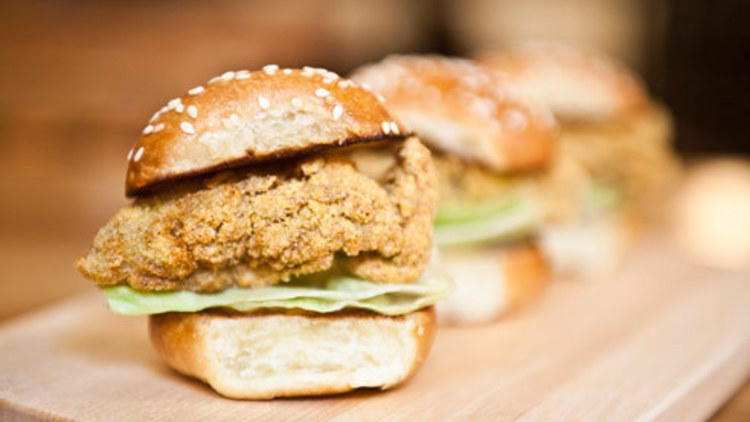 14/100
Photograph: Jolie Ruben
Little Oyster Sandwiches at the DutchAt his New American tavern, Andrew Carmellini riffs on that old New Orleans sandwich staple, the fried-oyster po' boy, with this addictive bar snack. Squishy, sesame-speckled buns each cradle one fat, crispy mollusk, a petal of iceberg lettuce and a smear of tangy pickled okra sauce. 131 Sullivan St at Prince St (212-677-6200, thedutchnyc.com). $5.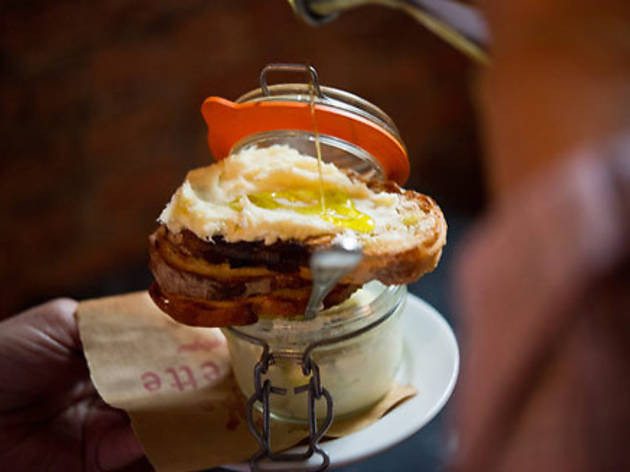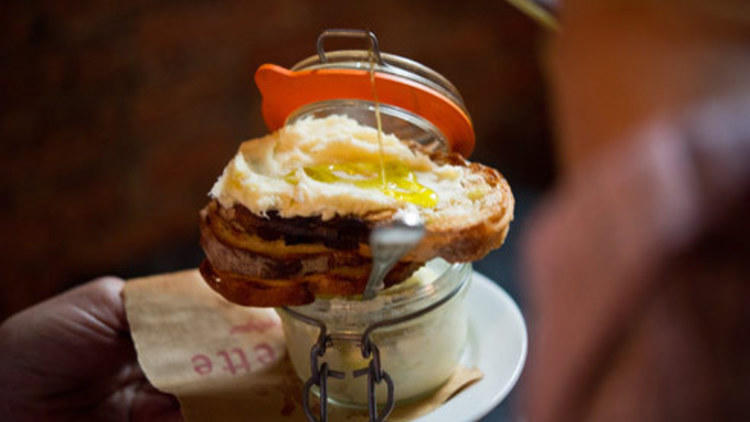 15/100
Photograph: Daniel Krieger
Brandade at BuvetteIt begins with desiccated hunks of house-cured salt cod, brought to life in a bath of garlic-steeped milk. In a stunning display of culinary alchemy, the fish is whipped with top-shelf olive oil until it takes on the texture of cotton candy. Spread the featherlight brandade on a crusty baguette and you'll understand—the best things are sometimes the most humble. 42 Grove St between Bedford and Bleecker Sts (212-255-3590, ilovebuvette.com). $12.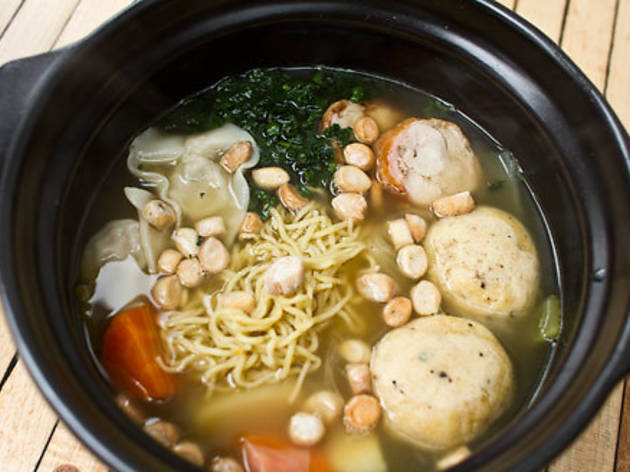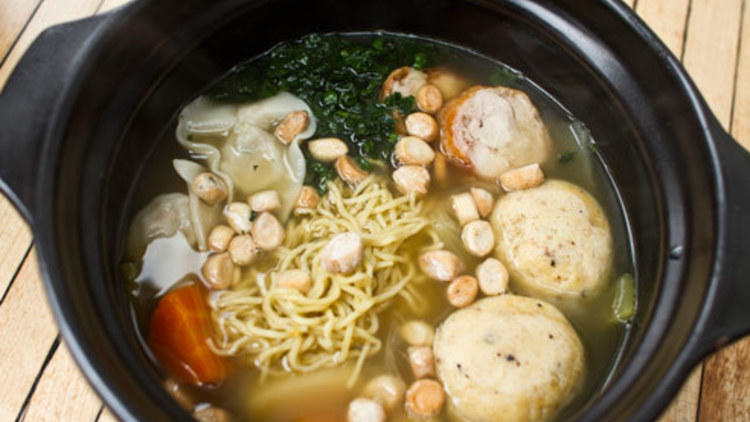 16/100
Photograph: Caroline Voagen Nelson
The Whole Mishpucha at Mile EndThis family-style feast, served in a cast-iron cauldron, is as restorative as a fistful of echinacea. The rich chicken noodle soup floats a gorgeous arrangement of folksy comforts: wispy, chicken-liver-stuffed kreplach (dumplings), coins of softened carrots and greens, and the city's most exalted matzo balls. 97A Hoyt St between Atlantic Ave and Pacific St, Boerum Hill, Brooklyn (718-852-7510, mileendbrooklyn.com). $12 per person.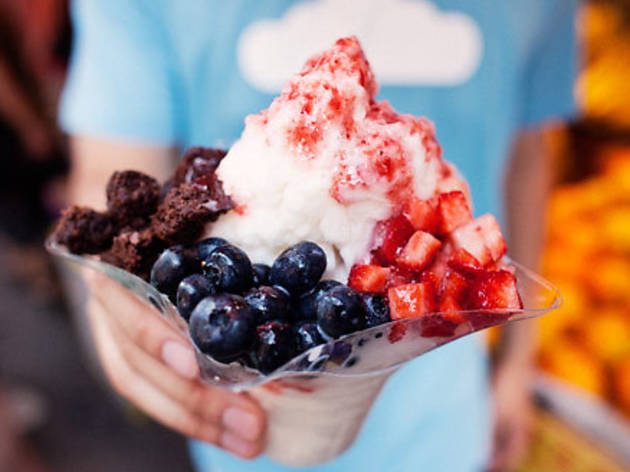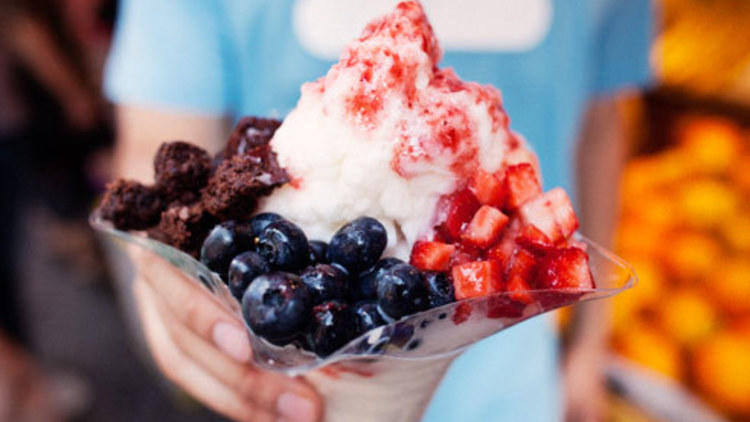 17/100
Photograph: Lizz Kuehl
Shaved ice at Wooly's IceTwo great shaved-ice traditions come together in this curbside treat. The ice itself is prepared Hawaiian-style, shaved to order to create a fine, delicate powder. A sweet kiss of condensed milk comes by way of Taiwan, as does the kitchen-sink approach to toppings, including mochi, diced kiwi and homemade brownies. 79 Elizabeth St between Grand and Hester Sts (917-885-3919). Mon–Fri noon–7pm. • DeKalb Market, 332 Flatbush Ave Ext at Willoughby St, Downtown Brooklyn (dekalbmarket.com). Sat 10am–7pm. • $4 and up. Available through Oct 31.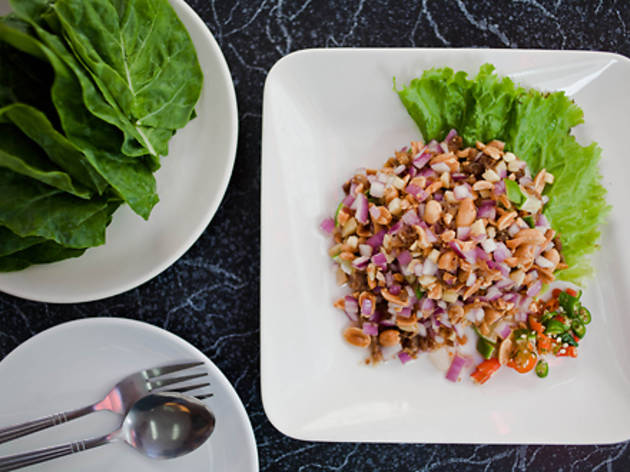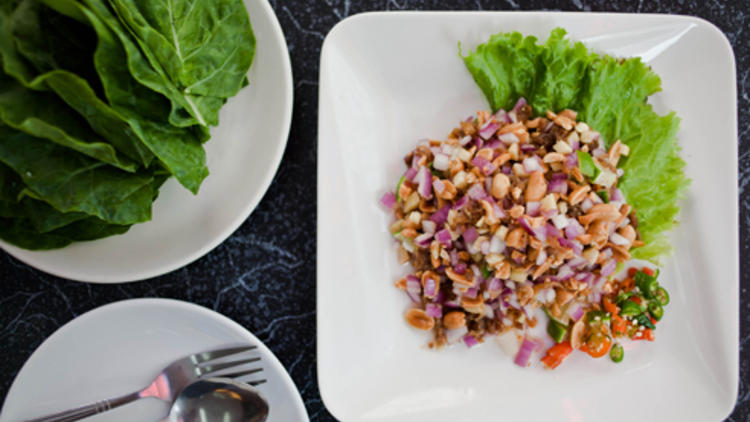 18/100
Photograph: Noah Devereaux
Miang Kana at Ploy ThaiThis invigorating, hands-on salad of minced red onion, fresh ginger and crushed peanuts is delivered with a stack of firm, palm-size Chinese broccoli leaves. Use them to scoop up the colorful blend, which draws its intense flavor from red and green chilies, funky fish sauce and salty dried shredded pork, and its bracing acidity from bright, chewy bits of raw unpeeled lime. 81-40 Broadway between 81st and 82nd Sts, Elmhurst, Queens (718-205-7298). $10.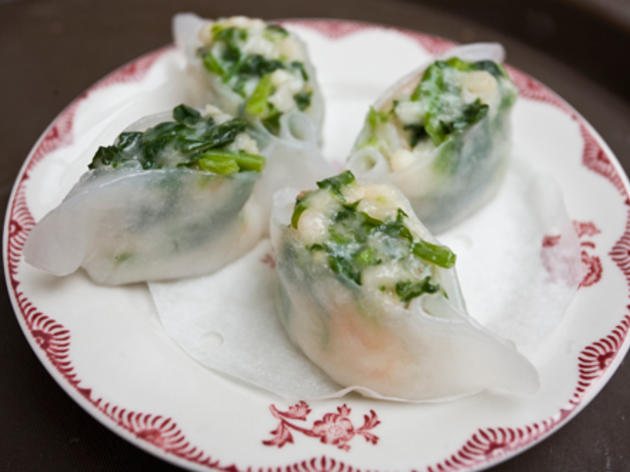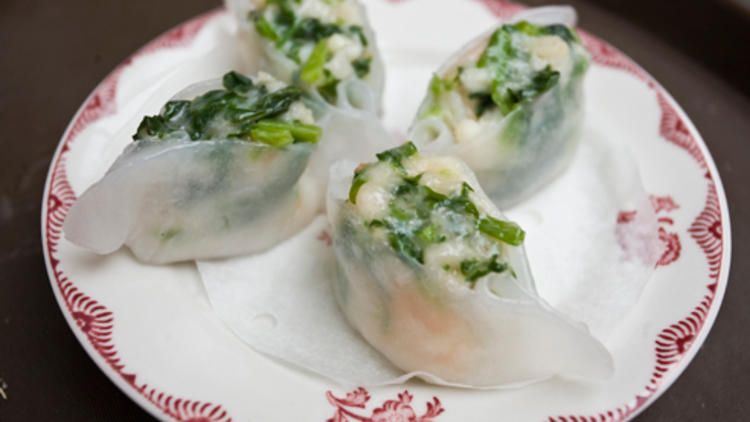 19/100
Shrimp-and–snow-pea-leaf dumplings at Nom Wah Tea ParlorTo create its open-faced specimens, Nom Wah rolls out homemade wheat wrappers as thin as vellum paper and packs them with minced shrimp, flecks of scallions and bright, fresh snow-pea leaves. The Chinese dumplings are steamed to order, resulting in juicy, two-bite parcels that, unlike other dim sum offerings that linger in steam boxes, are always fresh. 13 Doyers St between Bowery and Pell St (212-962-6047, nomwah.com). $3.95.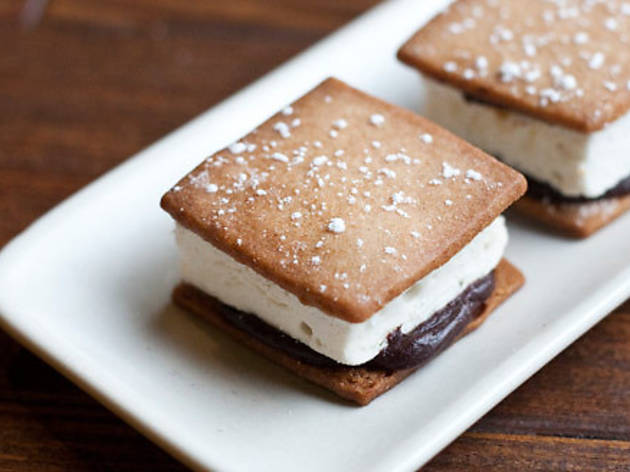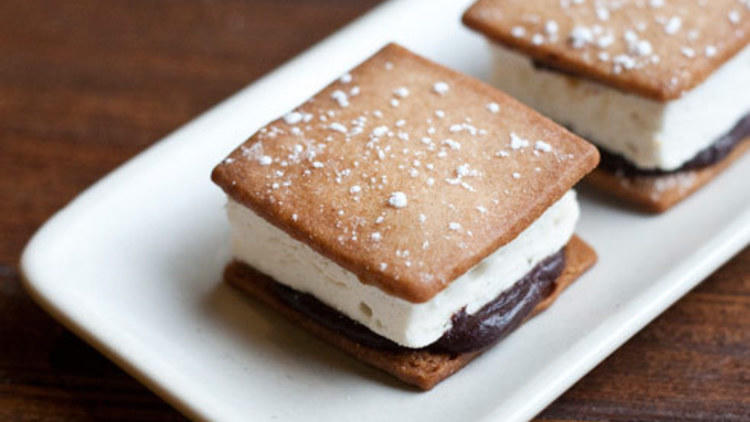 20/100
Photograph: Virginia Rollison
Brooklyn Bootleg S'mores at Blue Bottle CoffeeYou'd have to go camping with a pastry chef to find anything close to this inspired s'mores riff. The cultish coffee roasters tweak each detail of the classic fireside snack: Instead of Nabisco, Hershey's and burnt sugar, find house-made fleur de sel–speckled graham crackers; rich Mast Brothers chocolate ganache; and springy, moonshine-spiked slabs of marshmallow. 160 Berry St between North 4th and 5th Sts, Williamsburg, Brooklyn (718-387-4160, bluebottlecoffee.net). $3.50 each.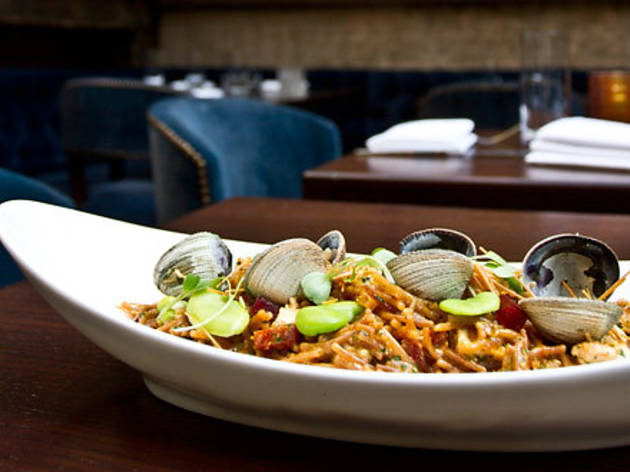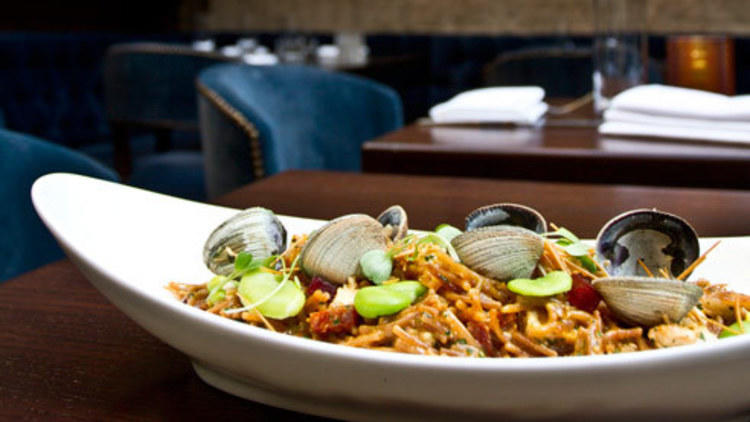 21/100
Photograph: Caroline Voagen Nelson
Rosejat Rápida at SalinasSpanish cuisine buffs will recognize this Catalan dish as a close cousin of fideuà—a paella riff made with short noodles instead of rice. Chef Luis Bollo toasts vermicelli, then simmers the broken strands in a savory bath of chicken stock fortified with sofrito and aromatics until the noodles soak up the flavors of the broth. The finished dish, which incorporates poached chicken, chorizo and briny cockles, gets its competing textures from a toss with creamy saffron aioli aerated in a siphon and a handful of the still-crunchy toasted noodles. 136 Ninth Ave between 18th and 19th Sts (212-776-1990). $24.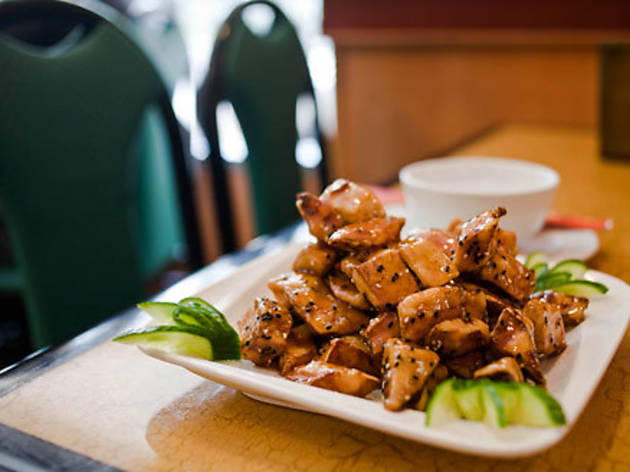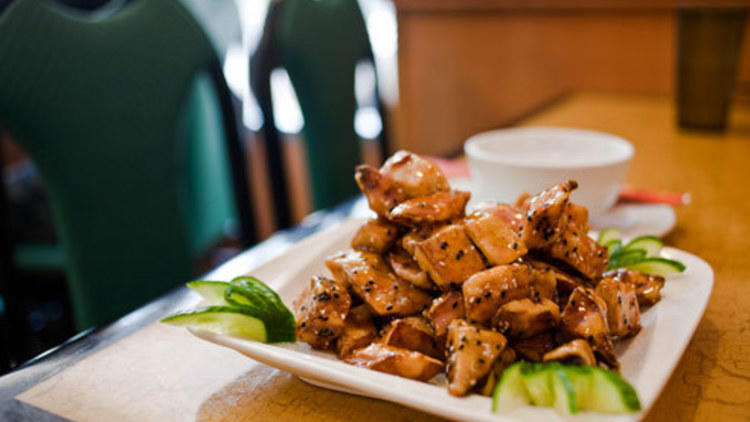 22/100
Photograph: Noah Devereaux
Ba Si at Fu RunDeep-fried taro, sweet potato and apple form the starchy base of this funky, interactive Northern Chinese dessert. Ba si translates as "pulling strings"—a reference to the threads of caramelized sugar that trail from your chopsticks as you pull a chunk from the platter. Dip your piece into the provided bowl of water to solidify the coating just enough to get the lush, candylike morsel into your mouth with minimal mess. 40-09 Prince St at Roosevelt Ave, Flushing, Queens (718-321-1363). $12, mixed $13.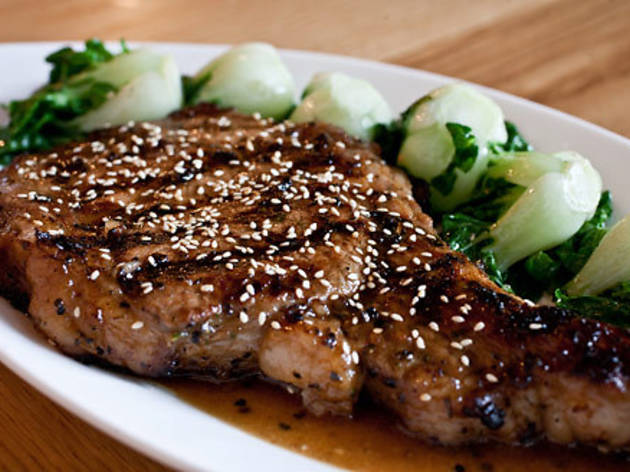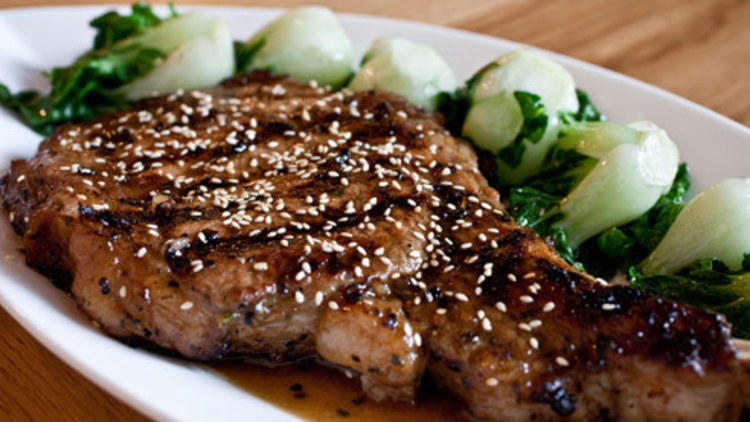 23/100
Photograph: Jakob N. Layman
Rib eye at RedFarmThere are those who might shake their fists at the notion of applying anything other than salt, pepper and fire to a nicely marbled Pat LaFrieda Creekstone Farms rib eye. Those people need to book it to RedFarm. The luscious beef here is a triumph of balance and simplicity: an overnight bath in soy and papaya tenderizes the meat, and an expert sear teases out its umami richness. It's served simply, ringed with blossoms of stir-fried bok choy. 529 Hudson St between Charles and W 10th Sts (212-792-9700, redfarmnyc.com). $37.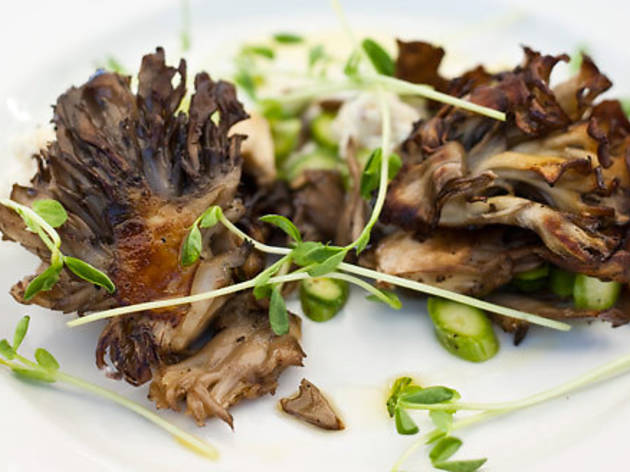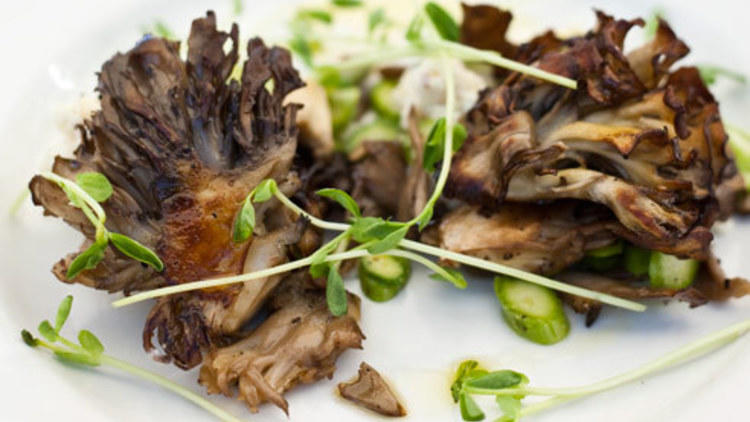 24/100
Photograph: Virginia Rollison
Maitake con Pecorino Sardo at Birreria (Eataly)Common wisdom dictates that beer food should skew meaty, but this vegetarian drinking dish is a convincing counterpoint. Tender roasted maitake mushrooms rest on a rich bed of Pecorino Fiore Sardo (a smoked sheep's-milk cheese from Sardinia), folded into tangy crème fraîche. Pea greens and slices of raw asparagus provide a bright foil for the creamy, smoky combo—a fine match for the house-made ales at Eataly's rooftop brewpub. 200 Fifth Ave between 23rd and 24th Sts (212-937-8910, eatalyny.com). $15.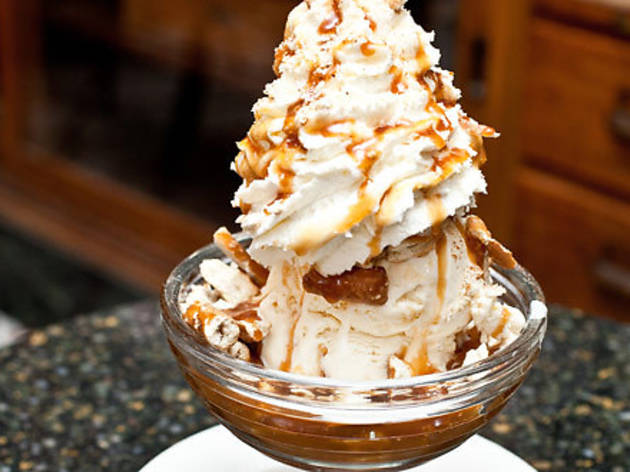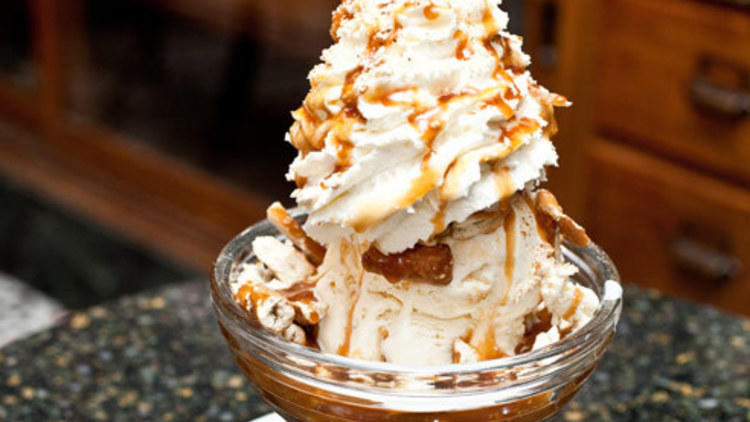 25/100
Photograph: Jakob N. Layman
The Sundae of Broken Dreams at Brooklyn Farmacy & Soda FountainSoda jerk Pete Freeman's addictive dessert combines classic ice-cream-parlor comfort with a voguish sweet-and-salty flavor profile. Two scoops of Adirondack Creamery's vanilla ice cream come topped with warm and silky caramel sauce from Brooklyn's Nine Cakes bakery, a dollop of airy homemade whipped cream and—the defining trait—crunchy bits of broken Bachman pretzel rods. 513 Henry St at Sackett St, Carroll Gardens, Brooklyn (718-522-6260, brooklynfarmacy.blogspot.com). $8.50.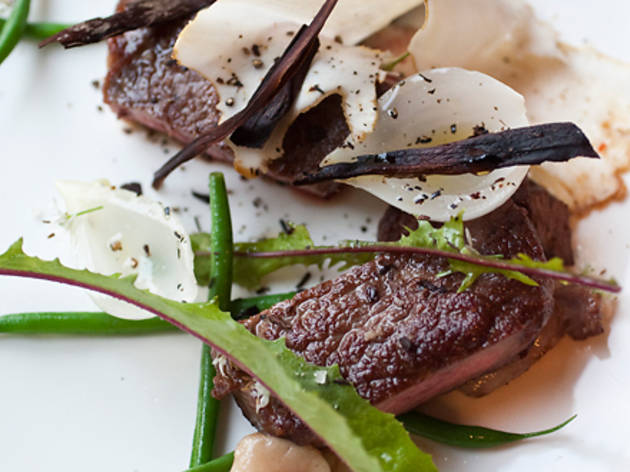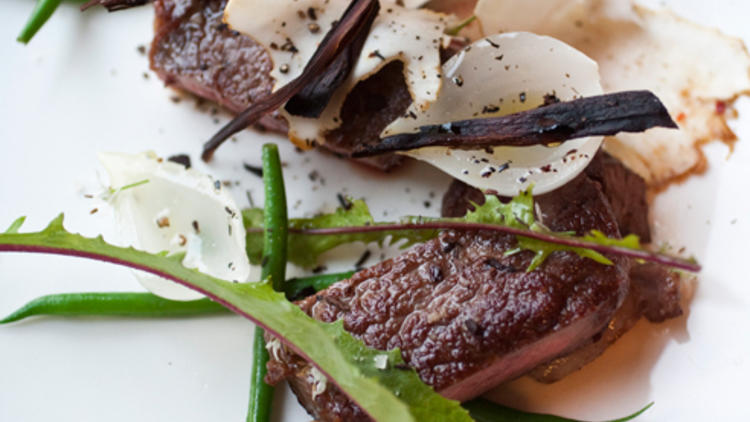 26/100
Photograph: Jolie Ruben
Rib eye at IsaChef Ignacio Mattos brings the steakhouse classic (so tender here it's served with a table knife) to artistic heights with a flourish of outré accompaniments. Dabbles of rich marrow caramelize atop the meat in a scorching wood-burning oven, while a scattering of seasonal and foraged produce—chive blossoms, roasted onion petals and paper-thin pickled horseradish shavings when we visited—provide surprising palate-refreshing contrasts. 348 Wythe Ave at South 2nd St, Williamsburg, Brooklyn (347-689-3594). Occasionally available on the rotating menu: $32.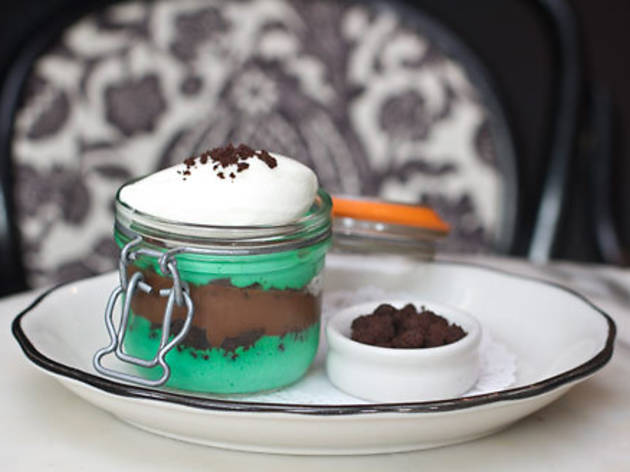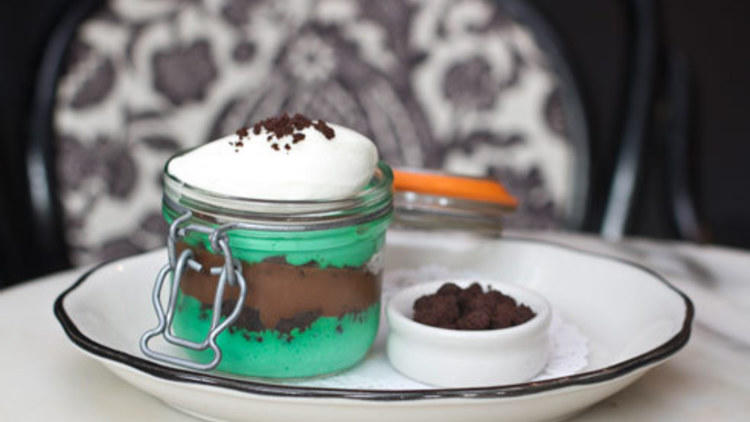 27/100
Photograph: Caroline Voagen Nelson
Grasshopper dessert at Tipsy ParsonIt's easy to picture the pinafore-clad Southern hostess who might have called this Day-Glo dessert her signature confection back when Eisenhower was in office. But the version of the bright-green treat served at Tipsy Parson still has plenty of appeal in 2011. Owner Julie Taras Wallach's creamy mousse—enhanced with a bright mint extract—is served in a miniature canning jar with alternating layers of salty, crumbly streusel and a lush whipped-cream cap. 156 Ninth Ave between 19th and 20th Sts (212-620-4545, tipsyparson.com). $8.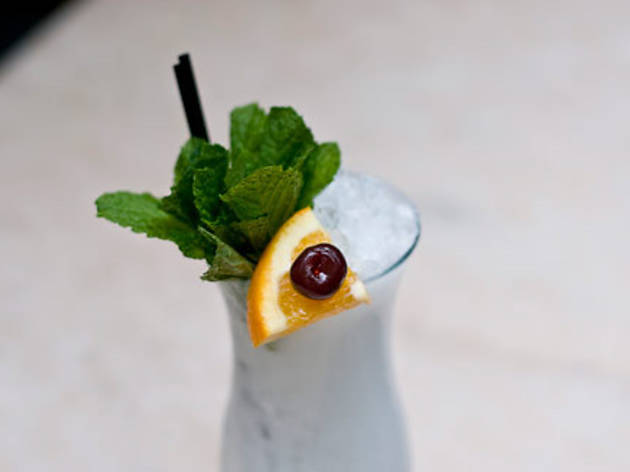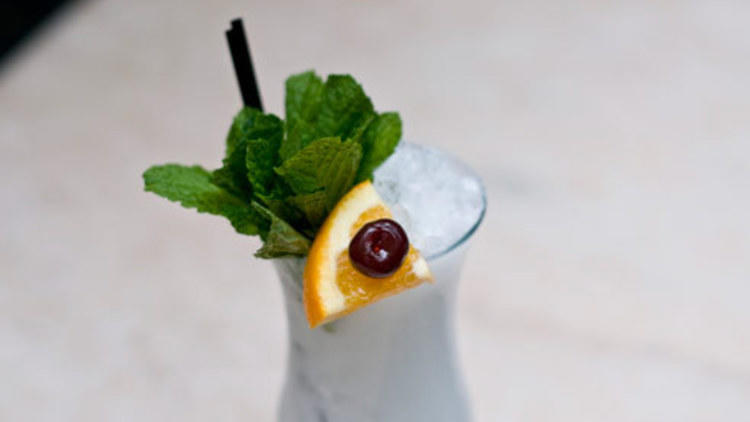 28/100
Photograph: Alex Strada
Absinthe Colada at Maison PremiereWhat Pegu Club did for gin and Mayahuel did for mescal, newcomer Maison Premiere has done for absinthe, nudging the anise-flavored spirit—a subtle accessory in many classic recipes—into the spotlight. Bartender Natasha David's gutsy piña colada spin is a beautiful showcase of the liquid's range: A glug of minty Germain-Robin absinthe transforms the piña's usual posse of rum (a rich aged Jamaican variety, in this case), coconut cream and pineapple juice into an herbaceous and balanced peculiarity, pierced with a fragrant bundle of mint. 298 Bedford Ave between Grand and South 1st Sts, Williamsburg, Brooklyn (347-335-0446, maisonpremiere.com). $14.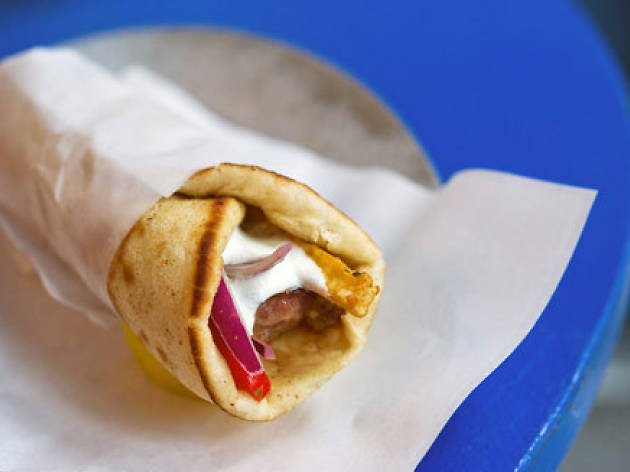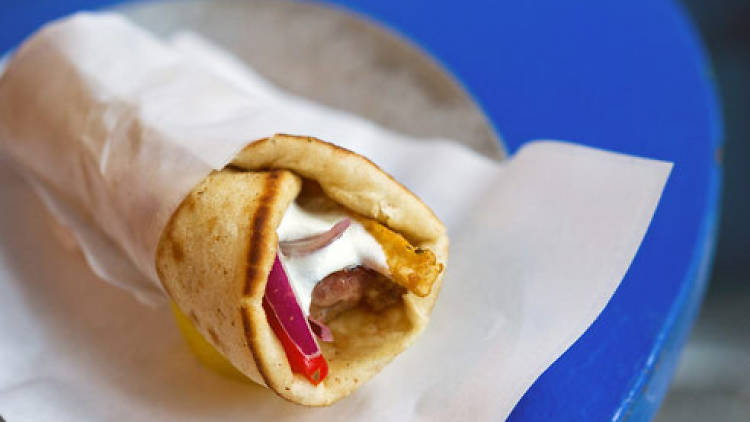 29/100
Photograph: Daniel Krieger
Pork souvlaki at Souvlaki GRThis food-truck phenom has busted into the brick-and-mortar game with a fresh refinement of street souvlaki. Herb-marinated pork butt is seared over wood-charcoal embers and dunked in lemon juice. The chewy, spiced pieces are tucked in a fluffy grilled pita with house-made tsatsiki, red onion and tomatoes, plus the traditional Greek accompaniment: two french fries seasoned with salt, pepper and oregano. 116 Stanton St between Essex and Ludlow Sts (212-777-0166). $4.50.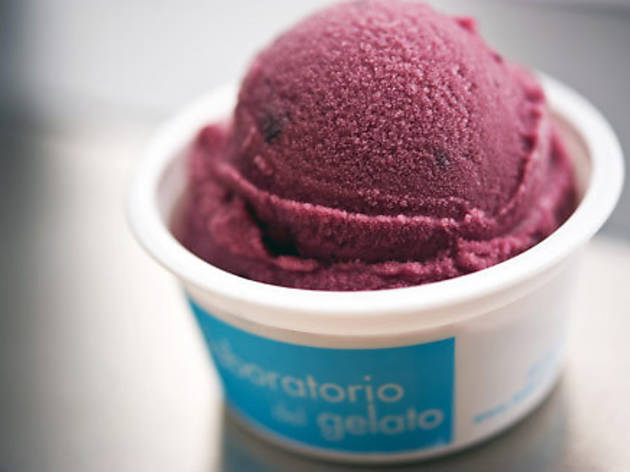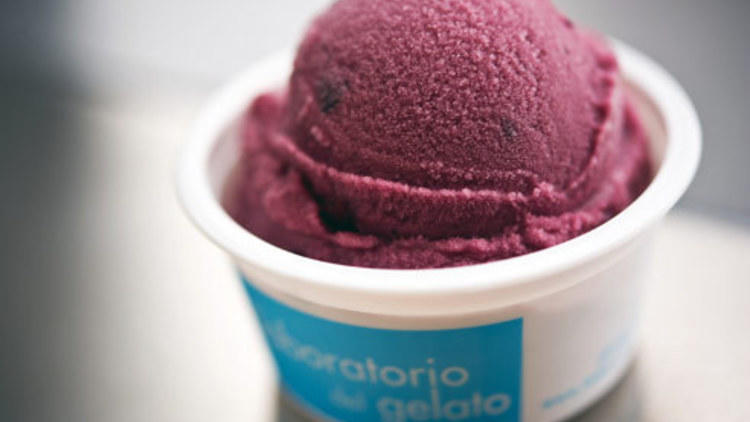 30/100
Photograph: Daniel Krieger
Black-grape sorbet at Il Laboratorio del GelatoThis gorgeously refreshing sorbet (one of 70 flavors on rotation) packs a clean yet potent ripe-fruit punch. Seedless grapes are blended and partially strained before freezing—around 20 percent of the skin remains to deliver a tangy aftertaste and a challenging, chewy texture. 188 Ludlow St at Houston St • 95 Orchard St between Broome and Delancey Sts • (212-343-9922, laboratoriodelgelato.com). Small $4.25, medium $5.50, large $6.75, 20-ounce "rectangle" $10.50.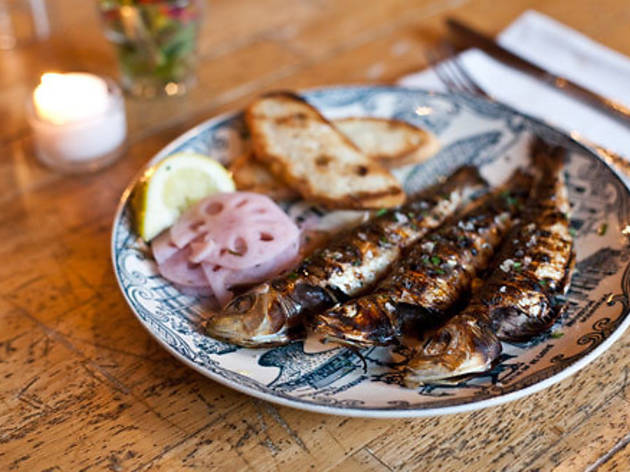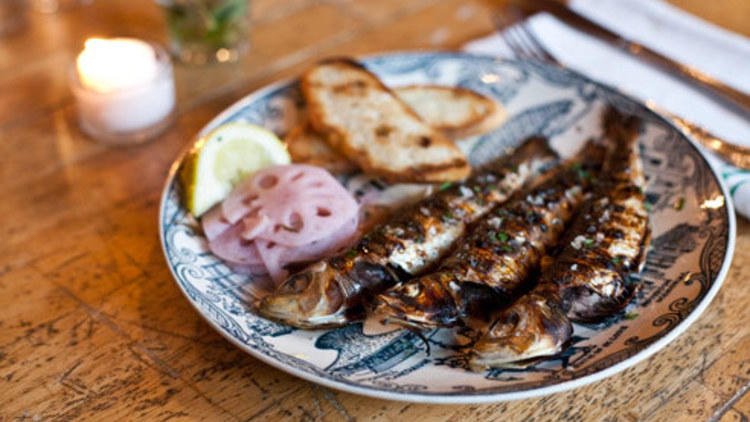 31/100
Photograph: Virginia Rollison
Grilled sardines at St. AnselmThose who enjoy the elemental pleasures of the grill will love these flame-licked sardines. Head chef Yvon de Tassigny works the fish just right—a slick of citrusy ponzu sauce, a quick char over the smoky fire, and a bit of olive oil and Maldon salt to finish them off. Served with grilled toast and house-pickled lotus roots, the dish is as satisfying as it is simple. 355 Metropolitan Ave between Havemeyer and Roebling Sts, Williamsburg, Brooklyn (718-384-5054). $10.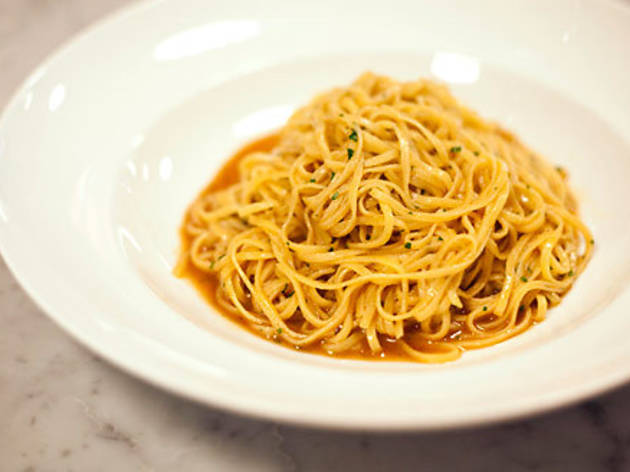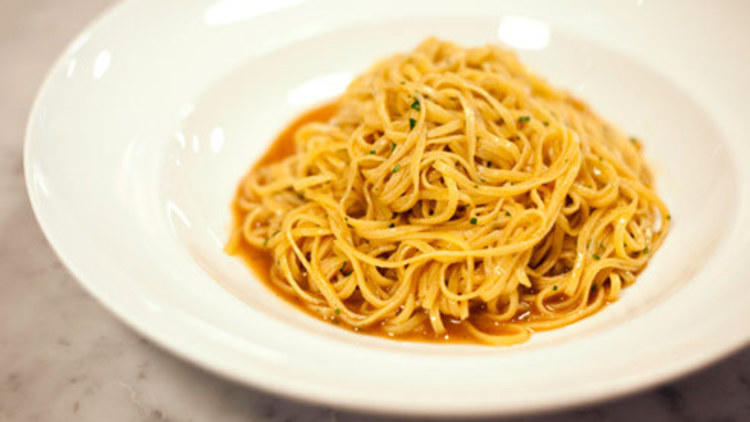 32/100
Photograph: Virginia Rollison
Tajarin al sugo d'Arrosto at Manzo (Eataly)The "no morsel left behind" ethos of traditional Italian cookery is on brilliant display in this Piedmontese classic. Chef Michael Toscano reduces pan drippings from slow-roasted beef ribs (the meat is used in another dish) to create a deeply flavorful sauce, fortified with veal and beef bones and finished with butter. The ethereal gravy naps fine ribbons of tajarin, a rich egg-yolk pasta, topped with a crumble of nutty and funky Castelmagno cheese. 200 Fifth Ave between 23rd and 24th Sts (212-229-2180, eatalyny.com). $21.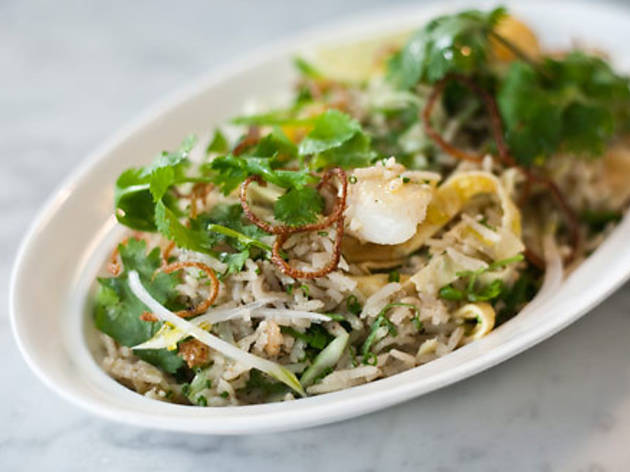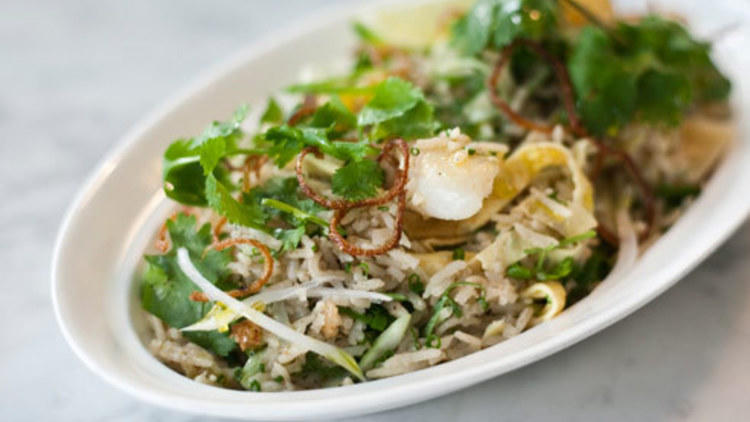 33/100
Photograph: Virginia Rollison
Kedgeree at the John Dory Oyster BarThis old-English recipe dates back to Victorian times, when British cuisine was still an oxymoron. But a few iconic dishes were born during that dark age of dining, including this delicious Anglo-Indian mix of smoked fish, eggs and curried rice. April Bloomfield does her country's history proud with her smoky, buttery and spicy rendition, studded with flaky haddock and garnished with fried onions, rice, ribbons of omelette and lime. 1196 Broadway at 29th St (212-792-9000, thejohndory.com). $15.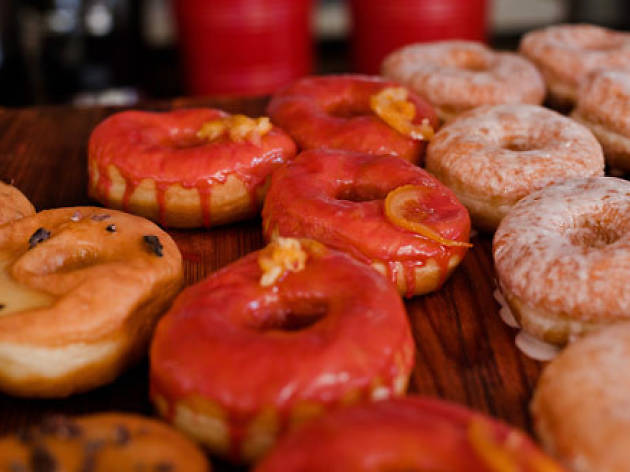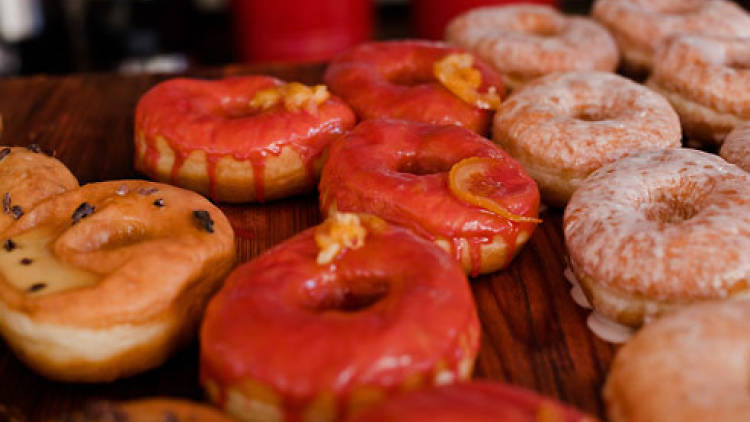 34/100
Photograph: Noah Devereaux
Blood-orange doughnut at DoughIt remains to be seen whether the doughnut is the new cupcake, as so many breathless bloggers have mused, but we'll happily bide our time at this Bed-Stuy doughnut shop, which turns out the city's most alluring new rounds. Among the many funky flavors, we like the glinting fuchsia blood orange best: freshly fried gargantuan rings of stretchy, yeasty dough, slathered with tart citrus glaze and crowned with a candied slice of the fruit. 448A Lafayette Ave at Franklin Ave, Bedford-Stuyvesant, Brooklyn (347-533-7544). $2.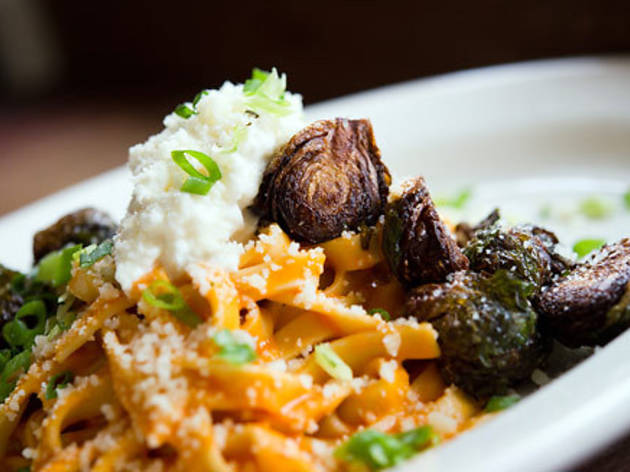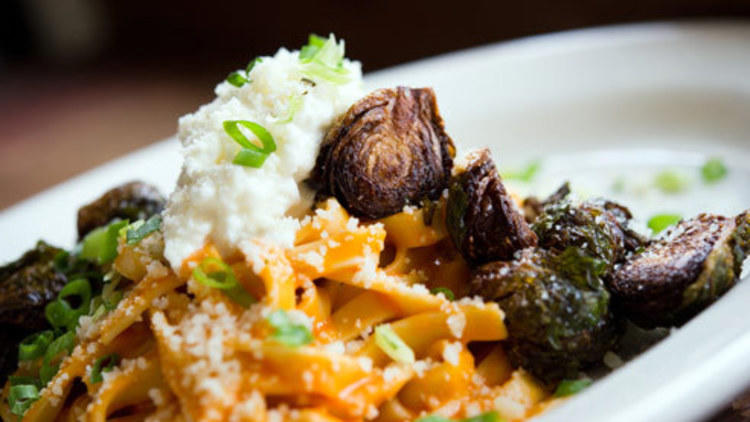 35/100
Photograph: Daniel Krieger
Tagliatelle at Brucie The menu at this Cobble Hill favorite rotates with the seasons, but this pasta dish—a darling of the fiercely local clientele—isn't going anywhere. Chef-owner Zahra Tangorra dresses her house-rolled strands of tagliatelle with brussels sprouts, halved and fried until the crispy petals are a deep brown. A rich tomato butter, made with sun-sweetened San Marzanos, and a dollop of creamy burrata make for an irresistible combination. 234 Court St between Baltic and Kane Sts, Cobble Hill, Brooklyn (347-987-4961, brucienyc.com). $16.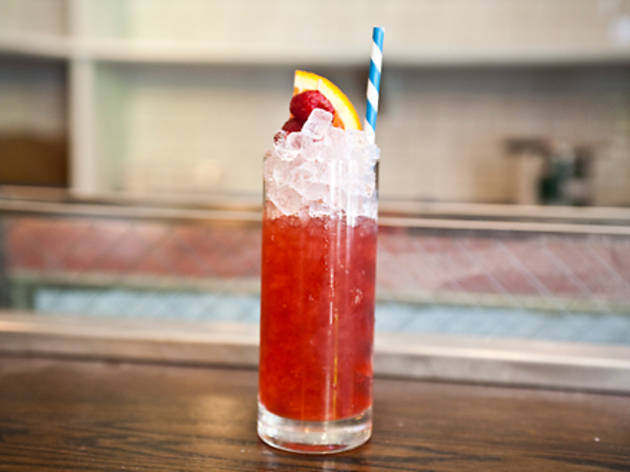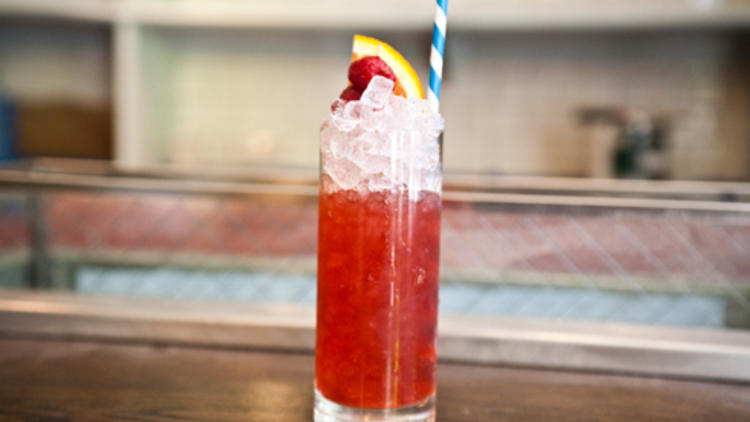 36/100
Photograph: Jolie Ruben
Sherry cobbler at the BeagleBaroque cocktails built with a pantry's-worth of ingredients have their place, but a drink made with a few simple, well-chosen components can be just as heady. Take, for example, the Beagle's rendition of this unfussy favorite of 19th-century sots. To hooch that's complex enough on its own—Lustau Dry Amontillado sherry, with its intense notes of nut, molasses and citrus—bar manager Dan Greenbaum adds raspberries muddled with a wedge of lemon and a splash of simple syrup. Sip the ruby drink served over mellowing pebble ice through a julep straw. 162 Ave A between 10th and 11th Sts (212-228-6900). $13.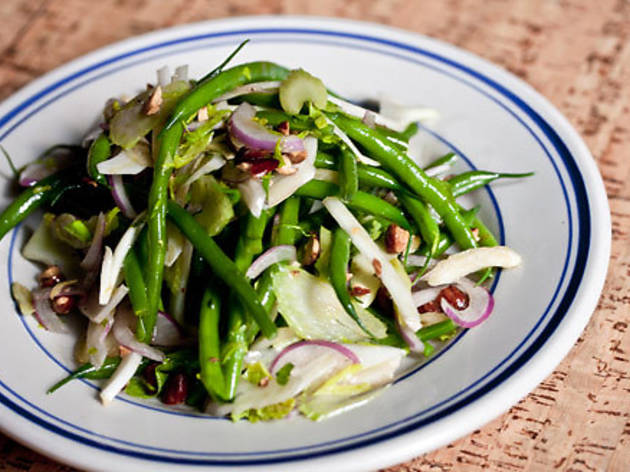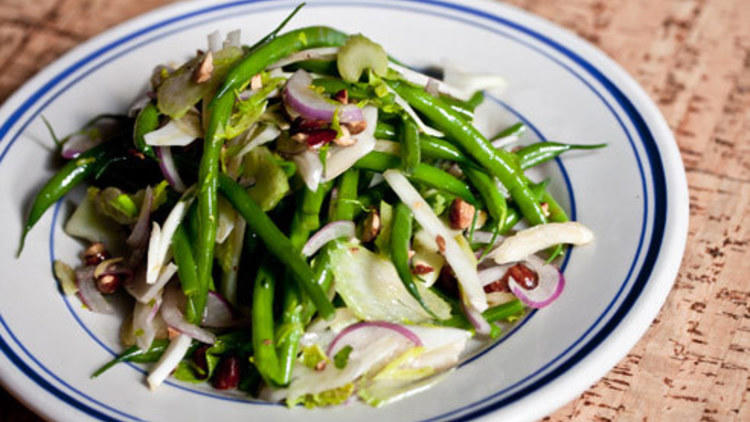 37/100
Photograph: Jakob N. Layman
Green-bean salad at PorsenaSingling out a salad at a restaurant with so many extraordinary pastas seems unfair, but this brilliant starter stayed with us. Sara Jenkins's haricots verts dish is all about texture: Crisp stalks of blanched green beans, fried almonds, and slivered raw fennel and celery heart join forces in this crunchy, satisfying tangle. Lightly pickled red onions, a red-wine vinaigrette, and a sprinkle of sea salt and subtle Szechuan peppercorns make it sing. 21 E 7th St between Second and Third Aves (212-228-4923). $8.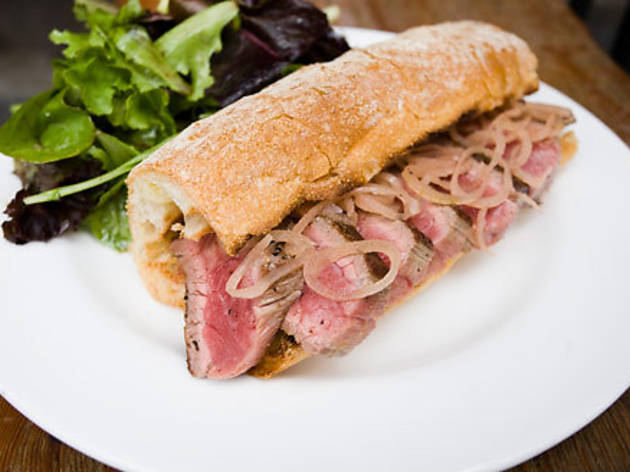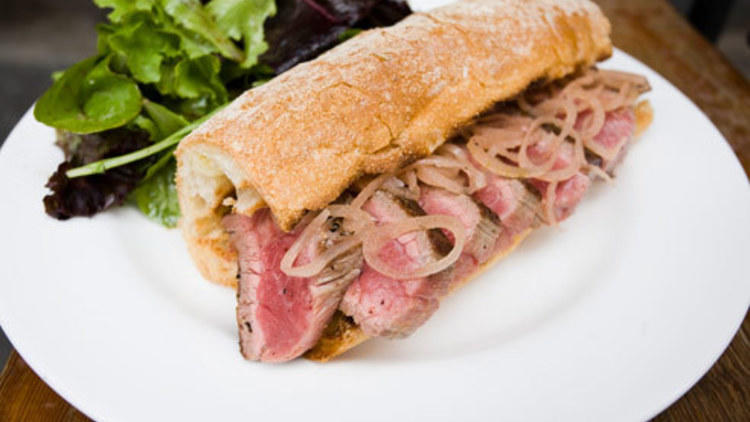 38/100
Photograph: Beth Levendis
Grilled flank-steak sandwich at Bluebird SkyThe beef for this standout sammie spends 24 hours in a flavor-boosting bath of oil, garlic, crushed peppercorns and pimentón. Slices are seared to a juicy medium-rare, covered with nutty melted Gruyère and folded into a crusty Grandaisy baguette with tangy house-pickled shallots. 121 Baxter St between Canal and Hester Sts (212-966-4646). $9.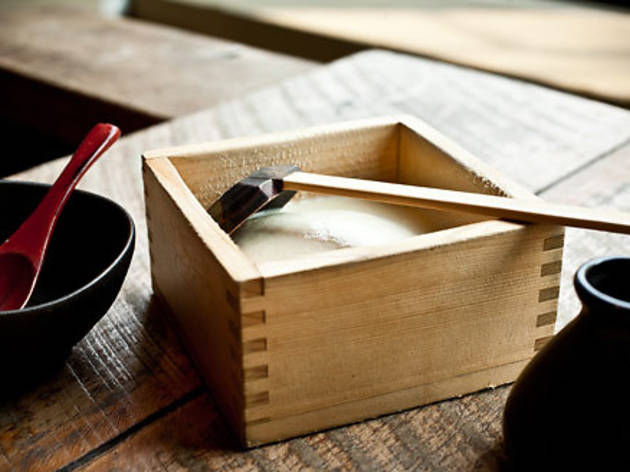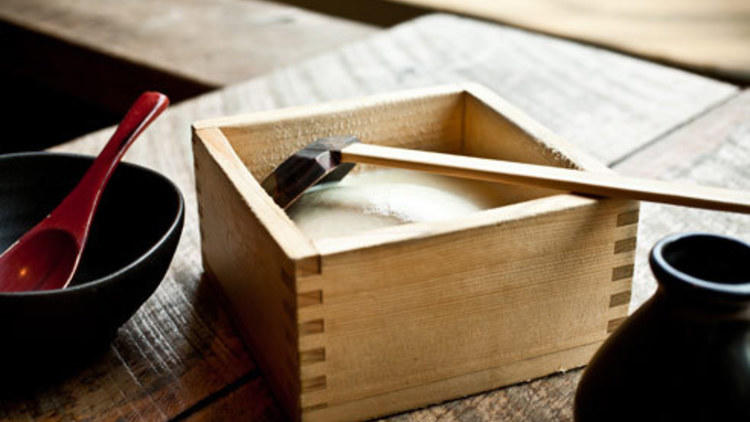 39/100
Photograph: Jakob N. Layman
Freshly made scooped tofu at EN Japanese BrasserieUnpasteurized Japanese soy milk gives this delicate, silken dish its nutty flavor. Fresh batches are made several times a day and served warm with wari joyu (a soy-dashi mix). At dinner, try the chilled, strained rendition, which needs nothing more added to it than a sprinkle of arajio sea salt. 435 Hudson St at Leroy St (212-647-9196, enjb.com). Dinner $11, lunch $9, weekend brunch $8.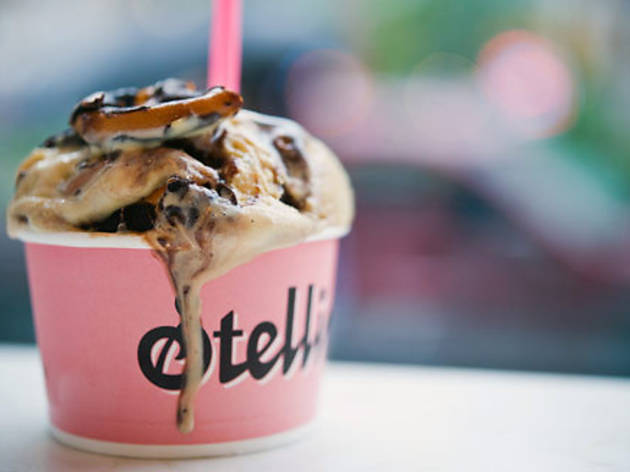 40/100
Photograph: Daniel Krieger
Chunky sorella at StellinaThe heat of an NYC summer justified our daily ration of this exquisite gelato, but long after the cold arrives we'll still be coming back for more. Condensed milk and kosher salt crystals season an ultracreamy caramel base. The massive scoops are laced with rich, earthy drizzles of Valrhona fudge and stippled with crunchy bits of chocolate-dipped Snyder's pretzels. 95 Allen St between Broome and Delancey Sts (212-274-9555). Single scoop in a cup $3, single scoop in a cone $4.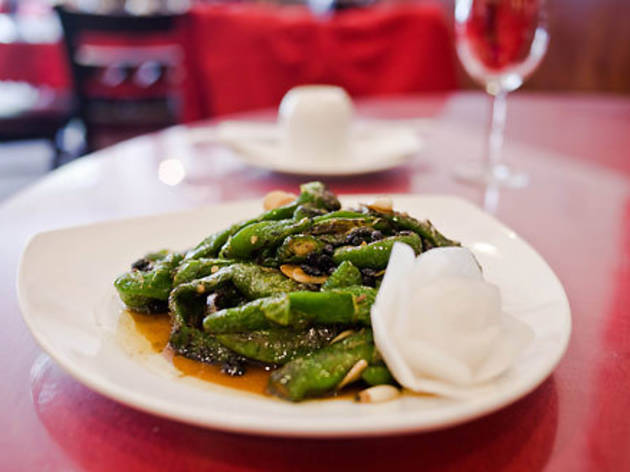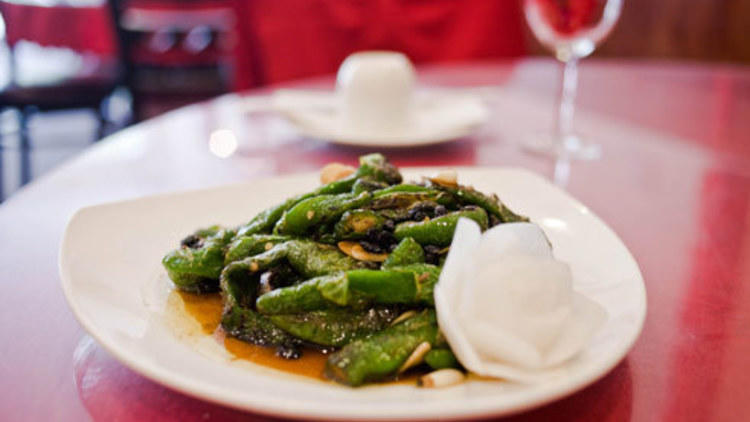 41/100
Photograph: Noah Devereaux
Sauteed green peppers at Hunan HouseThe star of this dish is fu ti, a long and slender variety of green pepper from China's Hunan province. The exotic cultivars don't need much embellishment—they're flash-sautéed until the skin blackens, then tossed with a serious dose of garlic and pungent fermented black beans. The additions lend an earthy note to the spicy bite of the peppers. 37-40 Northern Blvd between Linden Pl and Union St, Flushing, Queens (718-353-1808). $8.95.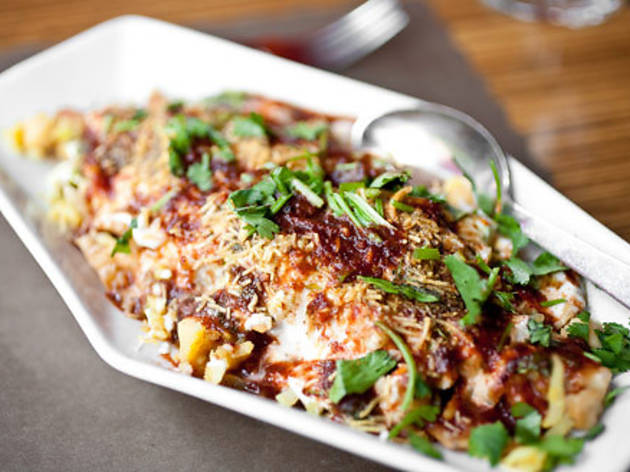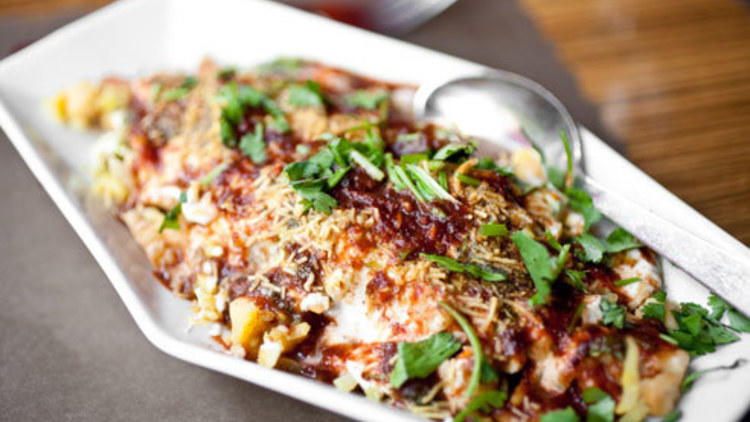 42/100
Photograph: Jakob N. Layman
Purani delhi ki papri chaat at DhabaA layer of fried wheat discs (papri), piled with chickpeas (chana) and diced potatoes (aloo) compose this multicolored Indian street snack, striped with tart tamarind sauce, tongue-tingling mint chutney and cooling yogurt. A sprinkling of chopped raw white onion and cilantro adds zip, while a shower of sev (crunchy chickpea-and-rice threads) contributes extra crunch. 108 Lexington Ave between 27th and 28th Sts (212-679-1284). $6.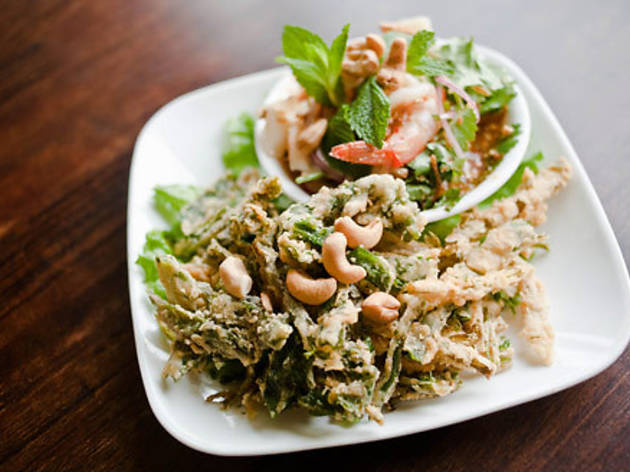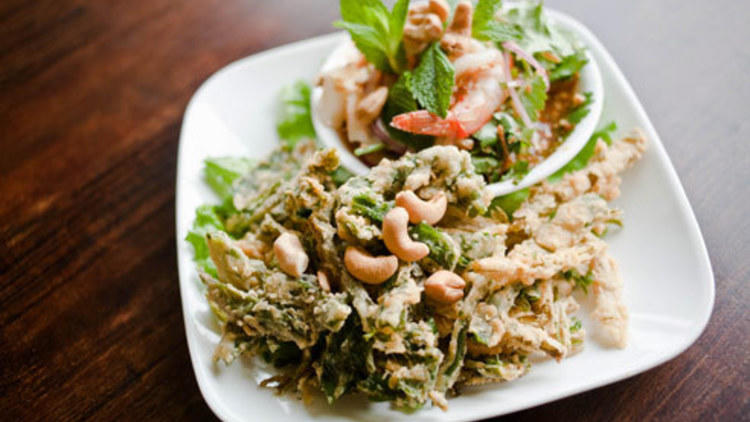 43/100
Photograph: Noah Devereaux
Crispy Chinese watercress salad at SripraphaiIf you're looking for light fare, look elsewhere—the star green in this salad is lightly battered and deep-fried to gently temper its bitterness. Lime and chilies add tartness and heat to two versions of the salad: a vegetarian take featuring king oyster mushrooms, tofu and peanuts; and an omnivorous one with tender shrimp, slices of squid, chicken and cashews. A note to the meat-averse: Ensure that the kitchen swaps the traditional fish sauce for a mushroom-based soy sauce by requesting the dish "true vegetarian" style. 64-13 39th Ave between 64th and 65th Sts, Woodside, Queens (718-899-9599, sripraphairestaurant.com). Vegetarian $9.50, with meat $10.50.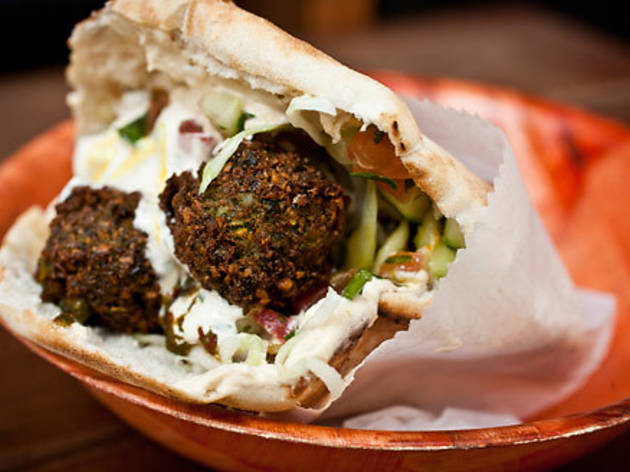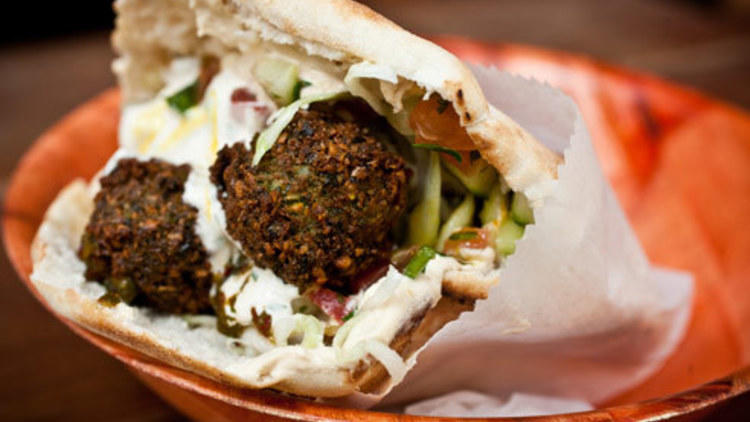 44/100
Photograph: Jakob N. Layman
Green falafel at Taïm Falafel and Smoothie Bar To fashion the falafel's platonic ideal, ground chickpeas are blended with cilantro, parsley and mint, formed into golf-ball-size spheres and deep-fried a dark mahogany. The crunchy exterior conceals a fluffy core, with a nutty, herbaceous flavor complemented by silky hummus and tahini sauce. 222 Waverly Pl between Perry and W 11th Sts (212-691-1287, taimfalafel.com). $6.25.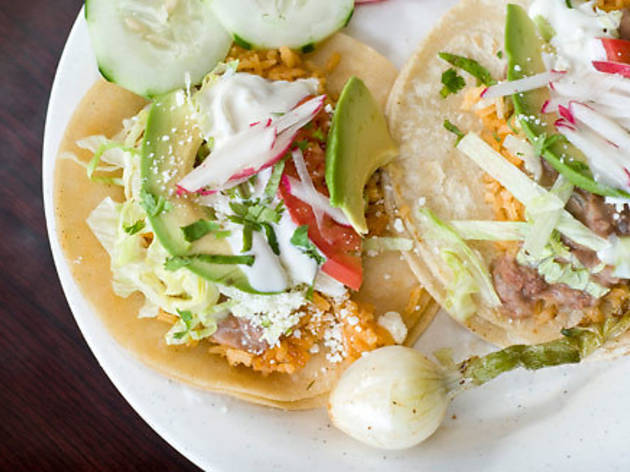 45/100
Photograph: Alex Strada
Vegetarian taco at Tacos El Bronco Two crunchy, griddle-warmed tortillas serve as the base of this towering taco. While the fluffy rice, creamy refried beans, lettuce, tomatoes and radishes are fresh, it's the over-the-top addition of creamy guacamole, a grilled spring onion, a shower of cotija cheese and luscious drizzles of crema that elevate the taco from humdrum to extraordinary. 4324 Fourth Ave at 44th St, Sunset Park, Brooklyn (718-788-2229, tacoselbronco.com). Small $1.50, regular $2.50.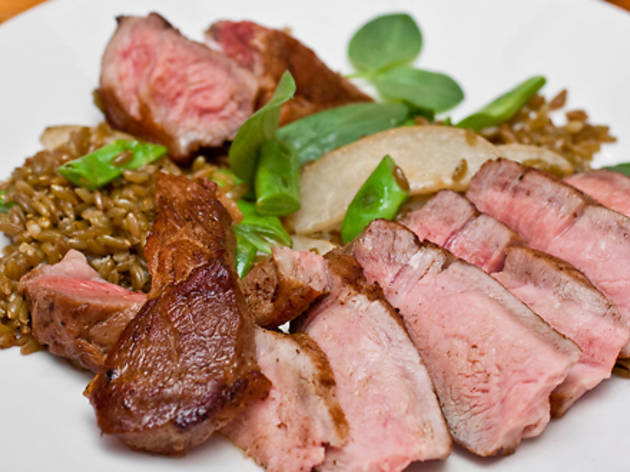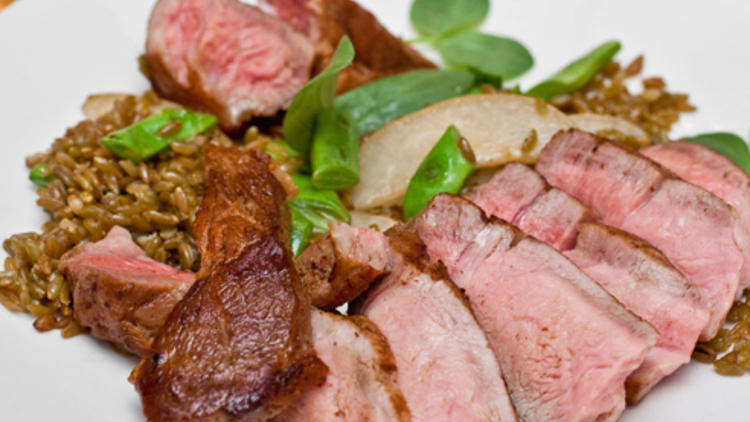 46/100
Photograph: Jakob N. Layman
Red Wattle pork chop at Roberta's Anyone who's sawed through a tough, gray pork chop will barely recognize this double-cut, heritage-breed behemoth as the same meat. Chef Carlo Mirarchi brines and pan roasts it to a gorgeous medium-rare, with blushing pink flesh beneath a crust that's marbled, succulent and as tender as any swine we've encountered. 261 Moore St between Bogart and White Sts, Bushwick, Brooklyn (718-417-1118). $26.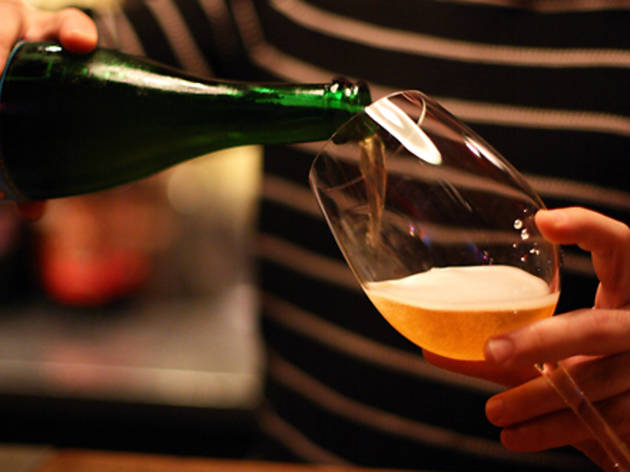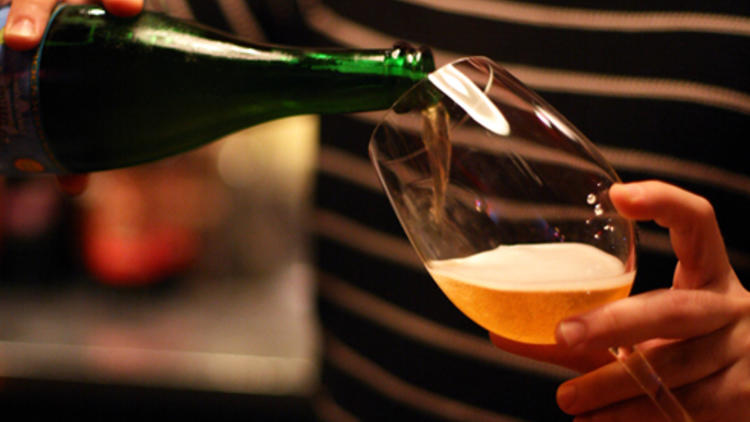 47/100
Photograph: Cinzia Reale-Castello
LambruchaThe craft-beer movement has created plenty of genre-bending suds styles, but few are as weird and wonderful as this funky pour: a tart, pinkish quaff made by blending lambic (a sour ale from Belgium) with kombucha tea. The two fermented brews make an intriguing couple—prickly acidity and champagnelike bubbles produce a refreshing crispness, while the low alcohol content (just 3.5 percent ABV) means you can sip liberally without fear of getting sloppy. Available at Whole Foods Bowery Beer Room, 95 E Houston St between Bowery and Chrystie St (212-420-1320). 750ml bottle $11.99.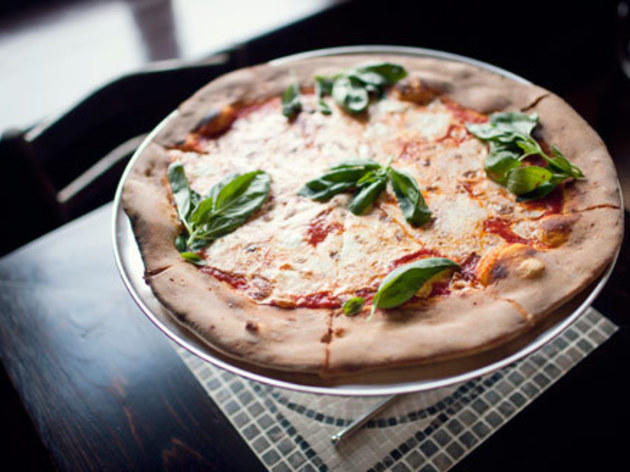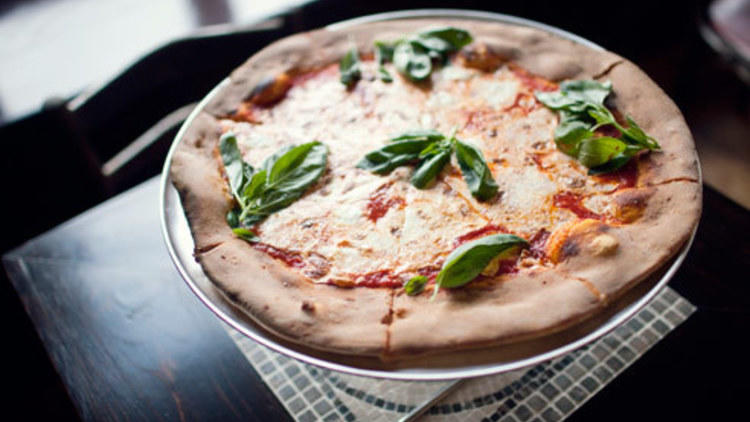 48/100
Photograph: Lizz Kuehl
Margherita at Giuseppina'sPizzaiolo Chris Iacono—brother to Lucali owner Mark—does the family's legacy right with these finely wrought specimens. Supple pies, blistered in a hand-built, wood-fired oven, are adorned with a slick of tangy tomato sauce, Lioni Latticini's creamy Buffalo and low-moisture mozzarellas, a sprinkling of Parmesan and freshly torn basil. 691 Sixth Ave at 20th St, Sunset Park, Brooklyn (718-499-5052). $20.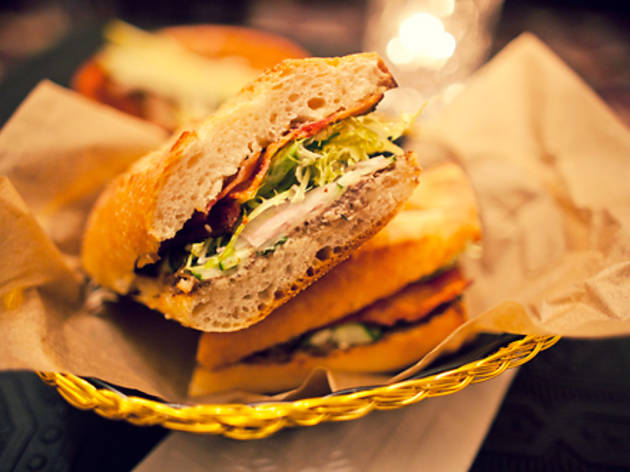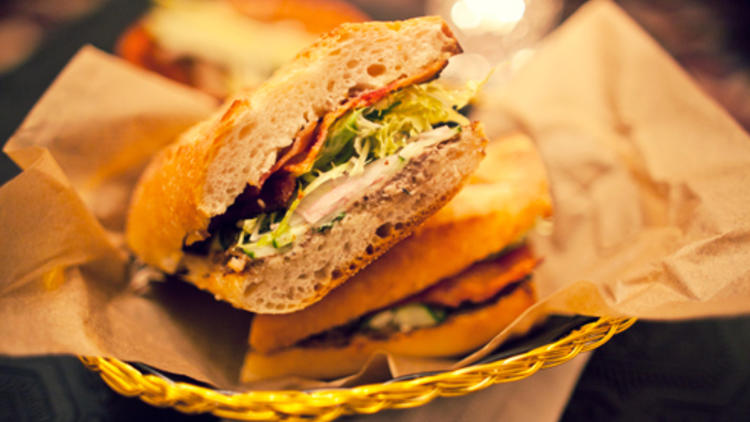 49/100
Photograph: Lizz Kuehl
Chicken-liver baguette at Post OfficeThis decadent sammie is a strong front-runner for our favorite bar snack of the year. Props are due to chef Sam Glinn (Brooklyn Star, Momofuku) for working so many bold flavors into a balanced whole: rich, smooth chicken-liver mousse; crisp bacon with a hint of smoke; sriracha-infused mayo; and crunchy frisée coated with green-apple vinaigrette. Tucked into a Balthazar baguette, the luscious fillings have all the gumption necessary to stand up to Post Office's swoonworthy stash of rare American bourbons. 188 Havemeyer St between South 3rd and 4th Sts, Williamsburg, Brooklyn (718-963-2574). $8.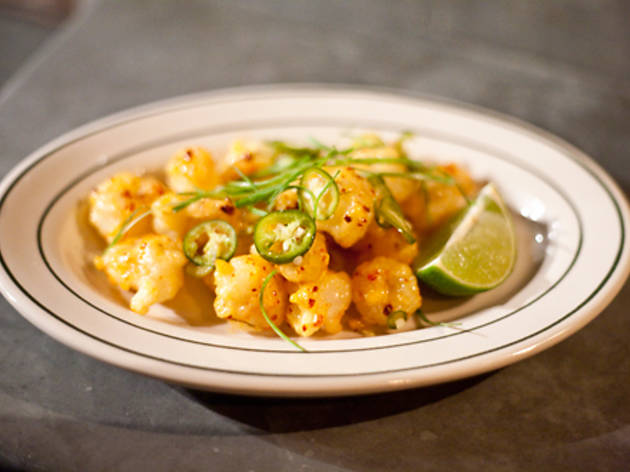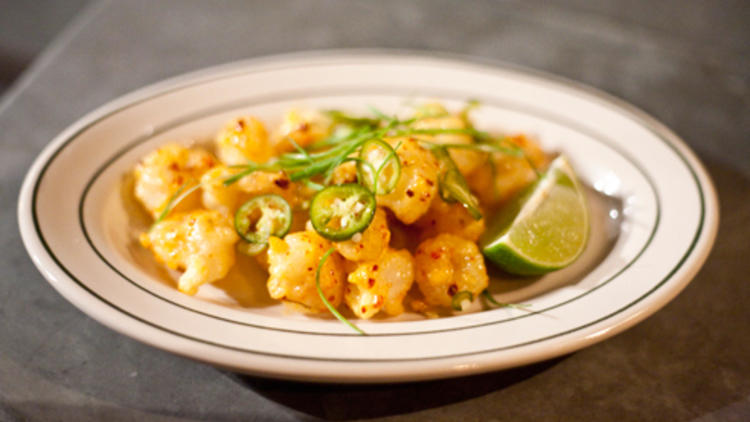 50/100
Photograph: Jolie Ruben
Crispy rock shrimp at Nights and WeekendsPopcorn shrimp gets a smart update from chef Ken Addington (Five Leaves) at this breezy Greenpoint bar, which incorporates West Indian and Latin flavors into its range of bright cocktails and tapas. Addington batters the juicy crustaceans tempura-style, then tosses them in an aioli flavored with chilies, lime zest and Seville orange. House-pickled serranos and a squirt of lime juice supply the bite-size poppers with some citrusy heat. 1 Bedford Ave at Nassau St, Greenpoint, Brooklyn (718-383-5349). $10.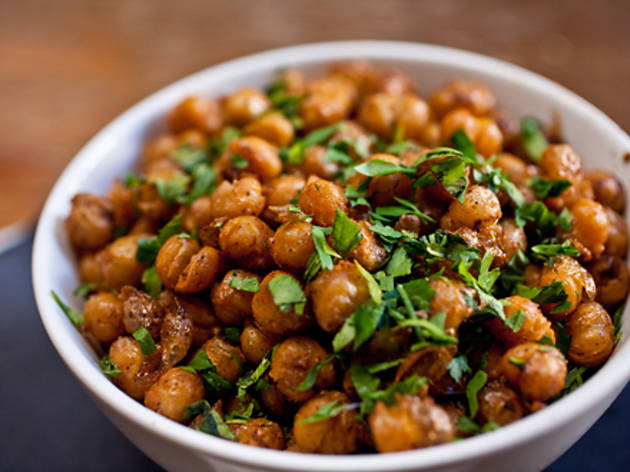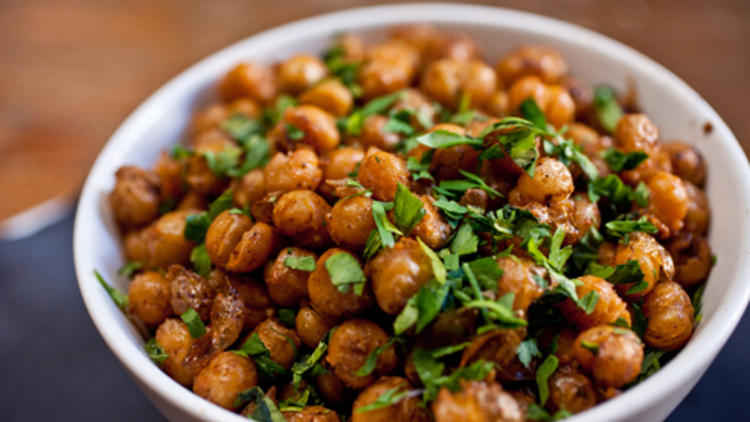 51/100
Photograph: Jakob N. Layman
Spiced fried chickpeas at Mother's RuinCo-owners T.J. Lynch and Richard Knapp are still fine-tuning their brand-new Soho saloon, but we're already hooked. Among the superlative bar snacks on the brief menu are chickpeas, fried until crispy, then tossed with a savory mix of salt, cayenne pepper and pungent garam masala. A light garnish of cilantro tops off the bowl, which is large enough to share with friends over a few rounds of bespoke cocktails. 18 Spring St between Elizabeth and Mott Sts (no phone). $5.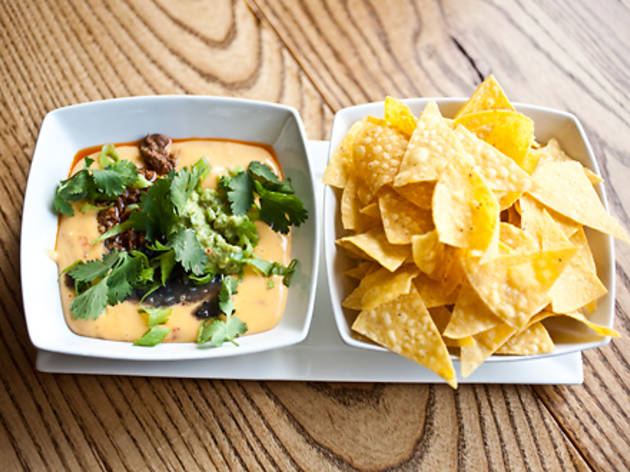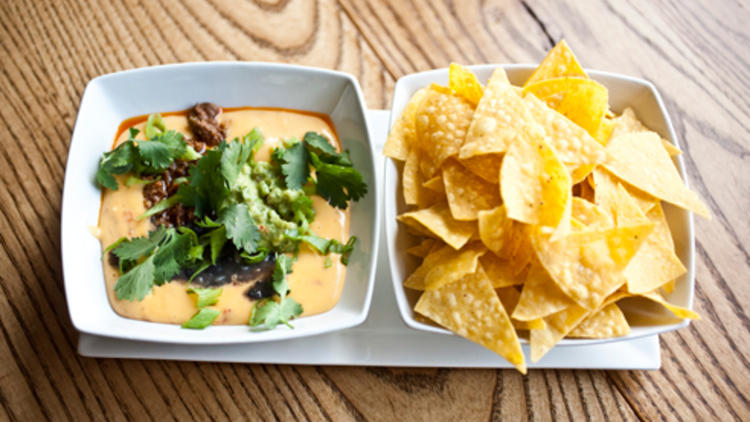 52/100
Photograph: Jolie Ruben
Nitehawk Queso at Nitehawk CinemaChef Saul Bolton (Saul, the Vanderbilt) conjures creative updates on concession-stand snacks for this gastro-cinema. Our favorite is this Lone Star state riff on junky nachos: Velveeta, sour cream, and Ro-Tel–brand diced tomatoes and green peppers, served with sturdy tortilla chips. The spicy dip is good enough on its own, but Bolton sneaks in some excellent upgrades, including fresh guacamole, pork-fat-laced black beans and house-made chorizo. 136 Metropolitan Ave between Berry St and Wythe Ave, Williamsburg, Brooklyn (718-384-3980). $10.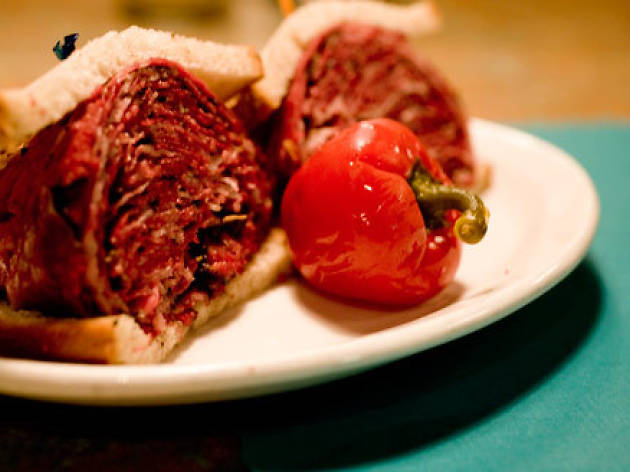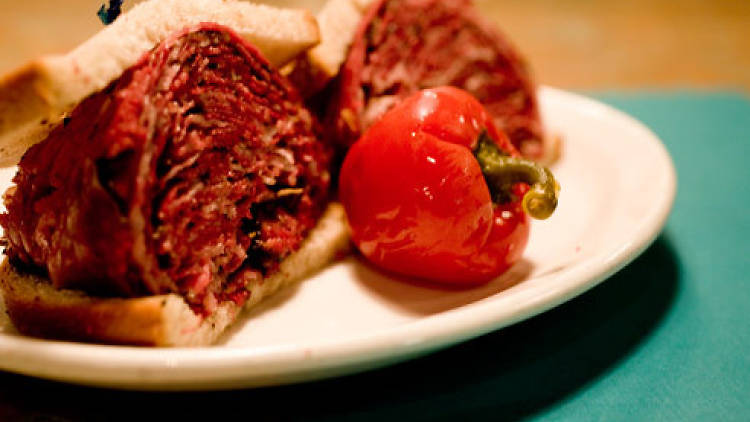 53/100
Photograph:NItzan Krismksy
Pastrami sandwich at Liebman's DeliSince 1953, this certified-kosher Jewish deli has cranked out killer house-made pastrami. Brisket is massaged with plenty of salt, sugar and pepper, then smoked and steamed till it's fall-apart tender. Sliced thin, stacked high on rye bread and swiped with mustard, the pastrami is supple, zesty perfection. 552 W 235th St between Johnson and Oxford Aves, Bronx (718-548-4534, liebmansdeli.com). $9.50.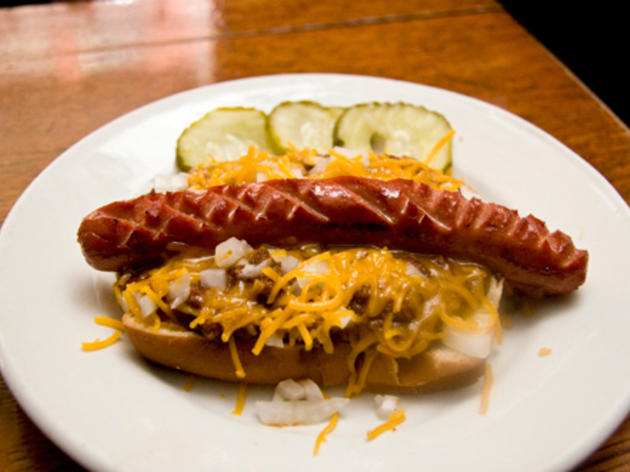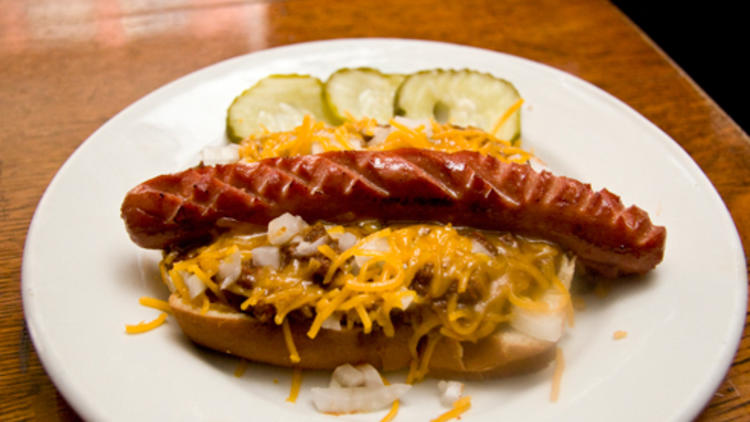 54/100
Photograph: Krista Schlueter
Hot dog at Old Town BarA gang of nouveau hot dogs with haute chef pedigrees rolled into town this year. But this simple classic—lowered from the second-floor kitchen via an antique dumb waiter—puts the young pups to shame. The hefty all-beef Sabrett, cradled in a butter-griddled top-loading bun, is grilled to achieve the perfect balance of juicy, salty and snappy. 45 E 18th St between Broadway and Park Ave South (212-529-6732). $7.50.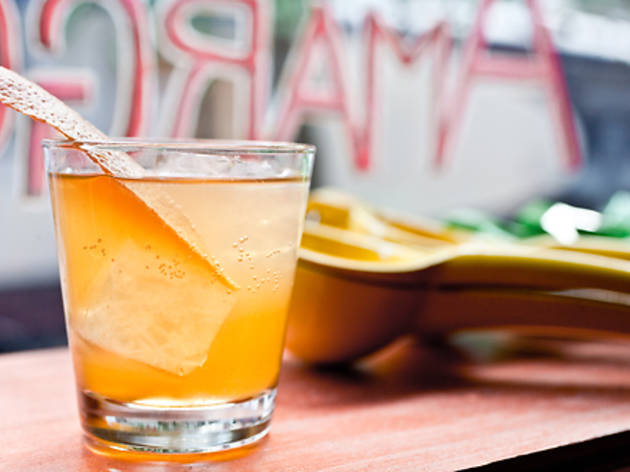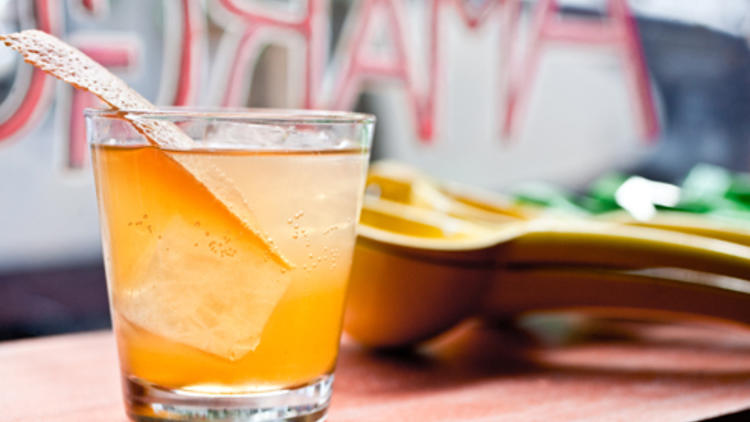 55/100
Photograph: Jakob N. Layman
House gin and tonic at Amor y AmargoThe G is the only thing this complex cocktail has in common with your garden-variety G&T. The bartenders here swap out Schweppes for a boozy, quinine-laced tonic cordial (plus a splash of club soda), then pad the drink's sweet and fruity notes with maraschino liqueur and a dose of Bittermens Hopped Grapefruit Bitters. The result is an orange-hued, floral-scented nip that coats the palate in sweet citrus, before delivering a bracingly bitter finale. 443 E 6th St between First Ave and Ave A (212-614-6817). $12.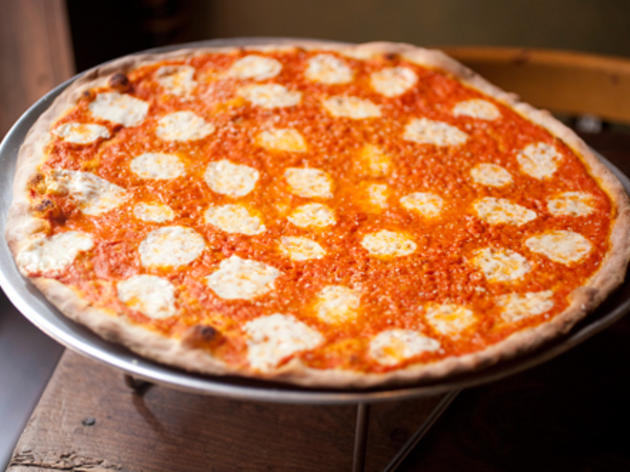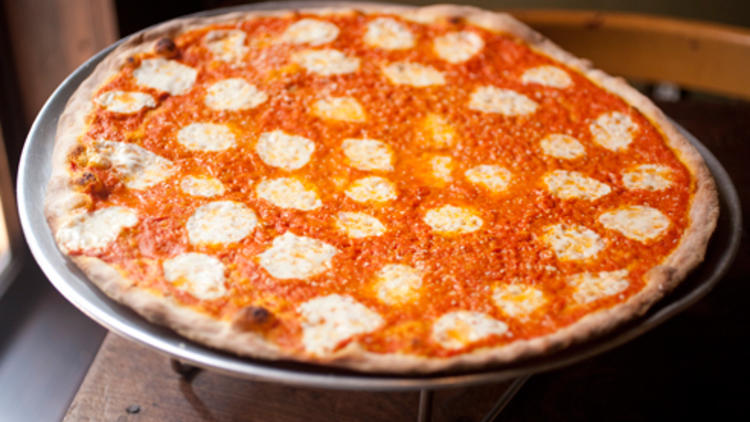 56/100
Photograph: Jolie Ruben
Vodka pizza at RubirosaEach year seems to spawn a new pretender to NYC's pizza throne, but this newcomer actually approaches pantheon status. Rubirosa's crisp yet pliable thin-crust pies have a delicate char and a small ring of crackerlike crust around the edges. We've yet to go wrong with the no-frills vodka rendition, which boasts a layer of creamy, booze-spiked tomato sauce and a gooey patchwork of fresh mozzarella. 235 Mulberry St between Prince and Spring Sts (212-965-0500). Small $16, large $22.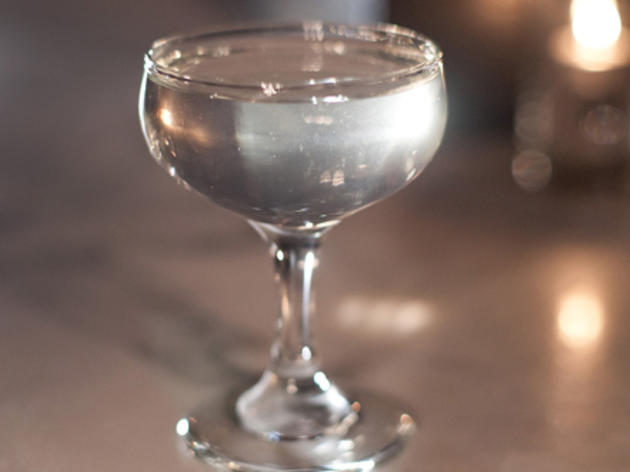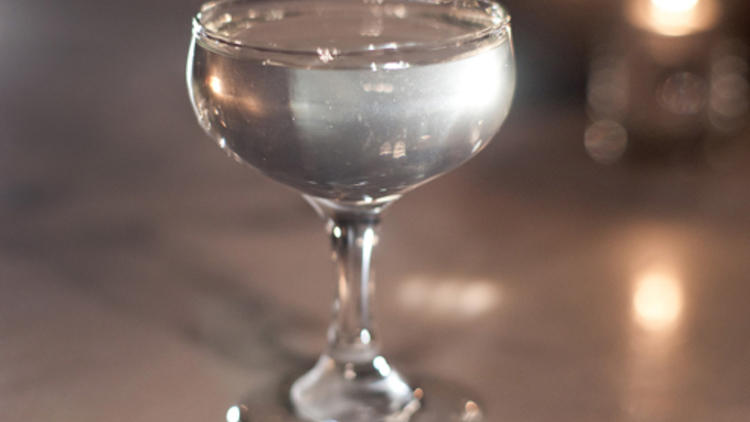 57/100
Photograph: Paul Wagtouicz
Sweet Hereafter at Death & CompanySwapping in floral Campo de Encanto pisco for gin, barkeep Joaquín Simó takes the straightlaced martini for a sultry Latin American spin. St.-Germain and Dolin Blanc vermouth amp up the botanicals. Sharp Cocchi Americano, along with grapefruit bitters and peel, bring it home with a dry, citrusy finish. 433 E 6th St between First Ave and Ave A (212-388-0882). $13.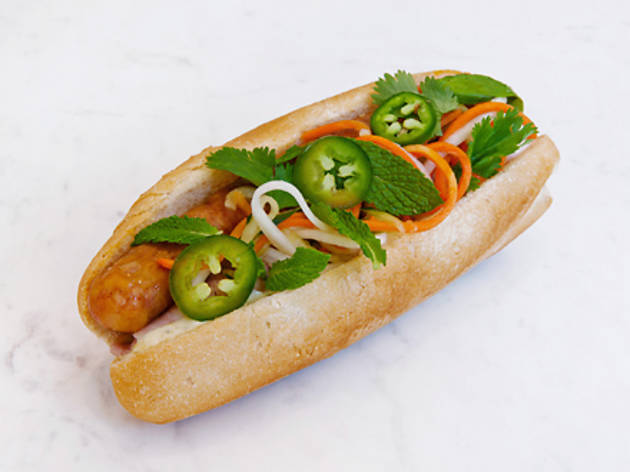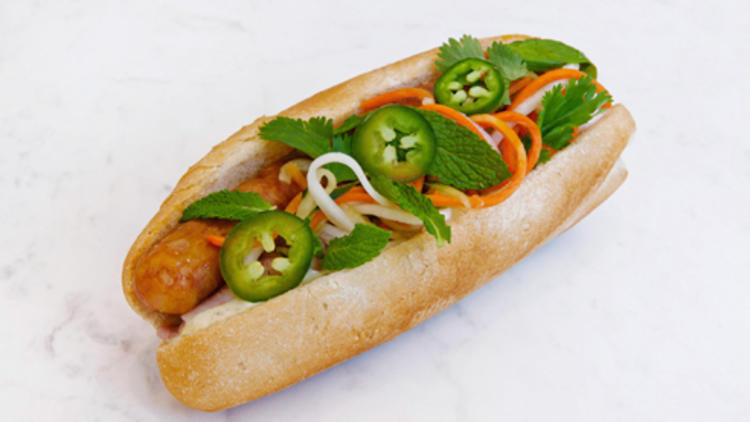 58/100
Photograph: Paul Wagtouicz
Sausage banh mi at Épicerie BouludBanh mi riffs seem to be everywhere these days, but few boast the bona fides of this high-brow hot dog. Daniel Boulud's crack team of artisans handcrafts each element of the sandwich. The bakers fashion the mini baguettes, perfectly proportioned and properly crusty. The charcutiers create the lemongrass-spiked sausage and house-cured ham. And chef Jonathan Kinsella brings it home with a smear of lush country pâté, crunchy radish-and-carrot slaw and jalepeño-infused mayo. 1900 Broadway at 64th St (212-595-9606). $8.90.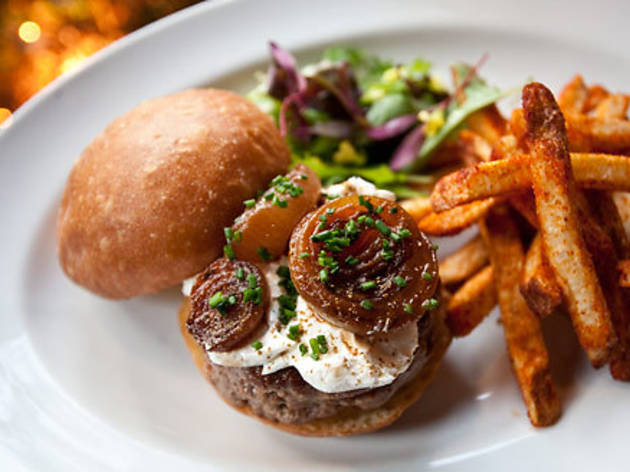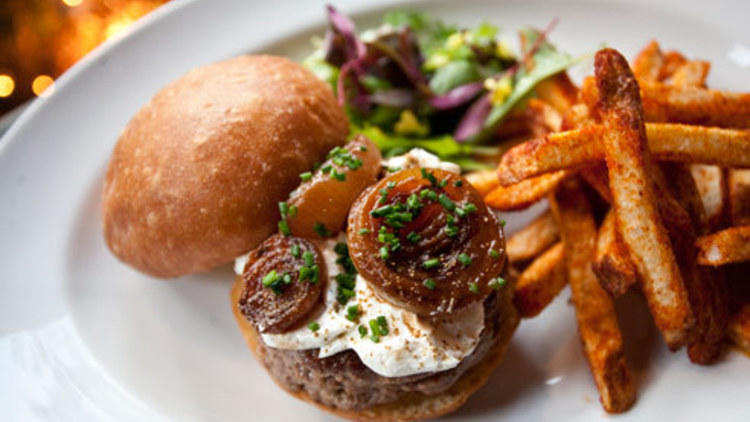 59/100
Photograph: Virginia Rollison
The lamb burger at JamesOn Monday nights, when James rolls out its special burger menu, the main attraction is not a trendy Pat LaFrieda–beef blend but rather a loosely packed half-pound puck of lamb. It's dusted in cumin, seared in a cast-iron pan, anointed with warm goat cheese and cipollini onions, and snuggled inside a sturdy, sesame-studded semolina roll that cocoons the rich juices. 605 Carlton Ave at St. Marks Ave, Prospect Heights, Brooklyn (718-942-4255, jamesrestaurantny.com). Mondays $12, as special $16.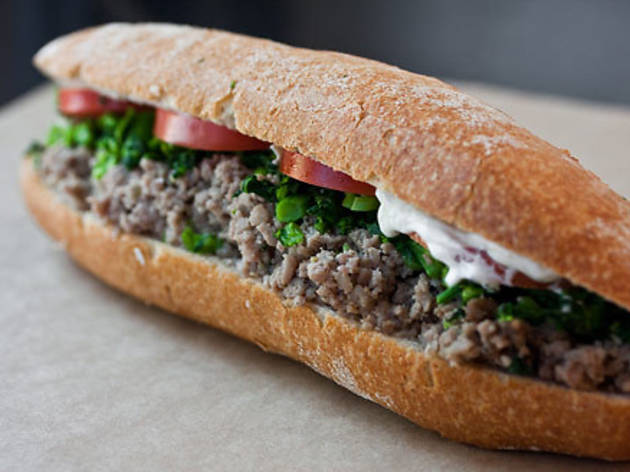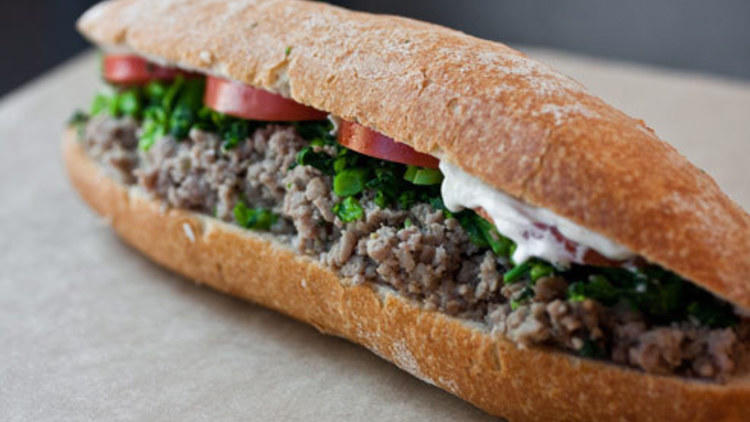 60/100
Photograph: Jakob N. Layman
The Dave at City SandwichFinding a new go-to sandwich in midtown is no small thing—it's like discovering a reliable hairdresser who gets your bangs right every time. That's why we can't help but gush about the reliably delicious Dave, always on call when we need a crusty baguette stuffed with crumbled Italian sausage, fresh tomato, diced broccoli rabe, house-made piri-piri sauce and a gooey layer of melted mozzarella. Douse it with peperoncini-infused olive oil for a little extra punch. 649 Ninth Ave between 45th and 46th Sts (646-684-3943). $9.95.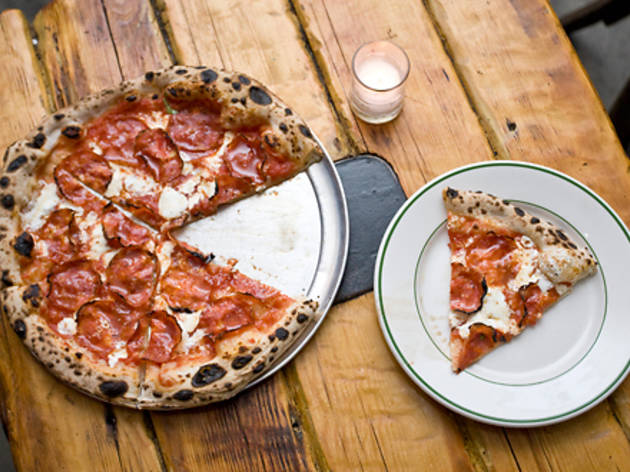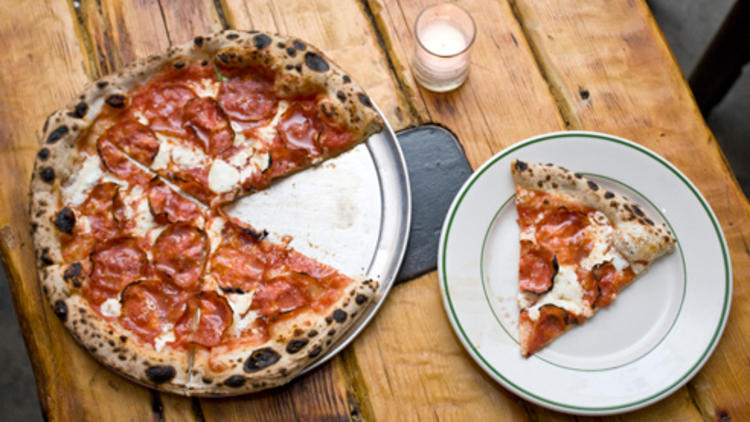 61/100
Photograph: Alex Strada
The Hellboy at Paulie Gee'sPaulie Gee's barkeep Mike Kurtz is behind the small-batch Mike's Hot Honey that jacks up this fiery pizza. He infuses mild clover honey from Pennsylvania with Brazilian chili peppers and a splash of white vinegar, before passing it on to pizzaiolo Paul Giannone. The golden stuff truly sings when drizzled over a puffy, blistered pie scattered with Berkshire sopressata picante, melting puddles of creamy fior di latte and a sprinkling of grated Parmigiano-Reggiano. 60 Greenpoint Ave between Franklin and West Sts, Greenpoint, Brooklyn (347-987-3747, pauliegee.com). $16.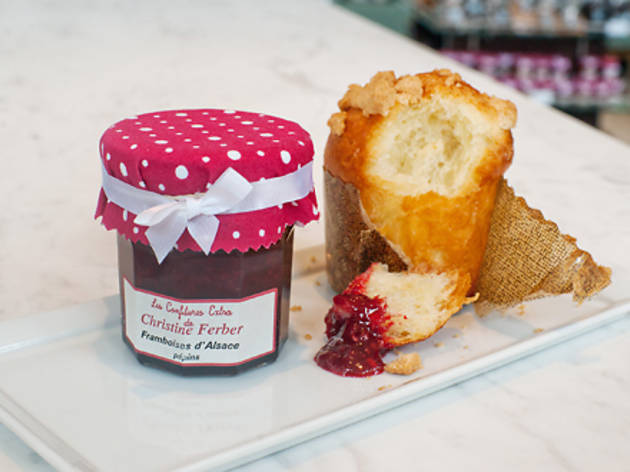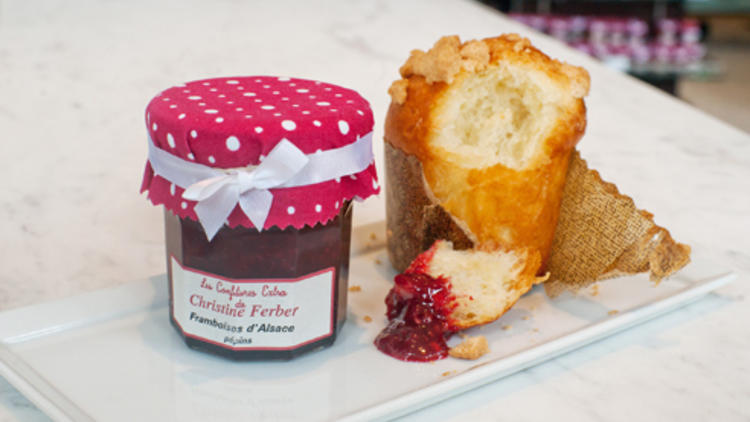 62/100
Photograph: Paul Wagtouicz
Christine Ferber Jams at Épicerie Boulud For years, Daniel Boulud has served these cult jams from Alsace with the breakfast pastries at his DB Bistro Moderne. Now, for the first time in the U.S., they're available to take home from his new Épicerie. Made with the finest whole fresh fruit at its prime (whether succulent Indian mangoes or tart pamplemousse), they're well worth the exorbitant price tag and the attendant hype—new flavors are unveiled annually like a couture collection. 1900 Broadway at 64th St (212-595-9606, danielnyc.com/epicerie.html). $19.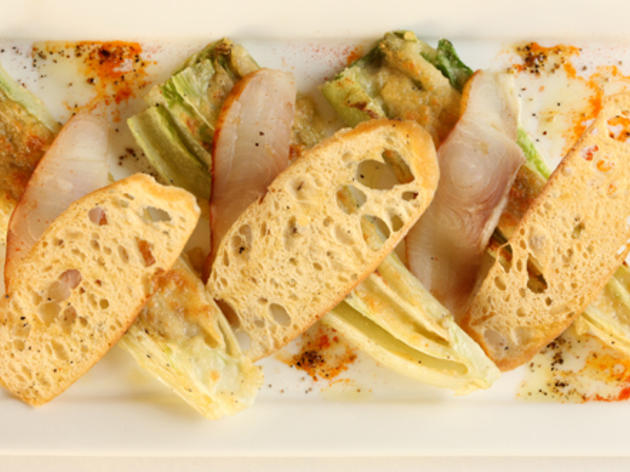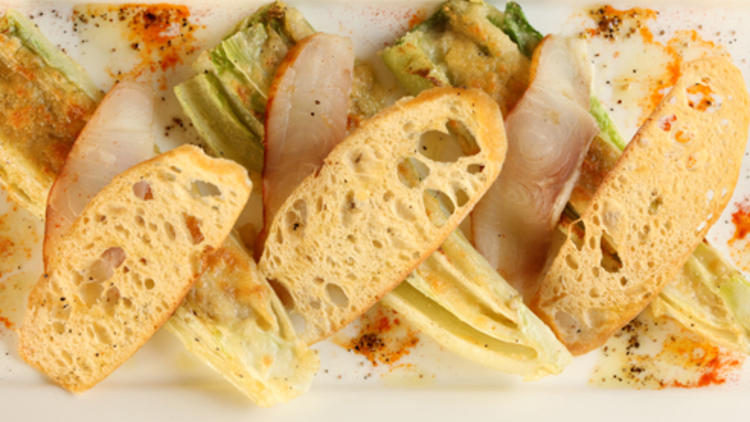 63/100
Photograph: Jay Cheshes
Grilled Caesar at MillesimeRomaine lettuce, it turns out, is just as terrific hot as it is cold. A brilliant signature dish was born when chef-owner Laurent Manrique applied this happy realization to his Caesar salad variation, which deploys grilled Romaine hearts heaped with shaved Parmesan and draped in silky smoked cod instead of the typical anchovies. Carlton Hotel, 92 Madison Ave between 28th and 29th Sts (212-889-7100, millesimerestaurant.com). $14.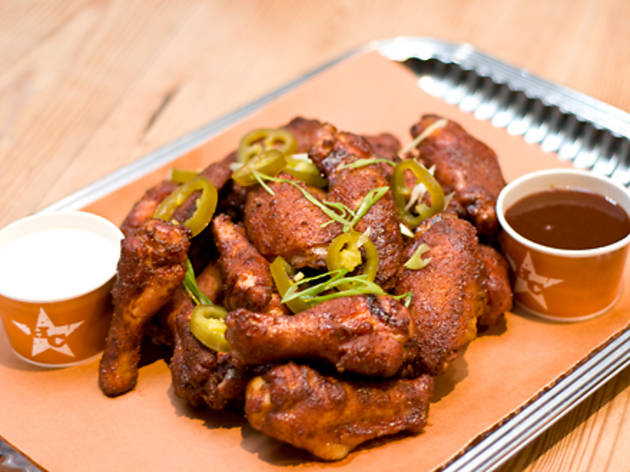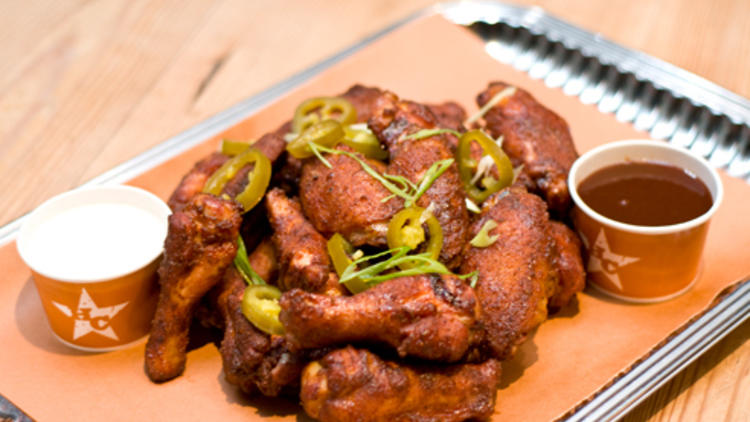 64/100
Photograph: Alex Strada
Smoked chicken wings at Hill Country Chicken-wing purists might bristle to know that our favorite version of the game-day staple takes its cues from Central Texas, not Buffalo. This fowl, rubbed with a mixture of mustard powder, cayenne, brown sugar and other spices, gets its smoldering flavor from a two-hour ride in a Texas-Post-oak–fueled smoker. Just be sure to call ahead before hopping a taxi to the Flatiron District—these burnished beauts are available only on Wednesdays after 5pm, Thursday through Saturday after 11pm and during football games. 30 W 26th St between Broadway and Sixth Ave (212-255-4544, hillcountryny.com). Ten for $7.50, 24 for $18.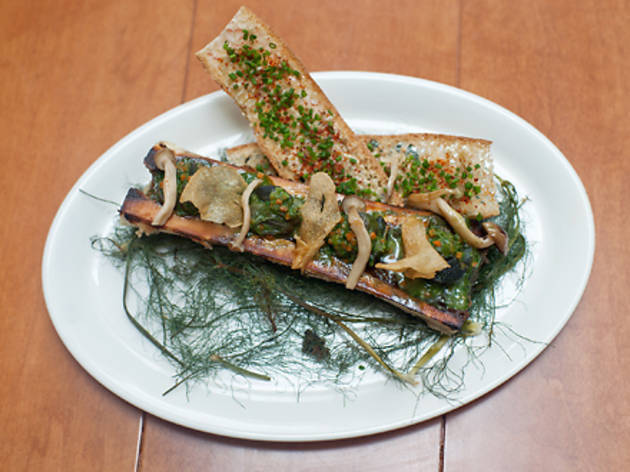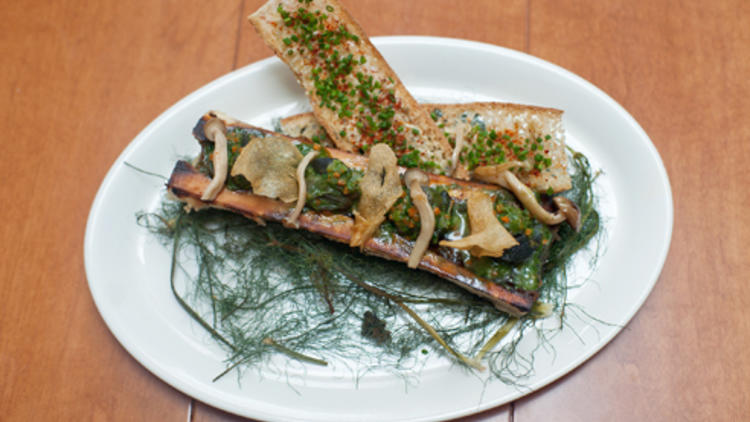 65/100
Photograph: Paul Wagtouicz
Ants on a log at David Burke KitchenDavid Burke, the zany chef behind cheesecake pops and flavor spray, is at is again. This time the toque's whimsical style enhances ants on a log—the classic after-school snack of celery with cream cheese and raisins. Roasted and split marrow bones stand in for the vegetable, and garlicky Pernod-and-fennel-butter-drenched snails pitch in as the ants, with some parsley thrown in for good measure. 23 Grand St at Sixth Ave (212-201-9119, davidburkekitchen.com). $16.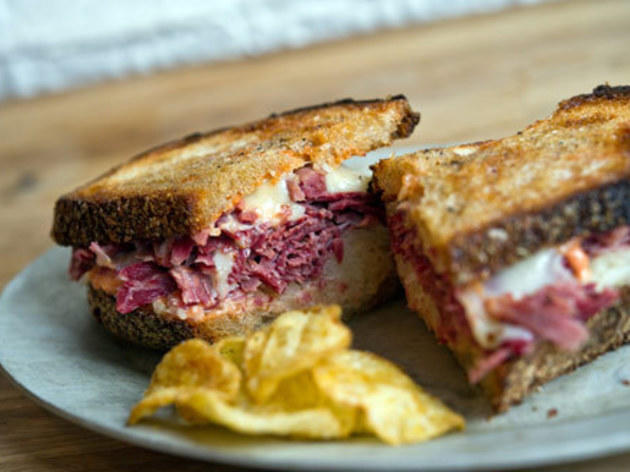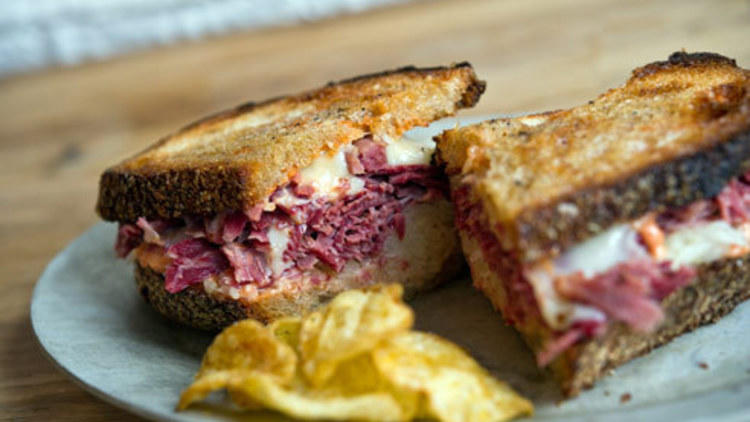 66/100
Photograph: Daniel Krieger
The Reuben at Court Street GrocersCo-owners Eric Finkelstein and Matt Ross take an artisanal approach to this deli staple. Two buttery slices of Orwasher's wine bread bookend a mound of short-rib corned beef, house-cured with salt, cinnamon and pantry's worth of other spices. Topping the pile is gooey Emmentaler cheese, tangy Russian dressing and a pile of kraut. 485 Court St between Huntington and Nelson Sts, Carroll Gardens, Brooklyn (718-722-7229, courtstreetgrocers.com). $9.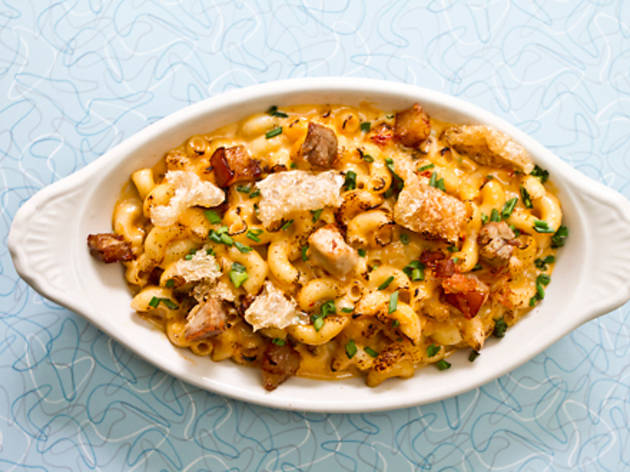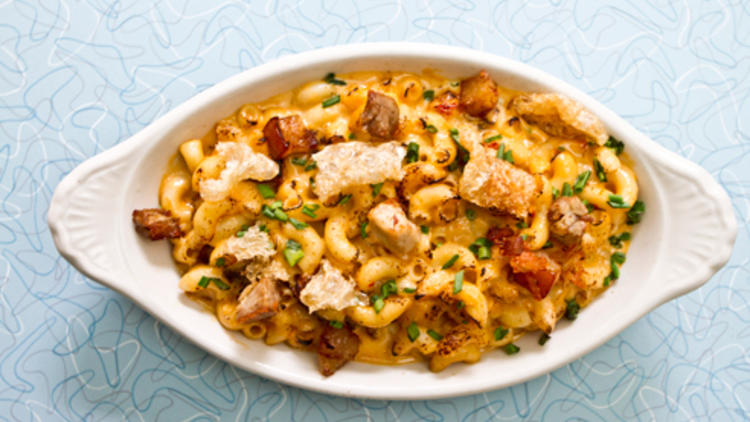 67/100
Photograph: Caroline Voagen Nelson
Mac and Chicharrón at CoppeliaChef Julian Medina really ups the ante on NYC's mac-and-cheese game at this 24-hour Cuban diner. A double dose of pork—crisp shards of skin on top and quivering chunks of belly within—adds richness and texture to elbow macaroni. The sauce is a silky mix of American and cheddar cheeses, spiked with spicy sambal. 207 W 14th St between Seventh and Eighth Aves (212-858-5001, coppelianyc.com). $8.95.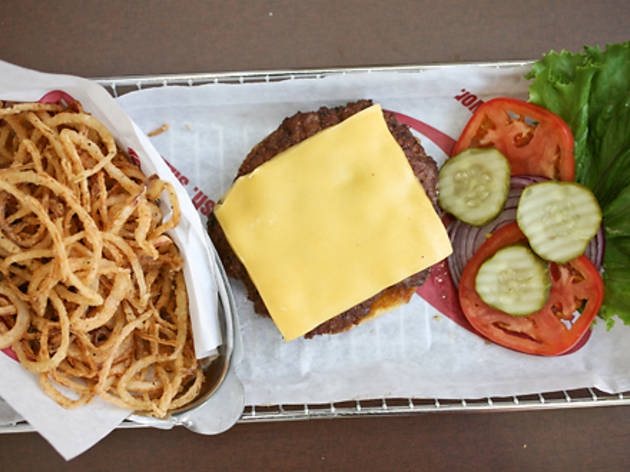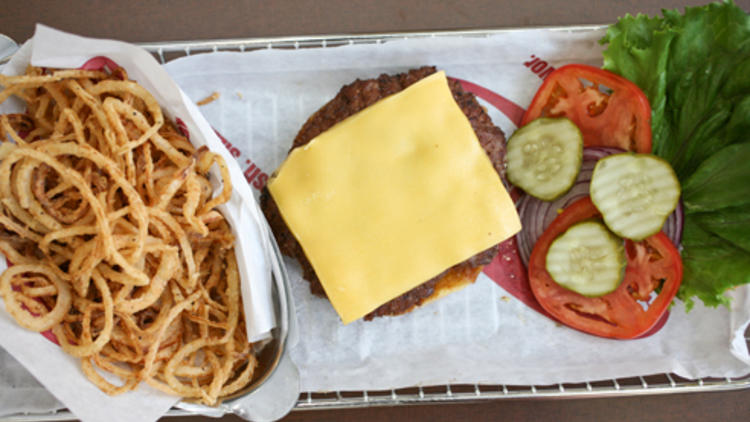 68/100
Photograph: Alex Strada
All American with Cheese at Smashburger The burger wars are fierce in New York, and it takes a mighty patty to break through the hype. So credit is due to this fast-expanding chain, which sprouted in Brooklyn earlier this yearand has been quietly serving one of the city's best new contenders ever since. The beef—chopped Angus chuck—is cooked using a smashing technique: The kitchen staff paints a smoking-hot flattop grill with butter, tosses on a patty and presses it into the griddle for a ten-second sear. The resulting burger, succulent with a crunchy exterior, is nestled in a springy artisan bun that absorbs most of the juice and leaves the rest of it to dribble down your chin. 80 DeKalb Ave between Hudson Ave and Rockwell Pl, Fort Greene, Brooklyn (718-222-1101, smashburger.com). $4.99.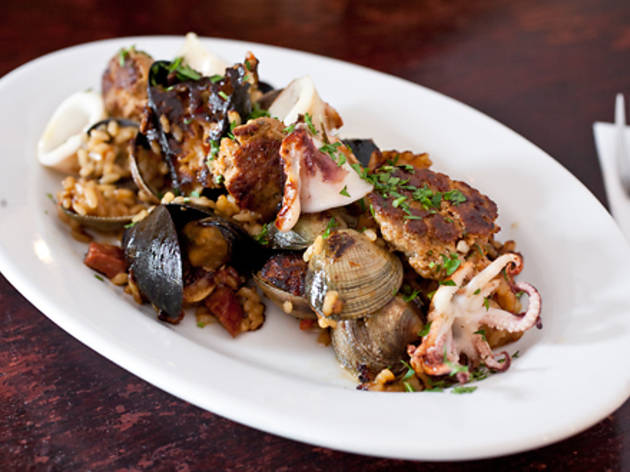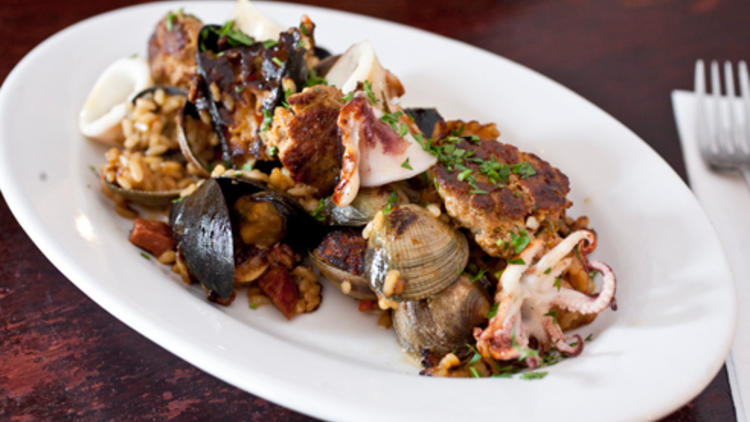 69/100
Photograph: Jakob N. Layman
Paella at CaliuSocarrat—a crisp bottom layer of caramelized rice kernels—is a key indicator of a well-made paella. You'll find plenty of it in Caliu chef Franco Barrio's version of the iconic Spanish dish, which he cooks entirely a la plancha for an added dimension of crunch. The dish features quartered patties of spicy, house-made chorizo, plus briny cockles—tossed in raw and boiled, together with the rice, in a rich lobster stock. Grilled baby octopus, spritzed with citrus, tops the winning plate. 557 Hudson St between W 11th and Perry Sts (212-206–6444, caliutapas.com). $16.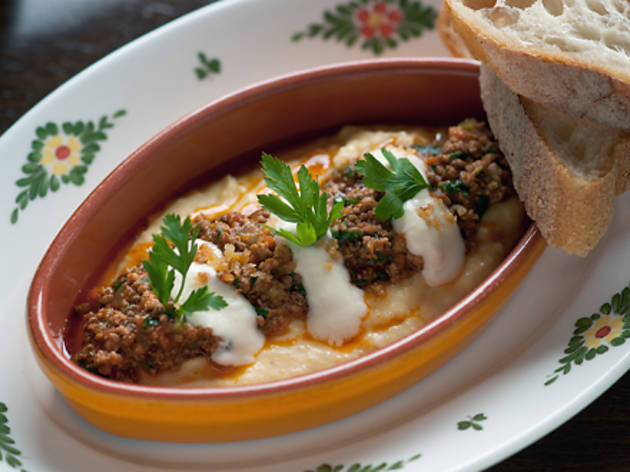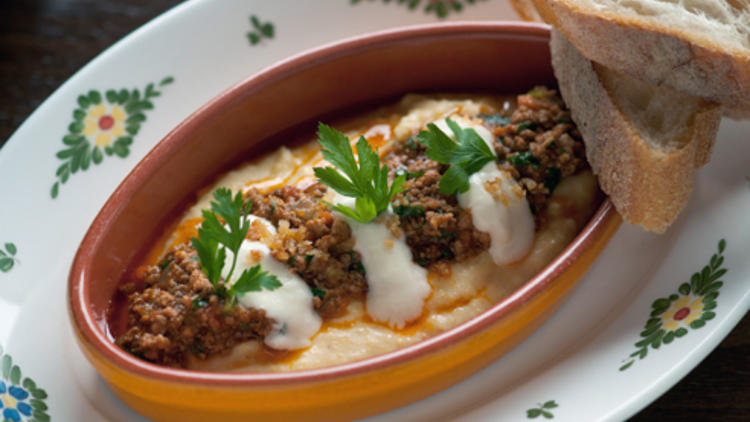 70/100
Photograph: Paul Wagtouicz
Sausage polenta at Osteria Morini The return of sweater weather also signals the revival of this chill-abating indulgence. Chef Michael White's stratospheric version of creamy polenta is stocked with white pepper and funky Parmesan, spread with a layer of rich pork-sausage ragù and capped with bread crumbs and melted stracchino cheese. 218 Lafayette St between Broome and Spring Sts (212-965-8777, osteriamorini.com). $18.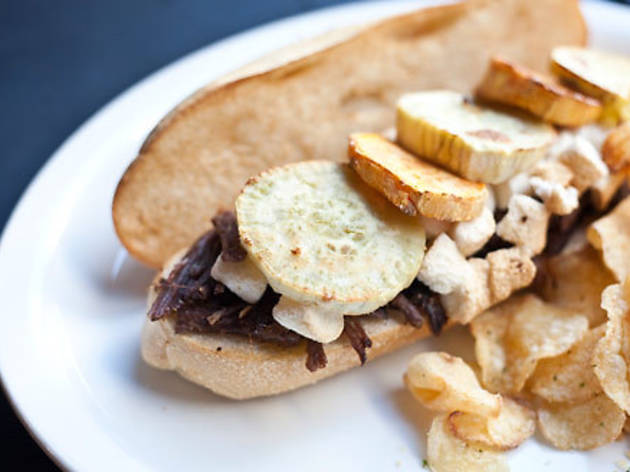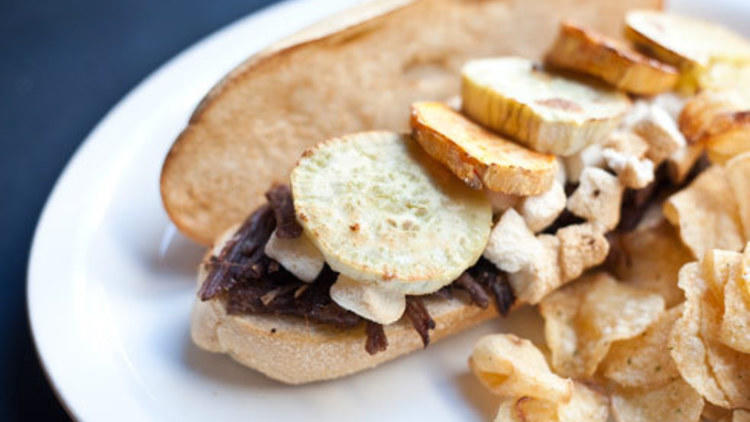 71/100
Photograph: Virginia Rollison
Halloween sandwich at No. 7 SubThe magnificently bizarre lineup of sandwiches at No. 7 Sub changes with the seasons—and with the capricious will of the creator, chef Tyler Kord. Last fall he debuted the Halloween—a monster mash-up of short rib braised with garlic, jalapeño and onion, plus roasted sweet potatoes and gooey, melted marshmallows. The finished product calls to mind a Thanksgiving casserole; an acidic red wine and shallot vinaigrette keeps the sugar high in check. Ace Hotel, 1188 Broadway at 29th St (212-532-1680, no7sub.com). $9.80.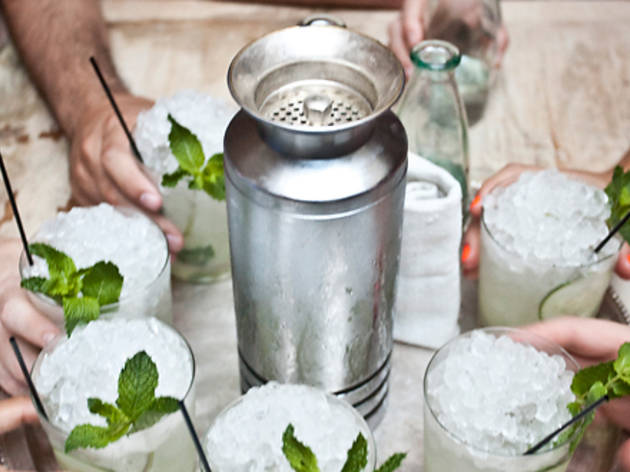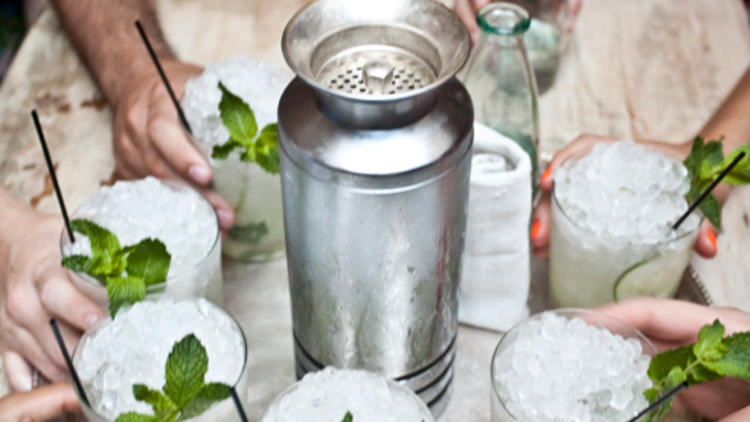 72/100
Photograph: Jolie Ruben
Broken Mirror Skyscraper at Elsa The Green Fairy's hallucinogenic effects may be myth, but this herbaceous, shareable quaff will cast a spell on absinthe newbies and enthusiasts alike. A bracing mix of the anise-flavored liqueur, lime and muddled mint—rounded out with dandelion and burdock bitters—is chilled with slow-melting Kold-Draft ice cubes in a six-serving silver shaker. Pour your share over pea-shaped ice, lighten it with soda water and clink glasses with your crew. 217 E 3rd St between Aves B and C (917-882-7395). Six servings $60.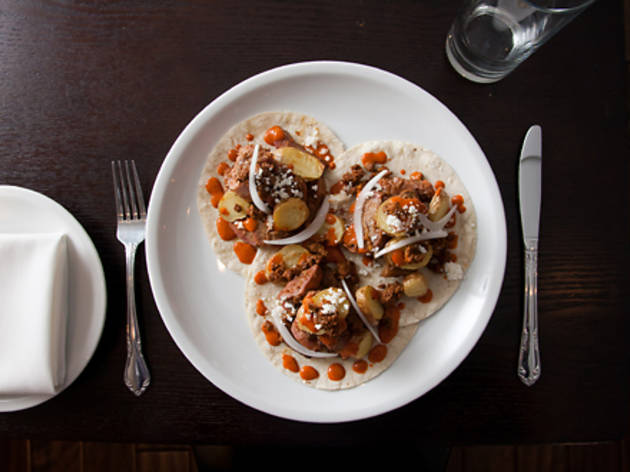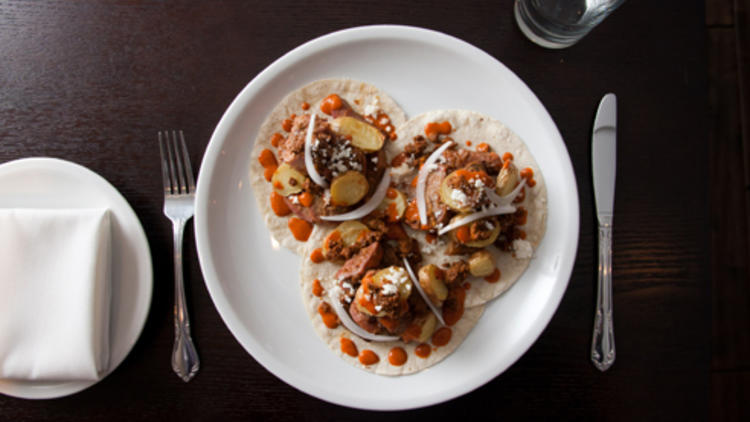 73/100
Photograph: Jakob N. Layman
Beer-braised-tongue tacos at EmpellónPastry-pro-turned-Mexican-food-booster Alex Stupak proves his mettle in savory cuisine with these rich, fiery pork-tongue tacos. The soft, shredded meat—slow-cooked with Negra Modelo, bacon and chorizo—is deposited on two house-made flour rounds, and sauced with the reduced braising liquid and an incendiary chile de árbol salsa. Raw onion, roasted fingerling potatoes and salty queso fresco complete the dish. 230 W 4th St at 10th St (212-367-0999). Two for $12.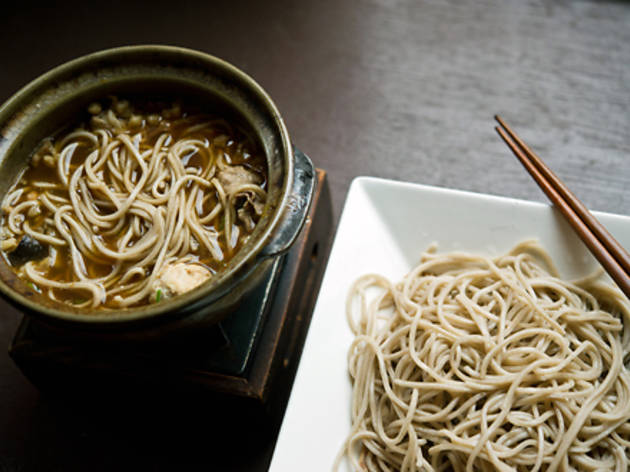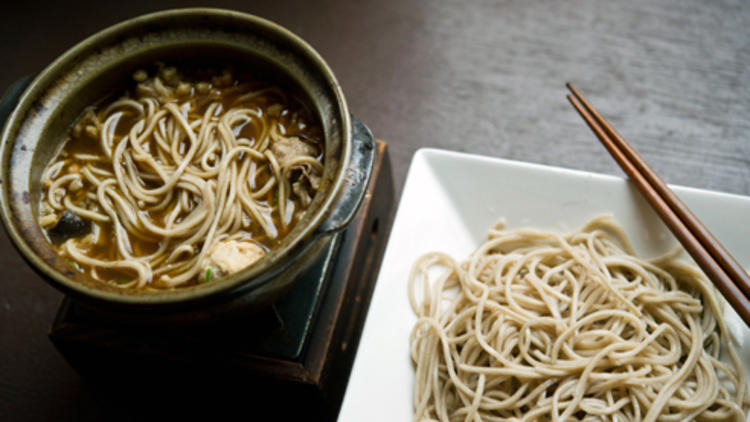 74/100
Photograph: Daniel Krieger
Stamina Soba at CocoronSlices of pork belly, bits of scallion and a plump ginger-chicken meatball bob in this soul-soothing Japanese crock, which combines savory chicken and briny seaweed-bonito stocks. Dip chewy house-made buckwheat noodles into the bubbling broth, and then drink down the brackish remnants, thinned out with the noodle cooking water, when you're through: It's restoration in a bowl. 61 Delancey St at Allen St (212-925-5220). $8.80.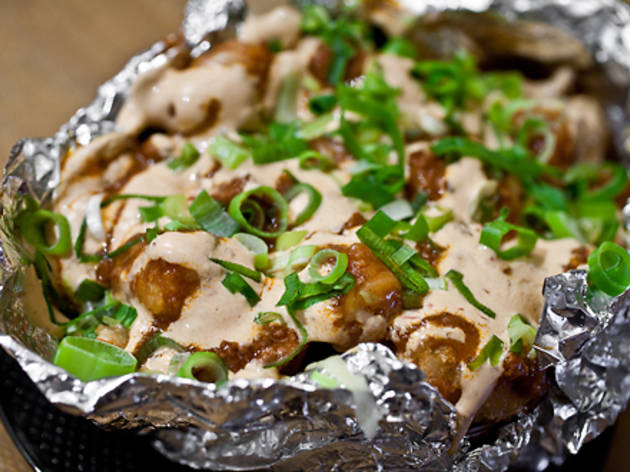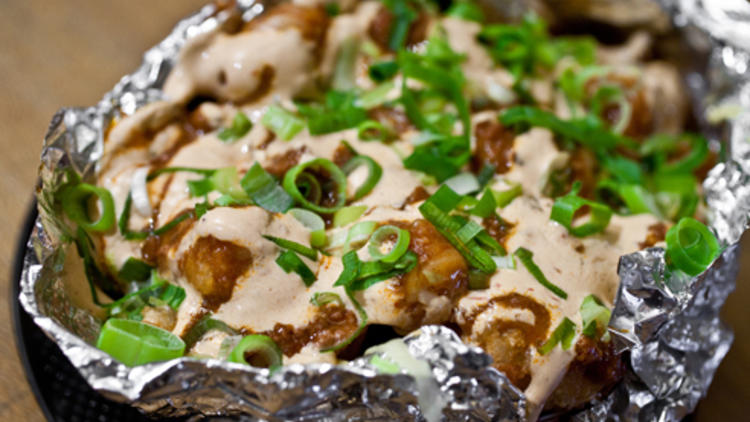 75/100
Photograph: Jakob N. Layman
Torres Tots at PDTFollowing in the steps of David Chang and Daniel Humm, who contributed signature hot dogs, chef Sue Torres (Sueños) lends her talents to the speakeasy's small menu by taking the humble Tater-Tot and piling on the Mexican flavors near and dear to her heart. Oozy Chihuahua cheese, chorizo gravy, chile de árbol, chipotle crema and scallions make for an addictive mash-up of nachos and disco fries. 113 St. Mark's Pl between First Ave and Ave A (212-614-0386, pdtnyc.com). $7.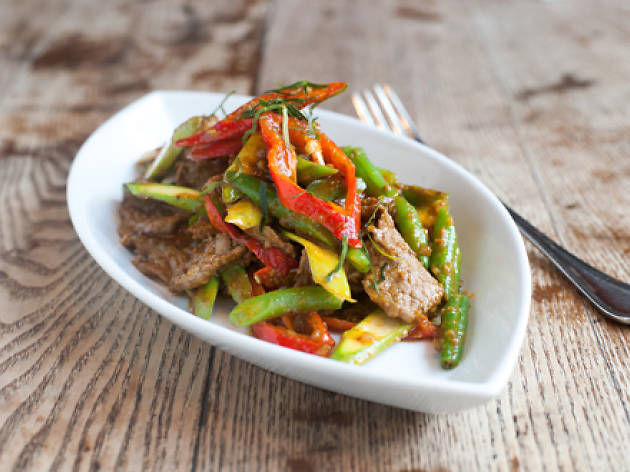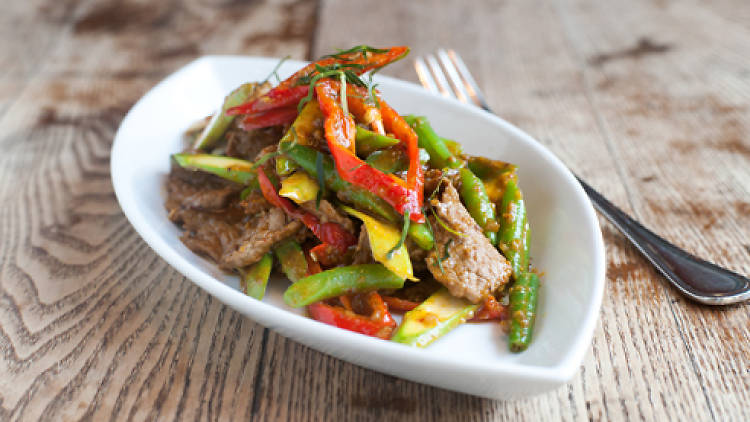 76/100
Photograph: Paul Wagtouicz
Beef with chili turmeric at Pure Thai ShophouseTo fashion this five-alarm delight, wok-charred slivers of beef are tossed with kafir lime leaves and sliced green beans (vegetables vary by season). They're bathed in a thin, orange-tinted sauce chock-full of pungent turmeric and Thai chilies that pack a lingering, memorable heat. 766 Ninth Ave between 51st and 52nd Sts (212-581-0999, purethaishophouse.com). Lunch $9, dinner $12.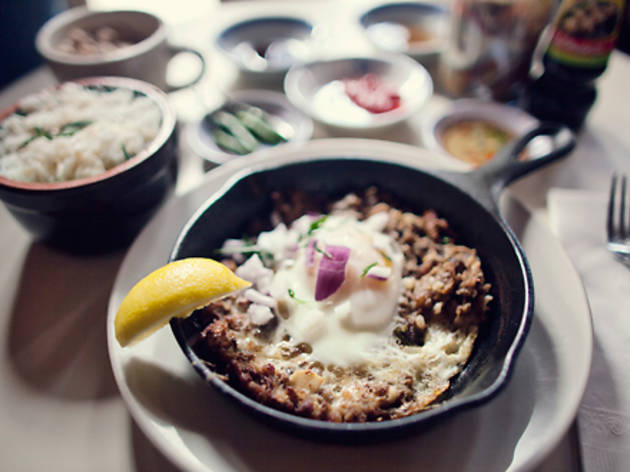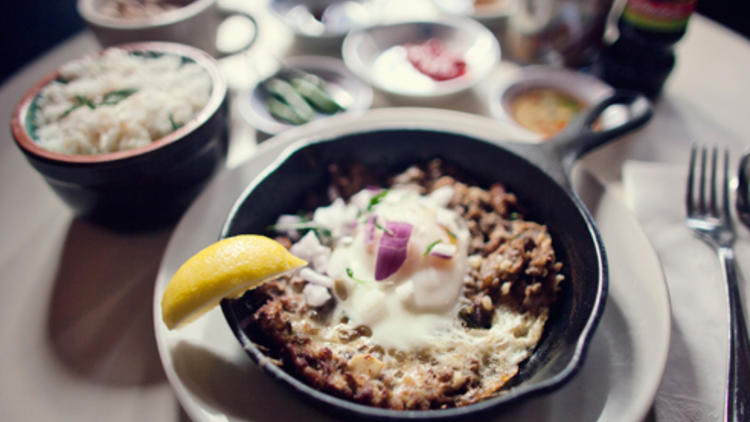 77/100
Photograph: Jolie Ruben
Sizzling sisig at MaharlikaThis traditional Filipino dish originated in Pampanga, where they hold an annual festival in its honor. We can see why: The crispy, chewy sisig features pork belly and lesser-loved pig parts like ear and snout, punched up with garlic, onion and citrus. The dish arrives at the table in a hot skillet topped with a still-runny fried egg—mix it together, add a dash or two of garlic-and-chili-infused vinegar, and eat it with a healthy scoop of garlic rice. 111 First Ave between 6th and 7th Sts (646-392-7880, maharlikanyc.com). $16.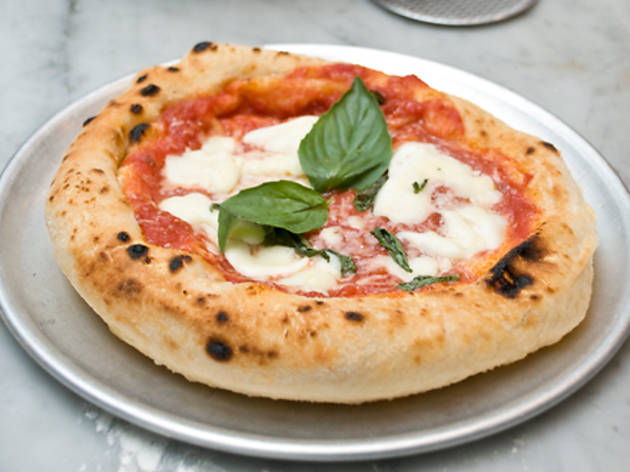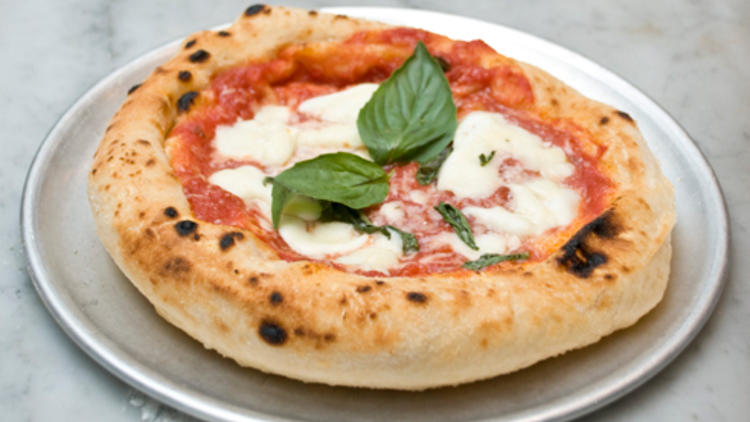 78/100
Photograph: Alex Strada
Montanara pizza at ForcellaThough it seems like an only-in-America innovation, fried pizza actually originated in Naples, where families in small ovenless apartments cooked the dough in frying pans. Forcella pizzaiolo Giulio Adriani has brought the technique to NYC, with an added flourish—after deep-frying his dough, he finishes the pizza in a wood-fired oven. The result is a mind-boggling crust with a chewy yet featherlight texture, topped with tangy tomato sauce, pools of house-made mozzarella and sprigs of verdant basil. 485 Lorimer St between Grand and Powers Sts, Williamsburg, Brooklyn (718-388-8820, forcellaeatery.com). $10.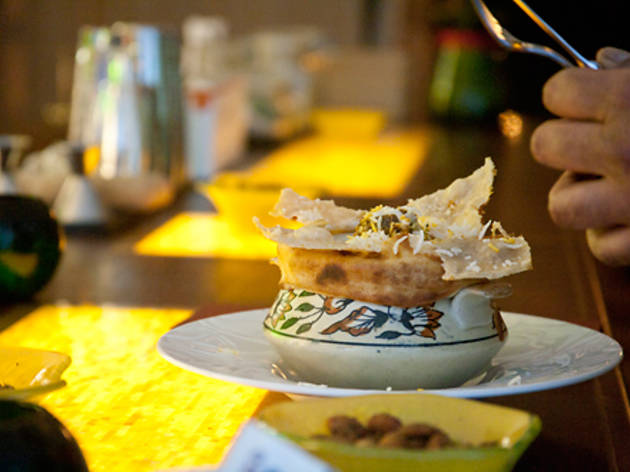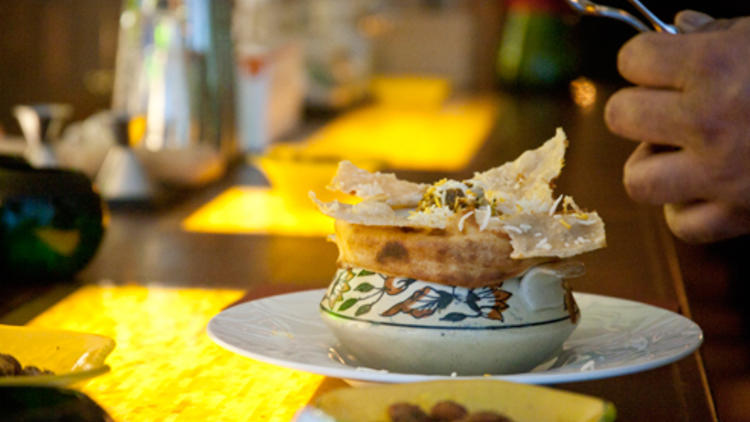 79/100
Photograph: Virginia Rollison
Dum biryani at TulsiThis Indian-style potpie is a statement piece at chef Hemant Mathur's midtown eatery, arriving in a gorgeous earthenware handi (a deep pot, similar to a Dutch oven) capped with a puffy, mottled dome of nan. When you break through the doughy crust, the fragrance of whole spices—including bay leaves, cinnamon and black cardamom—wafts out and announces the hearty stew within, made up of glistening hunks of ginger-marinated goat leg tossed with saffron-dyed basmati rice. 211 E 46th St between Second and Third Aves (212-888-0820). $24.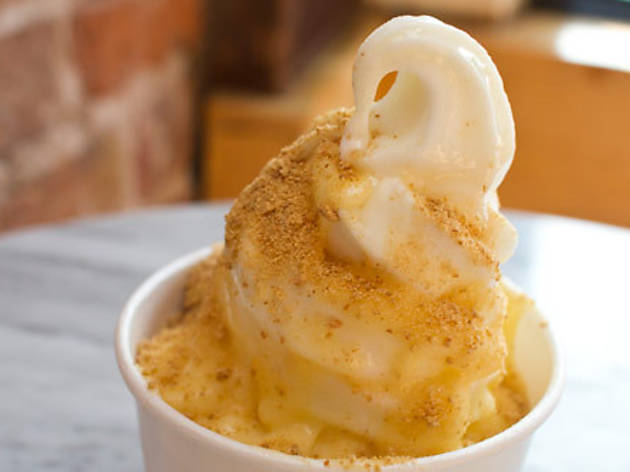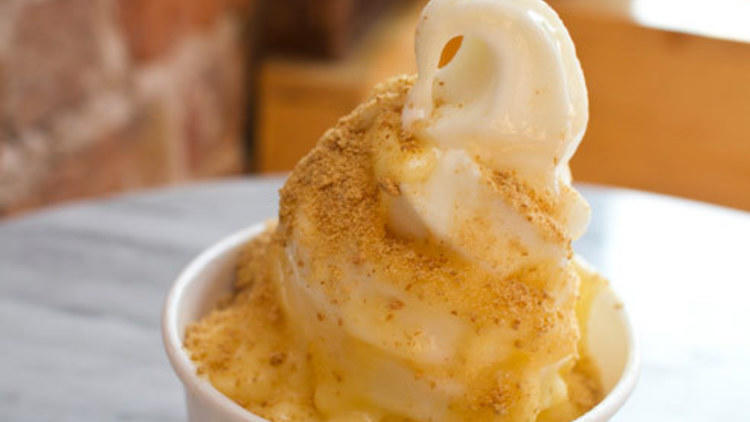 80/100
Photograph: Caroline Voagen Nelson
Key Lime Pie at CultureFro-yo doesn't usually catch our eye, but the stuff doled out at this Park Slope storefront is not your average Tasti D-Lite clone. The secret to this house-made soft-serve is a proprietary recipe that gives the yogurt the tangy, thick quality that we love at breakfast, but that always seems to be replaced with watery sugar when dessert rolls around. Dressed up with tart key-lime custard and crumbled graham crackers, it's good enough to compete with any ice-cream sundae in town. 331 Fifth Ave between 3rd and 4th Sts, Park Slope, Brooklyn (718-499-0207). Small $4.75, large $6.75.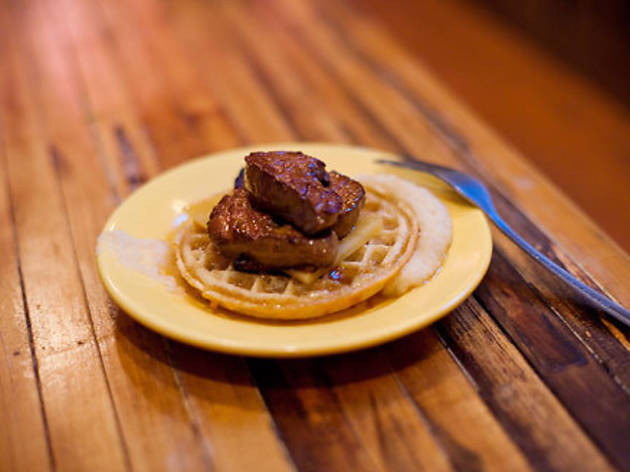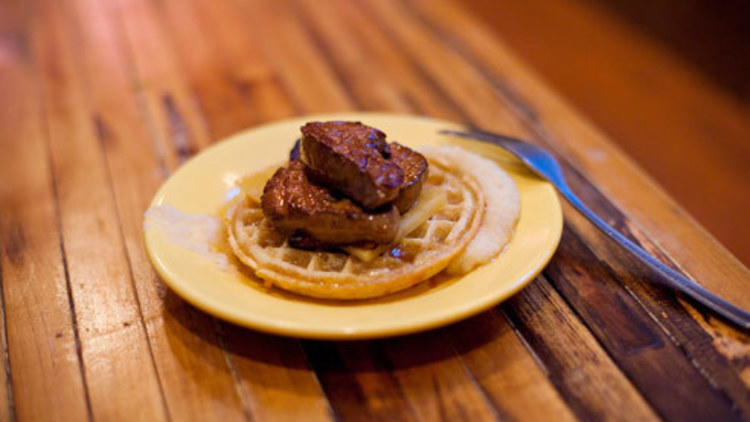 81/100
Photograph: Paul Wagtouicz
Earl's Eggo at Earl's Beer & CheeseIf the brash, comfort-food-obsessed, high-low-blurring zeitgeist of NYC dining in 2011 had to be summed up in one dish, this might be it: An Eggo waffle that's drizzled with thickened maple syrup and stacked with aged Cabot cheddar, coffee-cured bacon and rich slabs of grilled foie gras. It's head-scratching, a bit demented and just about the best thing we've eaten in a bar all year. 1259 Park Ave between 97th and 98th Sts (212-289-1581, earlsny.com). $17.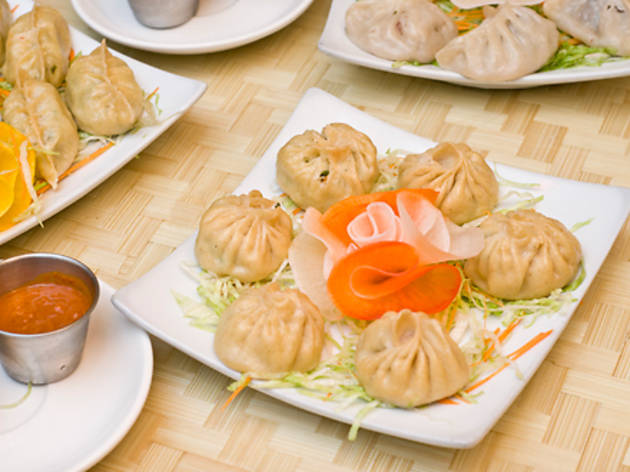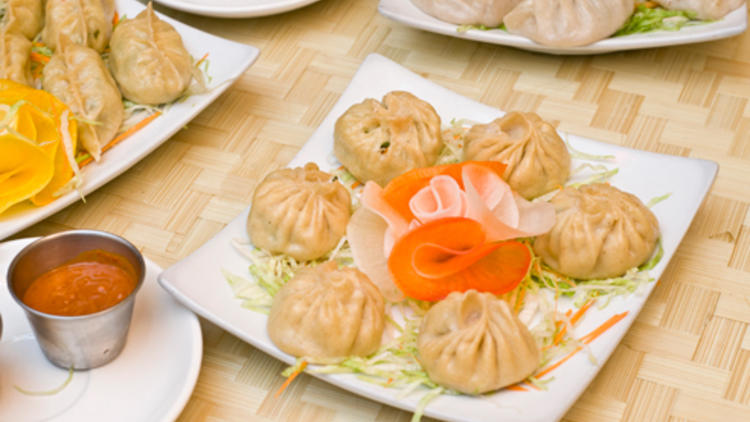 82/100
Photograph: Alex Strada
Momos at Himalayan HutOrder these crescent-shaped Tibetan dumplings steamed to fully appreciate their thin, delicate wrappers. The chewy casing yields to a scallion-dappled filling of chicken or beef that's so loosely packed it barely holds together. Dunk them in a pool of tongue tingling tomato-chili sauce to tease out even more nuanced flavor. 75-18 37th Ave at 76th St, Jackson Heights, Queens (718-426-6888). Fried $7, steamed $6.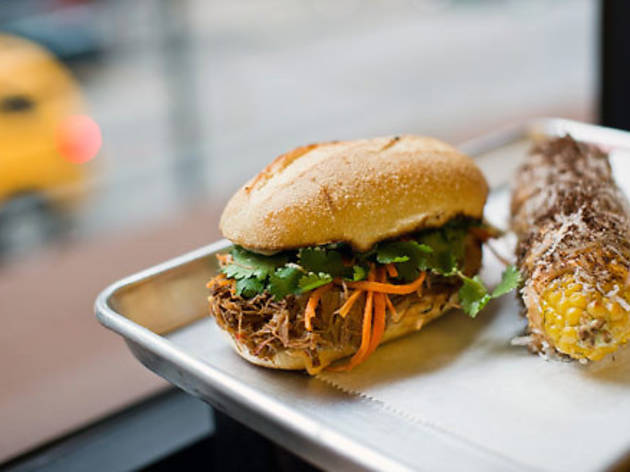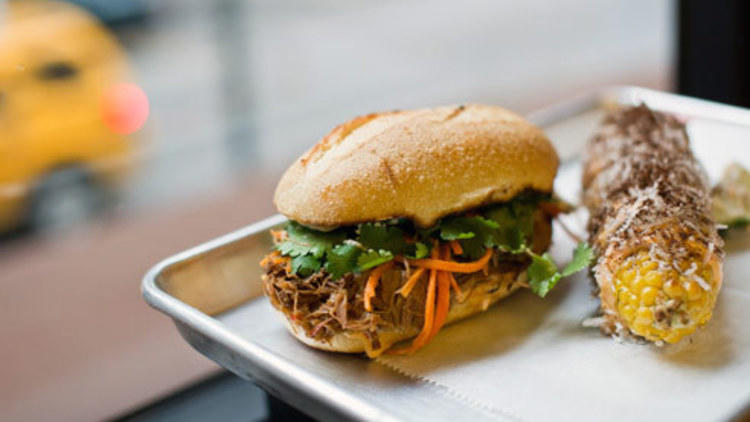 83/100
Photograph: Daniel Krieger
Pulled duroc pork sandwich at Num Pang Sandwich ShopThere's no way to eat this sandwich gracefully, but that's part of the fun. A chili-mayo-smeared toasted Parisi roll acts as the vessel for a mound of smoky spiced-honey-glazed pork. The crown of julienned pickled carrots, fresh cilantro and thinly sliced cucumber helps keep the meat's richness in check. 21 E 12th St between Fifth Ave and University Pl (212-255-3271) · 140 E 41st St between Lexington and Third Aves (212-867-8889) · numpangnyc.com. $7.75.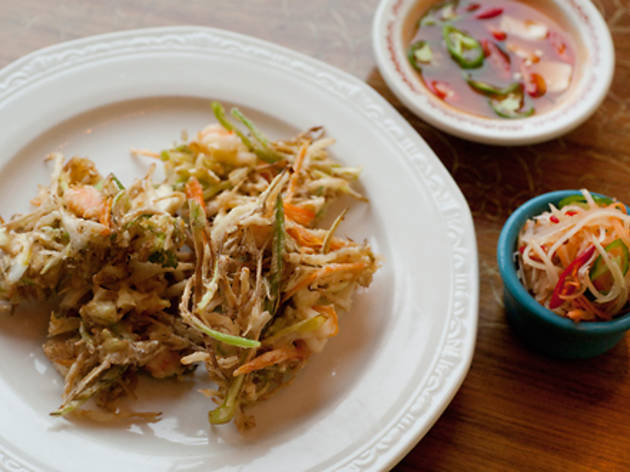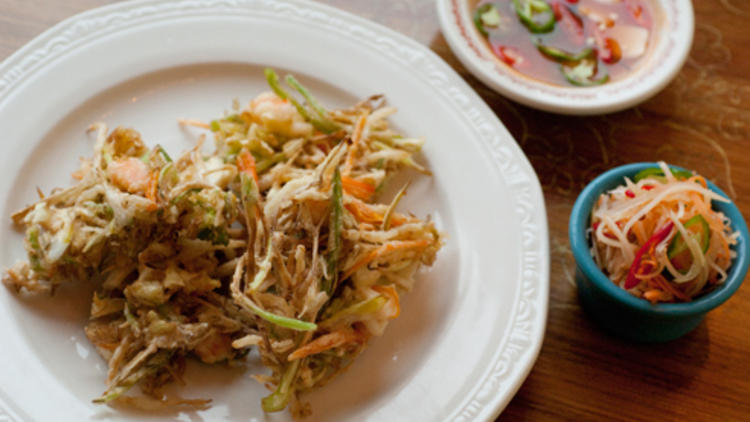 84/100
Photograph: Nitzan Krimsky
Ukoy at Purple YamCo-owners and chefs Amy Besa and Romy Dorotan go beyond the usual brunch fare with this traditional Filipino dish. Shrimp, sprouts and finely julienned leeks, plus snow peas and napa cabbage, are stuffed into a banana leaf and plunged into the hot oil. Dunk the fritters, airy and crisp with a mild seafaring sweetness, into the accompanying sauce—a tart mix of vinegar, sriracha and the excess juice from the restaurant's pickled green papaya. 1314 Cortelyou Rd between Argyle and Rugby Rds, Ditmas Park, Brooklyn (718-940-8188, purpleyamnyc.com). $7.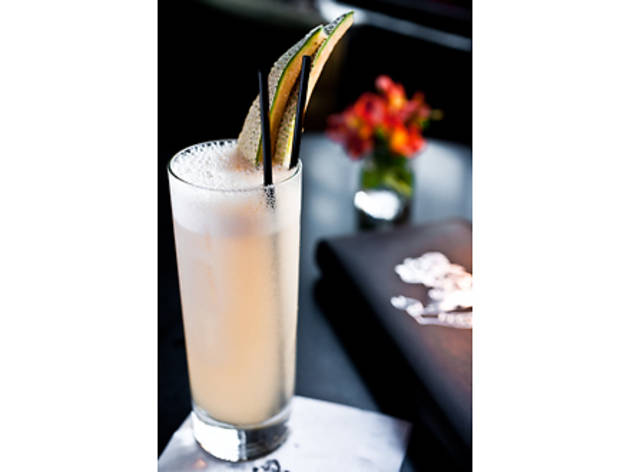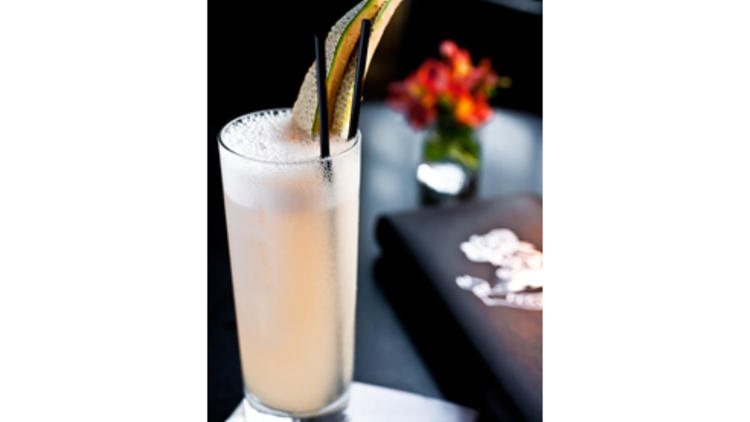 85/100
Photograph: Jakob N. Layman
Greenmarket Melonball at the Pegu ClubFor this refreshing orange-tinged tipple, barkeep Kenta Goto deftly deploys a pair of uncommon cocktail ingredients: melon and Calpico, a dairy-based soft drink from Japan. The tangy, milky beverage smooths out Plymouth gin with a silky body and the mellow sweetness of cantaloupe juice. A quick shake gives the cocktail an ethereal frothiness, and spritzes of absinthe brighten it with a vegetal nose. 77 W Houston St between West Broadway and Wooster St (212-473-7348). $13.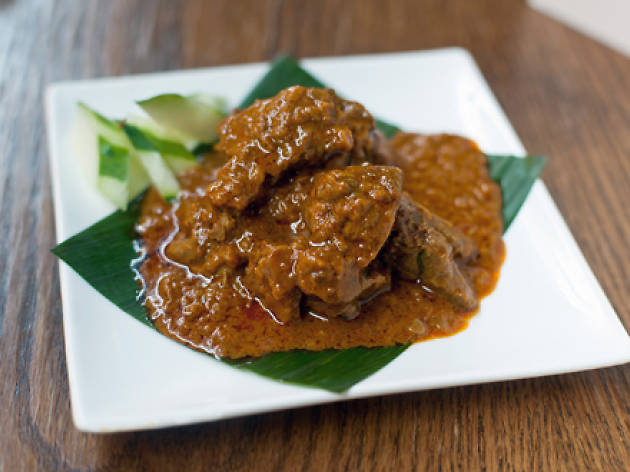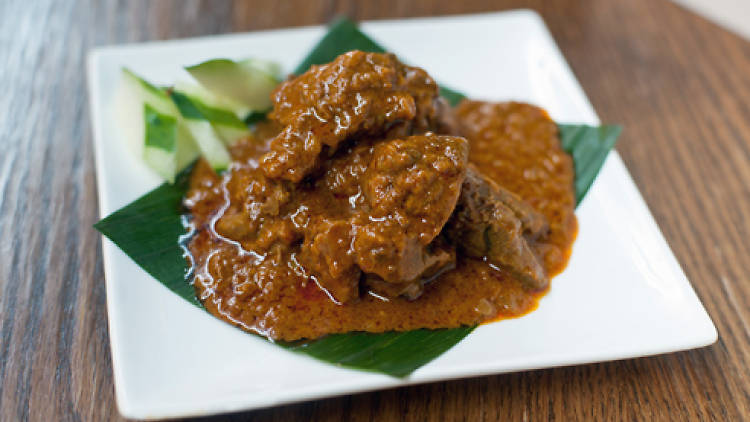 86/100
Photograph: Paul Wagtouicz
Beef rendang at NyonyaThe perpetually packed Nyonya serves our favorite rendition of this Malay staple dish. The supremely tender beef here is simmered low and slow in a fragrant mixture of clove, cinnamon, lemongrass and coconut milk. You could cut the meat with a knife handle. 199 Grand St between Mulberry and Mott Sts (212-334-3669, ilovenyonya.com). $13.95.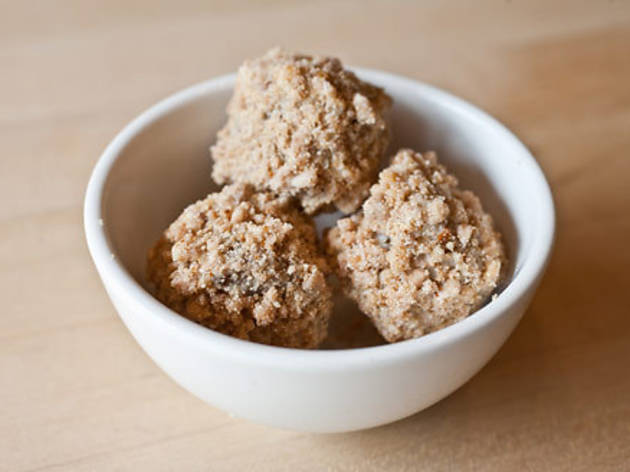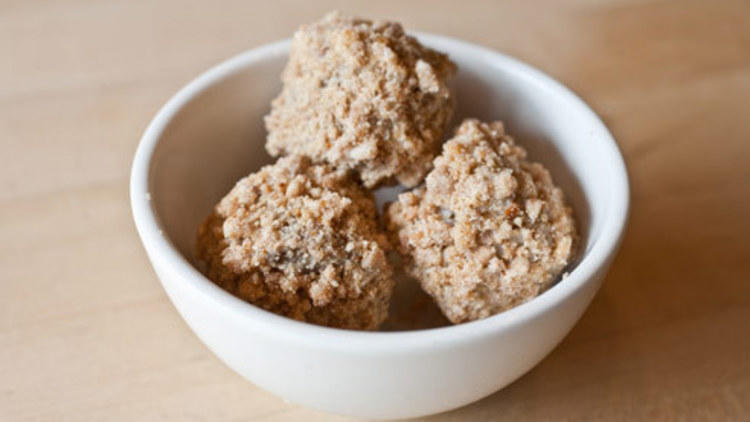 87/100
Photograph: Jakob N. Layman
Pretzel cake truffles at Momofuku Noodle BarPlenty of ink has been spilled about pastry chef Christina Tosi's high-and-low–brow confection. But she's outdone herself with this cheeky treat, which spins bodega pretzels into supremely moist cake balls. Tosi grinds a bag of Snyder's into a flour and folds it into a buttery, molasses-spiked batter. She then coats the baked orbs in a thin white chocolate shell and rolls them in crumbled pretzels for a crunchy, addictive finish. 171 First Ave between 10th and 11th Sts (212-777-7773, momofuku.com/restaurants/noodle-bar). Three for $4.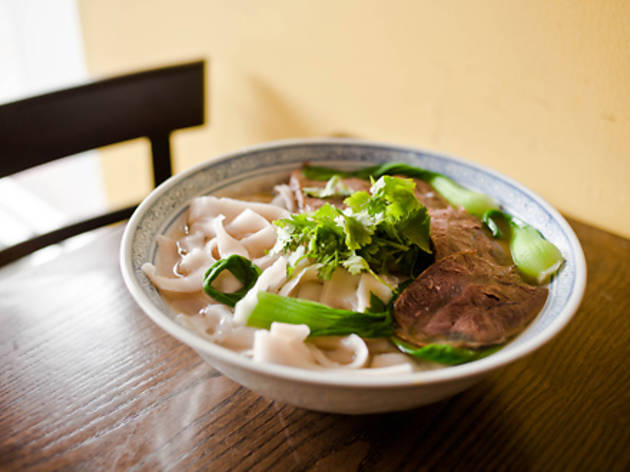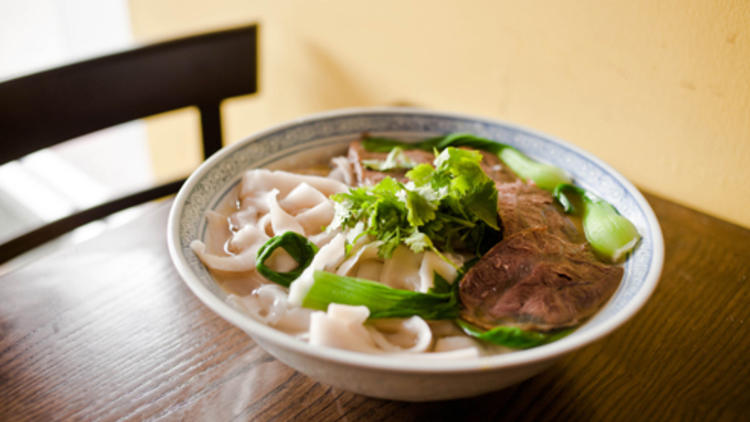 88/100
Photograph: Noah Devereaux
Spicy beef with knife-shaved-noodles soup at Uncle ZhouHailing from central China's Henan province, our top Asian soup of 2011 starts with irregular ribbons of hand-sliced wheat noodles that are boiled till they're springy and chewy. They're submerged in a fiery, lip-tingling broth flavored with Sichuan peppercorns alongside paper-thin slices of stewed beef. 83-29 Broadway at Dongan Ave, Elmhurst, Queens (718-393-0888). $5.50.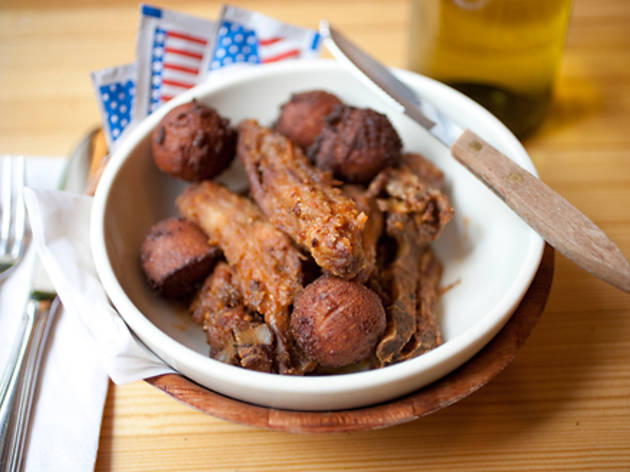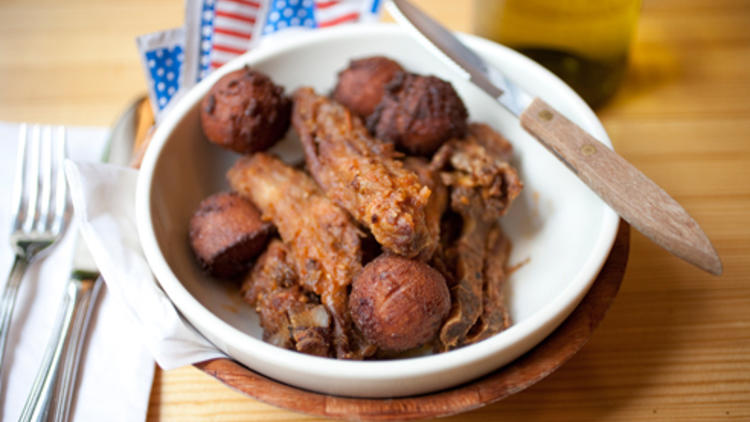 89/100
Photograph: Jolie Ruben
Fried pig tails at the Brooklyn StarTexas native Joaquin Baca (Momofuku) turns porky off-bits into addictive bar snacks at his Southern tavern. He simmers the pig tails for up to four hours with tomatoes, whole-grain mustard, and caramelized garlic and onions until soft. The pliant nuggets are peeled, deep-fried to order and coated with a sticky sauce made from the sweet-savory braising reduction. 593 Lorimer St at Conselyea St, Williamsburg, Brooklyn (718-599-9899). $12.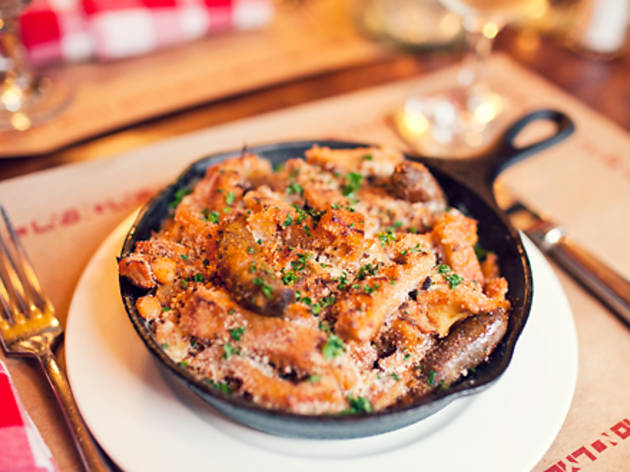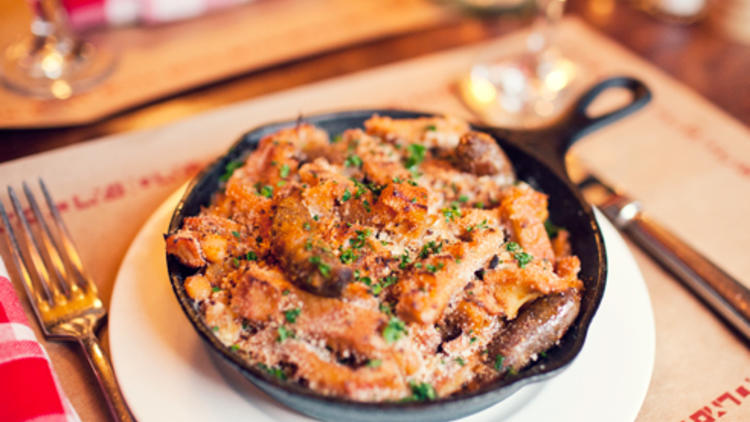 90/100
Photograph: Lizz Kuehl
Tripe at Lyon Tripe, or stomach lining, is a divisive bit of offal that can give even the most adventurous eaters the willies. The best preparations are tender, not rubbery, and stewed with great aromatics. You might still be a skeptic until you've had an exceptional version, like the one at Lyon—here the tripe is braised for five hours, tossed with cannellini beans and spicy merguez, topped with garlic bread crumbs and crisped in the broiler. 118 Greenwich Ave at 13th St (212-242-5966, lyonnyc.com). $19.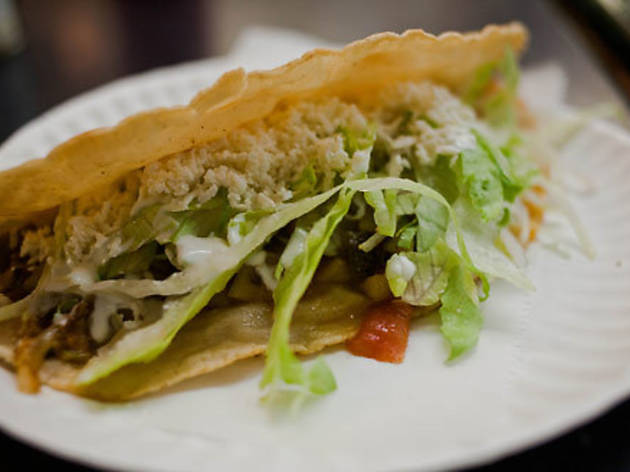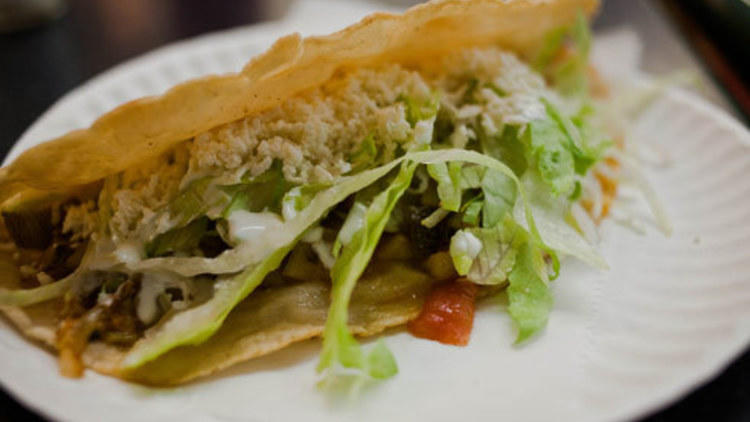 91/100
Photograph: Noah Devereaux
Flor de calabaza quesadilla at Mexico 2000In this diminutive bodega's kitchen, fresh masa is pounded into a thin, flat oval and griddled till it crisps and blisters. It's topped with mounds of silky, delicately perfumed sautéed squash blossoms, crumbly cotija cheese, crema and shreds of lettuce, then folded in half like an oversize taco. Forget the fork; use two hands to tackle it. 367 Broadway between Hooper and Keap Sts, Williamsburg, Brooklyn (718-782-3797). $4.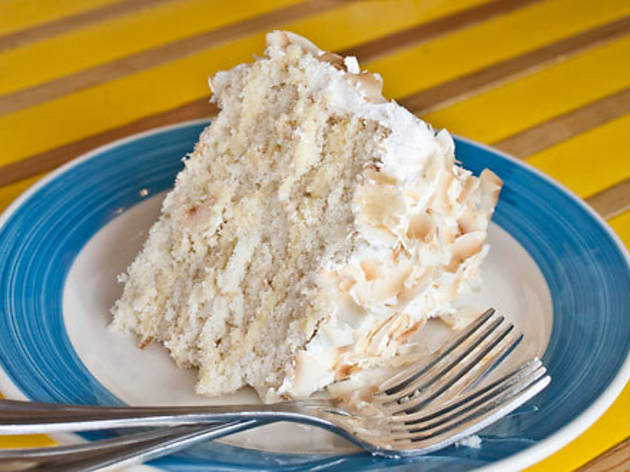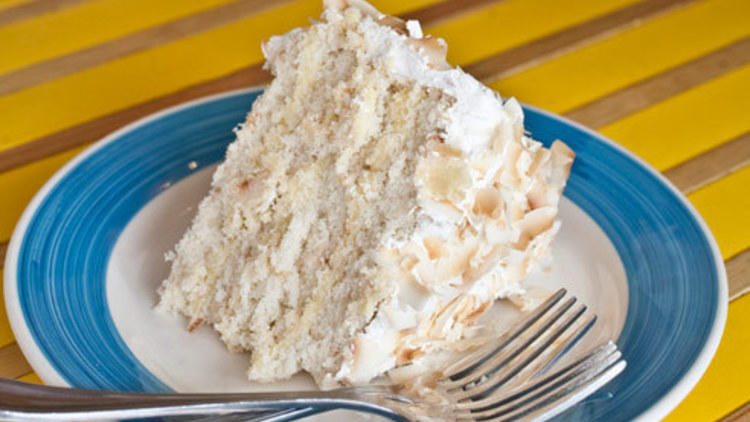 92/100
Photograph: Jakob N. Layman
Toasted coconut cake at Miss Lily'sOn days when this beauty is in the dessert rotation, it sits on a stand by the kitchen as if it were at a roadside diner. The homey appeal continues when you dig into a slice of the exceptionally moist, fat-crumbed white cake, which is slathered in a vanilla icing that has the soft, sticky consistency of marshmallow fluff. Gigantic curls of toasted coconut finish it off with a crunchy, tropical flourish. 132 W Houston St between MacDougal and Sullivan Sts (646-588-5375, misslilysnyc.com). Slice $8.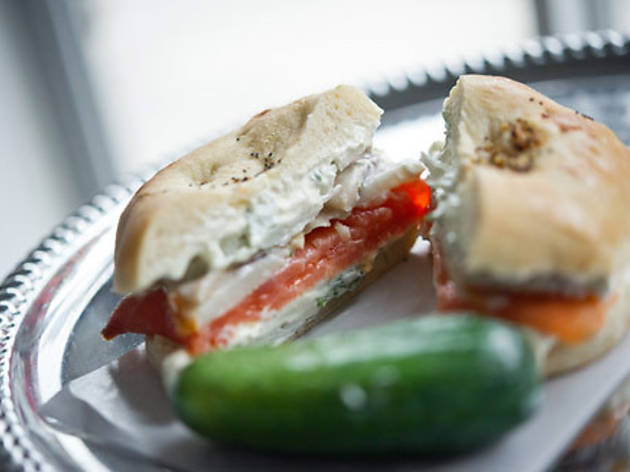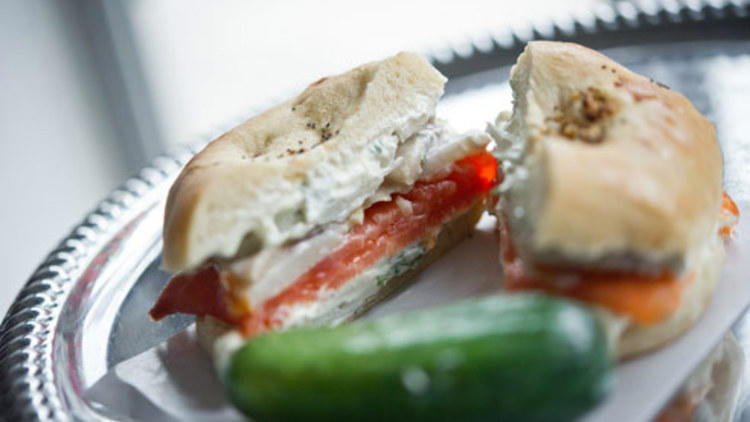 93/100
Photograph: Daniel Krieger
The Peter Shelsky at Shelsky's Smoked FishThis new-school appetizing shop pimps out the old bagel-and-lox format, layering three kinds of fish—silky Eastern Gaspé salmon, soft sable and sweet pickled herring in cream sauce—on a chewy Kossar's round. Scallion cream cheese pumps up the richness, and pickled onions cut through the fat. 251 Smith St between DeGraw and Douglass Sts, Carroll Gardens, Brooklyn (718-855-8817). $11.50.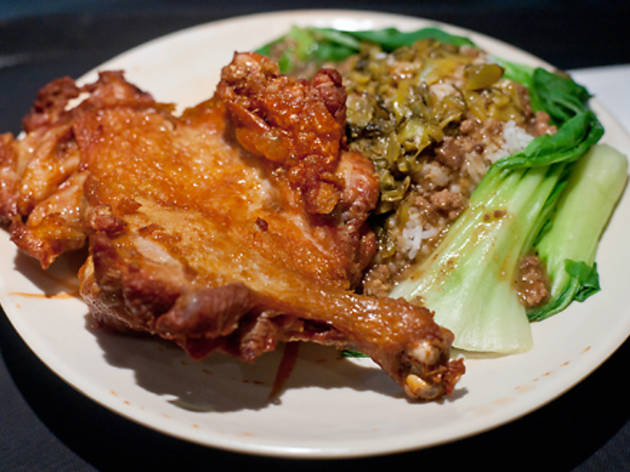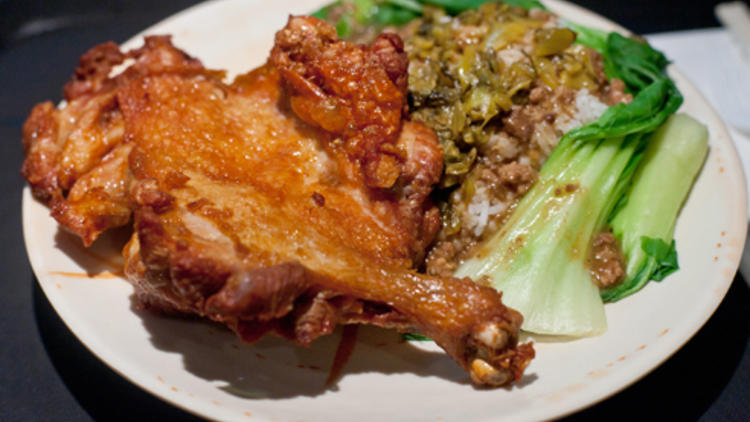 94/100
Photograph: Paul Wagtouicz
Taiwanese fried chicken at Bian Dang Brave the K-town chaos and be rewarded with exceptional fried chicken from this standout stall inside Food Gallery 32. It's an all-dark-meat affair of crunchy, moist legs and thighs, squirted with a salty pork sauce. Devour the fowl with its accompanying sides of white rice and pickled cabbage. 11 W 32nd St between Fifth Ave and Broadway (212-695-5995, biandangnyc.com). $8.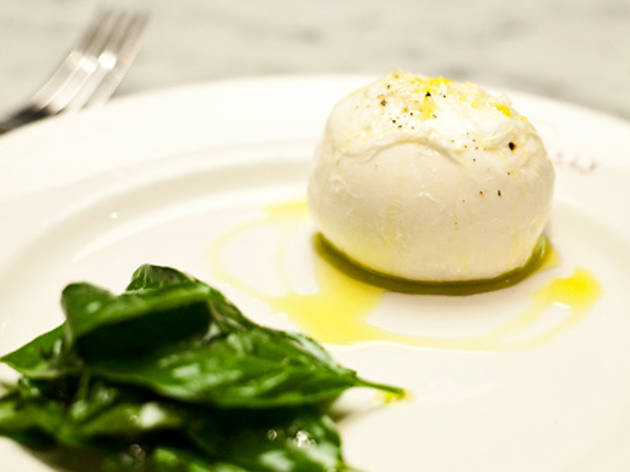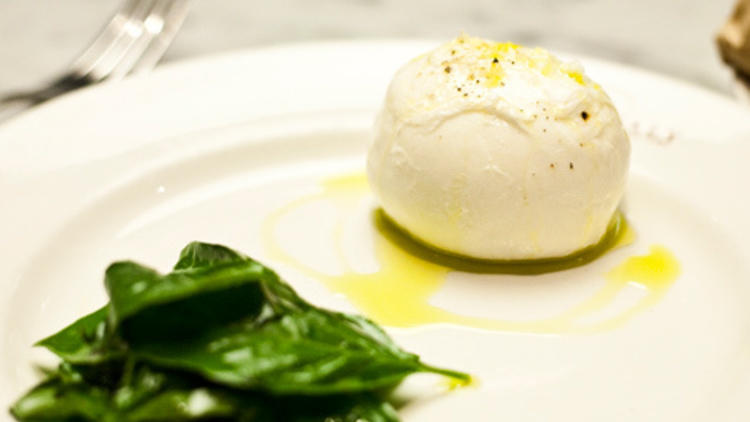 95/100
Photograph: Virginia Rollison
Fresh mozzarella at EatalyEataly mozzarella maker Ricky Imperatore studied with apprentices from world-renowned Pugliese dairy Caseficio Olanda to learn his fresh-cheese-making technique. Throughout the day, he (along with three other staffers) painstakingly stretches and squeezes whole-milk curds into pliant, alabaster orbs of fior di latte. Though this stunning cheese could hold its own in DIY panini and pizzas, we like it best simply sliced, sprinkled with sea salt and drizzled with olive oil. Eataly, 200 Fifth Ave between 23rd and 24th Sts (212-229-2560, eataly.com). $3.80–$11.40.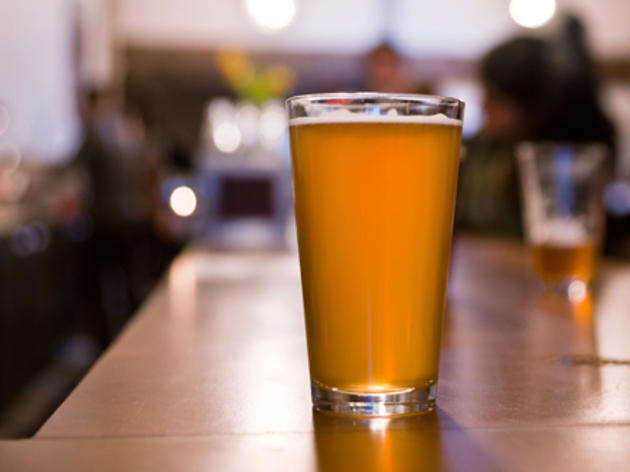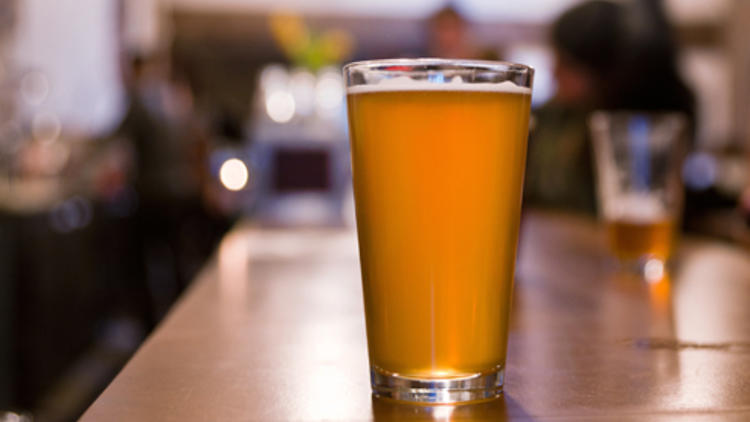 96/100
Photograph: Paul Wagtouicz
Barrier Brewing Company beers This tiny Long Island outfit developed an outsized reputation this year, keeping beer lovers hot on the trail of their überlimited, exceptionally balanced suds. Sixpoint alums Evan Klein and Craig Frymark build their catalog just two kegs at a time, rotating through more than 20 styles and self-distributing the goods to a handful of NYC beer bars. Highlights include the biting Ruthless Rye IPA, a cask of dry and refreshing Cycle Saison, and the velvety, coffee-infused Rembrant Porter. But when those aren't around, we've learned to just order any Barrier brew we see, before it's too late. Find a regular Barrier at 61 Local, 61 Bergen St between Boerum Pl and Smith St, Cobble Hill, Brooklyn (347-763-6624). Prices vary.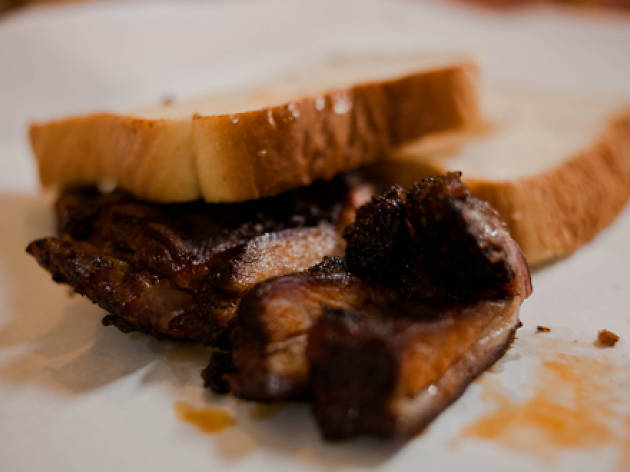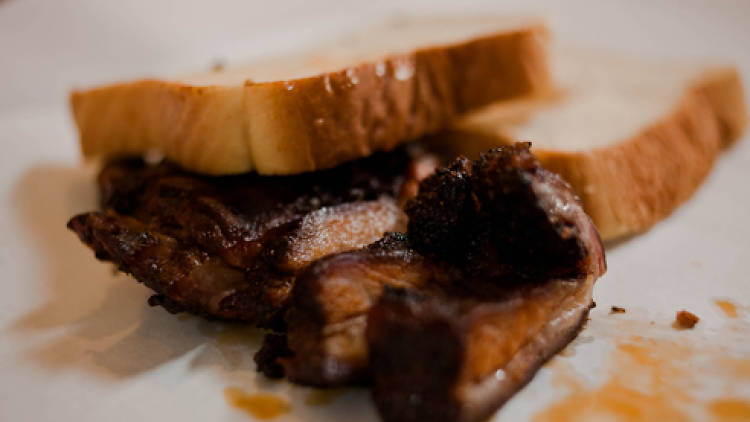 97/100
Photograph: Noah Devereaux
Rib tips at John Brown SmokehouseThese quivering nuggets of pork and fat—cut from pork ribs' skirt—are what pit master and owner Josh Bowen calls the "upscale McRib." They're ubiquitous in his native Kansas City but rarely seen in Yankee territory. That's why it's well worth venturing to Queens for Bowen's version, rubbed down with paprika and brown sugar (among other things), then smoked over peach and pecan wood for three hours. You can get the rib tips in a sandwich, but we like them with a simple squirt of the sweet-and-thick house BBQ sauce. 25-08 37th Ave between Crescent and 27th Sts, Long Island City, Queens (718-361-0085). $8.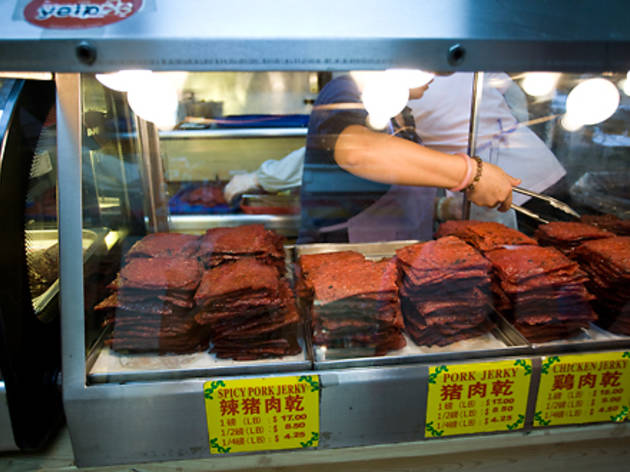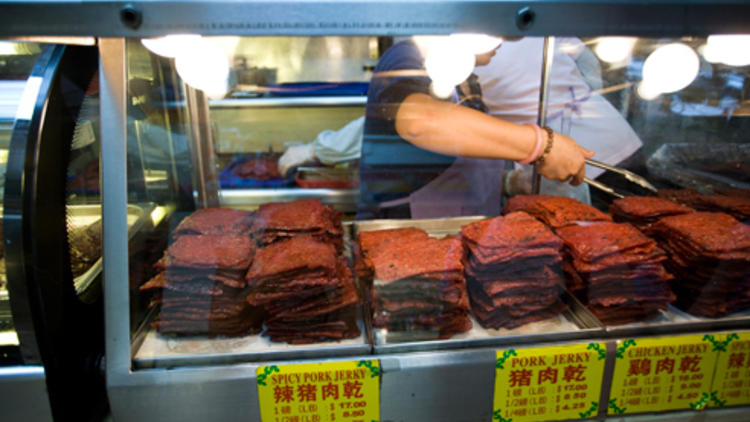 98/100
Sliced spicy pork jerky at Malaysia Beef JerkyIf "Macho Man" Randy Savage was a persuasive part of your last beef-jerky purchase, listen up: The pork bak kwa at this Chinatown stalwart is marinated in a blend of top-secret ingredients (if we had to guess, soy and fish sauces, sugar and five-spice powder enter into the mix). Slow, steady charcoal-fueled heat transforms the moist slices of meat into gorgeous, fibrous, compulsively snackable slabs. 95A Elizabeth St between Grand and Hester Sts (212-965-0796, malaysiabeefjerky.com). $18/pound.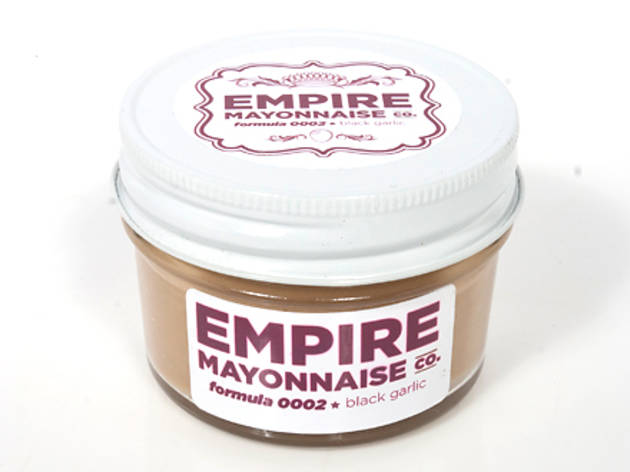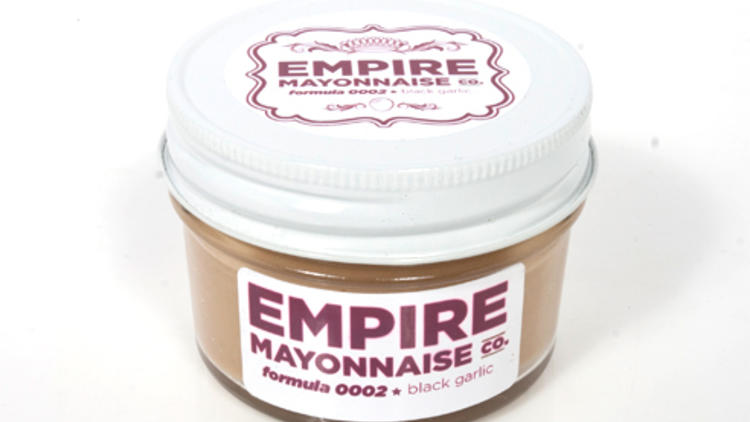 99/100
Empire Mayonnaise Co. mayoFor the betterment of BLTs everywhere comes this line of artisanal mayo from experimental toque Sam Mason and designer Elizabeth Valleau. Whipped to a flawless, creamy consistency with oil and just-pasteurized local eggs, these exquisite spreads proved endlessly useful as fridge fodder this year. The black-garlic version, swirled with flecks of the funky fermented cloves, was an egg-salad game changer; we dunked tempura-fried shrimp in the umami-blasted nori variety. And with ever-more outré flavors available each week (foie gras, vegan varieties, even emu egg), there's plenty of room for experimentation. Look out for a brick-and-mortar shop opening this fall in Prospect Heights. Sat through Oct 29, Smorgasburg, 27 North 6th St between Kent Ave and the East River, Williamsburg, Brooklyn (empiremayo.com). 4oz $5.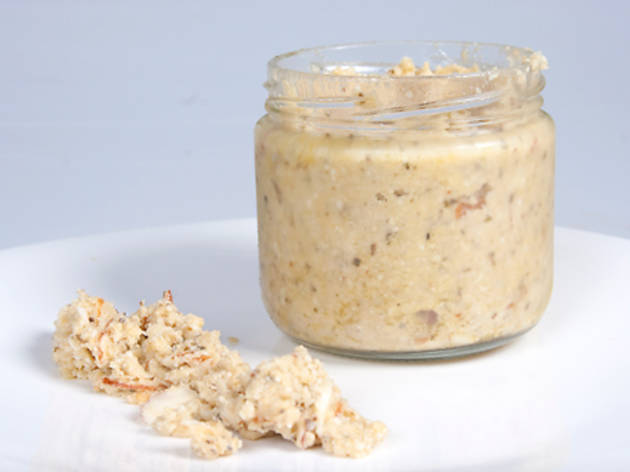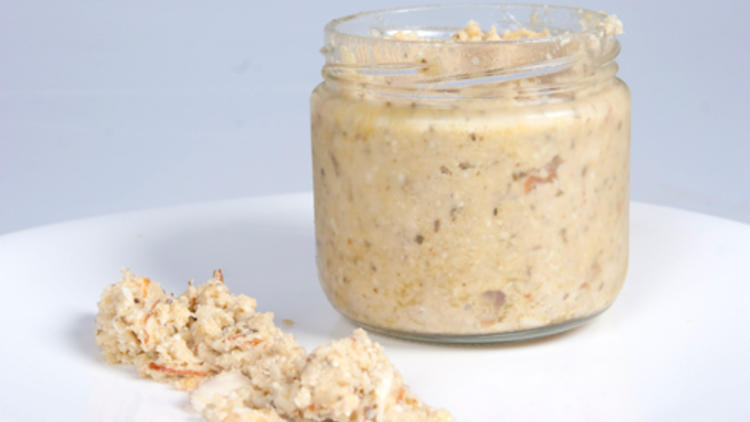 100/100
Photograph: Lauren Foy
Green-tomato dip from Dolce NonnaWhen Dolce Nonna founder Wendy Civale found herself with an excess of her signature marinated green tomatoes, this sandwich savior was born. Aromatics including garlic, oregano and parsley lend an herbaceous edge to chunks of the seasonal fruit plus chickpeas, Parmeggiano Reggiano and almonds. dolcenonnas.com.8oz $8.
Food porn: #100best dishes and drinks 2011
See more in Food & Drink