Food trends in New York City 2013: Cheek-to-fin dining, crossbred dishes and more
Next-level bread and khao soi are having a moment. Here are the year's top food trends.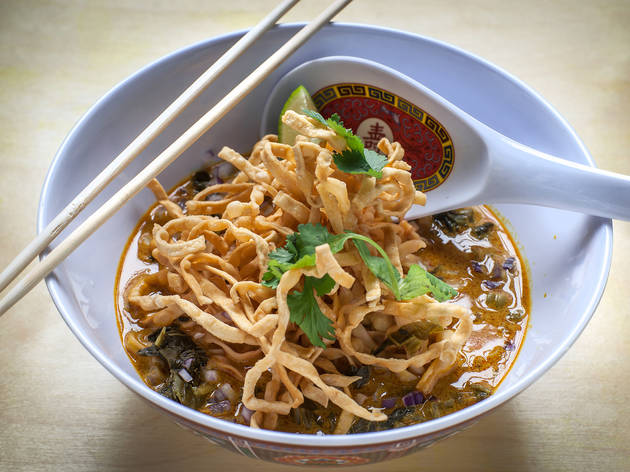 1/10
Photograph: Paul Wagtouicz
Khao soi is having a moment
All of a sudden, an obscure Burmese-influenced soup from northern Thailand is everywhere. In traditional khao soi—a Chiang Mai lunch specialty—pliant egg noodles nestle with stewed chicken legs in a bowl of turmeric-tinted curry, thick from lush coconut milk and a heavy chicken stock. It's topped with a tangle of fried noodles and brightened by contrasting accompaniments, like fermented mustard greens and a lime wedge. Ready to slurp? Road test these bowls:

Uncle Boons Co-chefs and owners Matt Danzer and Ann Redding's buzzy rendition features hand-rolled egg noodles and a side of chili jam. 7 Spring St between Bowery and Elizabeth St (646-370-6650, uncleboons.com). $20.
Pig and KhaoTop Chef-er Leah Cohen finishes her version with poached chicken thighs, and house-ferments the mustard greens. 68 Clinton St between Rivington and Stanton Sts (212-920-4485, pigandkhao.com). $16.
Pok Pok Ny Andy Ricker's delicate broth is made from gingery curry paste and freshly squeezed coconut milk. 127 Columbia St between DeGraw and Kane Sts, Cobble Hill, Brooklyn (718-923-9322, pokpokny.com). $16.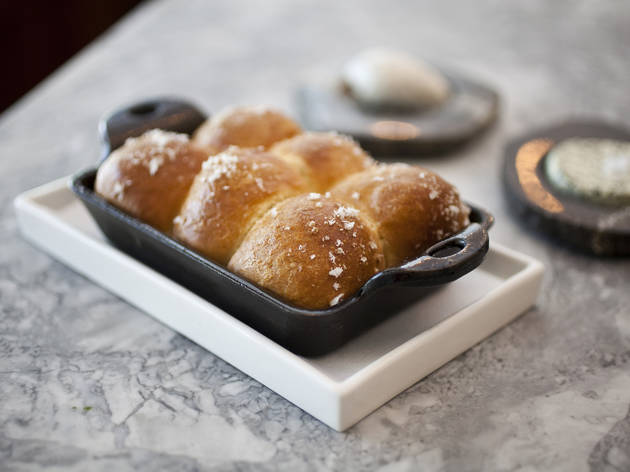 2/10
Photograph: Virginia Rollison
The dough also rises
Bread went big this year, with thoughtful new loaves taking the place of dull baskets. The humble starch has landed a spot at tasting-menu restaurants like Luksus, which serves a warm, gorgeous sourdough midway through the meal. And humdrum free bread plates have given way to indulgent rolls worthy of a price tag at downtown hot spots such as Pearl & Ash (which offers a smoky, moist loaf with maple-sweetened schmaltz butter) and Piora (where the triple-proofed monkey bread is accompanied by seaweed butter and peperoncini-rosemary lardo).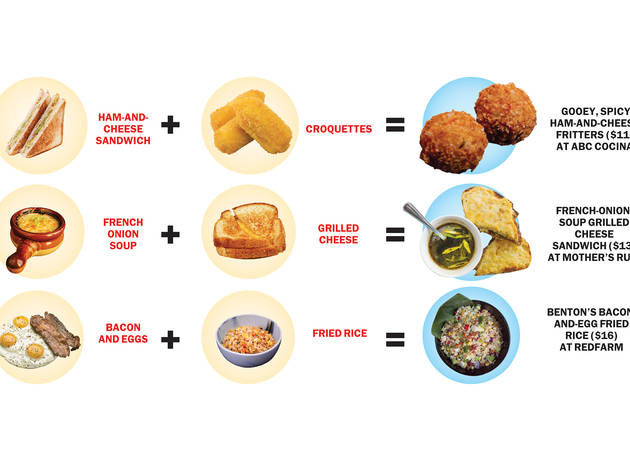 3/10
Crossbred eats
The cronut isn't the only mouthwatering bite mixing up influences. Other joints around town are also mashing different dishes together.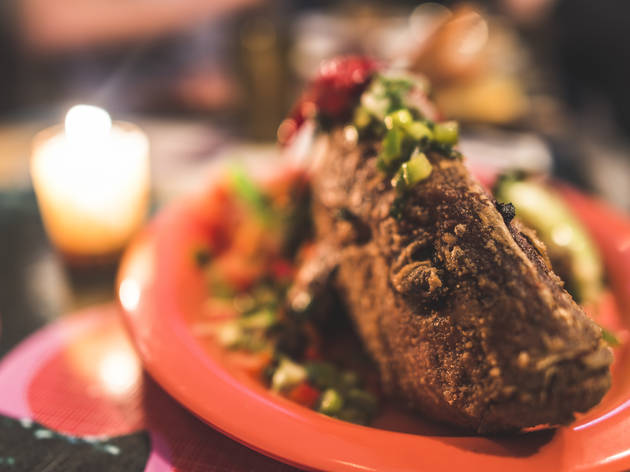 4/10
Photograph: Loren Wohl
Cheek-to-fin dining
Timid eaters be damned, chefs aren't hiding behind fish fillets, going whole beast instead. Jeepney and Do or Dine are serving deep-fried fish in impressive swimming form, while Chez Sardine plates a smoked salmon's head with miso-maple glaze.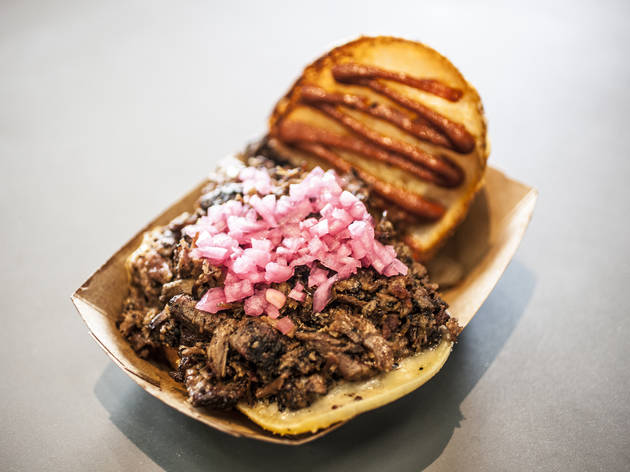 5/10
Photograph: Krista Schlueter
Barbecue's breakout year
A wave of smokehouses overrode New York's onetime status as a sorry town for brisket and ribs. The impressive beef rib at Mighty Quinn's and gut-busting Mess sandwich at SmokeLine are very fine representations of the new 'cue order.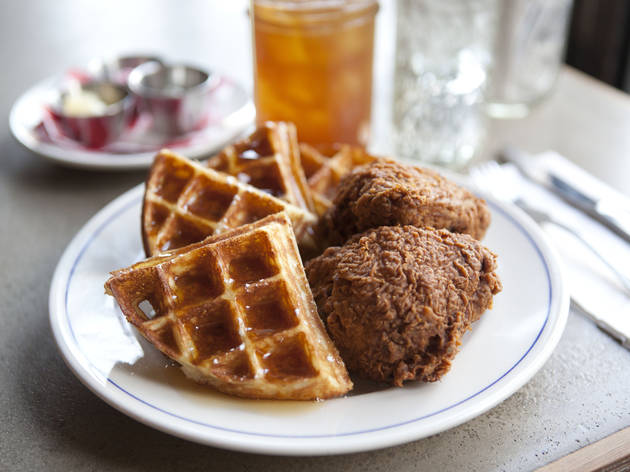 6/10
Photograph: Jolie Ruben
Chicken and waffles
Another Southern comfort staple also cropped up on menus around town. One Williamsburg restaurant, Sweet Chick, devoted itself to the form, to delicious effect.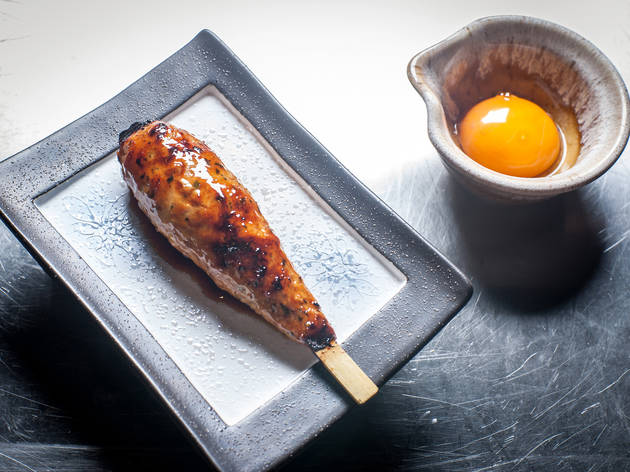 7/10
Photograph: Paul Wagtouicz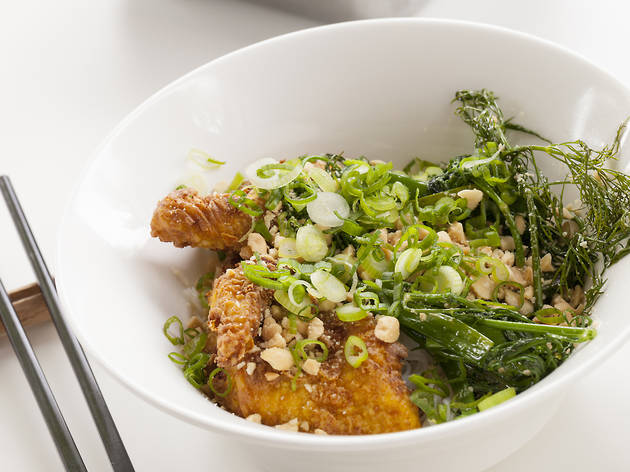 8/10
Photograph: Dominic Perri
Nouveau Vietnamese
Riding the Southeast Asian wave, Vietnamese has started turning up in more modern restaurants. Per Se vets dish out delectable bites, like the crazy-good chicken curry, at Bunker, and Robert Newton puts his own spin on classics, like the delicate cha ca la vong, at Nightingale 9.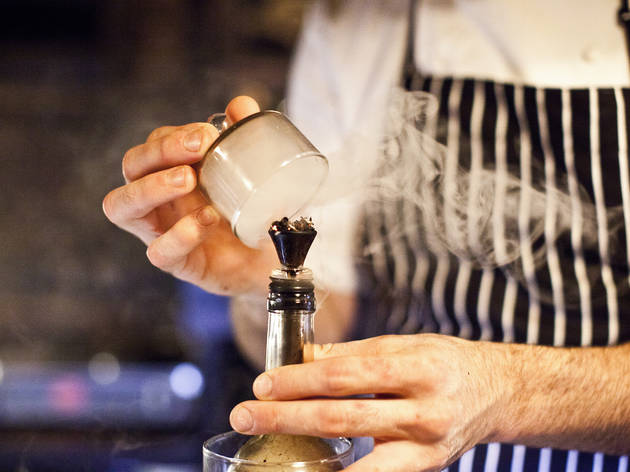 9/10
Photograph: Jolie Ruben
Where there's smoke, there's fire
We called the wood-fired oven trend back in 2010, but this year chefs were infusing smoke into dishes in novel ways. Desnuda used a bong for its oysters, while Pearl & Ash scented flour in a stove-top smoker for its house bread.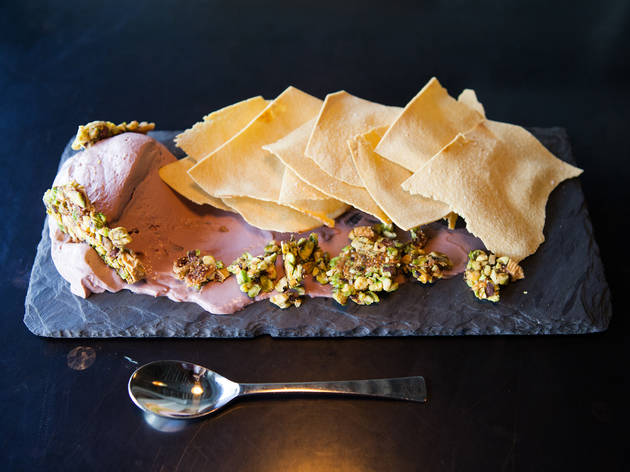 10/10
Photograph: Jessica Lin
Haute chips
Skilled chefs had a little fun this year with upmarket chip dishes. But it was molecular tinker Wylie Dufresne who really pushed the envelope with his Martin's-roll chips, accompanying a purple pub cheese at Alder.
Barbecue, Japanese and Southeast Asian food rocketed to the forefront in 2013. But mini trendlets—like in-your-face fish dishes, and chicken and waffles—also surfaced at NYC restaurants. Check out the top ten food trends of 2013.

RECOMMENDED: All 100 best dishes and drinks
Sponsored listing
Buenos Aires
You might think you've been transported to this restaurant's namesake city once you step inside and smell the aroma of meat sizzling on the grill. The menu full of traditional Argentine dishes—and plenty of beef—is a carnivore's dream come true. Dig into empanadas stuffed with fillings like ham and cheese or mozzarella and onions ($7.95 for two) to start the meal. Chorizo sauteed with onions and peppers ($9.95) or sweetbreads in a white wine and shallot sauce ($19.95) might tempt you, too. If you stick to the grill for your main course, you'll choose from every cut of beef you can imagine or a mixed grill of short ribs, skirt steak, sausage, blood sausage and grilled sweetbreads ($50.95). You'll probably want some papas a la provenzal, or fries with garlic and parsley (included with entrees or $5.95 for a side). Finish the night with flan ($7.50) or a crepe topped with dulce de leche and a scoop of vanilla ice cream ($11).
Venue says: "Lunch Special 20% off Monday-Friday 12-4. Enjoy the most affordable wines and best service in all of Manhattan!"