Grand Ferry debuts in Williamsburg
Joe Lee Kulp and John Clement (the Richardson) team up with Brett Ackerman (Diner) to open waterfront tavern Grand Ferry.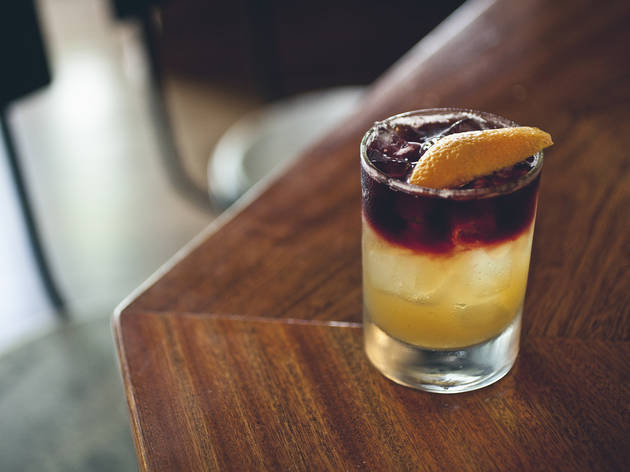 1/6
Photograph: Virginia Rollison
New York Sour at Grand Ferry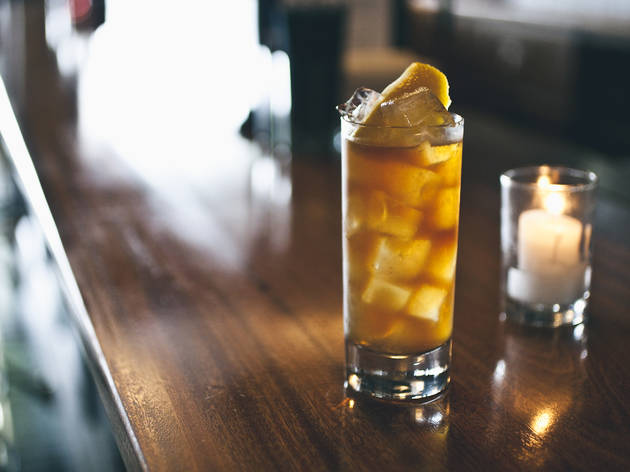 2/6
Photograph: Virginia Rollison
Captain Badass at Grand Ferry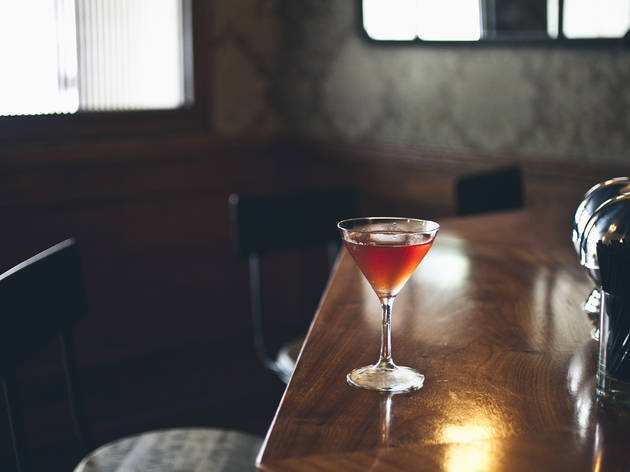 3/6
Photograph: Virginia Rollison
Paris 1919 at Grand Ferry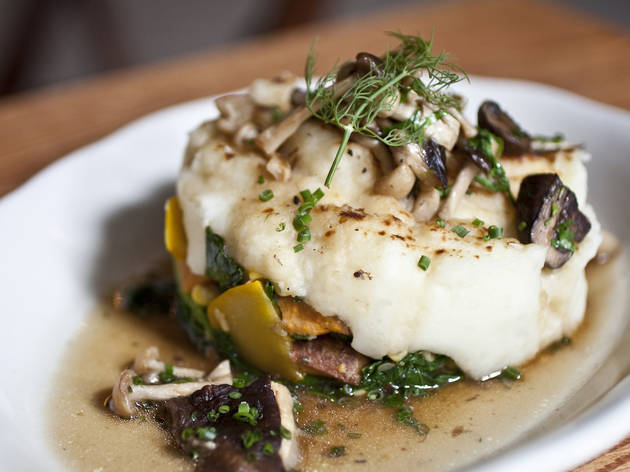 4/6
Photograph: Virginia Rollison
Shepherd's pie at Grand Ferry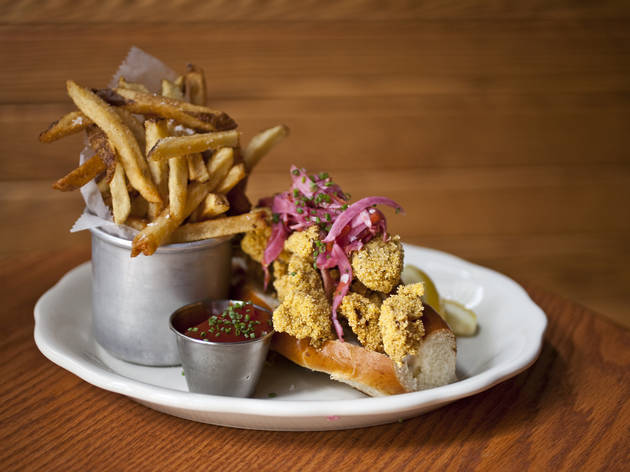 5/6
Photograph: Virginia Rollison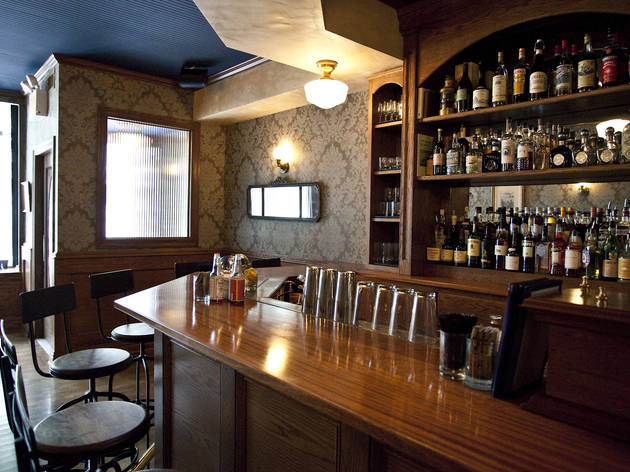 6/6
Photograph: Virginia Rollison
New York's nautical craze isn't ending anytime soon—at least not if Joel Lee Kulp and John Clement have anything to say about it. The pair—of Williamsburg speakeasy the Richardson—honors a 19th-century boat with Grand Ferry, a maritime-focused waterfront tavern. Outfitted with wood banquettes, damask wallpaper and vintage Harper's Weekly prints depicting East River life, the bar features 20 Old World European wines and 14 draft beers from all-American harbor towns: Hood River, OR's Full Sail IPA, Cisco Whale's Tale Pale of Nantucket and Baltimore's Heavy Seas Loose Cannon. The seafaring-themed cocktail program includes quaffs like the Hey Sailor, which features navy-strength English gin, Salers aperitif, Aperol and lemon juice; while the Seven Seas Cooler mixes Amaro Braulio, honey, Lapsang souchong tea and 100-proof rhum agricole. Brett Ackerman (Diner, Marlow & Sons) captains the pub-grub menu, lining out a full raw bar (Ipswich clams, East Coast littlenecks), saffron-flecked clam chowder, beer-braised brisket and wild-mushroom shepherd's pie. 229 Kent Ave at North 1st St, Williamsburg, Brooklyn (718-782-8500)
GRAND FERRY MENU:
RAW MOLLUSKS
Oysters- six per order, selection changes daily, mp
Littlenecks- six per order, selection changes daily, mp

COOKED MOLLUSKS
Grilled Oysters- citrus-herbed butter, $12
Fried Ipswich Clams- house-made tartar, $15
Brooklyn Clam Chowder- tomato, potato, leeks & saffron, $9
Ipswich Clam Roll- whole ipswich clams, citrus fennel slaw & sea salt fries, $21
BAR SNACKS
Summer Veggie Crostini- market vegetables, $6
Sea Salt Fries- house-cut fries tossed with maldon flaked sea salt, $6
Great Blue Fondue- great hill blue cheese, caramelized shallots and rosemary, $12
LARGE PLATES
Summer Vegetable Salad- asparagus, kale, goat cheese & sweet corn vinaigrette, $12
Grand Ferry Burger- grass-fed beef, grafton cheddar, summer slaw & sea salt fries, $14
Beer Braised Brisket- with market vegetables & garlic mashed potatoes, $18
Wild Mushroom Shepard's Pie- with crimini, shitake & clamshell mushrooms & root vegetables, $12
GRAND FERRY COCKTAIL MENU:
THE CLASSICS
Brandy Crusta- fresh lemon juice, maraschino & orange liqueurs, angostura Bitters, american alambic brandy, $12
Singapore Sling- fresh lemon juice, benedictine, maurin quina, orange & angostora bitters, london dry gin, $11
Liberal- sweet vermouth, amer torani, orange bitters & 100 proof american rye whiskey, $12
Mai Tai- fresh lime juice, orange & almond liqueurs, nicaraguan white Rum & trinidadian 12 yr aged rums, $11
GRAND FERRY ORIGINALS
Paris 1919- dry vermouth, maurin quina, maraschino liqueur, austrian pear brandy, $12
Hey Sailor!- fresh lemon juice, aperol, salers aperifif, navy strength english gin, $12
Captain Badass- fresh lemon juice, amaro abano, apricot liqueur, orange bitters, reposado tequila, $12
Seven Seas Cooler- amaro braulio, honey, lapsang souchong tea, 100-proof rhum agricole, $12
GRAND FERRY BOURBON COCKTAILS
Our Bourbon Whiskey Cocktails are prepared with single barrel Old Weller Antique – chosen by our staff & bottled uniquely for us.
Old Fashioned- angostura- soaked sugar cube, bourbon, $10
Manhattan Perfect- vermouth di torino & vermouth de chambray, bourbon, & angostura bitters, $11
New York Sour- fresh lemon juice, sugar, bourbon & red wine, $10
Seelbach- orange liqueur, bourbon, angostura & peychaud's bitters, sparkling wine, $11
Sponsored listing
Between The Bread
Between the Bread started as owner Ricky Eisen's corporate catering company, and eventually expanded into three Manhattan eateries serving breakfast, lunch and dinner, if you're hungry early enough. The menu changes seasonally, as the company focuses on locally sourced and exceptionally fresh ingredients. On a recent visit, it included breakfast options like overnight oats with cinnamon, walnuts, chia seeds and berries ($7.50) and an asparagus-mushroom frittata ($5.75). For lunch or dinner, you'll have to choose between sandwiches like the Chrysler with grilled chicken, caramelized onions, avocado and bacon ($9.75), salads like the Chelsea with grilled salmon, fennel, frisee and watercress ($12.50) and "seasonal plates" composed of your choice of protein and two sides ($11.50–$13.25). Still hungry? Snag one of their whoopie pies ($1.50 for a small, $3 for a large) or butterscotch blondies ($1.75 for a small, $3.50 for a large) for dessert.
Venue says: "Our chefs create specials daily & we rotate our vegetables & grains monthly. We believe in eating natural & seasonal foods that fill you up"