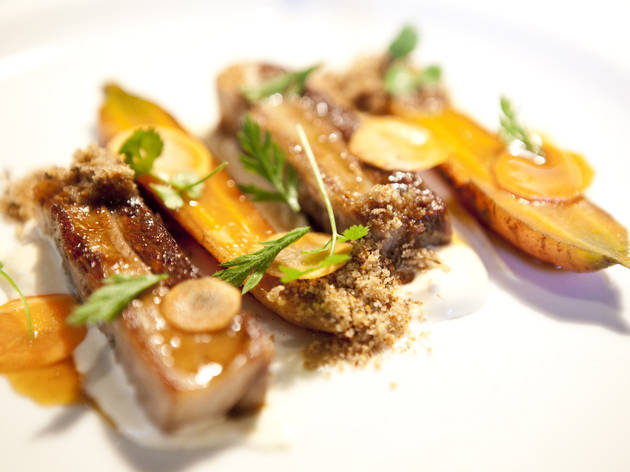 1/7
Photograph: Jolie Ruben
Lamb breast with carrots at Gwynnett St.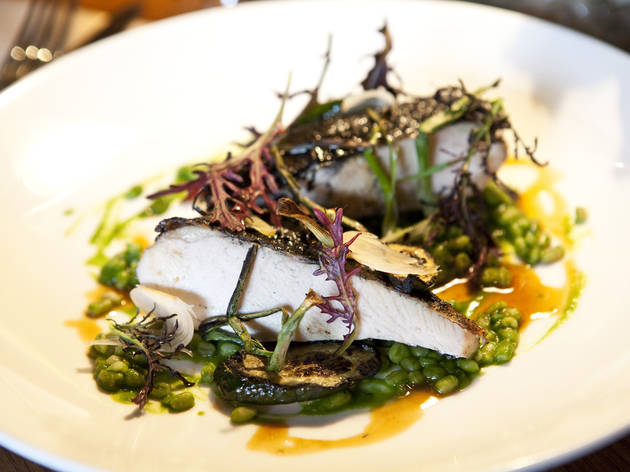 2/7
Photograph: Jolie Ruben
Chicken in hay ash at Gwynnett St.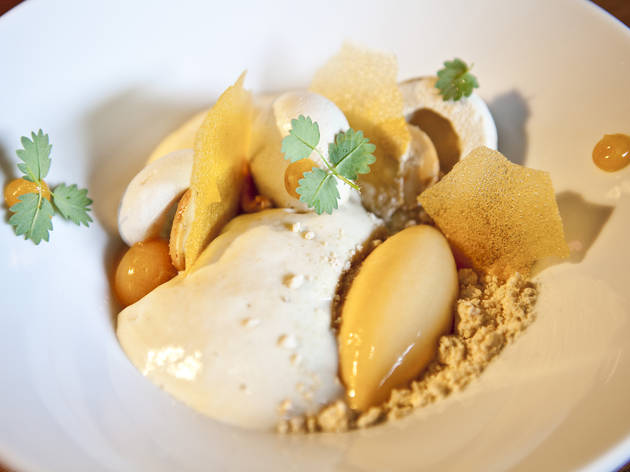 3/7
Photograph: Jolie Ruben
Cashew and apricot dessert at Gwynnett St.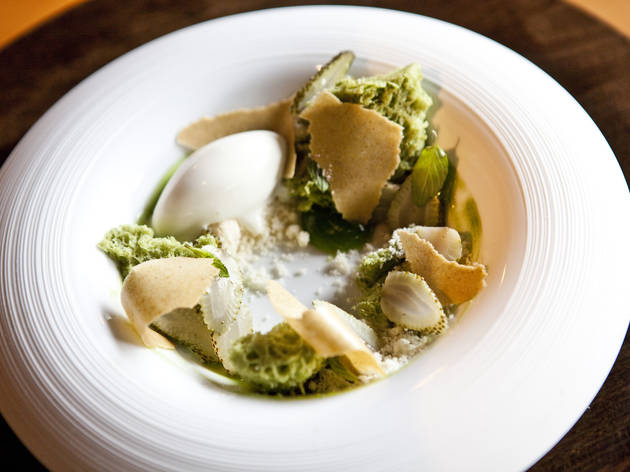 4/7
Photograph: Jolie Ruben
Mint and green strawberry dessert at Gwynnett St.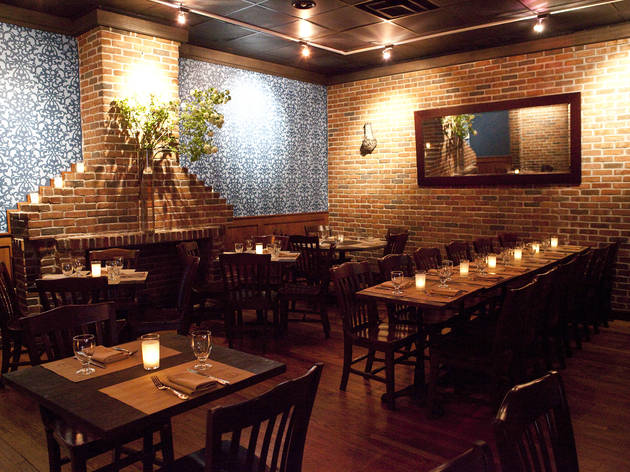 5/7
Photograph: Jolie Ruben
Gwynnett St.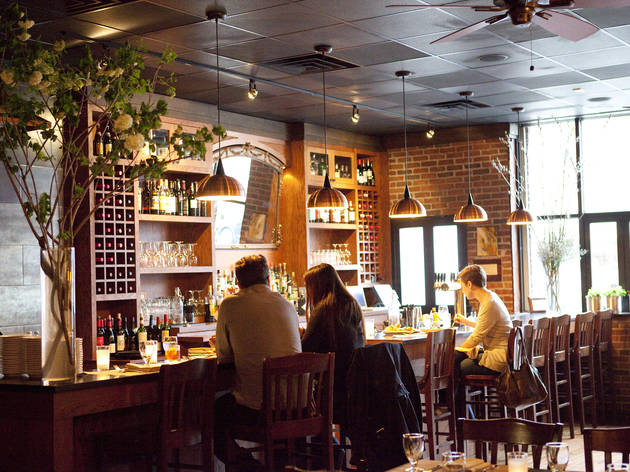 6/7
Photograph: Jolie Ruben
Gwynnett St.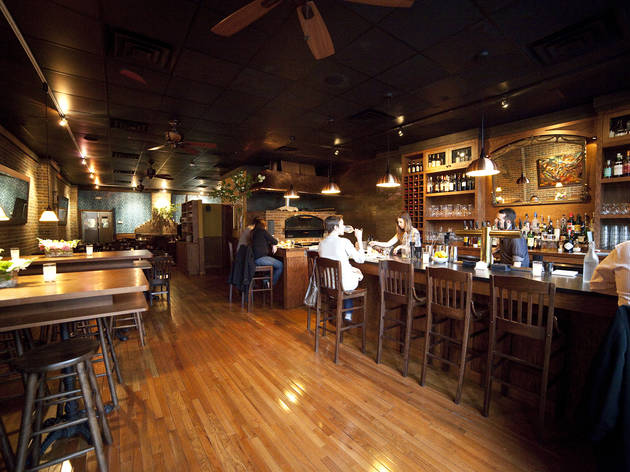 7/7
Photograph: Jolie Ruben
Gwynnett St.
When a novel idea flares up in the food world these days, it doesn't take long for the fire to spread. The "modern primitive" ethos that seemed so distinctive when it first erupted at Isa is now creeping onto menus all over town, along with shades of its "New Nordic" cousin, just a few months after the style made landfall at Acme. In this copycat landscape, how can an ambitious chef stand out?
The crew behind Gwynnett St. in Williamsburg has managed the task by combining inspiration from all over the place—borrowing from here and there to create something altogether original. The restaurant, merging new trends and old ones, features a traditional three-course menu, naturalist plating and a focus on intense earthy ingredients combined with the occasional hypermodern technique.
Head chef Justin Hilbert has an unusually eclectic pedigree, having cooked avant-garde savory at Mugaritz in Spain, edgy desserts at wd~50 and club food at the Box. His number two, Owen Clark, adds a locavore bent, following two years on the line at Dan Barber's Blue Hill. All of these influences add up to a sometimes challenging and always interesting restaurant—the chefs' hybrid creations jelling more often than not.
Like so many adventurous spots in Brooklyn, the place doesn't look like much, with run-of-the-mill tavern decor featuring exposed brick, an oversize mirror and dark wooden tables topped with brown paper place mats. The menu—a minimal list of ingredients—reads pretty straightforward too, but the dishes are rarely as simple as they seem.
A super-rustic salad, mixing spinach and chard with fiddlehead ferns, comes with pickled red grapes and peppery goat cheese transformed, through molecular wizardry (tapioca starch and a dehydrator, to be specific), into thin crisps with the texture of flattened meringues. Lamb breast, in a spring starter with more primitive leanings, is slow-roasted for 12 hours, then crisped up to order, the unctuous, caramelized meat paired with caraway streusel (dried rye bread crumbled in brown butter) and a stem-to-stalk panoply of carrot components—the tops sprinkled as garnish, the rest served roasted, pickled and infused into yogurt.
Hilbert has a knack for making these humble ingredients look and taste more vividly like themselves. Though a hen-of-the-woods mushroom, roasted whole in an unusually spare starter, could be a bit browner on the edges, its fungal funk is intensified by onion puree underneath and melted lardo on top.
White-meat chicken, in a generous main, tastes like poultry on steroids—soaked in a robust brine, coated in a sort of edible dirt (hay ash, actually) and with a delicious approximation of chicken feed on the plate (pearl barley pilaf with spring garlic).
Another expressive entrée buries fat sea scallops under a forest floor of raw and cooked greens (spinach, baby lettuce and wood sorrel)—literally adding turf to some surf—with earthy green streaks of nettle puree on the plate.
It's hard to slip any of this food into a neat taxonomic slot. And the desserts here go much more out on their own limbs. These wild compositions are like flavor experiments—fun and edgy, if not always delicious. An emerald sponge cake, spiked with refreshing spearmint, comes with dehydrated green strawberries transformed into fruit leather using a sugar refractometer. Milk chocolate, treated with glucose so it's pliable like rubber, is served in a thick folded sheet with peanut-cayenne Pop Rocks and an intense sweet-and-sour quenelle of black-currant jam.
It takes some stones to serve such edgy food in a neighborhood tavern on a quiet corner of Brooklyn. What's even more daring, though, is its departure from restaurant-world groupthink: Gwynnett St. isn't immune to the grip of food trends, but the restaurant neatly subverts them to create food that feels brand new.
Vitals
Eat this: Spinach salad with goat cheese crackers, lamb breast with carrots, chicken in hay ash, scallops with nettle sauce, milk chocolate with black-currant jam
Drink this: Begin with a playful riff on a classic cocktail, like a refreshing Rye Tai with Rittenhouse rye and Appleton rum ($11). The short wine list includes food-friendly war horses, like a robust Mas Laval red from the Rhone ($10 a glass).
Sit here: The front half of the space is all tall tables and barstools, an odd fit for such ambitious food. Settle, instead, into one of the well-spaced tables in back toward the kitchen.
Conversation piece: The restaurant is named for an old Williamsburg thoroughfare that ceased to exist in 1852—the first to connect theneighborhood to other sections of Brooklyn.
Venue name:
Gwynnett St. (CLOSED)
Contact:
Address:
312 Graham Ave
New York


Cross street:
between Ainslie and Devoe Sts
Opening hours:
Mon–Thu 5–11pm; Fri, Sat 5pm–midnight; Sun 11am–4pm, 5–10pm
Transport:
Subway: L to Graham Ave
Price:
Average main course: $19. AmEx, MC, V
Do you own this business?
Rating Breakdown
5 star:

2

4 star:

0

3 star:

0

2 star:

0

1 star:

0
The relaxed vibe, excellent service, very good quality/price ratio and, most importantly, the assuredly cooked dishes made with outstanding ingredients makes this restaurant a real winner. We enjoyed the small but well thought-out bar list of beers and cocktails and pretty much every dish we ordered for dinner was a total success. Examples: earthy maitake mushroom "steak" with creamy onion sauce, slow poached egg with braised pork and chick peas, the lush chicken cooked in hay ash, perfectly seared sweet sea scallops with fava beans and nettles, and sunflower tofu with artichokes. The desserts were all exciting and harmoniously put together, a great sum than the individual ingredientes listed on the dessert menu. Try them. A reasonably prices wine list with aptly chosen representatives from the great wine regions of the world provides fine accompaniments to the lovely food. Gwynnett street restaurant is a winner.
Love this place. It is in my neighborhood and the only disappointment so far has been that the outside world seems to be catching up with this slightly more off the run section of Williamsburg. The food is delicious - always inventive and ever-changing. In addition to the items mentioned in the review, I would add 2 items that have become standards - the nut (not soy) based tofu entree and the sous-vide steak. As for portion sizing, you won't be stuffed if you come in and grab a main course and run out. But the portions are perfect to come in and have a full three-course meal (and a slice of the amazing whiskey bread) with a terrific cocktail and a glass of wine and feel great on the way home. All without having to max out the card in order for two people to eat.