Haute Indian food
In preparation for the April 7 Varli Food Festival, a high-profile celebration of Indian cooking, TONY highlights the essential dishes at a new breed of Indian eateries making their mark around town.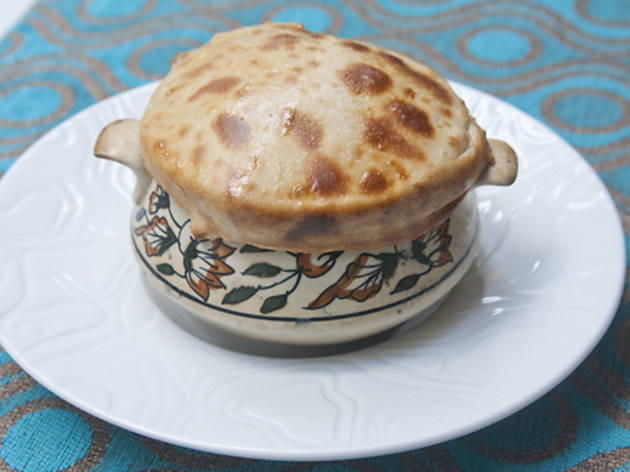 1/4
Photograph: Virginia Rollison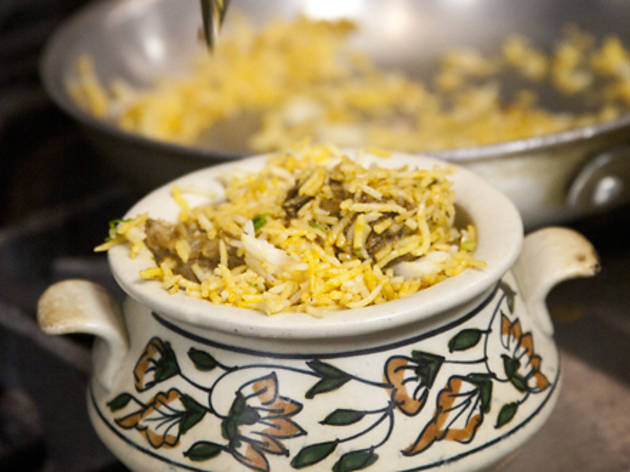 2/4
Photograph: Virginia Rollison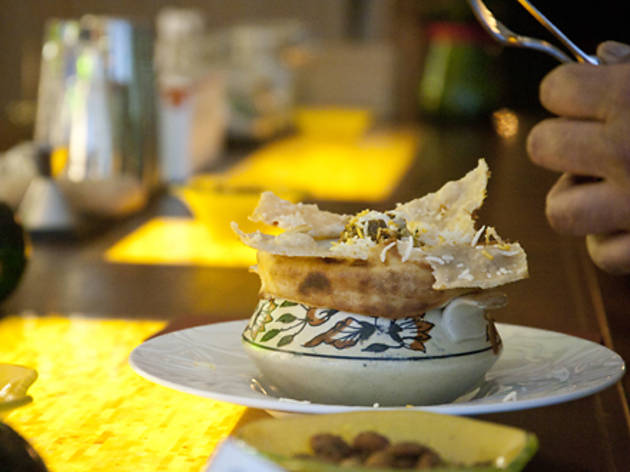 3/4
Photograph: Virginia Rollison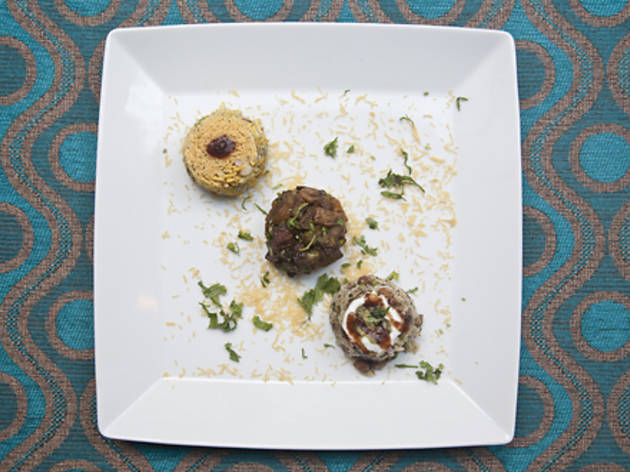 4/4
Photograph: Virginia Rollison
CHAAT AND DUM BIRYANI AT TULSI Chef Hemant Mathur earned his fine-dining stripes at Devi—he helped the Gramercy spot become the country's only Michelin-starred Indian restaurant. At Tulsi, the Jaipur-born tandoor master supplements his signature grilled meats with other expertly wrought specialties. A standout selection of chaat ($7 for three) is presented here as elegant renditions of the traditional street snacks found throughout India. We like the dahi batata puri: spiced potato and chickpeas coated with tangy yogurt and tamarind, then stuffed into a crunchy whole-wheat shell (puri) with mint chutney. It's a fine preamble to the hearty dum biryani with goat ($24). Whole spices—including bay leaves, cumin and cardamom—are tossed into a pan with basmati rice, rosewater, saffron and goat marinated in a zingy ginger-garlic paste. Mathur pours the resulting stew into a small clay pot, covers it with a layer of dough and tosses it into the tandoori oven. What emerges is a sort of Indian potpie, with a puffy crust of piping-hot nan giving way to an aromatic blend of rice and glistening hunks of meat. 211 E 46th St between Second and Third Aves (212-888-0820)
INDIAN STREET BURGER AT MEHTAPHOR Following up the cult success of his East Village cubbyhole Graffiti, Food Network star Jehangir Mehta has expanded his playful riffs on Indian flavors at this new venture in the Duane Street Hotel. Yet for all the wizardry on display—Pop Rock oysters, beef tartare with guacamole sorbet—the most compelling dish may be the one that most faithfully evokes his childhood in Mumbai. The meatless Indian Street Burger ($17) channels an everyday roadside snack called pav bhaji: essentially, the contents of a vegetable samosa (spiced potatoes, peas, onions) stuffed into a white-bread bun, like a subcontinental sloppy joe. "People in New York run outside when they hear the ice-cream truck jingle," says Mehta. "For us, it was the sound of a steel spoon on an iron skillet [signaling that the pav bhaji vendor was on the corner]." While the dish is simple, it's Mehta's balanced spicing that makes it sing—a lingering brush fire of Thai chilies, ginger and cilantro kept in check by sweet hunks of tomato and tart tamarind. Follow the addictive sandwiches (two per order, plus garlic fries) with a Coconut Fizz ($9) from Mehtaphor's short list of pastry-themed cocktails. The blend of house-made coconut-chili sorbet, vodka and seltzer is whipped furiously, producing a frothy head that gives way to a creamy fizziness you'd expect from a soda fountain float. 130 Duane St at Church St (212-542-9440)
TANDOORI SEA BASS AT TAMARIND TRIBECA A stunning spin-off of the original Tamarind in the Flatiron District, the Tribeca location convincingly draws from all corners of the subcontinent with its sprawling menu. But the most consistent dishes are the handiwork of Ramanuj Sahai and Vinod Kumar, two tandoor masters who cut their teeth at New Delhi fine-dining stalwart Bukhara. The duo have the forearm scars—sustained while reaching directly into the blazing ovens—to prove their pedigree, as well as the deft tricks of the trade (they throw lava rocks and oil-slicked whole cloves into the tandoor to re-create the smokiness provided by the coal and wood that fuel ovens in India). Nowhere is their command of the craft more apparent than in the nimble preparation of nontraditional proteins, such as remarkably moist fillets of sea bass ($26) cooked on giant metal skewers. Thick yogurt, strained overnight in cheesecloth, helps a subtle blend of roasted spices (mace, saffron, mixed peppercorns) cling to the flaky fish without overwhelming its delicate flavor; if it weren't for the low burn that lingers after each bite, you might close your eyes and think you were at one of the city's haute-French temples. Other tandoor specials are no less studied, though the red-meat renditions tend to register higher on the spice scale. You might try venison with pickling spices and crunchy chickpea flour ($30), or superlative lamb chops ($28)—tangy, spicy and tender, paired with a coriander-spiked disc of fried mashed potatoes. Whether you go with meat or fish, breads from the tandoor are a must: layered paratha showered with dry mint, plus pillowy nan topped with wild mushroom and truffle oil, like an Indian pizza. 99 Hudson St at Franklin St (212-775-9000)
Do this: The Varli Food Festival Now that you've got a handle on the city's upscale newcomers, explore NYC's evolving Indian food offerings in full at this blockbuster culinary showcase. More than 25 restaurants—including Junoon and Tulsi—will serve their grub at tasting stations, complemented by unlimited booze (including Kingfisher beer) from an open bar. When you're not chowing down, check out cooking demos from toques like Asian TV superstar Sanjeev Kapoor. The Altman Building, 135 W 18th St between Sixth and Seventh Aves (varlifoodfestival.com). Apr 7 6--10pm; $100.
Sponsored listing
Serenata
Restaurateur Besim Kukaj strays from his Italian-accented portfolio (Cara Mia, Gallo Nero, Il Bastardo) with this colorful, Chelsea-set Mexican eatery. From the kitchen, find shareable appetizers such as shredded beef tacos, poached shrimp ceviche and a gluten-free salad built with cactus, grasshoppers, roasted corn and cipollini onions. For a larger bite, signature entrees range from plancha-sautéed Chilean sea bass to huitlacoche (corn truffle) enchiladas.
Venue says: "Come to try Camarones en Salsa Oaxaqueña. Jumbo Shrimp, squid ink rice, chile mulato dry and Shrimp Sauce - Yummy!"