Here's what it's actually like to be a delivery guy in NYC
John Tolentino, a Postmates courier, fields our burning questions on what it's like to be a food delivery guy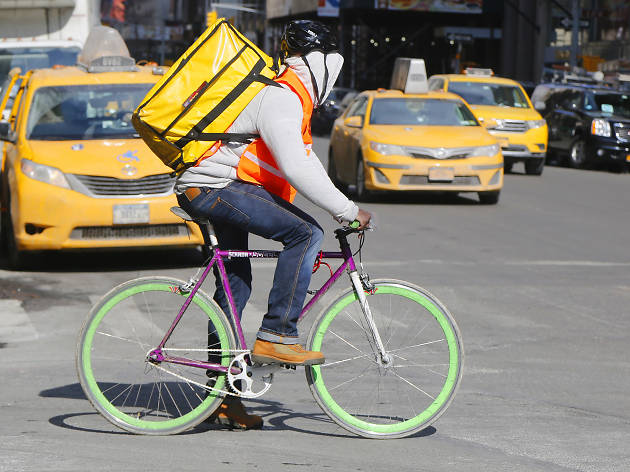 Have you ever wondered what the life of a delivery guy is like? Us too. That's why we asked Postmates courier, John Tolentino, what it's like to bike New York in the name of food. From creepy NYC apartments to embarrassing moments with customers, here's what we found out.
What's the strangest thing anyone has ever come to the door wearing?
Well, there were two occasions when customers answered the door wearing only a Speedo. Before that, I didn't think people would want to answer the door pretty much naked.
Have you had to deliver to any super-creepy apartments?
There was this place I delivered to in Brooklyn that looked like an abandoned warehouse. Someone came down, the front door opened slightly and just an arm came out to take the food from me. I was really creeped out. Then again, I got a decent tip, so I'm not complaining.
Speaking of tips, what's the worst you've ever gotten?
After delivering some Pinkberry from 55th Street and Second Avenue in Manhattan to a place in the middle of Sunnyside, Queens, I got a 97¢ tip. Lovely.
What's a fair tip?
I think $3 to $5 for any order. I tipped $5 to delivery people even before I had this job. Traveling with food on a bike all day is tiresome, so I hope that my tip makes their day a little better.
What's the biggest obstacle you've ever encountered while trying to deliver?
My phone has all the delivery details, and it died once. I remembered the address and the person's name, but this delivery was going to a 55-story building with many businesses. The doorman didn't recognize that name, but luckily, the customer came down after 20 minutes because he was worried about his food. I now carry two portable chargers.
Who gets in your way the most when you bike: pedestrians or cars?
Cabs are definitely the worst. They're always in a rush and love to turn abruptly and act like they have the right of way. I was hit by a cab once. Nothing serious—I didn't even fall off my bike—but he made a right turn with no signal from the leftmost lane of a four-lane road. To this day I still wonder where he got his license.
Sponsored listing
Hinata Ramen
Tucked into an unassuming storefront in Midtown East, this Japanese spot allows diners to build their own bowls of steaming ramen. Choose a type of ramen—classic ($12.50), spicy ($13.50), vegan ($14.50), rich miso ($14.50) or dipping-style ($14.50)—then pick one of the four varieties of noodles, roasted pork or chicken and any extra toppings. Hinata uses organic chicken broth, never adds MSG and makes all their own noodles, including vegan and gluten-free options. If you're not in the mood for hot soup, try one of the restaurant's other offerings, like pork gyoza (five for $7, 10 for $13), octopus carpaccio ($9), fried chicken ($7) or salmon sashimi and roe over rice ($8). To drink, choose from a wide variety of sakes ranging in flavor from fruity to dry ($57–$70 per bottle), or sip a Sapporo or glass of plum wine (both $6).
Venue says: "We are serving summer cold ramens! Also, from Thu-Sat, We will be open till 4AM! come get your late night ramen!"