Huevos rancheros: Five great riffs on a brunch classic in NYC
Try one textbook version of huevos rancheros, the Mexican brunch staple, then experience four creative treatments.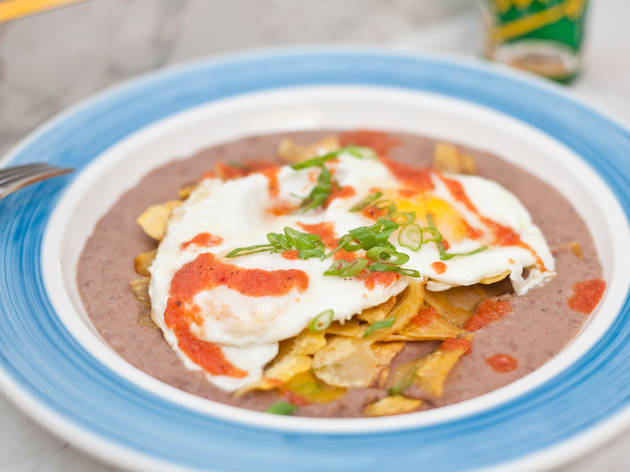 1/4
Photograph: Alex Strada
Jamaican rancheros at Miss Lily's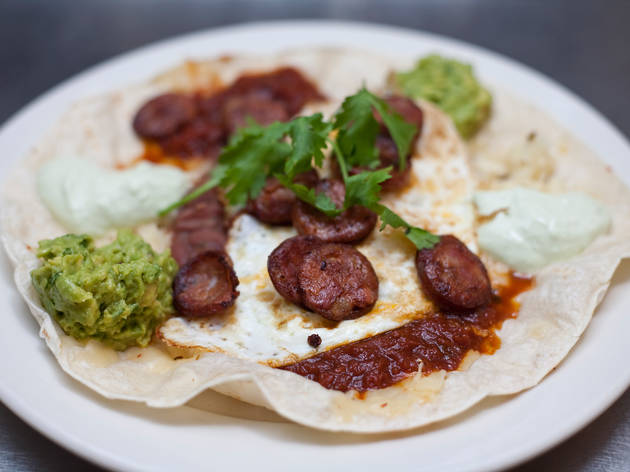 2/4
Photograph: Alex Strada
Huevos rancheros at Clinton Street Baking Co.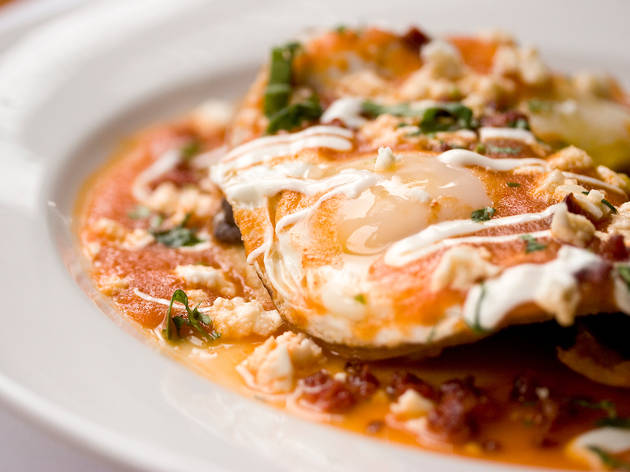 3/4
Photograph: Marielle Solan
Huevos rancheros at Fonda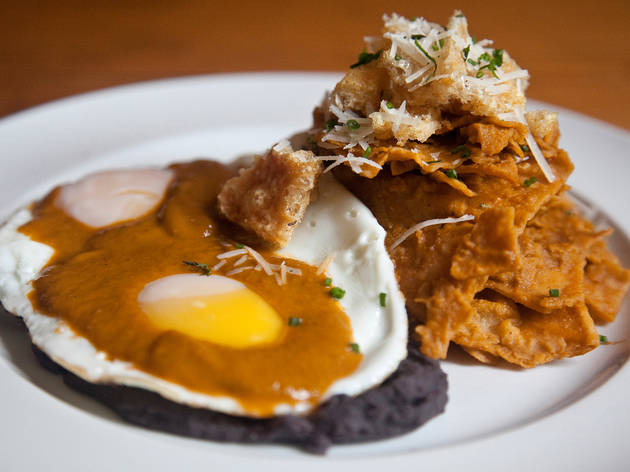 4/4
Photograph: Melissa Sinclair
Huevos rancheros at the Good Fork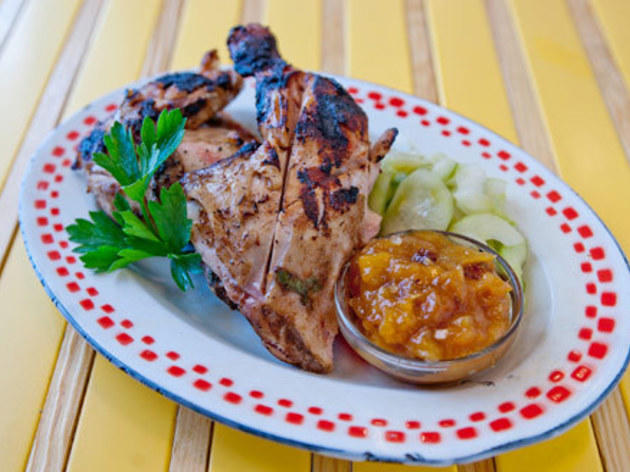 This Jamaican eatery hijacks huevos rancheros, taking them on a tasty Caribbean detour. Coconut milk adds a creamy texture and island flavors to a base of kidney beans. Crispy fried plantain strips, a scoop of Scotch-bonnet-pepper sauce, a pair of over-easy eggs and sliced avocado make it a meal. $12.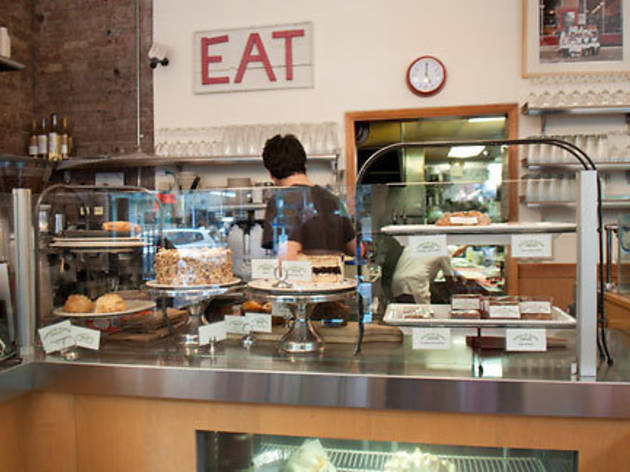 The flapjacks at this LES institution have a cult following, but the huevos rancheros are a sleeper hit in their own right. Laid out like paints on an artist's palette atop a large flour tortilla are two orange-yolked eggs over pinto beans, tangy tomato ranchero sauce and fresh guacamole, all topped with grated pepper jack and jalapeño-laced sour cream. Doctor the dish with the house-made hot sauces served alongside, or add chorizo for $2.50 more. $14.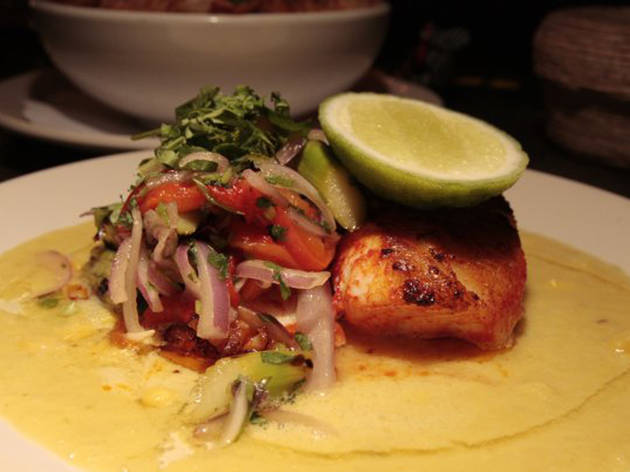 This textbook example of huevos rancheros arrives smothered in cool crema, mild ranchero sauce, and a shower of minced onion and cilantro. Beneath these tasty toppings are crispy fried corn tortillas, refried black beans, and two sunny-side up eggs anointed with a crumble of smoky chorizo and queso fresco. A complimentary cocktail helps wash it down—try the Rosalita, a tart frozen margarita flushed with rosy hibiscus. $12.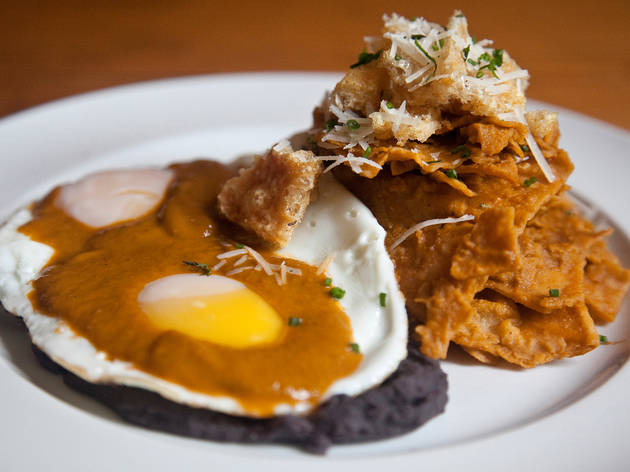 Restaurants, Contemporary American
This Red Hook kitchen remixes the Mexican staple with a delicious mash-up of huevos rancheros and chilaquiles. A bed of black bean puree crowned with two Sullivan Farms eggs and a spoonful of bracing serrano-chili salsa occupies one side of the plate. On the other sits a jumble of toasted corn tortillas bathed in another dose of salsa. The entire dish gets a light grating of funky Parmesan, a pinch of fresh cilantro and a porky flourish of crisp chicharrónes scattered on top. $11.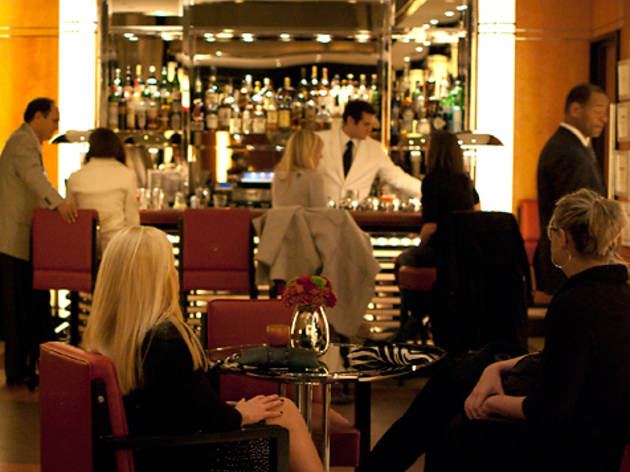 Geoffrey Zakarian's haute rendition of huevos rancheros is as elegant as the room it's served in. A pair of perky fried eggs and three neat rectangles of queso fresco are perched on a crispy corn tortilla and a bed of cilantro-laced black beans. The bright tomatillo salsa poured on top is addictive, so be sure to ask for extra. $18.
More to explore