Insider's guide: Extra Mooga
Brand-new food-and-music festival the Great GoogaMooga shimmies into Prospect Park this weekend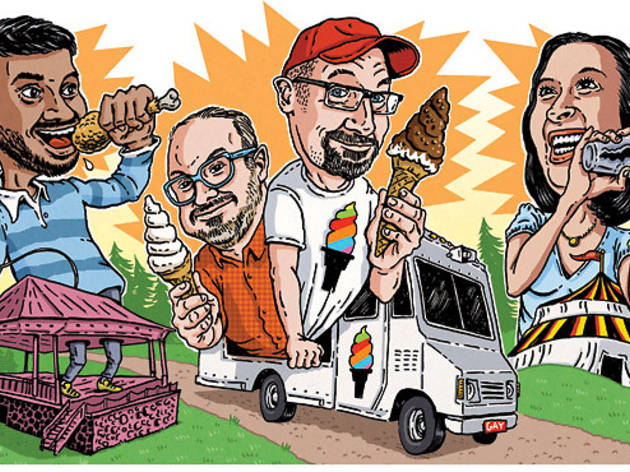 Launching with a megawatt collection of NYC toques and tastemakers, the inaugural Great GoogaMooga (Sat 19, Sun 20) has positioned itself as Brooklyn's cool-kid answer to the New York City Wine & Food Festival. Tickets disappeared in a flash for the music portion of the weekend, but gastronauts can still get in on the excitement by splurging on Extra Mooga—a VIP bacchanal featuring a who's who of the city's hottest chefs, bartenders and brewers. Since you can't be everywhere at once, you'll need a game plan to get the most bang for your buck. Here are our picks for the best events on each day, plus some insider tidbits from the headliners. Nethermead Meadow, Prospect Park, Brooklyn. Enter at Prospect Park Southwest at 16th St (googamooga.com). Extra Mooga pass $250.
RECOMMENDED: All coverage of the Great GoogaMooga festival


SAT 19
Beer vs. Wine
(Spiegel Tent, 1–2pm)
What it is: Sommelier Paul Grieco (Hearth, Terroir) and brewmaster Garrett Oliver (Brooklyn Brewery) square off at this food-and-beverage-pairing showdown. Inside the opulent Belgian spiegeltent, each guru will walk guests through six pours, matched with international cheeses, and the audience will vote for its favorites based on taste and presentation.
Why it's a must: This is a grudge match not only between vino and beer, but also between two industry vets with plenty of history. Currently Grieco has the upper hand—he bested his suds-slinging foe in two similar pairing duels, the last of which occurred in 2008, as well as in this year's James Beard Awards race for Outstanding Wine, Beer or Spirits Professional—so Oliver will be looking for redemption. "It's been four or five years since Garrett and I have done something like this, 'cause he needed the time to prepare," teases Grieco. "I'll bring my Beard Award in case I need a last-minute trump card."
Noshing with…Ruth Reichl, David Chang, Aziz Ansari and James Murphy
(Pagoda Stage, 2–3pm)
What it is: The illustrious former Gourmet editrix hosts this motley panel, comprising the Momofuku kingpin, the Parks and Rec comedian and an electropunk DJ. Expect the three globe-trotting buddies—Ansari recently convinced GQ to send the trio on an eating jaunt to Tokyo—to regale the audience with tales of booze-fueled gluttony from their adventure. They'll also recommend some of their favorite spots around NYC.
Why it's a must: Between Reichl's tendency to wax poetic and the guys' propensity for outlandish chatter, you're guaranteed laughs, but the group also brings four very different perspectives on the food world.
The Monkey Bar Goes Bananas
(Boathouse, 3:30–5:30pm)
What it is: Channeling the Roaring Twenties, this throwback fete features a menu curated by Graydon Carter's newly installed crew at revamped midtown classic the Monkey Bar. Chef Damon Wise will be offering jazzed-up versions of the restaurant's fare—falafel-spiced lamb ribs with Southern-style yogurt-marinated cucumbers are on the menu—while bartenders turn out riffs on old-timey cocktails, like the Bourbon Smash and the Southside Fizz.
Why it's a must: This is your chance to catch one of the city's best new fine-dining destinations (it nabbed a Critics' Pick in this year's Food & Drink Awards) with its hair down. The party will draw on the storied spot's Prohibition-era pedigree, but you can expect some oddball twists for its pop-up iteration in Kings County.
SUN 20
Liquid Brunch, the Art of Daytime Drinking with Julie Reiner
(Spiegel Tent, 12:45–1:45pm)
What it is: The cocktail doyenne behind such destination drinkeries as Clover Club and Lani Kai will school attendees on the finer points of imbibing during sunlight hours. "There are certain drinks that are just better suited for afternoon consumption," says Reiner.
Why it's a must: This demo and tasting will revolve around light, refreshing tipples that lend themselves to enjoying more than one glass. The Sunday-afternoon-appropriate libations will likely include a Corpse Reviver variation and one of Reiner's signature tropical concoctions.
Marcus Samuelsson's Harlem Renaissance Party
(Boathouse, 4–6pm)
What it is: The Red Rooster chef and man-about-town takes the reins for this 1920s-style soiree. Amid festive tunes from a live jazz band, Samuelsson will be serving a combination of popular dishes from his restaurant and other passed small plates that nod to Brooklyn's influx of Caribbean culture.
Why it's a must: "The music's going to evoke a celebration like one you would've seen at a supper club back in the day, but it'll still be very of the moment," says Samuelsson. After a few turns on the dance floor to the trumpet strains of N'awlins-born Grammy Award nominee Christian Scott, you won't feel as guilty for bingeing on Samuelsson's chicken and waffles or shrimp and dirty rice.
Big Gay Ice Cream Disco Party
(Pagoda Stage, 7–8pm)
What it is: To close out the weekend, Doug Quint and Bryan Petroff—the duo behind the much-loved Big Gay Ice Cream Truck—have put together a psychedelic shindig worthy of Saturday Night Fever. The DJs from food radio program Snacky Tunes will be spinning from atop the rainbow-plastered truck, while you and some party-starting drag queens boogie on the dance floor.
Why it's a must: "We're bringing in a huge disco ball and serving our version of finger food—ice cream hors d'oeuvres but discoed up," says Quint. "There's also going to be a rotating cast of our favorite eccentrics." Creative attire is encouraged, especially if it's glittery. "We want people dancing themselves out the door. It'll be time to blow all the energy you have left."
Sponsored listing
Ristorante DeGrezia
Diners looking for upscale Italian in Midtown East will want to look into DeGrezia. Before you even think about dinner, you'll have to peruse the restaurant's expansive list of more than 450 wines. As for food, everything is made in house, from the pasta to the bread. To start, try the grilled octopus with haricots verts and roasted red potatoes ($19) or sweetbreads pan-seared with mushrooms and marsala wine ($16). Go for some of that homemade pasta with the pappardelle with wild boar and rosemary ($24) or the spinach gnocchi with gorgonzola cream sauce ($23). For your second course, perhaps the boneless quail stuffed with sweet Italian sausages and wrapped in pancetta will tempt you ($34), or maybe you'll go for a lighter dish of roasted pork tenderloin, cannellini beans and broccoli rabe ($29). If you make reservations for a party of eight or more, you can also opt to order off the family-style prix fixe menu (starts at $75).
Venue says: "Celebrating authentic Italian cuisine, fine wines, and exceptional service since 1986!"