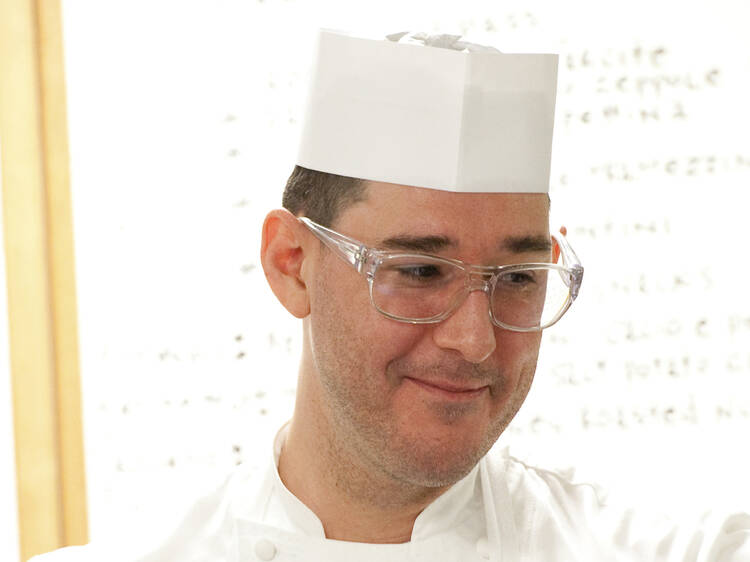 Photograph: Ted Axelrod
Mark Ladner
Del Posto
Nominee: Best Chef NYC
What do you think is the relevance of a Beard Award these days?
A James Beard award is, and will always be, the culinary equivalent of an Oscar, Emmy, Grammy or Pulitzer. It's nice to be recognized for your work. But for me, regardless of awards, I just want to be in the kitchen and be a force of inspiration for our staff to make and serve delicious, healthy food.
The era of casual dining has taken hold in a big way recently. Otto and Lupa have always been in that mold, but have your views changed at all on the role of the white-table-cloth experience at Del Posto?
Del Posto provides sterling-silver flatware, handblown crystal, Egyptian cotton linens and vintage Italian porcelain. We operate a fine-dining restaurant presided over by at least 75 highly trained and committed, professional employees each service. We offer the hospitality of gratis snacks throughout every meal. We have the infrastructure to ensure that all of our guests leave satisfied, regardless of dietary restrictions or personal preferences. We are in the business of offering the highest level of service.
What we provide is a radical departure from restaurants with no reservations and paper napkins, or joints with tasty food, but uncomfortable dining environments. Even our bar stools are engineered for luxury. We employ a gentleman whose job is to repair said bar stools when they no longer provide true comfort. We are extremely grateful for our beloved clientele; guests who appreciate what we do. And thank goodness New York City is diverse and sophisticated enough as to still allow for "adult" restaurants like Del Posto to exist.
That said, nothing delights us more than a couple that has saved up for a great formal experience at Del Posto. Those guests give us the privilege of showing them the respect people were treated with in more romantic times gone by—think Downton Abbey. Don't get me wrong, I love casual restaurants. Nearly all of my training has been in casual restaurants. But what we try to accomplish at Del Posto, and what a more casual place tries to do, is just plain different. Those fundamental differences mean that an expensive fine-dining destination restaurant and an inexpensive casual neighborhood restaurant should not be evaluated by the same scale or list of criteria.
Amenities ain't cheap! Essentially Del Posto is a stiff middle finger to the casualization of our society.
We won't make you weigh in on your competition at the Beards. But who are some of your favorite chefs in NYC, and what do you appreciate about them?
Any and all chefs and food professionals in this city that show up for work every day, pay and treat their staff fairly, and contribute to the overall well being of New York, the greatest city in the world. I am humbled by all young cooks out there pushing American food forward. I am also inspired by all the dieticians and nutritionists that try to keep garbage out of the system. We owe it to the next generation!
What drink will you celebrate with if you happen to win?
Many bottles of Estrella Damm Inedit, the true champagne of beers. (No offense to Miller High Life…love you, too!)