Krescendo: The Feed first look
San Francisco pastry maven Elizabeth Falkner spins Neapolitan pies at this Southern Italian eatery in Boerum Hill.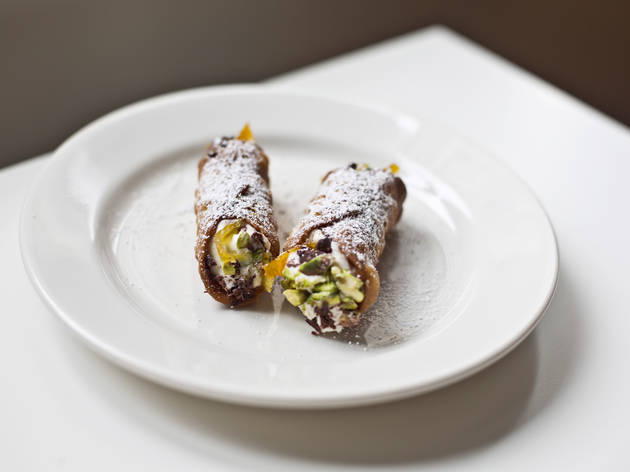 1/4
Photograph: Caroline Voagen Nelson
Canoli at Krescendo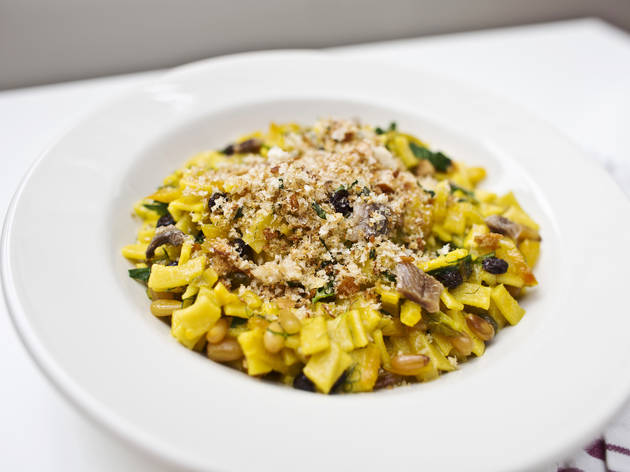 2/4
Photograph: Caroline Voagen Nelson
Pasta with fennel, sardines and pine nuts at Krescendo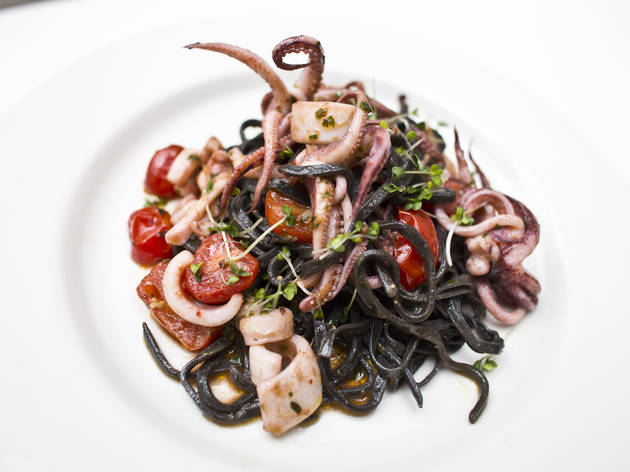 3/4
Photograph: Caroline Voagen Nelson
Pasta chitarra al nero at Krescendo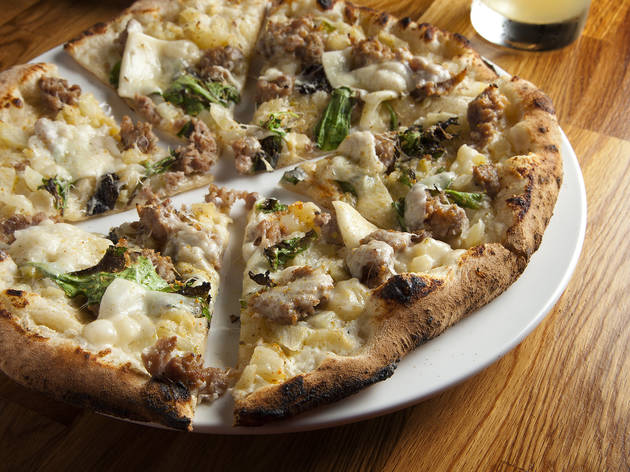 4/4
Photograph: Dominic Perri
Finnochio Flower Power1st Place winner, Naples World Cup Pizza May 2012. Panna, Braised Fennel, Fennel sausage, aged provolone, zucchini blossoms, peperonata calebrese, fennel pollen at Krescendo
Pastry hotshot Elizabeth Falkner, a former Top Chef Masters contender, brings her baking talents to bear on pizza with this Southern Italian eatery, opening November 1st. The San Francisco transplant joined forces with West Coast restaurateur Nancy Puglisi (a Bensonhurst native) to open the Boerum Hill spot, which is done up with butcher-block shelves, a cork-and-wood floor and quaint midcentury lamps. Taking a page out of Southern Italy's playbook, Falkner tops her pies—baked in a wood-fired oven imported from Naples—with grains, veggies and powerful spices. The "Finocchio Flour Power" is slathered with heavy cream, squash blossoms, sausage, aged provolone and peperonata calibrese. But Neapolitan classics, like the Margherita, are still on offer, as well as time-honored Sicilian pastas, such as fregola with pine nuts, anchovies and bread crumbs. Barkeep Darren Crawford—from SF's lauded Bourbon & Branch—mixes up classic Italian cocktails, like the Negroni, from an amari-heavy menu. 364 Atlantic Ave between Bond and Hoyt Sts, Boerum Hill, Brooklyn (718-330-0888)
Sponsored listing
Wahizza
This pizza joint serves thin-crust pizza from its Washington Heights storefront. Customers can choose from classics like a traditional margherita pie with mozzarella, basil, pecorino and extra-virgin olive oil ($8.88) and Hawaiian pizza with ham, pineapple, mozzarella and pecorino ($12.88), or opt for something a little more unusual. Wahizza's specialty is its chimi pizza: a pie topped with angus beef, chicken, cabbage, tomato, corn, onions and a house sauce ($18). The restaurant also offers a Dominican pizza with ham, mozzarella, corn and pecorino ($12.88), among others.
Venue says: "Serving artisan oven baked pizza to Washington Heights! Try our popular Chimichurri Dominican pizza, our pizza rolls, calzones, or cannolis!"