Krescendo: The Feed first look
San Francisco pastry maven Elizabeth Falkner spins Neapolitan pies at this Southern Italian eatery in Boerum Hill.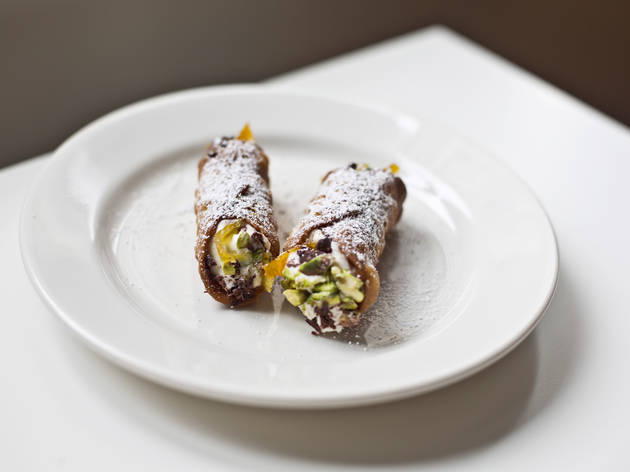 1/4
Photograph: Caroline Voagen Nelson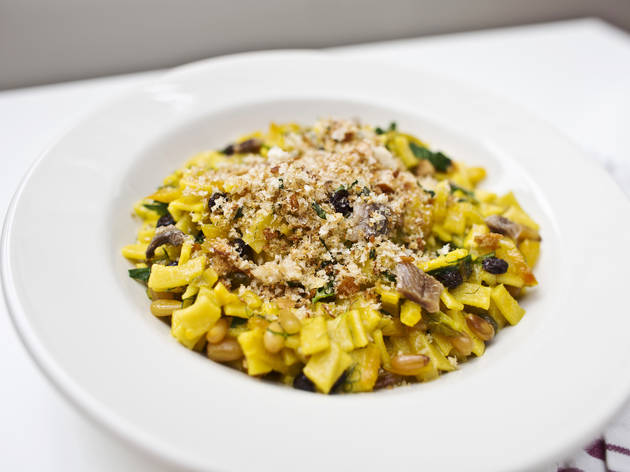 2/4
Photograph: Caroline Voagen Nelson
Pasta with fennel, sardines and pine nuts at Krescendo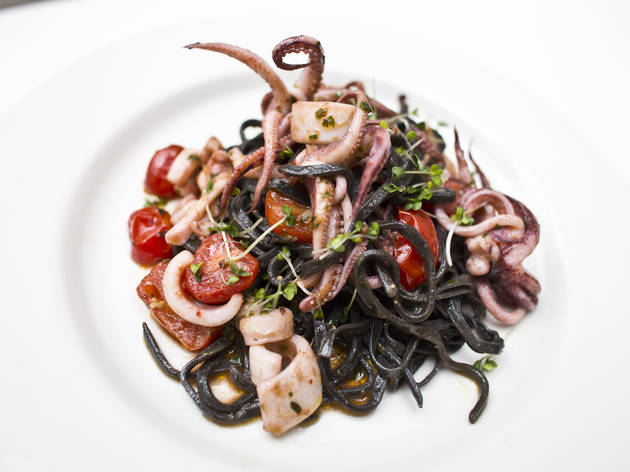 3/4
Photograph: Caroline Voagen Nelson
Pasta chitarra al nero at Krescendo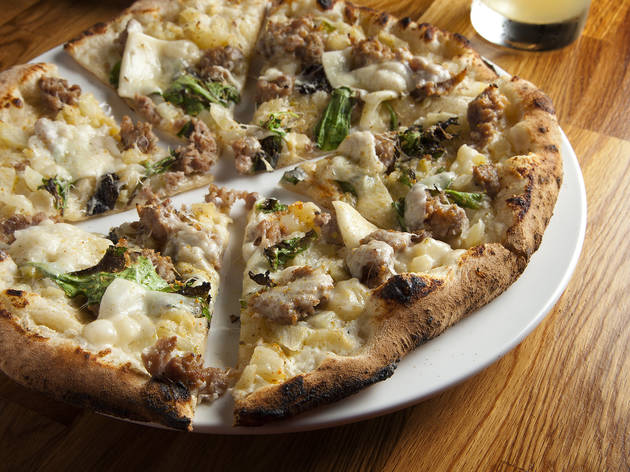 4/4
Photograph: Dominic Perri
Finnochio Flower Power
1st Place winner, Naples World Cup Pizza May 2012.
Panna, Braised Fennel, Fennel sausage, aged provolone, zucchini blossoms, peperonata calebrese, fennel pollen at Krescendo
Pastry hotshot Elizabeth Falkner, a former Top Chef Masters contender, brings her baking talents to bear on pizza with this Southern Italian eatery, opening November 1st. The San Francisco transplant joined forces with West Coast restaurateur Nancy Puglisi (a Bensonhurst native) to open the Boerum Hill spot, which is done up with butcher-block shelves, a cork-and-wood floor and quaint midcentury lamps. Taking a page out of Southern Italy's playbook, Falkner tops her pies—baked in a wood-fired oven imported from Naples—with grains, veggies and powerful spices. The "Finocchio Flour Power" is slathered with heavy cream, squash blossoms, sausage, aged provolone and peperonata calibrese. But Neapolitan classics, like the Margherita, are still on offer, as well as time-honored Sicilian pastas, such as fregola with pine nuts, anchovies and bread crumbs. Barkeep Darren Crawford—from SF's lauded Bourbon & Branch—mixes up classic Italian cocktails, like the Negroni, from an amari-heavy menu. 364 Atlantic Ave between Bond and Hoyt Sts, Boerum Hill, Brooklyn (718-330-0888)
Sponsored listing
Blake Lane
This California-style eatery brings a touch of Venice Beach sunshine to the Upper East Side. The bright, airy space gives off some serious West Coast vibes, as does the fresh, health-conscious menu. Along with the typical drink menu of lattes ($4) and cappuccinos ($3.75), Blake Lane also offers a trendy golden milk latte made with almond milk, ginger and turmeric ($5.50). In need of atonement for last night's sins? Sip one of five tonics, ranging from a hot hibiscus number with ginger and cinnamon ($4) to an apple cider vinegar and bay leaf infusion ($3.50). The brunch menu tilts similarly healthy, with a coconut rice porridge topped with roasted pear ($12), a spiralized squash bowl with basil pistachio pesto ($14) and the obligatory avocado toast ($9) on offer. Blake Lane also serves dinner—think a little gem salad with grapefruit and pink peppercorn ($12) and locally sourced chicken confit served with collards and brown rice ($24).
Venue says: "New restaurant on the UES serving California-influenced food for breakfast, lunch, dinner, and everything in between."