Laotian restaurant Khe-Yo debuts in Tribeca
Soulayphet Schwader (Restaurant Marc Forgione) pushes Laotian cuisine to center stage at Khe-Yo.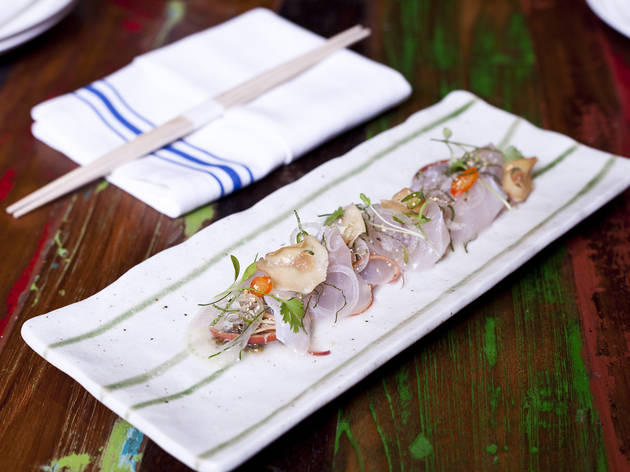 1/5
Photograph: Jessica Lin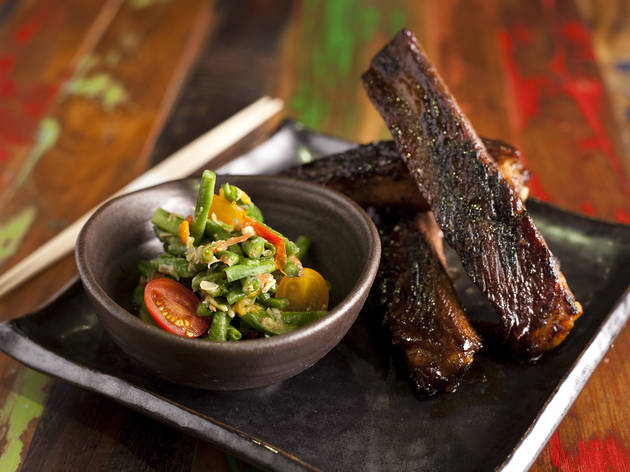 2/5
Photograph: Jessica Lin
Lemongrass spareribs at Khe-Yo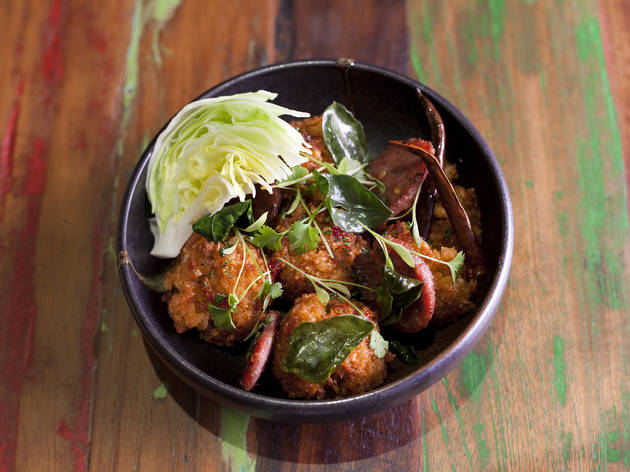 3/5
Photograph: Jessica Lin
Crunchy coconut rice at Khe-Yo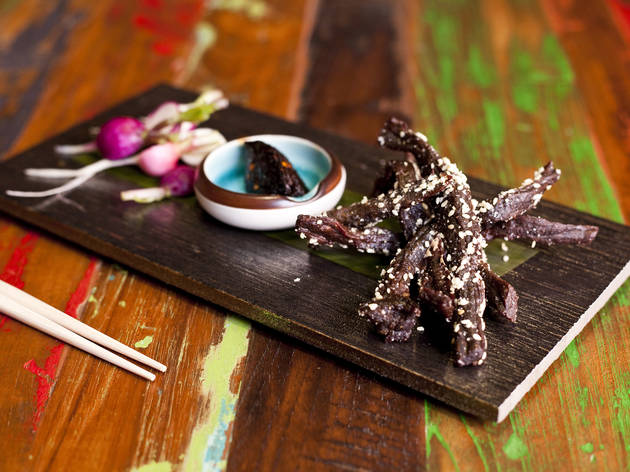 4/5
Photograph: Jessica Lin
Sesame beef jerky at Khe-Yo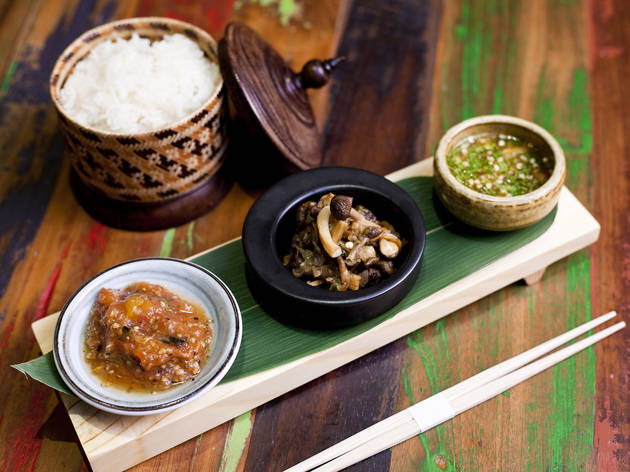 5/5
Photograph: Jessica Lin
Sticky rice and jaews (dipping sauces) at Khe-Yo
Wedged between Vietnam and Thailand, Laos draws culinary influences from both countries, employing the region's fragrant herbs and spices: lemongrass, galangal and kaffir lime. On July 29th, Soulayphet Schwader—Marc Forgione's longtime kitchen lieutenant—pushes those flavors to center stage with this 64-seat Tribeca restaurant. The first NYC spot specializing in the Southeast Asian cuisine, Khe-Yo—Laotian for green—features shared plates like lemongrass spareribs, crunchy coconut rice with spicy kaffir sausage and a rau-rum (Vietnamese mint) duck salad. Tweak the dishes with seasonal jaews (dipping sauces) at your wood-topped table, or snag a bar seat, where you can sip Beerlao brews and fruit-infused cocktails. An elephant mural and distressed-hemp walls add to the tropical vibe. 157 Duane St between Hudson St and West Broadway (212-587-1089)
Sponsored listing
Serenata
Restaurateur Besim Kukaj strays from his Italian-accented portfolio (Cara Mia, Gallo Nero, Il Bastardo) with this colorful, Chelsea-set Mexican eatery. From the kitchen, find shareable appetizers such as shredded beef tacos, poached shrimp ceviche and a gluten-free salad built with cactus, grasshoppers, roasted corn and cipollini onions. For a larger bite, signature entrees range from plancha-sautéed Chilean sea bass to huitlacoche (corn truffle) enchiladas.
Venue says: "Come to try Camarones en Salsa Oaxaqueña. Jumbo Shrimp, squid ink rice, chile mulato dry and Shrimp Sauce - Yummy!"