M. Wells Dinette: The Feed first look
The husband-and-wife team behind the critically adored Queens diner M. Wells returns to the stove in a museum cafeteria at MoMA PS1.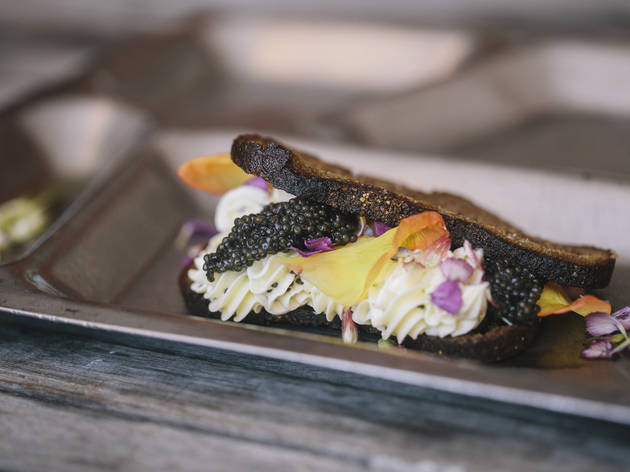 1/3
Photograph: Lizz Kuehl
Caviar, whipped butter and flowers on rye at M. Wells Dinette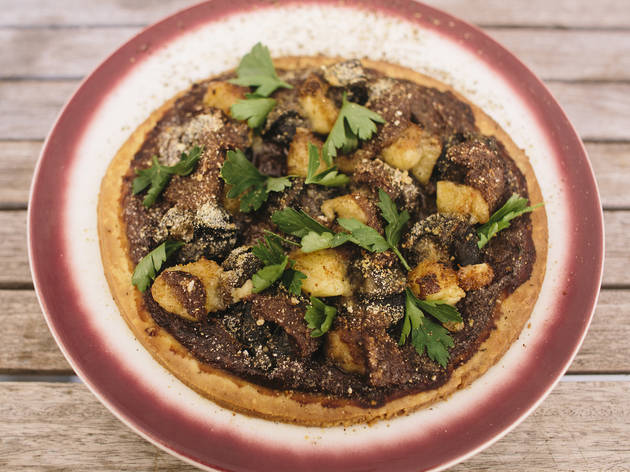 2/3
Photograph: Lizz Kuehl
Escargot-and-marrow tart at M. Wells Dinette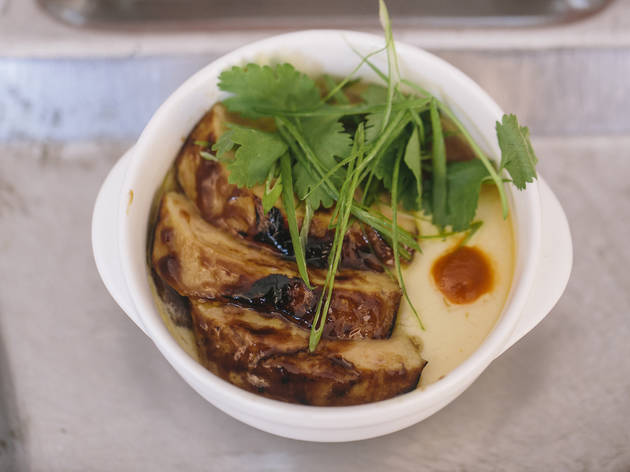 3/3
Photograph: Lizz Kuehl
Egg flan and foie at M. Wells Dinette
M. Wells, the irreverent Queens diner that closed in August 2011, was roundly cheered by the city's critics for playing with its food: foie gras on meatloaf, tripe cut in the shape of noodles. So it's fitting that the owners, husband-and-wife team Hugue Dufour and Sarah Obraitis, are resurrecting their brand in a former elementary-school space at MoMA PS1, opening September 27th. At this museum cafeteria, Dufour will put his trademark cockeyed spin on Asian plates—bibimbap with maple syrup and oysters—as well as classic French dishes. Look for the rich escargot-and-marrow tart sprinkled with parsley leaves; mini-sandwiches spread with whipped butter and topped with caviar and edible, colorful flowers; and foie gras served in a soft egg flan. In a nod to the space's educational past, the menu is scrawled on a blackboard and school-desk-styled communal tables are filled with pencils and playing cards. 22-25 Jackson Ave at 46th Ave, Long Island City, Queens (718-786-1800)
Sponsored listing
Giulietta's Cantina Club
This restaurant in the West Village amps up the romance of Italian cuisine with a menu focused on food meant to be shared. Start with a customizable cheese charcuterie board with porchetta, asiago, sopressata, gorgonzola or a whole host of other goodies (one for $7, three for $18 or five for $25). Follow that up with some burrata with grilled tomatoes and pesto ($15), ricotta-stuffed zucchini flowers ($4 per piece) or savory lobster cannoli ($6 per piece). For the pasta course, you might order osso bucco ravioli ($16), risotto with pancetta and peas ($18) or spaghetti pomodoro ($16). There's even a section of the menu dedicated to "aphrodisiacs," like roasted oysters or grilled asparagus topped with quail eggs and slivers of black truffle ($16 each). To add to the romantic mood, Giulietta's also brings in live jazz musicians every Wednesday and hosts a blues brunch every Saturday.
Venue says: "Check out our new summer menu and Join us for Music & Wine Wednesdays featuring local bands!"