Heads up! We're working hard to be accurate – but these are unusual times, so please always check before heading out.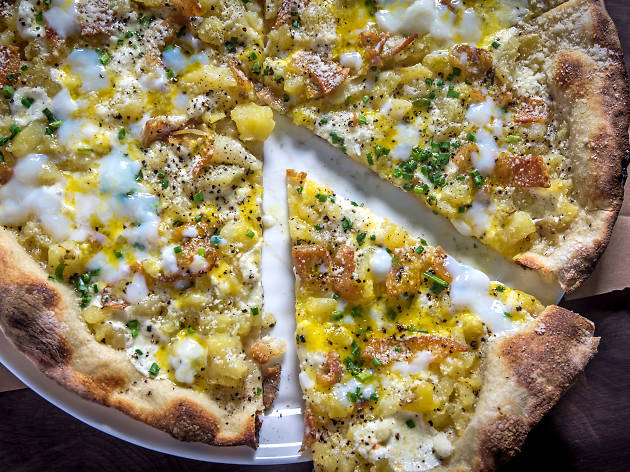 1/12
Paul Wagtouicz
Patate alla carbonara at Marta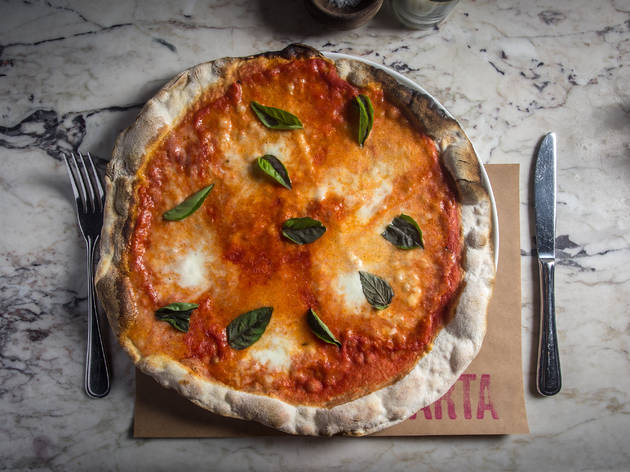 2/12
Paul Wagtouicz
Margherita di bufala at Marta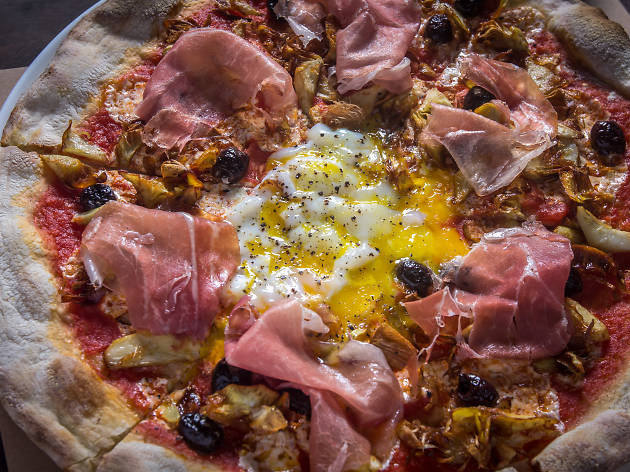 3/12
Paul Wagtouicz
Capricciosa at Marta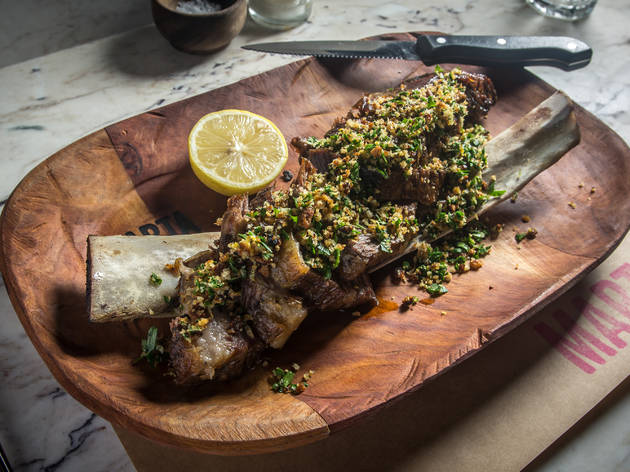 4/12
Paul Wagtouicz
Beef short ribs at Marta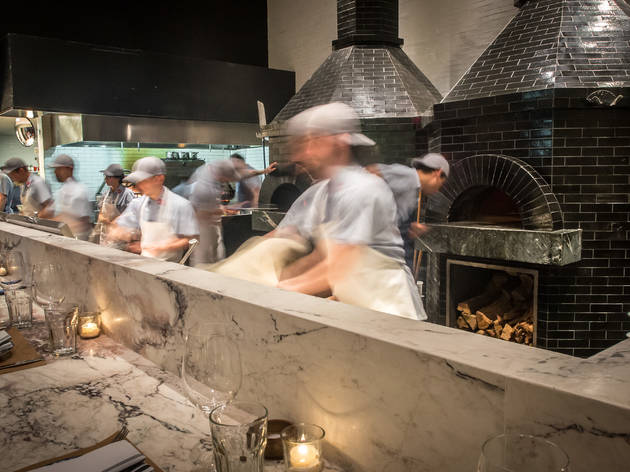 5/12
Paul Wagtouicz
Marta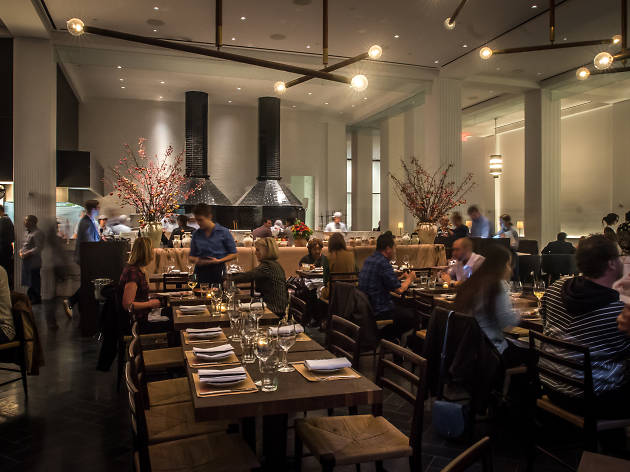 6/12
Paul Wagtouicz
Marta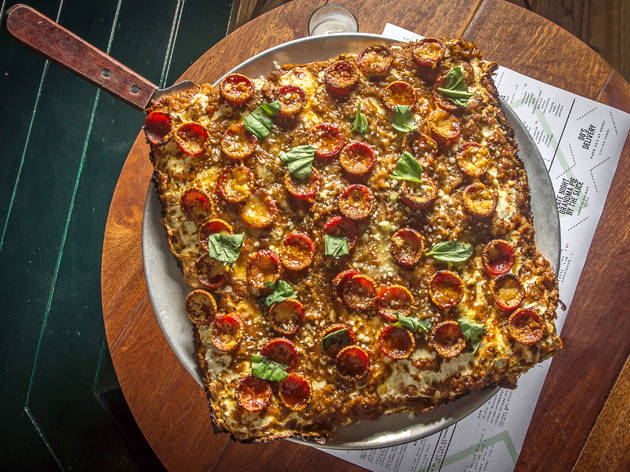 7/12
Paul Wagtouicz
Grandma pie at GG's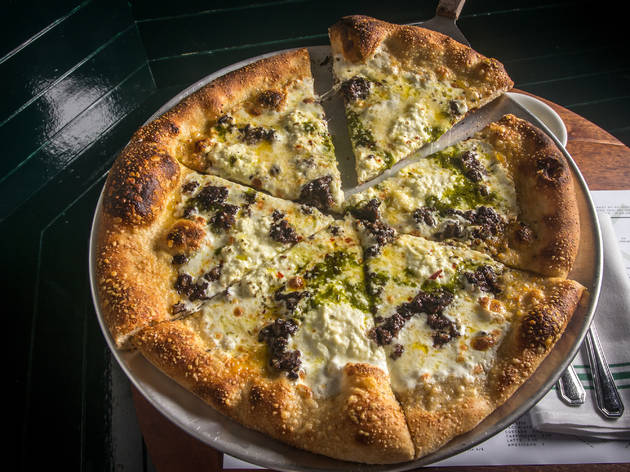 8/12
Paul Wagtouicz
Ebony and Ivory at GG's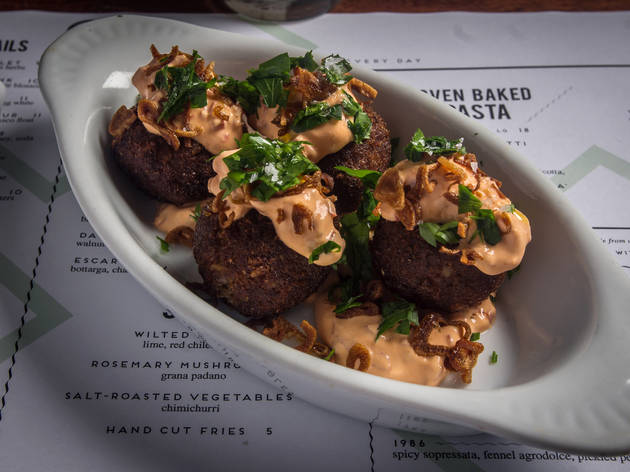 9/12
Paul Wagtouicz
Fried lamb-neck meatballs at GG's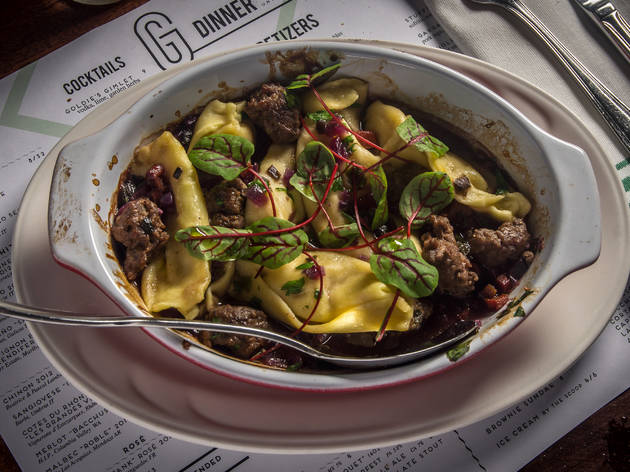 10/12
Paul Wagtouicz
Stuffed agnolotti at GG's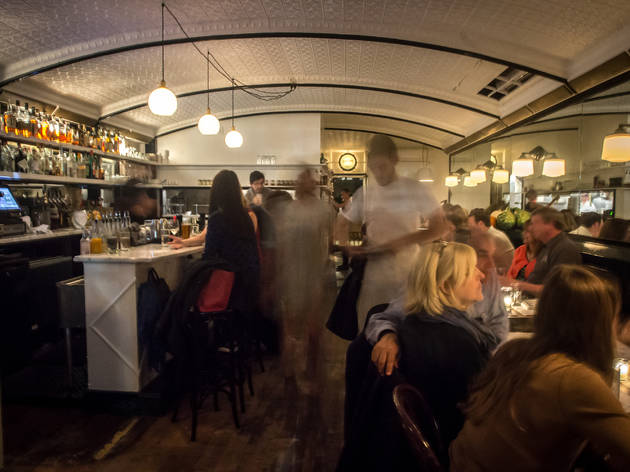 11/12
Paul Wagtouicz
GG's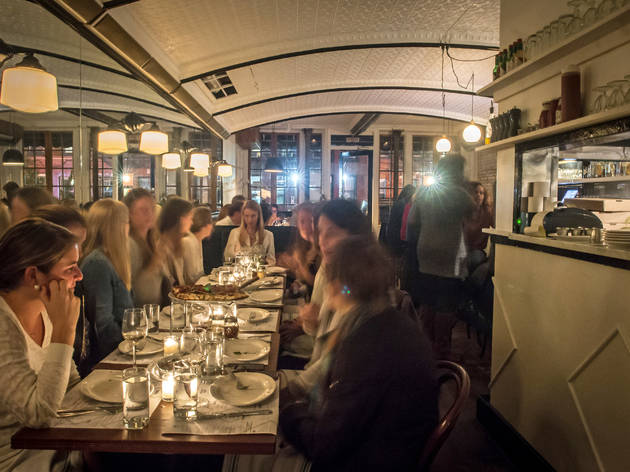 12/12
Paul Wagtouicz
GG's
Marta + GG's
Pizza (almost) paradise
Marta
Time Out Ratings: 4/5
This is a city of many religions, but there is one church at which all New Yorkers devoutly worship: The church of pizza. Greasy, paper-plated dollar slices; new-age Brooklyn pies sprouting fresh produce; elemental Neapolitan rounds born from century-old recipes—all are devoured feverishly by commoner and cognoscenti alike.

To that pizza pantheon Danny Meyer adds Marta, his broad, largely unadorned dining room in the lobby of the Martha Washington Hotel. Beneath the soaring ceiling is a colossal, can't-miss-'em pair of domed Mugnaini pizza ovens, tiled with black ceramic and fired with wood. A seat at the white-marble counter edging the boisterous open kitchen guarantees dinner and a dough-slinging show.

To helm the impressive hearths, restaurant mogul Meyer (Shake Shack, Gramercy Tavern) tapped Maialino chef Nick Anderer, who wields that firepower to blast 11-inch, Roman-style pizza tonda, thinner and crispier than those vaulted squares of Sicily or the char-and-chew hallmarks of Napoli 'za. His capital-city crusts don't just crackle—they shatter like fine-blown glass, with yeasty shards gleefully flying across the table with every bite.

Those lean crusts let Anderer's toppings do the heavy lifting, acting as a canvas for his elegantly restrained Margherita classica ($12), painted with a slick of bright, sweet tomato sauce—simply, San Marzanos pureed and given some heat—creamy puddles of house-pulled mozzarella and heady, fresh basil leaves.

Nine pies are split between two sections, with tomato sauce and without, and in the latter, you can find the patate alla carbonara ($16), a top-heavy round of al dente potatoes, fatty guanciale, salty pecorino and black pepper held together via creamy coddled egg. It's a belly-bomber, no doubt, but a single bite is enough to make your eyes roll back.

A first-rate funghi number ($17) comes topped with meaty, roasted chanterelle and hen-of-the-woods mushrooms and laced with gooey fontina, shrewdly sprinkled with citrusy thyme to liven up the earthiness.

Those small-but-necessary finishing touches prove to be Anderer's strong suit: The wooden bowl of seat salt that accompanies the beer-brined half chicken ($25) and the lemon-half served alongside the wood-fired short ribs ($29) seem inconsequential but add vital oomph to otherwise serviceable mains.

29 E 29th St between Madison Ave and Park Ave South (212-651-3800, martamanhattan.com)
GG's
Time Out Ratings: 2/5
The same can't be said for GG's, the pizza reboot of farm-fresh East Villager Goat Town from Nick Morgenstern. The white-and-wood interiors remain, as does the herb-filled garden out back, but a double-decker oven has been erected in the small kitchen, and Resto alum Bobby Hellen assigned to captain it.

The tightly focused menu revolves around that oven, turning out pastas like silky stuffed agnolotti ($13), plagued by dry nubs of lamb. That offending sheep strikes again in the fried lamb-neck meatballs ($9), and a fellow diner has to ask what they're made from. "Falafel?" another guesses.

The great-looking grandma pie ($18), with thick, brawny sauce, oozing mozzarella and puffed-up half-moons of pepperoni, arrives seemingly as a saving grace. However, that thick sauce is found to be woefully muddled, almost muddy, with neither oregano nor basil singing on-pitch—beneath it, the crust shuffles between overdone and focaccia-spongy.

The saving grace does, finally, arrive in the form of the stand-out 1986—named for Hellen's beloved Mets—a heat-and-sweet jumble of spicy sopressata, vinegary pickled peppers and fennel agrodolce ($15). But by then it's too little, too late. In this slice-snob town, New Yorkers don't have time for anything but a truly great pie.
511 E 5th St between Aves A and B (212-687-3641, ggsnyc.com)