The Feed first look: Aska
Frej's Fredrik Berselius returns to Kinfolk Studios with Atera's Eamon Rockey and a Scandinavian tasting-menu restaurant.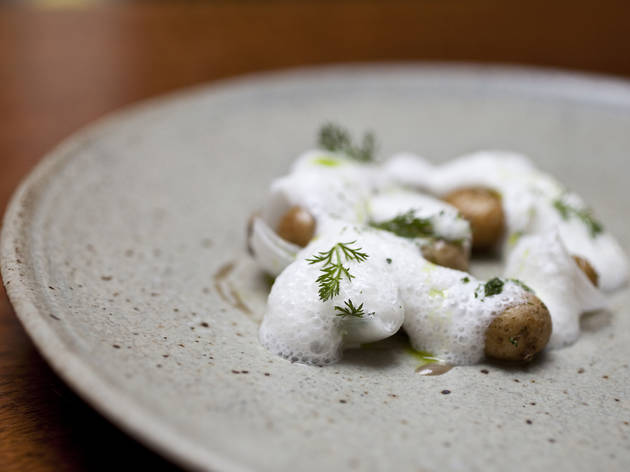 1/11
Photograph: Virginia Rollison
Potatoes with onion, mackerel and sour milk at Aska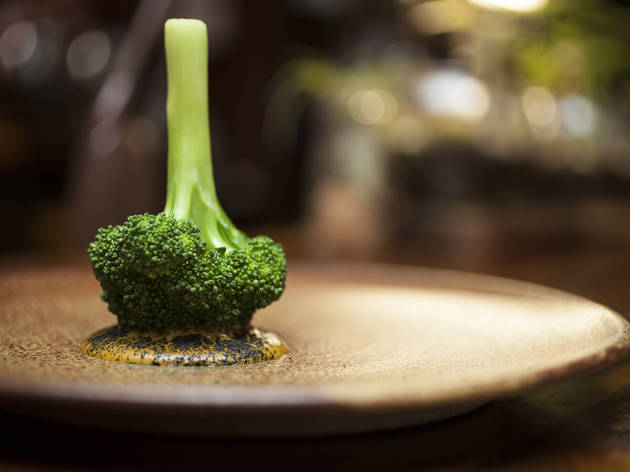 2/11
Photograph: Virginia Rollison
Broccoli with mussel emulsion and seaweed at Aska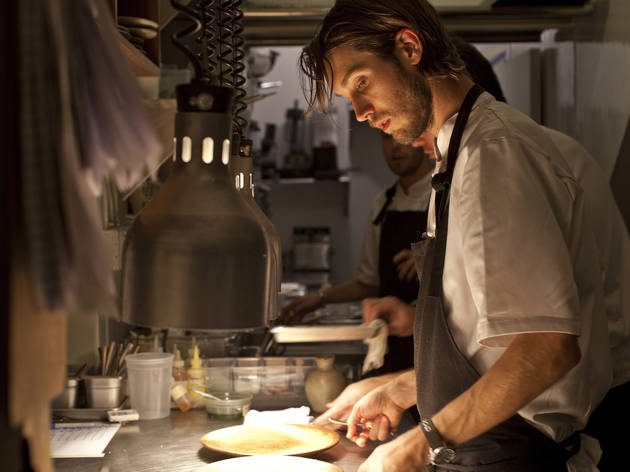 3/11
Photograph: Virginia Rollison
Fredrik Berselius at Aska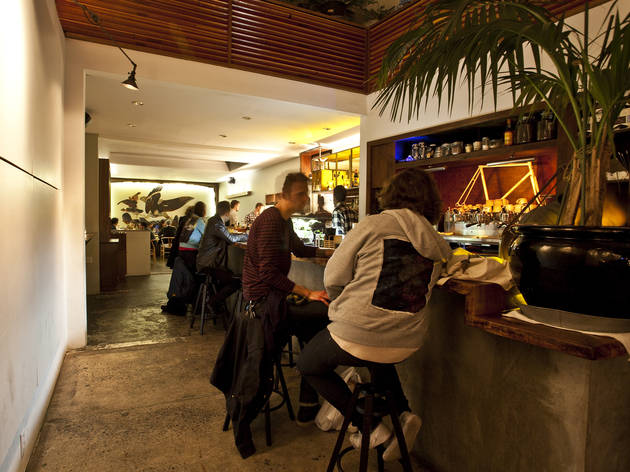 4/11
Photograph: Virginia Rollison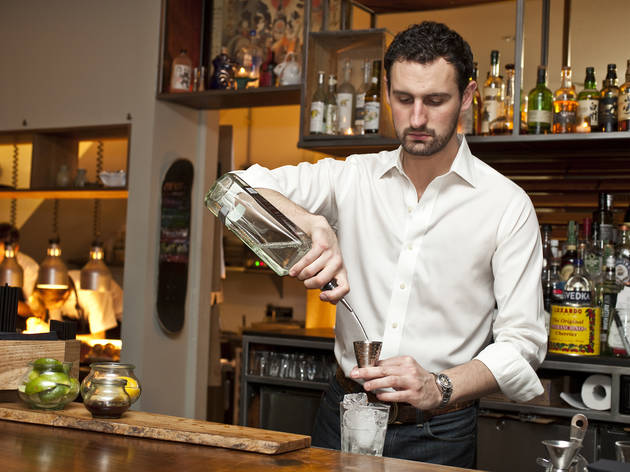 5/11
Photograph: Virginia Rollison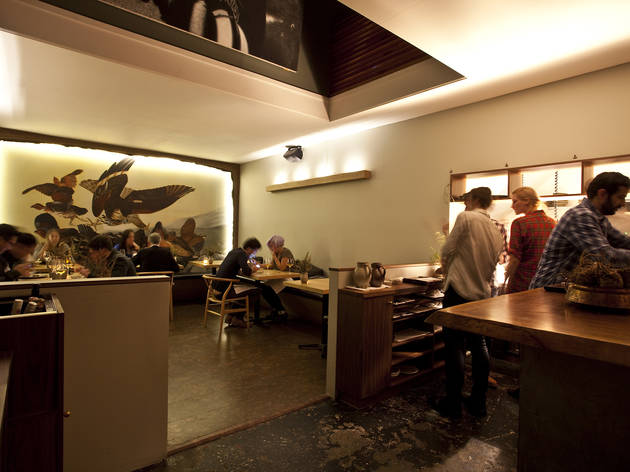 6/11
Photograph: Virginia Rollison
7/11
Photograph: Virginia Rollison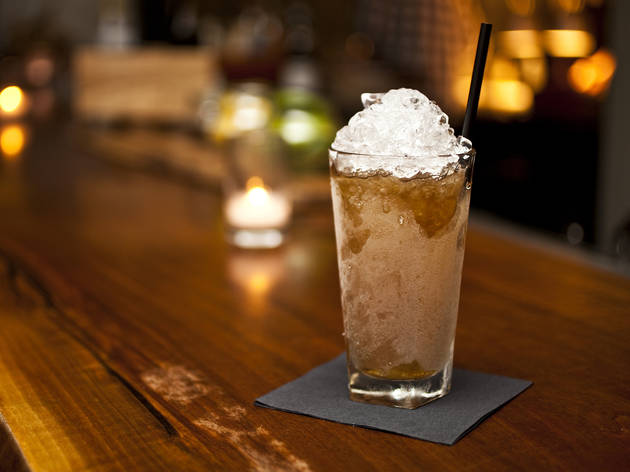 8/11
Photograph: Virginia Rollison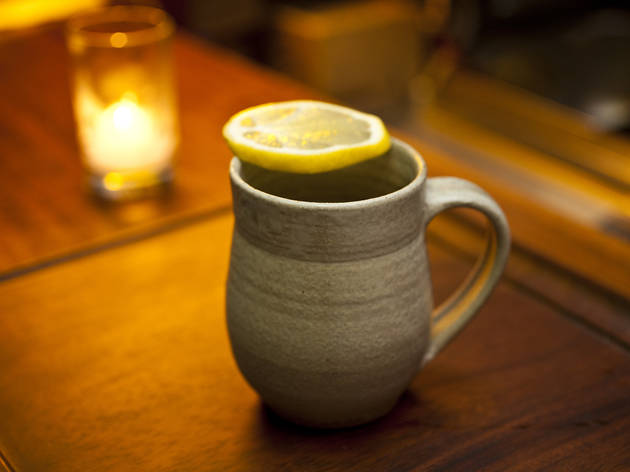 9/11
Photograph: Virginia Rollison
Warm Swedish Punsch at Aska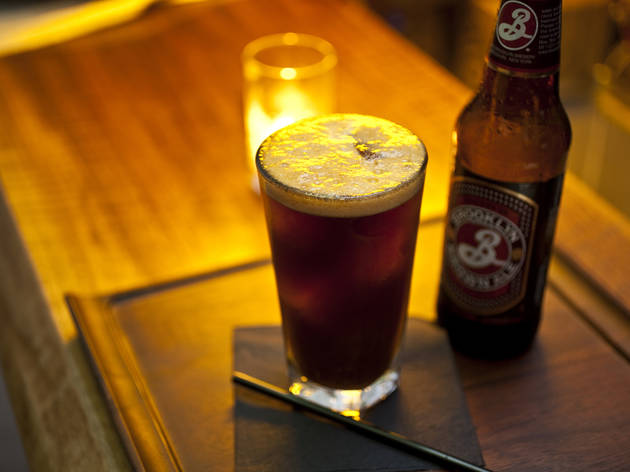 10/11
Photograph: Virginia Rollison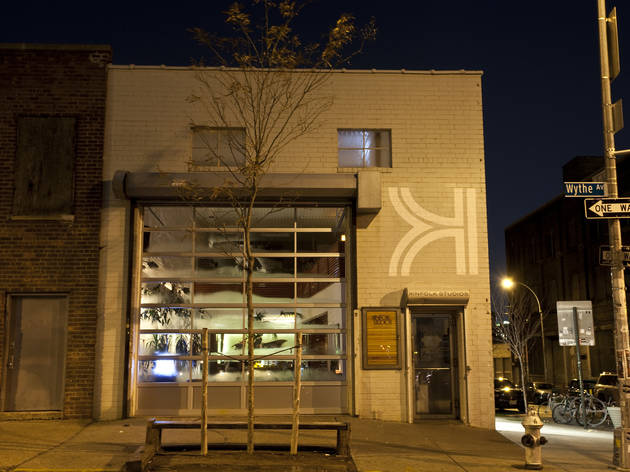 11/11
Photograph: Virginia Rollison
Frej—the pint-size Nordic powerhouse run out of Williamsburg bar Kinfolk Studios—incited a minor palace revolution in Gotham dining last year, channeling modern cuisine's hottest trend (Fäviken-style fare) into a criminally inexpensive tasting menu of five courses ($45). The restaurant closed last summer, but the main chef, Fredrik Berselius, has returned to the space, joining forces with star beverage manager Eamon Rockey (Atera, Eleven Madison Park). Tonight at 6pm, the pedigreed pair unveils a revamped restaurant called Aska, outfitted with potted plants and blond wood, at Kinfolk Studios. Berselius has extended the tasting menu to six courses, with dishes like apple-cider-doused pork trotters and shank highlighting foraged herbs and greenery. Rockey's cocktail list mirrors the herbal bent with tipples like a warm Swedish Punsch, mixed with sweet fern and juniper. Check out the food, bar and cocktail menus below. 90 Wythe Ave at North 11th St, Williamsburg, Brooklyn (no phone yet)
SIX-COURSE TASTING MENU($65)
Dried Maine shrimp
Cucumber, dill, rapeseed oil
Broccoli
Mussel, seaweed
Potato
Onion, preserved mackerel, soured milk
Salsify
Lichen, forest leaves and herbs
Pork trotters and shank
Sunchoke, apple cider
Cardamom
Ice cream, hazelnut, brown butter
BAR MENU
Potatis dumpling $6
Pork, smoked cheese
Poached egg $8
Cabbage, black kale, seaweed
Shrimp Smorgas $12
Dill, toast
Beef cheek $14
Potato, onion
Pork belly and heart $14
Parsnip, anchovies
COCKTAIL MENU ($12 each)
Next of Kin
Aquavit, Pu-er kombucha, caraway
Hurricane Shandy
Brooklyn Beer & Wort, malt, persimmon
Suburbanite
Vodka, triple sec, cranberry, lime
Red Hare
Our boozy energy drink (add a shot $3)
Passed Bright Milk Punch
Tequila, rum, oolong, fennel, orange
The Bond
Gin, Pineau des Charentes, Swedish Punsch, jasmine
U.S. Export
Whiskeys of all sorts, pear, maple, Angostura
Warm Swedish Punsch
Batavia arrack, sweet fern, juniper
Sponsored listing
Elizabeth's Neighborhood Table
With its porch swing and white picket fence, this Upper West Side restaurant looks more like a country farmhouse than a New York City bistro. It's fitting, then, that the seasonal menu highlights traditional American comfort foods made with natural and organic ingredients. A typical dinner might start with an order of jumbo lump crab cakes with apple-fennel slaw ($16) or mac and cheese in a cast-iron skillet ($10). For the main course, you might opt for the turkey meatloaf with mushroom gravy and garlic mashed potatoes ($22), a roasted heritage pork chop with braised red cabbage and fruit compote ($26) or the crispy fried chicken with greens, gravy and more of that creamy mac ($25). Craving a burger? The restaurant offers beef ($13), turkey ($15), lamb ($16), chicken ($13), salmon ($18) and veggie patties ($14). Finish the meal with a homemade chocolate malt ball brownie ($6) or a seasonal fruit crumble topped with a scoop of Ronnybrook Farms ice cream ($8).
Venue says: "Our urban farm house is the thoughtful spot you've been searching for! American Comfort Food in a charming, relaxed dining atmosphere."