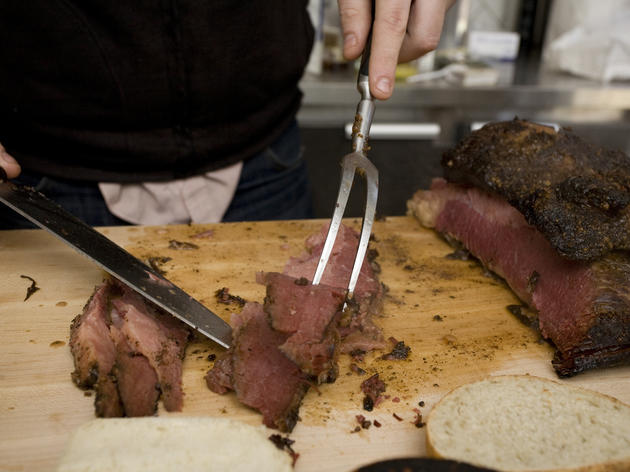 Time Out says
When New Yorkers hear the word deli, a few things come to mind, and most of them involve excess—like that mile-high Carnegie Deli behemoth. When I first visited Schwartz's, Montreal's answer to Katz's Delicatessen, I was surprised to see a modestly portioned sandwich: a reasonable stack of meat on coaster-size rye that I could actually fit into my mouth. A New Yorker might ask: Is this really a deli?
And then there's what they call the meat: "smoked meat." Sounds awfully generic when you're used to names like pastrami and corned beef. But Montreal's deli staple isn't so different. It's brisket that's been dry-rubbed, cured, smoked, steamed and hand-sliced. The result, if done correctly, is flavorsome hot-pink flesh held together tenuously by creamy fat, and saturated with the taste of salt, spice and smoke.
Mile End, a two-month-old restaurant in Boerum Hill, Brooklyn, may be the first restaurant to bring the Montreal deli tradition to New York City. Perhaps more important, it could be the city's first proper Canadian dining establishment. The eatery is neither a theme park—like T Poutine on the Lower East Side, with its drunk-food motif—nor a gimmick—such as the defunct Inn at Little West 12th, with its nominal Canadian offerings.
Mile End showcases some of the country's most beloved regional specialties—smoked meat, Montreal-style bagels and yes, poutine—with Brooklyn flavor: The coffee is Stumptown, the cream cheese is Ben's, and the brisket is from Pat LaFrieda. The subway-tiled space, with its few picnic-style tables and sparse counter seating, is in line with the borough's DIY aesthetic, and the waitresses are dressed in subdued librarian tones. The restaurant does for Canadian cuisine what Frankies did for Italian—it's hipsterfying it.
Owner Noah Bernamoff, a 27-year-old Montreal native who owns the restaurant with his wife, Rae Cohen, seems determined to keep it real. The menu is short and focused, offering a small variety of sandwiches, breakfast dishes (such as the phenomenal smoked-meat hash, crisp cubed potato with softened onions and shredded smoked meat, topped with a runny egg) and sides (the house-made pickles are everything they should be—garlicky and crisp, with a lively fermented flavor). He cures his meat the old-school way, and serves his sandwiches just like Schwartz's, small and adorned with only the mandatory mustard. The quality of the meat measures up to his forebears'—it can skew a bit salty, but is otherwise assertively seasoned, smoked and marbled with melting fat.
Other items that pay homage to his hometown do so with varying degrees of success. The Beauty, named for a well-known luncheonette, is a bland open sandwich of smoked salmon, sliced onions, capers and cream cheese on an untoasted Montreal bagel (thinner and sweeter than its New York counterpart, and covered in sesame seeds). The poutine, however, is perhaps the best I've ever had, here or in Montreal. The fries are rich and starchy, the gravy savory but not overpowering, and the cheese curds half melted, half squeaky and just right. The bagelach, meanwhile, a flaky horseshoe-shaped pastry filled with sweetened pot cheese, is the closest thing Mile End has to dessert.
There are some downsides. The meat runs out by 4pm or so (Mile End set up a Twitter feed to track its "meat status"). Tables are too close together, and thanks to that awkward picnic seating, God forbid someone has to go to the bathroom. It's a tight, at times off-putting squeeze. But, as a friend reminded me, so is Schwartz's, and that never stopped me from eating there.
Cheat sheet
Drink this: Montreal deli purists will notice that Mile End does not carry the vile-tasting Cott's cherry soda. It does, however, offer a more palatable version from Virgil's.
Eat this: Smoked-meat sandwich, smoked-meat hash, poutine, pickles, bagelach
Sit here: Quarters are tight. If you get your pick of seats, go for the lone two-top or the counter stools.
Conversation piece: Homesick Montrealers can order St. Viateur bagels (headquartered in Mile End, the ethnically diverse hipster enclave for which the deli is named) through mileendbrooklyn.com.
See more Restaurant reviews
Details
Address:
97A Hoyt St
New York
11217

Cross street:
between Atlantic Ave and Pacific St
Transport:
Subway: A, C, G to Hoyt–Schermerhorn; 2, 3 to Hoyt St
Price:
Average main course: $16. AmEx, MC, V
Contact:
Opening hours:
Mon, Tue 8am–4pm; Wed–Fri 8am–4pm, 6–11pm; Sat, Sun 10am–4pm, 6–11pm
Do you own this business?
Rating Breakdown
5 star:

0

4 star:

0

3 star:

0

2 star:

0

1 star:

1
I used to live and go to school in Montreal and my mom's family is from Quebec City. Two of my very favorite foods in the world are Montreal-style smoked meat and poutine. I know these two foods better than most.

Mile End has no business trying to pass itself off as a Montreal-style smoked meat restaurant, as the meat tastes nothing like what you'd eat in Montreal. Go to a classic Montreal smoked meat deli - places such as: Reuben's, Schwartz's, Bens (now sadly out of business), and even La Belle Province – and you'll immediately understand that Mild End tastes nothing like it. Montreal smoked meat sandwiches have a very different flavor and cut (smooth slices vs. rough cuts at Mile End).

On to their poutine -- I was not impressed. The cheese was most certainly not authentic Quebec cheddar cheese curds which tastes amazing and squeeks when you chew it...and poutine is all about the cheese. Even McDonalds in Quebec makes a half-decent poutine because they get the cheese right. Mile End seems to serve some sort of bland mozzarella substitute - blah. The fries themselves were excellent, the gravy was just ok, but the cheese just wasn't even close to the real thing and ruined the dish.

There used to be a place in the Lower East Side called T-Poutine that served real poutine -- but is now sadly out of business. Pommes Frites on Second Ave (East Village) serves poutine with the real cheese curds imported from Quebec, but their fries are not exactly the best for poutine.

In my opinion, the best poutine in the world is from a fast food place in Quebec City called Chez Ashton.