Thanksgiving croissant at Momofuku Milk Bar
Pick up this seasonal breakfast goody before it's gone.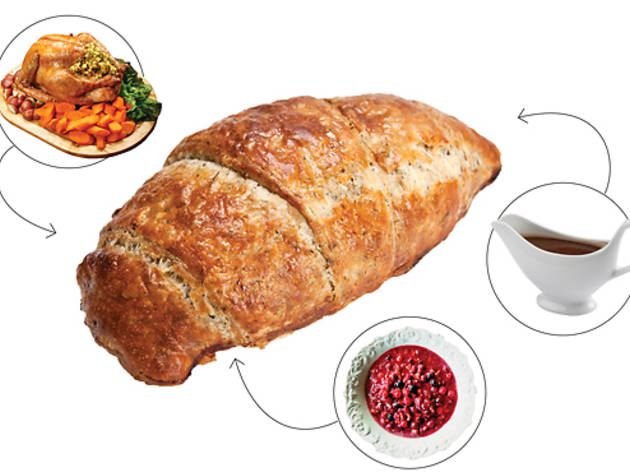 It's back! Madcap baker Christina Tosi's Frankenpastry makes its return again this November. She packs the essential components of a messy Thanksgiving leftovers sandwich into a tidy croissant package. Morsels of slow-roasted turkey, rich gravy from the bird's stock and bright cranberry sauce compose the filling. Flaky layers of savory dough, made with a thyme-and-celery-seed compound butter, hold it all together. Available at Momofuku Milk Bar, locations throughout the city (milkbarstore.com). Through Thanksgiving Day. $4.50.
RECOMMENDED: A full guide to Thanksgiving in NYC
Sponsored listing
Gran Sasso
This Italian restaurant on the Williamsburg waterfront serves both the old standbys and more inventive dishes. Start with a classic like buffalo mozzarella served with prosciutto di parma and crispy bread ($17), or go for something more unusual, like the asparagus flan served with steamed spears and parmesan fondue ($16). The chef's fresh pasta stars in a variety of dishes, including a traditional lasagna ($19) and the beet gnocchi with sage pesto and crispy cauliflower ($19). The veal saltimbocca ($19), brick oven–cooked Cornish game hen marinated in meyer lemon and rosemary ($19) or pizza topped with buffalo mozzarella, pancetta, radicchio and Calabrian chiles ($18) might also tempt you. For dessert, order the almond, hazelnut and caramelized banana semifreddo, panna cotta with creme caramel or hazelnut cake with nutella foam (each $8) to enjoy with an affogato ($8) or glass of amaretto ($11).
Venue says: "Enjoy a summer cocktail in Gran Sasso's sidewalk cafe, just steps from breath-taking views of the Manhattan skyline"