Heads up! We're working hard to be accurate – but these are unusual times, so please always check before heading out.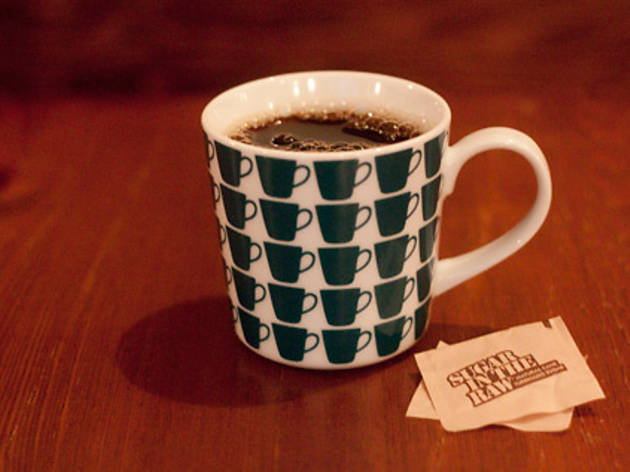 1/10
Photograph: Naomi Ellenson
Honduran Finca Liquidambar Catuai drip at Birch Coffee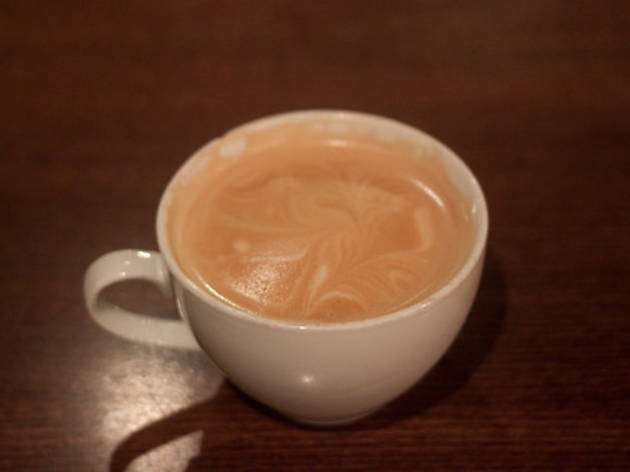 2/10
Photograph: Naomi Ellenson
Cuban espresso at East Harlem Cafe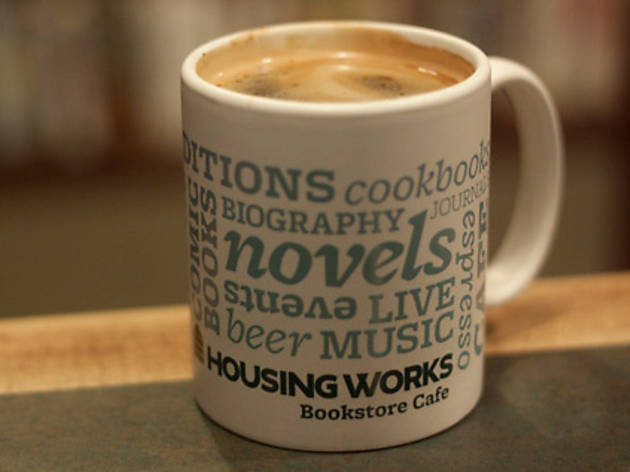 3/10
Photograph: Naomi Ellenson
Red Eye at Housing Works Bookstore Cafe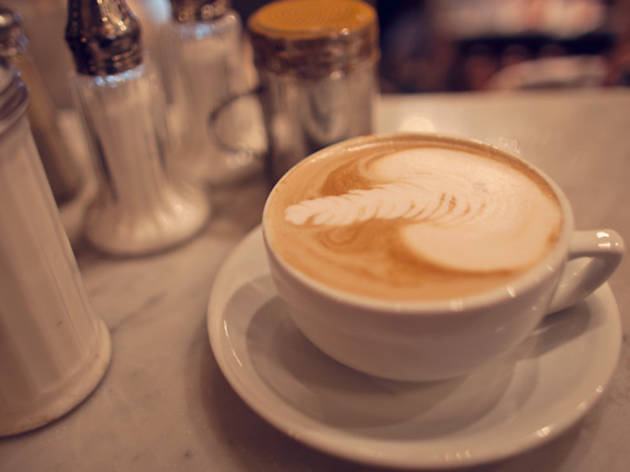 4/10
Photograph: Lizz Kuehl
Spanish latte at Think Coffee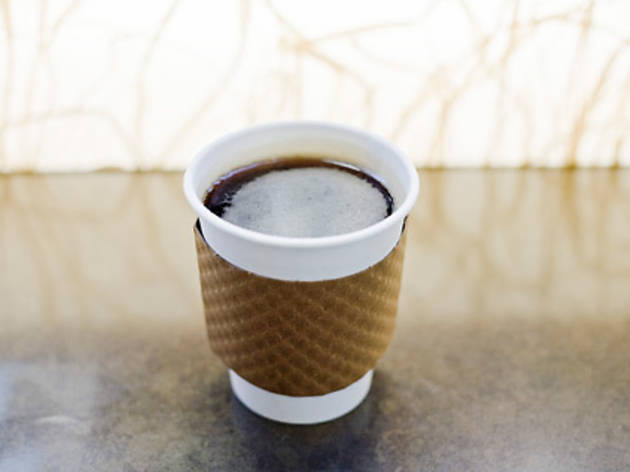 5/10
Photograph: Aubrey Therkelsen
Americano at Battery Place Market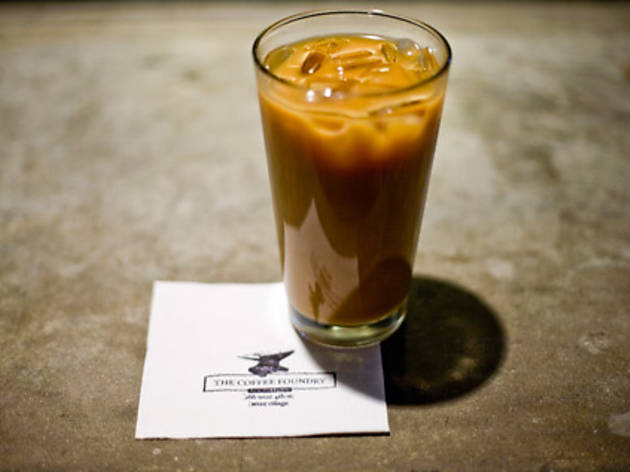 6/10
Photograph: Aubrey Therkelsen
Vietnamese coffees at the Coffee Foundry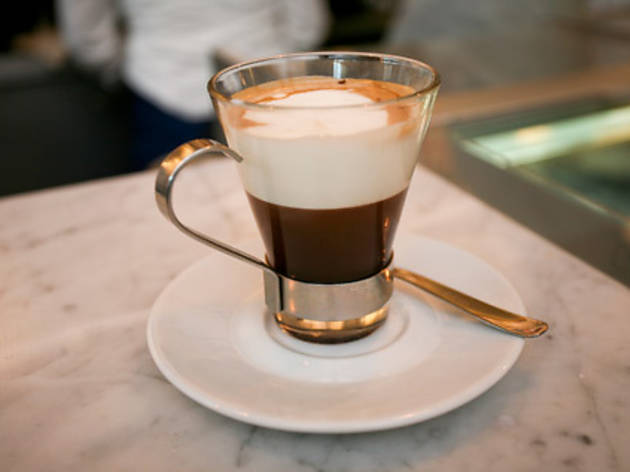 7/10
Photograph: Alex Strada
Bicerin at Eataly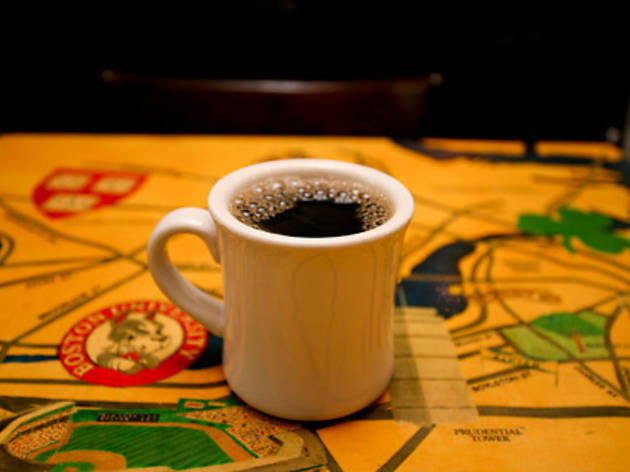 8/10
Photograph: Alex Strada
House blend at the Grey Dog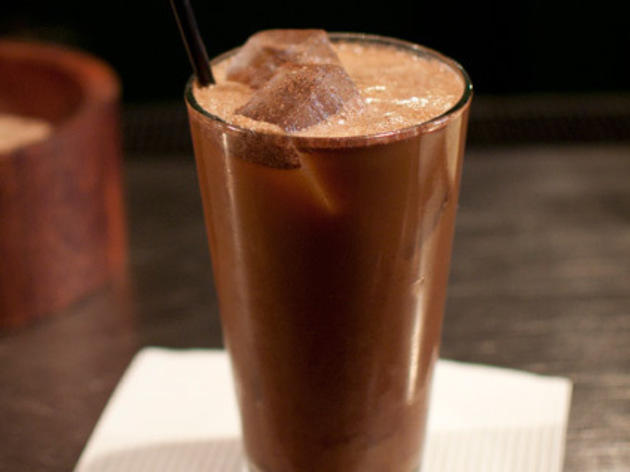 9/10
Photograph: Virginia Rollison
Summer Road at the Randolph at Broome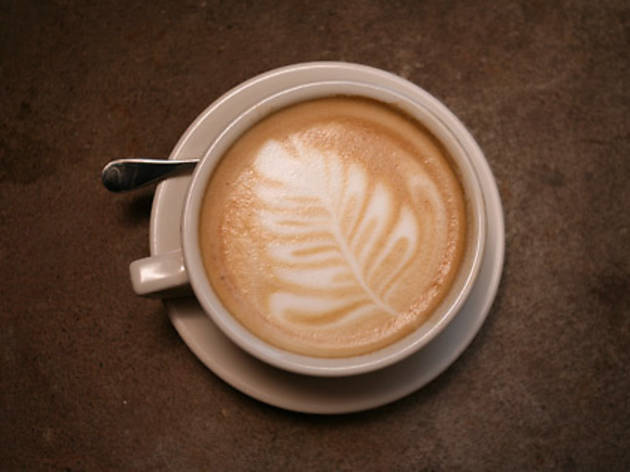 10/10
Photograph: Alex Strada
Mezzo at The Smile
New York's 51 best cups of coffee
Dozens of ways to get your fix.
Honduran Finca Liquidambar Catuai drip at Birch Coffee
Notes of chocolate and raspberry infuse this Central American pour. Gershwin Hotel, 5 E 27th St between Fifth and Madison Aves (212-686-1444, birchcoffee.com). $2--$3.25.
Cuban espresso at East Harlem Cafe
A baristas pours a packet of raw sugar directly onto the grounds of Finger Lakes dark java before brewing, resulting in a presweetened, pecan-tinged pick-me-up. 1651 Lexington Ave at 104th St (212-996-2080, eastharlemcafe.com). $1.75.
Red Eye at Housing Works Bookstore Cafe
A shot of Intelligentsia Black Cat Espresso gives regular coffee a serious kick in the pants. 26 Crosby St between E Houston and Prince Sts (212-334-3324, housingworks.org). $2.50--$4.50.
Spanish latte at Think Coffee
This latte riff pairs steamed whole milk and velvety sweetened condensed milk with Think's proprietary espresso—a fair-trade blend derived from Porto Rico Importing Co. beans. 248 Mercer St between 3rd and 4th Sts (212-228-6226,thinkcoffeenyc.com). $4.49.
Americano at Battery Place Market
We like to order it with Stumptown's signature Hair Bender blend, which has a pleasantly bittersweet finish, before setting off on a stroll through Battery Park. 77 Battery Pl at 3rd Pl (212-786-0077). $2.50.
Vietnamese coffees at the Coffee Foundry
Find two takes on the style at this cafe-cum--karaoke bar. There's a caramel-tinged mixture of French press--brewed coffee and sweetened condensed milk, as well as a more classic interpretation made with a blend of organic dark-roast coffee and chicory—both are standouts. 186 W 4th St between Barrow and Jones Sts (coffeefoundry.com)
Bicerin at Eataly
The Italian megastore offers this popular Piedmontese concoction, featuring thick hot chocolate, espresso and a cool layer of heavy cream. 200 Fifth Ave between 23rd and 24th Sts (212-229-2560, eataly.com). $4.
House blend at the Grey Dog
Roasted upstate specifically for Grey Dog, this strong house brew serves as no-nonsense fuel for everyone from NYU students to stroller-pushing moms. 90 University Pl between 11th and 12th Sts (212-414-4739) * 33 Carmine St between Bedford and Bleecker Sts (212-462-0041) * 242 W 16th St between Seventh and Eighth Aves (212-229-2345) *thegreydog.com. $1.75--$2.
Summer Road at the Randolph at Broome
This balanced blend of malted-milk powder, Oaxacan chocolate and your choice of nerdworthy beans (rotating purveyors include Counter Culture and Intelligentsia) bears the mark of a thoughtful mixologist. Order it over Kold-Draft ice cubes at the bar and watch the improved mocha come to life in a pint glass. 349 Broome St between Bowery and Elizabeth St (212-274-0667, randolphnyc.com). $7.
Mezzo at The Smile
This sophisticated half-and-half blend of espresso and steamed milk is less foamy than a cappuccino. 26 Bond St at Lafayette St (646-329-5836, thesmilenyc.com). $3.
Latte at Saturdays
Find excellent La Colombe Torrefaction lattes at this cafe--surf shop hybrid, minus the morning lines found at the Philadelphia roaster's flagship a few blocks away. 31 Crosby St between Broome and Grand Sts (212-966-7875,saturdaysnyc.com). $4.
Cappuccino at Caffe Reggio
Reggio claims to have introduced New Yorkers to the cappuccino drink some 75 years ago. Order one—it's gently bitter and perfectly foamy—and get one of the overstuffed cannoli ($3.75) while you're at it. 119 MacDougal St between Minetta Ln and W 3rd St (212-475-9557, caffereggio.com). $3.75.
Intelligensia brews at Ground Support
The rotating selection of beans is sourced seasonally (recent favorites included a light, brightly flavored Rwandan variety), and the friendly staff will help you decide whether Chemex or AeroPress is the best brewing method for you. 399 West Broadway at Spring St (212-219-8722)
Russian coffee at the Hungarian Pastry Shop
This bittersweet brew is enhanced with espresso, chocolate and whipped cream. 1030 Amsterdam Ave between 110th and 111th Sts (212-866-4230). $3.75.
MudTruck blend at Mudspot
The East Village joint makes its own custom blends, mainly from Central and South American beans; this one is full-bodied and naturally sweet, with cherry and rich cocoa notes. 307 E 9th St between First and Second Aves (212-228-9074, mudnyc.com). $2.50--$4.50.
Steamed cappuccino at Ost Café
This expertly steamed quaff is made with a double shot of rich, gently sweet Black Cat espresso and a cap of silky foam.441 E 12th St at Ave A (212-477-5600, ostcafenyc.com). $3.75.
Espresso at Roasting Plant
Roasting Plant stands out for its extreme take on a fresh cuppa: The beans for every order are sucked into a futuristic set of tubes, where they're roasted, ground and brewed in a matter of minutes, minimizing bean-to-cup time and maximizing deliciousness. Behold the results in a clean, crisp shot of espresso, served in an insulated Bodum cup. 75 Greenwich Ave between Seventh Ave and W 11th St (212-775-7755, roastingplant.com). $2.
Soy vanilla latte at Soy Cafe
Brewed with fair trade--certified Dallis beans, this dairy-free delight has a pleasantly nutty zing, and the vanilla doesn't overwhelm. 115 Greenwich Ave at Jane St (212-229-9898, soycafenyc.com). $4.50.
Pour-overs at Joe
The V-60 ceramic drip cone made by the Japanese company Hario has become the standard for those seeking a pure, delicate cup. Joe uses it to showcase a revolving selection of four superlative single-origin beans. Owner Jonathan Rubinstein finds the drip cone works particularly well with African coffees, muting their acidity so that the overall complexity of the beans come through. Multiple locations, visit joetheartofcoffee.com
Pour-overs at Gimme! Coffee
The Clever filter cone used at Gimme! lets the grinds sit in hot water for a few minutes before being filtered out. The result is a brew that has the body of coffee made in a French press, with the grit-free clarity of a paper-filtered variety. The lineup of featured roasters changes with the seasons at Gimme!, but be on the lookout for the superb Honduras Las Peitas Cup of Excellence. Grown and fermented on a small family farm in Santa Brbara, it's smooth-bodied and sweet, with red-fruit and caramel notes. 228 Mott St between Prince and Spring Sts (212-226-4011, gimmecoffee.com)
Café Mocha at Knave
The coffee bar in Le Parker Meridien keeps a rich ganache, made fresh every day from a combination of Valrhona chocolate, cream and milk, in a constantly stirring, temperature-controlled vat, to deploy in this excellent rendition of a mocha. Le Parker Meridien New York, 118 W 57th St between Sixth and Seventh Aves (212-708-7392,parkermeridien.com)
Gibraltar at La Colombe Torrefaction
This smooth concoction–a double espresso with micro-foamed milk—is served in a four-ounce rocks glass with a dainty spoon on the side. 270 Lafayette St between E Houston and Prince Sts (212-625-1717, lacolombe.com) * 319 Church St at Lispenard St (212-343-1515)
AeroPress at RBC NYC
This Tribeca café rotates its selection for the AeroPress each month, leaning toward fruit-forward, tropical Ethiopian beans. Ritual Coffee Roasters' vibrant vibrant Costa Rican Helsar de Zarcero is our favorite thanks to its crisp acidity and sweet citrus and milk-chocolate flavors. 71 Worth St between Broadway and Church St (212-226-1111, rbcnyc.com)
AeroPress at Everyman Espresso
This minimalist shop's stock of special, single-origin beans are best enjoyed after they've been brewed in an AeroPress. Counter Culture's Atu Lintang Microlot, a bold Sumatran with sugarcane and dark cherry notes, is an exceptional pick. 136 E 13th St between Third and Fourth Aves (212-533-0524, everymanespresso.com)
French press at Peels
Stumptown's Holler Mountain, a rich, dark and heavy-bodied blend, emerges round and full-flavored from the plunger pot at this homey hot spot. 325 Bowery at 2nd St (646-602-7015, peelsnyc.com)
Machine-drip coffee at Bluebird
While bean nerds might scoff at machine-drip coffee, Bluebird balances convenience with a commitment to quality, swapping out urns every 30 minutes, before the java's brightness starts to fade. The shop keeps Colombian varieties—round with brown-sugar and pepper notes—in regular rotation. 72 E 1st St between First and Second Aves (212-260-879,bluebirdcoffeeshop.com)
Machine-drip coffee at Third Rail
Fetco, the most advanced commercial drip brewer available, churns out three-liter pots on a near-constant basis to ensure freshness at this bean mecca. For a convenient to-go cup, owner Humberto Ricardo uses the crowd-pleasing House Blend from Intelligentsia—it's a smooth, chocolaty roast, with a touch of acidity and substantial sweetness. 240 Sullivan St between Bleecker and W 3rd Sts (thirdrailcoffee.com)
The New Orleans at Blue Bottle
Eight pounds of earthy beans and eight ounces of chicory are steeped in room-temperature water overnight and then strained in the morning. The concentrate is slightly sweetened, and milk and ice are added to order. 160 Berry St between North 4th and 5th Sts, Williamsburg, Brooklyn (718-534-5488, bluebottle.net)
Siphon at Stumptown Red Hook
The Portland, Oregon, brewer has mastered this bergeeky brewing technique. It produces a crisp articulation of any bean, but sweet, bright African coffees—such as the light and fruity Ethiopian Michelle Yirgacheffe—are favored here. 219 Van Brunt St at Commerce St, Red Hook, Brooklyn (stumptowncoffee.com)
French press at Egg
Williamsburg's go-to breakfast spot uses a dark roast blend—part Sumatra, part Yirgacheffe—from Brooklyn Coffee Roasters that can stand up to the Southern-style restaurant's rich offerings. 135A North 5th St at Bedford Ave, Williamsburg, Brooklyn (718-302-5151, pigandegg.com)
Macchiato at Tillie's of Brooklyn
Go with the light-roast, slightly nutty Kitten New York blend, brewed via the shop's La Marzocco espresso machine. 248 DeKalb Ave at Vanderbilt Ave, Fort Greene, Brooklyn (718-783-6140, tilliesofbrooklyn.com). $2.50--$3.25.
Pumpkin latte at Tea Lounge
This spiced sipper—made with a private roast from Maine—will help you stay focused enough to work until closing time (midnight for you night owls). 837 Union St between Sixth and Seventh Aves, Park Slope, Brooklyn (718-789-2762, tealoungeny.com). $3--$4.25.
Cortado at Qathra Café
The expertly pulled cortado —a small cup of half espresso and half steamed milk, made with chocolaty Ethiopian Harrar beans—is like a potent and smooth-sipping mini latte. 1112 Cortelyou Rd between Stratford and Westminster Rds, Ditmas Park, Brooklyn (718-484-3322, qathracafe.com). $2.75.
Stumptown refills at Second Stop
They're just a buck. Beat that. 524 Lorimer St at Ainslie St, Williamsburg, Brooklyn (718-486-6850)
Stumptown drip at Iris Cafe
The rotating selection of Stumptown beans are brewed strong, so lighten it with a splash of milk from upstate's Battenkill Valley Creamery. The ideal accompaniment: a homemade cinnamon-raisin sticky bun ($3). 20 Columbia Pl between Joralemon and State Sts, Brooklyn Heights (718-722-7395). $1.75--$2.25.
Stumptown latte at Marlow & Sons
The top-notch beans are matched with ultra-rich milk from Pennsylvania's Maplehofe Dairy's grass-fed cows in this creamy and classic latte. 81 Broadway between Berry St and Wythe Ave, Williamsburg, Brooklyn (718-384-1441, marlowandsons.com)
Cappuccino at Milk and Roses
The milky concoction, made from dark-roasted, rich Italian Miscela d'Oro beans, is the perfect complement to a lazy afternoon within Milk And Roses' cozy environs. 1110 Manhattan Ave between Clay and Dupont Sts, Greenpoint, Brooklyn (718-389-0160). $3.
Stumptown cappuccino at Roots Cafe
The genuinely friendly baristas do wonders with a steamer here; go for a whole-milk cappuccino with a double shot of bold, chocolaty Hair Bender espresso. 639A Fifth Ave at 18th St, Park Slope, Brooklyn (205-246-2149, rootscafebrooklyn.com). $3.50.
Seasonal Stumptown selection at Breukelen Coffee House
The selection of Stumptown beans rotates seasonally here, but a recent favorite was the drip-brewed Ethiopian Suke Quto. It's a full-bodied, slightly citrusy blend that tastes bright and crisp on its own, or tempered with a splash of milk; try it with hemp, hazelnut, oat or soy (plus good old organic cow). 764A Franklin Ave between St. Johns and Sterling Pls, Crown Heights, Brooklyn (718-789-7070). $1.75--$2.
Spiced pumpkin latte at Common Grounds
The balance is spot-on in this seasonally inspired cup: It's sweet but not cloying, with just a hint of fall flavor peeking through the deep Porto Rico Importing roast. 376 Tompkins Ave between Jefferson and Putnam Aves, Bedford-Stuyvesant, Brooklyn (718-484-4368, commongroundsny.com). $3.25.
Bushwick egg cream at Little Skips
This is an espresso-laden, chocolate-syrup drizzled riff on the New York classic. 941 Willoughby Ave at Myrtle Ave, Bushwick, Brooklyn (718-484-0980, littleskips.com). $3.25.
Spiked joe at the Lovin' Cup Café
The coffee—served black—is nothing special, but you can gussy it up with a shot of your favorite liquor (we suggest Baileys or Kahla). 93 North 6th St between Berry St and Wythe Ave, Williamsburg, Brooklyn (718-302-1180, thelovincupcafe.com). From $2.
Vanilla latte at Postmark Cafe
Order this smooth, fragrant treat from a menu inscribed on glass panels. 326 6th St at Fifth Ave, Park Slope, Brooklyn (718-768-2613). $2.75--$3.75.
Gingermint latte at the Pulp and the Bean
Using a nutty custom Italian roast from Park Slope's Gillies as the base, this drink layers 1883 de Philibert Routin frosted mint and gingerbread syrups with steamed milk and a hush-hush blend of spices. 809 Franklin Ave between Eastern Pkwy and Lincoln Pl, Crown Heights, Brooklyn (347-425-8642, twitter.com/pulpandbean). $3.25.
Iced coffee at Black Gold Brooklyn
This remarkably smooth brew—made with New Jersey's Rook coffee—is superconcentrated then cut to your liking with water. 461 Court St between Luquer St and 4th Pl, Carroll Gardens, Brooklyn (347-227-8227, blackgoldbrooklyn.com). $3.
Iced coffee at WTF Coffee Lab
A mad-scientist setup at this Fort Greene shop produces a superlative 22-hour cold-brewed cup. The method works particularly well with floral Ethiopian beans, which yield a fruity, low-acid brew. 47 Willoughby Ave between Adelphi and Clermont Aves, Fort Greene, Brooklyn (twitter.com/wtfcoffeelab).
"Australian iced coffee" at Café Madeline
Dessert and coffee in one: a double shot of chilled espresso over two scoops of vanilla ice cream with milk. 1603 Cortelyou Rd between 16th and 17th Sts, Ditmas Park, Brooklyn (718-941-4020, cafemadeline.com). $5.
Single-origin espresso at Sweetleaf
The only purveyor of Stumptown beans in Queens offers a nerdworthy espresso program; bean freaks can drool over selections like the juicy-sweet Ethiopian Mordecofe. 10-93 Jackson Ave at 11th St, Long Island City, Queens (917-832-6726, sweetleaflic.com). $2.75.
Cappuccino at Waltz-Astoria
Cinnamon-dusted and served in an oversize ceramic mug, this frothy sip is as comforting as a cup of cocoa. 23-14 Ditmars Blvd between 23rd and 24th Sts, Astoria, Queens (718-956-8742, waltz-astoria.com). $4.
Soy latte at Espresso 77
Potent and dairy-free, this soy-lightened latte, made with Gimme! Coffee beans and brewed via a La Marzocco machine, puts Starbucks to shame. 35-57 77th St between 35th and 37th Aves, Jackson Heights, Queens (718-424-1077)
House coffee at Lety's Bakery and Cafe
The piping-hot, always-fresh drip coffee—made from a dark-roast blend—is a perfect contrast with the sweet snacks at this family-run Jackson Heights pastry shop. Try the chocolaty brick of tiramisu ($3). 77-07 37th Ave between 77th and 78th Sts, Jackson Heights, Queens (718-507-6539). $1–$3.