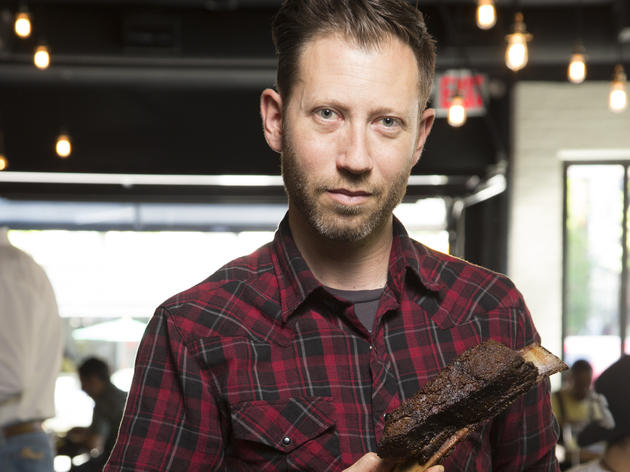 1/8
Photograph: Rayon Richards
Hugh "Texalina Thriller" Mangum Smokehouse: Mighty Quinn's (103 Second Ave at 6th St; 212-677-3733, mightyquinnsbbq.com) Origins: Mash-up specialist Mangum grew up road-tripping with his dad across Texas in search of beef 'cue, then married a pork-loving North Carolina native, creating a holy barbecue union. In 2011, the Nougatine alum hauled a custom-built, 4,000-pound mobile smoker to Smorgasburg; last year, he rolled out a brick-and-mortar location—named after his eldest son—in the East Village. But he's not resting on his laurels: "You have to be a masochist to do barbecue," Mangum says. "Thinking you suck makes you get better." Pit hits: All-natural, pasture-raised meats like brisket, pulled pork and spareribs are cooked over oak in an enormous J&R smoker that runs 24/7. "There is someone here literally every minute of every day tending to the meat," says Mangum.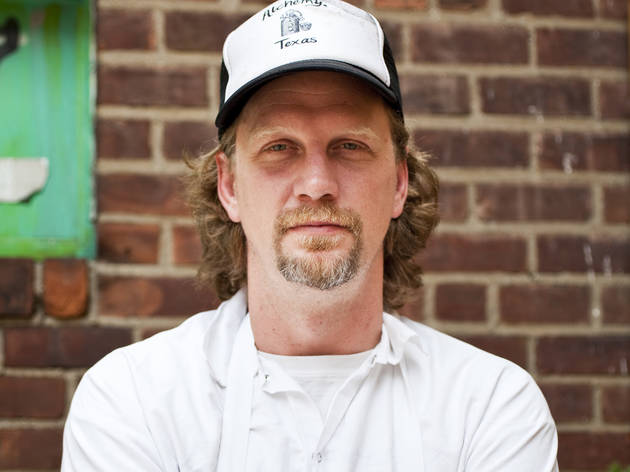 2/8
Photograph: Jessica Lin
Josh "The Kansas Kid" Bowen Smokehouses: John Brown Smokehouse (10-43 44th Dr between 10th and 11th Sts, Long Island City, Queens; 347-617-1120, johnbrownseriousbbq.com) • Alchemy, Texas (71-04 35th Ave between 71st and 72nd Sts, Jackson Heights, Queens; 718-803-8244) Origins: Bowen has a serious pedigree: Born and raised in Midwestern 'cue capital Kansas City, he later burnished his chops at the Texas institution Hill Country. He's no purist, though—his debut venue, John Brown, is rooted in classic K.C. technique (sweet and saucy), but Bowen also experiments with left-of-center meats (foie gras, Greek lamb sausage) and flavors inspired by the neighborhood's diversity (guajillo peppers, "things I can't even pronounce from the ethnic markets around here") . His new Jackson Heights venture—Alchemy, Texas— takes a similar approach, boasting both traditional Texas-style 'cue and outré specials like smoked octopus and goat ribs. Pit hits: Bowen is one of the few NYC pit masters offering burnt ends, but his personal favorite is the ultra juicy butter-basted smoked turkey.
3/8
Photograph: Rayon Richards
Craig "Brooklyn Boss" Samuel Smokehouses: The Smoke Joint (87 South Elliott Pl between Fulton St and Lafayette Ave, Fort Greene, Brooklyn (718-797-1011, thesmokejoint.com) • Little Brother BBQ(544 Clinton Ave between Atlantic Ave and Fulton St, Clinton Hill, Brooklyn; 347-889-7885, littlebrotherbbq.com) Origins: Samuel—who put in two decades at high-end spots like Picholine—didn't exactly have barbecue in his blood. But after a few revelatory pilgrimages to Queens barbecue pioneer Pearson's, he began applying his sharp French technique to the art of grilled meat. Along with partner Ben Grossman, he opened the Smoke Joint in Fort Greene in 2006 and a smaller Clinton Hill offshoot, Little Brother BBQ, in Clinton Hill in 2011. Pit hits: "We call it New York–style barbecue because it's really a melting pot of a lot of different styles," Samuel says. The Smoke Joint, which deploys three different Southern-inspired spice rubs, serves a sprawling menu covering everything from beefy Texas-style ribs to piquant North Carolina pulled pork. Quick-service Little Brother doles out hickory-smoked chopped Duroc pork, free-range chicken and Creekstone beef sandwiches.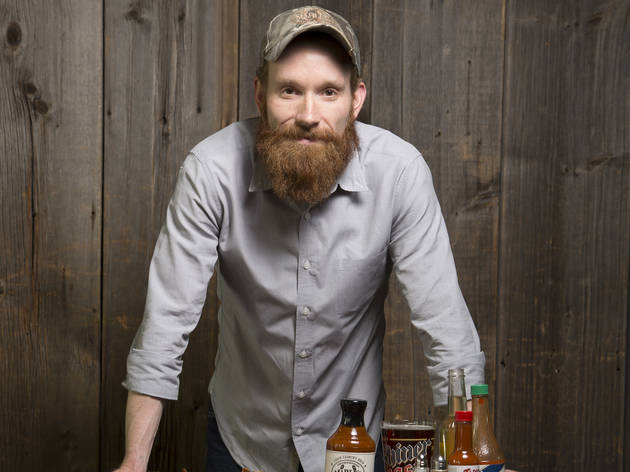 4/8
Photograph: Rayon Richards
Jeff "Oklahoma Avenger" Lutonsky Smokehouse: Mable's Smokehouse (44 Berry St at North 11th St, Williamsburg, Brooklyn; 18-218-6655, mablessmokehouse.com) Origins: An Oklahoma native with a cattle-ranching pop and restaurateur mom, artist-turned-meat-maestro Lutonsky grew up in kitchens, learning to make the down-home favorites his family's been cooking for generations. He opened Mable's—named after his grandmother—in Williamsburg in 2011, using heritage recipes ("old redneck stuff") with an emphasis on quality meats instead of new-wave flourishes. "There's a temptation in New York to make haute barbecue, and our philosophy is just to keep things simple," Lutonsky says. Pit hits: "Oklahoma's in the middle of that BBQ triangle of Texas-style brisket, Kansas City–style ribs and Memphis-style pork, so we've got a little bit of everything," Lutonksy says. LaFrieda-sourced, salt-and-pepper-rubbed brisket is a best-seller, as are double-smoked, spicy pork-and-beef hot link sausages. Just don't ask Lutonsky what kind of wood goes into the pit: "We don't really talk about that. It's a flavor ingredient, and I can't give all my secrets away."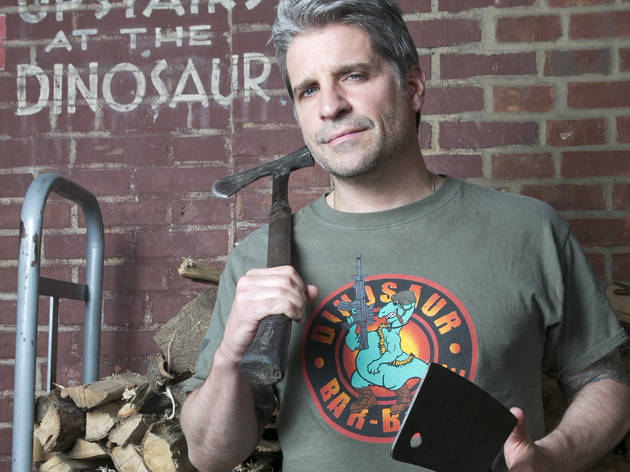 5/8
Photograph: Caroline Voagen Nelson
John "Rib Road Warrior" Stage Smokehouse: Dinosaur Bar-B-Que (700 W 125th St at Twelfth Ave; 212-694-1777, dinosaurbarbque.com) Origins: A Harley enthusiast from upstate New York, 'cue rebel Stage started Dinosaur Bar-B-Que as a mobile stall in 1983 using a 55-gallon drum sawed in half. After a few years at various biker fests, he swung down South for a crash course in smoked-meat traditions, and eventually returned to New York to open his first stand-alone location of Dinosaur in Syracuse in 1988. It was followed by five more spots, including the Harlem outpost in 2004. He will expand to Gowanus this summer. Pit hits: Dino's brisket, pulled pork and chicken wings are no slouches, but "the ribs are the workhorse—we sell more of those than anything else," says Stage. They're rubbed with a custom 14-ingredient spice blend 24 hours in advance, hickory-smoked and lightly glazed with sauce before serving. "Every bite should have a balance between smoke, spice, sauce and the pure pork flavor," says Stage.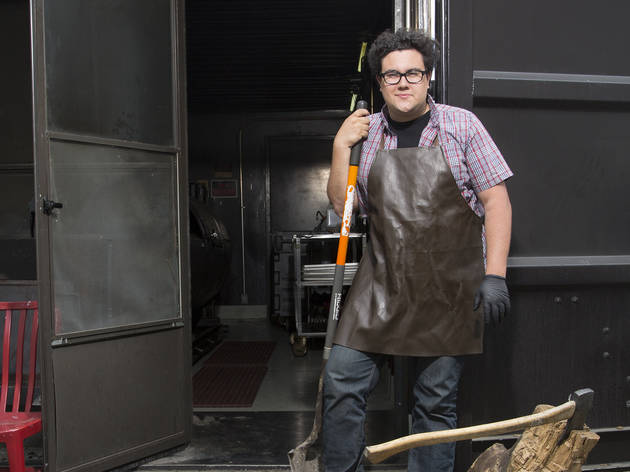 6/8
Photograph: Rayon Richards
Daniel "Brisket King" Delaney Smokehouses: BrisketTown (359 Bedford Ave between South 4th and 5th Sts, Williamsburg, Brooklyn) • SmokeLine (High Line at Tenth Ave and 15th St) • 718-701-8909, delaneybbq.com Origins: A self-taught brisket savant, Delaney launched his name last summer by towing an 18-foot smoker from Texas to Kings County and hosting a series of brisket-themed pop-up events. After months perfecting his Hill Country–style 'cue, he opened a restaurant in Williamsburg last fall, and just launched a seasonal outpost called SmokeLine at the High Line. About his decidedly nontraditional barbecue business plan, Delaney says: "I wanted to practice, I wanted feedback, but I didn't want to profess that I knew more than I did, because I didn't know anything. Barbecue is a very guarded tradition. It's easier to stage at Per Se than it is to learn the pits at Smitty's in Lockhart, Texas." Pit hits: Niman Ranch brisket, seasoned Texas-style with salt and pepper, is smoked for 15 hours over oakwood and served with potato bread and homemade pickles. SmokeLine serves picnic-ready brisket sandwiches, as well as pork and beef ribs.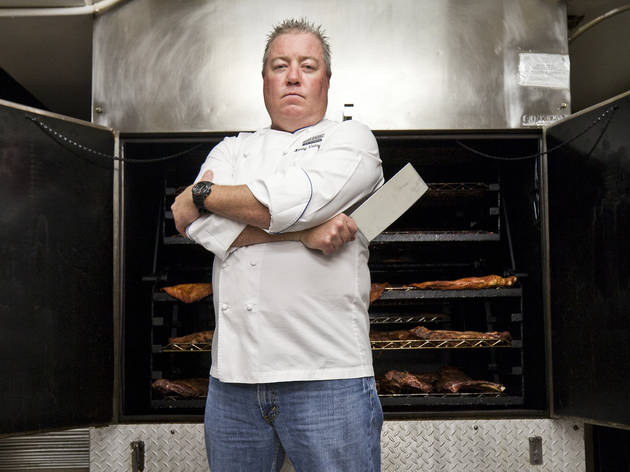 7/8
Photograph: Pamela Ashley Pasco
Kenny "The Velvet Touch" Callaghan Smokehouses: Blue Smoke, 16 E 27th St between Park Ave South and Lexington Ave (212-447-7733)• 255 Vesey St between North End Ave and West St (212-889-2005) • bluesmoke.com Origins: Longtime Danny Meyer cohort Callaghan (Union Square Cafe) spent months on the road immersing himself in barbecue culture across the country to prepare for the opening of Blue Smoke in the Flatiron District in 2002 (a second outpost arrived last year in Battery Park City). "We wanted to pay homage to all of the different regional styles," Callaghan explains. "It's my job to re-create the greatest hits from across the country, but because my fine-dining background keeps creeping out, I try to do it with a little more finesse." Pit hits: About that finesse: Every smoked meat has its own custom spice-rub-and-sauce combination, and some are given the full chef treatment. The spicy-sweet Kansas City spareribs are smoked for seven hours, then quickly charbroiled before serving to imbue them with an extra-tasty caramelized edge. "Blue Smoke is a different experience than your down-home smokehouse joint," says Callaghan.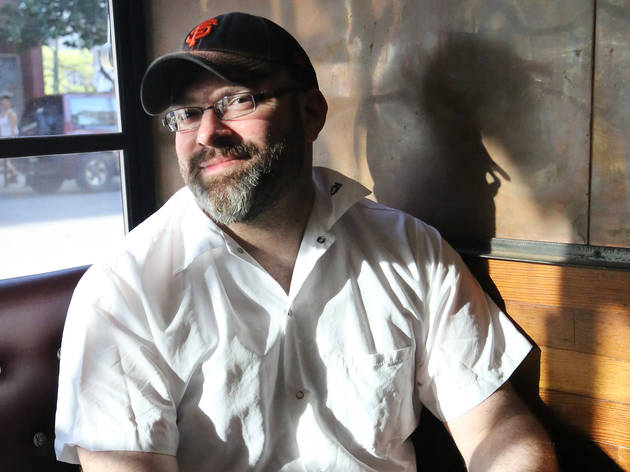 8/8
Photograph: Whitney Lawson
Anthony "Funkmaster" Masters Smokehouse: Fatty 'Cue (91 South 6th St between Bedford Ave and Berry St, Williamsburg, Brooklyn; 718-599-3090, fattycue.com) Origins: Masters worked his way up from line cook to pit master at Zak Pelaccio's Southeast Asian smokehouse, learning the tricks of the trade under O.G. meat maestro Robbie Richter. "Barbecue is a long, drawn-out process that takes a lot of patience, but the joy you get when you see something you've spent 16 hours working on is totally worth it," says Masters. Pit hits: At the newly reopened Brooklyn Fatty, Masters is keeping some traditional favorites (the tender maple-glazed pork shoulder, meaty pork ribs with a fish sauce and palm sugar syrup), but also introducing a smoky touch to some less obvious plates, like a 12-hour smoke-braised pig ear that's frozen, then thinly sliced and served with uni dressing, avocado cream and tobiko.
New York's reigning pit maestros: Eight BBQ grill masters
These modern-day Prometheuses call forth smoke and fire with delicious results. Get to know the grill masters behind New York's best BBQ.
Go behind the smoke curtain and find out what drives NYC's grill masters. We check in with eight of the the city's top pit masters, including pioneering 'cue biker John Stage (Dinosaur Bar-B-Que), new-school mixmaster Hugh Magnum (Mighty Quinn's) and Oklahoma booster Jeff Lutonsky (Mable's Smokehouse). Read on for the details on these best BBQ chefs.

RECOMMENDED: Full coverage of BBQ in NYC
Best selling Time Out Offers