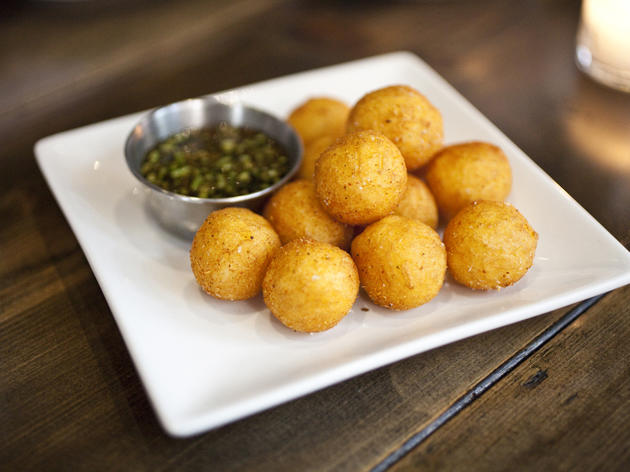 1/6
Photograph: Virginia Rollison
Fried potato balls at Yunnan Kitchen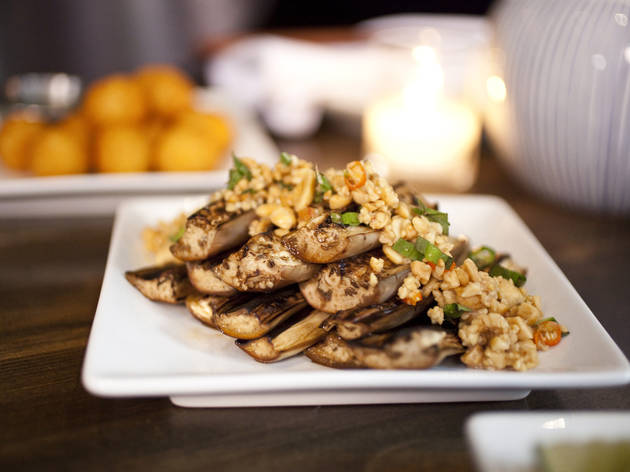 2/6
Photograph: Virginia Rollison
Charred eggplant at Yunnan Kitchen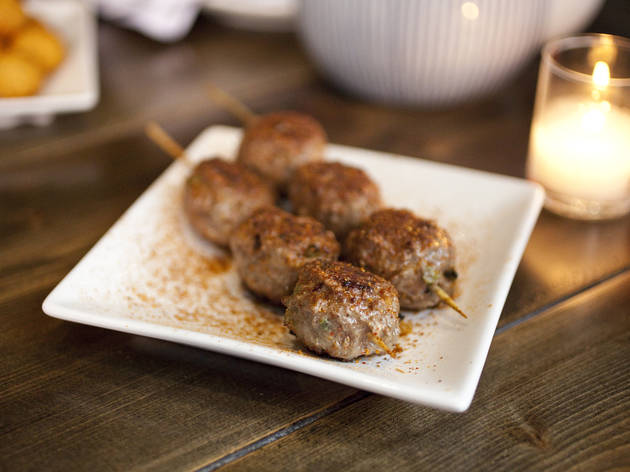 3/6
Photograph: Virginia Rollison
Lamb meatballs at Yunnan Kitchen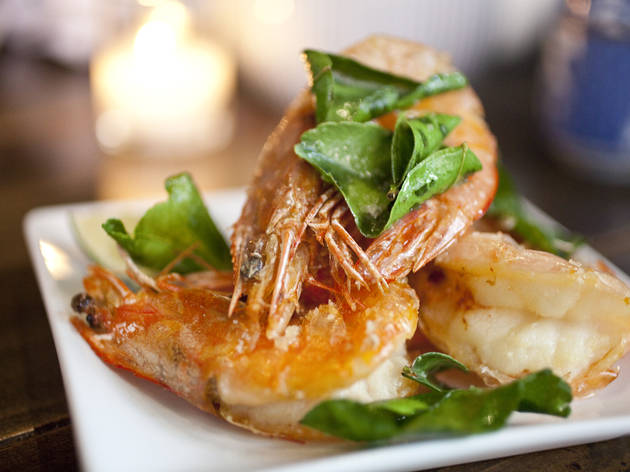 4/6
Photograph: Virginia Rollison
Crispy whole shrimp at Yunnan Kitchen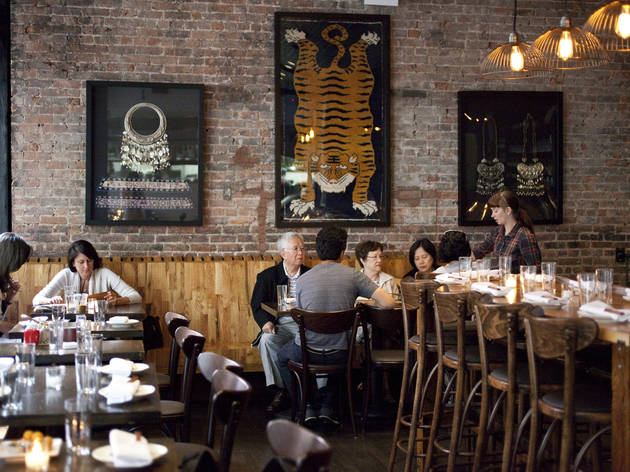 5/6
Photograph: Virginia Rollison
Yunnan Kitchen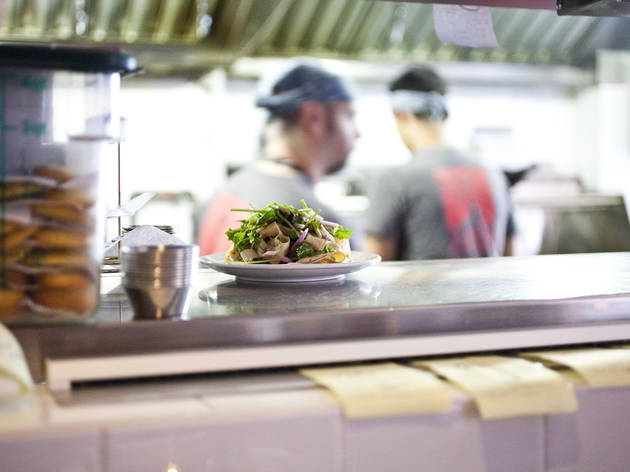 6/6
Photograph: Virginia Rollison
Yunnan Kitchen
New Yunnan restaurants
Lotus Blue and Yunnan Kitchen introduce New Yorkers to the delicate flavors of southwestern China.
Rating: 3/5 Yunnan Kitchen: 79 Clinton St between Delancey and Rivington Sts (212-253-2527). Subway: F to Delancey St; J, Z, M to Delancey–Essex Sts. Mon, Wed–Sun 5–11pm. Average small plate: $9.
Rating: 3/5 Lotus Blue: 110 Reade St between Church St and West Broadway (212-267-3777). Subway: 1, 2, 3 to Chambers St. Mon noon–3pm, 5–10:30pm; Tue–Thu noon–3pm, 5pm–12:30am; Fri noon–3pm, 5pm–1:30am; Sat 5pm–1:30am; Sun 5–10:30pm. Average main course: $28.
The quaint era when Americanized Indian and Thai food passed for exotic gave way long ago to more authentic regionalization. Oaxacan, Isaan Thai and South Indian spots are the new norm in New York, featuring flavors that tend to rock our perceptions of their countries' cuisines. Chinese food, too, has made a specialized shift to tongue-numbing Szechuan, lamb-centric Xian and snacky Shanghai cuisine.
The rain-forest cooking of the southern province of Yunnan is the latest addition to New York's polyglot Chinese-food landscape. Until recently, the only place offering a taste was a takeout cubbyhole—Yun Nan Flavor Snack—out in Sunset Park's Chinatown. But Yunnan cooking has suddenly arrived in a big way, with two up-market venues, Lotus Blue in Tribeca and Yunnan Kitchen on the Lower East Side, opening within weeks of each other. Both serve food so distinctive—fruity, floral, occasionally spicy—that the uninitiated might not identify it as Chinese at all. With essentially no competition (that Brooklyn joint serves only noodle soups), you might have to take it on faith that this is what real Yunnan food tastes like.
Yunnan Kitchen is the brainchild of former Standard Grill manager Erika Chou, a Chinese-American who's spent some time in the region. Before opening the place, she returned with her chef Travis Post, who spent the past five years cooking locavore pizza at Franny's. He's developed chefly renditions of the tastes he encountered on that trip, more impressionistic than truly authentic—which works out just fine, given his pitch-perfect palate and skills with a wok.
Post and his team, working in an open kitchen, create a real racket stir-frying dinner, as if proving themselves by the amount of noise they can make. The percussive performance echoes through the votive-lit dining room, a beautiful, lofty space appointed with antiques from the region and a bit farther afield (framed Yunnan jewels, a Tibetan tiger-print rug).
In Yunnan the food is as bright and lively as it is in neighboring Vietnam, featuring plenty of wild herbs and greens and fresh potent chilies. Raw chrysanthemum leaves, peppery like arugula, are drizzled with cool sesame dressing in a light, palate-stirring salad. Charred baby eggplants are just as zingy, soaked in black vinegar and topped with crushed peanuts and slivered red chilies. Crispy whole shrimp have a great citrus tang, thanks to a dusting of lime salt and a sprinkle of lime leaves deep-fried like chips.
Post highlights bold flavors—his super-succulent lamb meatballs are seasoned with an Indian-style spice blend (cumin, coriander and cardamom). But there are subtle tastes, too. Mashed-potato puffs, as delicate as French pommes dauphines, come with a light soy-vinegar dipping sauce. Silky scrambled eggs are folded around jasmine buds and cherry tomatoes.
Despite the clamorous soundtrack of metal on wok, all of this food is as spare and elegant as the space it's served in.
The cooking is a bit gutsier across town at Lotus Blue, where the kitchen ruckus is entirely hidden from view. Lounge music lulls this sultry space, with teardrop lanterns and a lotus-flower mural on a red wall.
The place has Chinese owners and a Chinese chef, though none are from Yunnan. Head chef Kian Lam Kho, a Singapore native with Chinese origins, is a culinary instructor and food blogger making his professional restaurant debut. He explores the same territory as Post does, but with a grittier take.
Kho serves a potato snack too—the tuber is a Yunnan staple—tossing fried matchsticks with herbs and dried chilies. And he offers his own spin on that classic chrysanthemum salad, drenching the leaves in a more complex sweet-salty mix of black vinegar, soy, garlic and chilies.
Honey-glazed duck, with juicy flesh under dark copper skin, is certainly tasty, but not terribly distinctive—there's plenty to choose from that's much more exciting. You've probably never had shrimp, for example, like Kho's head-on monsters showered in a funky sweet-and-sour mix of chili oil and candied olives. The banana-blossom-and-sweet-mango salad, garnished with peanuts and mint, is a bright and refreshing taste of the jungle. And strips of pressed and smoked tofu stir-fried with pineapple hunks and garlic chives are just as intriguing. Even simple fried rice has unusual zip, from diced pickled turnips mixed with ground pork.
So much of this food, as at Yunnan Kitchen too, functions like a culinary bellwether, foretelling the very small world the city's becoming. As diners grow increasingly literate in international cuisines, it's an exciting time to explore regional flavors making their New York debuts.
Vitals
Eat this: Yunnan Kitchen: Charred eggplant, scrambled egg with jasmine flowers, fried potato balls, crispy whole shrimp, lamb meatballs. Lotus Blue: Chrysanthemum salad, banana blossom salad, shrimp with candied olives, stir-fried smoked tofu.
Drink this: While Yunnan Kitchen awaits its liquor license, you might try a pot of mountain grass tea. At Lotus Blue, you should opt for an icy Sapporo over the sweet, clubby cocktails and the overpriced list of generic wines.
Sit here: The casual open-plan dining room at Yunnan Kitchen features small tables with a great view of the kitchen. Meanwhile, the big table in the middle of the room at Lotus Blue is a prime spot for a big group banquet.
Conversation piece: Yunnan Kitchen's Travis Post connected with Erika Chou through an ad on Craigslist. The two traveled through that region last January, collecting many of the pieces that now decorate the restaurant. The original Lotus Blue in Beijing serves Thai, not Yunnan, cuisine, but both restaurants were named for the Tintin adventure book The Blue Lotus (first published in 1936), which is set in China.
You might also like
The best dishes featuring flowers