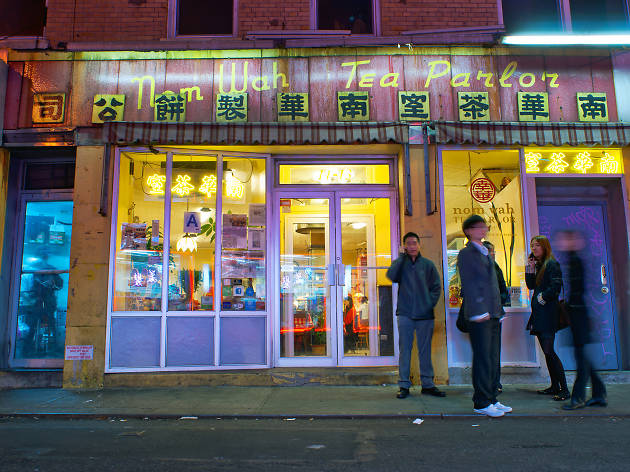 1/8
Photograph: Paul Wagtouicz
Nom Wah Tea Parlor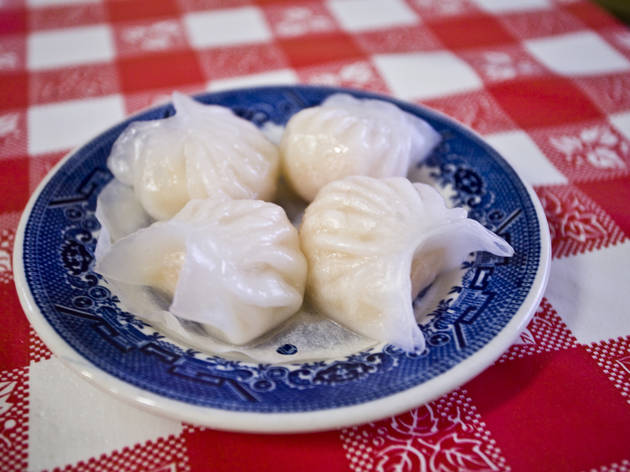 2/8
Photograph: Beth Levendis
Nom Wah Tea Parlor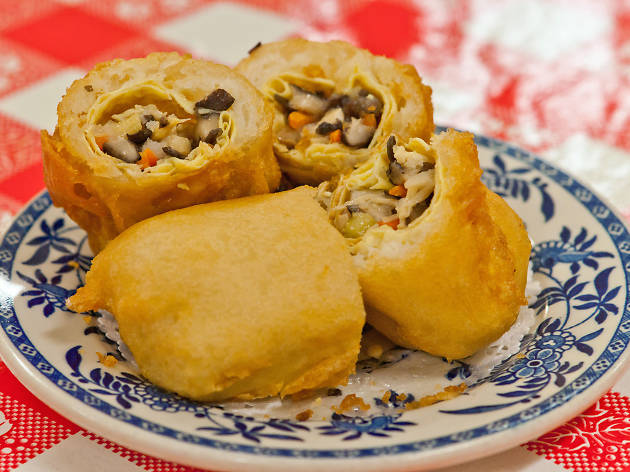 3/8
Photograph: Paul Wagtouicz
Egg roll at Nom Wah Tea Parlor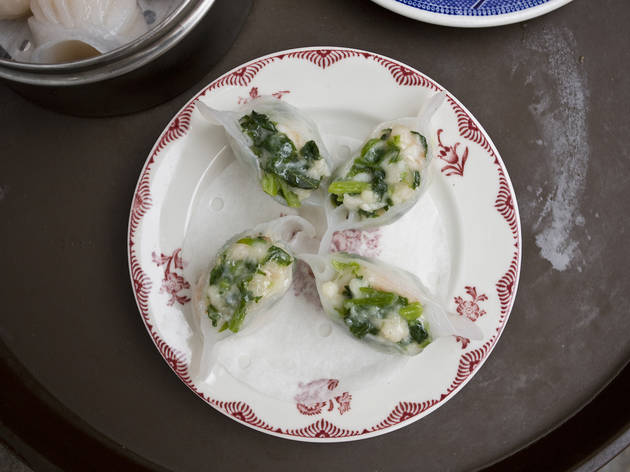 4/8
Photograph: Beth Levendis
Nom Wah Tea Parlor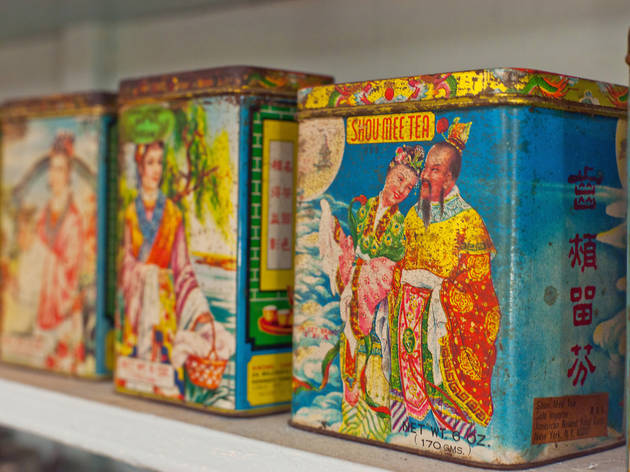 5/8
Photograph: Paul Wagtouicz
Nom Wah Tea Parlor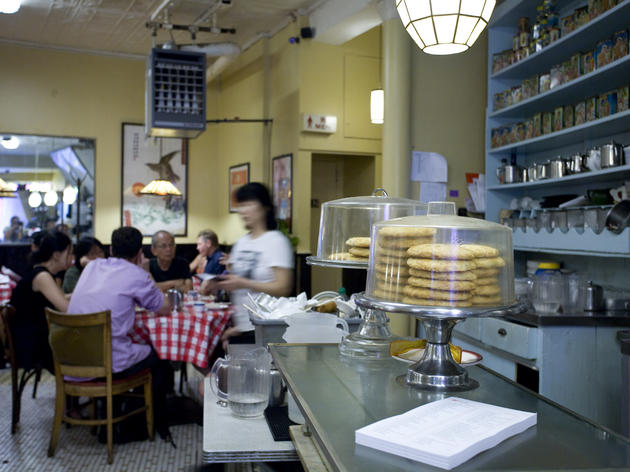 6/8
Photograph: Beth Levendis
Nom Wah Tea Parlor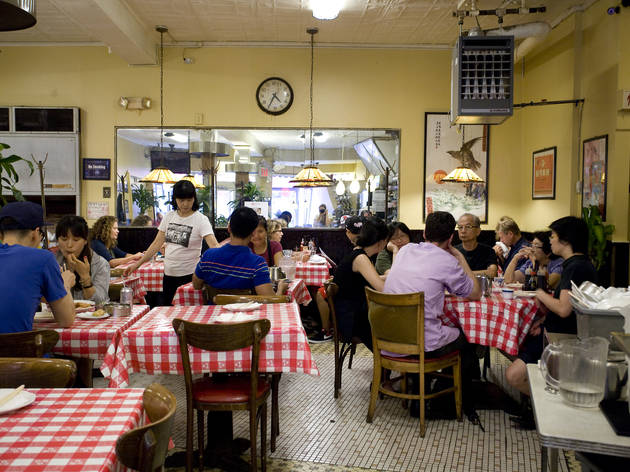 7/8
Photograph: Beth Levendis
Nom Wah Tea Parlor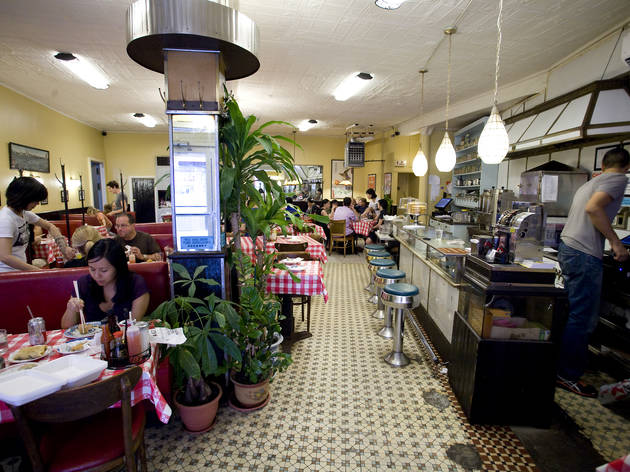 8/8
Photograph: Beth Levendis
Nom Wah Tea Parlor
Time Out says
New York's first dim sum house opened in 1920 on a rough crook of gang-riddled Doyers Street. But the bakery and tea shop, at least, had a sweet reputation: Its almond cookies and moon cakes were legendary. Over its near century in business, ownership of the parlor has remained among the restaurant family to preserve its traditions. Back in 2010, the stalwart was refreshed with a new interior (vintage lamps, framed archival photographs) and remodeled menu showcasing made-to-order plates rather than dim sum en masse.
Nom Wah is completely unlike the chaotic banquet halls that dominate Chinatown's dim sum scene. Instead, the dining room is much more charming and welcoming, from the checkered tablecloths over Art Deco tables to the couples huddled beneath old posters of a glam Chinese movie star. The food, too, stands apart; the dim sum here tastes fresher and is more affordable than the competition. Try the ultra-fluffy oversize roasted-pork bun, the flaky fried crepe egg roll and the tender stuffed eggplant filled with a spiced shrimp-and-squid mixture. Plus, it keeps the small plates coming long after other dim sum joints have closed their doors.
Details
Address:
13 Doyers St
New York
10013

Cross street:
between Bowery and Pell St
Transport:
Subway: J, Z, N, Q, R, 6 to Canal St
Price:
Average dim sum item: $5. AmEx, Disc, MC, V
Contact:
Opening hours:
Mon-Thu, Sun 10:30am-9pm; Fri-Sat 10:30am-10pm
Do you own this business?
Average User Rating
3.3 / 5
Rating Breakdown
5 star:

4

4 star:

6

3 star:

4

2 star:

3

1 star:

3
Been going to Nom Wah for over 20 years. It's awesome, authentic dim sum. It's been taken over by the nephew of the owner and has been cleaned up a bit, but still as charming as ever. Definitely worth a trip.
I went with friends, and we were full after only a five plates or so! I was very disappointed in us, but really this means I have to go back a few more times before I feel like I get a real taste of the menu. The soup dumplings, egg roll and sesame dessert were the most memorable. Actually, I'm not the biggest egg roll fan, but the egg roll was the best I've ever had, ever, and totally unlike others that I've tasted as well. Nom Wah has been around for a long time and has been in the same family for a while as well. It's a really cute place with a diner vibe, nestled on a small, narrow street of Chinatown.
This place deserves way more stars. I go here all the time for a cheap and really good no fluff meal with my friends. And it's basically a historical landmark it's been there so long and the decor reflects that which I think is cool. Yes the service is really quick and pushy and the space is tight but for what You pay for its more than enough
Nom Wah Tea Parlor...A tourist trap whose time has clearly passed after assumption by new heirs. Depressing service vibe. They crossed the line between Quaint and Dingy a while ago. Finalist, Most Likely to Have Bribed a Health Inspector, Rest Room Division. Dim Sum in Flushing is a lot more interesting and pleasurable.
Nom Wah Parlor is clearly a NY institution. A place that everybody knows event without ever beeing there
It's a nice spot if you want dim sum and it's event better when you don't have to queue for an hour.
let's be honest it's far for the best dim sum but quality/price wise it's a nice option

Nom Wah offers a wide variety on the menu. The dumpling soup is delicious! I particularly liked their tea offerings as well. The unfortunate thing is that there is often a long wait.
I've just been for a meal at the Nom Wah Tea Parlour and I was very disappointed. The food was mediocre and the waiter was surly. The restroom was a disgrace - the washbasin looked like it had never been cleaned and there was a puddle on the floor. I would never recommend this restaurant!
Dim sum ordered directly, inexpensively and always served hot, fresh and delicious NEVER off a cart where it gets cold, could be the second or third time around, and servers couldn't care less. With Nom Wah,
the customer comes first. Don't know how the other places stay open the way they treat their diners.
Really?! I lost all of a lot respect for Time Out's restaurant guide when I see Nom Wah is ranked #1. It's an Americanized tourist destination with pretentious dim sum "authenticity". Any serious dim sum fan would not consider Nom Wah's dim sum good quality. Simply because it tries really hard to replicate an old school ambiance doesn't necessarily make its food good or authentic. If you want a tourist trap experience, yes, Nom Wah has a lot to offer, but otherwise, many of the other restaurant on the list serve much better dim sum than Nom Wah.
You guys in Time Out definitely know nothing about dim sum. The quality of the food is good, but in terms of the flavor and nuances or originality of great dim sum is clearly lacking. It is ok to good at best. Seem like you are judging the food base on the ambiance or the history of the place. On any particular day, if you walk in to the restaurant you will find tourist with their guide book speaking in any language other than chinese. There are many superior dim sum with greater diversity in Brooklyn and Queens. To me, the best dim sum in north america are in Toronto and Vancouver.
the food here is undoubtedly great and when you get a dim sum craving at night when most places have stopped serving it, it's nice that nom wah has dim sum on its menu all day. the interior is cozy and charming compared to nearby banquet style dim sum joints. it's on a tiny, crooked street in historic chinatown that makes you feel like you're in a noir film. it's a little overpriced but never disappoints.
I went to Nom Wah based on others recommendations. Although the selection of dim sum was diverse, what I was served was decidedly mediocre. My benchmark for dim sum is admittedly a restaurant not in New York City, but compared to my favorite, this place only rates one star.
i'm glad to say i made sure to hit this spot before some ING banker got his yuppie hands on it. i saw the real thing, a time warp to another time and place. now it's probably just riding on its name. oh well! in all fairness though, i have only walked by it since its obvious remodeling, but even so, seeing a menu that looked like it hadn't had anything new on it in decades was part of its charm. this place's connection to the past has definitely been broken. i have to give it a rating so i'm simply going to give it a neutral three stars