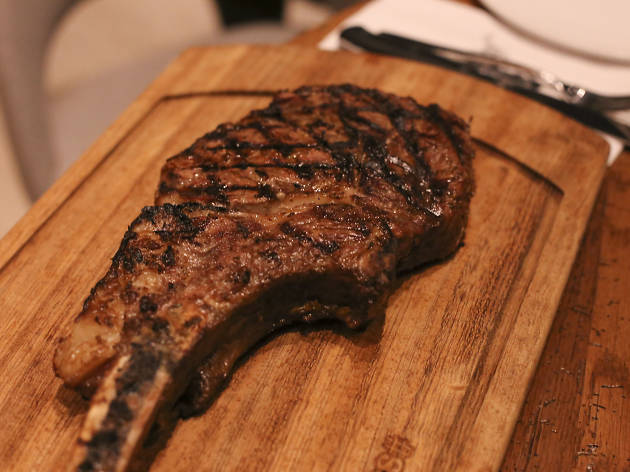 1/2
Photograph: Clayton Guse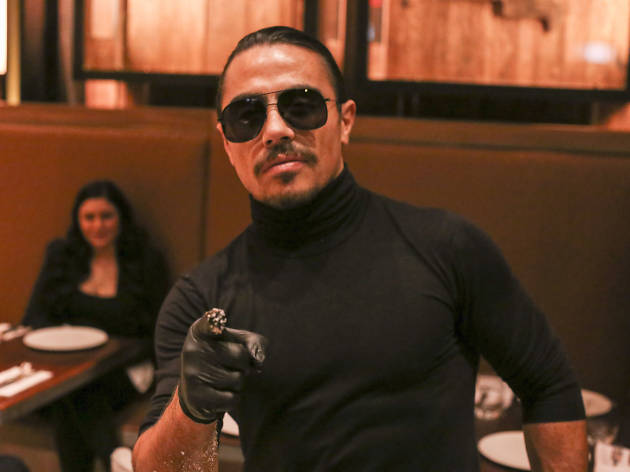 2/2
Photograph: Clayton Guse
"So…it's sex," said our dining companion, a meat-and-potatoes Chicagoan, as he wiped his face. Meat juice had squirted onto his cheek during the tableside theatrics. Salt Bae had come, short and silent, and writhed so performatively in his tight, white deep-V (and black pants by Sherwin Williams) that his nipples visibly hardened over the course of the show. He pressed his bare fingers into our $130 ottoman steak as he sliced it. He walked away without saying a word, smirking from behind his bow-chicka-wow-wow shades. Did you see that?! Damn, it was awesome!
But no, it's not exactly sex. And it's not exactly food either. Nusr-Et is the global-chain brainchild of Nusret Gökçe (aka Salt Bae, an Internet sensation adored by 11 million Instagram followers, including Leonardo DiCaprio). As a brick-and-mortar meme, it's a miracle. As a restaurant, it's a mess.
"Sorry, we don't have tap water," our waitress said, pushing $10 bottles of still Voss instead. Later, she offered unbidden a confession that she knew only a few words of Turkish, including the word for "dolphin." Similarly, another server rambled that he had been an EMT and Allstate insurance agent but had lived enough of his life behind a desk (he was 23). A third server spoke about Salt Bae with mafioso reverence: "Chef is very loyal. If you're good to Chef, Chef is good to you. I'm talking trips to Dubai, Miami, all expenses paid." A fourth inexplicably made choo-choo train sounds as he carried our $20 slice of baklava from his tray to our table (that was the best thing we ate, by the way). The staff traffics in the kind of simpleness and gullibility usually seen only in infomercials—none of the exacting expertise typical at venues with $200-plus entrees. One of the other Turkish words the waitress knew was "hurry," which was clearly a mantra restaurant-wide.
Our $70 şeşlik milk steak was mostly milk—more like steak yogurt. Nobody asked us how we wanted our meat prepared, but it arrived medium rare, closer to rare. It was tough, dull, overly spiced and impressive only in size. Imagine an Arby's transformed by Jeff Koons into an 18th birthday party for a Saudi prince. Our food was so oversalted that we used our Metrocard to cut up the Maldon flakes into lines on our table.
The staff took the liberty of tipping itself 18%. We left hungry. Salt Bae stayed thirsty. He's on track to drown in his thirst.
Venue name:
Nusr-Et
Contact:
Address:
60 W 53rd St
New York
10019

Do you own this business?
Rating Breakdown
5 star:

2

4 star:

0

3 star:

0

2 star:

0

1 star:

0
I really rely on Timeout for feed back - the review you wrote on this steak house is so far from the truth. The best atmosphere for a steak house I have been too in such a long time. I am so over steak houses having to be old and dark looking this place is the opposite. Great vibe great music !!! The food was amazing - steak sushi is a MUST have. Honestly you cant go wrong going to this place.
Time out you kind of lost me on this one.....
That TO review by Richard Morgan sounds like anything but a review. I simply don't care how many followers Nusr-et has on his Instagram profile because that's not how I choose where I eat. Of course, social media exposure matters for publicity and almost every single business owner including TO uses them (twitter, facebook, instagram...). I guess Mr Morgan does not have 11 million followers and feels a little jealous about a young entrepreneur with such popularity.
I don't understand why Mr Morgan thinks a gourmet restaurant such as Nusr-et should serve tap water for free. I would certainly not drink NY's tap water which tastes like sewage. A bottle of pure Norwegian Voss is sold for only $10 at Nusr-et, some supermarkets sell them as high as $11.99 per bottle.
I don't care if Nusr-et servers cannot speak any Turkish because I don't go to Nusr-et to learn Turkish. I would take Turkish tuition if I wanted to learn the language. The servers I had the chance to talk to were actually very professional, very polite and timely. I am glad to hear that Nusret rewards his staff for their hard work with holidays in exclusive destinations- something other NY employers should also consider. Nusr-et is definitely one of the best gourmet restaurants in NY
Quality and taste: 5 / 5
Location: 5 / 5
Price: 5 / 5
Staff: 5 / 5