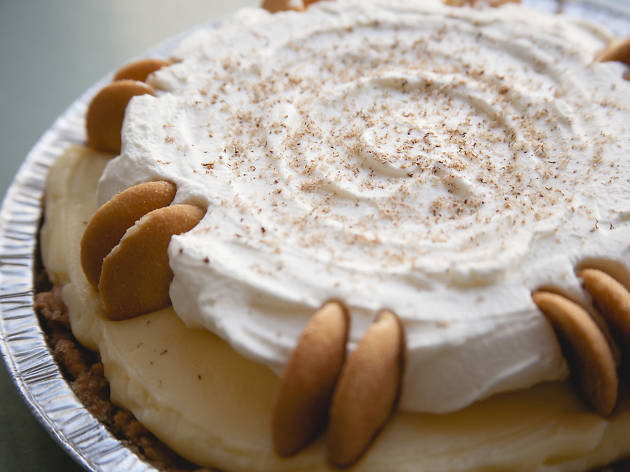 1/4
Photograph: Lauren Spinelli
Lauren Spinelli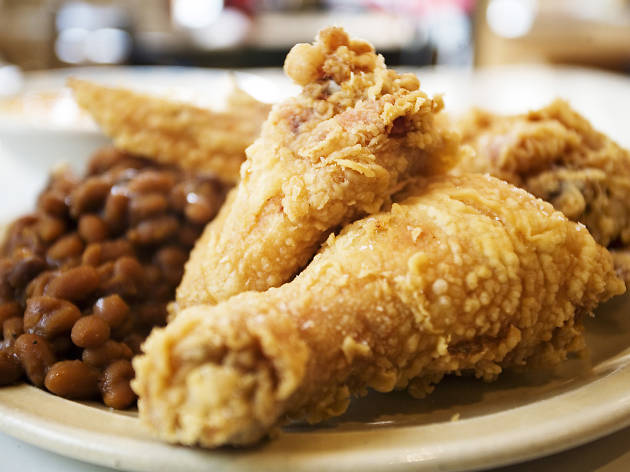 2/4
Photograph: Noah Fecks
Noah Fecks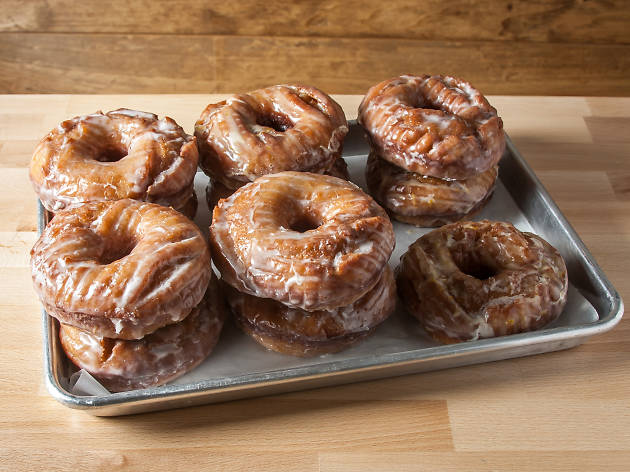 3/4
Photograph: Paul Wagtouicz
Paul Wagtouicz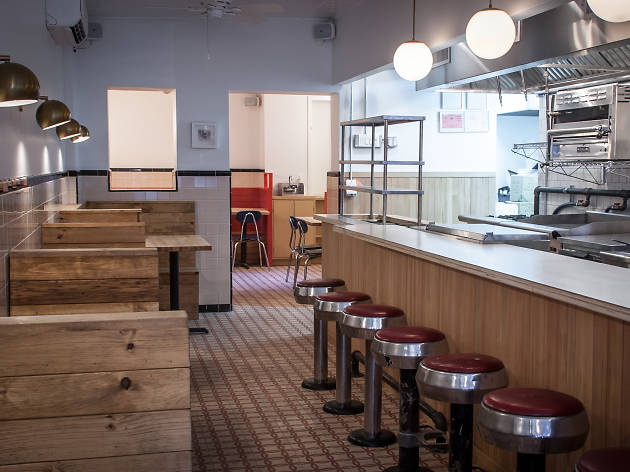 4/4
Photograph: Paul Wagtouicz
Paul Wagtouicz
Time Out says
Beginning as a drunk-food closet at the back of a bar, this Southern-fried grease trap run by the three chefs—Carolyn Bane, Erika Geldzahler and Sarah Buck, who met working at Diner—retains the DIY, seat-of-the-pants spirit of the dive that it sprang from: food specials scrawled on sheets of paper, chairs and tables that might have been salvaged from a public school, and borderline aggressive bright overhead lighting. The food, not the venue, is clearly the draw.
The down-and-dirty Southern fare—honest, cheap and often delicious—includes antibiotic- and hormone-free chickens, but you won't find the name of the farm where they came from on the menu. The hot sauce is Frank's Original RedHot, the grits Quaker Instant, the pickles B&G deli classics. As a result, Pies 'n' Thighs feels as authentic as any venerable Dixieland food shack.
The fried chicken—simply brined, floured and fried—is among the city's most succulent, with a greaseless, extra-crispy crust. The fried catfish is also exceptional, coated in an expertly seasoned layer of cornmeal. Among the superlative sides, the baked beans—thick with molasses and studded with brisket scraps—and buttery cheddar-swirled grits are the standouts.
But perhaps the tastiest thing on the menu isn't a meal or a side, but a snack: a classic buttery biscuit enclosing a small pounded chicken cutlet coated in an irresistibly trashy emulsion of honey-butter and hot sauce.
The pies that account as much as the chicken for the restaurant's cult following are displayed in a glass case just under the register, such as sweet, old-fashioned American classics like Nilla-wafer-studded banana cream, bitter chocolate pudding with whipped cream topping—are such old-fashioned American staples, you can picture Jerry Mathers's Beaver swiping a slice from the window.
Time Out tip: On warm, sunny days, Washington Plaza, the park just around the corner, makes a fine spot for a Pies 'n' Thighs picnic.
Details
Address:
166 South 4th St
Brooklyn
11211

Cross street:
at Driggs Ave
Transport:
Subway: J, M, Z to Marcy Ave
Contact:
Opening hours:
Mon–Fri 9am–4pm, 5pm-midnight; Sat, Sun 10am–4pm, 5pm–midnight
Do you own this business?
Average User Rating
4.6 / 5
Rating Breakdown
5 star:

10

4 star:

4

3 star:

1

2 star:

0

1 star:

0
I love this place. The food is always on point and the service has always been good. You may have a wait for a table, but the food is worth the wait. Would definitely recommend.
I love pies n thighs more than I can explain. The chicken is so delicious and perfectly cooked. The biscuits rival those in the south and the pie! The pies are on another level. Definitely try the chicken biscuit, the banana creme pie and the smores pie!
This is not fine dining, but I don't have cravings for specific restaurants like I do Pies n Thighs. Perfect place for breakfast, dinner and brunch.
Awesome food - the chicken and waffles is UH-mazing. Fast & fantastic service - this place never disappoints!
If you're craving chicken and waffles, this is the spot to go! The intimate restaurant always has a line out the door for the reason—it's plate and finger-licking good! If you can save enough room, definitely get a slice of pie (every flavor is delicious). And their macaroni and cheese is sensational!
Everything was phenomenal and hands done some of the best fried chicken in NYC. The buckwheat waffles, biscuits and hot chicken biscuit are also all out of this world. The only down side is that there will likely be a wait, but totally worth it!

I've only had one thing here and It was love at first sight...their chicken biscuit sandwich was off the charts. It was a little pricey at 12 bucks but I was full afterwards - The biscuit was delicious the chicken was juicy with hot sauce and this honey butter they put on it gave it the perfect kick. I will definitely go back to explore their menu further.
This place usually has a looong wait for brunch on weekends, but that's totally justified, because the food is SO good. Grits are one of my favorite things to eat, and Pies n Thighs is an expert. I ordered the fried catfish with grits, and the fish was really enjoyable: not greasy, but lightly fried to a golden crisp. My friends and I ordered a bunch of things, the most memorable being the mac and cheese and cornbread (I'm instantly turned off by dry cornbread, but this was legit). We did order one of the doughnuts at the end, which was good but not amazing, and definitely not my favorite part of the meal. I also really like the location and setting. It's on a quieter corner in South Williamsburg with a fair amount of window seats for outside views, and inside looks very much like a casual diner.
Excellent fried chicken, and this is coming from a gal that hails from a Southern family and knows a good bird! Super moist, well seasoned. The biscuits are solid too. Visited the same day I had a flight home to Chicago and took my leftovers in my purse on the plane, ate them hours later when I arrived home and the chicken was still delicious. I prefer their brunch menu, it's full of solid Southern staples. The wait isn't the worst, for sure worth it if you are craving wonderful fried chicken.
It's lunchtime, so I'm drooling just thinking about the chicken sandwiches here. You will want all the pies and all the thighs. Go on and take a walk on the wild side and get one side of everything for the table—there's no way you'll be disappointed. I would say the chicken and waffles here actually aren't the main draw; instead, go for the fried chicken sandwich (will blow your damn mind) or the biscuit with jelly with cream cheese, along with cornbread, burnt end baked beans, mac and cheese, cheese grits and hush puppies. I'm not sure how authentically southern all this is, but it's definitely finger-lickin' good.
I had my heart set out on some fried chicken, so decided to see what all the hype was all about.
Arrived at the location at about 1:00 PM on a Monday with a party of two. We had to wait about 10 minutes, but we were happy to oblige. We ordered the chicken basket, hippie banjo, chicken biscuits, and the blubard pie.
The fried chicken was fantastic. I'm not normally a fan of white meat, but I thought that they made their chicken breast very well as it came out super juicy. My guest thought her hippie banjo meal was just alright, but I guess that's what you get for going vegetarian at a chicken and waffles joint. I really loved the chicken biscuit, and would probably come back just to shove a couple more of those down my throat. The blubard pie was pretty delicious as well.
All in all, I would definitely come back again.
This place is great. Most dishes have pepper in the, so if you don't like pepper it might not be your thing, but for everyone else, this place is the best. This place is a little like an indoor picnic down south. Fantastic friend chicken and biscuits. And for those who don't eat meat, the grilled cheese and tomato is a nice option for good old fashioned comfort food (that would have come out of your own kitchen as a kid). The desserts here are not to be missed. As the name implies, they always have a wide selection of pies, and you really can't go wrong with any of them.
Sometimes you want pies, sometimes you want thighs...I usually want both. The best gluttonous meal I've had in a while—make sure to bring a friend you don't mind stuffing your face in front of and have at it. Add in some booze (and when it's nice out, the back patio) and a stop into Pies and Thighs pretty much comprises the most perfect day ever.