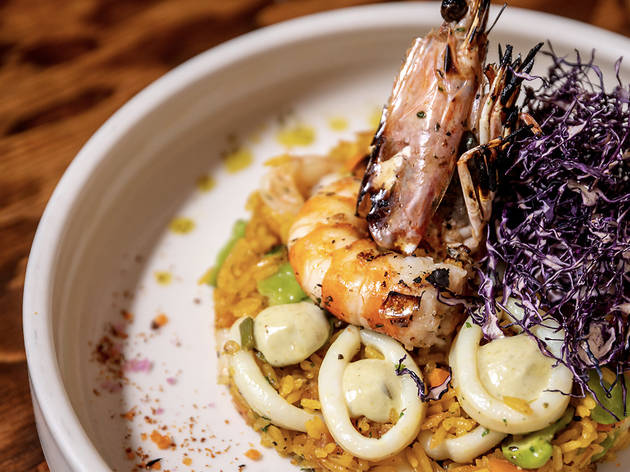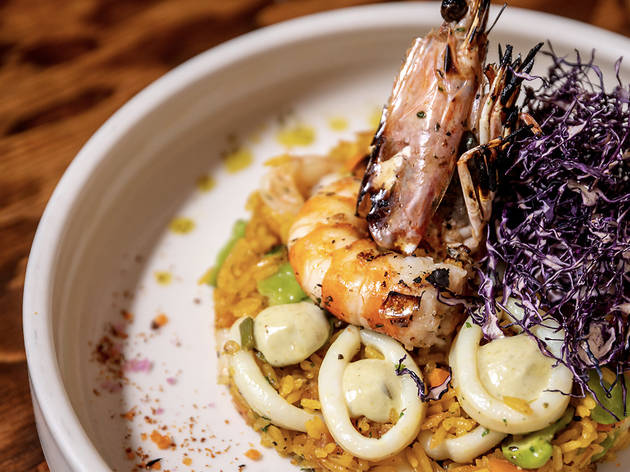 1/16
2/16
3/16
4/16
5/16
6/16
7/16
8/16
9/16
10/16
11/16
12/16
13/16
14/16
15/16
16/16
Time Out says
This East Village restaurant is influenced by Mediterranean flavours. Well, with a chef born and raised in Turin, what else would you expect? Here he's serving up great-looking small plates and tapas-style dishes, many of which bag inspiration from his Italian heritage.
That means a menu ranging from pumpkin fritters with pistachio mayo and pickled fennel, quinoa arancini and a millefeuille of aubergine, to meatier options such as chorizo sautéed in garlic, fava beans and lemon, wagyu carpaccio, kobe tartare and a very attractive plate of charred octopus with cous-cous, seasonal veg and poblano pepper oil.
The wine list goes big on European imports, too. If you want to go down that route then Italy is particularly well represented, with gavi di gavis, pecorinos, montepulcianos and barolos all available. The beer list is strong too, with local IPAs such as Dogfish 60 Min and Captain Lawrence alongside import lagers like Kronenbourg and Menabrea Bionda.
Plado Tasting Bar says
Born and raised in Turin, in the Piedmont region of Italy, Chef and Owner German Rizzo grew up around the culinary inspirations and authentic flavors Italy has to offer. His culinary career began early as it was inspired by his love and respect for the quality and tradition of his Southern Italian roots. After graduating from the Culinary Art School U. Ubertini in Turin, Chef Rizzo sought opportunities to further develop his creativity in other parts of Italy, Denmark, Sweden and Canada. With his newly developed knowledge, refined culinary techniques, and desire for more, Chef Rizzo came to New York. Here he worked for the renowned Cipriani group, but soon after opened his own restaurant in Astoria Queens, Vite Vinosteria. With his varied knowledge in cuisine and a passion for food, Chef Rizzo was eager for more, that's when he opened Plado Tasting bar in 2019 in New York Cities, East Village.

At Plado, small tasting plates and tapas style dishes emerge from the open kitchen with inspired Mediterranean cuisine and seasonal products. Chef Rizzo's style menu sets the experience to enjoy a shared meal with friends and family.
Details
Users say