Heads up! We're working hard to be accurate – but these are unusual times, so please always check before heading out.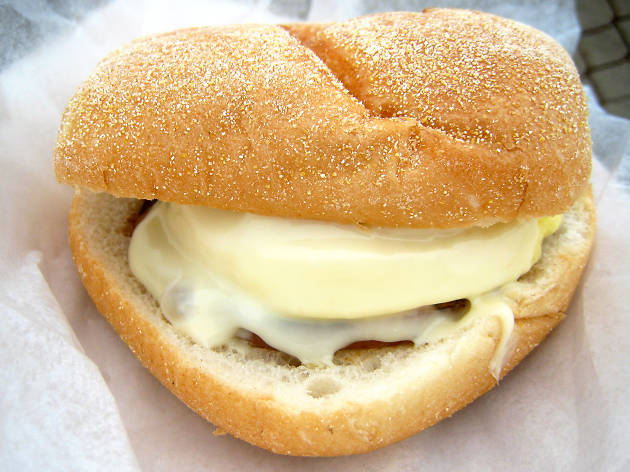 Everything to know about pork roll in NJ
A diner and deli staple is the Taylor ham—or pork roll—in NJ. But, um, what is it and what's with the two names?
To New Yorkers, the consummate breakfast sandwich is a bacon, egg and cheese on a roll, but across the Hudson, Jerseyites know that pork roll is where it's at. But what exactly is it? We answer your burning pork roll questions and tell you the best sandwich shops and delis to chow down on the Garden State's porkiest, meltiest pork roll sandwiches. Because who needs Williamsburg when you have Jersey City?
What is a pork roll?
Taylor ham—colloquially known as pork roll—is the king of breakfast meats in New Jersey, Delaware and parts of Pennsylvania. It's made from cured, smoked and minced pork stuffed inside a bag then cut into thick slices. It's sold at most supermarkets, or it's served griddled and stacked inside sandwiches or on bagels at delis all over the state—bonus points if you get it at a 24-hour diner, easily one of the best things to do in NJ.
Where did it come from?
It was born in Trenton in 1856, when state senator John Taylor created the meat and named it after himself (#notsohumblebrag). He later had to remove "ham" from the name because it isn't technically ham, but North Jersey residents still use the moniker. South Jersey is where you're more likely to find pork roll on a menu.
How it is famous?
There's an official pork roll festival in Trenton every year, and it's the star of New Jersey songs like Ween's "Pork Roll Egg and Cheese."
RECOMMENDED: Full guide to New Jersey
Find the best pork roll in NJ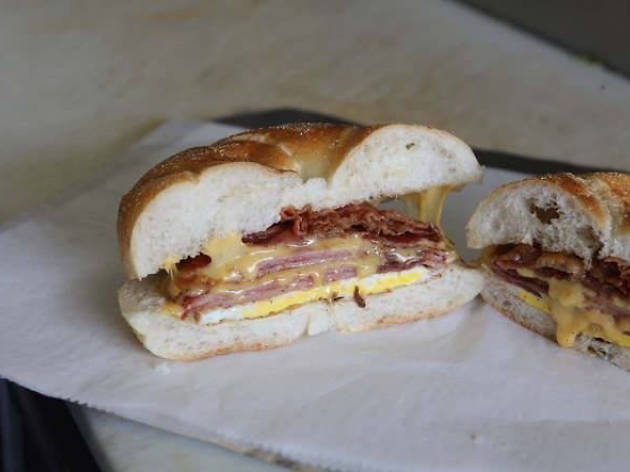 Photograph: Courtesy Yelp/Olde Towne Deli
The lucky residents of Boonton praise this humble deli's pork roll sandwiches, which feature several generous layers of griddled Taylor ham plus a perfectly fried egg and loads of cheese. It also won the award for best pork roll from NJ.com. No biggie. 205 Main St, Boonton (973-334-4145)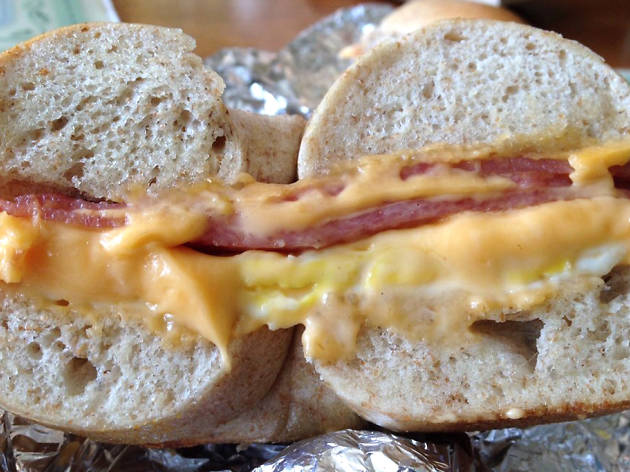 Photograph: Courtesy Yelp/N. M.
Hand-rolled, kettle-boiled and baked fresh daily, this Shrewsbury shop's bagels are the perfect vehicle to accommodate plenty of pork roll. Jersey is arguably the only state with bagels comparable to New York City's, and the bakery's menu refers to the sandwich as "Jersey Shore's classic breakfast sandwich." Locals seem to agree, extolling the virtues of the bagel-fied version of the original. 661 Broad St, Shrewsbury (732-224-0333, bagelmasters.com)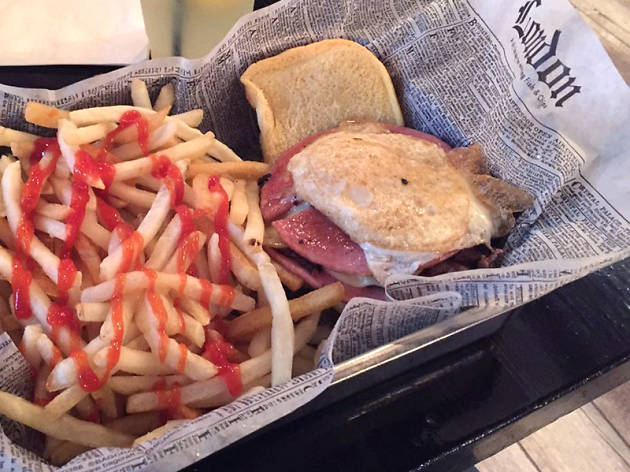 Photograph: Courtesy Yelp/Chris B.
For a pork roll sandwich in a more spacious, sit-down atmosphere (Morristown is a quieter, cooler cousin to Hoboken), Jersey-dwellers love this mini-chain of brunch restaurants that also has locations in Manasquan and Summit. The menu has an entire section devoted to pork roll sandos: Served on a soft brioche bun, they come loaded with variations like gruyere and Dijon (the French Connect) or white cheddar and jalapeños (the Blanco). 28 W Park Pl, Morristown (862-260-9292, thecommittedpig.com)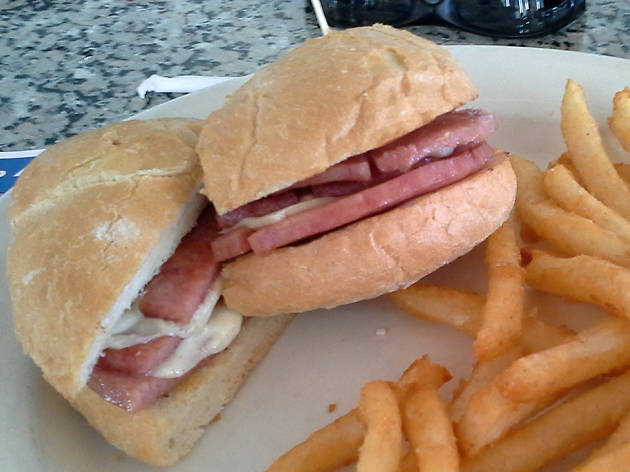 Photograph: Courtesy CC/Flickr/William F. Yurasko
A humble deli and country store, Fredon is a favorite in Newton for its classic pork roll, egg and cheese sandwiches. For another regional favorite, try the scrapple, egg and cheese, made with a classic Pennsylvania Dutch–style loaf of seasoned pork scraps and fat. (It's tastier than it sounds!) 428 State Route 94 S, Newton (973-300-2411)
Photograph: Courtesy CC/Flickr/William F. Yurasko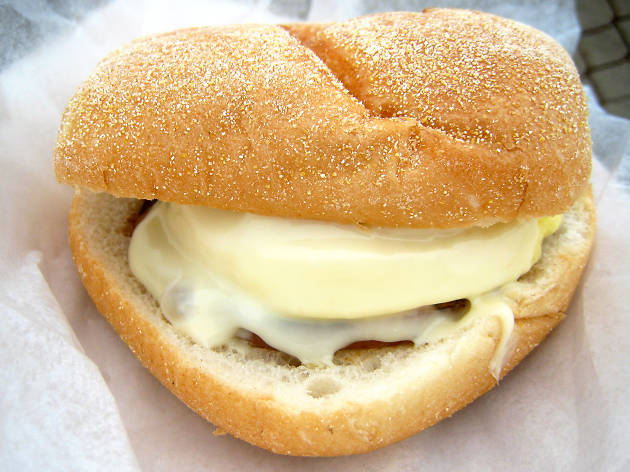 Photograph: Courtesy CC/Flickr/Adam Kuban
A favorite in the beachside party town of Belmar, Beckman's pork roll, egg and cheese is a work of art, the layers of crisp griddled Taylor ham alternating with oozy American cheese and a fried egg anchoring the whole construction. Check out the lovely patio area, complete with a huge mural depicting a classic American drive-in. 1605 Ocean Ave, Belmar (732-280-1362)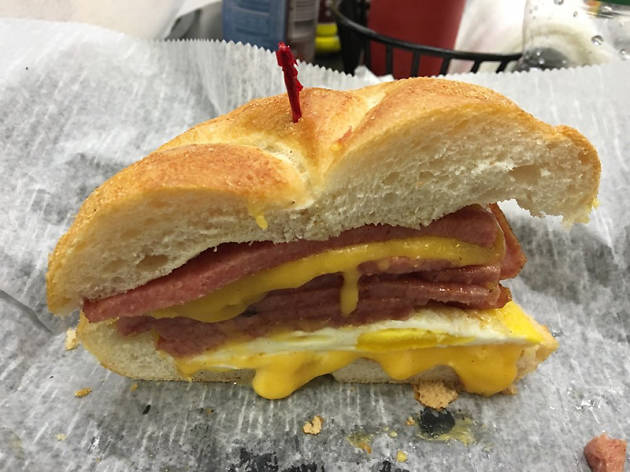 Photograph: Courtesy Yelp/Kelly H.
Located in Leonard, Slater's Deli is known for its absolutely mountainous sandwiches packed to the gills with meats, cheeses and fix-in's. Its pork roll, egg and cheese is no exception: Loaded with extra-thick sliced of Taylor ham, the usual melted cheese and a fried egg, the massive sandwich is made on an ultra-fresh roll of your choice (try the onion variety). 866 Highway 36, Leonardo (732-291-3466, slatersdeli.com)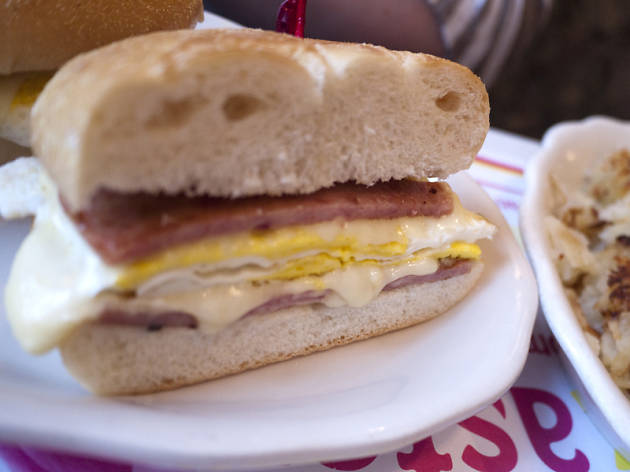 Photograph: Courtesy CC/Flickr/Juli
Open 24 hours, this Jersey diner is a favorite among state residents and commuters alike. Serving classic greasy-spoon plates such as omelets, burgers and fries, White Rose also makes a mean pork roll, egg and cheese. Go all-in by finishing up your meal with a slice of the diner's towering seven-layer chocolate cake. 201 E 1st Ave, Roselle (908-241-9639)
Photograph: Courtesy CC/Flickr/Juli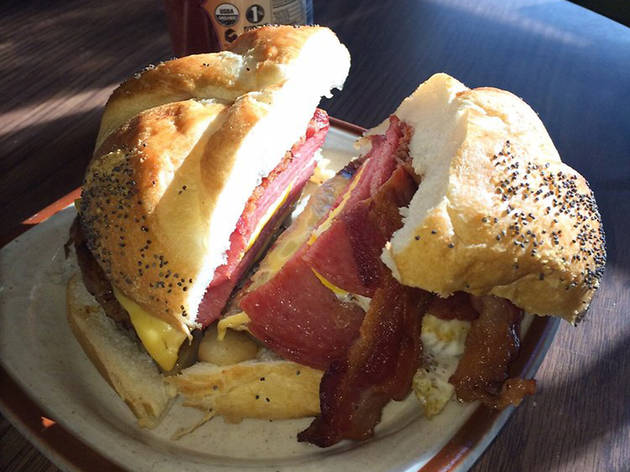 Photograph: Courtesy Yelp/Allison B.
With a kitschy country-store interior decorated with out-of-state license plates, this Allenwood classic serves up ultra-stuffed sandwiches such as chicken clubs, cheesesteaks and BLTs. For the pork roll aficionado, there's a whole section of the menu devoted to Taylor ham: Try it on a daringly overloaded P&L Custom, with sausage, bacon and pork roll (yes, all three) along with home fries, eggs and cheese all on a roll, or on a Happy Jeff, which piles pork roll, home fries and a fried egg on top of a burger. 3208 Allenwood Lakewood Rd, Allenwood (732-223-4747, allenwoodgeneralstore.com)
Head to Jersey City
Living in New York means constantly keeping up—with the latest buzz, with your cohorts at the best New York bars, hell, even with the other pedestrians in midtown. But what happens when the next up-and-coming nabe isn't in Gotham at all but in, gasp, New Jersey? Jersey City's dine-and-drink scene is growing—and growing fast.