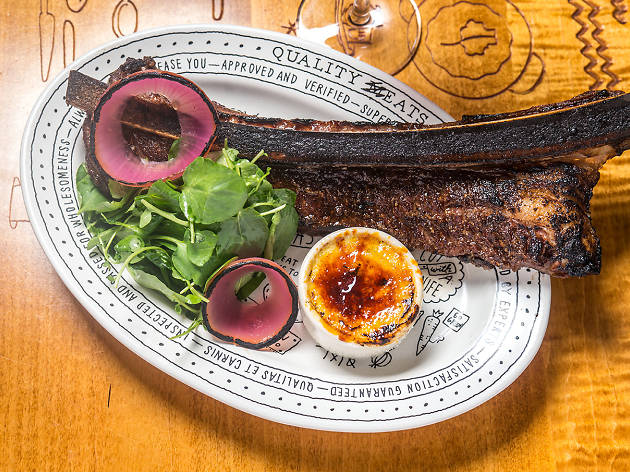 1/5
Paul Wagtouicz
Long bone short rib steak at Quality Eats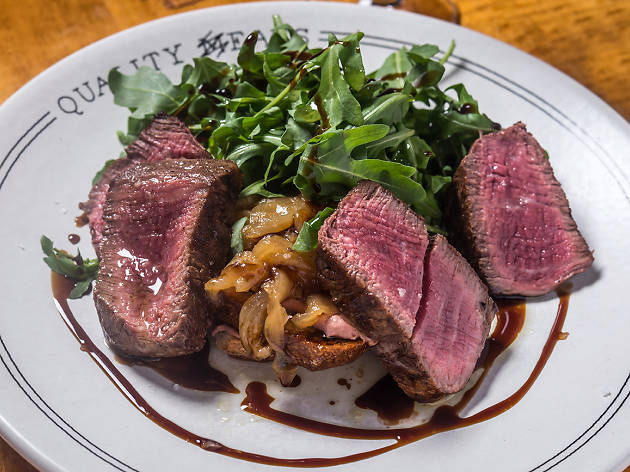 2/5
Paul Wagtouicz
The Don Ameche at Quality Eats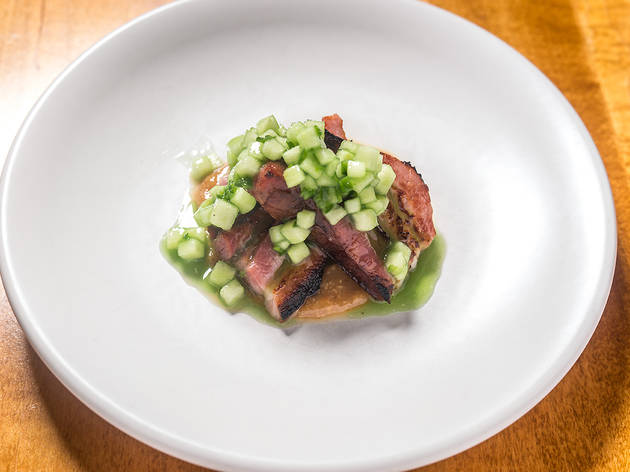 3/5
Paul Wagtouicz
Grilled Nueske's bacon at Quality Eats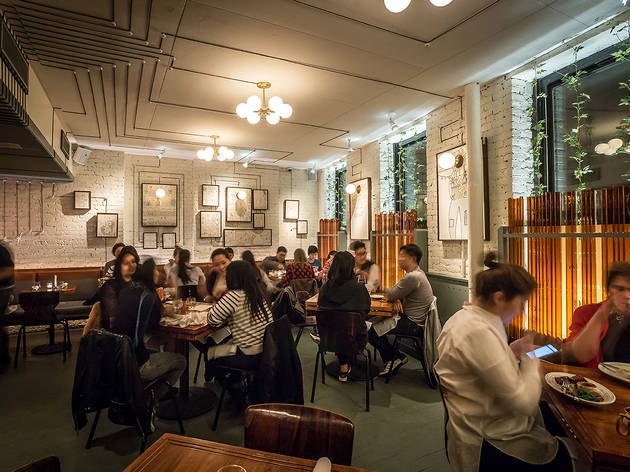 4/5
Paul Wagtouicz
Quality Eats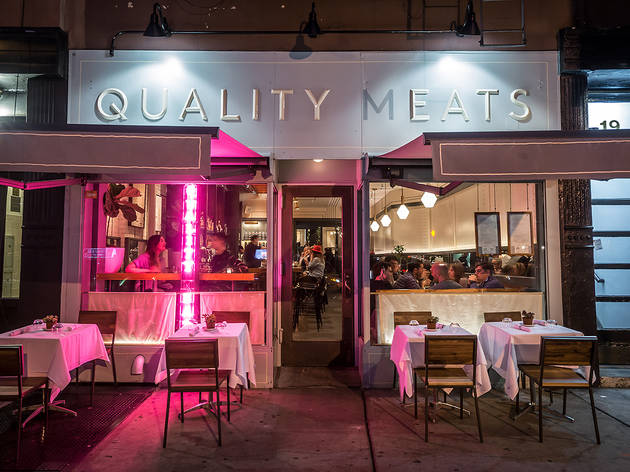 5/5
Paul Wagtouicz
Quality Eats
Time Out says
If it looks like a steakhouse and walks like a steakhouse and talks like a steakhouse, is it a steakhouse? By definition alone, Quality Eats—the latest project and first downtown venture from Quality Branded, the group behind the Smith & Wollensky chain and midtown restaurants Quality Italian and Quality Meats—is a steakhouse in that it specializes in beefy butcher cuts, but it delights in subverting the classic totems of the chophouse.
The restaurant's more-than-meat moxie is clear upon arrival: The sign outside the dimly lit, neon-bathed Greenwich Village space reads QUALITY MEATS but with the M decidedly darkened, rendering it QUALITY EATS. (If you don't get it the first time, it's a motif that pops up everywhere, from the handles of the steak knives to the cardboard cups that hold the kitchen's ice cream sundaes.) And its "millennial steakhouse" PR buzz isn't unfounded: It's an altogether more youthful scene than its clubbier counterparts, with ball caps more prevalent than sport coats and Charlie Parker sax riffs replaced by the Weeknd's pleading yelps.
That Gen Y pep extends to chef Ryan Bartlow's menu, much of which reads like Peter Luger ripped a bong. There are the hallmark starters and sides—your creamed spinach, your thick-cut bacon, your many permutations of potato. But that creamed spinach comes glopped inside fried hush puppies, ugly little things that are more novel than they are necessary ($9), and the requisite spuds take the form of cayenne-zapped brown-bag curly fries ($8) and pull-apart baked-potato monkey bread slathered in bacon butter ($6). The most rewarding of these updates is the bacon ($15), sizzling, inch-thick Nueske's slabs that Bartlow playfully tricks out with a smear of crunchy peanut butter, a lime-green shock of jalapeño jelly and a smattering of sweet minced Granny Smiths. It's the stuff of stoner dreams.
It's not all parody, though. A salad of juicy lump crab, cubed avocado and pink grapefruit is a refreshing reprieve from all the daffy decadence, bright in a cilantro-citrus vinaigrette ($16); and earthy roasted-beet tabouleh with smooth kabocha-squash hummus and cracked wheat ($13) is the kind of vegetable innovation we'd expect from a place like Dirt Candy, not a steakhouse.
But no matter how creamy the scalloped sunchokes ($8) or how current the soundtrack or what the sign outside says, it can't distract from the fact that the place is a steak restaurant. There's no porterhouse or New York strip to be found on Bartlow's menu—instead there are offcuts like a long-bone short rib ($25) and top-blade flatiron ($23), all issued out on whimsically cartooned platters with a ramekin of corn brûlée, a snatch of greens and pickled onion rings. In a world of three-figure chateaubriand, the meats are exceedingly economical: The priciest, the Don Ameche, clocks in at $29; the cheapest, the Bavette cut, at $19. But you get what you pay for—the hanger ($25) proved underseasoned and the skirt ($28), exceptionally chewy. Quality eats, sure, but quality meats? That's questionable.
Details
Address:
19 Greenwich Ave
New York
10014

Cross street:
at W 10th St
Transport:
Subway: 1 to Christopher St–Sheridan Sq
Price:
Average main course: $20.
Contact:
Opening hours:
Mon-Wed 5:30-11pm; Thu-Sat 5:30pm-2am; Sun 5:30-10pm
Do you own this business?
Rating Breakdown
5 star:

1

4 star:

1

3 star:

1

2 star:

0

1 star:

0
I can't say I like as the others~ great atmosphere but some strange things going on . The tartare was so mustard grain and hot sauce that you like not taste the beef. Good cocktails . Nice salad / crab.
Everyone. Stop what you are doing and go here. Now. Quality Eats is some of the best new food I have had in NYC in a while. On top of that, the location and vibe are also killer. I was able to get a reservation through Rezy, which was very simple, but this place definitely draws a crowd. The service/staff is EXCEPTIONAL. Our table in the front window was a bit chilly, so the host offered our party a table in the back. There was a 10 minute wait for the table so we were offered complimentary champagne to make up for it. Incredible.
Things to try are the octopus, bacon starter (with peanut butter... life changing) and the patty melt. I'm sure the steaks are incredible too... but there are so many options that make this better than your average steak house (and way cooler).

I was so sad when Whitehall, which this restaurant used to be, as it couldn't have been closer to my apartment and was a great little spot but Quality Eats quickly filled that void!The food here is great, and the menu is fairly straight forward but still interesting – the beef patty club and tuna bean salad are two of my favorites!The drinks are on point too and it has a great vibe if you're just in the mood for a few nice cocktails in a relaxed but vibrant atmosphere.
The best bit……at midnight on weekends they bring out small snacks for patrons to nibble on for FREE, a nice little touch and very handy too if you're 3 or 4 cocktails down! Well worth stopping in if you're in the west village!