Readers' choice best burgers: Ten NYC classics
Thousands of you voted for the best burger in NYC. Here are the winning patties, including neighborhood stalwarts and fast-food standouts.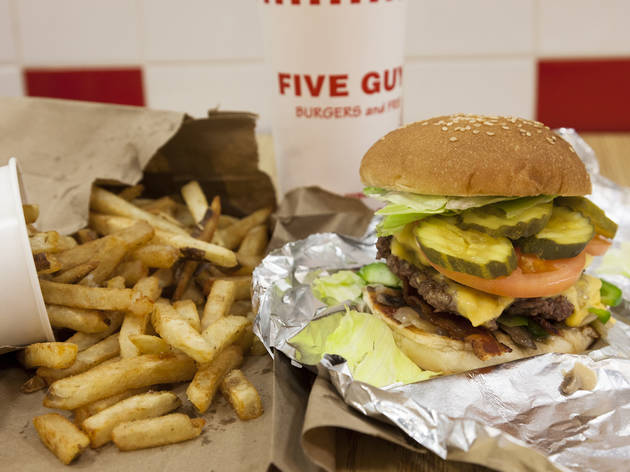 1/10
Photograph: Michael Rudin
10. Cheeseburger at Five Guys Burgers and Fries The red-and-white-tiled burger chain—born in Arlington, VA, in 1986—opened its first NYC branch in College Point, Queens, in 2007 and has since expanded with 23 locations throughout the five boroughs, earning a cult following with its brown-bagged fries, bottomless shell-on peanuts and local-beef burgers. The beloved cheeseburger is served well-done and doubled by default (order it "little" for a single patty), slapped on a sesame-seed bun with unlimited toppings (jalapeños, BBQ sauce, relish) or "all the way": with ketchup, mustard, mayo, lettuce, pickles, tomatoes, grilled onions and grilled mushrooms. Various locations; visit fiveguys.com. $6.95.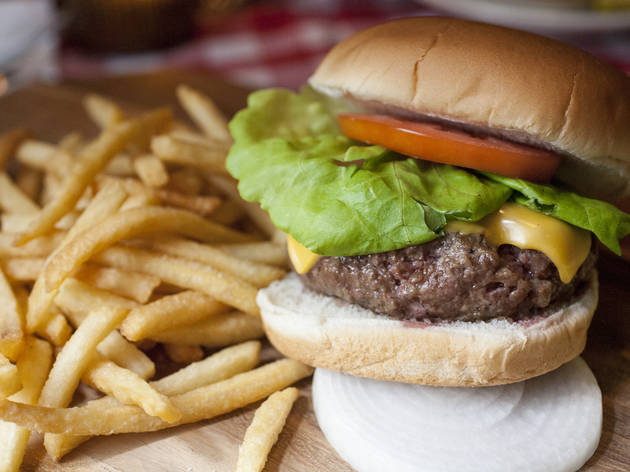 2/10
Photograph: Cinzia Reale-Castello
9. Cheeseburger at P.J. Clarke's Both after-work average joes and megawatt celebs (Elizabeth Taylor, Frank Sinatra and Jackie O.) have filled this redbrick corner haunt since it opened in 1884. Though Nat King Cole dubbed the bacon-topped burger "The Cadillac" for all its meaty merit, it's P.J.'s humble cheeseburger that's drawn crowds for decades. The no-frills sandwich features six ounces of flat-top seared ground chuck and a slice of raw onion on a white bun, customizable with cheese (Vermont cheddar, Roth's baby Swiss) and add-ons such as avocado, fried egg, "butcher's" chili and béarnaise sauce. 915 Third Ave at 55th St (212-317-1616, pjclarkes.com). $11.15.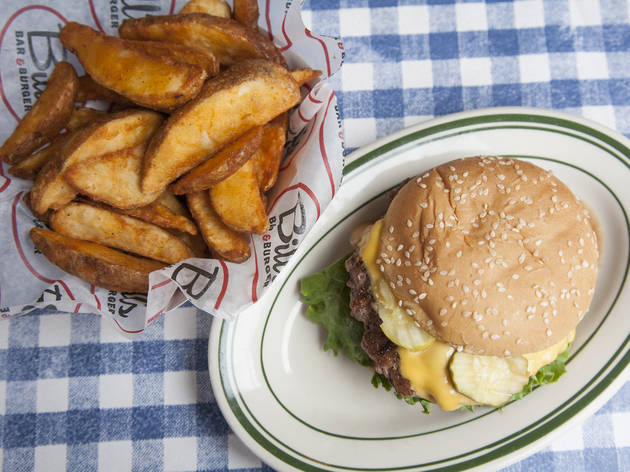 3/10
Photograph: Cinzia Reale-Castello
8. Bill's Burger at Bill's Bar & Burger Like many hit patty joints, Steve Hanson's all-American spot sources the custom beef blend (chuck, short rib and fatty deckle) for this crowd-pleasing burger from meat maestro Pat LaFrieda. At the red-checked-tablecloth MePa eatery—serving comfort classics since '09—chef Brett Reichler smashes the beef thin and sears it hard on the flattop for a crusty-on-the-outside, juicy-on-the-inside consistency. Burger accoutrements include shredded iceberg lettuce, sliced tomato, crinkle-cut pickles, melty American cheese and special sauce (mayo, barbecue sauce and a secret spice mix), all layered on a squishy, unassuming house bun. Various locations; visit billsbarandburger.com. $8.95.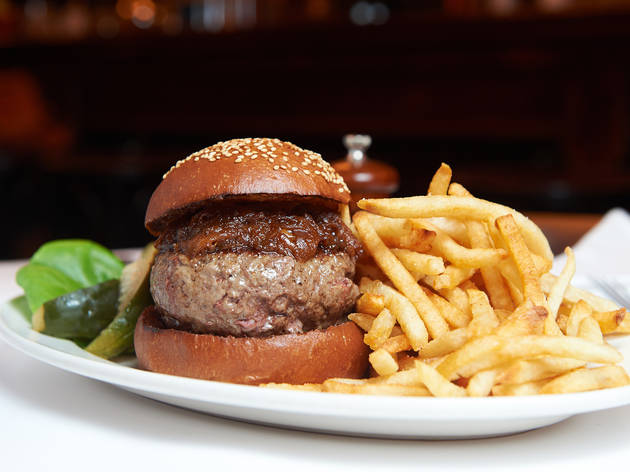 4/10
Photograph: Filip Wolak
7. Black Label Burger at Minetta Tavern Forking over $26 for a burger is easy to scoff at, unless it's the legendary Black Label Burger at Keith McNally's restored Village relic, which once served lit luminaries like Hemingway and Cummings. The hulking nine-ounce puck of prime, dry-aged Pat LaFrieda beef is moistened with butter during griddling, topped with a tangle of caramelized onions and placed on a seeded Balthazar brioche. Cheese is nowhere in sight, and lettuce, tomatoes and pickles are left on the side to let the star attraction—the stellar meat—shine. 113 MacDougal St at Minetta Ln (212-475-3850, minettatavernny.com). $26.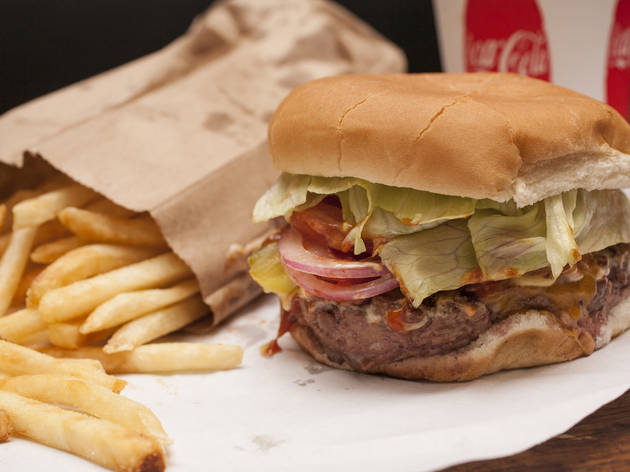 5/10
Photograph: Cinzia Reale-Castello
6. Cheeseburger at Burger Joint at Le Parker Meridien Hotel This perpetually packed hole-in-the-wall—cloistered by floor-to-ceiling red drapes in the hotel lobby—is Gotham's worst-kept food secret. Since its opening in 2002, clued-in diners have known to simply look for the neon-lit burger sign to guide them to the wood-paneled greasy spoon, where juicy beef-shoulder patties are grilled to order. Evoking a 1970s snack shack, burger offerings are kept simple—a yellow-and-white-cheddar blend, Heinz ketchup, straight-from-the-bag Arnold buns and the usual lettuce-tomato-pickle toppings. Le Parker Meridien Hotel, 119 W 56th St between Sixth and Seventh Aves (212-708-7414, burgerjointny.com). $8.04.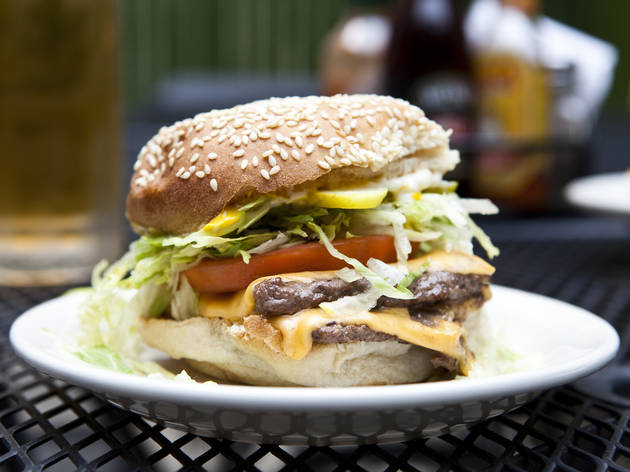 6/10
Photograph: Jessica Lin
5. Burger at the Dram Shop The fan-favorite cheeseburger at this whiskey-fueled South Slope saloon is like the beefy cross between a Wendy's Double and a Big Mac. At the wood-laden bar—opened by "Angry" Wade Hagenbart and Clay Mallow in 2008—two squared-off three-ounce patties from local butcher Paisanos come heaped with a mess of toppings: shredded lettuce, chopped onion, sliced tomato, American cheese, dill pickles, mayo and mustard on a butter-toasted sesame-seed bun. With a mountainous side of salty, hand-cut fries and a Scotch kicker, it's more than a few notches above your average fast-food order. 339 9th St between Fifth and Sixth Aves, Park Slope, Brooklyn (718-788-1444, dramshopbrooklyn.com). $12.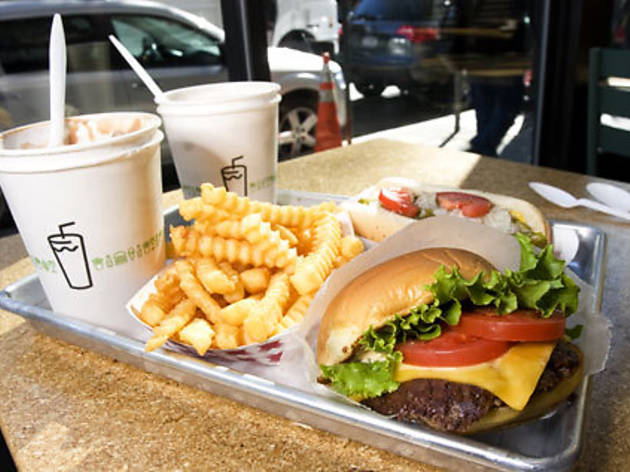 7/10
Photograph: Roxana Marroquin
4. Cheeseburger at Shake Shack We know—what more can be said about Danny Meyer's feverishly popular "roadside" burger chain, first launched in 2004? Despite its global expansion—with overseas locations ranging from London to Dubai—the ShackBurger has become synonymous with New York: a proprietary blend of Pat LaFrieda brisket, chuck and short rib formed into quarter-pound slabs, cloaked in American cheese and mayo-based ShackSauce, and stuffed inside a griddled potato bun. Lettuce, tomato, pickle and onion are optional, but consider an hour-long wait pretty much mandatory if you line up at the Madison Square Park flagship. Various locations; visit shakeshack.com. Single $4.10, double $6.70.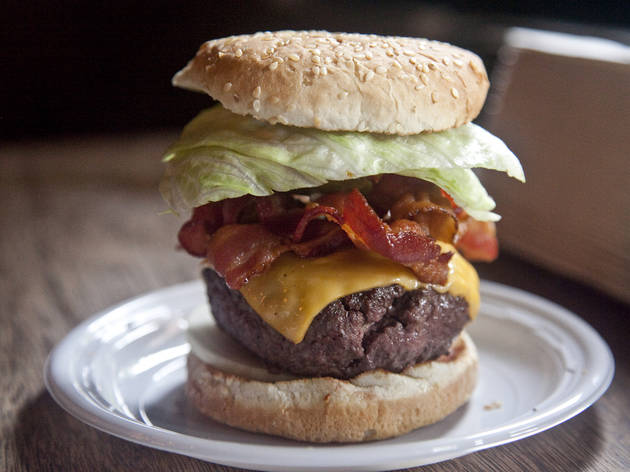 8/10
Photograph: Melissa Sinclair
3. Bistro Burger at Corner Bistro Four of the nine menu items at William O'Donnell's West Village hallmark—launched as a French eatery in 1961 but rejiggered as a bar in '67—are burgers, but the line maker is the venerated Bistro Burger, a late-night favorite that frequently tops best-burger lists. A behemoth undertaking, the half pound of salamander-broiled New England beef (sirloin, chuck and top round) is piled high with American cheese, sliced tomato, iceberg lettuce and deep-fried ruffles of bacon. The heavyweight patty sits atop a thick ring of raw white onion on a toasted sesame-seed bun, humbly doled out on a paper plate. 331 W 4th St at Jane St (212-242-9502, cornerbistrony.com). $8.75.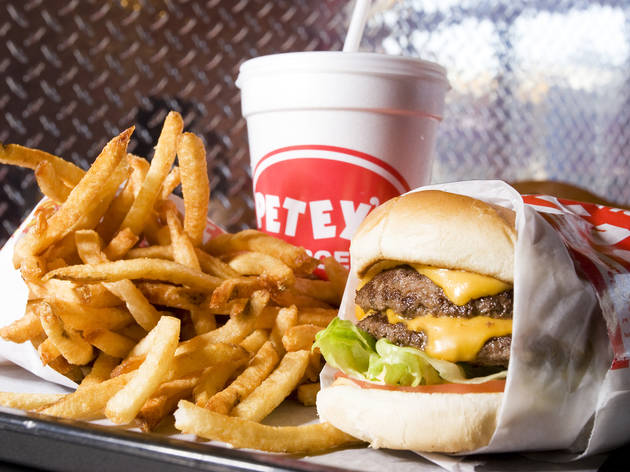 9/10
Photograph: Roxana Marroquin
2. Double Cheese at Petey's Burger Oft called the In-N-Out of Queens, this Astoria patty-flipper is no cheesy rip-off of the famed SoCal chain, at least not to the legions fans salivating over the Double Cheeses pulled off the grill. Founded in 2008 by Cali-educated brothers Peter and George Karalekas, the West Coast–style double cheeseburger sports a duo of 4-ounce griddle-smashed patties—made with Pat LaFrieda Angus beef—stacked with gooey American cheese, raw onion, crisp iceberg lettuce, tomato and drippy, not-so-secret special sauce (hint: it's Russian dressing). Handle it within its wax-paper wrapping to avoid any shirt-ruining spillage. Various locations; visit peteysburger.com. $6.50.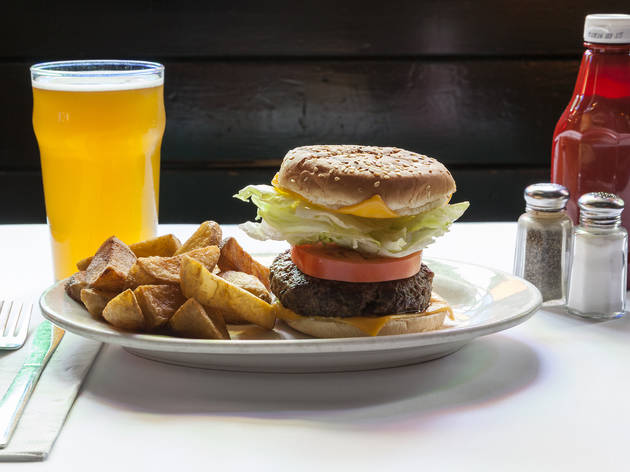 10/10
Photograph: Michael Rudin
1. The Classic at Donovan's Pub Opened in 1966 by Joe Donovan and taken over by longtime Donovan's barmen Dan Connor and Jimmy Jacobsen when Joe retired in 2012, this Irish-lilted Woodside fixture touts its burger status proudly: A large sign proclaiming #1 rated hamburger in nyc hangs on the side of the Tudor-style tavern (TONY named it the city's best burger in 2004). Regulars pack in for the unfussy, charbroiled half-pounders, padded with freshly ground New York strip and topped with lettuce and tomato (cheese, bacon and onion are optional). A side of thick-cut steak fries and—if you're smart—a well-poured Irish pint round out the iconic pub meal. 57-24 Roosevelt Ave at 58th St, Woodside, Queens (718-429-9339, donovansny.com). $9.
In a burger-loving city like Gotham, it's not shocking that New Yorkers have their own tried-and-true favorites for the best burgers in NYC. Time Out New York readers sized up the burger competition and voted for their top ten patty picks, ranking neighborhood restaurant icons such as P.J. Clarke's in midtown and Donovan's in Queens alongside popular newcomers like Shake Shack and Minetta Tavern. Take a gander at our readers' ten best burgers and see if your choice made the list.

RECOMMENDED: All of NYC's best burgers