Heads up! We're working hard to be accurate – but these are unusual times, so please always check before heading out.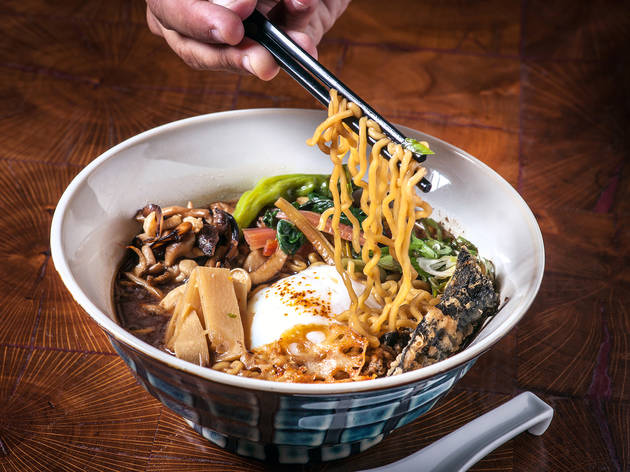 Restaurant and bar openings: August 9-15, 2012
Dassara, Die Koelner Bierhalle and more open in New York
The following venues are expected to open by August 8. Always call ahead, as openings can be delayed.
Die Koelner Bierhalle Inspired by the ancient German city of Cologne—the birthplace of Kölsch—this transporting and cavernous Park Slope beer hall features a lantern-lit interior, walls bearing the city's coat of arms and communal wooden tables. With more than 40 bottled beers and 30 on tap, including native favorites like the straw-yellow, crisp Sion Kölsch and a hoppy Jever Pilsener, as well as nine different kinds of bratwurst (including the German classic bauernwurst) and traditional Bavarian pretzels, you'll be eating and drinking like a true Teuton. 84 St. Marks Pl between Fourth and Fifth Aves, Park Slope, Brooklyn (347-227-7238, thekbh.com)

Chobani SoHo Greek yogurt producer Chobani expands beyond the shelf at this dairy bar and retail store. The Mediterranean offerings here buck the fro-yo trend, using only natural, chilled yogurt as a base for a variety of made-to-order creations. Load up on topping combos such as toasted coconut and pineapple, pistachio and chocolate, or peanut butter and jelly. Also available in the 550-square-foot Soho storefront—which is decked out with reclaimed local redwood—are a rotating assortment of Mediterranean speciality items like oils and nuts, and the full line of yogurts. 150 Prince St at West Broadway (646-998-3800)

Dassara With New York still chasing tonkatsu perfection, it's easy to forget that native Japanese chefs tend to approach their ramen bowls like Jackson Pollock attacked a canvas, employing whatever regional ingredients are at hand and improvising as they go. With that in mind, Josh Kaplan and Justin DeSpirito set out to create noodle dishes imbued with a unique Brooklyn terroir at their Carroll Gardens ramen-ya, taking ramen beyond the pork and miso fundamentals. Consider their Deli Ramen, which starts with a long-simmered chicken broth doused with chicken tare, loaded with matzo balls and topped with a pile of delicate Mile End smoked beef chashu. A small-plate menu continues the cross-cultural theme: There's an heirloom tomato salad tossed with miso-glazed lardons and bonito flakes, as well as a platter of fried chicken hearts accompanied by hot mustard and a house-made duck sauce. Grab a seat in the brick-walled bar area or settle into the quieter, 40-seat dining room which affords a view of the open kitchen. 271 Smith St between Degraw and Sackett Sts, Carroll Gardens, Brooklyn (718-643-0781)

Kuro Kuma Espresso & Coffee This petite, eight-seat specialty coffeeshop in Morningside Heights peddles Counter Culture beans, espresso shots pulled from a gleaming La Marzocco machine and Balthazar croissants and scones. The restored cherrywood floors and a wall of sky-blue tiles behind the counter make for a serene, Zen-like room, which is no fluke—the shop's name is Japanese for "black bear," an homage to nearby Sakura Park, a Japanese cherry-blossom garden. 121 La Salle St, no. 3 between Amsterdam and Claremont Aves (no phone)

Pop Karma This Kickstarter-funded shop, painted a bright yellow, uses organic extra-virgin olive oil (not butter) to give its airy popcorn a glistening, finger-licking sheen. The classics—cheddar, caramel—are here, but keep an eye out for rotating flavors like barbeque, white-truffle cheddar and margarita (coconut and lime). Grab one of the three sizes of reusable to-go bags for your Saturday matinee. 95 Orchard St between Broome and Delancey Sts (917-675-7450)

Zerza Find home-style Moroccan dishes cooked in an Indian tandoor oven at this 50-seat East Village eatery. The menu features plates like mini tagines, marinated kebabs and chicken b'steeya (pulled chicken baked in phyllo dough with spiced ground almonds). Designed to evoke a southern Moroccan house, the space is outfitted with low wood-beamed ceilings, sand-colored brick walls and antique furniture imported from the old country. 320 E 6th St between First and Second Aves (212-529-8250)
Related
20 essential ramen dishes
NYC's best beer
Best beer gardens in NYC
See more in Food & Drink