Restaurant and bar openings: March 14-20, 2013
Carbone, Forty2West and more open in New York.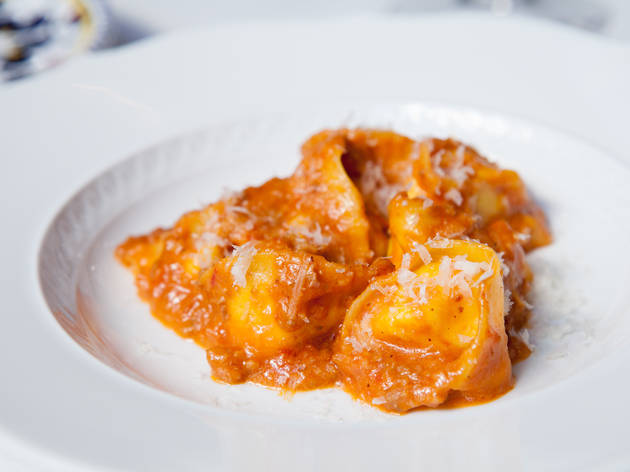 The following venues are expected to open by March 20th. Always call ahead, as openings can be delayed.
Calexico Jesse, Brian and David Vendley—the brothers behind the Vendy Award–winning Cal-Mex cart—expand with their first Manhattan storefront. Following their two Brooklyn spots—as well as carts in Soho and Flatiron—the trio comes to the LES, beckoning neighborhood nightcrawlers with cart favorites (tacos, quesadillas, tortas). This downtown spot also offers a few new items: Doubled soft corn tacos get filled with pollo toucinho (chicken and bacon) in verde sauce, while fried green tomatillos substitute for a hamburger bun in the Sloppy José. The margarita program has also been souped up—the brothers enlisted Apothéke alum Nick O'Connor to mix guava, blood-orange and jalapeño-mint variations at the 12-seat tiled bar. 153 Rivington St between Clinton and Suffolk Sts (no phone yet)
Carbone Chef wunderkinds Rich Torrisi and Mario Carbone—the trailblazing duo behind Torrisi Italian Specialties and Parm—graduate to empire-building status with their third high-flying joint: a 72-seat tribute to mid-20th-century red-sauce relics. As at their Nolita hot spots, the pair will breathe new life—with primo ingredients and Café Boulud–trained technique—into nonna standards, culled from old-school genre masters like Rao's and the menu archives at the New York Public Library. The food-historical toques will dispatch chicken scarpariello (cotechino sausage, morel mushrooms and piquillo peppers), ragù-slicked tortellini and lobster Fra Diavolo. The retro-inspired decor in the time-honored Rocco's space recalls 1950s New York: Servers bustle around the blue-and-white tiled floor (inspired by similar flooring seen in The Godfather) in vintage-style tuxes designed by Zac Posen. Sepia-toned art curated by cine-kid Vito Schnabel (son of director Julian) lines the walls. The bar—crafted from hand-carved walnut with mother-of-pearl inlays—highlights Italian wines and classic cocktails like Manhattans to mai tais, overseen by decorated drink vet Thomas Waugh (former Death & Company head bartender). 181 Thompson St between Bleecker St and W Houston Sts (212-254-3000)
Forty2West Mario Batali protégé John Di Lemme—who's flexed his culinary muscles at Lupa, Del Posto and Vegas's Enoteca San Marco—retools the old-school New York chophouse with Italian flair. The wood-paneled, bi-level eatery—classically decked out with white tablecloths and round booths—features hearty steakhouse staples like bone-in rib eye, porterhouse and a pork chop paired with charred apple, radicchio and fried pork rind. Along with Italian-tinged fare like crudos and house-made pastas, there's a smattering of lighter eats available at the mahogany bar downstairs. Nosh on cured meats (wild-boar salumi, coppa), oxtail terrine and guanciale-flavored mussels in between sips of Italian craft beer (such as Baladin Nora) and cocktails, like a whiskey-based Paloma (Midleton, Cointreau, pear brandy, grapefruit and lime juice). 42 W 48th St between Fifth and Sixth Aves (212-262-6200)
Gelateria Vivoli Third-generation gelato maker Silvana Vivoli brings her famed Florentine gelateria to Macy's Herald Square. At the first location outside of Vivoli's native Florence, you can choose from nine gelati (cream custard, Arborio rice pudding) and three sorbetti (pineapple, baked Bosc pear), made from recipes passed down through the Vivoli famiglia since the 1930s. Sharing space with Stella 34 Trattoria on Macy's sixth floor, the gelateria offers lounge seating and marble-topped tables for enjoying the treats on-site, with quarts and pints ready for takeout at the counter. 151 W 34th St between Sixth and Seventh Aves (no phone yet)
Jennifer's Way Bakery Diet-conscious sweets fiends can indulge in gluten- and allergen-free baked goods from actor Jennifer Esposito (Blue Bloods). Berry-filled toaster tarts conjure memories of childhood breakfasts, while quinoa vegan loaves and a take-home pancake mix—developed by the celiac-affected Esposito—make quick work of eating healthy at home. Vintage accents dominate the space, with converted gas lamps, white subway tiles and a rustic counter fashioned from a farmhouse door. 263 E 10th St between First Ave and Ave A (no phone yet)
Joe's Pizza The beloved West Village slice joint—a downtown fixture since 1975—debuts its first spin-off location, in Union Square. Father and son Pozzuoli, Joe Sr. and Joe Jr., turn out the same thin-crust pies, simply topped with a thin tomato slick and melted mozzarella cheese. But this location—just slightly larger than the bare-bones original, with 12 barstools—is gussied up with Tiffany-style lamps. 150 E 14th St at Third Ave (212-388-9474)
La Mujer Gala Chef Jennifer Cole-Ruiz—student of Spanish cuisine at Madrid's gastronomic temple, Balzac—returns to the U.S. to spread the tapas gospel with this 40-seat neighborhood joint. The menu skews toward small plates with inventive touches: Crispy purple potato is topped with a parsley-cilantro pesto native to Spain's Canary Islands, and a panfried empanada is stuffed with a tuna-and-tomato stew. Four entrée options include an order-ahead paella of the day and red-wine-braised beef cheeks. Grab a drink from the Spanish-only list at the eight-person bar, lit by vintage table lamps and colorful strings of Christmas lights. 665 Vanderbilt Ave between Park and Prospect Pls, Prospect Heights, Brooklyn (718-783-3400)
Neapolitan Express Powered by compressed natural gas (a clean alternative to other fuels), this pizzacentric food truck aims for a zero-carbon footprint, with recycled paper products, the ability to plug into and run off of the electric grid, and solar panels on the roof. Three organic pies—Margherita, Bufala and marinara—taste richer once you know a portion of the truck's proceeds go to community charities, including support for military veterans and the elimination of childhood hunger. For locations, visit twitter.com/NeaExpress (888–828–8199)
Stella 34 Trattoria It's a little slice of Italy in America's department store—as part of a $400 million, four-year renovation, Macy's historic flagship has transformed its sixth floor into a grand 267-seat Neapolitan trattoria. The retail giant tapped haute toque Jonathan Benno (Lincoln, Per Se) to oversee the Italian menu. After browsing racks of Burberry and Louis Vuitton, head to the marble bar for seasonal Bellinis (white peach, dark berry) or an Italian soda cocktail (Limonata, Luxardo cherry), while taking in expansive views of the Empire State Building via floor-to-ceiling windows. Benno's al forne entrées include béchamel-and-black-kale lasagna, caper-spiked sea bass and eggplant Parmesan, all pulled from wood-fired ovens. Sharing space in the fiery hearths are Jarett Appell's pizzas made with meticulously sourced ingredients: the artisanal standards Caputo flour and San Marzano tomatoes. Choose from inventive rounds, like cauliflower puree with Meyer lemon, or brussels sprouts with golden raisins and fontina. 151 W 34th St between Sixth and Seventh Aves (212-967-9251)
Sponsored listing
Ristorante DeGrezia
Diners looking for upscale Italian in Midtown East will want to look into DeGrezia. Before you even think about dinner, you'll have to peruse the restaurant's expansive list of more than 450 wines. As for food, everything is made in house, from the pasta to the bread. To start, try the grilled octopus with haricots verts and roasted red potatoes ($19) or sweetbreads pan-seared with mushrooms and marsala wine ($16). Go for some of that homemade pasta with the pappardelle with wild boar and rosemary ($24) or the spinach gnocchi with gorgonzola cream sauce ($23). For your second course, perhaps the boneless quail stuffed with sweet Italian sausages and wrapped in pancetta will tempt you ($34), or maybe you'll go for a lighter dish of roasted pork tenderloin, cannellini beans and broccoli rabe ($29). If you make reservations for a party of eight or more, you can also opt to order off the family-style prix fixe menu (starts at $75).
Venue says: "Celebrating authentic Italian cuisine, fine wines, and exceptional service since 1986!"