Restaurant and bar openings: March 21-27, 2013
Fritzl's Lunch Box, Jarro XIV and more open in New York.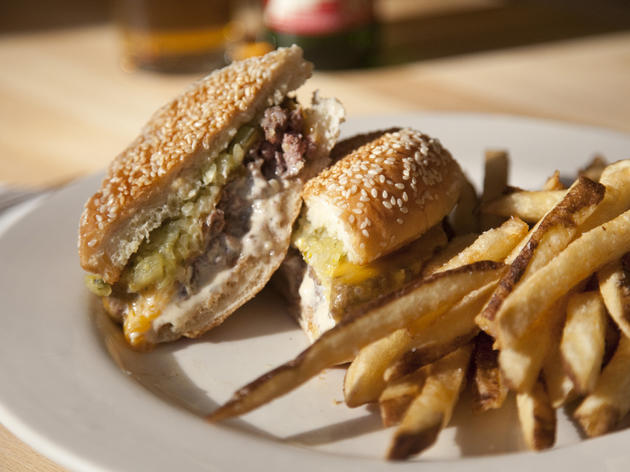 The following venues are expected to open by March 27th. Always call ahead, as openings can be delayed.
Café Mofongo This takeout and delivery nook—only a few stools are squeezed in under cramped counter space—churns out Dominican favorites for a Hell's Kitchen clientele. Pollo al horno, bistec or longaniza—a Spanish-style sausage typically made with pork, paprika and rosemary—anchor combo plates, with a heaping choice of rice and beans or plantains. Mofongo—the namesake dish—topped with a choice of crispy pork rinds, oxtail, shrimp, chicken or braised beef, sate hungry midtowners, as do early-morning helpings of salami, eggs and cheese scrambled together on a mash of green plantains. Wash the starchy Dominican staple down with sips of morir soñando, a sweet combo of milk and orange juice. 316 W 39th St between Eighth and Ninth Aves (212-465-0592)
CLOS New York Oenophiles can swirl a glass at this wine-buzzed drinkery, pouring 60 single-vineyard varieties by the glass. Lining deep-eggplant walls are artworks culled by owner Mine Ayberk, a Turkish art-dealer-turned-sommelier, who curates a vino list like one would a gallery, plucking exclusively Old World single-vineyard varieties for her 26-seat den. Choose your glass, from fruity Austrian whites to robust Burgundy reds, at the horseshoe-shaped oak bar. In addition to the grapeage, the bar sates nonwinos with imported beers and sake cocktails (like the serrano-spiked Sun Flying, with ginger simple syrup and muddled rhubarb). Dapper bites like terrines, pâtés and Russian caviar are also on offer. 64 Kenmare St between Mott and Mulberry Sts (212-219-0327)
East 12th Osteria Using eco-conscious induction cooking, chef Roberto Deiaco prepares Northern Italian standards in an intimate restaurant, decorated with hand-blown glass chandeliers from Brooklyn-based artist friends. Deiaco (Palio, Rainbow Room) turns out luxe plates—see black truffle ravioli, a twelve-vegetable risotto. The wine list includes heavy with selections of Tre Bicchieri pedigree (three glass rating from Italian publication Gambero Rosso). 197 First Ave at 12th St (212-432-1112)
The Ellington An homage to Duke, this UWS eatery is a big band of country-chic digs, American gastropub fare and cocktails with a jazzy twist. Owners Glenda Sansone and Andrew Breslin (Slane) give the 60-seat den a rustic feel with whitewashed barnwood walls, oxidized tin ceilings and large antique mirrors. Honey-stained plank tables are set with Cumberland sausage (a coil of peppery pork) and mash, dressed with onion gravy and braised red cabbage, and butternut squash risotto finished with pickled pears, arugula and queso fresco, dished out by former Dovetail toque Lester Almanzar. New York Distilling Company founder Allen Katz supervises the cocktail program at the sage-penny-tiled bar, turning out tipples named after Ellington-penned jazz standards: A Sophisticated Lady shakes Perry's Tot gin with cinnamon syrup, simple syrup and fresh lime juice, while A Prelude to a Kiss mixes Absolut Citron, cherry liqueur and Cinzano dry vermouth. 936 Amsterdam Ave between 106th and 107th Sts (no phone yet)
Fritzl's Lunch Box Young toque Dan Ross-Leutwyler, who cut his teeth at Fatty 'Cue and the shuttered Bellwether, modernizes the midcentury sandwich shop for his solo debut, in Bushwick's blossoming dining scene. The cheery interior—canary yellow walls, weathered oak floorboards and a touch of tie-dye on curtains hiding the kitchen—opens into a verdant backyard, where neighbors chow down on homey fare. Ross-Leutwyler puts an international spin on the luncheonette menu, with options like Basque-style fried bacalao with paprika aioli, and crispy lamb tempered by spicy cilantro-flecked yogurt and tart-sweet pickled beets, in addition to American classics, such as burgers and fried chicken on Martin's potato rolls. Rounding out dinner options are chefly bites (charred smelts and blood-sausage tamales), salads (sesame-ginger-dressed kale with black radish) and pastas (fennel-and-sardine-accented bucatini con le sarde). A short list of seven wines and eight beers, Tecate and Sixpoint included, help wash down the globe-trotting provisions. 173 Irving Ave between Stanlope and Stockholm Sts, Bushwick, Brooklyn (929-210-953)
Heart n' Soul Southern-twanged toque David Conn (Delta Grill) brings a little coastal-Carolina love up north with this Alphabet City soul-food spot. A former bassoonist and Cornell music conductor, Conn traded in chord changes for piri piri peppers when he fell for low-country "Gullah" cuisine and traditional African spices in Savannah seven years ago. Conn puts a refined spin on comfort-food classics: Grits gnocchi is topped with peppered oxtail and merguez (North African sausage) gravy; and bourbon-braised short ribs are coated with an andouille demi-glace. Nonalcoholic tipples included Southern fizzers like cherry-flavored Cheerwine and citrusy Sun Drop. Even though he's swapped the orchestra for the cozy 40-seat eatery, Conn hasn't totally abandoned his love of music: '60s Motown plays throughout the joint—including covers of the spot's namesake, "Heart and Soul"—and the soundboard of an old baby grand can be found mounted on a wall. 200 E 3rd St between Aves A and B (646-360-2053)
Jarro XIV First thing's first: Who the hell is Jarro XIV? Italian folklore says it's bad luck to have 13 guests at a table—the Last Supper attendees could have surely attested—so a lucky 14th is routinely pulled in. In the 19th century, Florentine writer-slash-gourmand Giulio "Jarro" Piccini was frequently that kismet-turning 14th. And Rome native Simon Clementi hopes to invoke the lad's luck with this Cobble Hill small-plates restaurant. Clementi's tapped Rodrigo Nogueira (Colicchio & Sons) to dispatch cross-cultural tapas that nod to Piccini's cookbooks: truffle salami; duck rillettes dotted with date mustard; and salmon belly sprinkled with blood-orange zest. Plush velvet lounge seating and Victorian high-backed chairs are dispersed for dining, vintage touches that evoke Piccini's era. At the wooden 13-seat bar, Italian mixologist Eddie Fontana infuses vodkas with rosemary or jalapeño, crafts barrel-aged cocktails and finishes tipples with spoonfuls of fig jelly. 68 Bergen St between Court and Smith Sts, Cobble Hill, Brooklyn (718-488-3906)
Lobel's Kitchen Plying high-end meats on the Upper East Side since 1951, the iconic Lobel butcher clan branches out with a satellite shop focused on prepared entrées, sandwiches and sides. Snag a stool at the curved double-height counter for Lobel's hefty sammies, introduced at its Yankee Stadium stand: braised osso buco piled on ciabatta, a rotisserie chicken triple-decker and its signature Wrangler steak drizzled with creamy tarragon-horseradish sauce. The oak-paneled eatery teems with carne porn, with food stations showcasing smoked brisket, pork ribs and meat loaf available for catering, as well as just-butchered cuts like dry-aged porterhouse and veal chops vacuum-sealed to take home. 1030 Third Ave at 61st St (212-317-0200)
Local 92 Hummus Shop owner Shay Zvibak reopens his East Village space—formerly Candela Candela—as a health-focused Mediterranean eatery. Different iterations of chickpea spread anchor the menu, and you can also find eggs suspended in the tomato-and-onion mess of shakshuka. Nibble on the falafel-encrusted salmon and drink fresh-squeezed juice at the communal tables, with benches made of reclaimed wood from a bowling-alley floor. A full bar, highlighting wines from an organic list, quenches the thirst of revelers as DJs spin tracks on weekends. 92 Second Ave between 5th and 6th Sts (212-432-2232)
Melibea Spanish restaurateur Hector Sanz (Barraca, Macondo, Rayuela) adds to his trio of Iberian-inflected spots with this Mediterranean-minded Village restaurant. Sanz has wrangled in fellow Spaniard Jesús Nuñez—currently running the kitchen next door at Barraca—to put his personal spin on coastal European cuisine: Venison moussaka is slick with spicy béchamel; homemade focaccia is layered with fresh burrata, tomato confit and Modena vinegar; and a six-minute egg is perched atop sunchoke cream, onion marmalade and foie gras. Tipping a hat to the restaurant's theatrical roots—it's named after the heroine of Fernando de Rojas's 15th-century tragicomedy La Celestina—velvet banquettes sit on elevated sections throughout, mimicking a mezzanine. The bar is the "stage," decked out with a sweeping curtainlike frame and well lit with brass light fixtures, and vino's the star, with 250 wines hailing from the Mediterranean (Spain's Cava, Lombardy's Franciacorta). 2 Bank St at Greenwich Ave (212-463-0090)
Sponsored listing
Mr. Crispy
This Kips Bay restaurant with a whimsical name specializes in the Polish delicacy pasztecik szczecinski: a deep-fried yeast dough stuffed with savory fillings. It comes from Szczecin, Poland, and the restaurant uses the same machines and recipes as the bakers in the old country. Try them filled with beef and onions, cabbage and mushrooms, cheese and mushrooms or spicy chicken (one for $3.99, three or more for $3.75 each). Order some hot beet soup ($3.50) to go with your pasztecik, or opt for other authentic Eastern European dishes like boiled or fried pierogis (eight for $8.99) or potato pancakes (three for $3.95). For dessert, you might want to try the sweet pasztecik filled with fresh fruit and topped with whipped cream ($3.99) or pierogis stuffed with strawberries or blueberries and served with sour cream (seven for $9.99).
Venue says: "The best Homemade Pierogi in New York City with 40 years tradition of making it! "Mention Time Out at store and receive 10% off""