Heads up! We're working hard to be accurate – but these are unusual times, so please always check before heading out.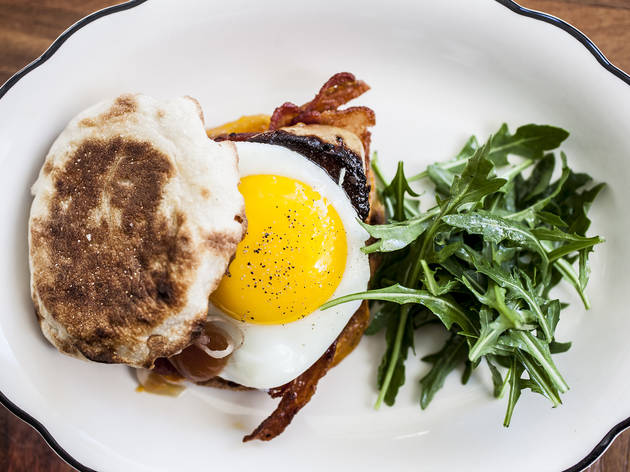 Restaurant and bar openings: May 2-8, 2013
Alameda, Charlemagne and more open in NYC
The following venues are expected to open by May 8th. Always call ahead, as openings can be delayed.
Alameda The Greenpoint dining scene is flush with Polish stalwarts, old-world bakeries and indie bars, but the 'hood has had little in the way of stylish American restaurants. That will soon change when Brooklyn Star vets Nick Padilla and Waine Longwell roll out this stunning 60-seat eatery—boasting a gleaming U-shaped concrete bar, purple heart-wood paneling and black ceiling fans—designed by indie firm hOmE (Paulie Gee's, Donna). The duo dispatch bistro starters (raw oysters, charcuterie), American classics (an In-and-Out-inspired burger) and creative plates (a foie gras breakfast sandwich, a pork sausage on a roll with piperade). Sip bottled beers (Narragansett, Anchor Steam, Dupont Redor Pils), biodynamic wines, or tweaked classic cocktails, like a Manhattan made with house-made vermouth and a whiskey sour spiced up with Velvet Falernum. 195 Franklin St at Green St, Greenpoint, Brooklyn (347-227-7296)
Beacon BarBeacon Theatre showgoers can pop into this 62-seat cocktail bar for a postconcert dram. Settle into a blue leather seat and choose from a small selection of wines and beers, as well as tipples like the Louisiane (rye, absinthe and Peychaud's bitters) and the Oaxaca Smokeout (mescal, single-malt, honey and cayenne). Spicy guacamole, stuffed Medjool dates and vegetarian polenta headline a globally influenced menu of light bites. 2130 Broadway between 74th and 75th Sts (212-787-1100)
Charlemagne Tuck into Spanish twists on bistro classics at this French-American brasserie in the West Village. Chef Jodi Bernhard (formerly of Boston's fine-dining French den Clio Restaurant) adds an Iberian accent to casual Gallic plates: leeks in romesco instead of the traditional vinaigrette; tarte flambèe topped with pancetta Iberico; and beef tartare enriched with Catalan aioli. Linger at a reclaimed-mahogany table for côte de boeuf with salsa verde and a glass of burgundy. The Edwardian-inspired space is decorated with original honeycomb tile floors, antique archways and restored tin chandeliers. 679 Greenwich St at Christopher St (646-558-5623)
Manon Moscow megarestaurateur Andrey Dellos—of the short-lived glitzy flop Brasserie Pushkin—gives the New York dining scene another shot with this 5,800-square-foot American behemoth in the Meatpacking District. Named after Jules Massenet's opera, the three-story space features a bar-lounge on the street level, a mezzanine on the second floor and a main dining room on the third. The 180-seat brick-and-barnwood restaurant—punctuated with Baroque flourishes like suspended ceilings and a three-story venetian mirror—is helmed by chef Tae Strain of Baltimore's Demi. The toque dishes out American fare with cross-cultural accents: Chatham cod with kohlrabi and bonito; Denver lamb loin served alongside maitake mushrooms and black garlic; and Berkshire pork chops accompanied by savoy cabbage and gochujang (Korean fermented chili paste). The bar program, overseen by Eleven Madison Park alum Aaron Polsky, mirrors the menu's global touches, infusing quaffs with dashes of kafir lime, star anise and bergamot zest. 407 W 14th St between Ninth and Tenth Aves (212-596-7255)
Mulberry & VineTribeca health junkies can swing by this bi-level lunch spot for global bites like curried freekeh and Bhutanese red rice. Underneath glass Pelle Bubble chandeliers, grab a seat at a reclaimed-wood table for vegetable-focused international fare, like spicy-sweet beets with pomegranate seeds, and roasted cauliflower with serrano salsa verde. Beverage options include blended vegetable-and-fruit juices from LuliTonix, Laughing Man coffee or Channing Daughters wine. The 52-seat space features retro-style red linoleum floors, and collage-inspired paintings by local artist Ryan Metke line the walls. 73 Warren St at West Broadway (212-791-6300)
Munchies JointLower East Side boozers can steel themselves for rowdy nights with hot-dog sliders and cake fries at this night-owl takeout joint. The Lilliputian walk-up window is jam-packed with unabashedly greasy stoner eats, available into the wee hours: grilled cheese-stuffed pretzels, hot-dog sliders and Philly cheese-steak buns. Sweet tooths can chow down on churro bites, push-up cake pops (in banana cream pie, red velvet and Oreo cheesecake) and funnel-cake fries doled out in Chinese takeout containers. 85 Stanton St between Allen and Orchard Sts (212-533-8200)
Patsy's Pizzeria The historic East Harlem pie parlor opens its eighth location, the first outer-borough spot, in Queens. Robert Orrico, an Arthur Avenue restaurant vet, dispatches the legendary za shop's thin-crust pies, along with other red-sauce classics: zuppa di pesce, chicken piccata in a lemon white-wine caper sauce, and shrimp oreganata topped with garlic bread crumbs. Sidle up to the 15-seat granite bar for six beers on tap (Stella Artois, Peroni), plus ten wines, including a house pinot grigio and chianti. The location may be different, but the house policy remains the same: no slices. 21-64 Utopia Pkwy at 22nd Ave, Outer Queens, Queens (718-224-0200)
Rouge Tomate Cart in the Park Get a locavore lunch at this street-cart spin-off of Rouge Tomate, the UES temple to health-conscious haute cuisine. Offerings include burgers, like grass-fed bison with spring-onion jam and pickled ramp, and Amish country chicken with wild arugula and mint yogurt. Along with the sammies, there are veggie soups (local sweet corn with jalapeño) and fresh-pressed sips from the restaurant's award-winning juice bar (the Passion Palmer infuses lychee and black teas with passion fruit, agave and lemon). And you can sate your sweet tooth with strawberry-oatmeal cookies and chocolate-cherry brownies. Central Park, enter at E 64th St and Fifth Ave (646-237-8977)
Sweets First Bakeshoppe & Café Creative cupcakes are the focus of this Astoria bakery, decorated with movie and television quotes as an homage to nearby Kaufman Astoria Studios. Dessert-loving cousins Charisse Balines, Sandy Nuguid and Christine Mendoza peddle flavors both familiar (s'mores, Oreo, red velvet) and unexpected (sweet potato, French toast, broccoli and cheese). Pop-culture-inspired names, such as Lost in Translation (dulce de leche) and Family Guy (peanut butter and jelly), are also on the menu. 35-04 35th St at 35th Ave, Astoria, Queens (347-617-1108)
Vinateria Find coastal Italian fare at this restaurant–wine bar in Harlem. The casual 57-seat spot offers a small menu of classics, including homemade spaghetti with fava beans, sautéed striped bass in ramp sauce, and grilled octopus on a bed of celery frisée. To drink: an extensive 53-bottle wine list highlighting small producers from the boot-shaped country. Park yourself at the mahogany zinc-topped bar—dug out from an old Gramercy Park tavern—or in one of the church-pew banquettes. 2211 Frederick Douglass Blvd (Eighth Ave) at 119th St (212-662-8462)
Tequila Park The ski-cabin-themed Hudson Lodge gets a warm-weather makeover with this boozy taqueria, settling on the second-story terrace of Hudson Hotel during the spring and summer seasons. The 100-seat hangout—decorated with patio chairs, strings of filament bulbs and Aztec-inspired throw pillows—churns out tropical cocktails and gourmet tacos. The bar, stocked with 40 varieties of tequilas and a dozen mescals, blends a margarita menu, featuring flavor combos like tangerine-vanilla, raspberry-jalapeño and passion fruit–Thai chili concoctions. Soak up the South of the Border booze with oddball tacos packed with fillings like sriracha–cheese steak, peanut butter–pork belly and pineapple–chili-glazed skirt steak. 356 W 58th St between Eighth and Ninth Aves (212-554-6217)