Heads up! We're working hard to be accurate – but these are unusual times, so please always check before heading out.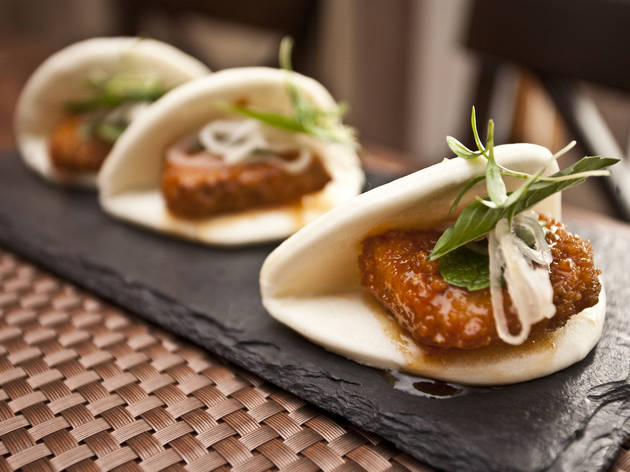 Restaurant and bar openings: May 31–June 6, 2012
Silk Rd Tavern, Sullivan St Bakery and more open in New York
The following venues are expected to open by June 6. Always call ahead, as openings can be delayed.
Agata & Valentina The posh Upper East Side market takes its imported Sicilian specialty goods downtown with this Greenwich Village shop. Find a range of prepared foods, including polpettine, pasta alla Norma and a Sicilian tuna salad. 64 University Pl between 10th and 11th Sts (212-452-0690, agatavalentina.com)
Aita Chef Roberto Aita (Fiore) turns out Italian fare, like oxtail ravioli and Venetian-style monkfish liver, at this eponymously named Clinton HIll eatery. Brown leather banquettes and a white Carrera marble bar outfit the 40-seat space. 132 Greene Ave at Waverly Ave, Clinton Hill, Brooklyn (718-576-3584)
Cock & Bull Midtown drinkers can stop into this British-inspired gastropub for a cask ale or single-malt whiskey. The 74-seat space—featuring soaring 18-foot-high ceilings, leather banquettes and a painting of a boy playing cricket—also offers traditional English dishes, such as fish-and-chips and steak pie. 23 W 45th St between Fifth and Sixth Aves (212-819-1900, cockandbullnyc.com)
Cove Lounge Harlem native Alyah Horsford-Sidberry pays homage to her neighborhood with this bi-level uptown drinkery, decked out with hardwood floors, a concrete bar and plush brown stools. The 75-seat space serves riffs on classic tipples (Lenox Sidecar: cognac, hibiscus grenadine, lemon juice) and tropically inspired cocktails (Smuggler's Cove: spiced rum, cognac, orange liqueur, almond syrup, pineapple and orange juices, tiki bitters, port wine float). The Caribbean-inspired menu includes dishes like jerk-rubbed Island Chicken wings with a pineapple-mint dipping sauce and crispy shrimp with a coconut and curry sauce. 325 Malcolm X Blvd between 126th and 127th Sts (212-665-3455, covelounge.com)
Desi Galli Grab a mango lassi and nizam roll from this Indian street-food shop. Choose from a mix-and-match menu of bread (roti, paratha, the puffy Mumbai bread pav) and fillings (chicken tikka, slow-cooked lamb bhuna, paneer with tomatoes and green chilies). The 22-seat spot sports colorful wall hangings, paisley stenciling and TVs showing sports events. 101 Lexington Ave between 27th and 28th Sts (212-683-2292, desi-galli.com)
The Flat Gold-framed mirrors, oriental rugs and an antique gray velvet love seat decorate this baroque Williamsburg drinkery, from vets of Lit and Home Sweet Home. Sip classic or creative cocktails, like a French 75, serrano-spiked margarita or the Chocolate Fellini, made with Stoli vanilla, Godiva, crème de cacao, Baileys and cherry. 308 Hooper St between Broadway and South 5th St, Williamsburg, Brooklyn (718-599-5152, theflatbkny.com)
Handsome Dan's Stand Overheated Williamsburgers can cool down with an artisanal snow cone at this old-timey sweets shop. Owner Daniel Levin gained fans dishing out the cold treats at Blackbird Parlour, before expanding his offerings to more than 100 candies (gummy worms, Mallo Cups, Warheads), hand-dipped chocolates and soda fountain drinks (egg creams, sarsaparilla) at this brick-and-mortar spot. The petite space exudes '50s nostalgia with a candy-cane-striped pole, fire-engine red ceiling and shelves filled with knickknacks like mini airplanes. 218 Bedford Ave between North 4th and 5th Sts, Williamsburg, Brooklyn (410-241-3472)
The Monro Liverpool-born Vinny Evans courts fellow expats with this English-style pub, decorated with maps of the motherland and taxidermied deer, squirrel and antelope heads. Eight taps dispense mostly British beers, including Guinness, Boddingtons and Fuller's London Pride, plus drinkers can also choose from cocktails, like a gin gimlet. You can pad all the boozing with savory pastries (such as steak and ale) from the English Pork Pie Company. 481 Fifth Ave between 11th and 12th Sts, Park Slope, Brooklyn (718-499-2005, monropub.com)
Silk Rd Tavern Chinese-American restaurateur Andrew Lee pays homage to his multicultural childhood and recent travels through Asia with this minimalist 70-seat eatery, named after the famed spice-trade route. He teamed up with Philippines-born chef Leo Forneas—who cut his teeth at nouveau Asian kitchens including Jean-Georges Vongerichten's 66, Buddakan and Philly's Sampan—for the East-meets-West canteen. Forneas dishes out refined Asian classics (shrimp toast made with a miso-butter-slathered baguette, and a seafood salad of shrimp, chinese celery and chili paste); Far East riffs on American comfort food (mac and cheese that swaps the pasta for Korean rice cakes); and mash-up creations (Singapore-inspired chili crab potpie with pickled cucumber). Handblown glass chandeliers, a granite-topped bar and bleached walnut wood paneling decorate the space. 46 W 22nd St between Fifth and Sixth Aves (212-989-7889, silkrdtavern.com)
Skylark Bar Park Slopers can tilt back a brew at this '70s-inspired saloon. The spot offers 14 drafts (Sly Fox, Guinness, Captain Lawrence), as well as sandwiches (like a kielbasa, sauerkraut and Swiss panino) from neighborhood takeout shop Luscious Brooklyn. The cozy space exudes a rec room vibe, with pinball tables, lipstick-red walls and vintage furnishings, like a floral patterned couch, trinket-filled bookshelves and landscape paintings. 477 Fifth Ave at 11th St, Park Slope, Brooklyn (347-227-8196, skylarkbarbrooklyn.com)
Sullivan St Bakery Bread whisperer Jim Lahey opens an offshoot of his Hell's Kitchen bakery, this location outfitted with wood high-tops, a Tamagnini flywheel meat slicer and an open kitchen. In addition to his superlative breads, pizzas and pastries, diners can choose from a full menu of breakfast-to-dinner items, including salads, soups and classic sandwiches (like ham and cheese or tuna). To drink, find Coffee Labs Roasters espresso, French press and cold-brewed iced coffee in the morning, and tap beer and wine later in the day. 236 Ninth Ave between 24th and 25th Sts (212-929-5900, sullivanstreetbakery.com)
Tequileria Maya Empire-building chef Richard Sandoval opens a bar—stocked with more than 100 agave-based spirits, plus 30 infused tequilas—next door to his restaurant Maya. Dig into small plates, like creamy chipotle chicken cazuela or smoked-brisket taco, at the zinc-topped bar or a blue vinyl banquette. 1191 First Ave between 64th and 65th Sts (212-585-1818, richardsandoval.com)
Top BRGR Night owls can pop into this 45-seat burger joint for gussied-up char-grilled burgers and hot dogs. The comfort-food favorites get an upmarket spin: Patties and franks are made from California kobe beef, and toppings include truffle oil and caviar. 103 W 14th St between Sixth and Seventh Aves (212-633-2747, topbrgr.com)
White Burger Greenpoint locals can nab $1.50 sliders on potato buns, fries and fresh-pressed juices at this burger pop-up in the back of a Subway. 650 Manhattan Ave between Bedford and Norman Aves, Greenpoint, Brooklyn (718-383-3334)