Restaurant and bar openings: May 9-15, 2013
ABC Cocina, Miller's Near & Far and more open in NYC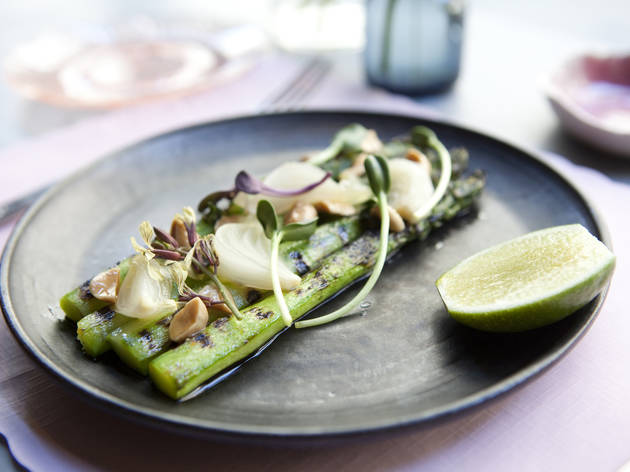 The following venues are expected to open by May 15th. Always call ahead, as openings can be delayed.
ABC Cocina Since making his stateside debut in 1985, Jean-Georges Vongerichten has conquered Gotham's dining scene with cuisines as diverse as the city itself: upscale French at his flagship Jean Georges; New American at downtown charmer Perry St; and clubby Southeast Asian at Spice Market in the Meatpacking District. Now the toque gives Latin America a bump with this highly anticipated sibling to ABC Kitchen, his lauded temple to haute green cuisine, in ABC Carpet & Home. As at ABC Kitchen, Food & Drink Award–winning chef Dan Kluger will oversee a market-driven menu, here highlighting sustainable seafood and heritage meats cooked over a wood-fired grill. Chili and citrus pervade the fare in dishes like chipotle chicken tacos topped with a jalapeño salsa; poached Patagonian prawns with a paprika dip; and beef tenderloin smothered in chimichurri. Eco-conscious trimmings fill the gray-walled restaurant—LED lamps, hot-pink banquettes crafted from vintage rugs—while an antique glass chandelier injects the space with some old-time glamour. A barkeep pours tropical cocktails (rhubarb banana daiquiri, passion-fruit white sangria) and nearly 50 wines—from countries like Spain and Argentina—at a 28-seat marble bar. 38 E 19th St between Broadway and Park Ave South (212-677-2233)
BCD Tofu House Tuck into Korean classics at the this 150-seat, bi-level outpost of the Los Angeles–based chain. Diners—seated in roomy booths divided by cutout panels—can cook their own marinated meats (short ribs, bulgogi and spicy pork) at black tables on portable barbecue grills. Dive into the wood-clad spot's specialty—soondubu, a sizzling tofu stew loaded with proteins (beef, pork, seafood) or vegetables (squash, kimchi). Other traditional fare includes bibimbap and japchae, glassy sweet-potato noodles stir-fried in sesame oil. Also on offer: a small selection of soju (distilled rice liquor), makgeolli (Korean rice wine) and beers. 5 W 32nd St between Fifth Ave and Broadway (212-967-1900)
Casimir & Co Find Gallic country classics at this spin-off of the East Village bistro. Chef Richard Krause (Spago, Cafe Luxembourg) draws inspiration from the owners' upbringings in Lorraine, turning out classics such as duck leg confit and whole branzino roasted in a sea-salt crust. Lighter fare include "noodles" made from fresh hearts of palm and Pacific salmon carpaccio brightened by lemon and dill. Take a seat at one of the long wooden tables or sidle up to the ten-seat granite-topped bar for house-cured charcuterie and wine à la ficelle, a fancy term that means you can pay for only the amount you consume. 1022 Lexington Ave at 73rd St (212-879-6190)
Dave's Hoagies New York has cornered the market on plenty of sandwiches—pastrami on rye, everything bagels with lox and a schmear—but a classic hoagie is all Philly. Brotherly Love transplants can get a little taste of home at this FiDi sandwich shop, where they're piling subs high with turkey, roast beef, or the Italian trio of Genoa salami, hot sopressata and coppa. All sammies come on brick oven-baked rolls from Little Italy's Parisi Bakery and are served with the works, including sharp provolone, diced artichoke hearts, pickled hot cherry peppers and Dave's secret-recipe Hoagie Sauce. The 700-square-foot joint—outfitted with distressed-metal counters and 1950s tractor barstools—also offers regional favorites like GuS sodas, Deep River chips and Tastykakes (butterscotch Krimpets, peanut butter Kandy Kakes). 26 Cedar St between Pearl and William Sts (212-248-1000)
The Evergreen Ice Cream Co. Burgeoning Bushwick gets its first ice cream parlor, serving small-batch frozen treats from Greenpoint's Phin & Phebes and Hudson Valley creamery Jane's, as well as waffle cones hand-rolled in the shop. Look for rotating flavors like Vietnamese Coffee, Dark Chocolate Salty Caramel and Sweet Cream with Blueberry-Lemon Cookies, sold by the scoop, in sundaes or in floats. Along with the frozen treats, owner Francisco Garcia sources beverages locally: Specialty sodas are made with Gomberg Seltzer and P&H Soda Co. syrups, and he shops fellow local businesses Harney & Sons and Porto Rico Importing Co. for his teas and coffees. In the warm-weather seasons, Garcia doles out house-made paletas (Latin-American fruit Popsicles) from the shop's 120-year-old salvaged counter. Sepia-stained photos of children enjoying cones decorate the exposed-brick walls, while a stand-up piano set with Frank Sinatra vinyl records claims a corner of the room. 144 Evergreen Ave between Jefferson and Troutman Sts, Bushwick, Brooklyn (no phone yet)
Kopi Kopi New York has its share of upscale java joints, but none that specialize in Indonesian brews. Enter this Greenwich Village café, a narrow 70-seat spot pulling blends from the island nation with a sleek siphon brewing system. The coffeemaker on steroids—called the Alpha Dominche Steampunk—uses a steam-powered boiler to crank out four sharp cups of joe at a turn. Signature drinks include es alpukat (coffee avocado milk shake) and a sweet brûléed cappuccino, both made with organic, single-origin beans. Wood carvings salvaged from Java and Bali hang on exposed-brick walls—a decorative nod to the owner's tropical birthplace—and an inverted iron chandelier dangles above the 1,500-square-foot room. The pastry selection skews American—croissants, turnovers and Danishes—but lunch plates are all Indonesian: satay maranggi (coriander-spiced beef skewers), soto ayam banjar (a lemongrass-and-ginger chicken soup) and nasi uduk betawi (rice and beef stewed in coconut milk). 68 W 3rd St between LaGuardia Pl and Thompson St (212-777-7285)
Miller's Near & Far Restaurateur Christopher Miller (Smith & Mills, Warren 77) strikes out on his own with a sustainably minded New American restaurant on the Lower East Side. Miller tapped chef Nathan Foot (Northern Spy Food Co., Jardiniere) to preside over the kitchen, sourcing Pat LaFrieda meat and Greenmarket produce for dishes like beef tartare with pickled ramps and minute steak served alongside braised greens. Underneath infinity mirrored ceilings, snag a seat at a poured-concrete tabletop for seasonal fare and cocktails, including a Mediterranean mint julep (Bulleit, aperol, rhubarb bitters, blood orange and mint). The train-car-slim eatery is adorned with art from Miller's personal collection (his family owns the Robert Miller Gallery on West 26th): Portraits of Iggy Pop and Bill Henson line the distressed walls. Vintage mirrors, 1950s Tubax chairs and light fixtures salvaged from an antique ocean freighter and a mid-century laboratory give off a retro vibe. 65 Rivington St between Allen and Eldridge Sts (646-559-1210)
One Twenty-Two First Avenue Joining 57 Napoli and 180 on the growing list of pizza "speakeasies," James McGown has opened a hush-hush pie parlor behind the East Village location of his South Brooklyn Pizza. The rounds start the same as South Brooklyn's—the dough rises for five days—but are topped with provisions more whimsical than simple marinara and mozz: salmon, caper cream and red onions on the L.E.S., while quail eggs, speck, artichokes and cherry peppers for the St. Mark's. Along with the ten pizza varieties, McGown cooks lasagna (bolognese or spring vegetable) and spaghetti and meatballs in the brick oven. Settle into a wood-topped table near a working fireplace for small plates such as roasted garlic, or snag a seat outside for fruity cocktails like blackberry-bramble mojitos when the weather warms up. 122 First Ave between St. Marks Pl and E 7th St (212-533-2809)
Paname Bernard Ros—who shuttered Meli Melo following a fire in 2011—makes his return to Midtown East with a casual French bistro. At the 45-seat restaurant, named after a nickname for Paris, the chef turns out Gallic classics: escargots de Bourgogne, mussels à la Marinière and Provençal seafood bouillabaisse drizzled with garlic aioli. Eight European wines are available by the glass, while beer options include tap standards like Stella Artois, Heineken and Budweiser. Above white-clothed banquet tables hang Art Deco mirrors and large Erté-inspired paintings done by Parisian Beaux Arts students. 1068 Second Ave between 56th and 57th Sts (212-207-3737)
Sponsored listing
Loreley
Sitting outside on the patio, quaffing giant steins of beer is possible year round at Loreley, a heated outdoor beer garden on the Lower East Side. If truly awful weather pushes you inside, grab a seat in the indoor beer hall. With rustic wood benches for seating and exposed brick walls, this bar and restaurant has a modern German aesthetic. Thirsty patrons can sample beers from Weihenstephaner—the world's oldest brewery—and the 11 other German-inspired breweries on tap. Kolsch, hefeweizen, lager and IPA: this beer garden has it all. Not into the suds? There's also a wine list and full bar available. The bartenders will even mix up specialty cocktails, if you're so inclined. All that drinking got you feeling peckish? Order something from the kitchen. Loreley's extensive menu features classic pub food and German favorites. Think everything from giant soft pretzels, currywurst and weiner schnitzel to buffalo wings, nachos and burgers. Keep an eye out for special events, like holiday brunches and weekend craft beer festivals.
Venue says: "We are the largest heated outdoor beer garden in Manhattan's lower east side and have a great selection of imported beers, wines & spirits."