Restaurant and bar openings: September 12-18, 2013
Somtum Der, Hometown Bar-b-que and more roll out in New York City.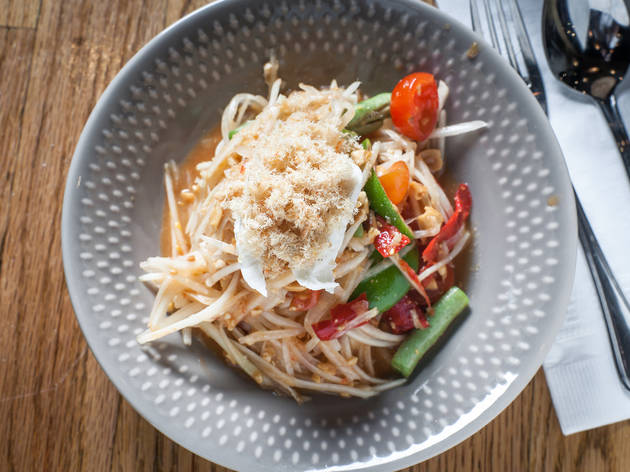 The following venues are expected to open by September 18th. Always call ahead, as openings can be delayed.
American Whiskey Midtown whiskey-sluggers can soak up the dark stuff at this three-story booze lodge, from industry vets Jessie Duré (Dick and Jane's), Moses Laboy (Red Rooster) and Duane Fernandez (Acme). The leather-and-oak-accented main bar—with 36 flatscreens and mounted bison heads—offers one- and two-ounce pours of 150 domestic whiskeys and 75 Scotch and Irish varieties. Along with the hooch, there's a daily Sixpoint Righteous Rye-and-Fireball (cinnamon whiskey) special and two on-tap cocktails: Remember the Maine (rye, sweet vermouth, Cherry Heering and absinthe) and the Drambuie de Humo (Drambuie, tequila, mescal, vermouth and orange bitters). Gussied-up bar bites are also available, such as sliders with foie gras butter, beer-brined wings and duck-fat-fried Tots. The second-floor bar is a Theodore Roosevelt–inspired loft complete with taxidermied animals and pictures of the President, and the basement holds a private party room called the Barrel for fantasy-football bashes. 247 W 30th St between Seventh and Eighth Aves (212-967-1070)
Archie & Sons Joining fellow neighborhood greasy spoons B&H and Stage, Howie Cohen relocated his Long Island luncheonette, established in 1983, to the East Village. Styled as a '50s throwback with pastel walls and subway tiles, the cheery dinette specializes in unfussy American eats: three-egg omelettes, honey-mustard chicken sandwiches and a family-recipe macaroni salad, as well as old-timey drinks like Arnold Palmers. 23 Third Ave between St. Marks Pl and E 9th St (646-823-9423)
Bantam Bagels Banking on New York's novelty-food craze (see cronuts and ramen burgers), this takeout shop specializes in filled, bite-size bagel balls, known as "bantams." The 15-bagel menu ranges from deli classics (an everything bagel bite is filled with lox, tomato and red-onion cream cheese) to more whimsical varieties: the cheddar-egg Hangover is stuffed with bacon-cheddar cream cheese, while the Slice features pepperoni, Murray's Cheese mozzarella and marinara from John's Pizza. 283 Bleecker St between Barrow and Jones Sts (347-763-2393)
Han Dynasty Fittingly next to 99 Miles to Philly, Philadelphia restaurateur Han Chiang launches the first NYC location of his beloved Szechuan mini empire. The menu is largely the same as the original, organized by cooking style and equipped with a heat index ranging from one to ten, from the mild salt-and-pepper shrimp to the scorching dry-pot fish and chili-oil tripe and beef. New items include dry-pepper chicken wings and more tofu options, to bait health-minded Gothamites. The 55-seat space is decked out with bright yellow walls, Asian-inspired art and a ten-seat wooden bar, featuring beers like Tsingtao and Dogfish Head 60 Minute IPA. 90 Third Ave between 12th and 13th Sts (212-390-8685)
Hometown Bar-b-que Grab your Wet-Naps—Brooklyn's BBQ renaissance shows no signs of cooling off. This wood-paneled 120-seat smokehouse is the latest addition to the scene, a collaboration between self-taught pit master Billy Durney and restaurateur Christopher Miller (Smith & Mills, Warren 77). Inspired by his Brooklyn upbringing and travels through the South, Durney turns out 'cue with global influences. Dig into smoked meats both American (Texas-style brisket, North Carolina–inspired baby back ribs) and international (smoked jerk chicken, lamb belly banh mi). The drinks match the honky-tonk menu: Bartenders pour draft beers (Smuttynose, Shiner Bock) and American whiskeys (Van Brunt Stillhouse). 454 Van Brunt St at Reed St, Red Hook, Brooklyn (347-294-4644)
Henry, A Liquor Bar Ryan Chetiyawardana (of Britain's groundbreaking 69 Colebrooke Row) oversees the cocktails at this 104-seat lounge, named after explorer Henry Hudson. Choose from a menu of contemporary quaffs, like the Polleno (fino sherry, apple and fennel pollen) and the Living Cocktail (tequila, miso-caramel and homemade carrot vinegar). Furnished with banquettes, chartreuse-hued tile floors and a restored ceiling fresco, the space hosts live jazz bands and appearances by house DJs like punk-rock evangelist Paul Sevigny. Hudson Hotel, 356 W 58th St between Eighth and Ninth Aves (212-554-6217)
ilili Box Flatiron office workers can grab Lebanese street food at this outdoor kiosk from ilili chef Philippe Massoud. To-go items include lamb shawarma, three types of falafel sandwiches (Korean, Mexican and traditional) and hummus, along with Paumanok Vineyards wines on tap. Fifth Ave between 24th and 25th Sts (no phone yet)
Liddabit Sweets Artisanal candy makers Liz Gutman and Jen King roll out their first brick-and-mortar shop. At a marble counter, find the duo's signature sweets (beer-and-pretzel caramels, bacon-bourbon caramel corn), alongside new items like oatmeal cream pie. Chelsea Market, 425 W 15th St between Ninth and Tenth Aves (212-229-0022)
Picnic Nicholas Nostadt (Berry Park) offers tweaked picnic classics at this 70-seat East Village eatery, decorated with whitewashed tin and exposed brick. Choose from dishes like hard-cider–spiked mussels with apricot nectar, pulled pork sandwiches slathered in root beer BBQ sauce and a variation on Midwestern puppy chow (chocolate-coated Chex cereal). At the zinc bar, Counter Culture coffees, Finger Lakes wines and all-American beers (Founders Dirty Bastard Scotch Ale, Victory Festbier) are on offer. 117 Second Ave between 6th and 7th Sts (212-777-3600)
Qi Esarn Thai Kitchen Find northern Thai eats at this Union Square offshoot of the Qi minichain, decorated with wood panels and an abacus wall. Pastry guru Pichet Ong (Sugar and Plumm) consulted on the menu, while former Del Posto cook Claire Handleman—a frequent Southeast Asian backpacker—helms the kitchen on a day-to-day basis. Spiced plates include a green mango salad, duck laab and salt-crusted tilapia with garlic-chili sauce. Cool your palate with tropical cocktails such as the Laab Esarn (toasted jasmine rice gin, cucumber puree, ginger and basil) and the Kanohm Whan (coconut rum, jasmine syrup, jackfruit and lychee). 31 W 14th St between Fifth and Sixth Aves (212-929-9917)
Somtum Der With joints like Uncle Boons and Zabb Elee highlighting northeastern Thai plates, New York's had a schooling in Isan cuisine—now, add this new import to the hit list. Khon Kaen native Thanaruek "Eh" Laoraowirodge spins off his Bangkok flagship to the East Village with this 65-seat spot. Bypassing the sweeter style of the country's Central Plain, he focuses on the funkier somtum der, a northeastern green papaya salad, commonly made with fermented crab, salted egg or barbecued chicken. Diners can watch the papayas being shred to order at a somtum bar in the wood-clad space, which is also decorated with poppy-red stools and light fixtures made from sticky-rice baskets. Beyond the namesake dish, the menu treks through regional specialties, categorized by their cooking method: deep-fried (fried chicken thighs), grilled (coconut-milk-marinated pork skewers) and the minced meat salad larb (catfish, duck, pork). To quell the heat, there's Thai tea panna cotta and tropical drinks, including juices (lemongrass, roselle), Singha beer cocktails, and a martini infused with kafir lime leaf and toasted rice. 85 Ave A between 5th and 6th Sts (212-260-8570)
Taquitoria Grab taquitos (rolled tacos) at this Mexican spot from sommelier-turned-restaurateur Matthew Conway (Restaurant Marc Forgione). Teaming up with fellow Forgione vets Barry Frish and Brad Holtzman, the San Diego native doles out two versions of the street-food favorite: a traditional fried variety and one stuffed with nacho cheese. 168 Ludlow St between E Houston and Stanton Sts (212-780-0121)
Z Bar Restaurant & Sky-Lounge This bi-level Hell's Kitchen spot brings the club vibe of downstairs music hall Stage 48 to a restaurant-bar venue. A glass-enclosed, 4,000-square-foot lounge with gold leather upholstery competes with Gotham's skyline for the glam spotlight. In the dining space, find Latin-inspired small plates—like an empanada trio—from chef Ricardo Cardona (Sofrito, Hudson River Cafe). 605 W 48th St between Eleventh and Twelfth Aves (212-957-1800)
Sponsored listing
Chocolat Restaurant & Bar
This Harlem restaurant and bar serves updated American fare for brunch, lunch and dinner. The dinner menu features plenty of comfort foods, like short rib mac and cheese ($16), fried chicken with braised greens and smashed potatoes ($27) and a "big ass" burger topped with blue cheese, a fried egg, barbecue sauce, sauteed onions and mushrooms, onion rings, lettuce and tomatoes ($27). Lighter options include a watermelon and feta salad ($14) and pan-roasted red snapper with asparagus ($28). True to the restaurant's name, you can also indulge your sweet tooth with chocolate-y desserts like molten lava cake and chocolate–peanut butter pie ($10 each). You can even sip a red velvet or dark chocolate martini ($14 each). Chocolat also offers a full wine list, domestic beers and a full bar.
Venue says: "A new taste of Harlem comfort food & new American cuisine. Come join us for Happy Hour Mon-Fri 4p-8p"