100 best New York restaurants: Thai restaurants
So much more than takeout, the best New York restaurants that specialize in Southeast Asian food do the work to truly capture the region's complex cuisine.
By Time Out editors
Photograph: Lizz Kuehl
100 best New York restaurants: Zabb Elee
It seems like there's a Thai food restaurant on every corner, but the best New York restaurants specializing in the Southeast Asian cuisine are harder to find. The neutered pad Thai we scarf from a carton in front of the television is about as genuinely Asian as chicken chow mein. Until recently, in fact, the only Thai noodles and curries not tempered for the American palate were sequestered in Queens. But that's changed over the past few years, as high-profile restaurants and far-flung chowhound favorites have begun to set up shop in Manhattan and Brooklyn. To bring you the very best of New York City's Thai food, we've eaten our way through fiery soups, curries, noodles and more, and compiled it all in this handy list. Did we miss your favorite Thai food spot? Join the conversation in the comments.
RECOMMENDED: Full list of 100 best New York restaurants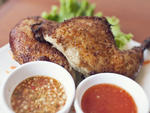 Price band: 1/4
Critics choice
Manhattan's Thai restaurants are a pretty sad bunch, their goopy noodle dishes and wan Massaman curries mostly indistinguishable from one another. Those looking for the genuine article should descend to this low-key basement spot, which focuses on the fiery, funky foods of Northern Thailand. In place of pad thai, find traditional Isaan dishes such as sour fermented sausages (sai kroog esan) and stacks of fried fat (kor moo yang). Navigating the roster of more than five dozen dishes can be challenging, but with no items over $9, you can afford to experiment. Red-curry fish custard (hor mok), light like a seafood soufflé, is a fine place to start. And a duck larb for the table— beautifully tart and intensely hot from plenty of lime and finely diced chilies—is a must. While you'll certainly get food of this caliber in Thai enclaves out in Queens, on this side of the river it's still a real treat.
75 Second Ave, (between 4th and 5th Sts), 10003
More info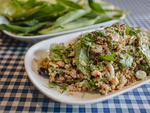 What separates Pok Pok from other cultish Thai restaurants, like Sripraphai in Queens, is the curatorial role of Andy Ricker, its minutiae-mad chef. Ricker, who flavors the water here with pandanus leaf and presses his own coconuts for cream, focuses mostly on the funky fare of northern Thailand. His long menu—concise by Thai restaurant standards—features a beautifully burnished and terrifically succulent barbecued hen. Ricker goes the extra mile to get the condiments right. He accompanies the room-temperature pork neck slices in his "Thai drinking food," muu kham waan with raw mustard greens delivered under a crunch-intensifying heap of crushed ice. Even his cha ca "La Vong," a geographic anomaly from across the border in Vietnam, is a spot-on reproduction of the original dish, a cult favorite from Hanoi featuring spiced catfish, rice vermicelli, and generous handfuls of fresh dill and mint. The desserts here are as much cultural artifacts as everything else.
127 Columbia St, (between DeGraw and Kane Sts)
More info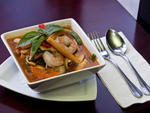 Price band: 1/4
Critics choice
The menu of this pretty little Thai restaurant attracts foodies citywide: Not only does it span the culinary regions of Thailand, but it includes some Japanese twists, too, thanks to the owners' experience working in Bangkok's Japanese hotels. Even if you skip the sushi-inspired dishes (like the oft-namechecked raw shrimp appetizer), the spicy, incredibly complex curries (around $7) are still a radical departure from most pad thai–pushing joints.
77-08 Woodside Ave, (between 77th and 78th Sts)
More info
Share your thoughts