Restaurant reviews: Mile End and Octavia's Porch
Two restaurants refract Jewish cuisine with varying results.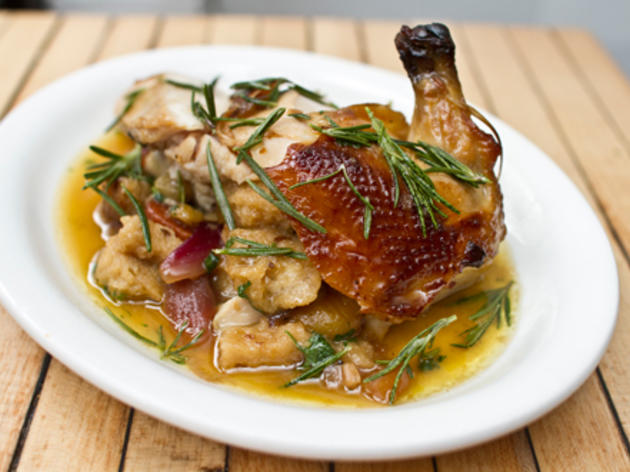 1/7
Photograph: Caroline Voagen Nelson
Poulet juif at Mile End
Poulet juif at Mile End
2/7
Photograph: Caroline Voagen Nelson
The Whole Mishpucha at Mile End
The Whole Mishpucha at Mile End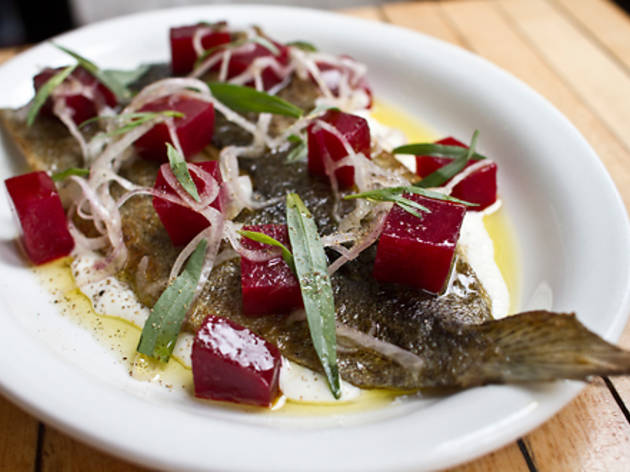 3/7
Photograph: Caroline Voagen Nelson
Trout at Mile End
Trout at Mile End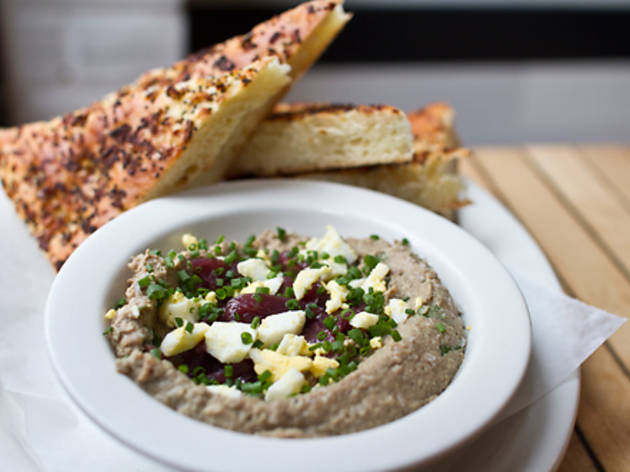 4/7
Photograph: Caroline Voagen Nelson
Chopped chicken liver at Mile End
Chopped chicken liver at Mile End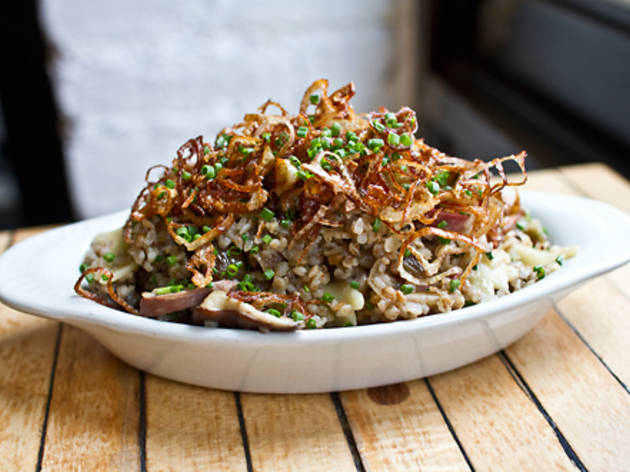 5/7
Photograph: Caroline Voagen Nelson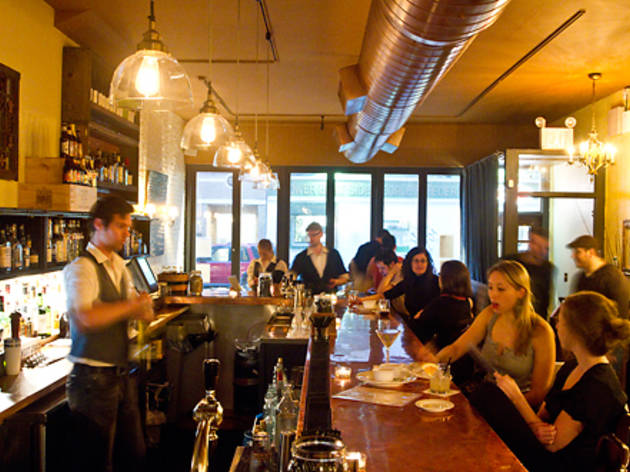 6/7
Photograph: Caroline Voagen Nelson
Octavia's Porch
Octavia's Porch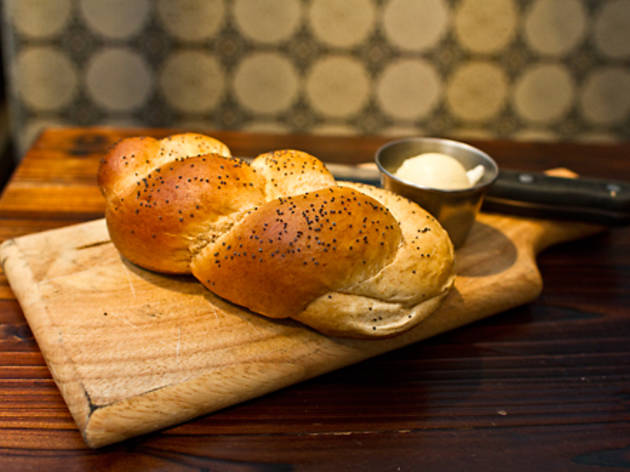 7/7
Photograph: Caroline Voagen Nelson
Challah at Octavia's Porch
Challah at Octavia's Porch
Inspired perhaps by what the young guns at Torrisi Italian Specialties have done for the red-sauce food of Sunday suppers on Arthur Avenue, a few New York chefs have lately begun taking real chances with old-school Yiddish cooking. But in translating Grandma's chopped liver and matzo ball soup into contemporary restaurant fare, there's a fine line between loving homage and outright farce.
At Mile End in Brooklyn, new chef Aaron Israel—a real mensch recruited by owner Noah Bermanoff from Torrisi last year—strikes just the right balance, with a new dinner menu that manages to be both ambitious and reverential. Across the East River at Octavia's Porch, however, Top Chef alum Nikki Cascone misses the mark, fumbling awkwardly through her ancestral pantry. First, the good news.
Mile End's new nocturnal bill of fare, supplementing its daytime menu of Montreal-style smoked meats and bagels, eclipses the hypercasual setting—just a few picnic-bench tables overlooking a short-order kitchen. The chef's new Jewish cuisine, more upgrade than real reinvention, includes velvety chopped chicken liver beautifully appointed with sweet-sour onions lightly pickled in zinfandel vinegar. Embracing the guilty pleasures on every cardiologist's hit list, Israel douses Greenmarket discs of watermelon radish in crispy fried grebenes (like bacon bits made from chicken skin) and a decadent dressing of lemony schmaltz.
While Israel's cooking certainly has gravitas, it is also playful and fun. And so the chicken soup passed down from his mother is served here in a kitchen-sink cauldron—the Whole Mishpucha, he calls the family-style starter—its cold-banishing broth floating fat matzo balls and wispy, chicken-liver-filled kreplach. His kasha varnishkes too would make Bubbe proud, the bow-tie pasta—a side or a starter—bolstered with confited chicken gizzards and plenty of sweet caramelized onions.
The chef, who worked under Missy Robbins at A Voce, plates like a pro—and works the flattop with remarkable range. His smoked and seared poulet juif, an upmarket spin on High Holidays fare, comes artfully draped over a delicious sweet-and-savory dried-fruit-and-rye stuffing. A whole boneless butterflied brook trout is just as impressive—the crisp local fish given an Ashkenazic zing with pickled beets and horseradish cream.
Desserts baked in house—mandel bread, rugalach and moist honey cake—deliver a familiar finish to a genuinely heartwarming meal.
You might expect the food at Octavia's Porch to be even more personal, purporting to celebrate the chef's experiences growing up with a Jewish mom and an Italian dad. But her restaurant's "global Jewish cuisine," as Cascone calls it, turns out to be just as bland as the setting it's served in—a neighborhood tavern with drab bistro tables and a hulking bar in the middle.
While dinner begins on a promising note—with mini challah loaves delivered warm to the table—it quickly devolves. Cascone serves dreary overprocessed smoked salmon, eggplant and white-bean "shmears" with challah chips. Her wild-mushroom knish arrives encased in thick, gluey dough, still inedibly raw. Even the matzo ball soup is a letdown—wan broth bobbing with flavorless balls and undercooked veggies.
There's no soul to this cooking, and no finesse either. Her chicken breast comes with sallow skin and a literal brick of dense challah-date stuffing. Overcooked Romanian steak drowns in a super-astringent parsley pesto.
While dessert—including babka streaked with thick veins of bittersweet chocolate—delivers a smidgen of redemption, if you want to really impress a Jewish grandma, you should take her to dinner at Mile End instead.
Vitals
Eat this: Chopped liver, the Whole Mishpucha, poulet juif, trout with horseradish cream at Mile End. Bread and babka (and not much else) at Octavia's Porch.
Drink this: While there's an extensive wine list, the hearty food at Mile End is best suited to beer, like St. Ambrose Apricot Wheat in a bottle ($6) or a revolving selection from Sixpoint ($7) on tap. The mixology's just as clumsy as the cooking at Octavia's Porch. Stick to beer, including Coney Island Lager on tap ($6), or wine by the glass.
Sit here: While Mile End has a few awkward stools at the counter, you'll want to hold out for a picnic-bench seat if you're planning to feast. The low-key bistro tables up front in the window at Octavia's Porch are preferable to those in the claustrophobic main dining room.
Conversation piece: The Mile End section of Montreal is a traditional hub of the city's Jewish community, while Octavia's Porch is named after a street in the old Jewish ghetto of Rome.
See Interesting moments in the history of Jewish food in NYC
97A Hoyt St between Atlantic Ave and Pacific St, Boerum Hill, Brooklyn (718-852-7510). Subway: A, C, G to Hoyt--Schermerhorn; 2, 3 to Hoyt St. Mon, Tue 8am--4pm; Wed, Thu 8am--4pm, 5:30--10pm; Fri 8am--4pm, 5:30--11pm; Sat 10am--4pm, 5:30--11pm; Sun 10am--4pm, 5--10pm. Average main course: $16.
40 Ave B between 3rd and 4th Sts (212-677-4096). Subway: F to Lower East Side--Second Ave. Mon 5:30--11pm; Tue, Wed 11:30am--11pm; Thu--Sat 11:30am--midnight; Sun 11:30am--10pm. Average main course: $20.
Sponsored listing
Kat & Theo
This Flatiron gem offers seasonal, New American fare from executive chef David Fisher, who's put in time in such Michelin-starred restaurants as Jean-Georges, Aquavit and Aldea. From an open kitchen overlooking the 70-seat dining room—a moody, brick-walled stretch divided into a front bar area fitted with leather booths and metal trellis archways, and a back dining room warmed with a stone fireplace—Fisher deploys starters like tomato-braised octopus with cannellini beans ($18), and delicata squash agnolotti with lemony shrimp and firey chiles ($14). Robust mains include a juicy hanger steak accompanied by earthy rutabagas ($28), and a slow cooked leg of duck glazed accented with sweet plums ($29). 
Venue says: "Kat & Theo offers Happy Hour Mon - Fri from 5pm-6:30pm, enjoy a Classic Cocktail $10, select Wines & Prosecco $8, and select Beers $7"