Schnitz opens in the East Village
The Smorgasburg sandwich favorite launches a brick-and-mortar schnitzel shop.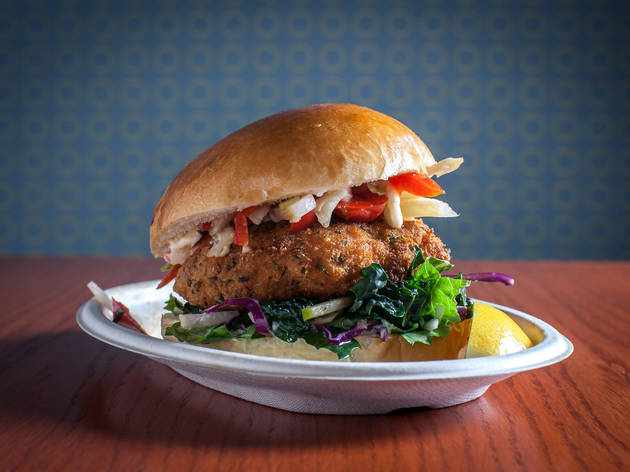 1/4
Photograph: Paul Wagtouicz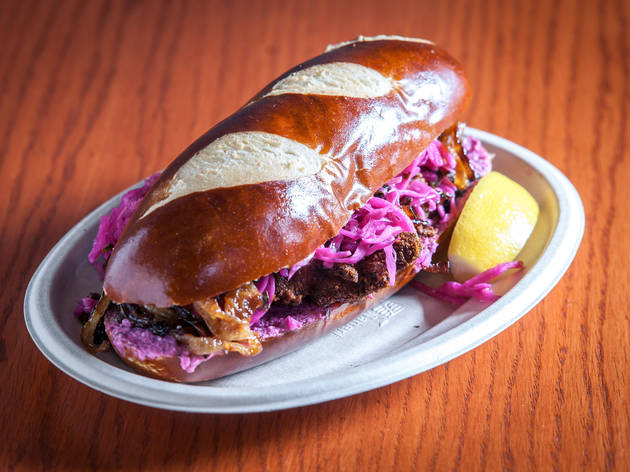 2/4
Photograph: Paul Wagtouicz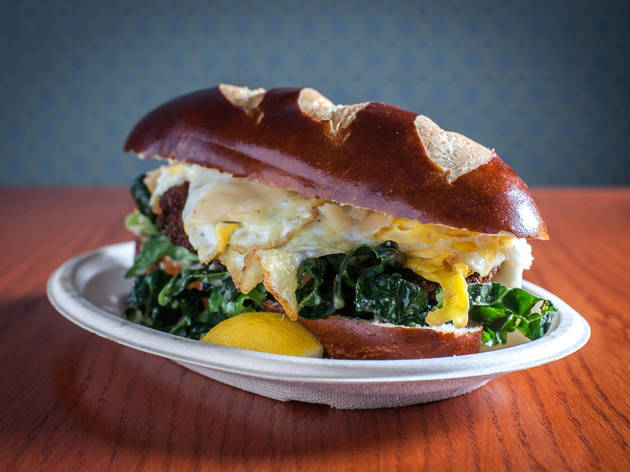 3/4
Photograph: Paul Wagtouicz
Caesar Schnitz at Schnitz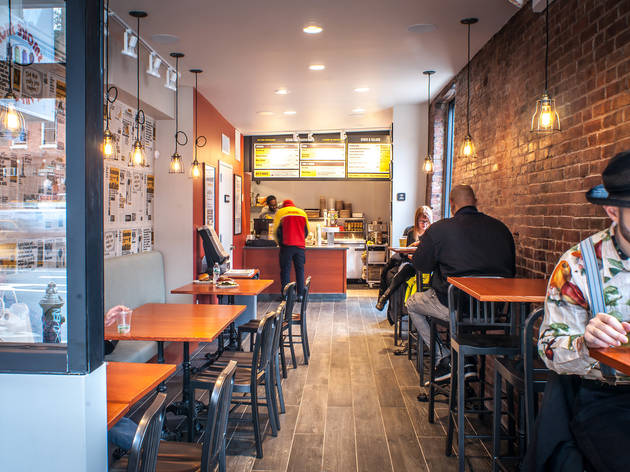 4/4
Photograph: Paul Wagtouicz
Milanese, tonkatsu, panado: It seems every country has a breaded-and-fried cutlet to call its own. This schnitzel shop—an offshoot of the popular Smorgasburg vendor, launched in 2011—focuses on the Israeli variety, a thicker cut made of chicken thigh instead of the customary breast. Sibling owners Yoni Erlich and Donna Magen go beyond basic chicken for their fast-casual spot, decorated with faux Schnitz Chronicle newspapers and printed gray banquettes. Built on a Tom Cat Bakery pretzel hero, the Grumpy Russian features pork loin, pickled cherries and Gorgonzola; the Yonz tops butternut-squash-and-corn schnitzel with honey-sriracha mayo; and the Lt. Dan—a cheeky tribute to Forrest Gump—pairs shrimp with jicama-fennel slaw. Hopsy Dazy and Ommegang Witte are on tap for those who want their sandwich with a side of beer.See the menu below. 177 First Ave at 11th St (646-861-3923)
MENU:
Schnitzel Sandwiches
Bamberg: Chicken schnitzel topped with pickled cucumbers, daikon, ginger and shallots and a caramelized onion dijon mustard.
$10.00

Sweet Onion: Chicken schnitzel topped with pickled cabbage, jicama, raddish and cilantro with a roasted beet tzatziki.
$9.00

Mrs. Child: Chicken schnitzel topped with Schnitz Greens and a celery root remoulade.
$9.00

Caesar Schnitz: Chicken schnitzel topped with black kale caesar salad, a fried egg and grana padano.
$10.00

Grumpy Russian: Pork loin schnitzel topped with Schnitz Greens, pickled cherries and gorgonzola spread.
$9.00

S.L.T.: Pork belly schnitzel topped with Schnitz Greens, pickled tomatoes and mayo.
$14.00

Lt. Dan: Shrimp schnitzel topped with a jicama-fennel slaw and a lemongrass mayo.
$11.00

The Yonz: Butternut squash and corn schnitzel topped with jicama-fennel slaw and honey-sriracha mayo.
$7.00

Sides & Salads
Schnitz Fries
$4.00

Roasted Head of Cauliflower
$5.00

Jicama-Scallion Slaw
$4.00

Aba's Chicken Soup
$4.00

Schnitz Greens: Black kale, green and red cabbage, mint, basil and green apples with red wine vinaigrette.
$4.00

Black Kale Caesar Salad: Romaine hearts, black kale, with caesar dressing.
$5.00

Mediterranean Salad: Cucumbers, grape tomatoes, peppadew peppers, Israeli pickles, kalamata olives and preserved lemons.
$5.00

Pickled Veggies
Cucumbers, Daikon, Ginger & Shallots
$3.00

Red Cabbage, Jicama, Radish & Cilantro
$3.00

Cherries
$3.00

Tomatoes
$3.00
Sponsored listing
Paul's on Times Square
Searching for a restaurant in Times Square that specializes in something other than hot dogs and hamburgers? Paul's serves modern Italian fare for both lunch and dinner. Start with beef carpaccio ($19.50) or a burrata caprese salad with truffle oil ($19) or an antipasto plate including prosciutto, salami, parmesan and eggplant caponata ($14.50). For the main course, there is plenty of pasta, including linguini with white wine and clams ($20) and sun-dried tomato ravioli in thyme cream sauce ($26.50). The menu also includes personal pizzas topped with everything from prosciutto and arugula ($17) to duck confit and caramelized onions ($22) to Maine lobster and grilled corn ($29). If you're looking for a protein-centric entree, the lamb osso buco with mushroom risotto ($37) or Tuscan seafood stew ($36) might tempt you. In need of refreshments after a long day of sightseeing? Paul's offers a menu of signature cocktails including a chocolate martini and blue margarita ($15-$17).
Venue says: "Fun, fine dining experience with friendly service & delicious Italian food in the heart of NYC."