Telepan Local opens in Tribeca
Bill Telepan launches a downtown small-plates sibling to his eponymous Upper West Side eatery.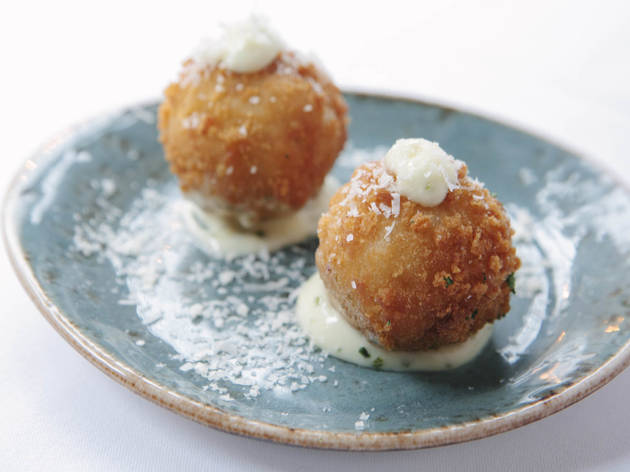 1/4
Photograph: Erica Gannett
Bone-marrow arancini at Telepan Local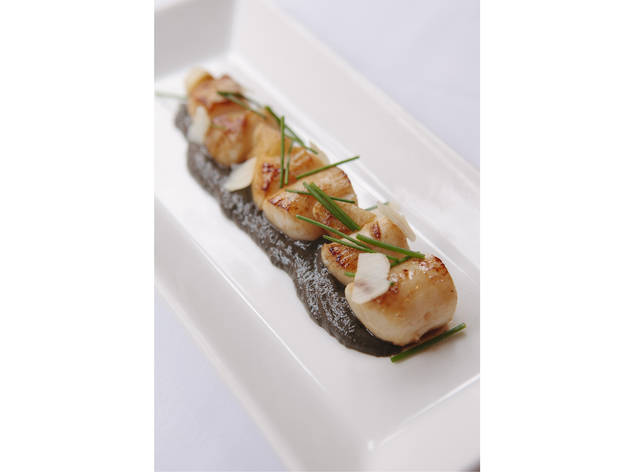 2/4
Photograph: Erica Gannett
Bay scallops at Telepan Local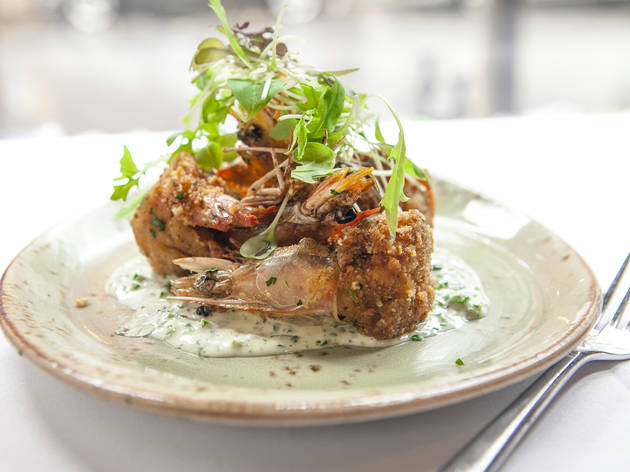 3/4
Photograph: Erica Gannett
Shrimp poppers at Telepan Local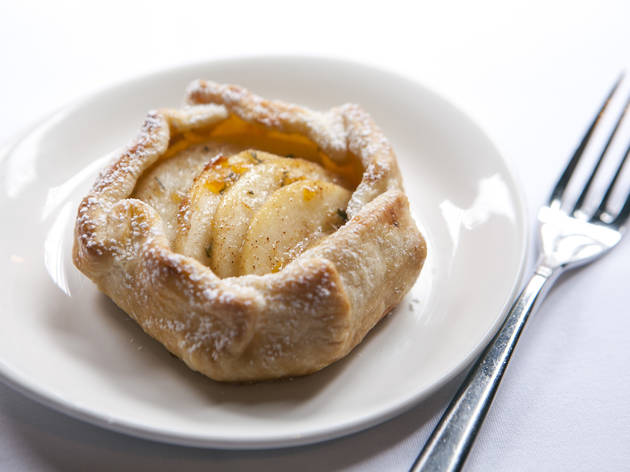 4/4
Photograph: Erica Gannett
Pear galette at Telepan Local
Bill Telepan had a busy 2013—along with redesigning his eight-year-old Upper West Side namesake, the locavore champion also branched off with this small-plates spot in Tribeca, expected to open by December 25th. A more casual undertaking than his Michelin-starred flagship, the menu features shareable snacks like foie gras doughnuts and shrimp poppers with green-chili aioli. To sate more ample appetites, the 80-seat spot—decorated with wood banquettes and spherical lamps—also offers grilled short ribs and quail à l'orange. See the opening menu below. 329 Greenwich St between Duane and Jay Sts (212-966-9255, telepanlocal.com)
MENU
Aranchini with bone marrow and parm aioli 5
Grilled cheese 'pane con tomate' 6
Cheese ball with "riss crackers" 7
Pigs in the blanket 6
Foie gras jammers 10

Carrots, oregano & goat feta 8
Buttermilk braised beets 8
Chopped fall salad with warm cider & walnut dressing 8
Brussels sprouts & fingerling salad with coddled egg 10

Sourdough pizza
Bacon, jalapeno, red onion & mozzarella 12
Mushroom, burrata & sage 13
Fried calamari 'marinara', oregano & pecorino 14

Cape May Salt and/or Montauk Point oysters on the half shell 3 ea.
Shrimp poppers with green chili aioli 9
Fluke crudo with fermented radishes & celery 14
Grilled octopus, red wine & almonds 15

Corned tongue grilled cabbage with Russian dressing 10
Grilled short ribs with spicy picked cabbage 17

Fried watercress with chili oil and cashews 9
Cauliflower gratin 11
Mushrooms in parchment 12

Escargot black pepper chickpeas and mint 14
Nantucket bay scallops black trumpet puree & pickled garlic 16
Snapper pickled beets bitter greens 18

Sweetbread gratinee 9
Lamb tartare black olive fennel 12
Quail a la orange 15


Sponsored listing
PASTAI
Craving a warm bowl of pasta smothered in sauce? Stop into PASTAI, an Italian restaurant in Chelsea that offers everything from bucatini to tagliatelle. In the Italian tradition, order several antipasti for your first course. Fried olives stuffed with pecorino ($9), charred octopus with fennel-citrus salad ($18) and a thinly sliced cantaloupe and prosciutto salad ($15) might tempt you. Follow it up with ravioli stuffed with ricotta and mint in white wine sauce ($20), lemony tagliatelle with lobster, spinach, cherry tomatoes and crispy artichoke hearts ($27) or classic lasagna with short rib ragu, bechamel, ricotta and broccoli rabe ($22). Those looking for a lower carb option could try the seared salmon with quinoa and fava beans ($28) or the roasted half-chicken with mushroom marsala sauce ($20). Don't miss the house-made desserts like ricotta doughnuts rolled in cinnamon sugar and filled with orange-scented pastry cream ($12) or flourless mocha cake drizzled with warm chocolate sauce ($11).
Venue says: "Pastai new Specials of the Day and Happy Hour, everyday! Great for your next birthday, celebration, or group outing."