Ten best new burgers: New York City's freshest patties
As more contenders crowd the field, New York City's patty battle rages on. TONY tracked down ten of the best new burgers.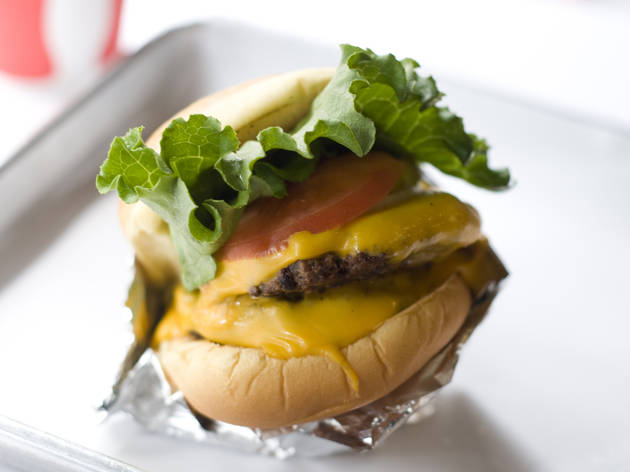 1/10
Photograph: Alex Strada
Double cheeseburger at Blue Collar Superlative West Coast–style burgers arrived in Williamsburg last summer, thanks to this retro canteen from the folks behind Miller's Tavern. The double packs a beefy punch: Smashed on the flattop to achieve a deeply browned crust with locked-in juices, it's cloaked in American cheese and a mayo-based special sauce, then tucked into a soft Martin's potato bun. Balancing the blissfully greasy gluttony are simple, fresh toppings of thick red tomato slices, onion, pickles and romaine. Prices match the roadside-shack vibe—a double cheeseburger and fries will only set you back ten bucks. 160 Havemeyer St between South 2nd and 3rd Sts, Williamsburg, Brooklyn (347-725-3837). $6.25.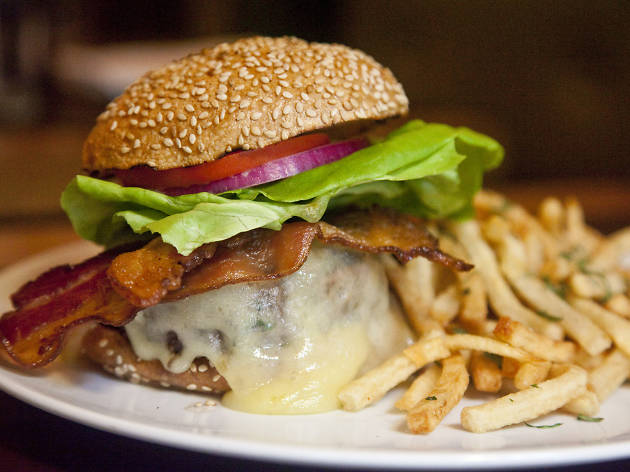 2/10
Photograph: Melissa Sinclair
CLUNY Burger at Café Cluny Rebooting the menu at this beloved French stalwart last February, Phillip Kirschen-Clark unveiled a sky-high burger so impressively jaw-stretching, it seems to challenge the Eiffel Tower. The creative chef—an alum of nouveau molecular kitchen Corton—dials up the flavor on his mammoth Pat LaFrieda burger with a few high-octane tweaks: soy oil and chopped garlic. He keeps the other accoutrements straightforward: crispy strips of smoky bacon and a blanket of melted cheddar, plus red onion and Boston lettuce. 284 W 12th St at 4th St (212-255-6900, cafecluny.com). $20.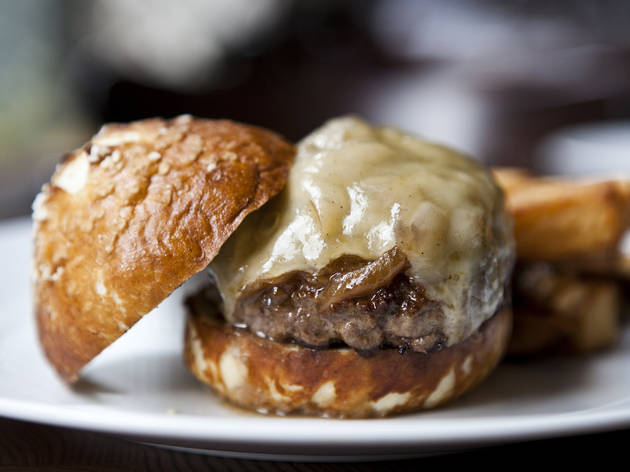 3/10
Photograph: Jessica Lin
Griddled TM Burger at the Marrow In the spirit of DB Bistro Moderne's famed foie-and-short-rib-stuffed behemoth, Top Chef champ Harold Dieterle elevates the burger with over-the-top indulgence at his downtown charmer. Nuggets of buttery bone marrow caramelize on the hefty brisket-and-short-rib puck, seared to still-pink perfection in a cast-iron pan. A yeasty pretzel bun—made in-house by pastry chef Ginger Fisher—holds up to the rich meat, while sherried onions and Emmentaler cheese lend a vinegary zip and nuttiness. A lunch-only special when it debuted in February, the burger is now available nightly on the Marrow's recently launched bar menu. 99 Bank St between Greenwich and Hudson Sts (212-428-6000, themarrownyc.com). $17.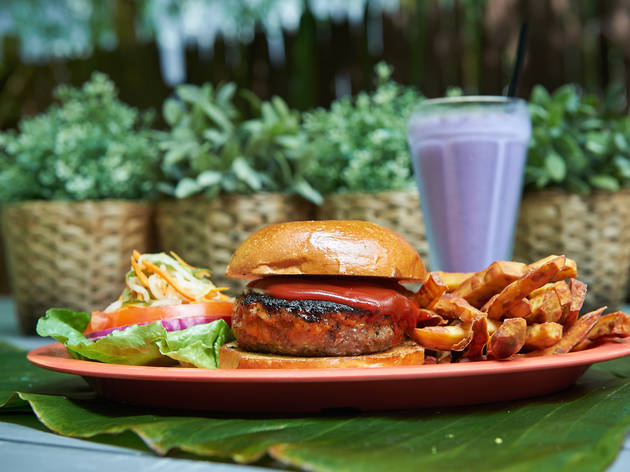 4/10
Photograph: Filip Wolak
Chori Burger at Jeepney The all-American classic goes for a whirl through Asia at this boisterous downtown joint from the Filipino-food boosters behind Maharlika. The burger, which appeared on the menu in October, is delightfully messy: Jufran (a spicy Filipino ketchup made with mashed bananas) and Kewpie mayo (a Japanese version with umami-boosting MSG) drips over the charred half-pounder made with ground Angus shoulder. Swaddled in a glossy challah bun, it's finished with a slab of Filipino chorizo longaniza, which packs a spiced porky sweetness. 201 First Ave between 12th and 13th Sts (212-533-4121, jeepneynyc.com). $17.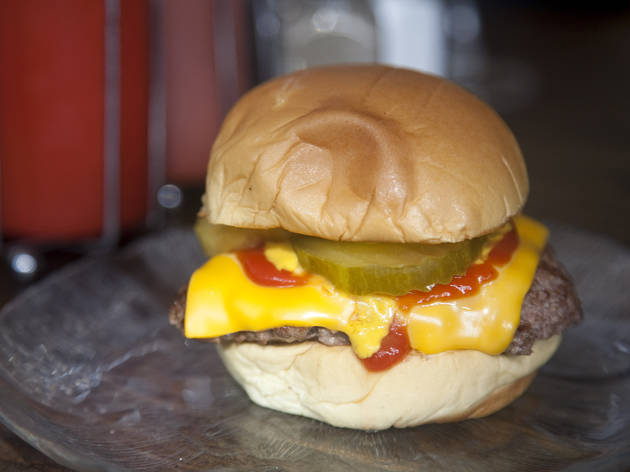 5/10
Photograph: Melissa Sinclair
Cheeseburger at Pork Slope Porcine-driven plates may play the starring role at Dale Talde's Park Slope honky-tonk— taxidermied boar heads adorn the walls—but the flag-waving cheeseburger is no slouch. In Talde's rendition of the McDonald's touchstone, a thin Black Angus patty—charred on the griddle—is draped in oozing American cheese, then nestled into a squishy Martin's roll with chopped onions, pickles, mustard and ketchup. The booze-soaking one-hander conjures all your best fast-food memories, but holds up in actual flavor. 247 Fifth Ave between Carroll St and Garfield Pl, Park Slope, Brooklyn (718-768-7675, porkslopebrooklyn.com). $11.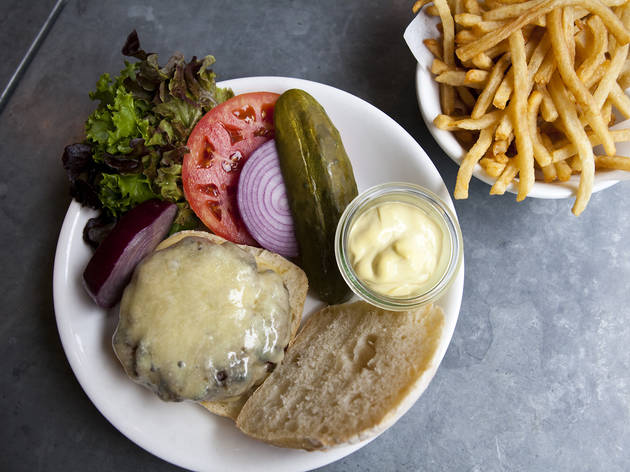 6/10
Photograph: Jessica Lin
Cheeseburger at Calliope At their airy East Village restaurant, chefs Eric Korsh and Ginevra Iverson do the bistro classic proud with superior ingredients. Firm ciabatta holds an eight-ounce Pino's Prime Meats patty (chuck, sirloin and short rib) and gooey Vermont white cheddar, absorbing the salty juices. The rotund disc—grilled, then finished on the salamander grill—is crowned with beautiful local produce: beefsteak tomatoes, red onions, pickles and green- and red-leaf lettuce. Brunch and lunch only. 84 E 4th St at Second Ave (212-260-8484, calliopenyc.com). $15.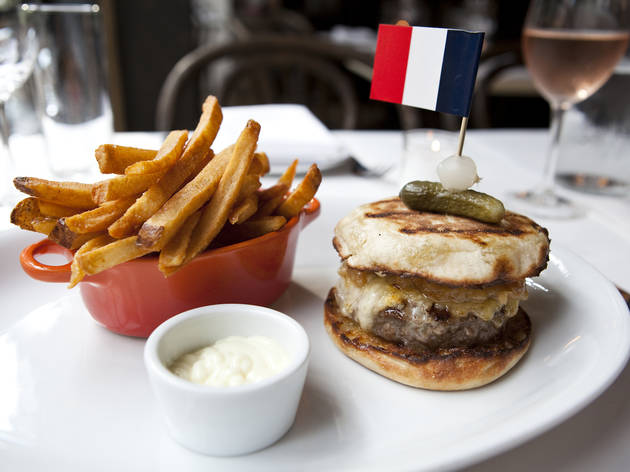 7/10
Photograph: Jessica Lin
French onion soup burger at Little Prince The tiny French flag atop chef Paul Denamiel's burger may seem kitschy, but this riff on the brasserie staple is no gimmick. Soul-warming French onion soup is conjured with caramelized onions, béchamel and oozing Gruyère, all amplifying the meaty depth of a grilled Pat LaFrieda patty made with short rib, brisket and chuck. A light dab of Dijon cuts through the richness, while a generously buttered English muffin imparts a satisfying crunch. 199 Prince St between MacDougal and Sullivan Sts (212-335-0566, littleprincesoho.com). $18.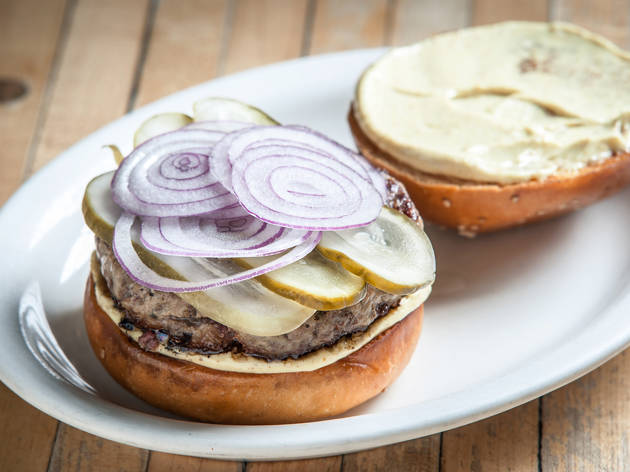 8/10
Photograph: Paul Wagtouicz
Smoked-meat burger at Mile End Deli At their wildly popular Montreal-inspired spot, Noah and Rae Bernamoff repackage Jewish delicatessen traditions with this robust burger, which became a regular menu item in January. Their irreproachable, house-made smoked meat—the joint's foundational item—gives a smoldering, peppery kick to a loosely packed patty of mineral-rich DeBragga and Spitler brisket. It's cooked on a flattop and brightened by raw onions, pickles and a mustard-tinged mayo, and stuffed in a sesame-seed bun from Hot Bread Kitchen. Stop in on Wednesdays and a burger combo—with a drink and fries or poutine—is $19. 97A Hoyt St between Atlantic Ave and Pacific St, Boerum Hill, Brooklyn (718-852-7510, mileenddeli.com). $14.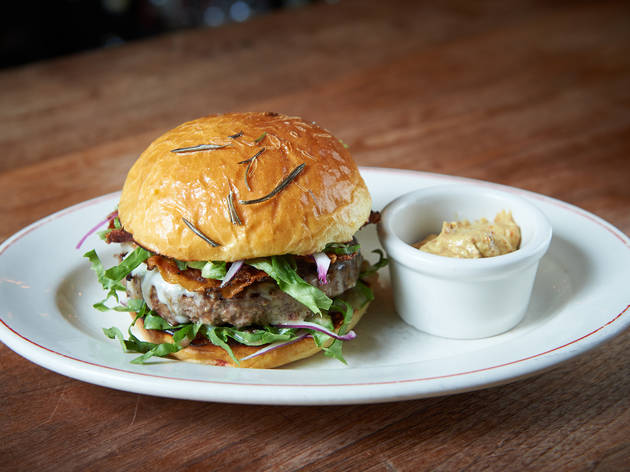 9/10
Photograph: Filip Wolak
Late-Night Burger at Maialino During the day, Danny Meyer's trattoria turns out standout traditional Roman fare, but on the late-night menu, chef Nick Anderer loosens up. In May, the talented toque rolled out his version of the American burger, with an Italian accent, of course. Anderer piles on theartisanal factor: peppery house-made pancetta, tangy Gorgonzola cheese, bitter escarole and a fragrant rosemary roll. The ingredients counterbalance, instead of obscuring, the luscious patty, made from a Pat LaFrieda mix of short rib, brisket and chuck and seared à la plancha. Gramercy Park Hotel, 2 Lexington Ave at 21st St (212-777-2410, maialinonyc.com). $15.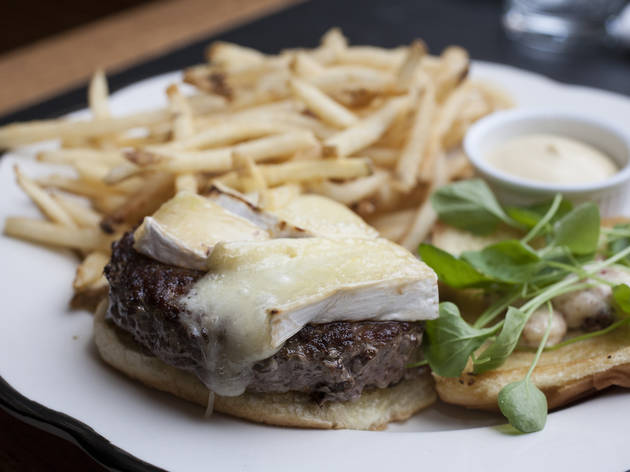 10/10
Photograph: Cinzia Reale-Castello
Le Burger at Montmartre In the greatest restaurant turnaround of the year, owner Gabriel Stulman and chef Tien Ho (Momofuku Ssäm Bar) transformed the off-kilter menu at their Chelsea brasserie into a critical hit, but kept the excellent cheeseburger. Ho mixes and matches French and American influences. Encased in a soft Martin's potato bun, a griddled six-ounce patty (Pat LaFrieda chuck and brisket) sports upmarket tweaks: sharp Camembert cheese, wisps of peppercress and a zippy pink-peppercorn mayo. 158 Eighth Ave between 17th and 18th Sts (646-596-8838, montmartrenyc.com). $14.
New York City's burger wars show no signs of letting up. West Coast joints are ramping up their Gotham invasion, while chefs add locavore and fine-dining tweaks. Whether you're looking for a smashed-and-seared patty or elevated jaw-stretcher, here are the ten best new burgers to add to your list.

RECOMMENDED: All of NYC's best burgers