The best seafood dishes in New York City 2012
Our picks for the best seafood in NYC span a superlative lobster roll, sashimi and a deli classic: whitefish salad on a bagel.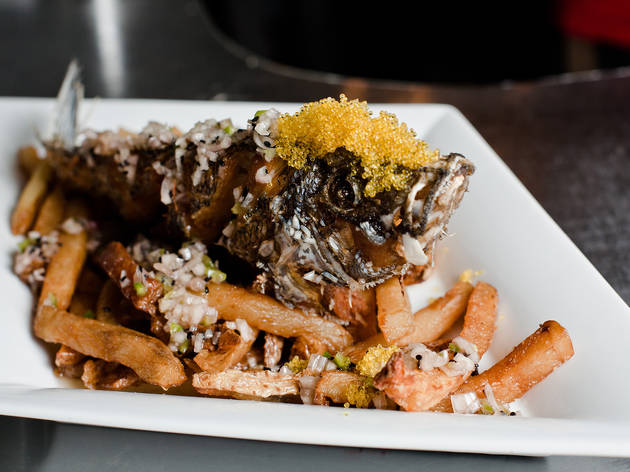 1/8
Photograph: Noah Devereaux
A Fish and Some Chips at Do or DineHeads turn as this yellowtail snapper, sporting a "roehawk" of yuzu-steeped flying fish eggs and propped upright as if swimming through a sea of fries, passes through the dining room. The lightly sweet and delicate meat is topped with a citrusy yuzu-shallot relish, and sprinkled with black sesame seeds, fish sauce and diced jalapeño for heat. The flaky fish and tangy sauce are ace companions for the bed of twice-fried, skin-on russets that lie beneath. 1108 Bedford Ave between Lexington Ave and Quincy St, Bedford-Stuyvesant, Brooklyn (718-684-2290). $20.—Jasmine Moy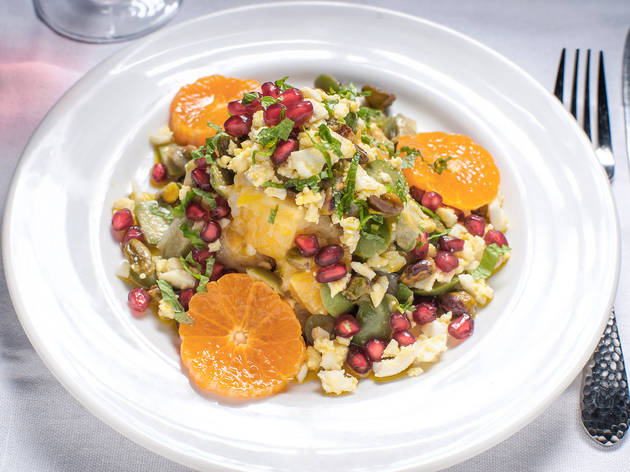 2/8
Photograph: Paul Wagtouicz
Remojón at La VaraThis traditional Andalusian salad is a veritable explosion of colors, flavors and textures. Supple, hand-torn salt cod, quick-cured in-house from day-boat filets, is layered with bright citrus fruit (usually oranges, sometimes grapefruit), finely chopped hard-boiled egg and pistachios. The salad, stunning to look at and disarmingly cohesive despite its long list of ingredients, is topped with a scattering of mint and pomegranate seeds and a splash of rich, nutty pistachio oil. 268 Clinton St between Warren St and Verandah Pl, Cobble Hill, Brooklyn (718-422-0065). $14.—Jamie Feldmar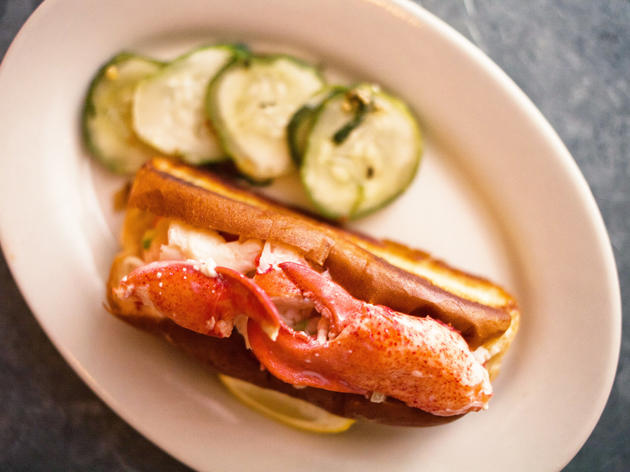 3/8
Photograph: Noah Devereaux
Maine lobster roll at LittleneckThe Gowanus Canal may not conjure up New England's sandy shoreline, but the superlative lobster roll at this hipster clam shack will transport you there anyway. The sweet, gently poached lobster is barely dressed with a transparent slick of Hellmann's mayo and lemon juice, plus diced celery. An airy toasted split-top bun from Maine's Lepage Bakeries cradles the tender meat. 288 Third Ave between Carroll and President Sts, Gowanus, Brooklyn (718-522-1921, littleneckbrooklyn.com). $18.—Mari Uyehara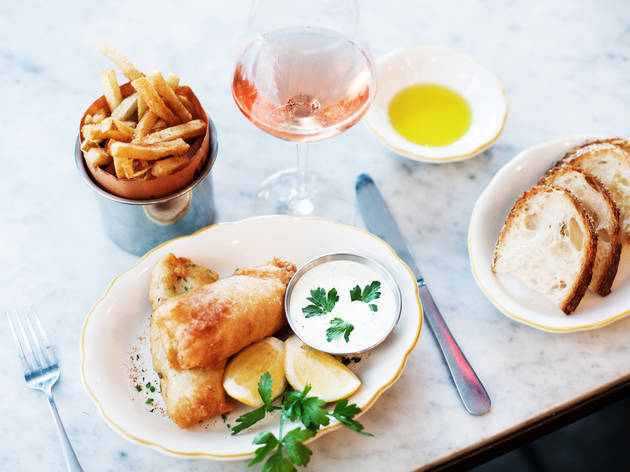 4/8
Photograph: Noah Devereaux
Tempura hake at PrimaFrench chef David Malbequi updates fish and chips, that staid British classic, with this sprightly rendition. He dunks two hake fillets in a light tempura batter, invigorated with the bitter bite of Sam Adams lager, and then deep-fries them in a vat of oil. Gorgeous golden-brown shells—improbably light and puffy—encase the tender, flaky fish. Pair the dish with slim, crispy french fries and an outstanding buttermilk-tarragon tartar sauce. 58 E 1st St between First and Second Aves (646-559-4823, primanyc.net). $16.—Mari Uyehara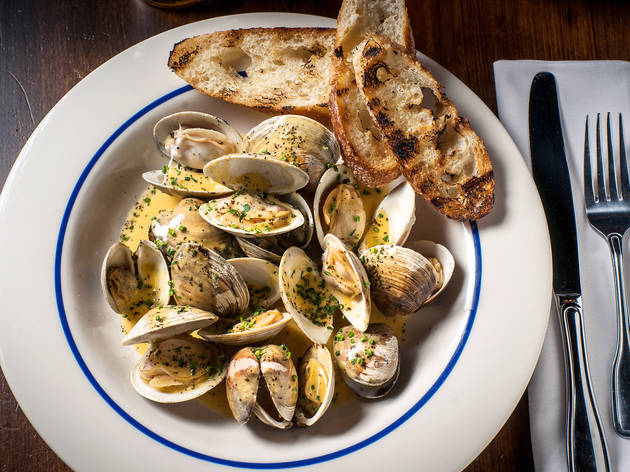 5/8
Photograph: Paul Wagtouicz
Grilled cherrystone clams at Extra FancyExtra Fancy chef Josh Blakely grills a pound of cherrystone clams and tosses them with glazed cippolini onions, chopped chives and parsley to create this deceptively simple dish. Melted compound butter, made with garlic confit, smoked paprika and salt, mingles with the bivalves' brackish juices; use a hunk of grilled bread to mop up the ambrosial liquid. 302 Metropolitan Ave between Driggs Ave and Roebling St (347-422-0939). $15.—Christopher Ross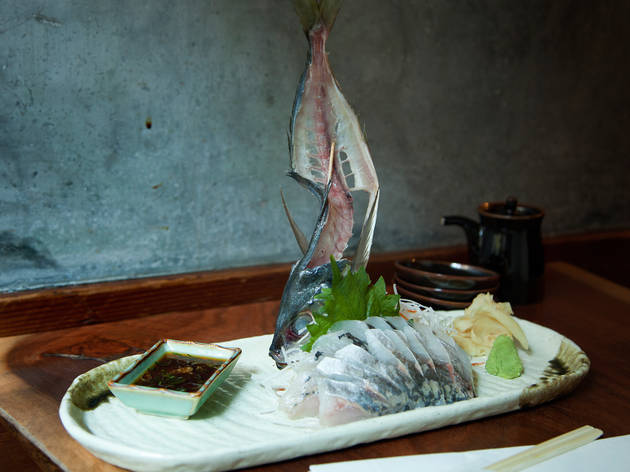 6/8
Photograph:Dominic Perri
Aji at Blue Ribbon SushiHorse-mackerel sashimi is a dish that keeps on giving at this downtown sushi institution. Devour the plump, melt-on-your-tongue aji, leaving only its skeleton; after your plate has been cleared, your waiter will return with its picked-over bones, deep-fried in a light batter. Eat them like chips, dipped in ponzu sauce, for an exquisite maritime take on head-to-tail dining. 119 Sullivan St between Prince and Spring Sts (212-343-0404, blueribbonrestaurants.com). $25.50–$31.50, depending on availability.—Marley Lynch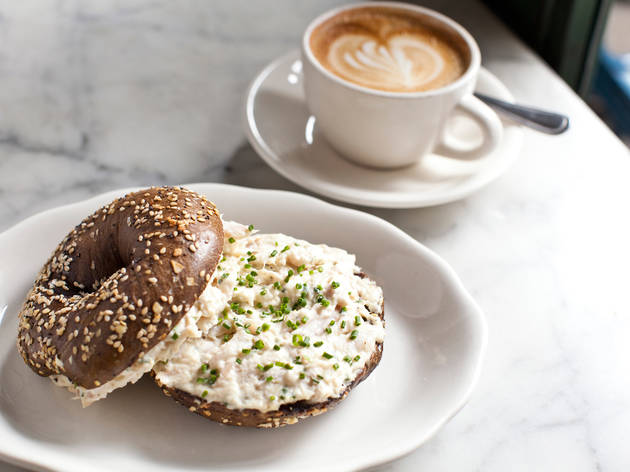 7/8
Photograph: Jolie Ruben
Smoked whitefish on a bagel at Marlow & SonsWhether you opt to wait for a table during Marlow's perpetually packed brunch hours or grab a bite to go at the coffee counter, make sure to try this elegant riff on the Jewish deli standard. To make the spread, Acme smoked whitefish is mixed with house-made mayo, a generous helping of thinly sliced chives and a squirt of lemon to brighten it up; it's then smeared on a crispy toasted bagel. 81 Broadway at Berry St, Williamsburg, Brooklyn (718-384-1441, marlowandsons.com). $7.—Marley Lynch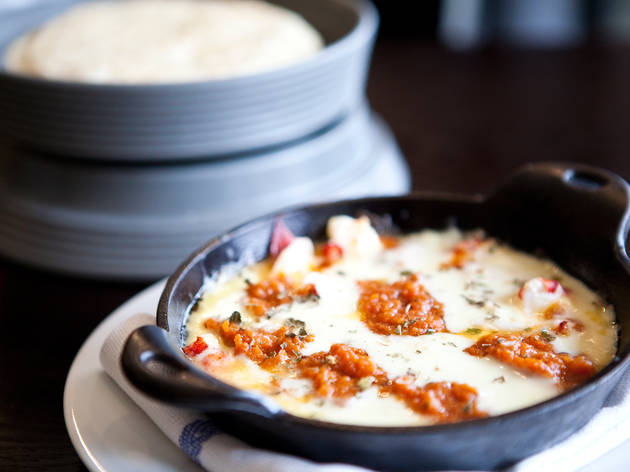 8/8
Photograph: Jakob N. Layman
Queso fundido with lobster at Empellón CocinaChef Alex Stupak may be a world-class technician and haute-Mexican booster, but his upmarket queso fundido still speaks to the lowbrow bliss of a damned good cheese dip. Melted tetilla cheese with kol, a Yucatan-style white sauce, forms the base of the dish. It's punctuated by hunks of lobster and zipped up with a spicy tomato-and-habanero sauce. Warm homemade flour tortillas, flaky and supremely tender, accompany the gooey, bubbling dish. 105 First Ave between 6th and 7th Sts (212-367-0999, empellon.com/cocina). $24.—Mari Uyehara
RECOMMENDED: All 100 best dishes and drinks
The best seafood dishes that made a splash this year include Littleneck's lobster roll, chef Josh Blakely's cherrystone clams at Extra Fancy and a reinvigoration of fish and chips at Prima.