The Brew Inn opens in Williamsburg
Miami transplant Amy Cunningham (Yardbird Southern Table & Bar) oversees the kitchen at this 50-seat restaurant serving eclectic pub grub.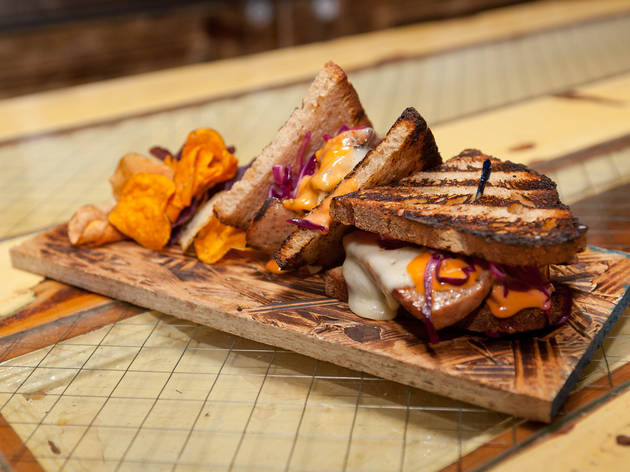 1/6
Photograph: Lauren Spinelli
Kielbasa Reuben at the Brew Inn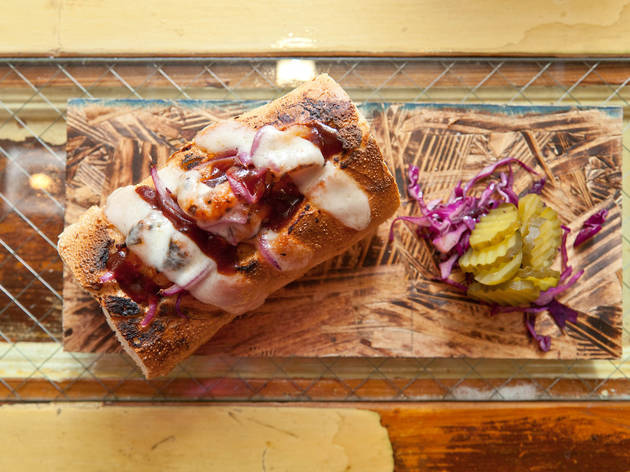 2/6
Photograph: Lauren Spinelli
Shrimp po' boy at the Brew Inn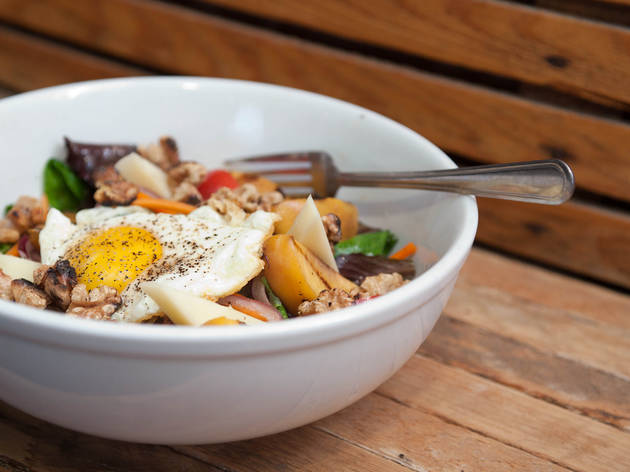 3/6
Photograph: Lauren Spinelli
Grilled peach salad at the Brew Inn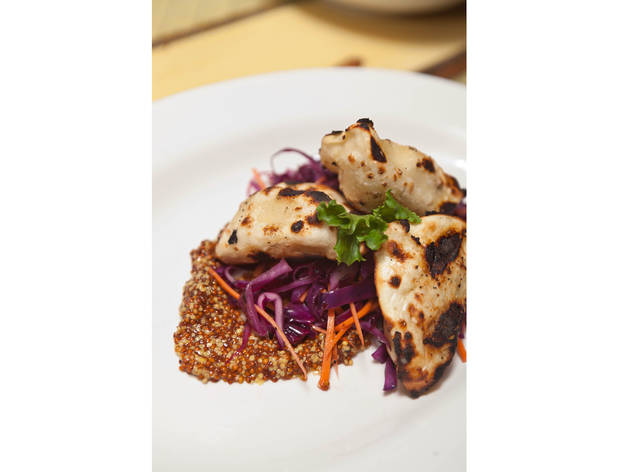 4/6
Photograph: Lauren Spinelli
Grilled pierogi at the Brew Inn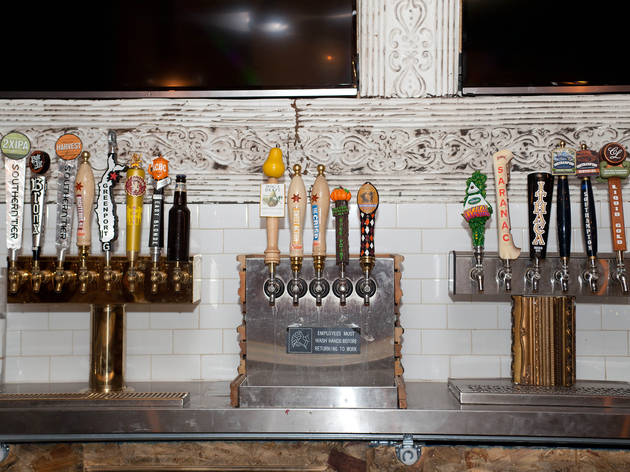 5/6
Photograph: Lauren Spinelli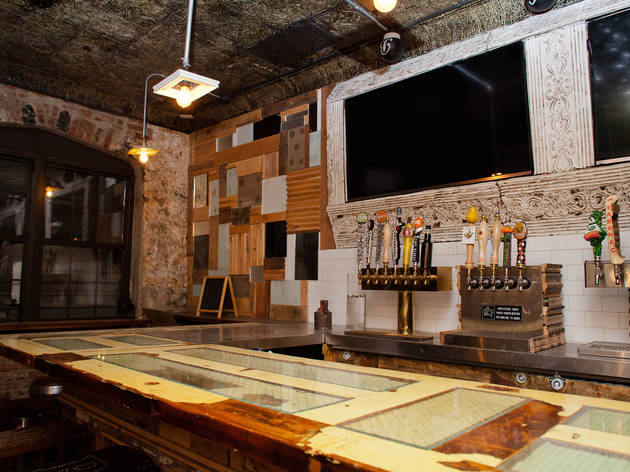 6/6
Photograph: Lauren Spinelli
The South meets north Brooklyn at the Brew Inn, serving eclectic pub grub in Greenpoint beginning on November 14th. Miami transplant Amy Cunningham—who put in time at the James Beard Award–nominated Yardbird Southern Table & Bar—draws influences from her culinary roots and her new neighborhood's Polish community. Down-home classics like a pulled-pork sandwich and shrimp po' boy share menu space with grilled pierogi and a kielbasa Reuben. Beer is all New York: Hops-heads can choose from 30 Empire State brews, including Fire Island Beer's Lightouse Ale and Captain Lawrence Brewing Company's Liquid Gold. Beer taps are repurposed as door handles at the 50-seat spot, which is also decorated with antique lampposts, triangular mirrors and a black tin ceiling. 924 Manhattan Ave at Kent St, Greenpoint, Brooklyn (718-576-3345)
THE BREW INN MENU
SMALL SHARE
House Spiced Bar Nuts - spiced citrus, $4
Charcuterie Board - house cut meats, shaved at bar, jams, pickles, $12
Grilled Pierogi - changes daily, pickled cabbage, dijon, $9
House Bacon & Apple Sauce - pork belly, apple chips, $11
Deviled Eggs - local eggs, pickled mustard seeds, $8
Pretzel Bites - fresh baked pretzel, trio of sauces, $8
Marinated Yellow Cheddar - olive oil, fresh herbs, grilled bread, $6
Grilled Sardines - roasted tomato salsa, $9

SALADS
Brooklyn's Own - grilled peaches, nuts , Hudson Valley farm cheese, local greens, sunny side up egg, $9
Buzzed Greens – kale, shallot, beer bread croutons, lager soaked raisins, smoked cheddar, apple cider vinaigrette, $9 (add chicken 3; add pork belly 4; add shrimp 5)

SANDWICHES AND LARGE BITES (all served with fries, small salad, or daily side dish)
Greenpoint Kielbasy "Rueben" - grilled kielbasy, pickled cabbage, Manhattan Island dressing, melted Swiss, rye, $11
The Brew Burger - Soft bun, bacon if ya want it (+$), $9
Shrimp Po' Boy - grilled shrimp, PBR-BQ, Swiss cheese, pickle relish, $12
Riblets - Korean BBQ, pickles, $13
Pulled Pork Sammy - BBQ pulled pork, coleslaw, Hawaiian roll, $11

SIDES
2 Eggs – $3.5
Toast, English Muffin, Bagel – $2.50
Short Stack of Pancakes - $4
French Toast – $4.50
Tater Tots - $4
Bacon, Ham or Sausage - $3/each
Fresh Fruit - $5
DESSERT
Ice Cream Float – Sarsaparilla, Chocolate / Root Beer, Vanilla / Hennepin, Whiskey Ice Cream, $6 regular/$9 adult
Warm Fudge Blondie a la Mode - ehiskey ice cream, whipped cream, rainbow sprinkles, moonshine cherry, $7
Donut Holes - burnt caramel, sea salt, $6
Sponsored listing
SAN CARLO Osteria Piemonte
San Carlo Osteria Piemonte in Soho isn't your typical pasta joint. This restaurant focuses on cuisine from the Piedmont region of northern Italy, which leans more towards rustic home cooking. The menu reveals an emphasis on game you don't often see in Italian restaurants. You can order an appetizer of tonno di coniglio, rabbit marinated in olive oil served with pickled vegetables ($17), or pan-seared guineafowl with leeks, potatoes and kale sauce ($27) for your entree. Other menu options include chestnut gnocchi with porcini mushrooms and parmesan fondue ($22), bone-in veal milanese with arugula and cherry tomatoes ($42) and bollito misto piedmontese, a stew of brisket, ribs, beef tongue and pork sausage with vegetable relish ($29). The dessert menu offers more than just the usual suspects as well. You'll find pears cooked in red wine, honey and star anise ($15) and a mint semifreddo with chocolate sauce ($13) alongside tiramisu and hazelnut mousse (both $12).
Venue says: "Producing exceptional fine wines, artisanal meats and cheeses, and some of Italy's best known specialtiesincluding white truffles."