The Dogwood is open in Prospect Park South
The Fat Beagle teams opens a Carolina-inspired comfort-food spot in Brooklyn.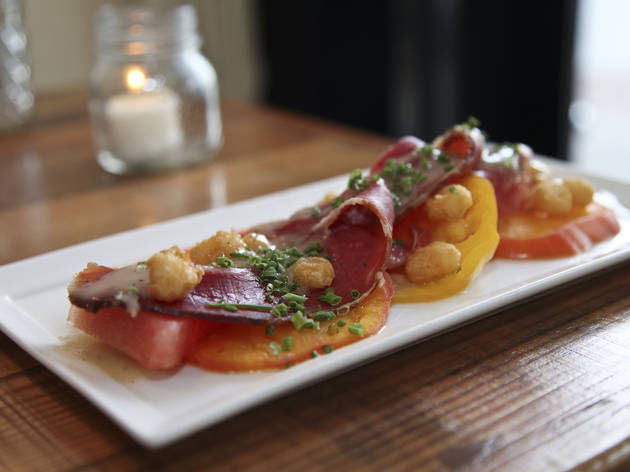 1/4
Photograph: Hannah Mattix
Heirloom tomatoes at the Dogwood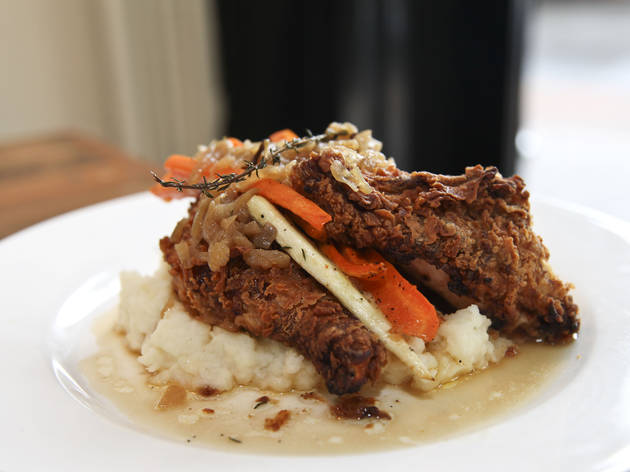 2/4
Photograph: Hannah Mattix
Fried chicken at the Dogwood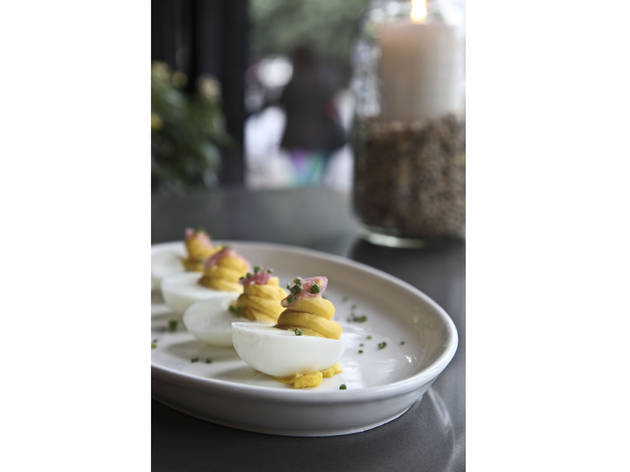 3/4
Photograph: Hannah Mattix
Deviled eggs at the Dogwood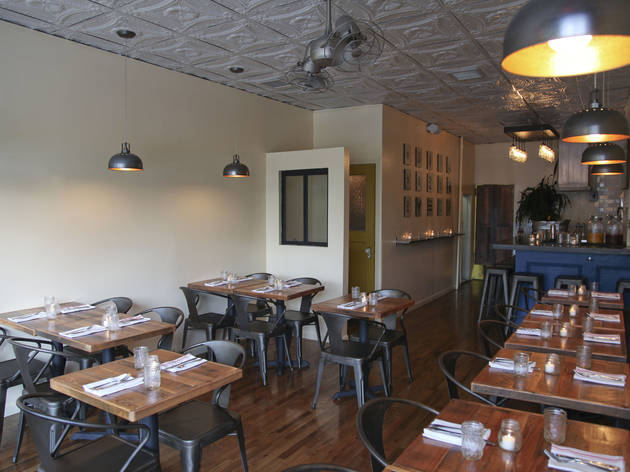 4/4
Photograph: Hannah Mattix
Carolina roots run deep at this Southern-comfort Brooklyn joint, from North Carolina native Matt Weavil (owner of the Fat Beagle) and his wife Ashley. Named after that state's official flower, the rustic 35-seat restaurant specializes in updated down-home eats: Gruyère biscuits with arbol-chili–strawberry jam; heirloom tomatoes with summer melon, country ham and crispy hominy; and a Berkshire porterhouse with sautéed dandelion greens and grilled peach compote. Find peach cobbler, as both dessert (bourbon-spiked cobbler with goat-cheese drop biscuits and buttermilk ice cream) and cocktail (sauvignon blanc with crushed peaches, cinnamon syrup and thyme). Potted dogwoods are set throughout the bluegrass-soundtrack space, which also features mason-jar chandeliers and 1928 church pews bought off a local nun. See the supper menu below. 1021 Church Ave between Stratford and E 10th Sts, Prospect Park South, Brooklyn (929-234-5692, dogwoodnyc.com).
SUPPER MENU

SMALL BITES:
Deviled Eggs 5
pickled shallots, chives

Chipotle Pimento Cheese 5
cornbread toasts, hot pickled okra

Gruyére Biscuits 5
smoked sea salt, honey butter,
arbol chili strawberry jam
add country ham 3

STARTERS:
Carolina Blue Crab Pups 12
pickled jalapeno, shaved corn, old bay aioli

Blue Ridge Greens 11
cornbread croutons, soft boiled egg,
shaved parmesan, caesar vinaigrette
add country ham 3

Heirloom Tomatoes 12
summer melon, meyer lemon vinaigrette,
surry farms country ham, crispy hominy

MAINS:
Fried Chicken 20
roasted root vegetables, mashed potatoes,
vidalia onion gravy, tupelo honey

Shrimp and Grits 21
geechie boy cheddar grits, ham hock collards

Summer Vegetable Grits 14
roasted corn, grilled summer vegetables

Burger 13
100% grass fed beef, b&b pickles, tomato, hand cut fries
add cheddar, blue or pimento cheese 2
applewood bacon 3

Berkshire Porterhouse 26
sautéed dandelion greens, grilled peach compote,
molasses mustard glaze

SIDES
6 each
Hand Cut Fries
Skillet Mac & Cheese
Ham Hock Collards
Roasted Brussels Sprouts & Vidalia Onions
Geechie Boy Grits; add ny cheddar 2
Mashed Potatoes and Vidalia Onion Gravy
Roasted Summer Corn on the Cob with Tarragon Butter