The Feed first look: Mission Chinese Food
The cultish San Francisco outfit hits New York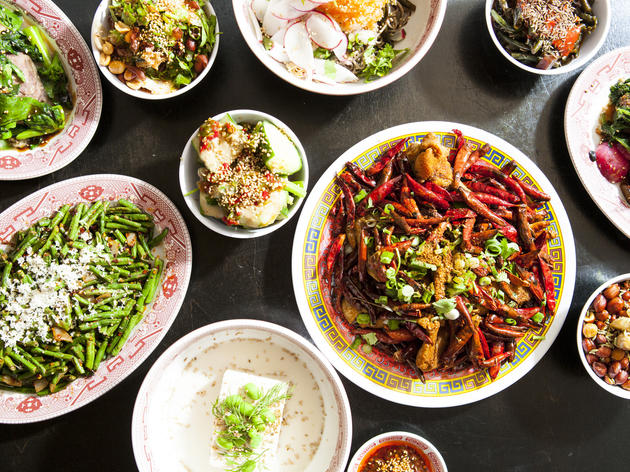 1/20
Photograph: Jakob N. Layman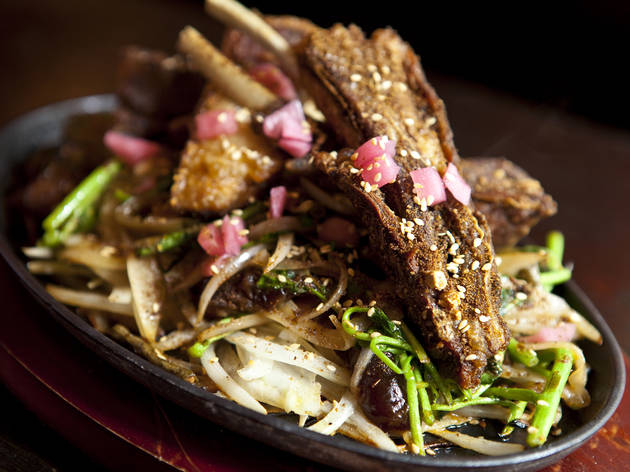 2/20
Photograph: Jakob N. Layman
Cumin lamb breast at Mission Chinese Food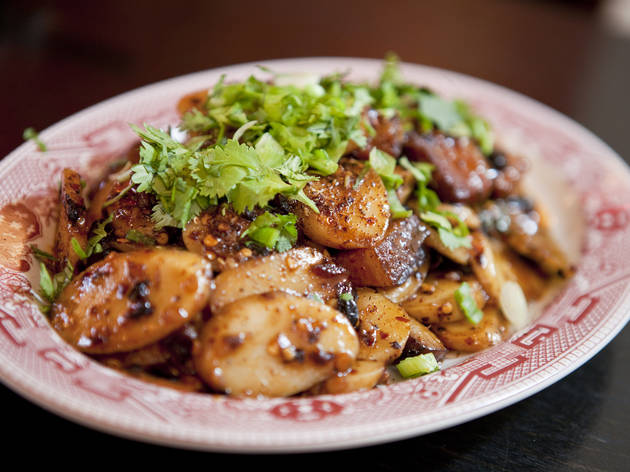 3/20
Photograph: Jakob N. Layman
Thrice-cooked bacon with rice cakes at Mission Chinese Food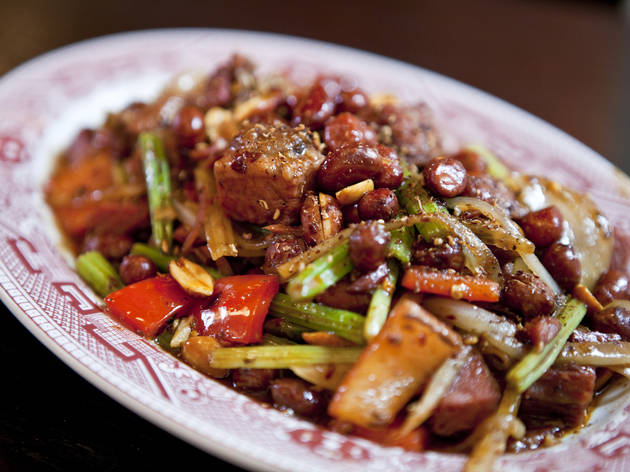 4/20
Photograph: Jakob N. Layman
Kung pao pastrami at Mission Chinese Food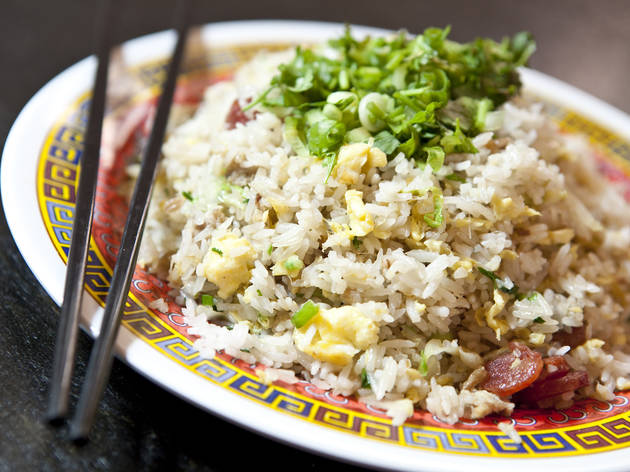 5/20
Photograph: Jakob N. Layman
Salt cod fried rice at Mission Chinese Food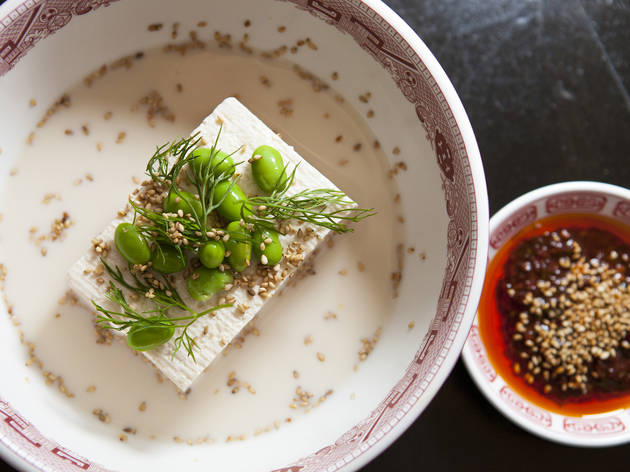 6/20
Photograph: Jakob N. Layman
Fresh tofu poached in soymilk with soybeans at Mission Chinese Food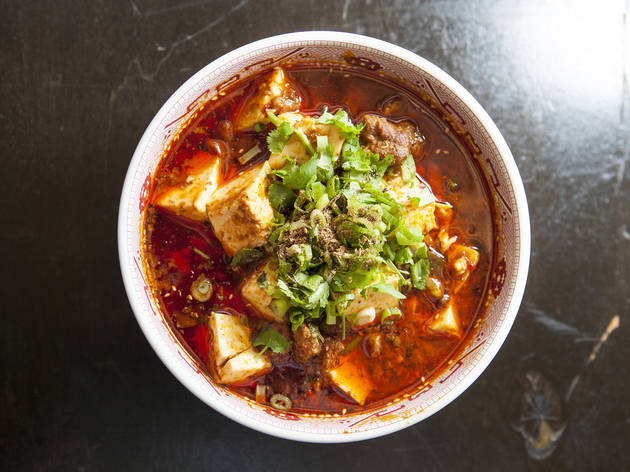 7/20
Photograph: Jakob N. Layman
Mapo tofu with pork shoulder at Mission Chinese Food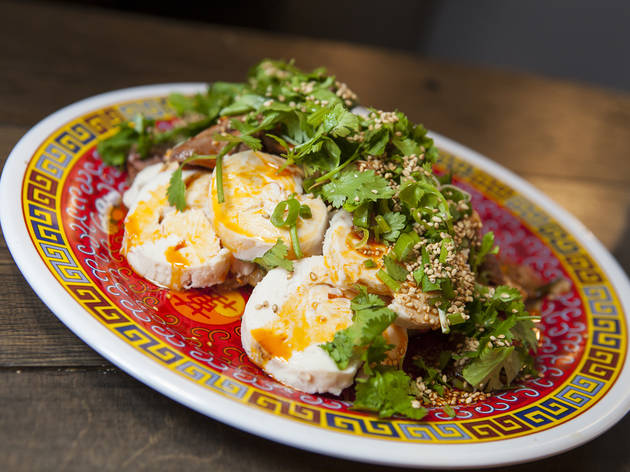 8/20
Photograph: Jakob N. Layman
Mouth-watering chicken at Mission Chinese Food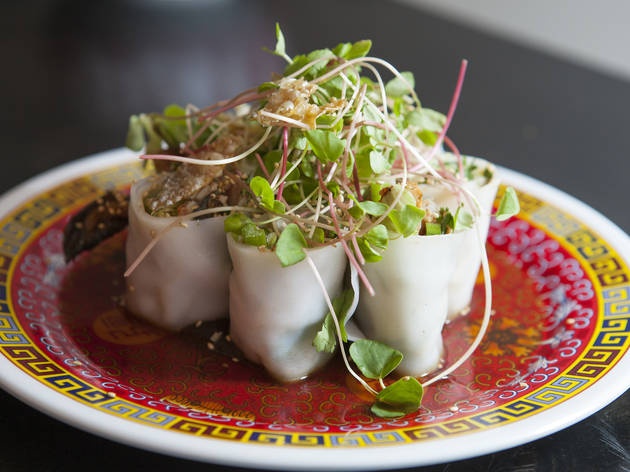 9/20
Photograph: Jakob N. Layman
Tea-smoked eel at Mission Chinese Food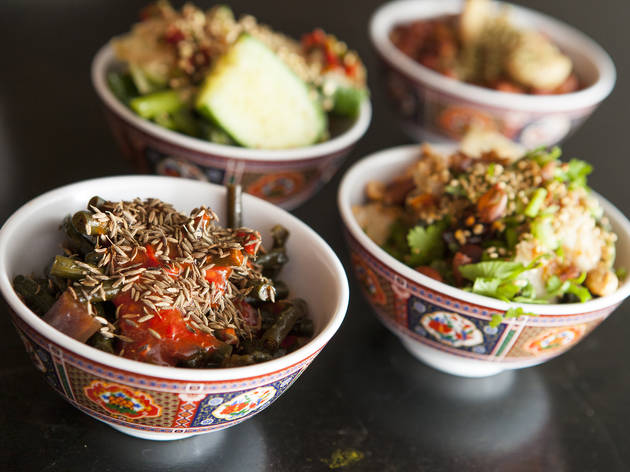 10/20
Photograph: Jakob N. Layman
Beijing vinegar peanuts and pickles at Mission Chinese Food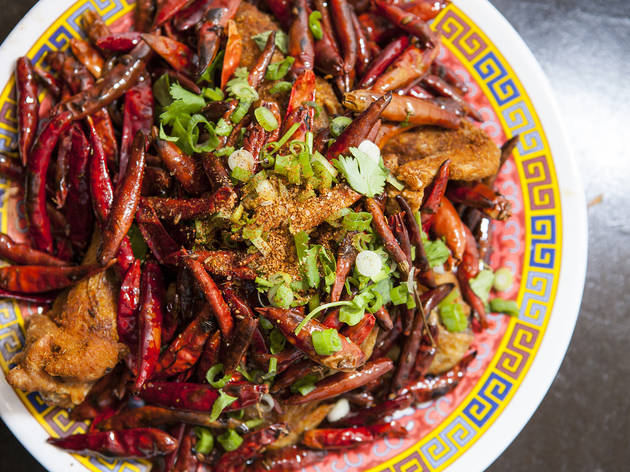 11/20
Photograph: Jakob N. Layman
Chongqing chicken wings at Mission Chinese Food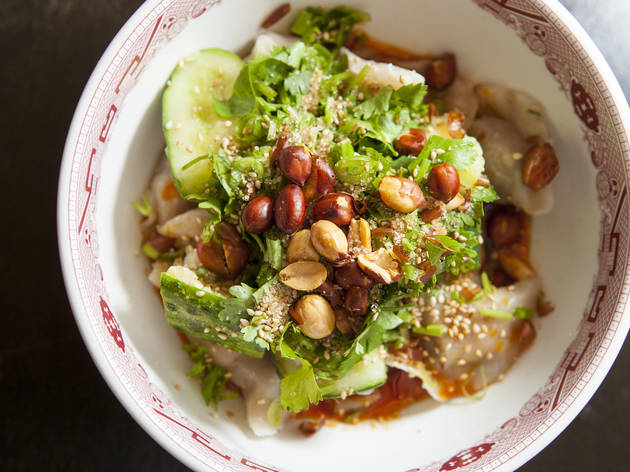 12/20
Photograph: Jakob N. Layman
Lamb-cheek dumplings in red oil at Mission Chinese Food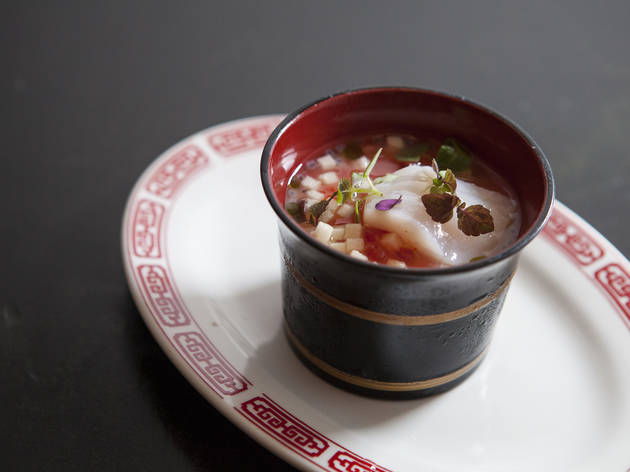 13/20
Photograph: Jakob N. Layman
Savory egg custard with trout roe at Mission Chinese Food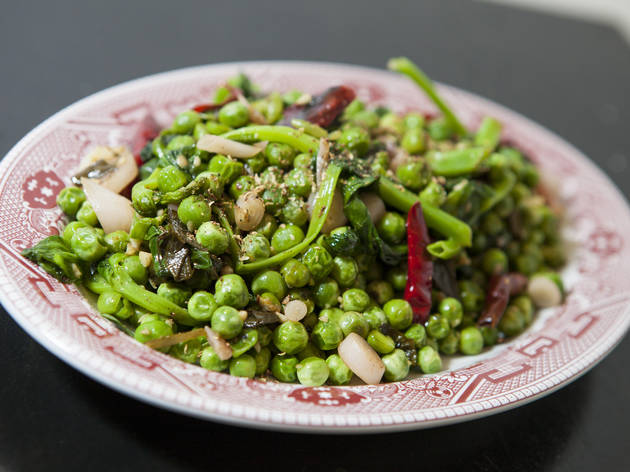 14/20
Photograph: Jakob N. Layman
Stir-fried sweet peas at Mission Chinese Food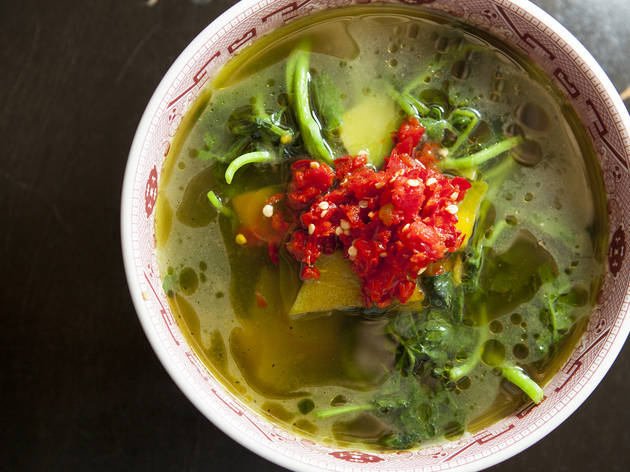 15/20
Photograph: Jakob N. Layman
Wild pepper leaves in salted chili broth at Mission Chinese Food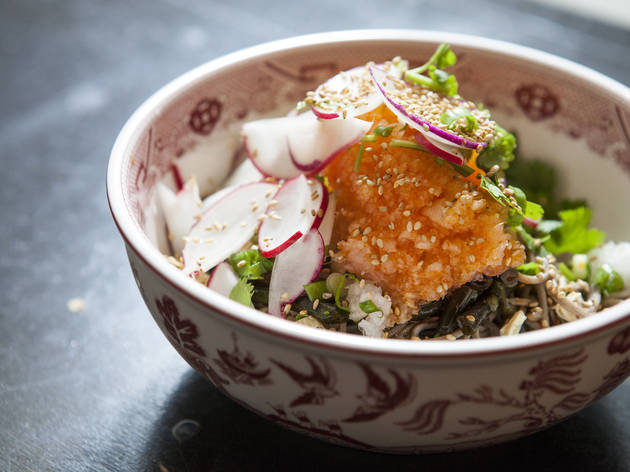 16/20
Photograph: Jakob N. Layman
Chilled buckwheat noodles at Mission Chinese Food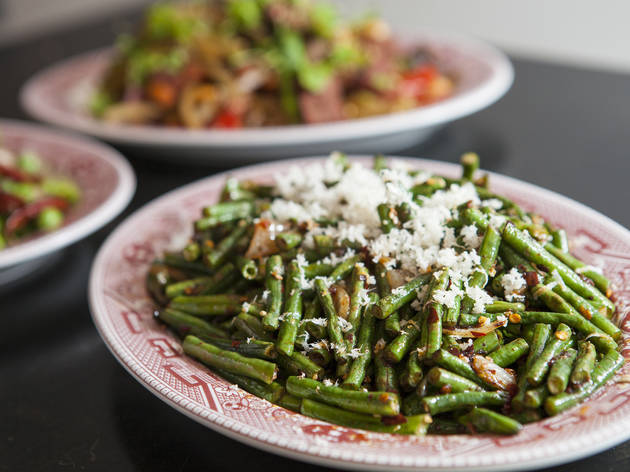 17/20
Photograph: Jakob N. Layman
Mongolian long beans at Mission Chinese Food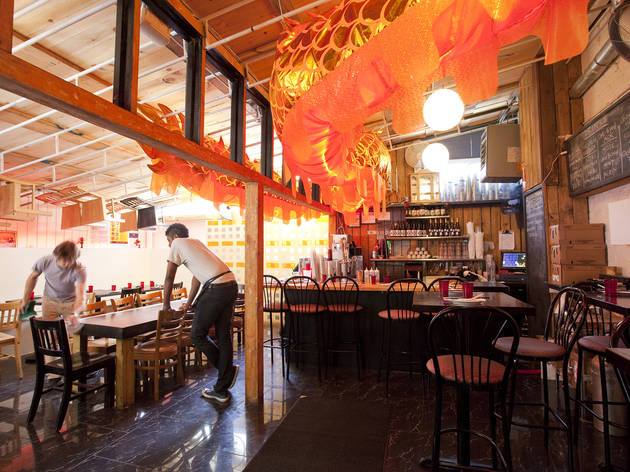 18/20
Photograph: Jakob N. Layman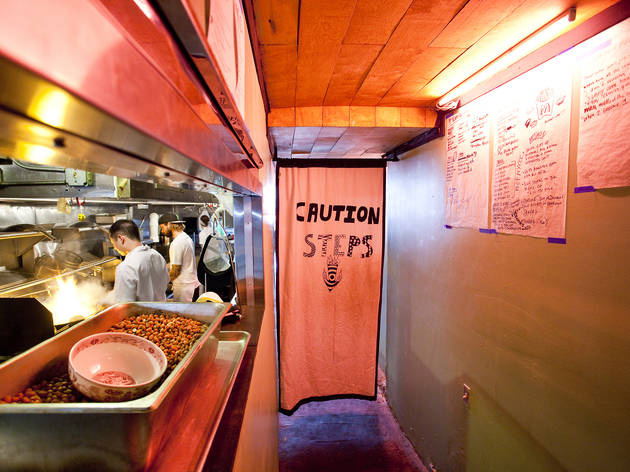 19/20
Photograph: Jakob N. Layman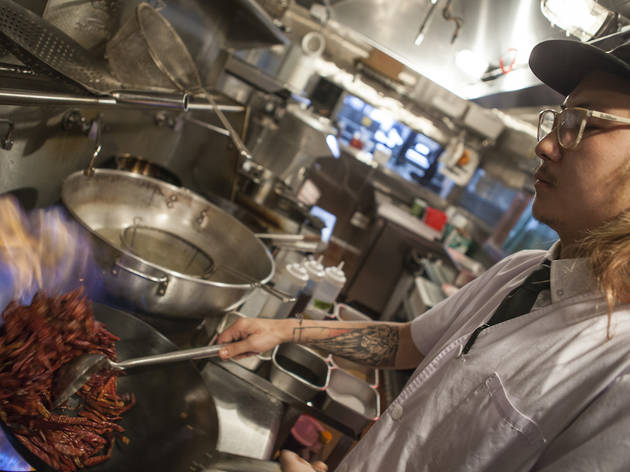 20/20
Photograph: Jakob N. Layman
Danny Bowien at Mission Chinese Food
Tomorrow night, chef Danny Bowien debuts the much-anticipated offshoot of San Francisco's cultish Mission Chinese Food. The groundbreaking California joint—housed at Lung Shan as a restaurant inside a restaurant—drew long lines on a dingy strip in the Mission and national acclaim for its eclectic Asian soul food: thrice-cooked Benton's bacon with rice cakes, bitter melon and tofu skin; and kung pao pastrami with chili, celery, potato and roasted peanut.
Bowien moved to New York to open this Lower East Side outpost, featuring hanging yellow dragons, red neon lights and karaoke after midnight. He'll dish out signature plates from the original, plus new additions, including fresh tofu poached in soymilk with broad bean paste; and lamb cheek dumplings in red oil, black vinegar, rock sugar, peanuts and numbing peppercorn.
Like the SF flagship, the New York location will donate 75 cents from every main dish to local charities. Plus, the white-hot outfit plans to open another location in Williamsburg, and a Chinese bakery with a vet of Tartine Bakery, San Francisco's lauded patisserie, sometime down the line. Check out the full menus below. 154 Orchard St between Rivington and Stanton Sts (212-529-8800)
Mission Chinese Food NYC menu 1
Sponsored listing
Teresa's
For Polish cuisine and comfort food favorites, look no further than Teresa's in Brooklyn Heights. This restaurant serves up traditional Eastern European fare alongside diner staples like omelets, burgers and pancakes. You can order a veritable buffet of Old World favorites like pierogis (four for $5.50, seven for $8.50), cheese blintzes with blueberries ($9.95), broiled kielbasa ($11.50), stuffed cabbage in tomato sauce ($11.95), goulash ($14.95) and borscht ($4). Glasses of the house red or white wine go for just $5, as do most imported beers—domestic suds come in a touch lower, at $4.50. With a menu this extensive, you're sure to be able to find something that tickles your fancy.  
Venue says: "Teresa's Restaurant offers delicious dining, takeout and delivery to Brooklyn, NY."