The Feed first look: Shigure
A Decibel alum opens a sake bar in Tribeca.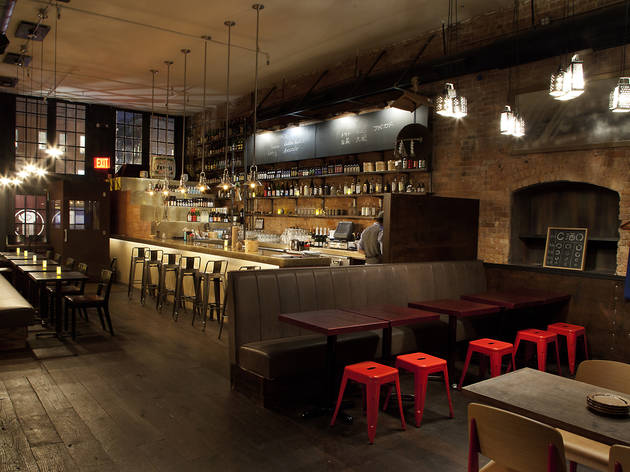 1/6
Photograph: Dominic Perri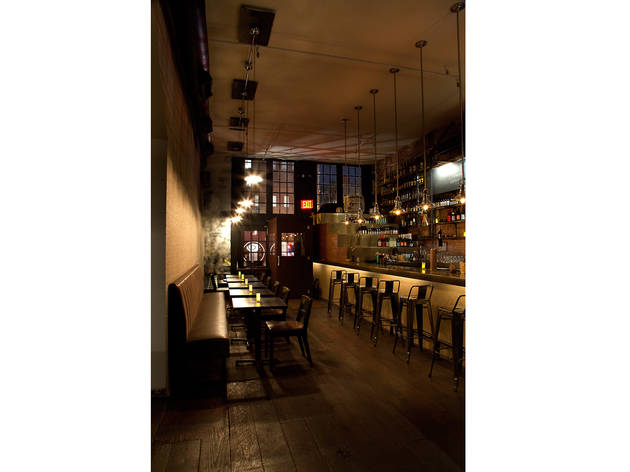 2/6
Photograph: Dominic Perri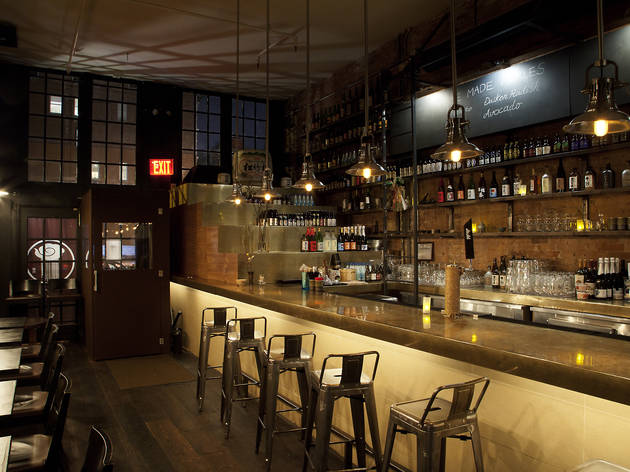 3/6
Photograph: Dominic Perri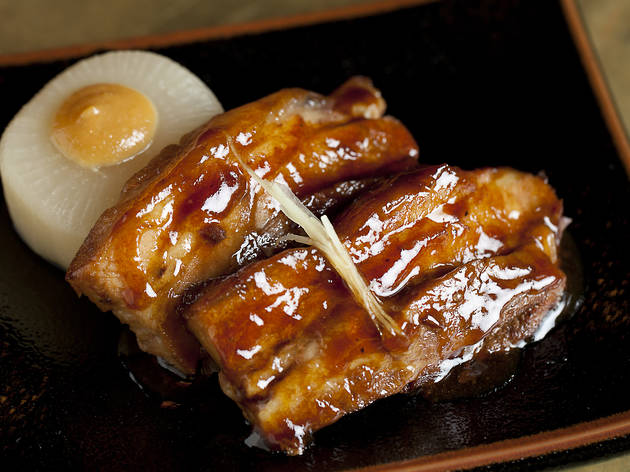 4/6
Photograph: Dominic Perri
Simmered pork belly served with daikon radish at Shigure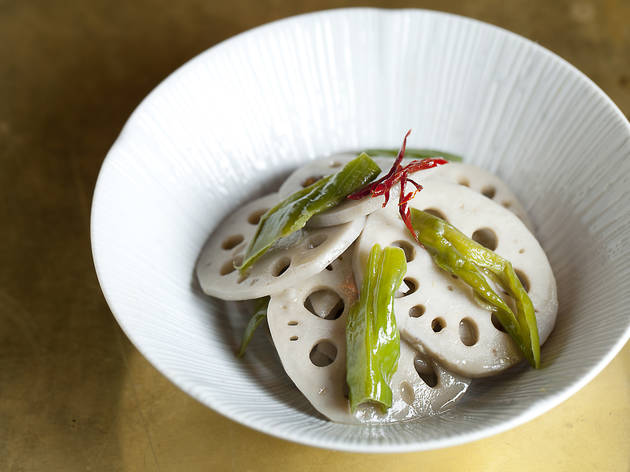 5/6
Photograph: Dominic Perri
Lotus roots with shishito pepper at Shigure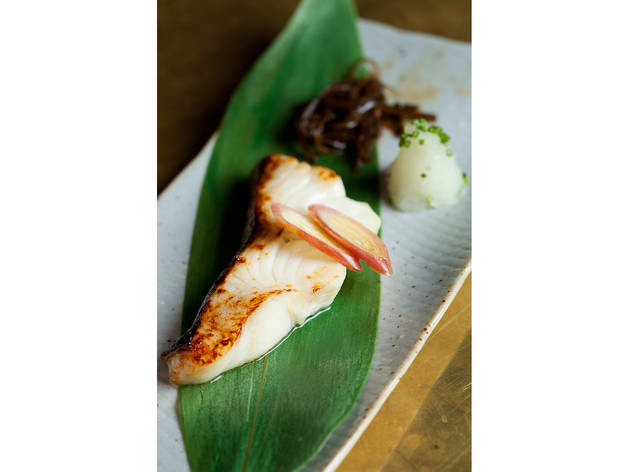 6/6
Photograph: Dominic Perri
Grilled black cod marinated with sake lees at Shigure
Gotham's sake bars tend toward extremes—either stiff-lipped speakeasies or brash East Village dives. At Shigure, the Tribeca lounge open this week, booze vets Takahiro Okada (Decibel, EN Japanese Brasserie) and Jiro Yamada (Bar Veloce) strive to hit a middle ground, combining sleek but comfy digs with a high-minded, regional bent for the drinks. Small-production distilleries are the focus of the 40-bottle rice wine list, including rare varieties of junmai daiginjoshu (the most labor-intensive, refined type of sake) and gingo-shu (a floral, highly polished variety). Find the origin of your slug on the map of Japan on the wall; numbered locations correspond with the menu. Drinkers can also choose from cocktails: Natty mixologists in ties and vests employ 14 types of shochu (a light, vodkalike spirit) in a selection of tipples, including a sour made with muddled Asian pear, a sugarcane-based shochu and lemon juice. Offset the drinking with izakaya bites that nod to American picnic grub: A potato-avocado salad comes with a poached egg, while fried chicken is marinated with shio koji, a fermented rice-based sauce. Check out the small plates menu below. 277 Church St between Franklin and White Sts (212-965-0200)
MENU
Grilled edamame $6
Daikon salad $7
Duck cha-shu $9
Avocado potato salad $7
Shio-kohi fried chicken $8
Pork belly kakuni $8
Gindara kasu-yaki (grilled black cod) $12
Nonbei ramen $9
Renkon kinpira (fried lotus root) $6
Shishito yaki-bitashi (grilled shishito pepper) $6
Charcoal grilled shrimp $10
Gomoku-onigiri (rice balls) $6
Vegetable maki $8
Osuimono (clear soup) $8
Sponsored listing
Gardenia
The pastel-hued dining room at this West Village restaurant is filled with natural light, thanks to a large skylight in the center of the room. Brunching here will give you the full benefit of the sunny room, but you'll need to come for dinner to taste the full menu of Latin and Mediterranean fusion dishes. Whet your appetite with the guacamole topped with fresh pomegranate seeds ($14) or the spinach, corn and cheese empanadas ($13). Order a bunch of smaller plates to share, like the burrata salad with roasted root vegetables and beet sauce ($16), tuna steak tacos with truffle mash ($16) and grilled baby octopus with spicy aioli and papas bravas ($17). For heartier fare, try the Catalan paella with shrimp, calamari, clams, mussels and chorizo ($30). Thirsty? Order up a carafe of the Mediterranean sangria with rose and elderflower or a few lavender, cucumber or blood orange margaritas.
Venue says: "Seasonal Latin Mediterranean Cuisine and light fresh cocktails in the West Village. Join us for Happy Hour Monday through Friday 4pm-6:30pm"