The Feed first look: Shigure
A Decibel alum opens a sake bar in Tribeca.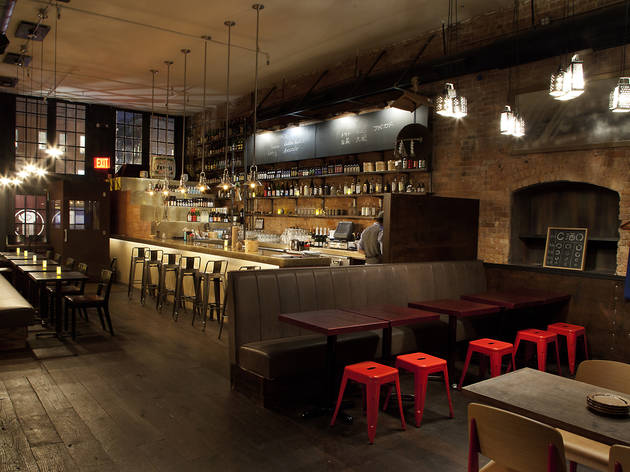 1/6
Photograph: Dominic Perri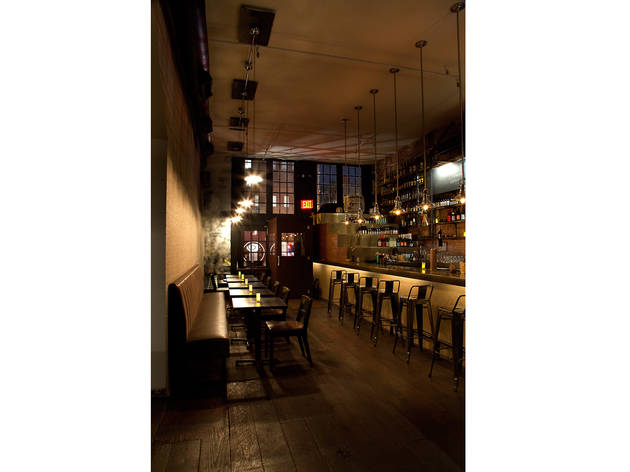 2/6
Photograph: Dominic Perri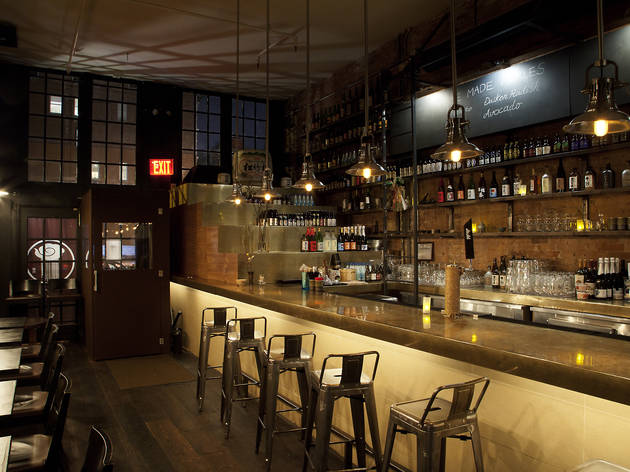 3/6
Photograph: Dominic Perri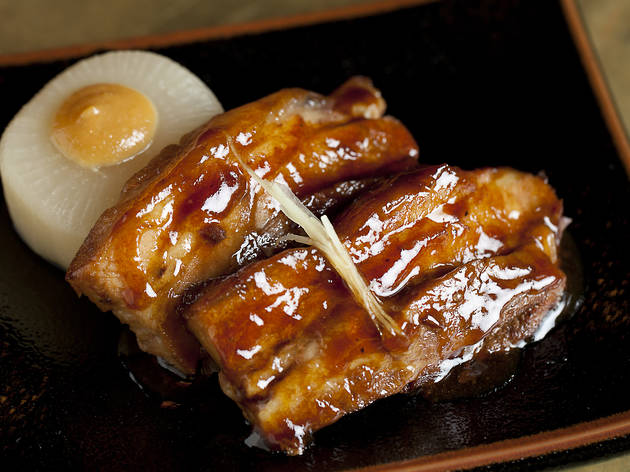 4/6
Photograph: Dominic Perri
Simmered pork belly served with daikon radish at Shigure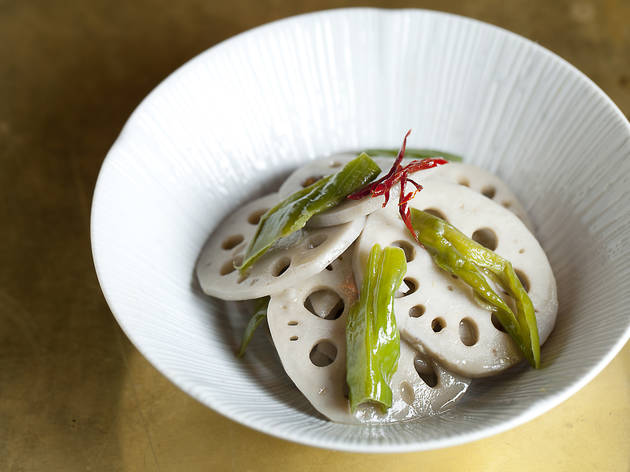 5/6
Photograph: Dominic Perri
Lotus roots with shishito pepper at Shigure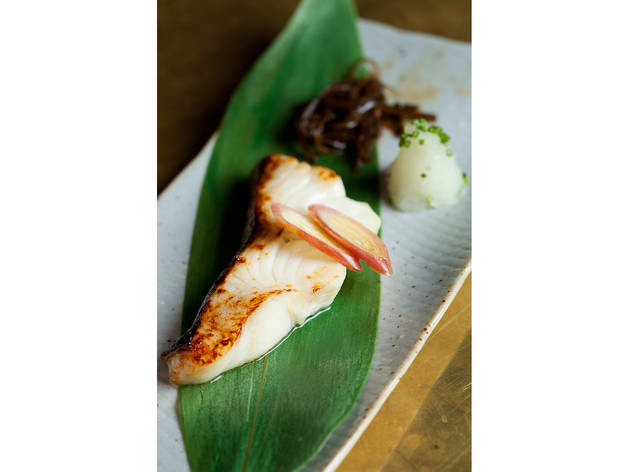 6/6
Photograph: Dominic Perri
Grilled black cod marinated with sake lees at Shigure
Gotham's sake bars tend toward extremes—either stiff-lipped speakeasies or brash East Village dives. At Shigure, the Tribeca lounge open this week, booze vets Takahiro Okada (Decibel, EN Japanese Brasserie) and Jiro Yamada (Bar Veloce) strive to hit a middle ground, combining sleek but comfy digs with a high-minded, regional bent for the drinks. Small-production distilleries are the focus of the 40-bottle rice wine list, including rare varieties of junmai daiginjoshu (the most labor-intensive, refined type of sake) and gingo-shu (a floral, highly polished variety). Find the origin of your slug on the map of Japan on the wall; numbered locations correspond with the menu. Drinkers can also choose from cocktails: Natty mixologists in ties and vests employ 14 types of shochu (a light, vodkalike spirit) in a selection of tipples, including a sour made with muddled Asian pear, a sugarcane-based shochu and lemon juice. Offset the drinking with izakaya bites that nod to American picnic grub: A potato-avocado salad comes with a poached egg, while fried chicken is marinated with shio koji, a fermented rice-based sauce. Check out the small plates menu below. 277 Church St between Franklin and White Sts (212-965-0200)
MENU
Grilled edamame $6
Daikon salad $7
Duck cha-shu $9
Avocado potato salad $7
Shio-kohi fried chicken $8
Pork belly kakuni $8
Gindara kasu-yaki (grilled black cod) $12
Nonbei ramen $9
Renkon kinpira (fried lotus root) $6
Shishito yaki-bitashi (grilled shishito pepper) $6
Charcoal grilled shrimp $10
Gomoku-onigiri (rice balls) $6
Vegetable maki $8
Osuimono (clear soup) $8
Sponsored listing
Rice 'n' Beans
For the last 25 years, chef Carlos Roberto Inácio has been serving Brazilian dishes common in the country's Minas Gerais state at his Hell's Kitchen restaurant. The menu features traditional appetizers like pão de queijo, cheese puffs with gooey, melty centers ($6), and empanadas stuffed with beef, chicken or cheese ($2.50 each). As for entrees, the feijoada—a black bean casserole with bacon, beef, pork ribs and Portuguese sausage—is the chef's specialty ($22). Other mains include prawns in a creamy yucca sauce ($17.75), pork chops in a garlic-wine sauce ($18.95) and Brazilian-style risotto with chicken and fried plantains ($14.95). Order up a side of collard greens or okra if you're craving veggies ($5 each), or save room for dessert. You might not be able to resist the creamy coconut pudding, caramel flan, passionfruit mousse or chocolate truffles known as brigadeiros ($7 each).
Venue says: "Have a craving for some great Brazilian food? Come by, we're known for the best Feijoada in town! Mention Time Out and get 10% off."