The Feed first look: Shigure
A Decibel alum opens a sake bar in Tribeca.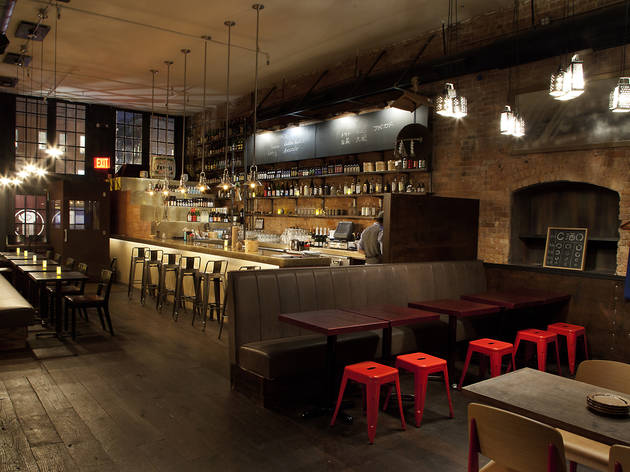 1/6
Photograph: Dominic Perri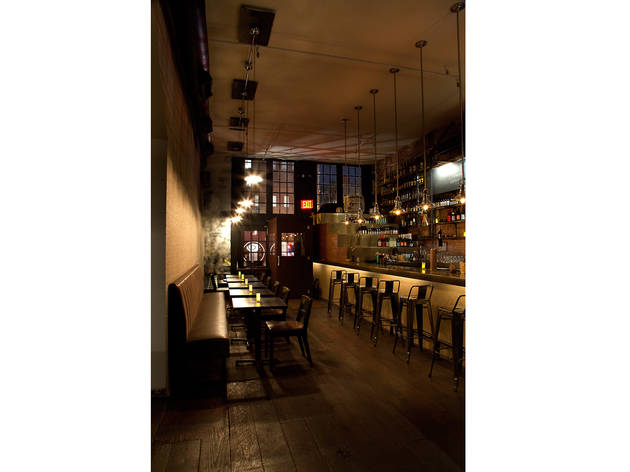 2/6
Photograph: Dominic Perri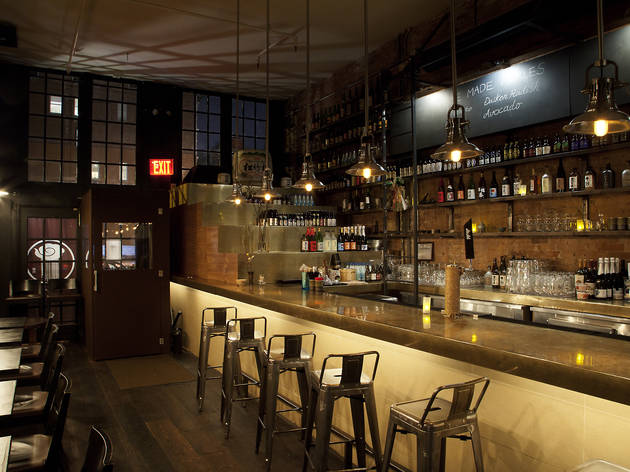 3/6
Photograph: Dominic Perri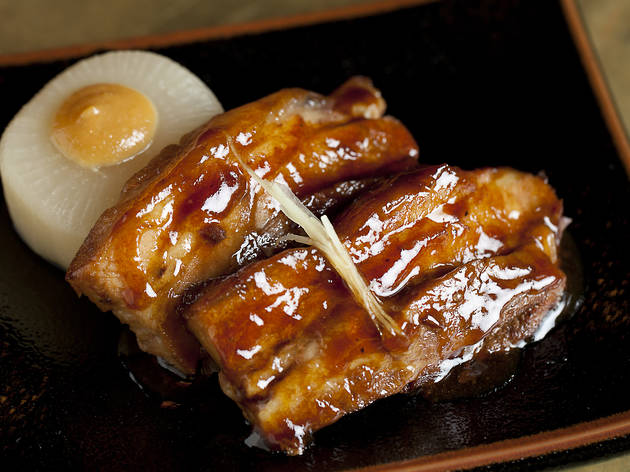 4/6
Photograph: Dominic Perri
Simmered pork belly served with daikon radish at Shigure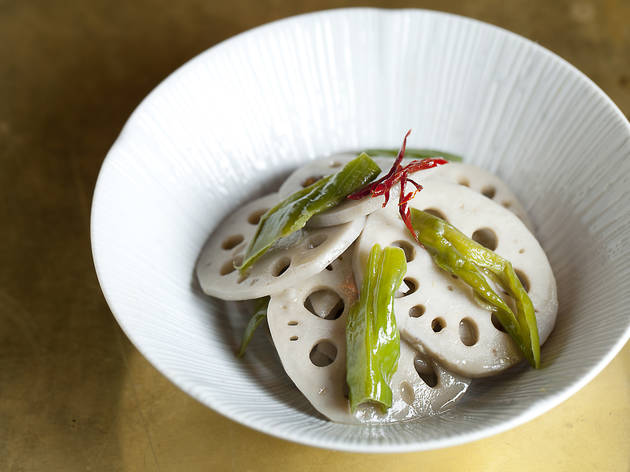 5/6
Photograph: Dominic Perri
Lotus roots with shishito pepper at Shigure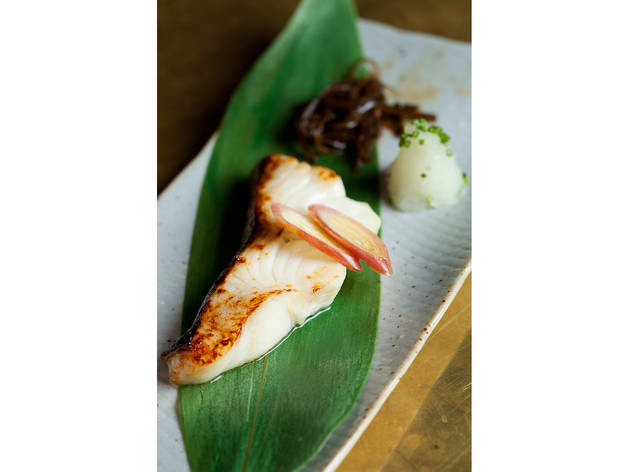 6/6
Photograph: Dominic Perri
Grilled black cod marinated with sake lees at Shigure
Gotham's sake bars tend toward extremes—either stiff-lipped speakeasies or brash East Village dives. At Shigure, the Tribeca lounge open this week, booze vets Takahiro Okada (Decibel, EN Japanese Brasserie) and Jiro Yamada (Bar Veloce) strive to hit a middle ground, combining sleek but comfy digs with a high-minded, regional bent for the drinks. Small-production distilleries are the focus of the 40-bottle rice wine list, including rare varieties of junmai daiginjoshu (the most labor-intensive, refined type of sake) and gingo-shu (a floral, highly polished variety). Find the origin of your slug on the map of Japan on the wall; numbered locations correspond with the menu. Drinkers can also choose from cocktails: Natty mixologists in ties and vests employ 14 types of shochu (a light, vodkalike spirit) in a selection of tipples, including a sour made with muddled Asian pear, a sugarcane-based shochu and lemon juice. Offset the drinking with izakaya bites that nod to American picnic grub: A potato-avocado salad comes with a poached egg, while fried chicken is marinated with shio koji, a fermented rice-based sauce. Check out the small plates menu below. 277 Church St between Franklin and White Sts (212-965-0200)
MENU
Grilled edamame $6
Daikon salad $7
Duck cha-shu $9
Avocado potato salad $7
Shio-kohi fried chicken $8
Pork belly kakuni $8
Gindara kasu-yaki (grilled black cod) $12
Nonbei ramen $9
Renkon kinpira (fried lotus root) $6
Shishito yaki-bitashi (grilled shishito pepper) $6
Charcoal grilled shrimp $10
Gomoku-onigiri (rice balls) $6
Vegetable maki $8
Osuimono (clear soup) $8
Sponsored listing
Café Zona Sur
This casual Sunset Park dinette run by a husband-and-wife team serves breakfast, lunch, brunch and dinner. For the morning meal, start with a La Colombe espresso ($2.25) along with lemon-ricotta crepes ($7), huevos rancheros ($10) or a pesto focaccia topped with mozzarella and two sunny-side up eggs ($14). Not a fan of brunch? Try something savory from the lunch menu, like the croque monsieur ($10) or Zona Sur burger with gruyere, caramelized onions and roasted tomato on a brioche bun ($14). The dinner options include larger portions like a seafood linguini with mussels, cockles and the catch of the day ($16), pan-seared salmon with kale ($17) or cavatappi mac and cheese ($16). Thirsty? Order a glass of red or white sangria ($7 for a glass, $25 for a liter), or one of the assorted wines and beers. Cafe Zona Sur even offers a few sweet options for dessert fiends, like a chocolate souffle ($7), apple bread pudding ($6) and tiramisu ($6).
Venue says: "SERVING BREAKFAST, EGGS PANCAKES AND CREPES EVERYDAY UNTIL 4PM!!!"