The Feed first look: Umami Burger
Adam Fleischman's superstar L.A. burger chain finally makes its way to Gotham with a Greenwich Village location.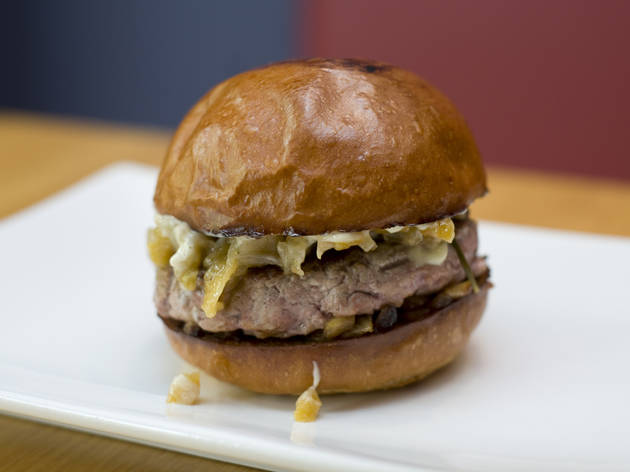 1/8
Photograph: Alex Strada
Duck burger at Umami Burger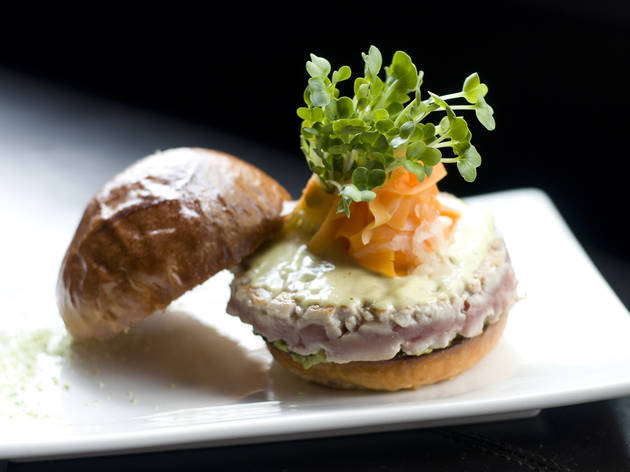 2/8
Photograph: Alex Strada
Ahi tuna burger at Umami Burger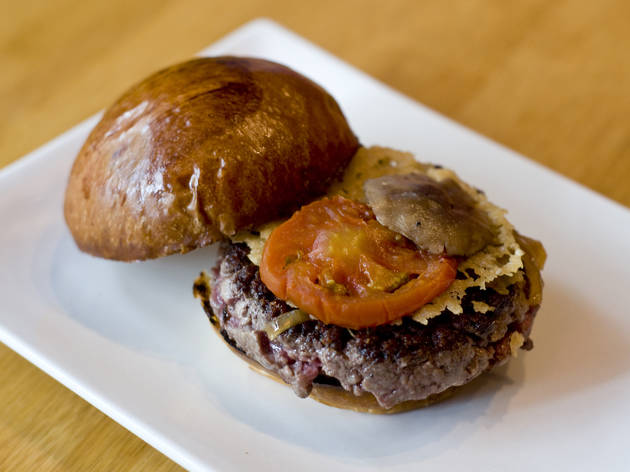 3/8
Photograph: Alex Strada
Original burger at Umami Burger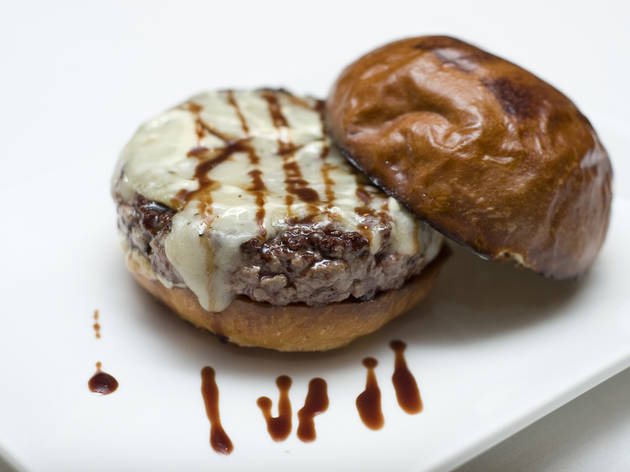 4/8
Photograph: Alex Strada
Truffle burger at Umami Burger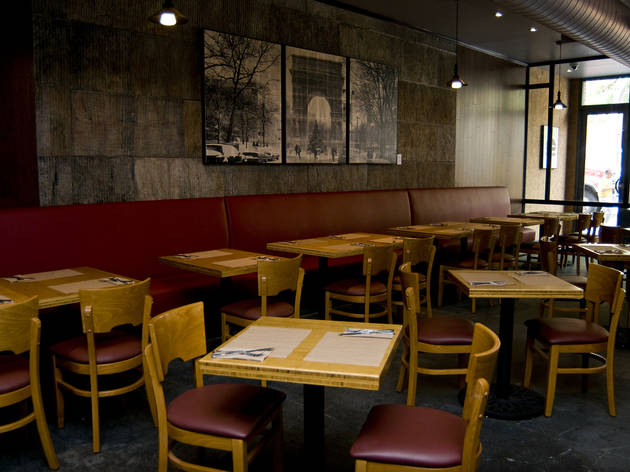 5/8
Photograph: Alex Strada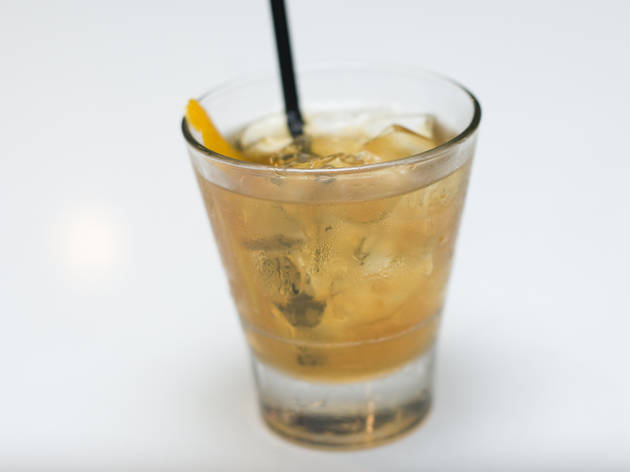 6/8
Photograph: Alex Strada
The Closing Bell at Umami Burger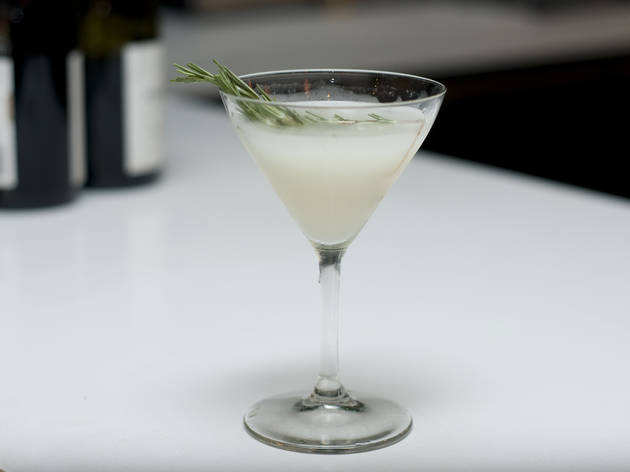 7/8
Photograph: Alex Strada
The Registry at Umami Burger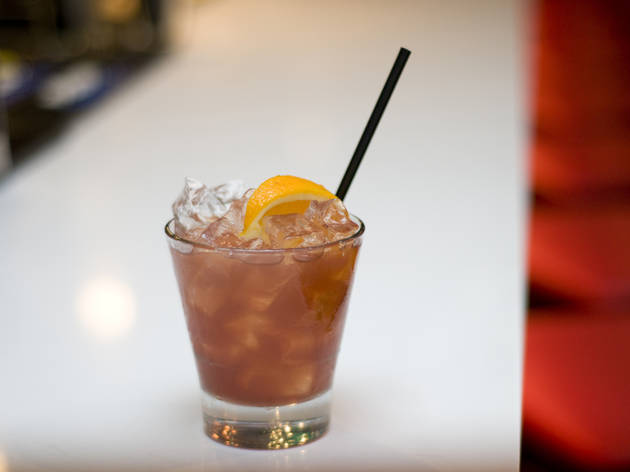 8/8
Photograph: Alex Strada
The Royals at Umami Burger
Burger
buffs, brace yourselves—Adam Fleischman's LA patty sensation has finally come east with this much-hyped
Village
outpost, opening July 29th. A champion of umami—that hard-to-place savory "fifth taste" found in everything from parmesan to mushrooms—Fleischman spotlights the funky flavor-bomb in sixteen burgers, including the
beer
-cheese-and-lardon-topped Manly Burger; a mook-baiting truffle-and-roasted-garlic variety; and an NYC-exclusive five-spice duck burger with peach-apple chutney. The meat comes coarse-ground and medium-rare—no substitutions allowed—on Portuguese-style buns branded with the signature "U" logo. Also on offer are truffle
fries
; "secret menu" cheesy tots; and ice-cream sandwiches built with Blue Marble ice cream and Good Batch cookies. The bilevel, 128-seat space—decked out with red leather banquettes and a framed portrait of umami-discovering scientist Kikunae Ikeda—features two full bars stocked with eight tap beers (Sixpoint Sweet Action, Allagash White) and 17 location-specific cocktails: the 21-U Club is a tribute to the birthplace of the Bloody Mary, while the Bobcat—a mix of cognac, black-cherry soda and lemonade—is named after NYU's mascot.
432 Sixth Ave between W 9th and 10th Sts (212-677-8626, umamiburger.com)
Sponsored listing
Zia Maria
This Chelsea restaurant serves fresh, seasonal Italian fare from its brick-walled kitchen. The specialty here is the pizza: Think classic margherita ($14 for a small, $20 for a large), mozzarella with spicy sopressata and caramelized onion ($15 for a small, $25 for a large) and prosciutto with shaved parmesan and arugula ($17 for a small, $27 for a large). Diners with allergies can make any pie gluten-free (starting at $19 for a small). You might want to order a salad to share, like the prosciutto with pear and gorgonzola ($14.95), or just go all in on appetizers like arancini ($12.95), traditional bruschetta ($12.95) or polenta with sausage, mushrooms and truffle oil ($14.95). Other entrees include eggplant parmesan ($17.95), gnocchi with bolognese ($17.95) and veal piccata ($22.95). As for drinks, the bartenders will be happy to mix you anything you like from the fully stocked top-shelf bar.