The Mile End Cookbook
The team behind Montreal-inflected deli Mile End (and its sister, Mile End Sandwich) offer a fresh take on Jewish cuisine.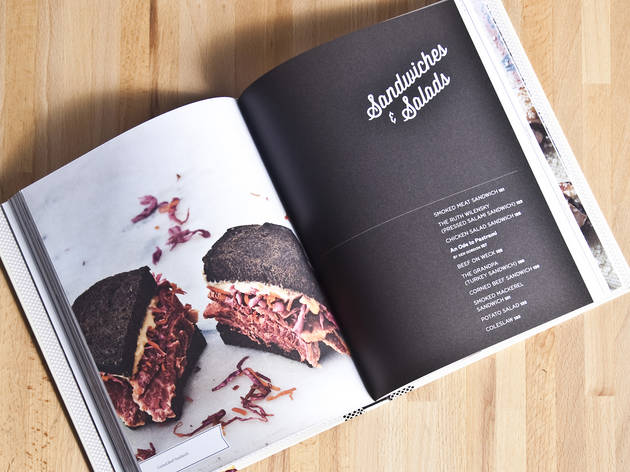 There's a great irony embedded in modern Jewish cuisine: Although it has taut apron-string ties to the home kitchen, some of its most iconic foods aren't often prepared there. Bagels, lox, pastrami—these are the province of delicatessens, bakeries and "appetizing" shops. It takes an ambitious amateur cook to take on such titans of the Yiddish pantry, and an equally ambitious book to guide his or her hands. To that end, consider The Mile End Cookbook, whose authors, Noah and Rae Bernamoff, are pioneers in the recent wave of nouveau Jewish restaurants. You'll find their endearing story in these pages, told through sometimes-mellow, sometimes-manic recollections, touching paeans to the Bernamoff brood, and essays from Brooklyn luminaries like butcher Tom Mylan and pickler Bob McClure. But the real allure is those recipes—eminently usable, with smart and personal introductions—which function as a sort of Jewish cultural road map. Witness the reanimation of Eastern European foodstuffs in candid, step-by-step guides to making salt-cured lox, poached gefilte fish or Mile End's beloved smoked meat at home. There are pickled lamb tongues, potato latkes, braided challahs and—in a time-honored tradition of scrap-saving—infinite ways to rework these pleasures into sandwiches, brunch dishes and other second-day delights. Whether or not this stuff makes you homesick, it will certainly make you hungry, so plan ahead: Some of the more intricate recipes require forethought—that smoked meat takes two weeks to make, from brine to table.
Buy The Mile End Cookbook on Amazon or get The Mile End Cookbook on your Kindle

You might also like
Restaurant review: Mile End
2010 Food & Drink Awards: Best ooooh Canada
100 best New York restaurants
See more in Food & Drink
Sponsored listing
Empire Steak House – West
For the classic New York steakhouse experience, look no further than Empire Steak House. Start with an hors d'oeuvre like jumbo shrimp cocktail ($21.95), a Maryland crab cake ($18.95) and French onion soup ($8.95). Carnivores might have a hard time deciding on a main course, though—choices include a Kobe burger ($28.95), dry-aged emperor's steak for two ($129.95) or a twelve-ounce Wagyu steak ($275). Chilean sea bass ($35.95) and spaghetti with lobster ($36.95) might tempt seafood lovers, too. There are plenty of steakhouse sides to go with your meat, like truffled mac and cheese ($15.95), creamed spinach ($10.95) and a jumbo baked potato ($6.95). If you somehow still have room for sweets, the dessert menu is also quite extensive, with treats like apple strudel a la mode ($13.95), chocolate lava cake ($10.95) and creme brulee ($9.95).
Venue says: "USDA Prime Dry–Aged Porterhouse steak, exceptional seafood, and 400 plus wine list, in a beautiful surrounding with exceptional service"